Hip hip hooray! It's Friday! I am thrilled. We don't have any major plans this weekend, but it will be nice to get a couple of projects done and just simmer down. I am itching for spring and can't get enough of color these days. I fell in love with these beautiful images from bhg.com. I think you will, too. They are all charming and cheerful.
It is amazing what one bold graphic print can do to a space. And they layering of colors and textures is so pretty in this room. And the dark stain of the doors really sets them apart and warms up the space. It would look entirely different if they had been painted white.
Who could ever possibly be cranky in this breakfast room? It's so beautiful and happy. Big fan of the fabric covered credenza on the right as well. And my daughter would love me if she had a blanket hanging over her chair. She grabs on from the family room every morning instead of wearing her bathrobe!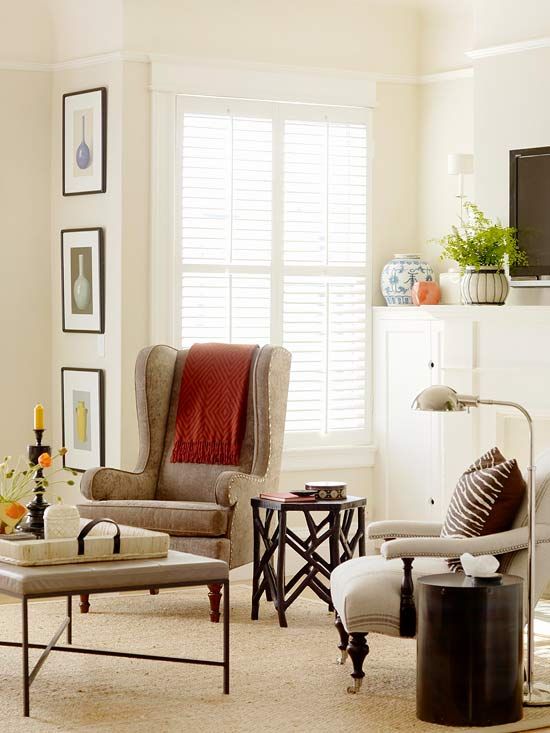 And this just goes to show you that a few doses of color here and there are enough to make a neutral space come alive. Anyone know where that reading lamp is from. I super adore it.  
{all images via bhg.com} I think this room works so beautifully because of the strong iron bed and the ruffled bedding. The colors are all so pretty but in a muted enough tone that they all work so well together. The antique vibe of this room looks collected over time. Hope the does of color gave you some fun inspiration. Enjoy your weekend Oh, and thank you to everyone who "liked" our Casey Grace Facebook page. We send you a virtual hug. e n j o y   t h e   d a y