Morning. I'm excited to share some really fun finds with you today. If you are new to this series, you can get caught up on all of the installments at the end of this post. I have always been about mixing high and low and this series is designed to give you beautiful options as you work to decorate your own spaces or update your wardrobe.
PAY THIS NOT THAT
I love nothing more than finding a great alternative for a more expensive item. While you may notice a difference in quality when you choose not to go high-end, sometimes it doesn't matter at all. Nor would anyone know the difference. And more money left in the bank is always a good thing.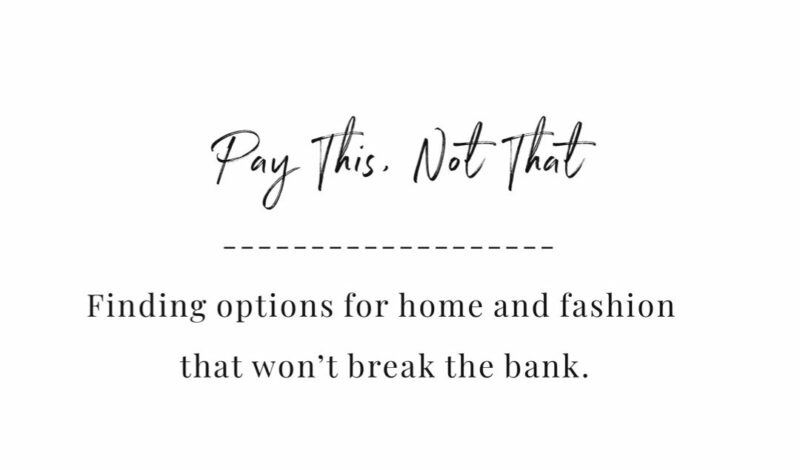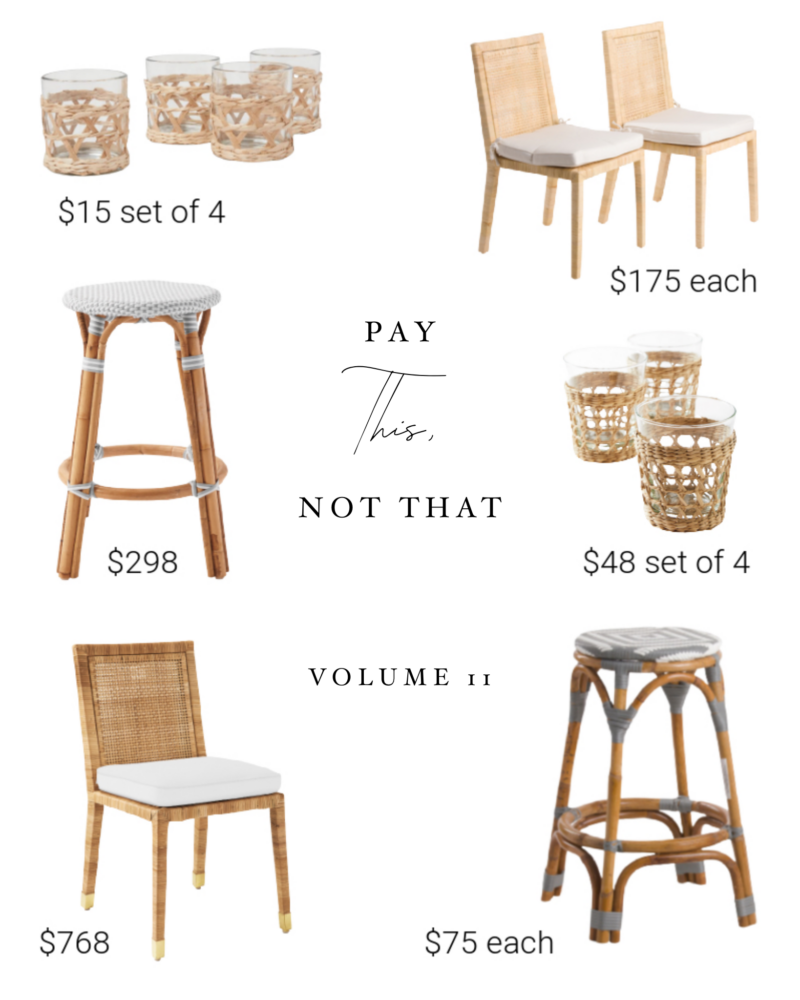 WRAPPED GLASSES
These pretty seagrass wrapped glasses are on trend and such a pretty way to welcome in Summer. I love how they look sitting on a shelf or being served to guests. The more expensive version comes in around $48 while this set of four will only set you back $15.
COUNTER STOOLS
I love a beautiful bistro inspired stool. They are timeless and will always elevate a space. Buying two of the designer version will cost close to $600. I can speak for the quality and say they are amazing. We have had the chair version for years. But if you are wanting a similar look and hoping to keep more money in the bank, this set of two is $150. Saving $450 sounds pretty good.
DINING CHAIRS
These chairs are absolutely beautiful. There is no question about it. I love the gold accent and they craftsmanship. If you are wanting to spend less, this set of two is such a close match to the style and look. You could even wrap the bottom of the legs in gold (you can get thin gold metal and a craft supply store). While the high end set of two will cost $1536, this set of two will cost you $350.
SPICE JARS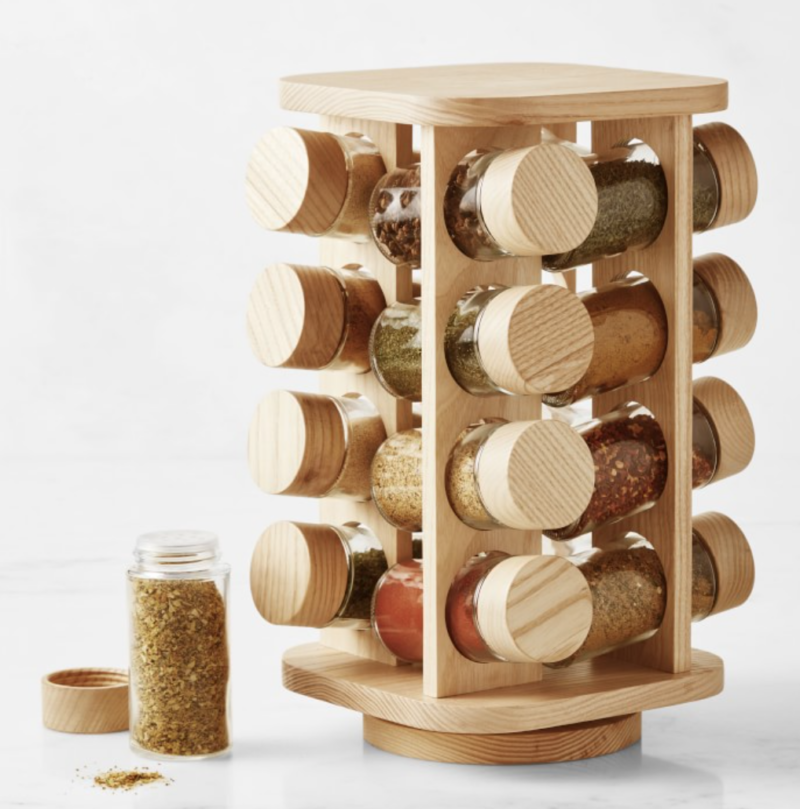 This spice rack is pretty and holds 16 jars. Having said that, it will cost you $90. This is the set I just purchased for our home ($35). It comes with 25 or 36 bottles and all of the labels. Plus if you choose to put them in a drawer, they won't roll back and forth. I do recommend the pack of 36 as I am just shy a couple of jars.
WARDROBE OPTIONS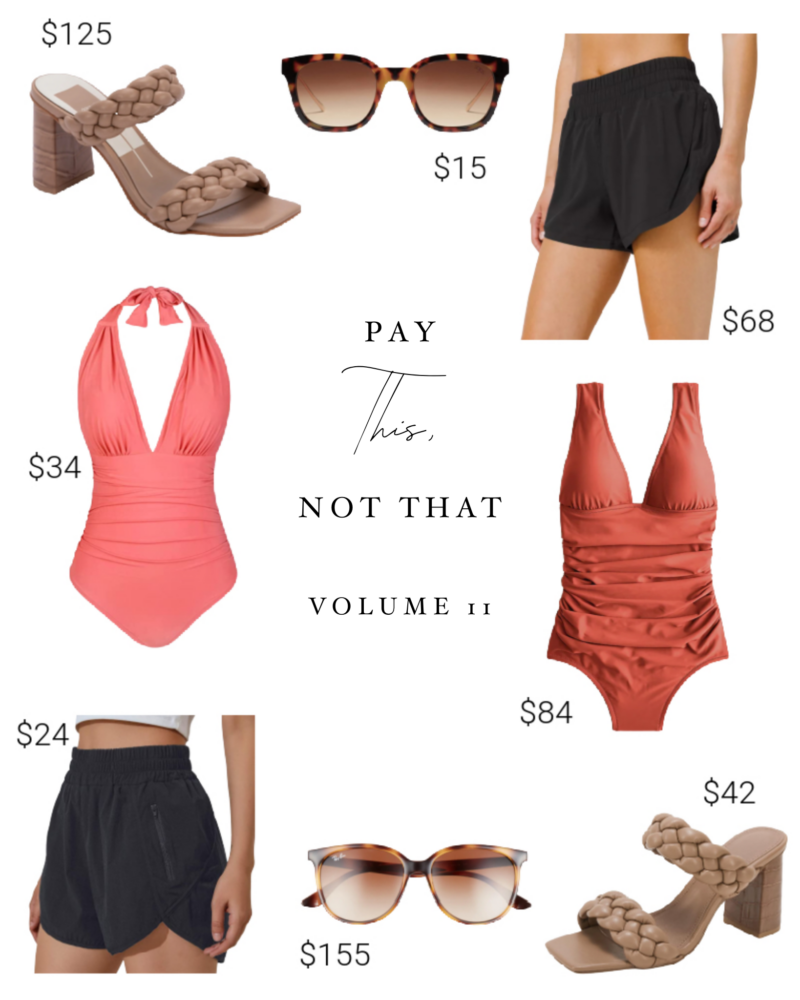 SUMMER SANDALS
I will say I have this version and don't regret spending the $125 on them. I have worn them one million times because they are just that comfortable and go with everything. But this version is $42 and gets awesome reviews. That is definitely a great savings.
SUNNIES
While Ray-Ban will always be a classic, you don't always need to spend the money. I do love this classic look ($155) but this version is only $15 and has a ton of fantastic reviews.
TRACK SHORTS
While Lululemon is all the rage and I do love the few pieces I own, I don't love the prices. These shorts are $68 and when your teen starts asking for them, too, it's hard to justify. This pair is virtually identical and has phenomenal reviews. Plus they are $24. I like that number much more.
RUCHED SWIMSUIT
I love a great one-piece and the J.Crew bestseller is actually on sale. If you have had your eye on this cult classic, now is the time. Or if you want to spend a little less, this version is darling (I have one) and will only set you back $34. Plus it has tummy control.
*To get caught up on the past installments of Pay This, Not That you can find them all here.
Wishing you a great day and hope your week has been productive so far.