Good morning, Chicago!!! We are traveling this weekend which is quite a change for us. I don't know that we have ever been away on Easter. Definitely missing both my sisters's family and my mom. What are your plans on this special weekend? Before we packed up, I hit the dressing room so I have some really cute finds to share with you.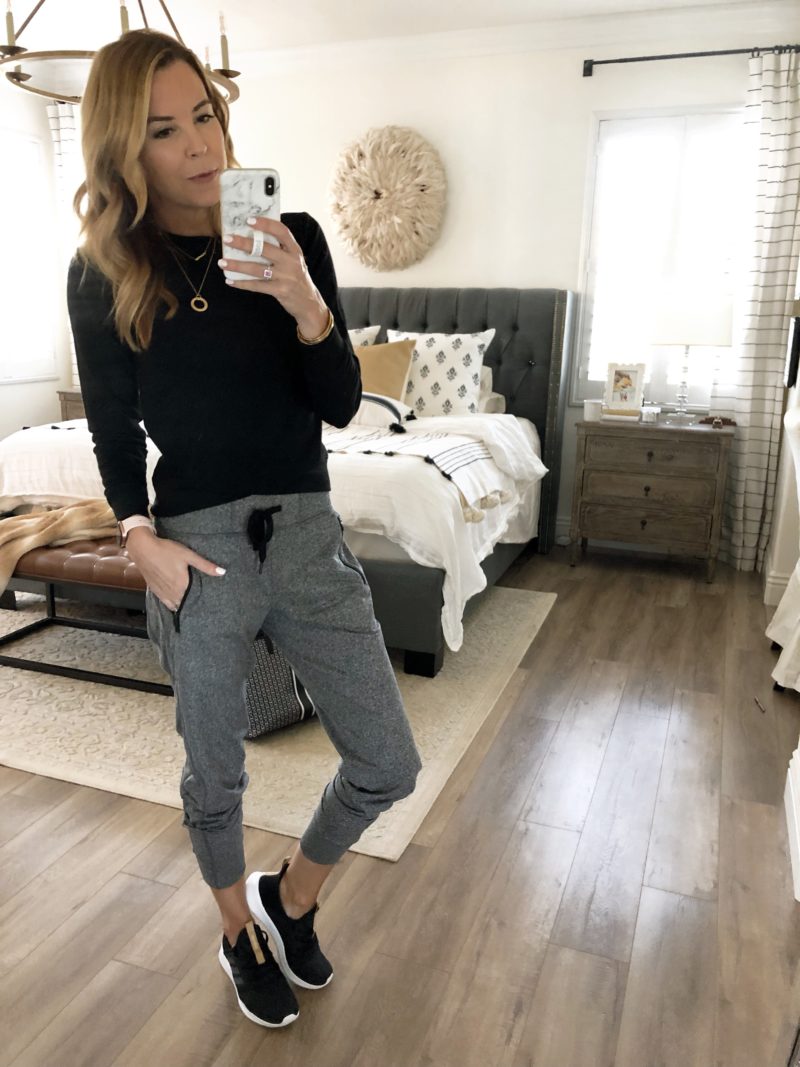 shoes | joggers | top | necklace
We are off on another adventure and I had a cute Spring outfit planned to wear on the plane. But then I received the message that the flight would be delayed so I changed gears and went for the sweats. I can honestly say this is the most comfortable I've ever been when traveling. And because we sat on the tarmack for an extra hour after we landed I am even more happy I went this route. Softest pants you'll feel and the sweatshirt is a dream.
FIT: I went with a size small in the pants. I could have done an XS but I wanted them to be a loose and comfy fit and not tight on the waist. The top is an XXS. I wanted that to be a bit of a slim fit.
SNEAKER LOVE
Girls!!! These sneakers. I know a ton of you feel the same way because you messaged me on Instagram. THEY ARE AWESOME. I already had the gray but I broke down and bout the black. The khaki ribbon detail is darling and they feel like slippers. I will be wearing them to sight-see on this trip. Can't recommend them enough. They are true to size. The ivory are just as cute.
COMFY, COZY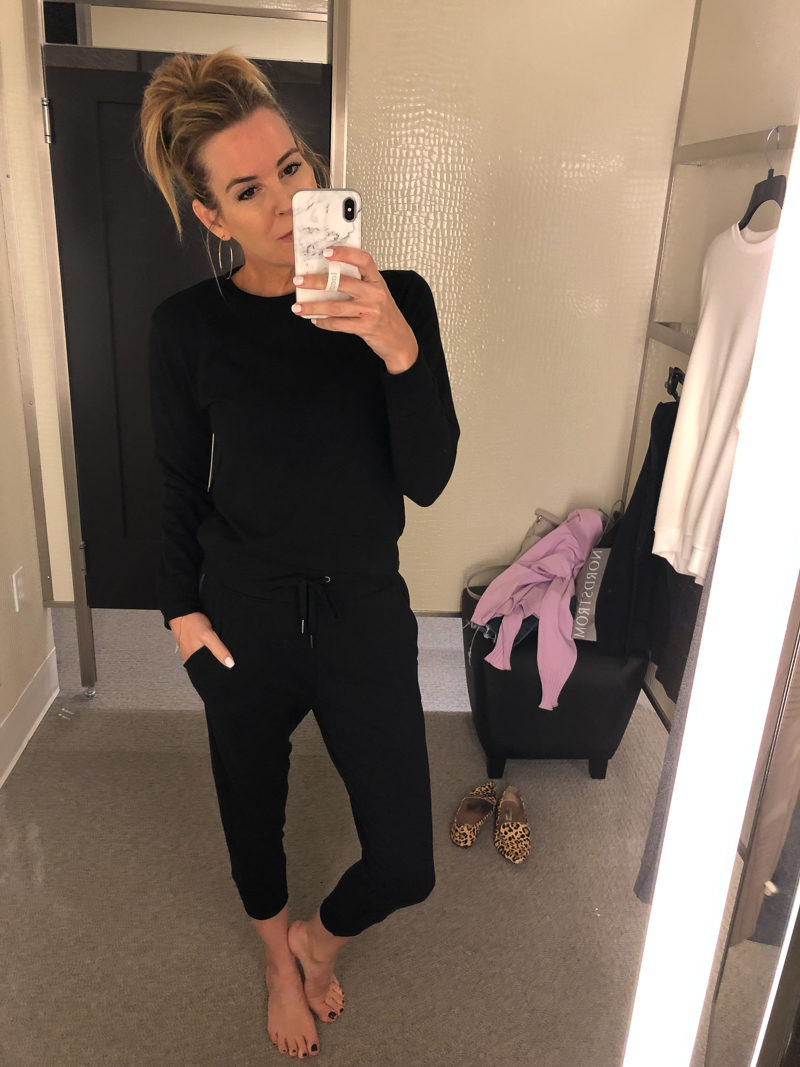 I also tried on the plain black sweatpants and they are also incredibly soft. Really comfortable. These leggings in this color were also a strong contender. I may have to go back for them.
JUMPSUIT TIME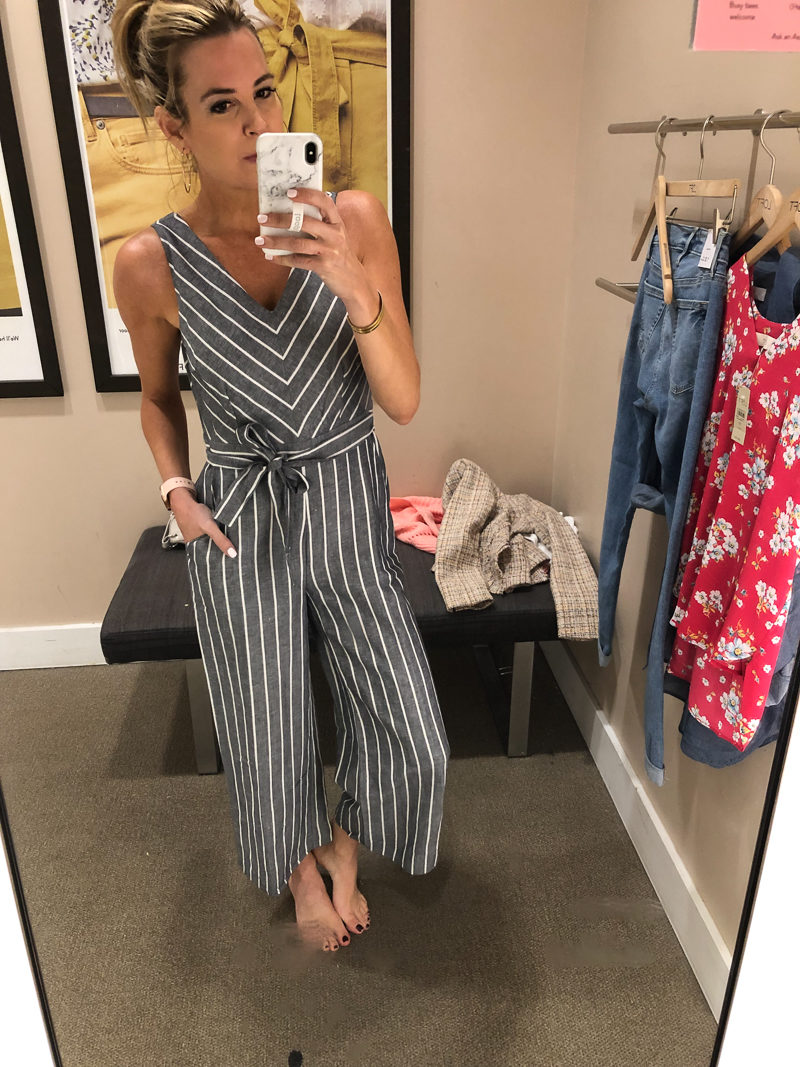 Long live the jumpsuit. My dear friend Tina just visited us and her daughter had on the cutest striped jumpsuit. Tina reminded me how I actually made a couple back in our college days. I do love a great one piece outfit and this one is daring.
FIT: I would buy a size 2. This was the zero and it felt much too tight (hence the not so sure look on my face. lol).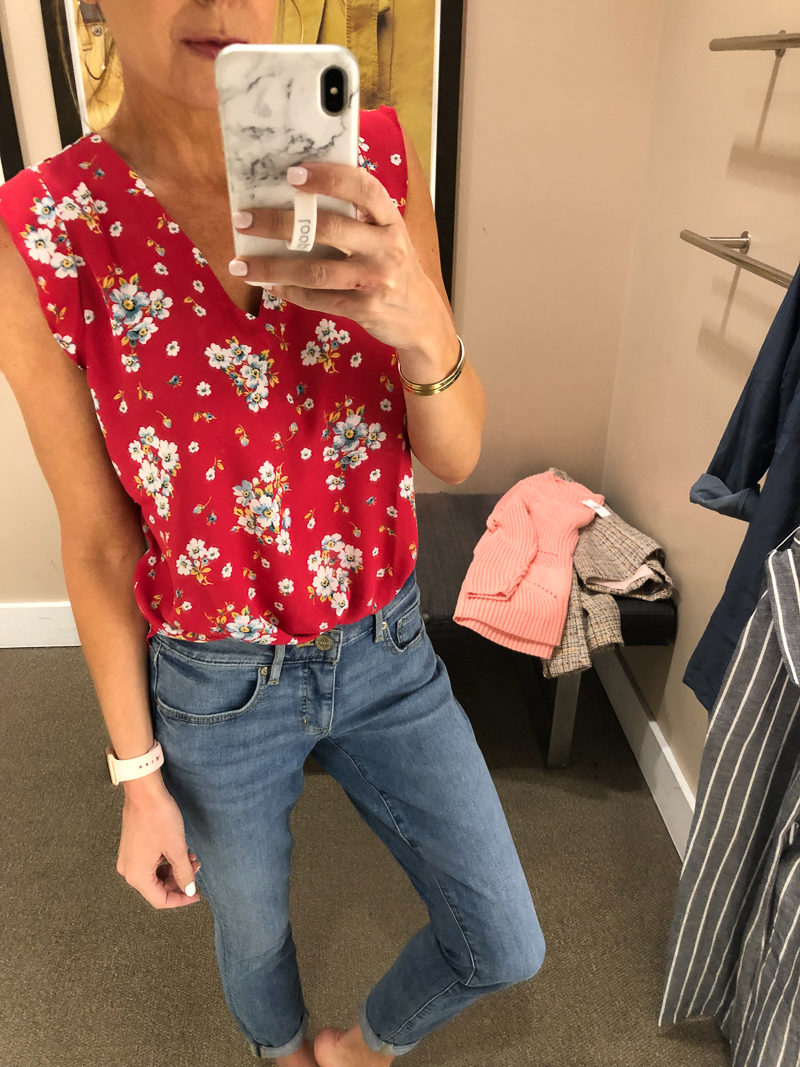 Yes to this blouse! Absolutely adore it. Great color, print and cut. The v in front in flattering but not too much. And I had no idea I would love these jeans so much. I am not usually one for the boyfriend look.
FIT: These are the curvy cut and I LOVE them. I bought them in my usually size so they read more like a boyfriend. If you wanted them slimmer, I would go down one size.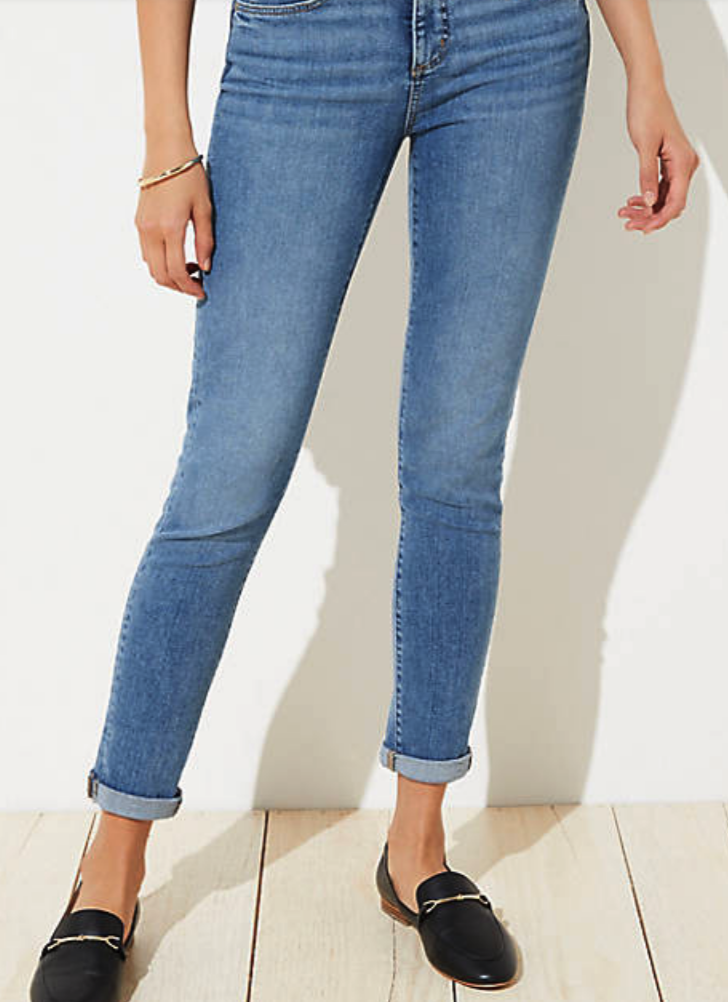 THE TEE TO HAVE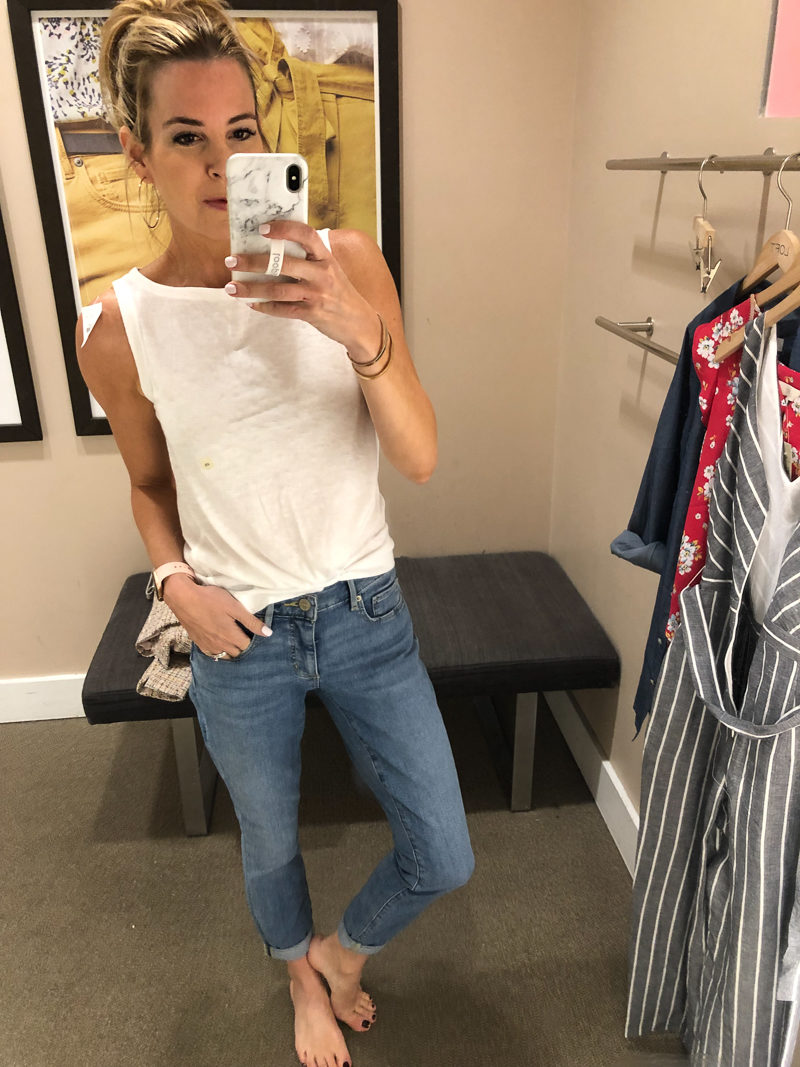 Another homerun is this t-shirt. I am in an XS but would have preferred a small (didn't have in store). I tucked in a little bit of the tank to get this look but you can let int hang and it flares out a bit. A great look with these shorts. It comes in a few colors and I am ordering them all. It's one of those tanks that can go under anything or look great on it's own with a pretty necklace.
SPRING BLAZER
This tweed blazer caught my eye and I soon as I put it on I was sold. This is the size 4 and it fits really well. It's a great weight and I really like the Spring colors. I brought it on our trip and it packed very well. My dad taught me how to pack things so they don't wrinkle. Let me know if you would like a post on that and I can share his tips.
UMMM. . . .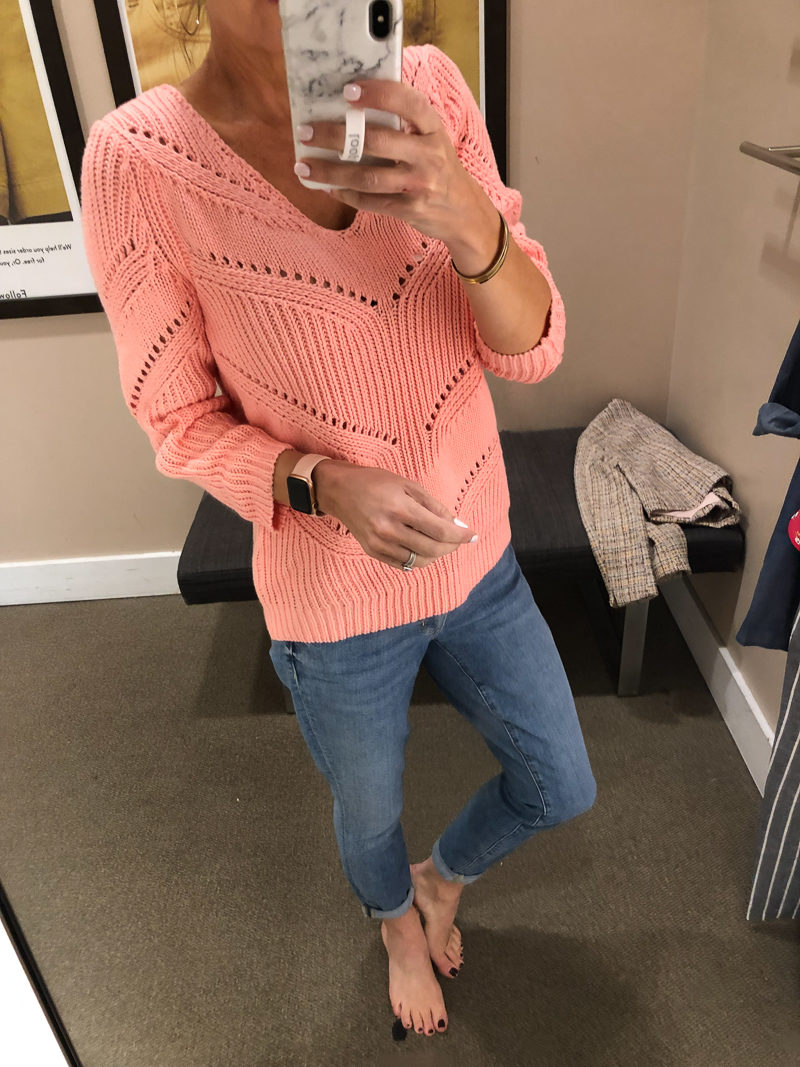 Funny story about this sweater. Absolutely love the vibrant color and thickness. Once I saw it I had to try it on. Not until I saw the price tag near my chest did I realize I had it on backwards. Yep. The scoop goes in the back but I think I've proven that this sweater is reversible. LOL. You can wear it as intended or with the v-neck in the front. Bam. Really very cute in person.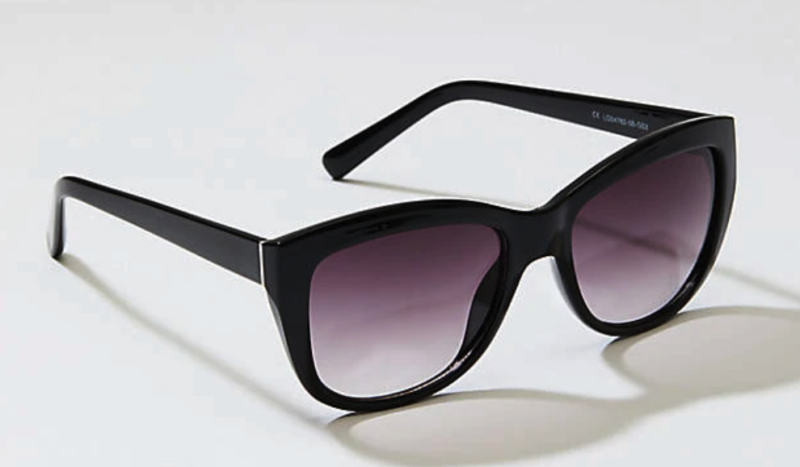 I picked up these sunglasses because they were such a great price and so many of mine are scratched.
PARTY TIME
With my daughter's birthday in just a couple of days, we have party time on the mind. There's no doubt that our travel schedule has made this birthday season a tad more challenging. Thank goodness for online shopping. We need to transition from Easter decor to birthday bash in a hot minute. She's had these workout shorts on her wish list forever so it might be the time.

STRIPED CUTENESS
I love all things Fee People and this top is now almost 50% off. Darling for Spring with high waisted shorts or jeans. This Wonder Tank is also awesome and 50% off. Such a flattering cut and comes in a few different colors.
SPRING SALE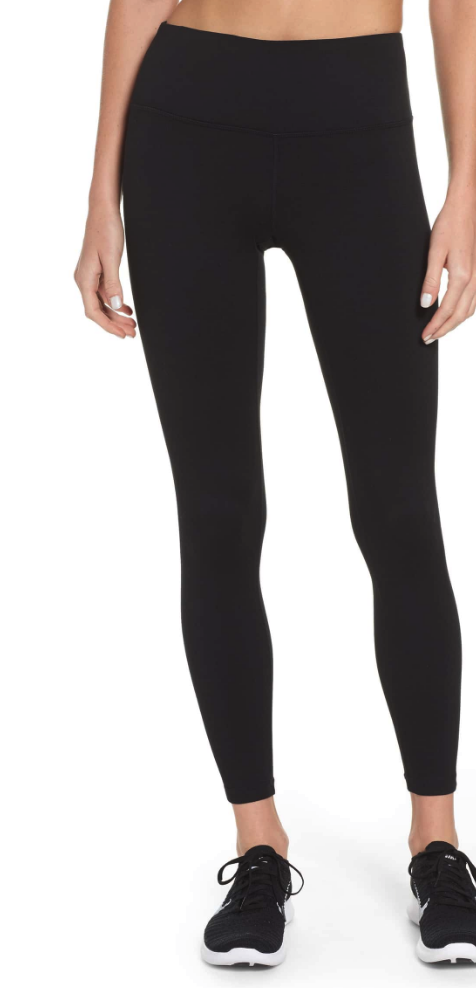 The Nordies Spring sale is happening and these Zella leggings are 40% off. Awesome reviews. A great pair to add to your workout wardrobe.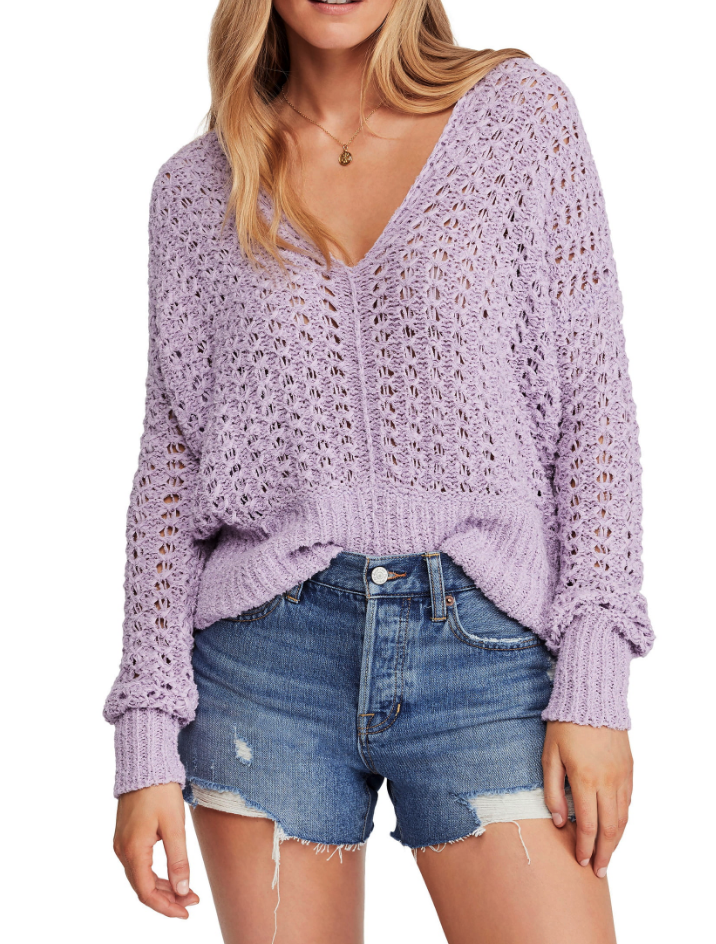 Such a cute Free People sweater and it's currently 40% off. The neutral color is awesome as well but the online photo does not do it justice.
SHOE SALE
These mules are 40% off and a great call. Both are neutral and go with everything.
ANTHRO SALE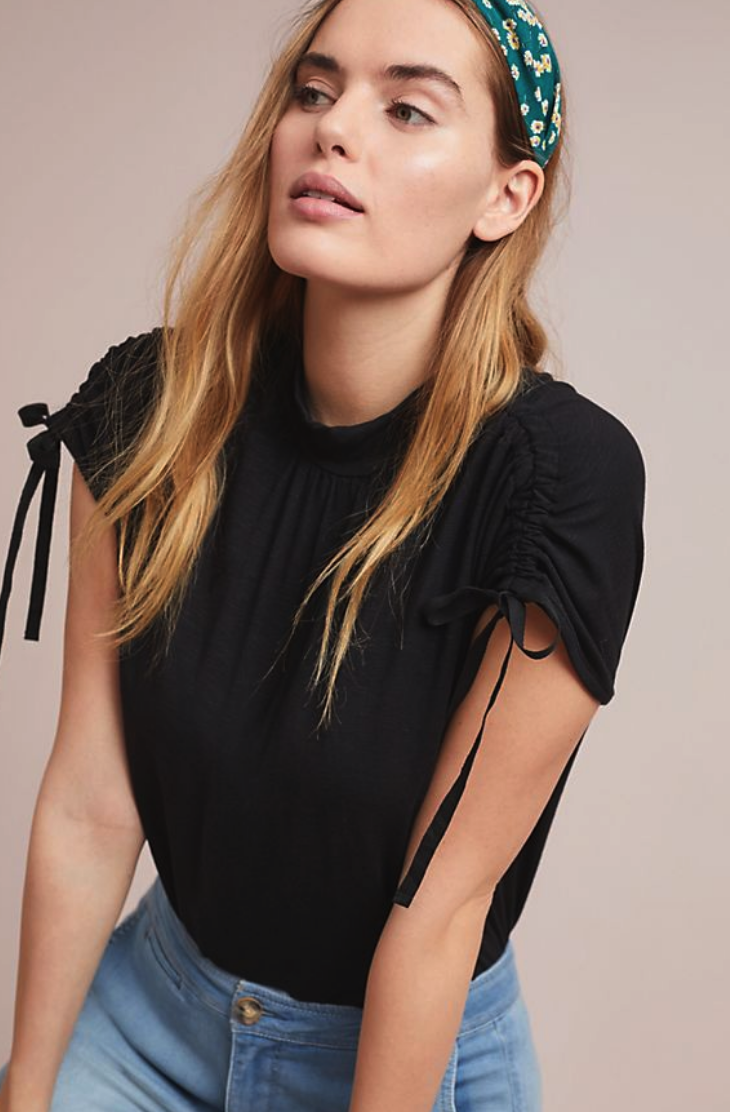 This darling top was $70 and is now marked down to $20. I like the ruching detail on the sleeves.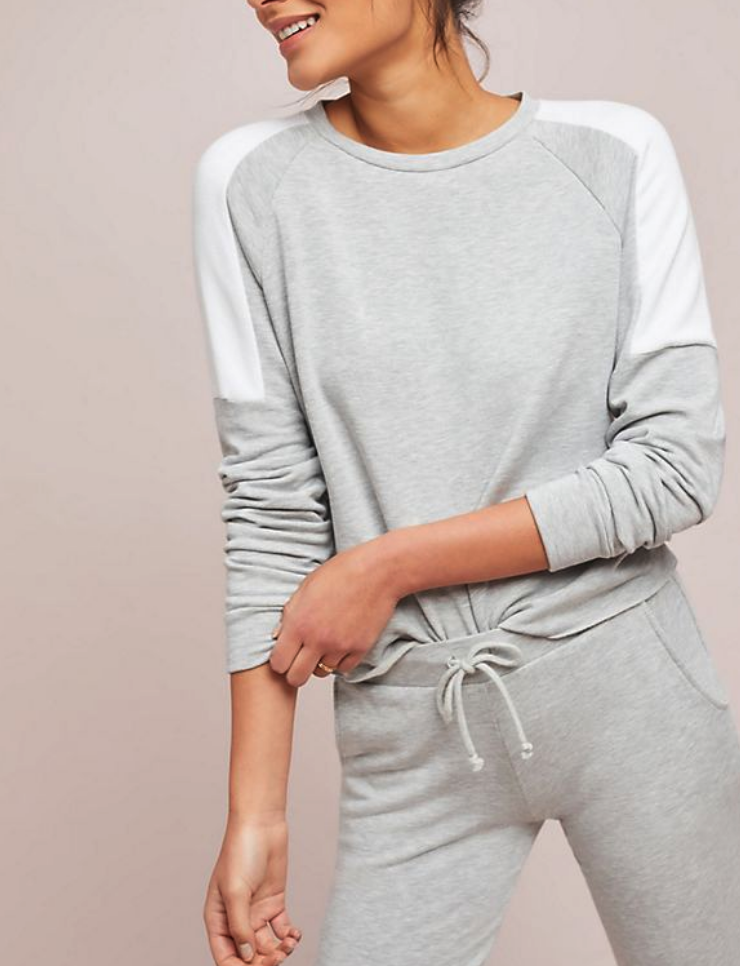 Give me all the sweats. I truly mean that. So so cute! And an extra 50% off.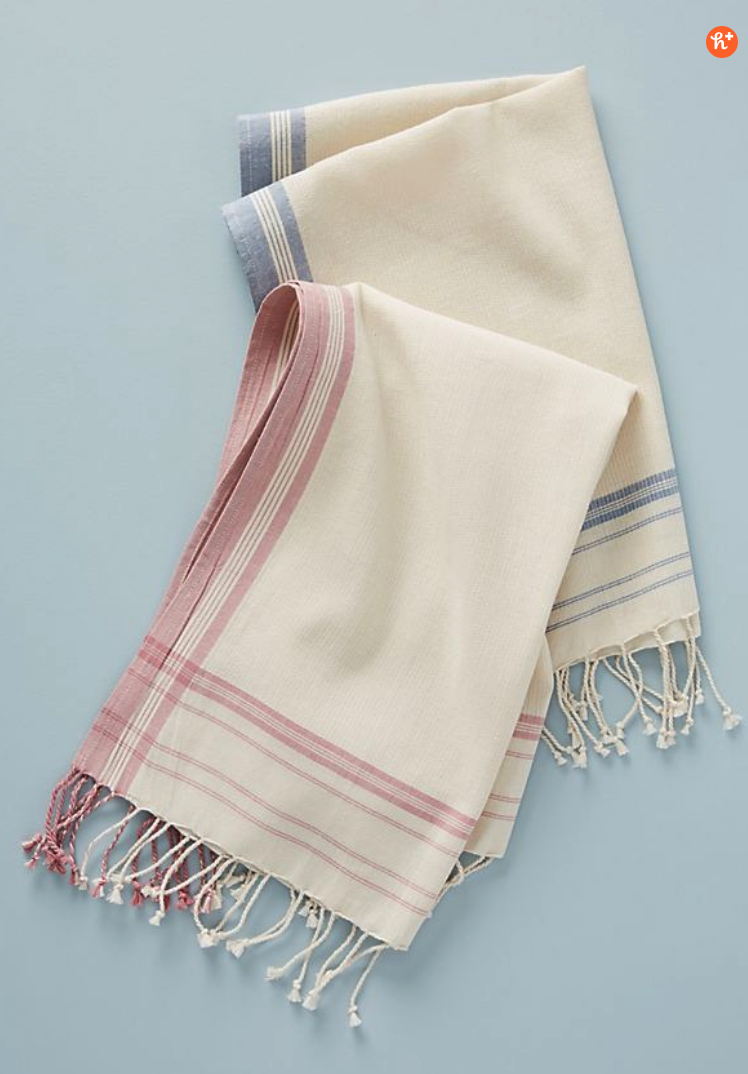 I love to accessorize either a bathroom or a kitchen with a pretty towel. I have a couple on the kitchen counter draped over a basket. These are the ones I don't use but they just add some warmth and charm. These are on sale and so pretty. Love the vintage feel. Plus they are an extra 50% off!!!!
Thank you all so very much for the heartfelt comments on my husband's post. I promise to respond. He was so flattered by the kind remarks. Let's just hope they don't go to his head ;).
Make it a great Saturday.
*Affiliate links used