Well, hooray for the weekend. And a long one at that! We are taking it easy. I may have over extended myself with working out this past week and I can barely move. There's that. So annoyed with myself. But Saturday Shopping cheered me right up because there are such cute and well -priced deals. I think you'll agree.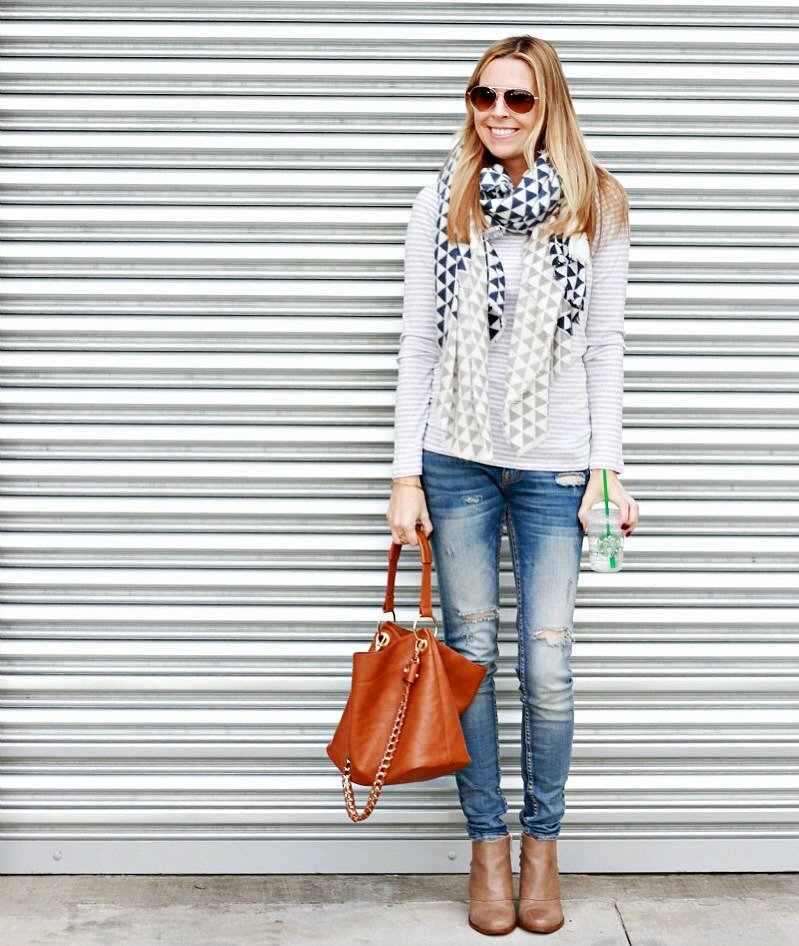 I saw that there are only a few more sizes left in the distressed denim, but this is also a cute pair made by the same brand and also on sale. I have gotten so much use out of these Jessica Simpson booties.  The stacked heel makes them really comfortable and the detail on the back always draws compliments. I will also pair this look with Converse tennis shoes for an even more casual style. Can't say enough about how soft both the scarf and shirt are.
And on a random note, I met a dear friend at Starbucks for coffee and we both ordered water. Ha. I suppose we could have stayed home! I'm trying to stick to just my one cup in the morning and water the rest of the day. Are you good about drinking water all day long?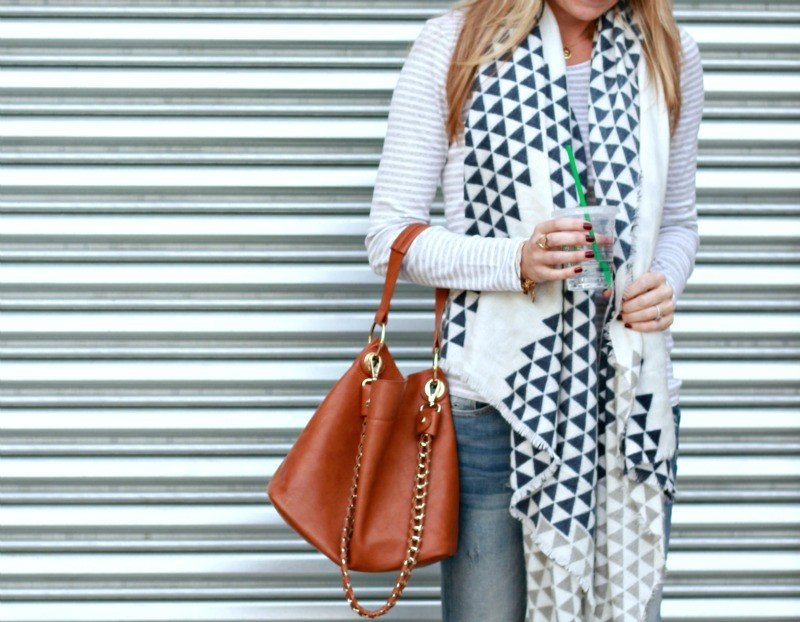 Shop This Look

My actual bucket back is from a couple years back but they do have another one right now. I must say I grab this bag more often than not. It's lightweight to begin with which is always key for me and the cognac color goes with everything.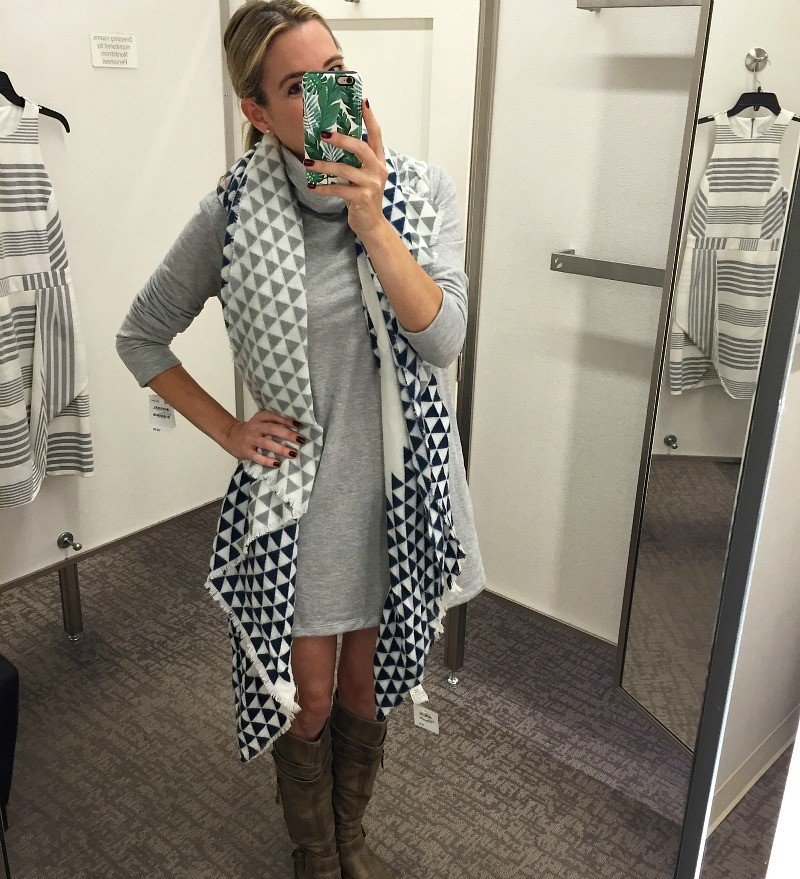 Shop This Look

This dress! A little unknown fact about me is that I LOVE turtlenecks. I used to wear them all the time when I was teaching. So mix a turtleneck and dress and I'm in love. I do already have this sleeveless version and I wear it a ton. Here is the thing on this dress. It's perfect except the lining is funky. I love that it is actually lined, but the lining is not a smooth fabric but sort of a textured fabric and it could bug some people. Other than that, it's a comfy, cute, home run dress. I am wearing a small.
The dress in the background had me at hello. It is extremely well made with a nice weight to it. The small was form fitting on me and a very flattering cut. I especially love the racerback style and zipper in the back. It would require a strapless bra. SUPER CUTE and not something you see everywhere.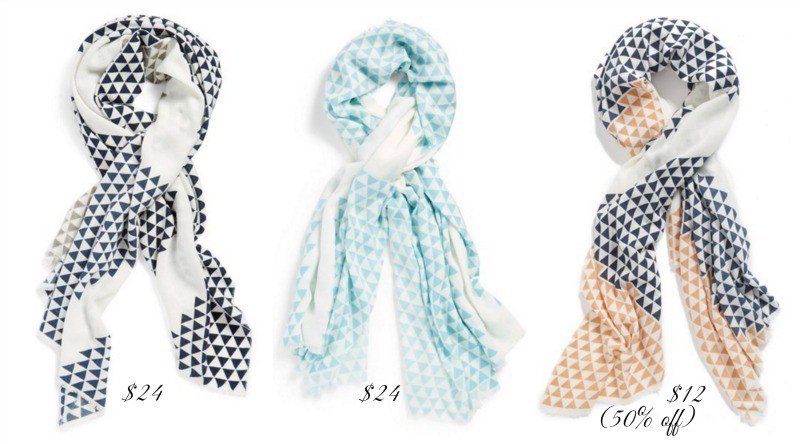 blue | mint | multi-colored
These scarves are so so soft. I bought the blue and gray one but imagine my surprise when I start putting this post together for you and realize the cute multi colored one on the end is on sale for $12. What?! They didn't have that one in store. I would have save myself some money. Having said that, I do really like the colors on the one I picked out. But holy cow. That $12 blanket scarf would be an awesome gift for someone, too.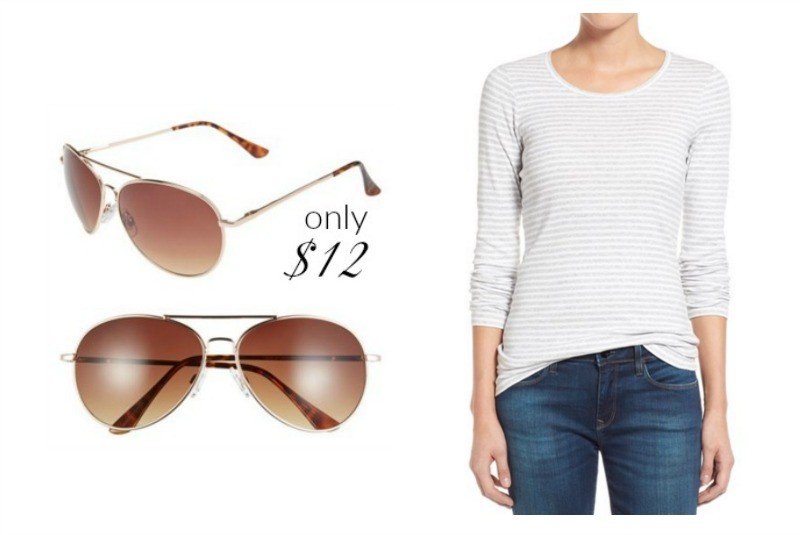 You know I am a fan of my $12 rainbow lens glasses. Well, I just replaced my lost Ray-Bans ( lost them traveling over two years ago) with these. I had them on the other day and my husband was like, "Woah! Did you get you new glasses?" but with a slightly worried tone. He thought they looked really high end and was relieved to find out I paid $12. I love the gold rims and warm tone lenses. Highly recommend. And they look so much like these much more expensive ones.  Also a fan of the Caslon t-shirts. They are really soft and have a nice form to them. No surprise I chose the gray and white striped one. I have also picked up plain white t-shirts from Target and loved them. Um. I almost fell off my chair when I saw these are $3.60 in store. Run don't walk.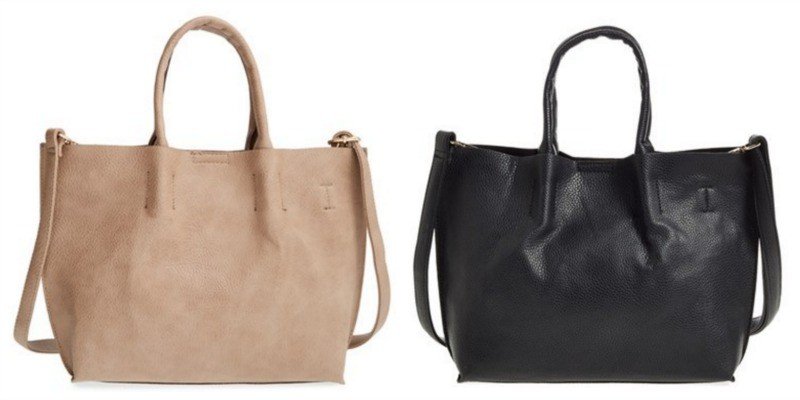 new arrival purse ($44)  10 ½"W x 9″H x 3″D
Darn you, Nordstrom. I have wondering when they would offer a smaller size satchel and it has arrived. The light one is slightly darker in real life. This is a great size purse. It has an optional crossbody strap as well as a little zippered pouch inside. I walked away but think I may regret that. Under $50 and a really nice, lightweight everyday purse if you need one.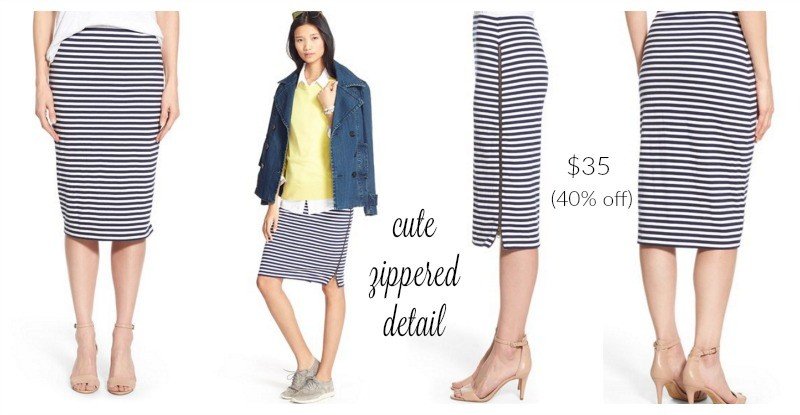 Hello, darling skirt. Nice to meet you. Like the dress above, this also has a great zippered detail and is such a preppy/chic skirt. I like how it's cute with casual flats and heels. And at 40% off it's a nice addition to the wardrobe. Would be really cute with a white t-shirt ($3.60) and pretty necklace.($8) Also cute paired with a colorful scarf or pop of color top.($14). 
Entire Outfit Under $60

I have this top in the watermelon color and really love it. It is long enough to cover everything when worn with workout pants and it is really flattering. Great sale on both the pink and the black. 40% off and now down to $35. It's made by Zella and is able to be thrown in the washer and the dryer. This Zella jacket is also 40% off.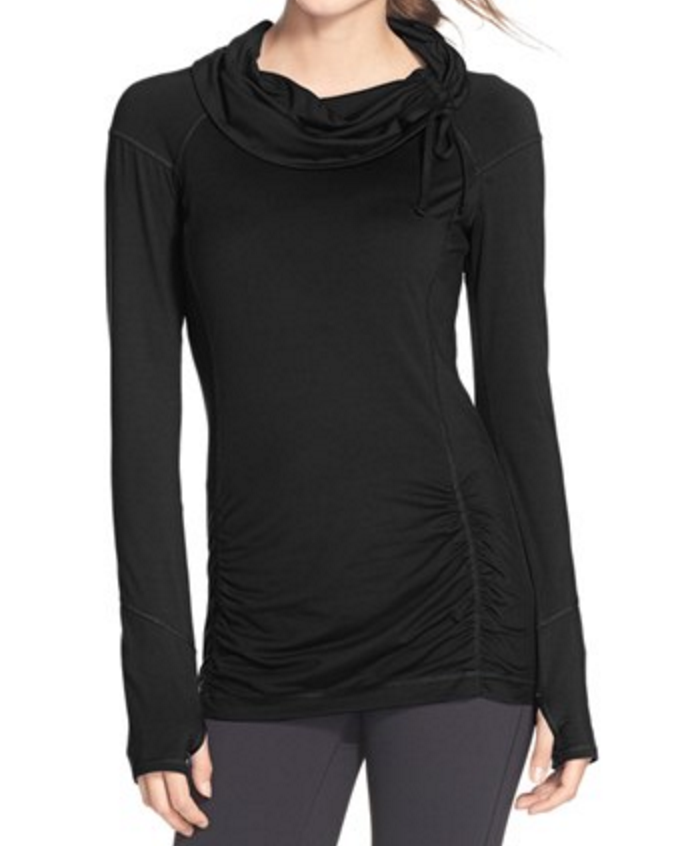 Lastly I rounded up a few more sale items. The first blouse is one that I have in white and blue. So flattering and a great wardrobe staple. And there is a cute dress included that is under $30! Have any weddings coming up? It would be darling and comes in a few colors (the white is my favorite).

Enjoy the weekend, my friends. We are kicking off another season of baseball and trying to round up some ski clothes for an upcoming trip. I tried the clothes on my children from last year and apparently they grew! My poor son. His ski bib goes up to his calves. The search is on for well priced winter gear. Any tips?
Sales Around Town:
Loft: 60% off sale | 40% off new arrivals || Highly rated dress: $15!
Anthropologie: Extra 40% off sale items!!!! || Darling Sweater extra 40% off
Gap: Winter Sale up to 75% off!
GapKids: Up to 75% off. || favorite print now $15!!!
Old Navy: 50% off entire store!!!
*affiliate links used
Shop the Post