It's the last weekend of summer and I have such mixed emotions. I am not ready to let go of the lazy days of summer and yet I'm super excited to stop being lazy. Does that make sense? I think we are all ready for a routine but boy has they relaxed lifestyle been nice. Excited for this week's Saturday Shopping. So much goodness to share and I'm kicking it off with pinstripes and ruffles.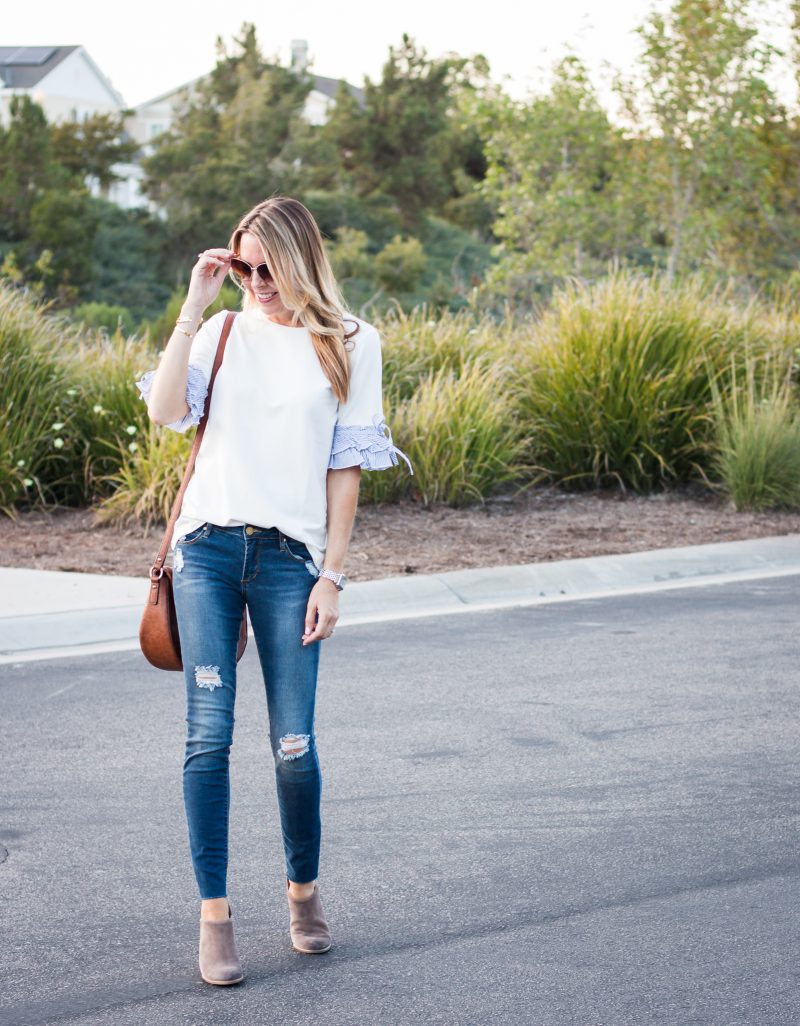 I knew I loved this top as soon as I saw it, but when I felt how soft it was it became clear I needed to own it. I like the classic, preppy top paired with distressed jeans to give it a little bit of edge.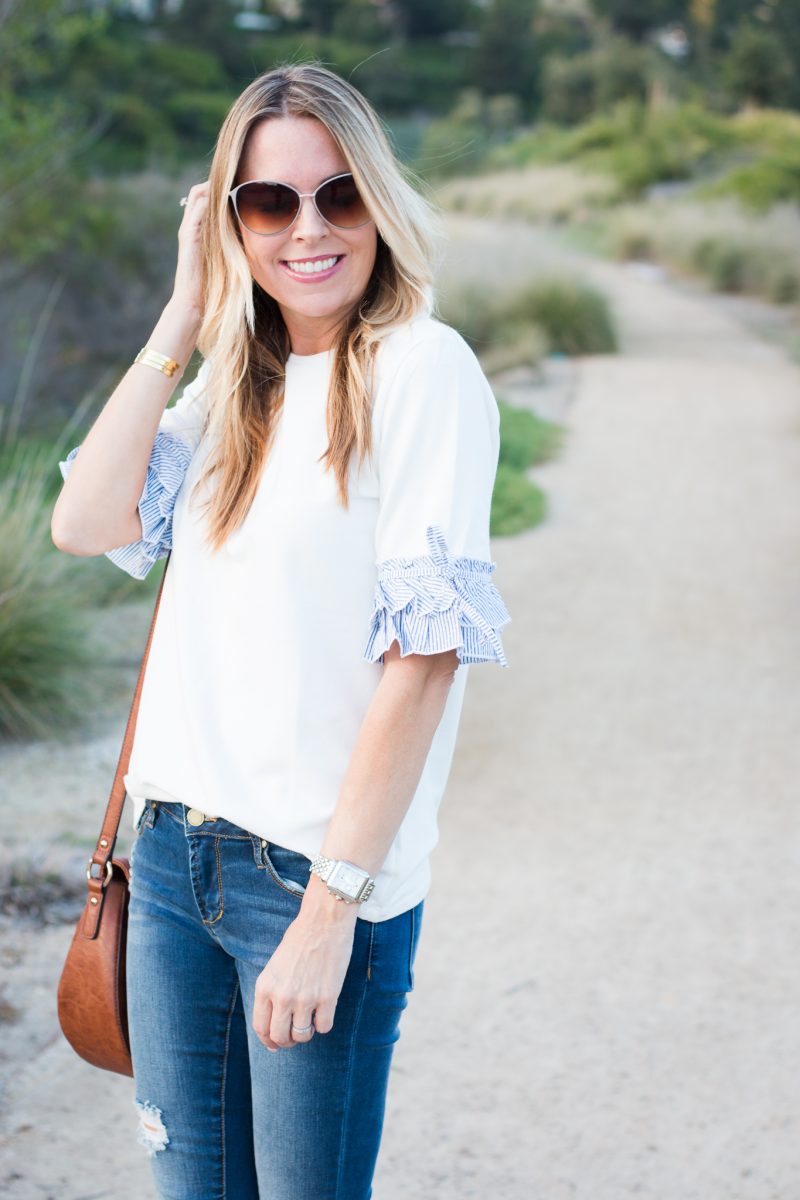 This top is so incredible soft. It's really like a cozy sweatshirt but with amazing details. I love the pinstripes and ruffles.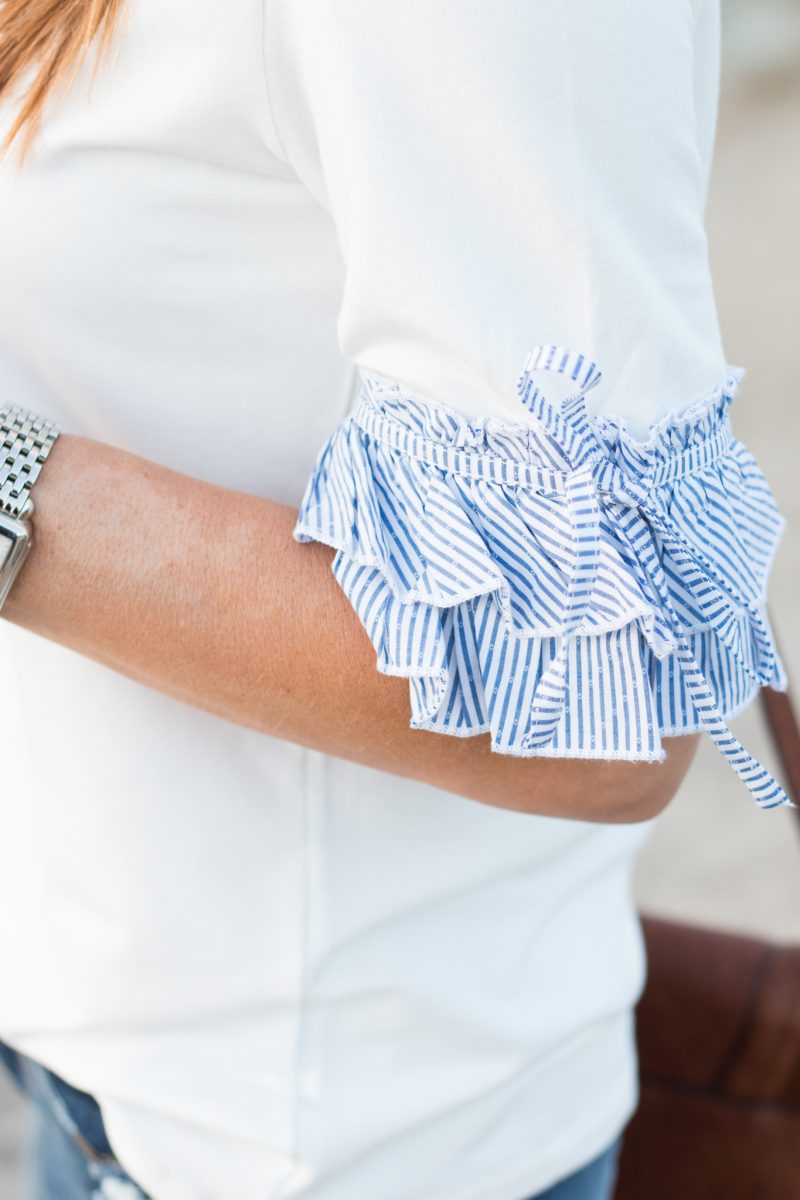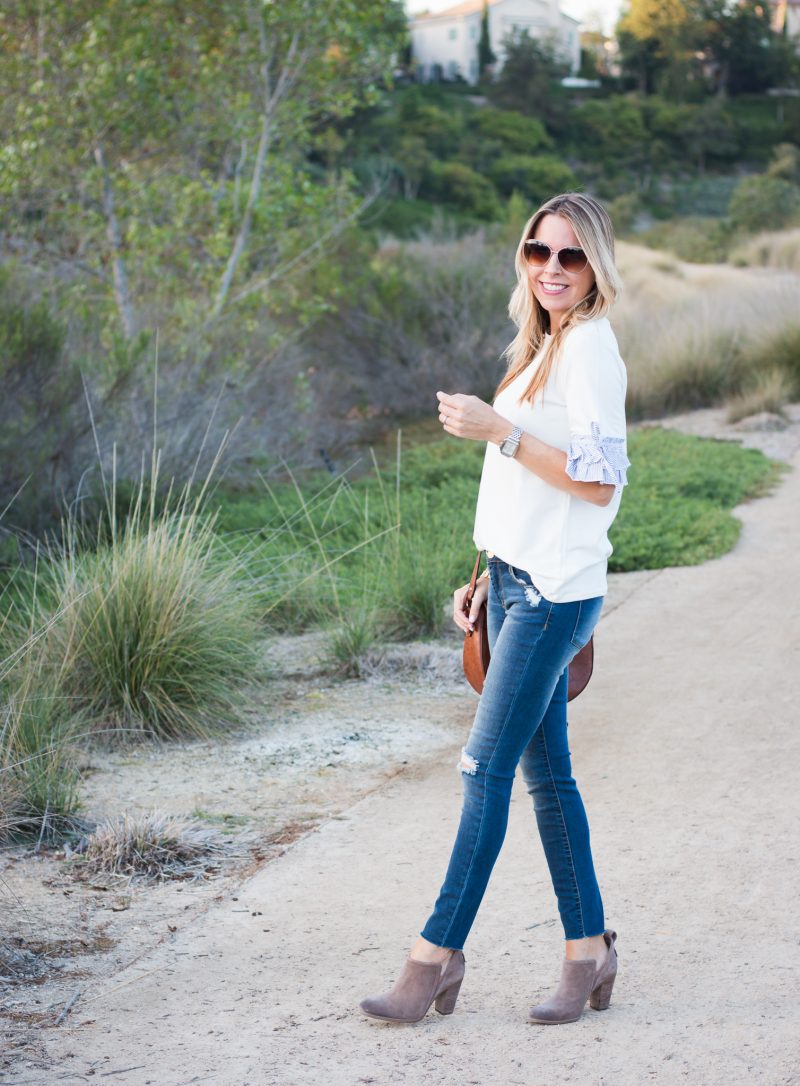 jeans | sweatshirt | booties | handbag | sunglasses | bracelets 
The kids actually helped me pick out these sunglasses and I LOVE them. They are a great shape and oversized just enough. They are now only $12. That is a steal. I bought two pairs just in case something happens to these. Yep. That's how much I like them. It's a nice change from my usual aviators.
ANTHROPOLOGIE
Anthro always has the cutest clothes and their sales rock. This week everything on sale is an additional 30% off. So good. Rounded up my favorites below.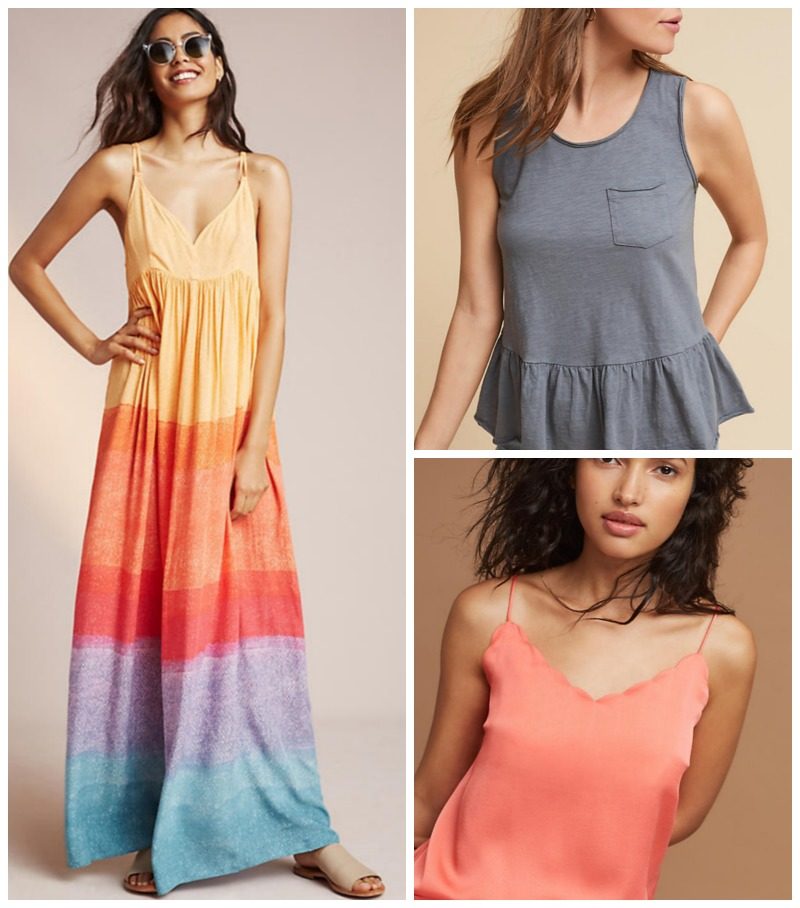 This maxi dress is beautiful. Especially if you have any vacations planned. I love the colors and how it flows. I also thought the back on this top was darling. Such cute detail. If you are a romper type of gal, this one is on sale and darling. Love the stripes. If you saw my date look post, you know I am loving camis lately and this one is so pretty. After working out, I love the idea of throwing this on. Great color options. Lastly this top received perfect reviews and is only $30.
MORE CUTE STYLES

The sale section is definitely worth checking out. So many darling things have been marked way down. Plus the extra 30% off when you check out. See it all here. 
LOFT
Loft is offering an extra 60% off of all sale prices. That is pretty darn good. I popped in and tried on a couple of cute things.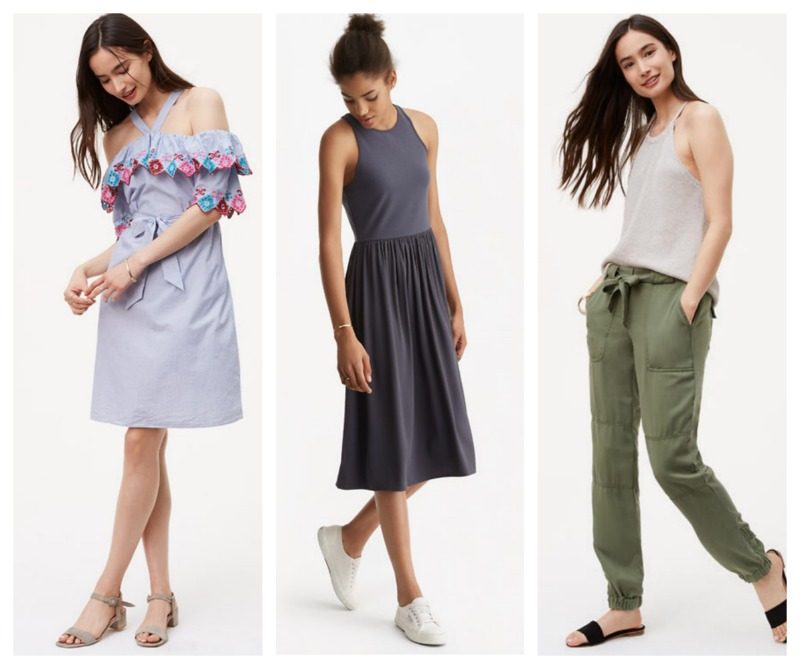 dress | dress | cargo pants
I thought this dress was super cute and has received excellent reviews.  And guess what?! It's only $20!!! This top is also a fantastic style and an extra 60% off. The back of this top is beautiful. Adore the ruffles. Have you ever owned anything from Lou & Grey? So so soft. I have a grey dress I have been wearing for years. Great line. This dress is now only $30!!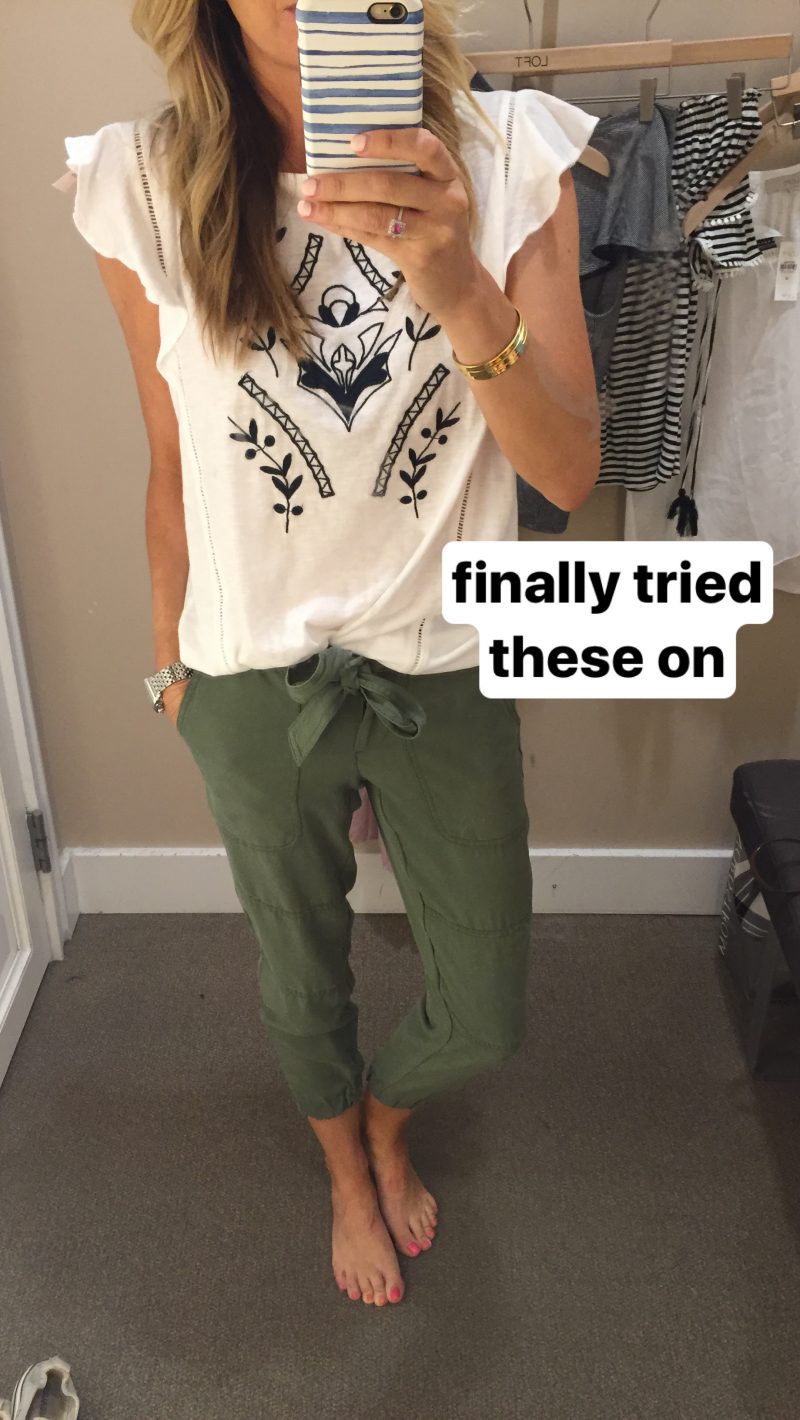 I've been seeing these around town and finally tried them on. Yep. Love them. The best part is they are only $26 now.  I actually went with a petite 0. I am never a 0 but Loft runs big on me. I only went with petite because I liked how these cargo pants looked a little bit more cropped. They are designed to go to the ankle but I decided to change it up. The shirt is no longer on the website. So bummed. For reference I am usually a 2/4 in other brands.
This top was also a winner. Really fun detail on the sides and would look so cute with a pair of black shorts and heels for a date night look.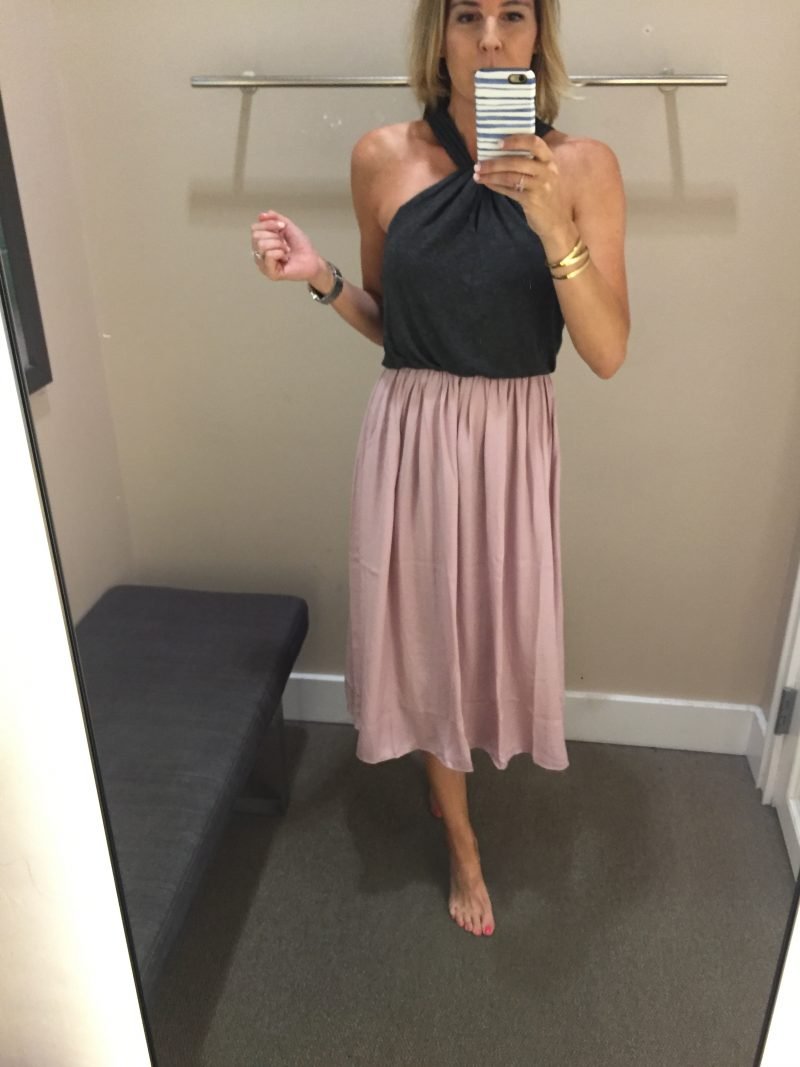 I had seen this dress online and was excited to try it on. It's really soft and a fun style. This is a size small. It is 40% off today. 
MORE CUTE STYLES

NORDSTROM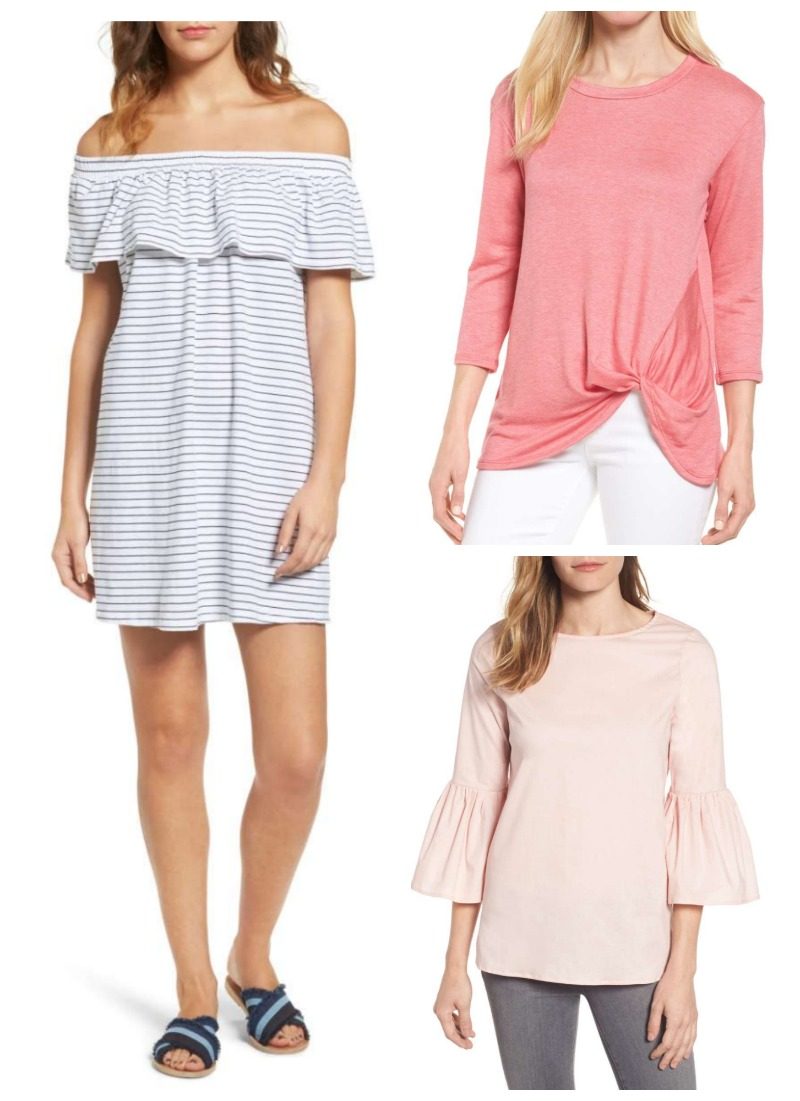 dress | top | statement sleeve top
This top definitely caught my eye because of the sweet twist detail and it comes in many different colors. Also love these workout pants for kickboxing and they are now on sale.
I'll pop back in after our morning hike to add a few more sale items. I hope you have a fantastic weekend. We are soaking in the last days of summer.
*affiliate links used