Thank you for all of the sweet comments about the entertaining tips. I really do believe in keeping it simple. Can you believe we only have two weeks until Christmas?! What? So here is my deal. I did a ton of my shopping early. But not all. And ever since that productive day I have done none of it. I really need to finish it up. And I will be doing it online since I am sick in bed. Today I sharing a few shopping guides I curated and everything is under $50.  The toys you'll see below are some of our very favorite (tried and true).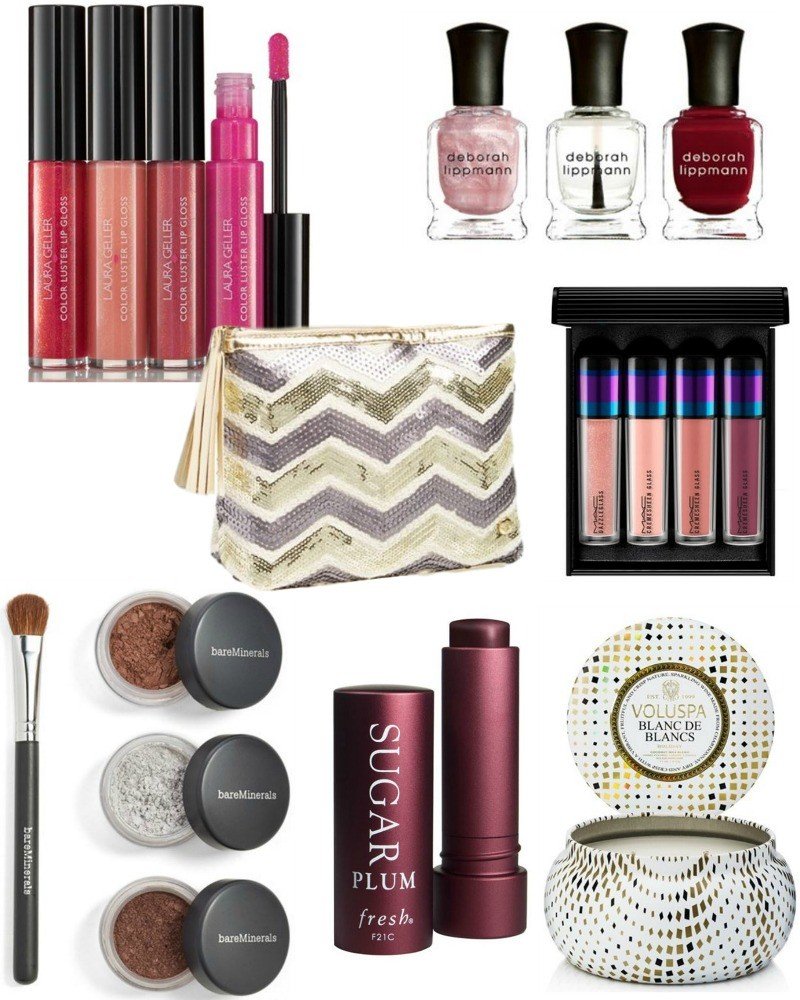 Shop These Beauty Gifts

These are all such great gifts. I was given that candle by my friend Candace and love it. And I am a huge neutral lip girl so I would love receiving the lip gloss set. And while it's not pictured, I have mentioned before that this eye liner is the way to go for all of your upcoming holiday parties. I am sort of bummed I didn't know about it over the last ten years. I asked my husband for this lotion for Christmas. It's really the only thing on my list. It's a splurge but it's so amazing. I feel like a different person when I put it on. And my last one has lasted over 8 months so that's pretty good!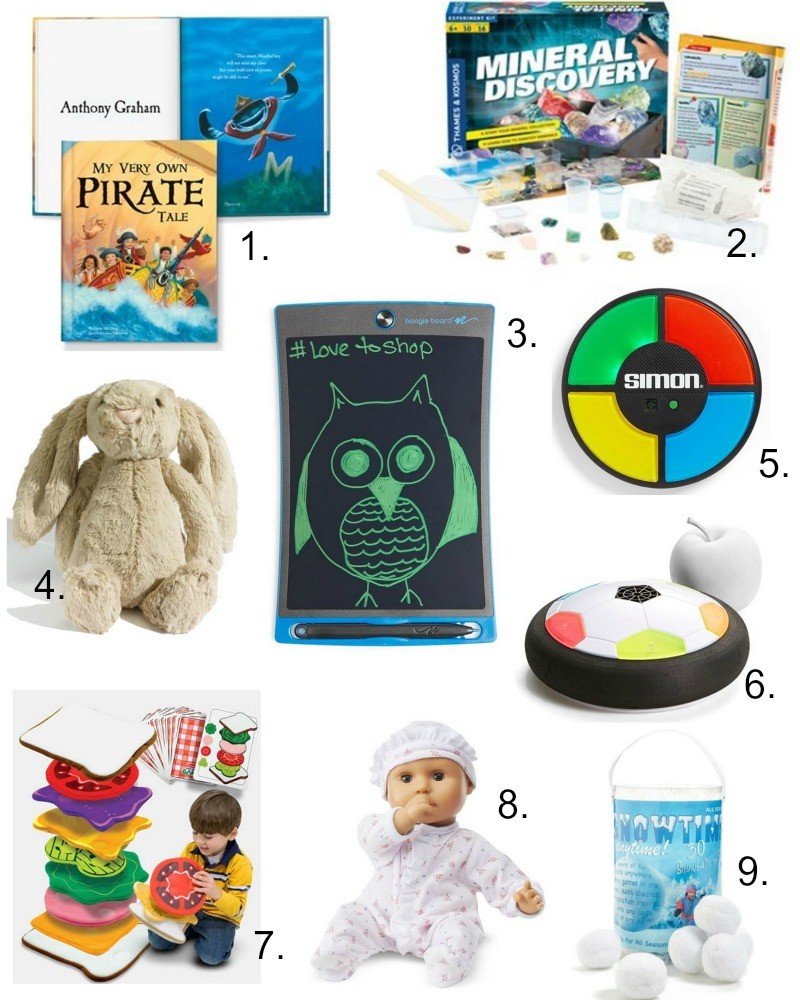 Shop These Toys

1.Personalized Story Book: I love this idea! So the child's name gets spelled out through the entire book. So darn cute. And there is a darling fairy version as well.
2.Mineral Discovery: This has my children's names written all over it. They both love science and any time they can do a set like this it's a good day.
3.Boogie Board:  I am really excited about these. I picked up one for each of my children. We are not the family that goes overboard with tons of gifts but pick just a few special things. We always felt that the magic was lost if Santa brought too much. This is a fun board you can write on and with a push of a button it disappears. Thought it would be great for my oldest to write down her to-do lists. Hope they like them! Also great for traveling or long road trips.
4.Bashful Bunny: This needs no explanation. Soft. Adorable. Done.
5. Simon Memory Game: This was a gift to my two last year and they still love it. I used to play as a child and my son hold's the record. He is crazy good at this it's not even normal. Highly recommend this one.
6.Air Power Soccer Disc: This is another one we have tested and love. My daughter received it as a birthday gift. Awesome toy. They love playing soccer inside and it's totally safe and fine with this disc. It glides across the carpet in our playroom and they LOVE playing
7. Sandwich Stacking Game: We are huge fans of all things made by Melissa & Doug. The quality holds up and the kids play for hours with the pretend food items. While we don't have this game, we have a similar sandwich set and they still play restaurant with it.
8.Mine to Love Doll:  Realistic, precious. That is all.
9. Snowtime Snowballs: How cute are these? What a fun thing for kids. And I read long ago that children need thins to safely throw. . . it helps with their emotions and feelings. That immediately came to mind when I saw these snowballs.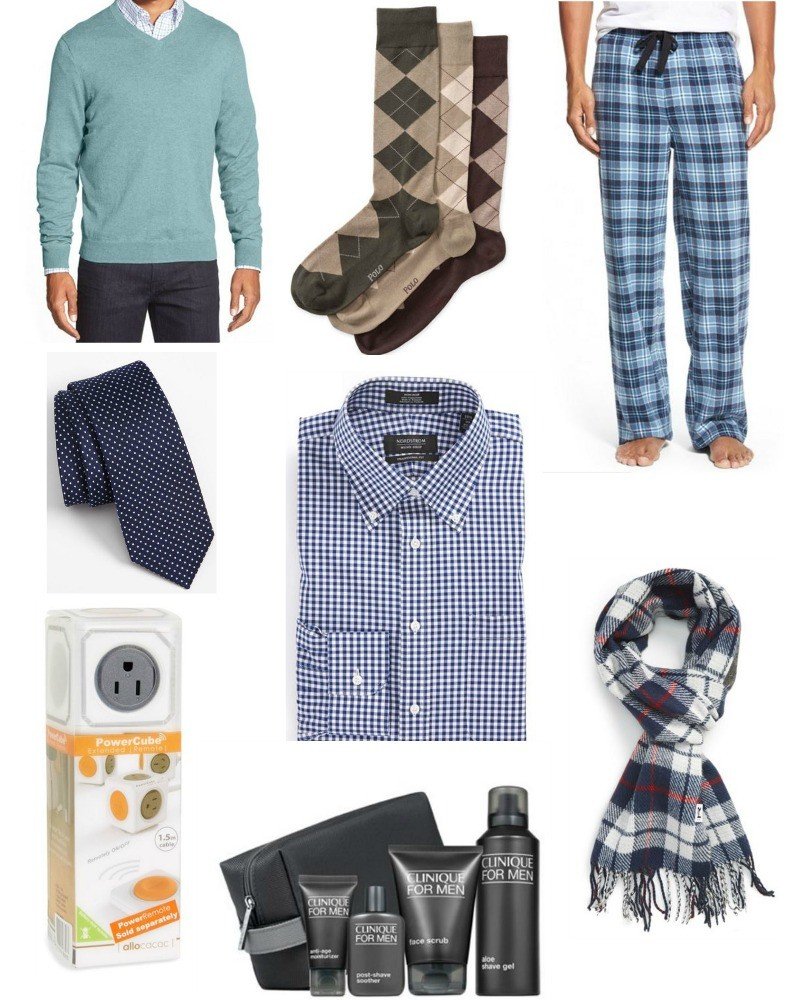 Shop These Gifts for Men

That power cube is still going strong. I have had so many readers tell me they picked one up. And that scarf. . . great if you have a guy in your life that wears scarves. And if you don't, it's super cute for you! Great price and darling plaid.
And I'll leave you with some cute finds for you under $50. I especially love this turtleneck (great detail on the sleeves) and this sexy tank. Great for the holidays.
Style Under $50


To snoop around any of my other holiday gift guides, just click above. You still have time to have things shipped before Christmas!
Have a wonderful weekend. I am flirting with pneumonia and hoping my lungs clear up so I can get out and enjoy this time of year with my family. Until then, it's online shopping and snuggling in bed.
Proud to partner with Nordstrom on this post. All gift selections and opinions are my own. Affiliate links used.