Welcome back for Take 5 Tuesday! Hope your week is off to a great start. Today I am showing you a small collection of some of my favorite art tricks. It doesn't take a ton of time or money to create meaningful artwork in your home. First up is a cheap and easy way to mat your pictures. Add a Splash With Fun Matting This idea can either be used to add some interested an personality to a space . . . or to solve the issue of your photo being smaller than your opening in your frame. In this example, I wanted to add pattern to the beach print of our daughter to coordinate with the rest of my laundry room. I simply placed a piece of black and white damask scrapbook paper behind the photo. You could also use fabric for this.
  Raspberries n' Cream Yogurt Pops

Jo-Anna from Canada has the sweetest blog called A Pretty Life in the Suburbs  I just stumbled upon these yogurt pops and knew my readers would love them as well. My children will go nuts for these. . . and they are perfect for summer. I am always trying to figure out how to hand them a decent snack during these long summer days.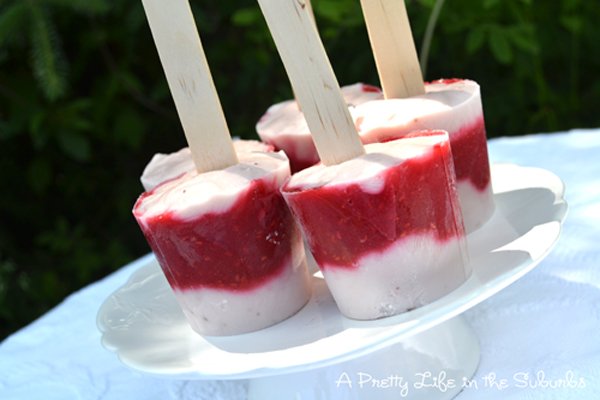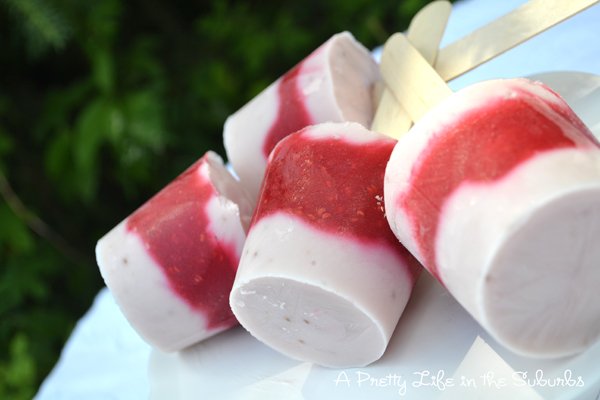 I have to have these based on these photos alone! Seriously talented. So delicious. Here are the details: Raspberries n' Cream Yogurt Pops 
(recipe makes about 10 good sized pops) 2 – 650g tubs of full fat yogurt  (the higher the fat content, the less 'icy' the pop will be)
2 – 12oz shells of fresh raspberries
Dixie Cups
popsicle sticks
In a blender, puree your raspberries.  
Lay out your cups, and put about 1 inch of yogurt in the bottom.
Then a layer of raspberry puree.
Then the remainder of yogurt on top.
Insert popsicle sticks.  The yogurt is thick enough that the sticks will stand up fine.
Put in the freezer until they are frozen solid.
Tips!
These pops turned out great!  But if you want them even creamier, you could add 1 – 1 1/2 cups of whipped whipping cream.  Just whip up fresh whipping cream, with a little bit of sugar, then fold it into the yogurt.  Then layer as above.
Before eating, these pops were best after they had sat for about 5 minutes after they had been frozen.  This just seemed to soften them up a bit before eating.
You could use any number of fruit and yogurt combinations:  peach, strawberry…
Try them!  They look so pretty, your kids and guests will be so impressed!

So are you planning to make those soon like I am? If you would like to submit a post to be featured on Take 5 Tuesday please email me your link at athoughtfulplaceblog@gmail.com  Please include "Take 5" in the subject line! I would love to feature your quick and easy idea for decorating, organizing, cooking or entertaining. If you have missed any of the past Take 5 ideas you can see them by clicking on this button.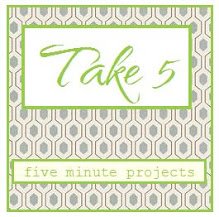 And if you haven't entered to win the fantastic Black & Decker Steam-Mop you can check it out here: