With Spring around the corner. . . . I thought I would share some of my tried and true denim favorites. Realizing that much of the country is still knee-deep in snow, warm weather thoughts are being sent your way. There is no doubt that I pretty much live in denim and just switch up my tops.  Here are my top 4 denim favorites for Spring (all under $100)!
CROPPED DENIM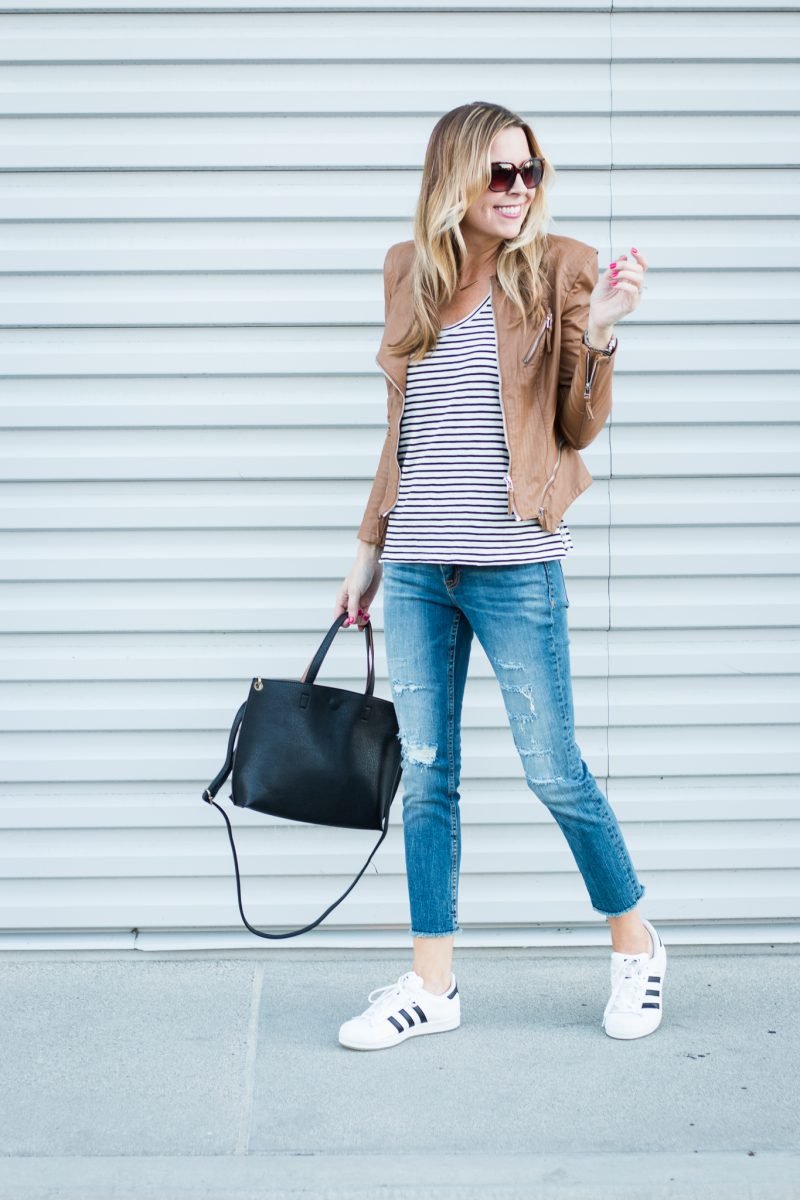 These cropped and distressed jeans are so nice for the weather warming up. When I first tried them on I was worried they were a bit too stiff but they loosened up quickly and I really love the fit. They are true to size and fit well in the booty, too.
jeans | tank top | jacket | handbag | adidas | sunglasses
I have had this little back bag for quite some time and it's still going strong. Very lightweight and it comes in other colors, too. You know I love me some stripes. This tank is a nice basic. It is a bit of a boxier cut which is nice if you don't like things to be too fitted.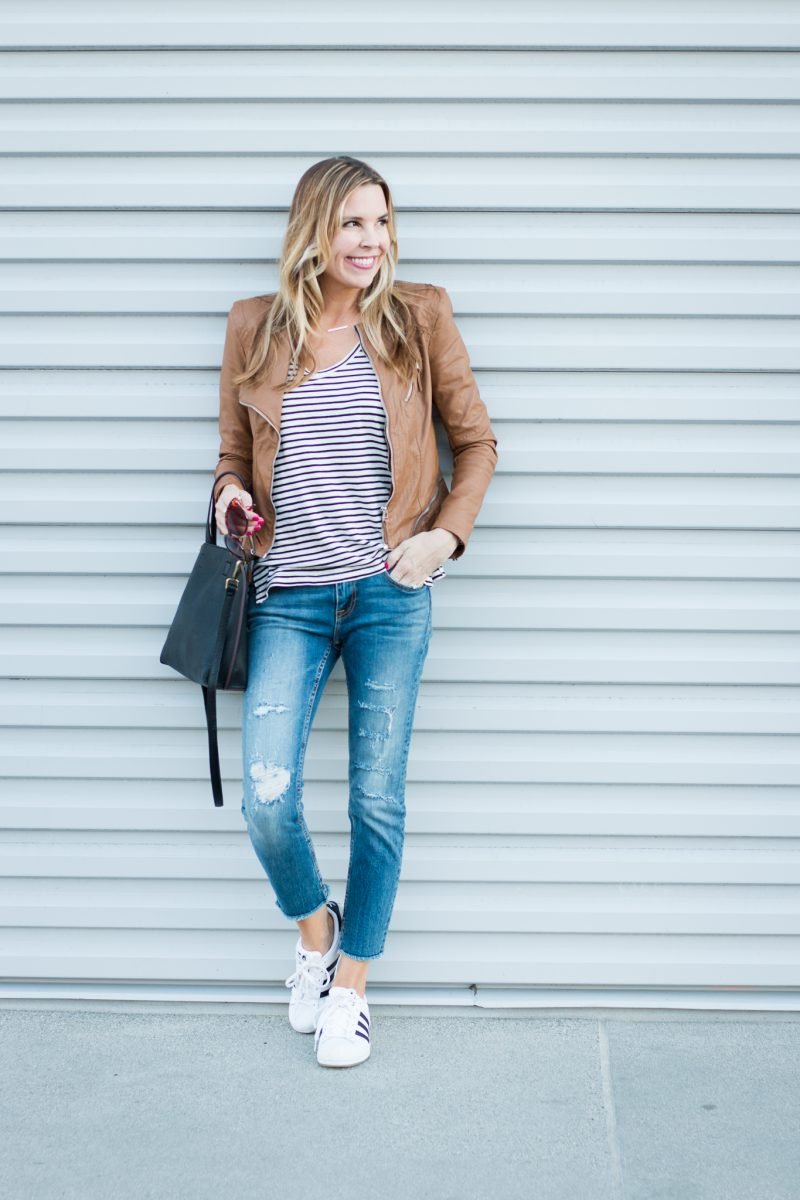 More Distressed Denim

scroll for more options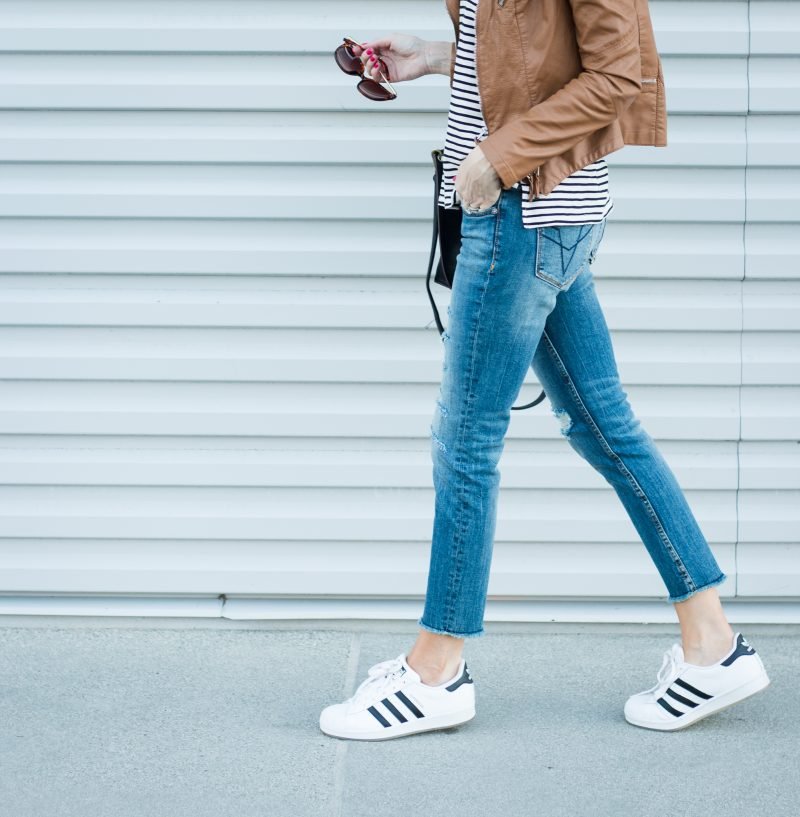 The Adidas and faux leather jacket are wardrobe staples of mine. I like that I can dress the jacket up or down and  pretty much live in these shoes every weekend now. They look cute with anything, including my lounge pants.
SHORTS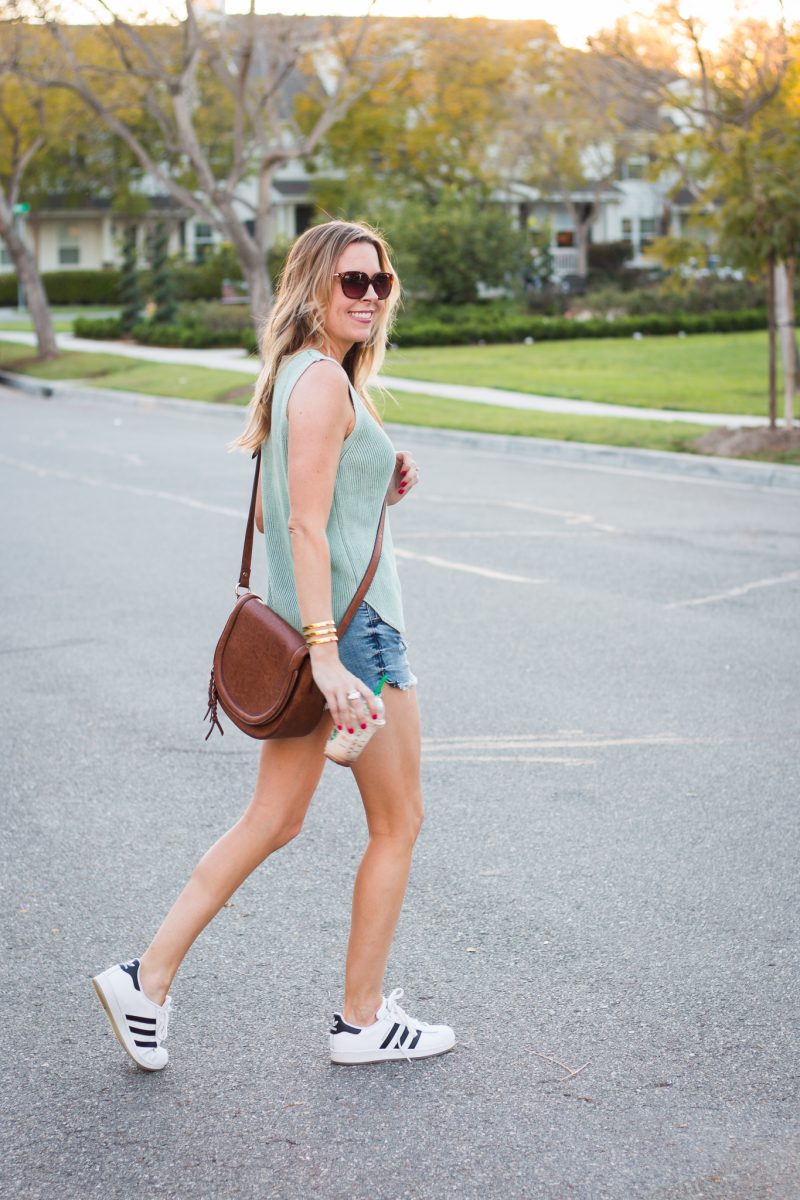 Please bring on shorts weather. I found these denim shorts and love them. They are a great price point and very comfortable. No question they are short so if that's not your thing you won't like them. I sized up in these. I have not tried these on but love the cut.
The sleeveless sweater is a nice transition into spring. It has a darling faded quality to it which makes it unique and fun. It's one that people ask me where I bought it whenever I have in on. Will look cute paired with the cropped jeans, too. The handbag is another tried and true piece that I wear often. I also love how these shorts look with this darling button down.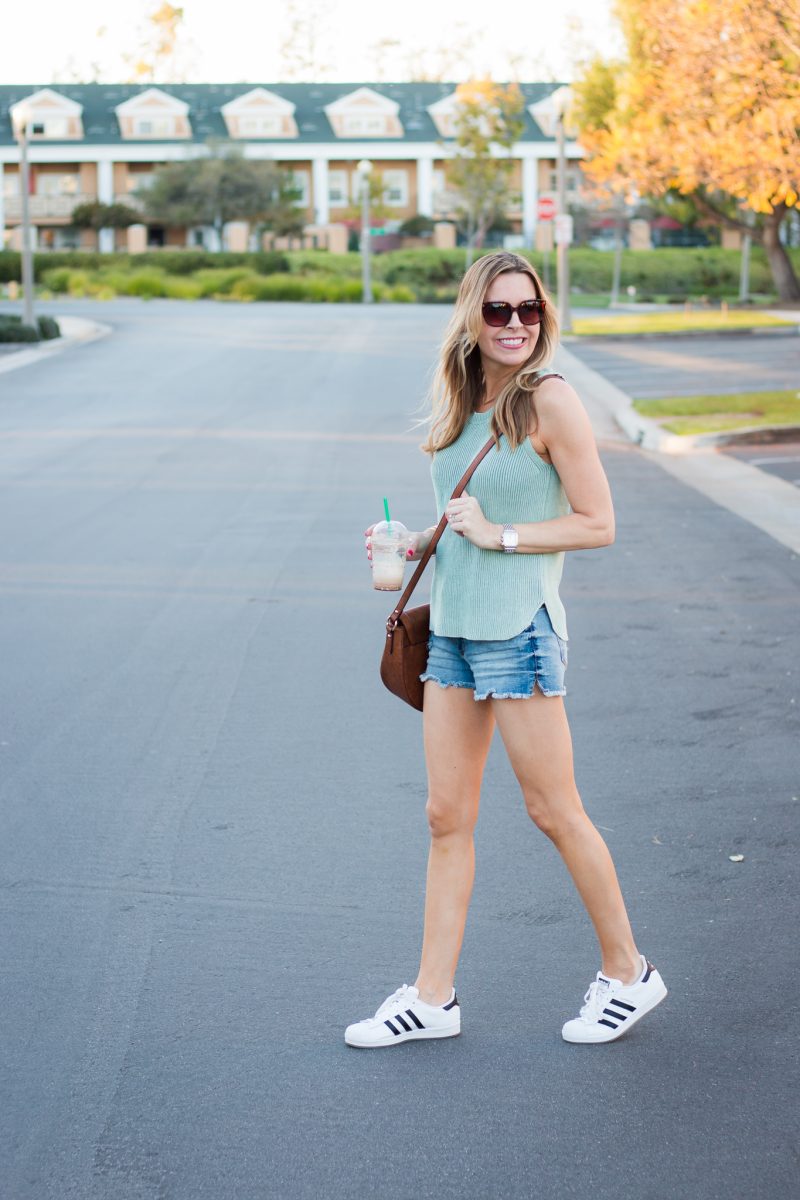 shorts | top | shoes | handbag | sunglasses
On a totally unrelated note, I am not a fancy coffee drinker at all. But the other day I was driving through Starbucks for an iced tea ( which I NEVER do) and the poster for the Cinnamon Almond Milk Macchiato beckoned to me. It's sooooooo good. Just wanted to throw that out there in case you need a treat this week. I did!!! It's been a doozy already.
More Denim Shorts

scroll for more styles
WHITE DISTRESSED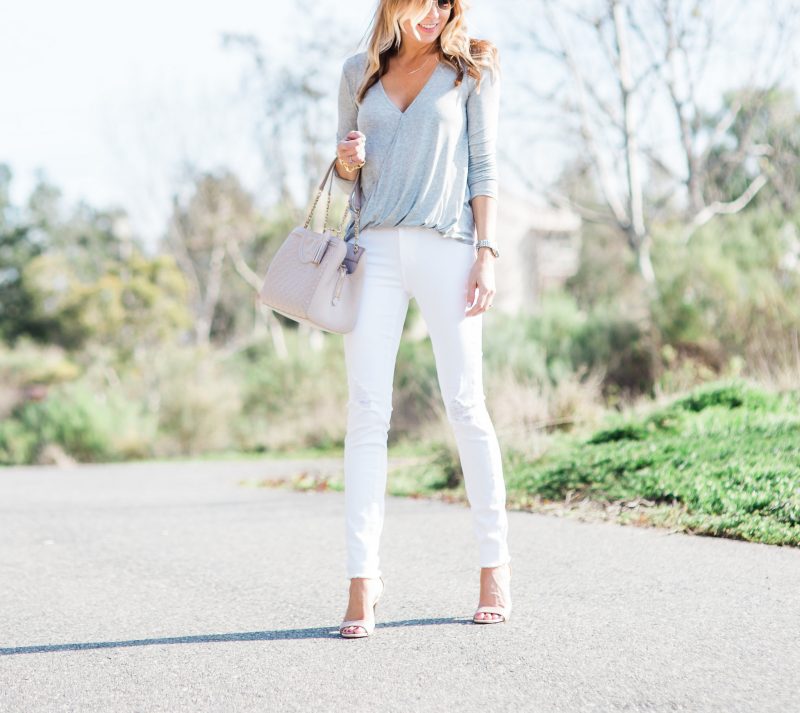 Love me some white jeans. Always have. To me they just look so fresh and clean any time of year. My latest love is this pair of distressed jeans. This is my normal size but I should have sized down. They do stretch quite a bit.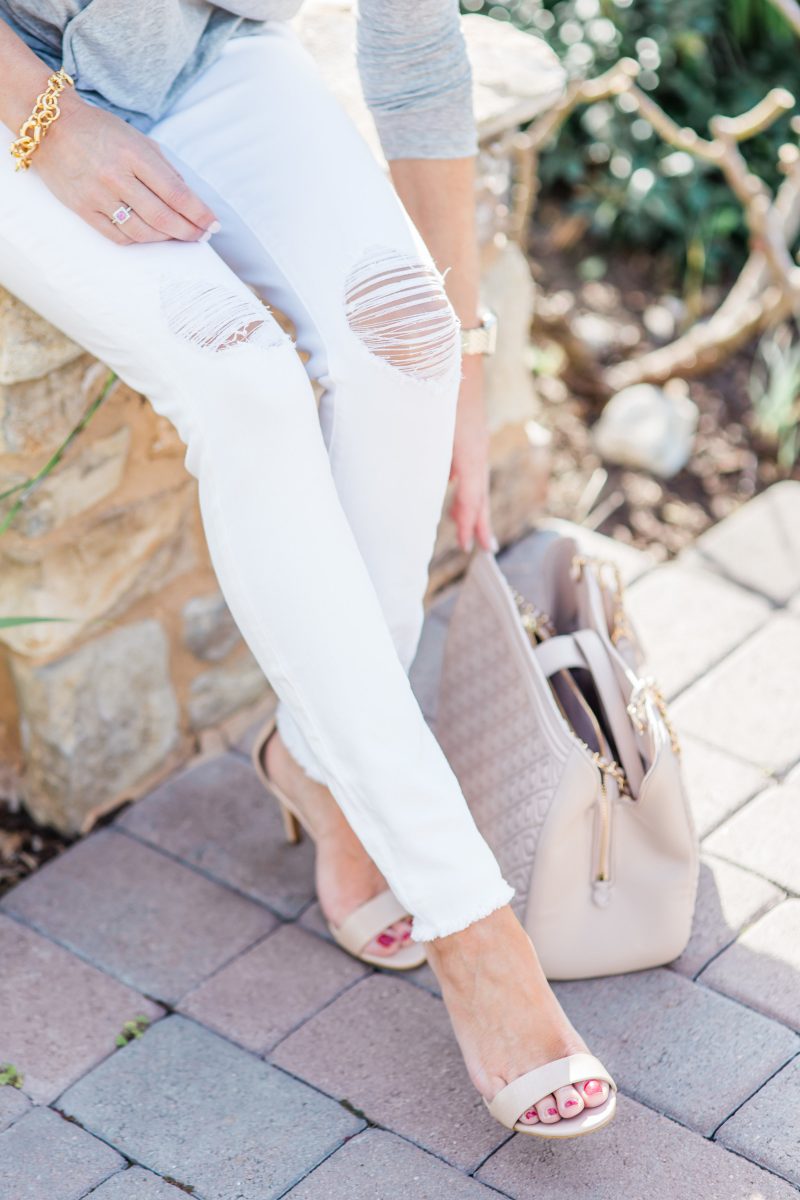 jeans | top | handbag | heels | similar handbag | similar bracelet
You can see the distressing better in this shot. I love pairing something pretty and feminine with the distressed jeans. It's a nice contrast.
SIMPLY WHITE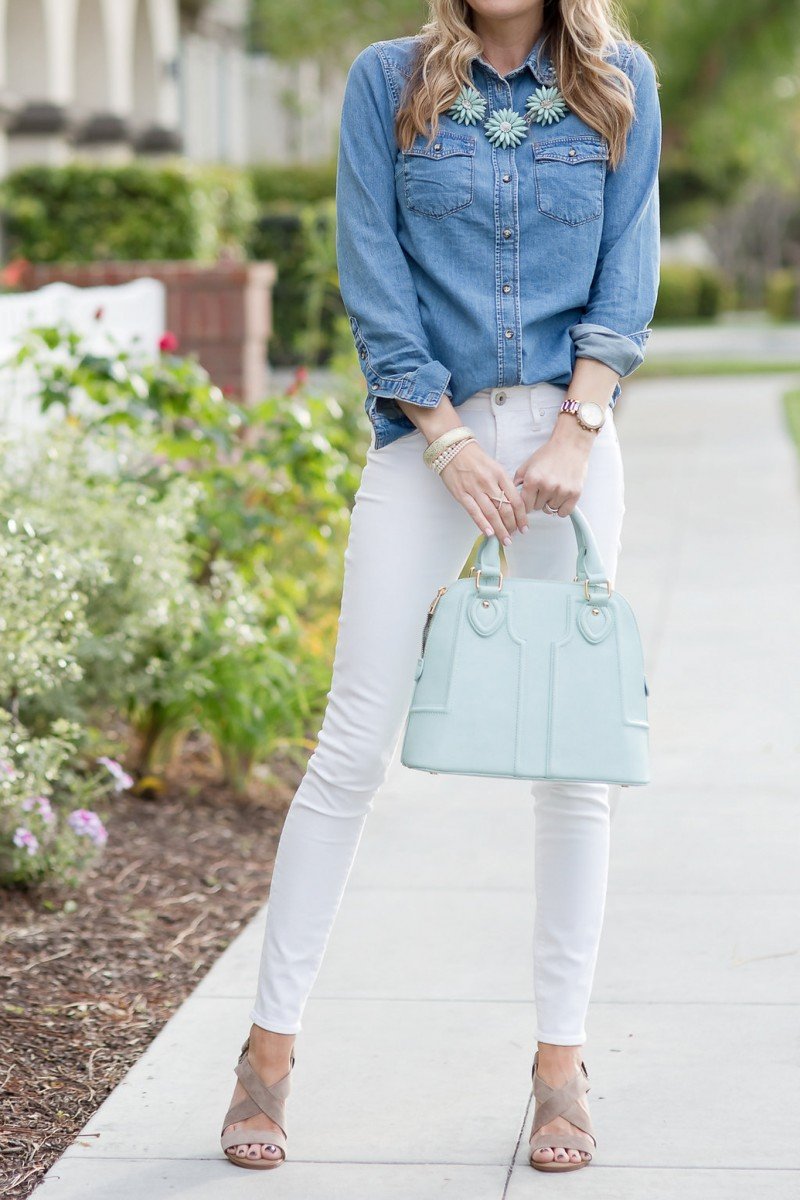 white jeans |  top | similar sandals | handbag | necklace
These might be my favorite of all time. They are thin and comfortable and I love the way they fit. I don't feel like I have bulky white denim on. They have stood the test of time and work with everything. I wear them with heels, sandals, and of course these. They won't break the bank and are pants I always take when I travel, too. Pairing anything with white and a fun pop of color is an easy and cute look.
More White Denim

scroll for more
This handbag is back this season in a different color and it's so pretty in real life. And while this necklace is no longer available, this one has a similar feel.  It's a nice way to add personality to a denim shirt.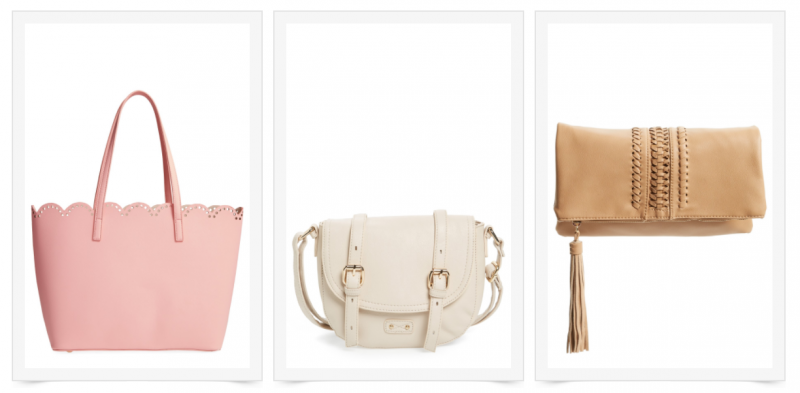 Lastly, I found these cute handbags that look much more expensive than they are. The scalloped tote reminds me so much of the Kate Spade one. All cute handbags for Spring.
I hope you all have a great day. I am off for a very short trip and I can't wait to share who I am meeting up with over on my Insta Stories!!!! Stay tuned.
*Affiliate links used. Proud to partner with Nordstrom on this post.