Although we are still knee deep in summer around here, Fall is just around the corner and each year I regret not finding some more back to school things for my kiddos from the Nordstrom Sale.  Gone are the days of my picking things out and them wearing them. Not a chance these days. My daughter has her own style and most of the time I get it wrong. The other day I thought I had totally nailed it and she was like, "Umm. Mom. That's really not my favorite." Back it went. So below I am sharing pieces they actually picked out. While we will only buy a few pieces for Fall, they are all kid approved! And because NSale early access is almost over it's a good time to shop if you do have the Nordstrom card. I am so surprised how quickly things are selling out. Here is a comfy outfit that will be a good transition into fall.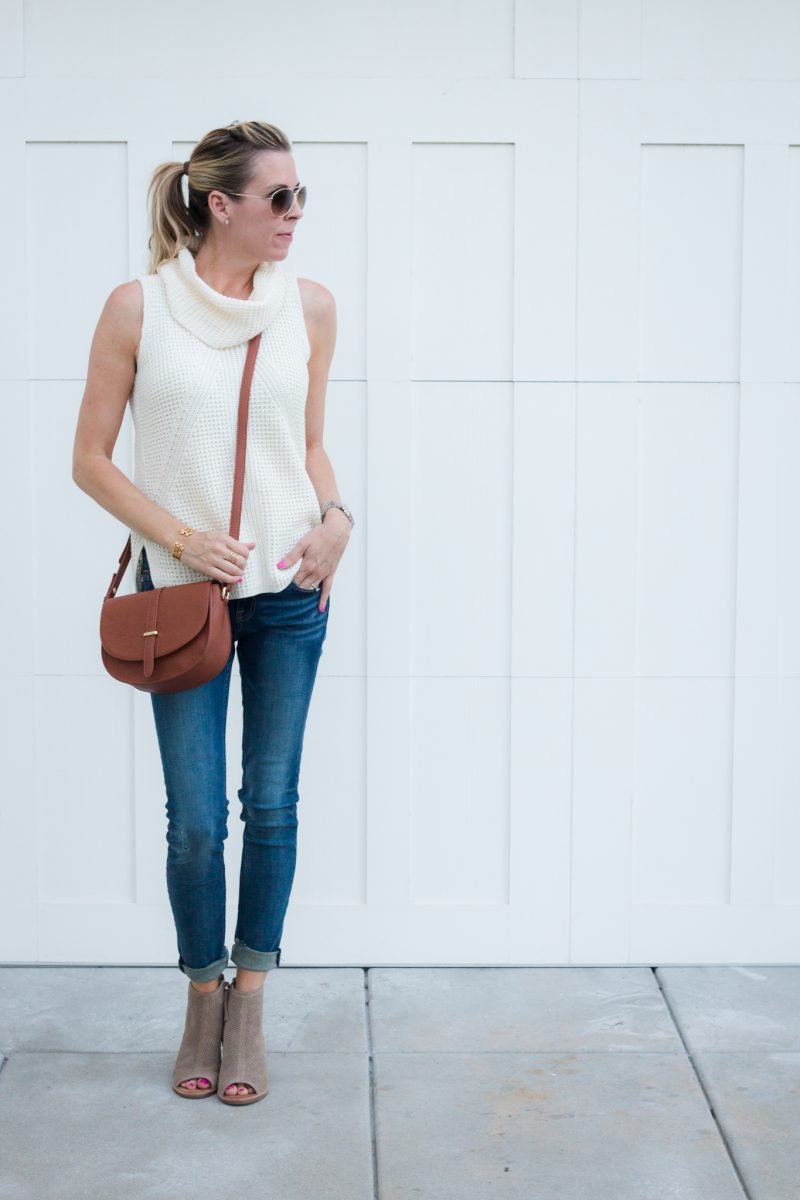 I found this outfit the first day I shopped. These pieces are very me and will be worn a lot as Fall approaches. I love a good turtleneck sweater when it's still loose around my neck. This one is cozy and chunky without being too heavy which I like. I am wearing a small. I have been watching the sizes and they do get restocked from time to time.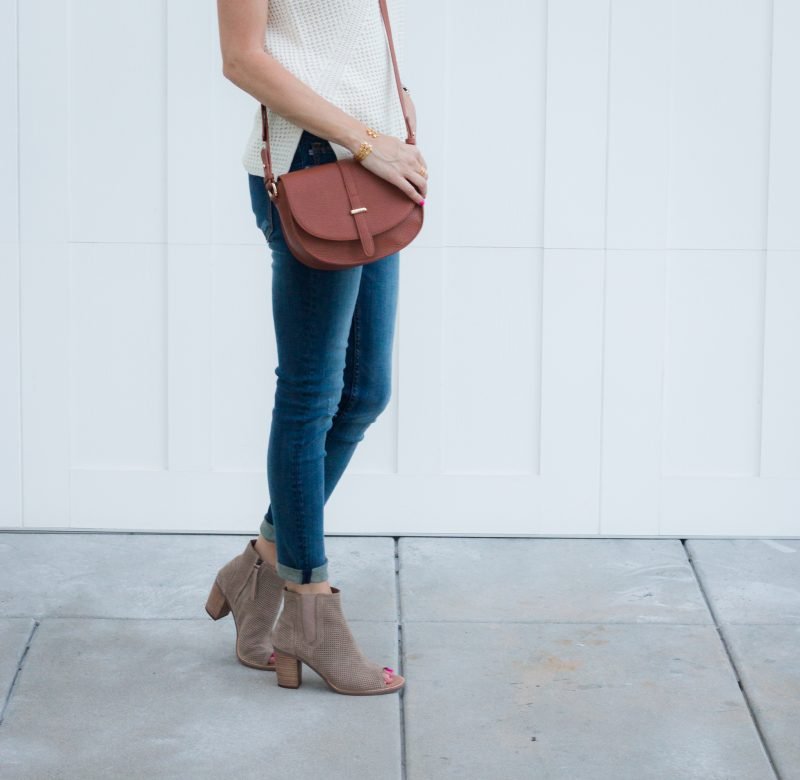 The distressed jeans are cropped at the right place so you can wear them with flats or heels. They are low rise so if that is not your thing you may want to look at the other denim.  I liked the price and I wear my white cropped jeans so often so I thought I would get a lot of use out of these, too. And I have to apologize as I think I had the wrong booties linked before. They were still Early Access and Toms but these are the perforated ones and I adore them. Have worn them a ton already with dresses and jeans.
Shop This Look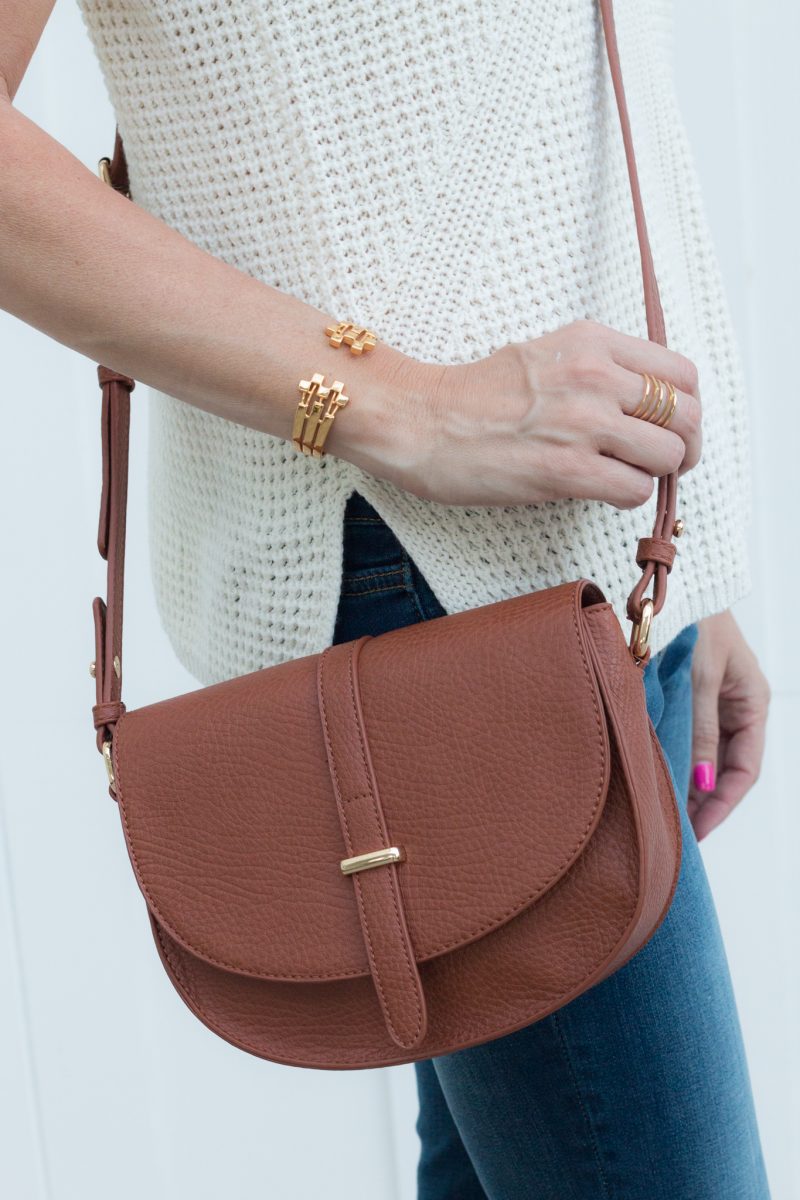 This crossbody bag is a great size and an affordable option. I like the gold detail on this $29 one and that it comes in black. This one is gorgeous but more of a splurge. And the ring is a fun one from Stella & Dot.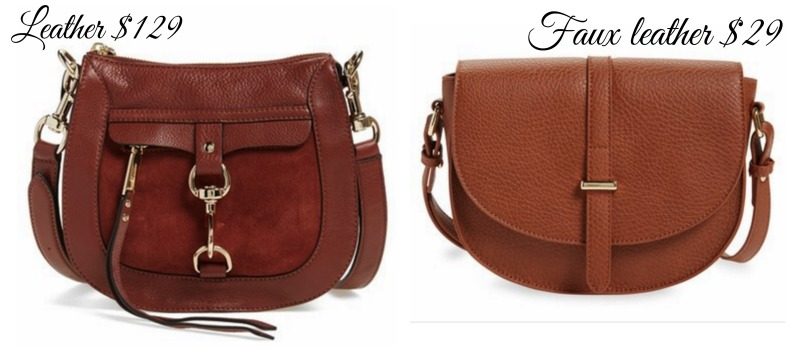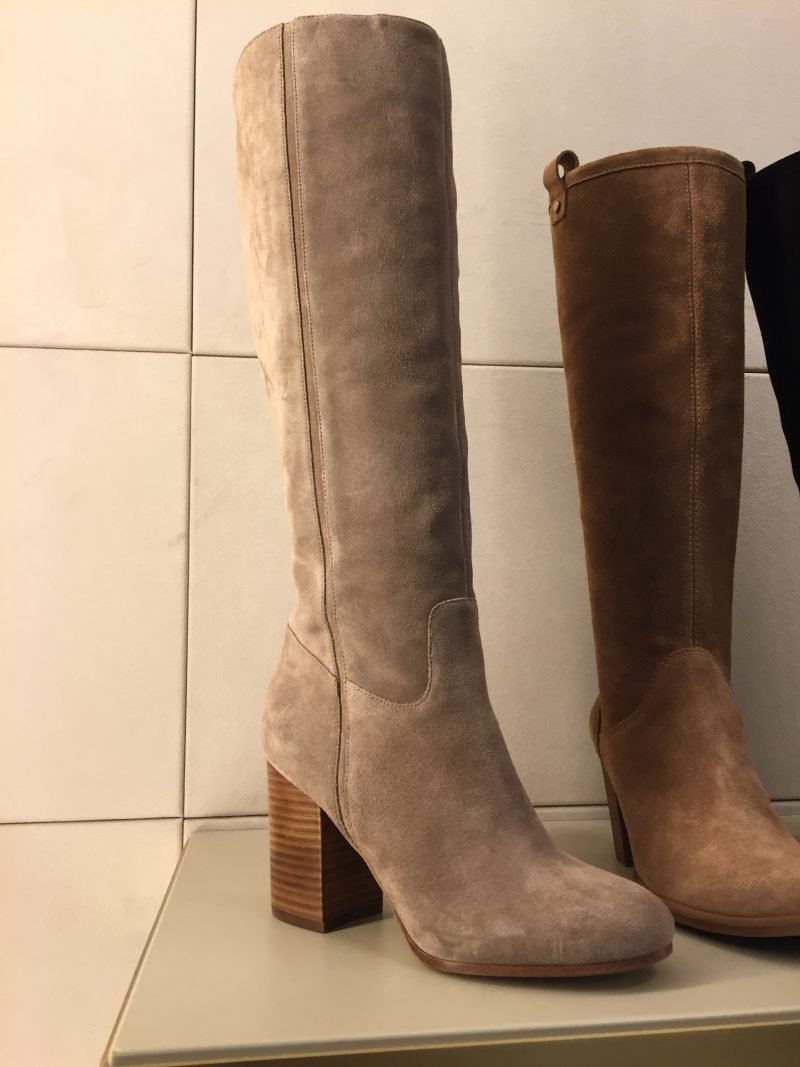 In the boot department these are pretty epic but a splurge. I have a pair that is almost identical that I have worn for years. Such a classic great boot for Fall. These are very similar and $149 during the sale. They are also water resistant which is awesome.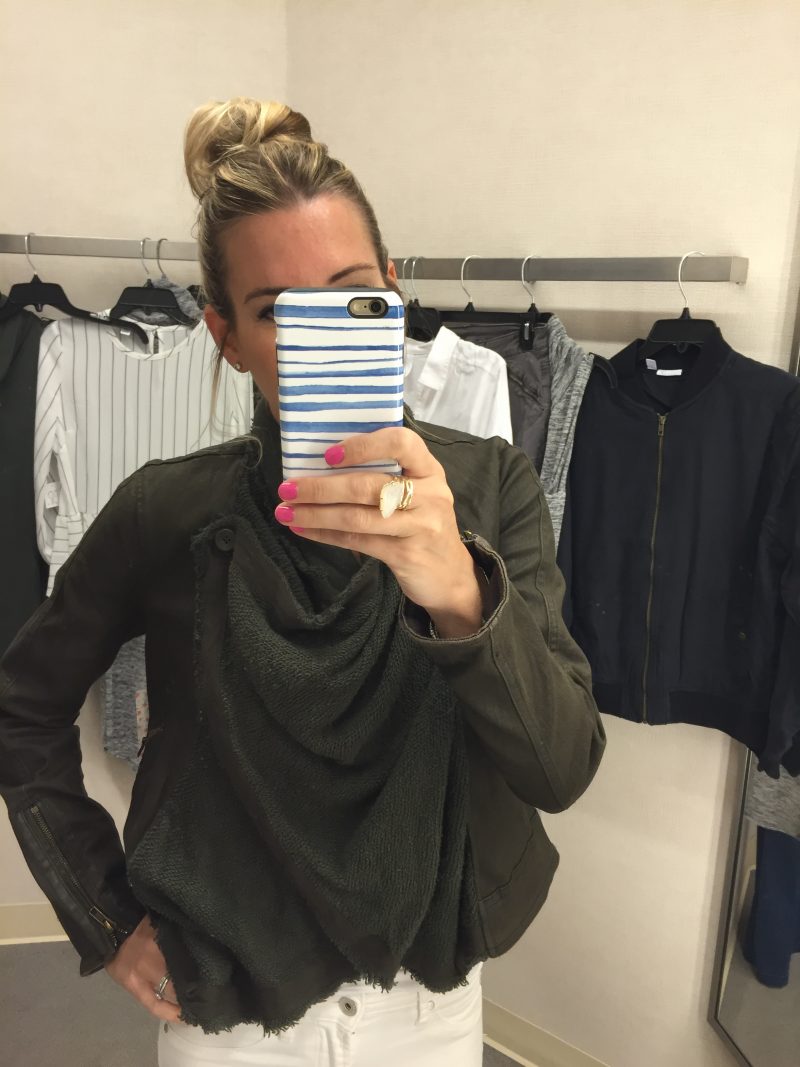 Also tried this cute little jacket on. In looked a but funky on the hanger but very cute when it's on. I didn't buy it even thought I wanted to. One of those things I keep thinking about. Fun find fro Fall.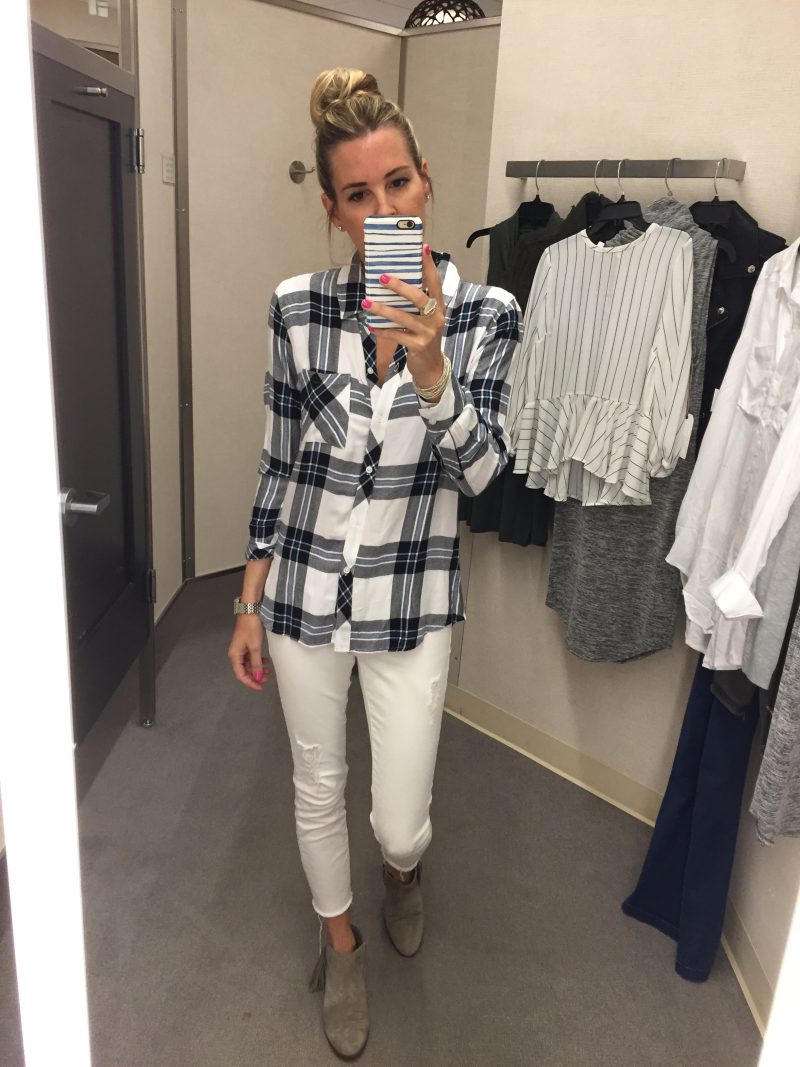 This plaid shirt is beautiful in person. It is still pricey during the sale but it really is pretty. This one is on sale for only $29    and is quite similar. And it comes in a few different colors. I paired it with my favorite crop white jeans and fringe booties. You can get fringed booties this season, too. The Rudie Bootie is a darling shoe. I will say that I get the most compliments when I wear the fringed booties. Just something about them.
I did just order these Nike athletic shoes (in white and gray). Mine are seriously 8 years old and need to go. Love how neutral these are and they will go with everything. The other workout piece I bought was this sweater to toss on for hikes in the morning or for before and after workouts. Or just to look like I work out! Let's keep it real. Most days I find one million other things I NEED to do. Ugh.
CUTE PICKS FOR GIRLS
Ok! Let's turn to the kids. As I said earlier, these are all pieces my daughter gave a thumbs up. We always stick to a back to school budget so we will pick out a few pieces for Fall but here is a great selection to get your wheels turning. These jeans are fantastic. So comfortable and the fit is great. Just FYI.

CUTE PICKS FOR BOYS
My son was hilarious picking these out. I wish you could have heard him in person. Let's just say he chose every one with passion and enthusiasm. (I have to admit that I didn't think the boy selection was as strong this year. Anyone with me on that?)

Do you remember this $36 dress from the sale? I told you that it's my dress pick from this season. Well I wore it in black the other night and loved it. Can't say enough about it. Go up one size if you don't want it tight to the body. It will still have a lovely shape and fall really well.
So that's a wrap for the day. My husband just informed me that we are losing internet due to the move and not sure when it will transfer to the new house. So hoping all goes smoothly but if you don't hear from me that is why.
Have a great day!