In our previous home, we had only a family room. In the new house there is a formal living room which is novel for us. While I hear from many people that their formal room never gets used, we are the opposite. This room finds us in it all the time. I can sit on the sofa and watch the kids play outside and my husband and I like to relax in this space. Mind you we have nothing on the walls and one place to sit but I wanted to share this pretty sofa that my friends at the Old Bones Co. had made for me.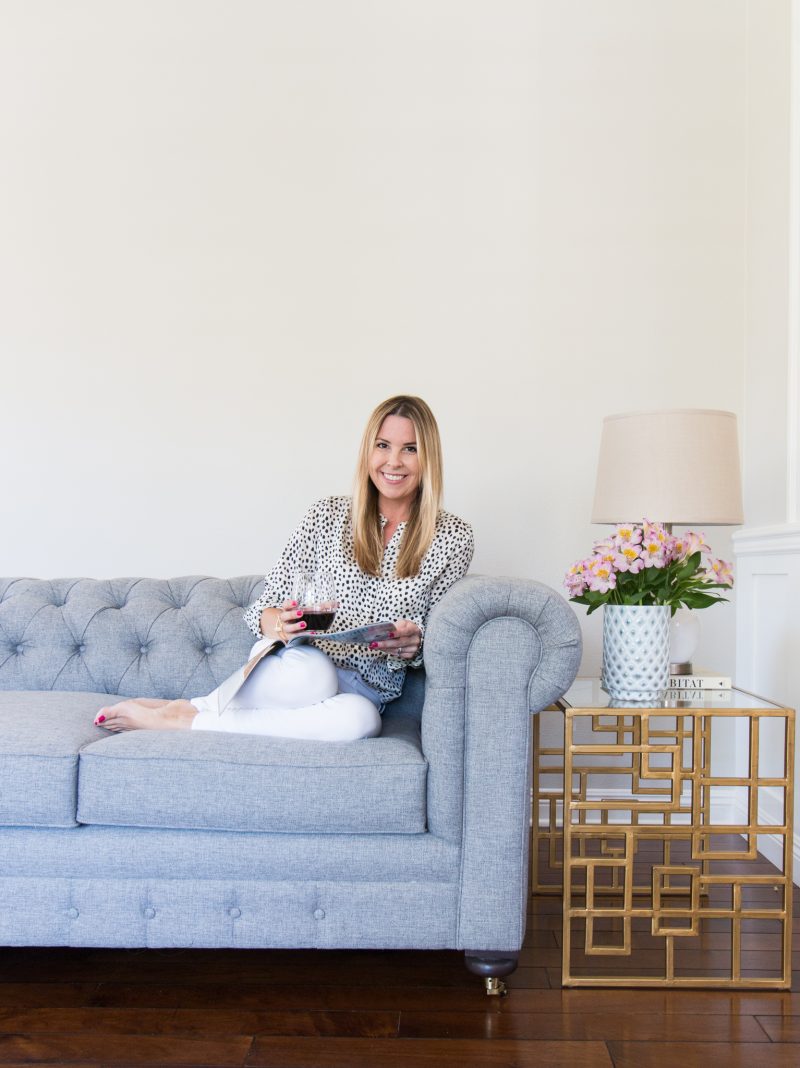 I've always wanted a sofa like this. I love the Chesterfield style. It's classic yet the clean lines give it a nice modern touch. The tufted back and arms had me at hello. While it is not a squishy, sink down it type of sofa, it is firm and quite comfy. Everyone who sits in it remarks that it is comfortable. It's called the Liam sofa and I had it made it the Taylor felt gray. The side table is a recent find from here.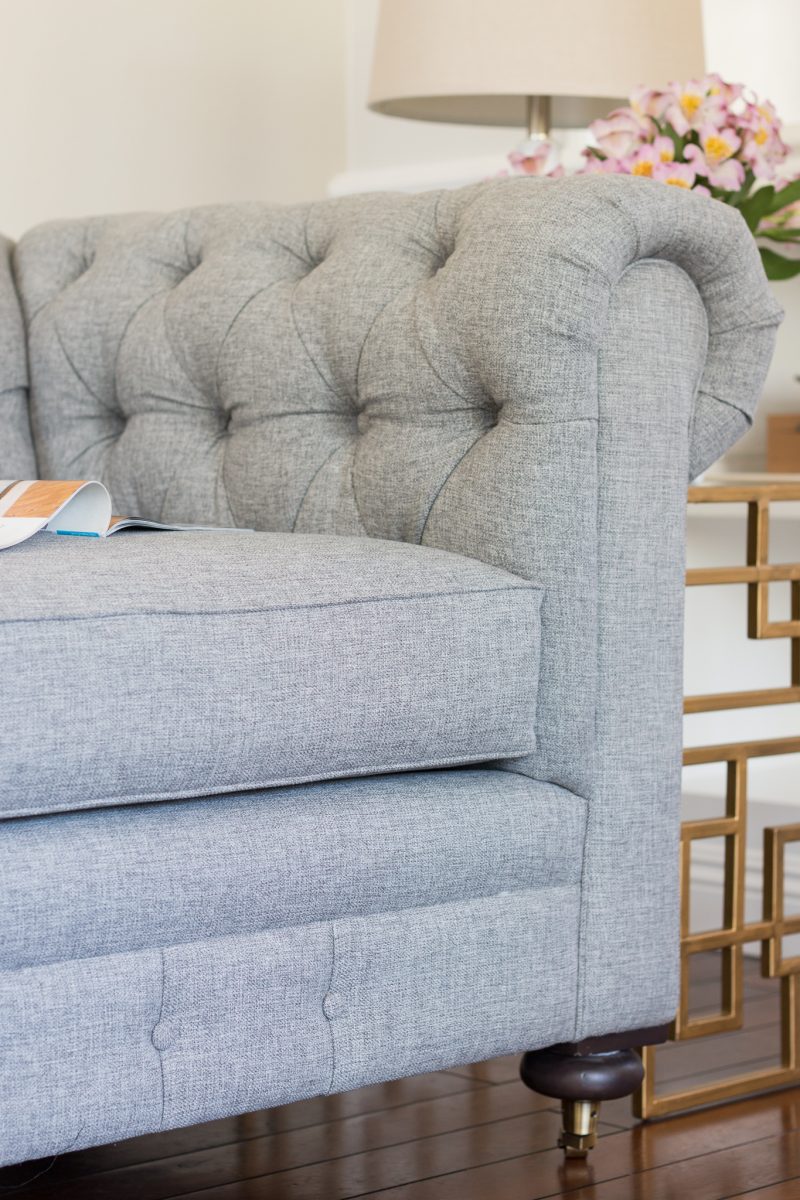 We will be adding a rug underneath this sofa as well as two chairs facing it. I am also on the hunt for a coffee table but we are in no rush.
Don't let these photos fool you! The other side of the room is a complete disaster. Like a crazy hot mess. This is our "staging" room right now for the rest of the house so that means you can find all of our frames, mirrors and yet to be opened boxes!  But I just look at this side and all is right with the world.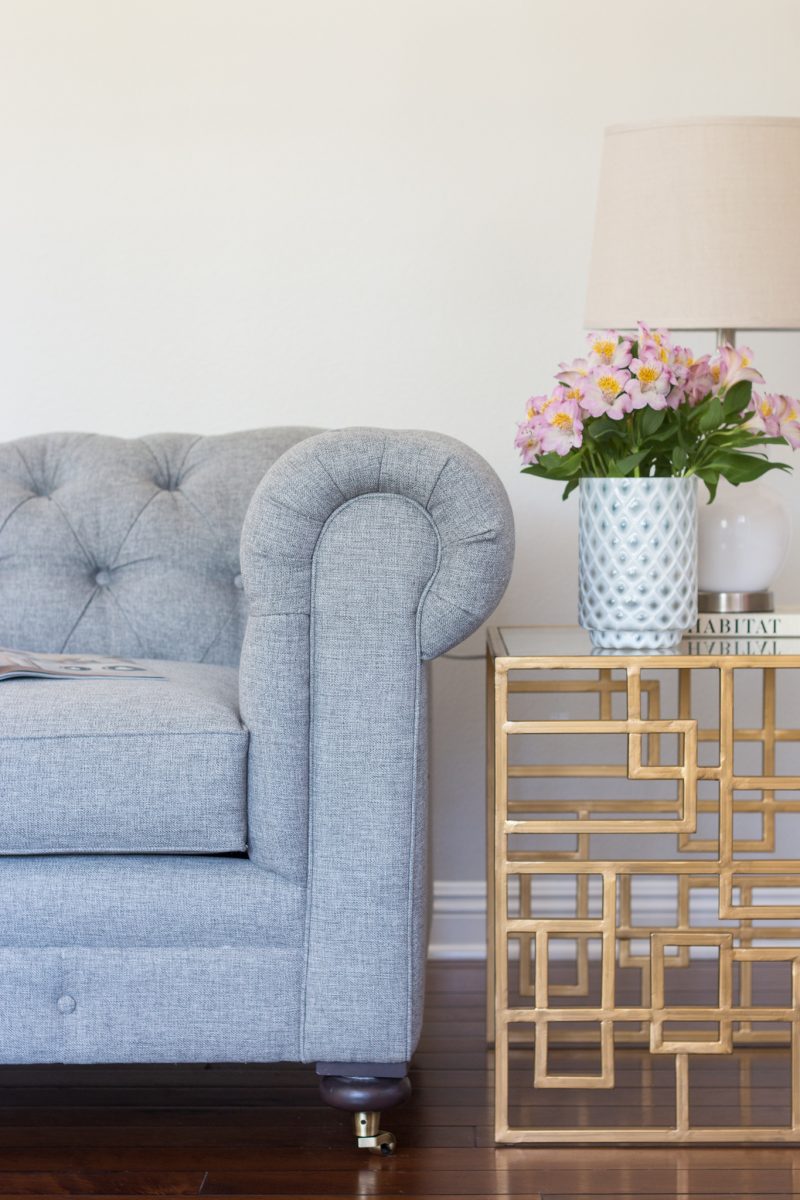 If you are local, Old Bones Co. is located in Costa Mesa and they just expanded their showroom. They definitely specialize in mid-century modern pieces but I think this sofa reads more classic. I'm also head over heels for the Beverly Sofa and it's now under $1000.
ceiling light || floor lamp || milo coffee table || bronze pendant || stool || marble table || sofa
Old Bones Co. has a HUGE selection so it's worth checking things out. And my local friends, it's a great place to walk around.
Amazing Offer
So here is the amazing part. They are offering all of my readers 25% off of your entire purchase. That includes Old Bones Co. and Joybird furniture. Not only that, if you do end up needing any furniture, you will receive white glove service which means the piece is unpacked, assembled and placed in it's new spot. They could not have been nicer when delivering my Liam sofa. 
DISCOUNT CODE: athoughtfulplace25
I hope this store is a fun new find for you. I love sharing local spots that also have an extensive online presence. I'll keep sharing updates as we slowly work to design this room.
*Proud to partner with Old Bones Co. on this post.