*Proud to partner with Nordstrom on this post. Affiliate links used.
Good morning. Back when Nordstrom and I decided to partner on this post, the plan was to bring you Spring fashion and sandals. That sounds dreamy but highly unrealistic right now. In light of all that is going on, I thought it made more sense to focus on comfy slippers and jammies. But more importantly, I am sharing 5 things that we find ourselves doing to stay well. Maybe they will spark an idea or two for your own family.
1 | We've Got a Handle on Snacks & Meals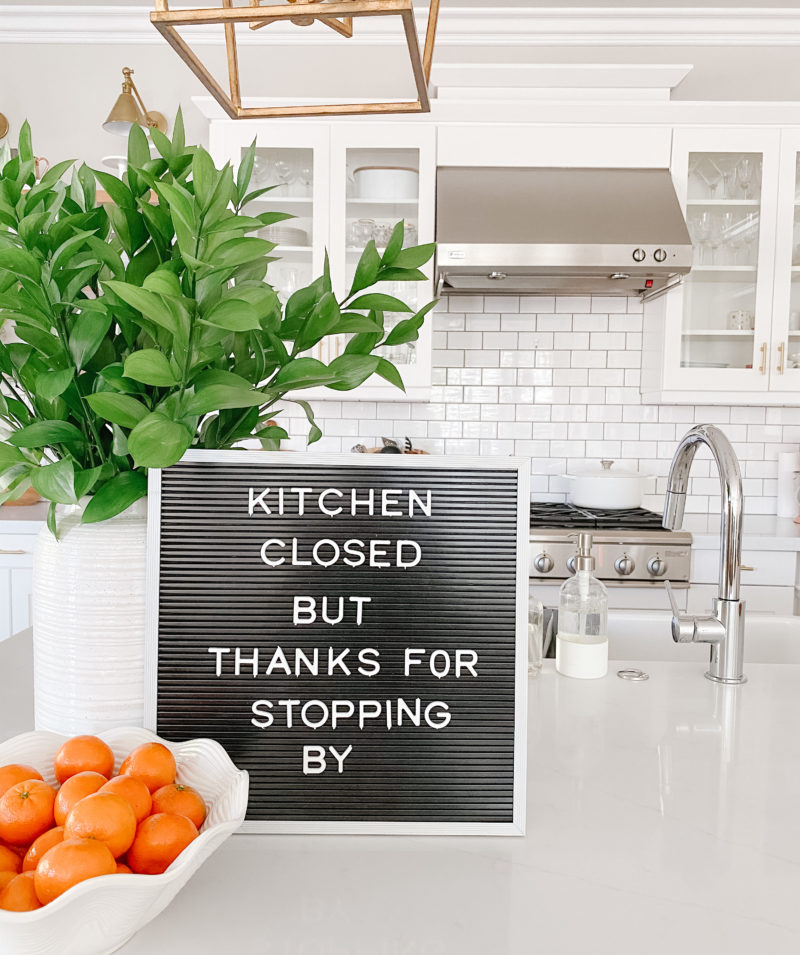 Do you remember this sign? Not sure about you, but there seems to be a revolving door into our kitchen. The first couple of weeks it was really frustrating because it was a constant stream of snacks and meals. And all at different times. What has helped us immensely is just putting a couple of loose routines in place.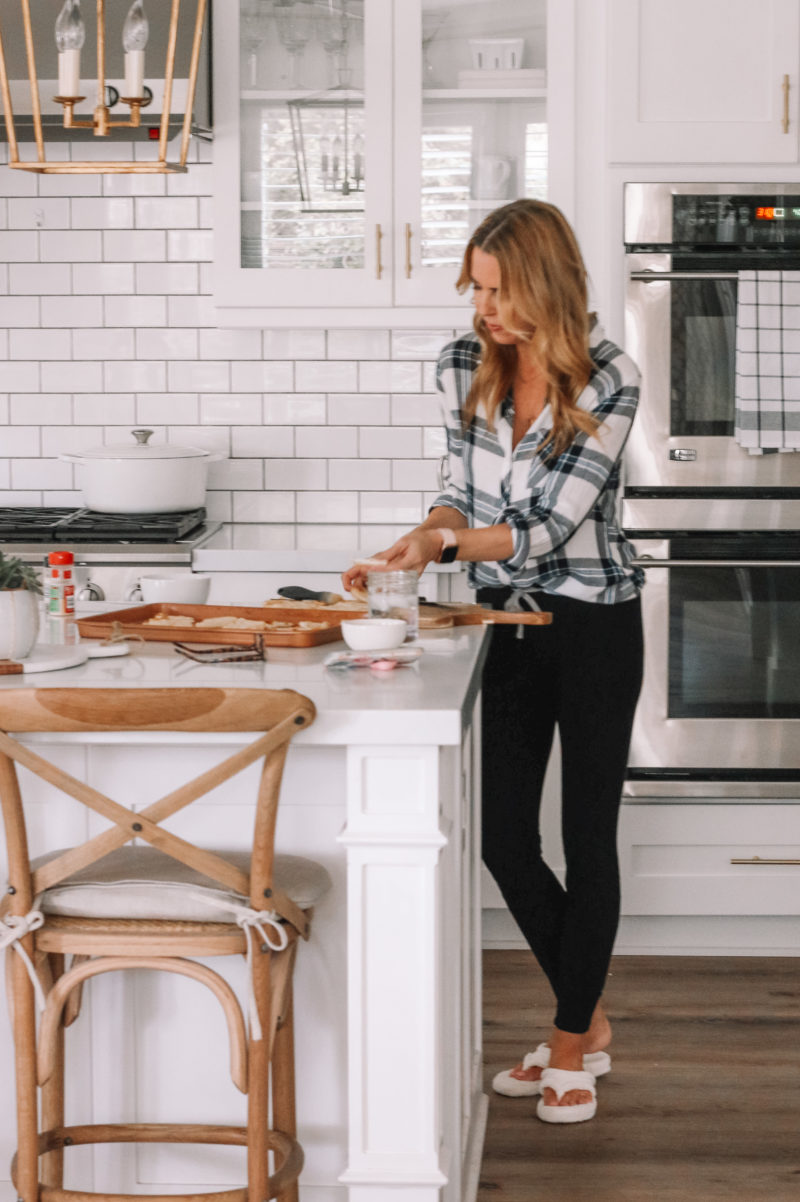 lounge pants (favorite) | similar button down | slippers
My children are older and capable of making their own breakfast, especially because they are such early risers, so that part is easy. I step in to make lunch for everyone at noon. It just makes me calmer to do one meal for the family (and I keep it super simple). That way the prep and clean up are a one-time deal. I've eased up on policing their snacks, too. It's more about what you keep in the house but they are free to handle their morning snack on their own.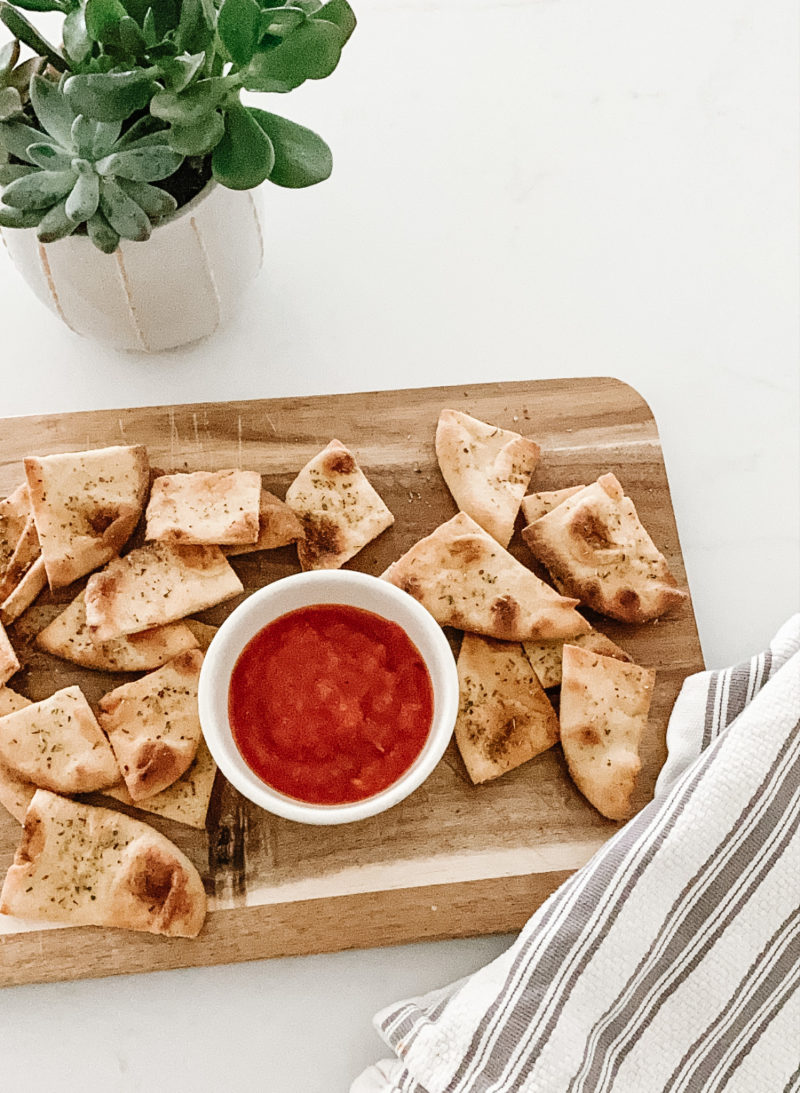 The turnaround has been my putting out an "appetizer" around 4:00 pm every day. It's never anything fancy but every single person seems to come running because it's their natural "I need a snack!" time. Whether it's chips and salsa or veggies and humus, it doesn't really matter. It just makes life easier to quickly set something out to take away the hunger pains before dinner.
We love the Tandoori Naan bread from Costco. I cut it into bite size pieces and brush with olive oil. Sprinkle with garlic salt and Italian Seasonings. Bake in a 375˚ oven for about 10 minutes. Serve with your favorite marinara sauce.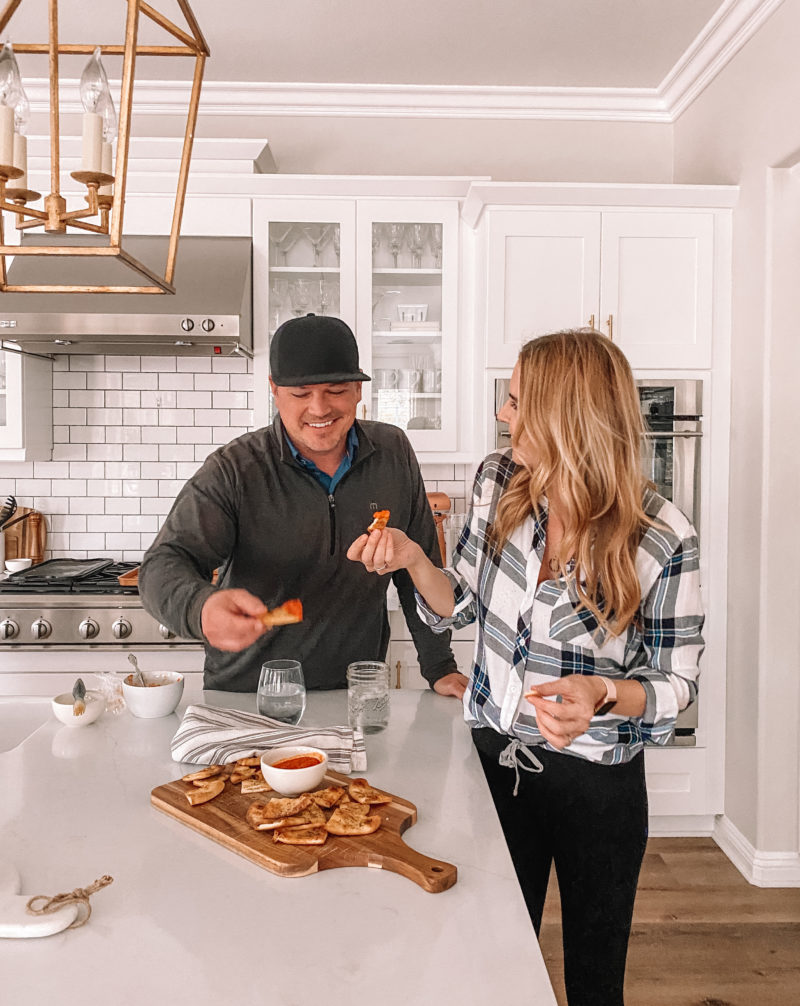 Getting ahead of the afternoon snack train by doing this has really helped. Sometimes the kids offer to make the appetizer, too, which has been fun. I've stayed on top of meal planning our dinners Monday-Friday. Saturday and Sunday are days to eat what is left in the fridge or support local restaurants.
These lounge pants have been a favorite of mine for years. I was so happy to see the Nordstrom brought them back. They wash and dry beautifully, are soft and a great price. I have them in the gray, too. Highly recommend.
2 | Dedicated Family Time
I know. There's a lot of family time going on. But what I realized is that it's great for everyone to do their own thing and have that personal time. Our son is often working out in the late afternoon and my daughter is chatting with friends or doing something creative. But no matter what we all reconvene for dinner and then show up to watch a show or play a game at 8:00 pm. We all look forward to it and it ends the night doing something together.
3 | Don't Sweat the Medium Stuff
When this all began, I had grand ideas of a well-oiled machine over here. That's out the window and we are far better for it. Because the children are independent now, they don't need us to be next to them for their school work. They are both diligent and once their work is done we are not sweating the medium stuff, as I like to call it. Back in the day we were pretty strict about screen time. Now, not so much. It's more important than ever for my daughter to stay connected to her friends. We are really trying to look at the big picture and their overall health and happiness. As long as they are being productive and are happy, we are happy.
We've kept the expectations super simple: make your bed, get fresh air, move your body and finish your school work. My son always gets dressed in the morning whereas my daughter switches it up based on her mood. And I certainly can't blame her because some days I rock jammies all day and some days I like to get dressed in something cute. At the end of the day, that isn't important to us.
When the kids are bored it's all about tossing out ideas to be creative. Every household is different and that is a beautiful thing. Backing off has allowed things to fall into place over here. Maybe it will be the opposite for you and your family. It's all about trying new things until it feels a bit more doable.
4| Evening Routine With Hubby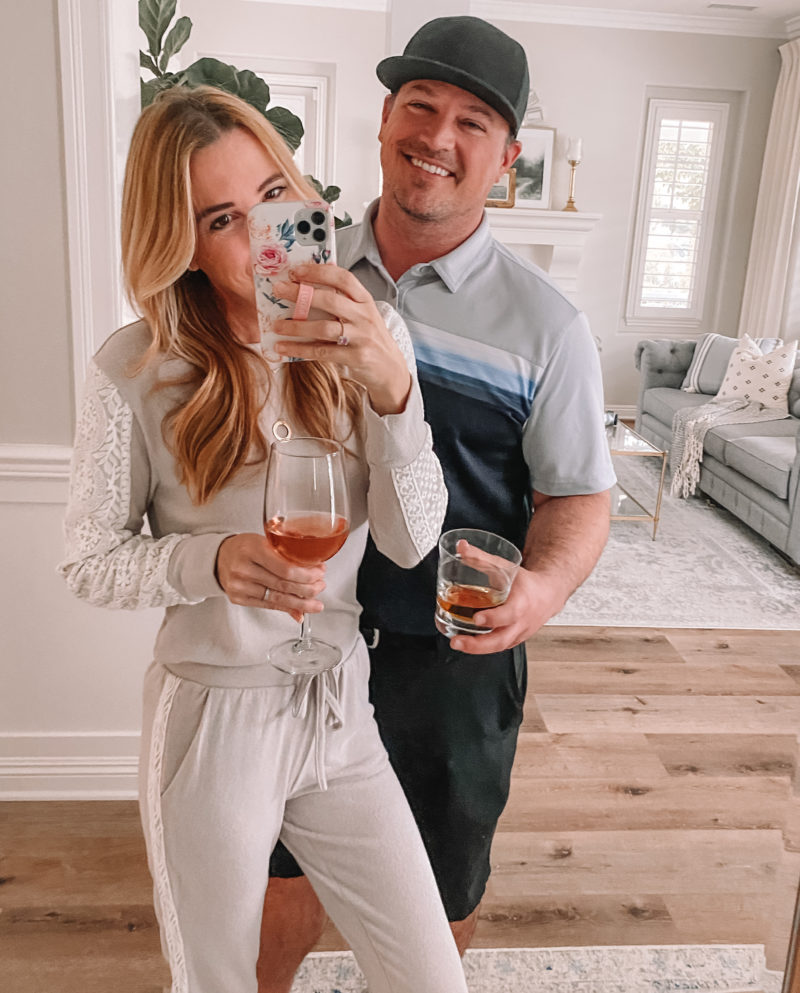 No matter how hard we tried, we couldn't snap a selfie that didn't look awkward. Working from home has always had its advantages and disadvantages. It's easy to never turn it off and keep the work day going. That can be exhausting. We've realized that we like something to look forward to every day. After I put out a snack for the family, Ryan and I sit down in the family room and relax. We check in with the news, pour a glass of wine or sparkling water, and just hang out.
This time has given our day some structure and allows me to push through work, chores, and laundry to get to this point. We just check in with each other and the world. We have always been big proponents of date nights and because that isn't happening, this together time is really key.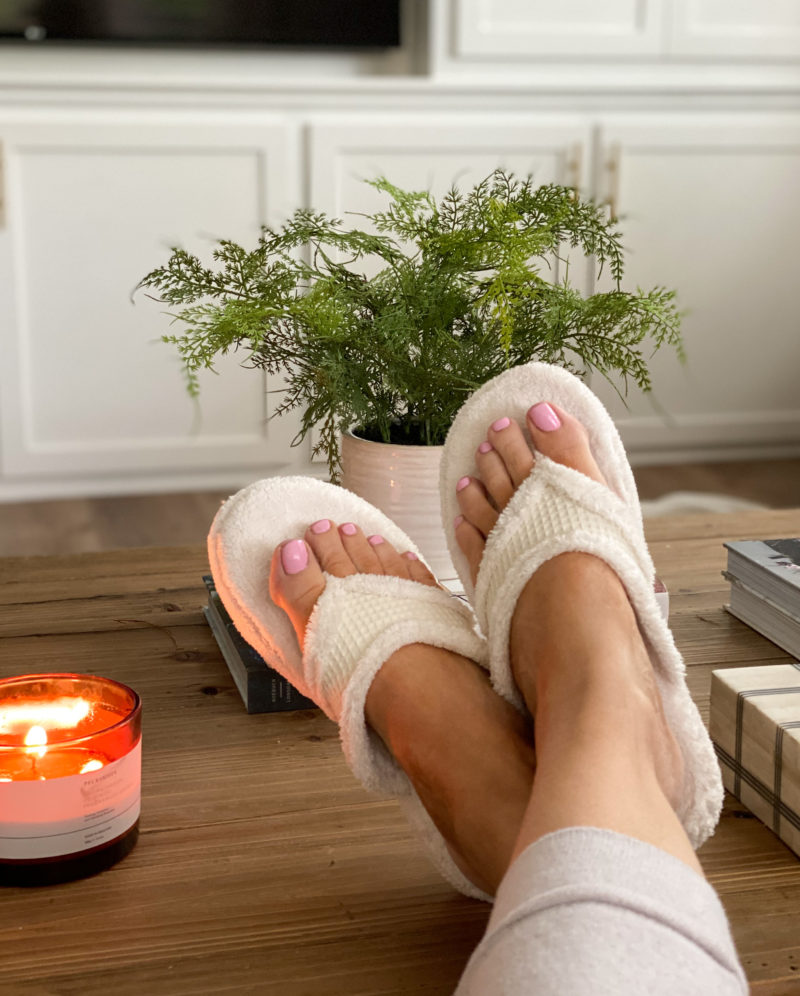 I may not be out running around in cute sandals, but I can still rock a cozy pair of flip flops. These slippers are so incredibly comfortable. They feel like pillows for your feet and are under $40. They also come in a slide version.
MORE CUTE SLIPPERS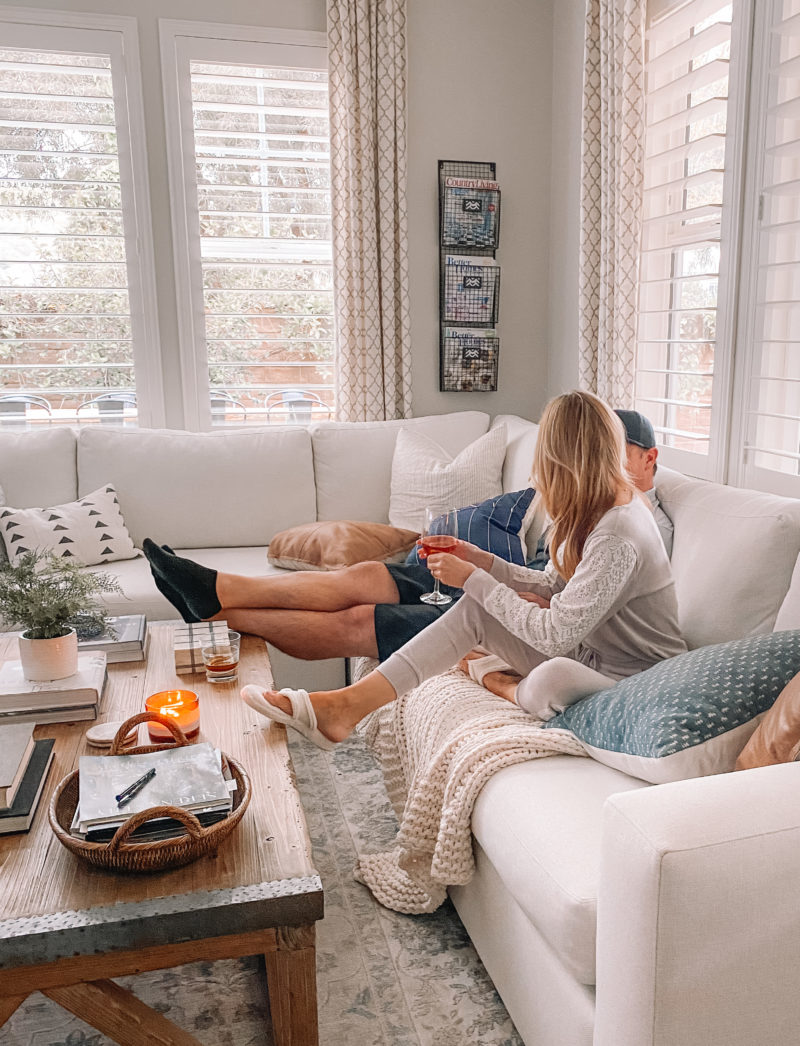 These cute jammies are super soft. When the top is tucked in it almost looks like a jumpsuit. I love anything with a feminine lace detail. And while most days a bra isn't happening, when it does it's this one. You forget you're even wearing it.
5 | Everyone is Pitching In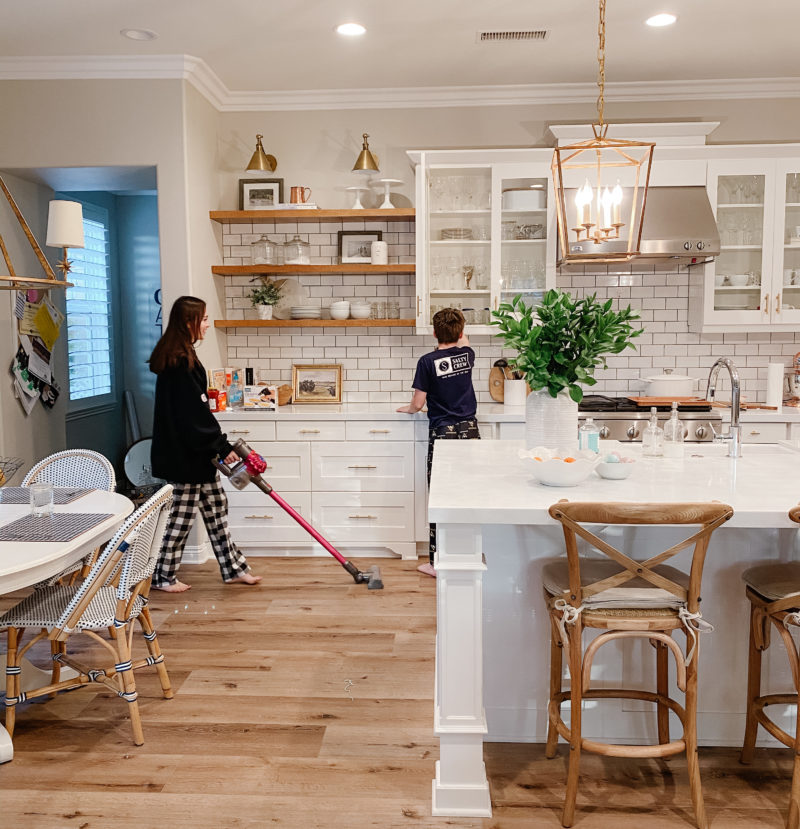 Lastly, everyone pitches in. Look, we are not winning any parenting awards for their list of chores. It is actually ridiculously short but baby steps over here. After dinner my son unloads and loads the dishwasher and my daughter vacuums the downstairs floors. It's a good system for now.
COZY LOUNGEWEAR

If you like those Honeydew lounge pants, you'll love this pajama set for Spring. Soft and adorable.
SPRING SALE
Nordstrom is hosting a Spring Sale and you can save 60%. That is the biggest mark down I've seen.
That's a bit of what is working for us right now. None of it is perfect and we are not strangers to the meltdowns, but these five things are definitely keeping us stay well and smiling over here. Would love to hear some of what you've adopted as you acclimate to this current normal. Have a great day, everyone.