How's your week going? We are excited to have our in laws in town and finally have some good summer weather here. We also have an upcoming trip to Napa so I am gathering ideas. If you have any must see places, please leave them in the comments. I did buy this dress for the wedding we are attending. For those of you who are long time readers, you know that I have been doing Five Ways posts forever. Well it's been a while and it was time to do one since we just entertained a group of friends. I wanted to pass along some of my tips and tricks for making it look easy. You can get caught up on the Five Ways series below as it covers a ton of different topics.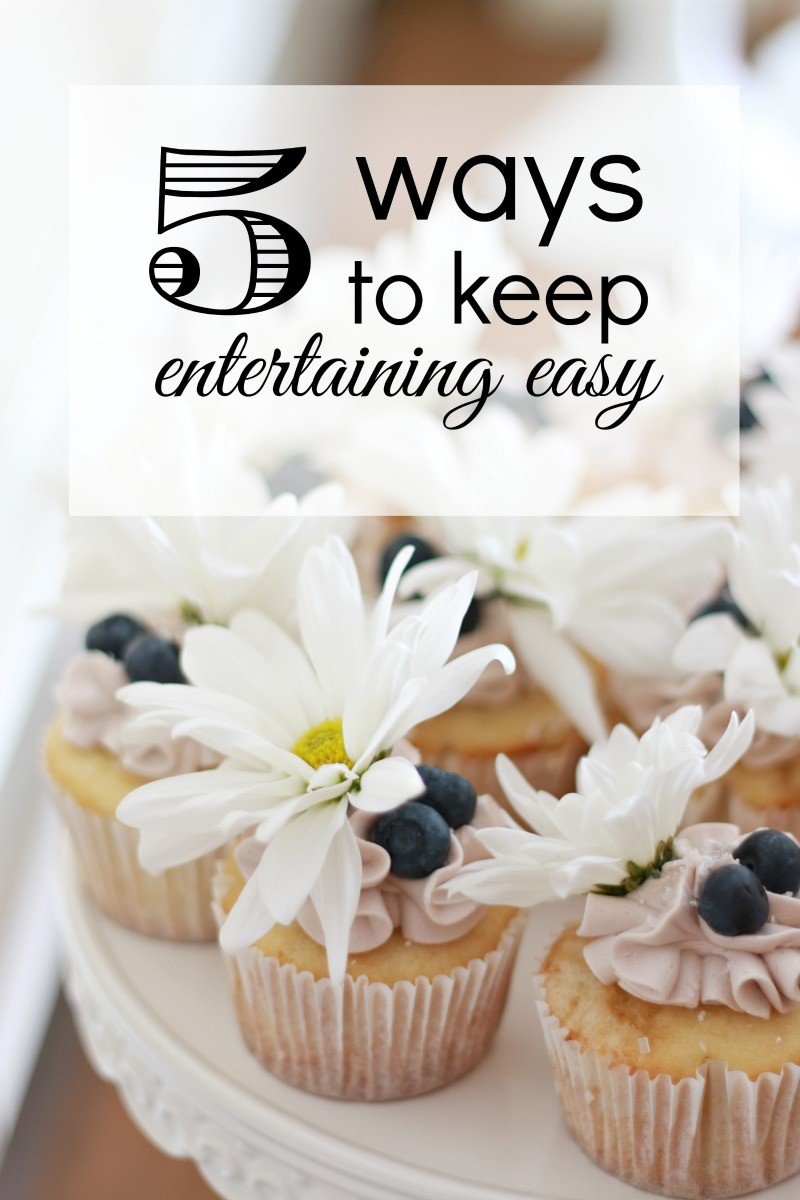 1. Choose One Pop of Color for Flowers
When you have a party, stick to one color flower. You can mix up what types of flowers you put out (and should) but it really looks lovely to have the eye see that color in many different spots. And fresh flowers are the simplest way to go to add beautiful decor when throwing a party. Keeping the bouquets cut short and in small vases allows them to look full. This also cuts down on cost. Flowers add up so be sure you have set aside money for that.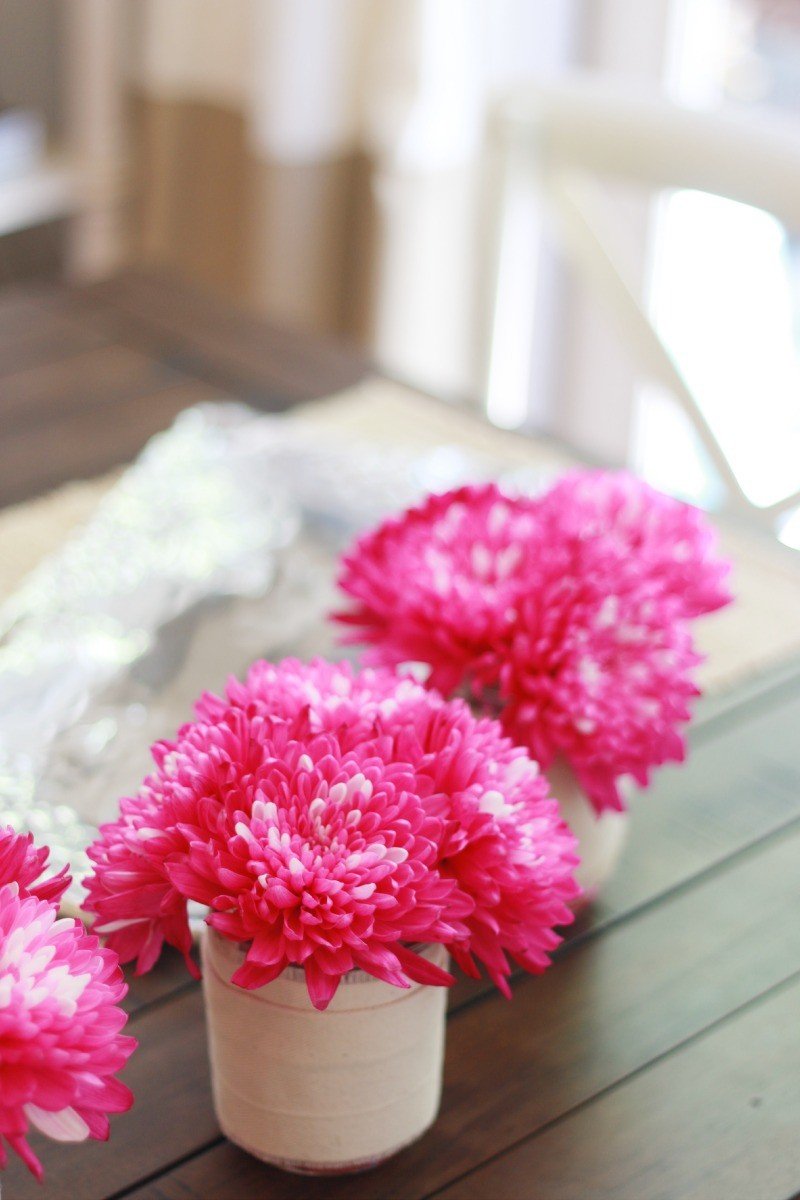 Who knew the flowers in July were slim pickings. I had no idea. These were dyed pink which isn't normally my first choice but the hot pink color was just what we needed. To hid the pink water (because that's what happens when you have dyed flowers) I wrapped the mason jars in an off white denim ribbon. I just secured it with a safety pin. Easy and chic.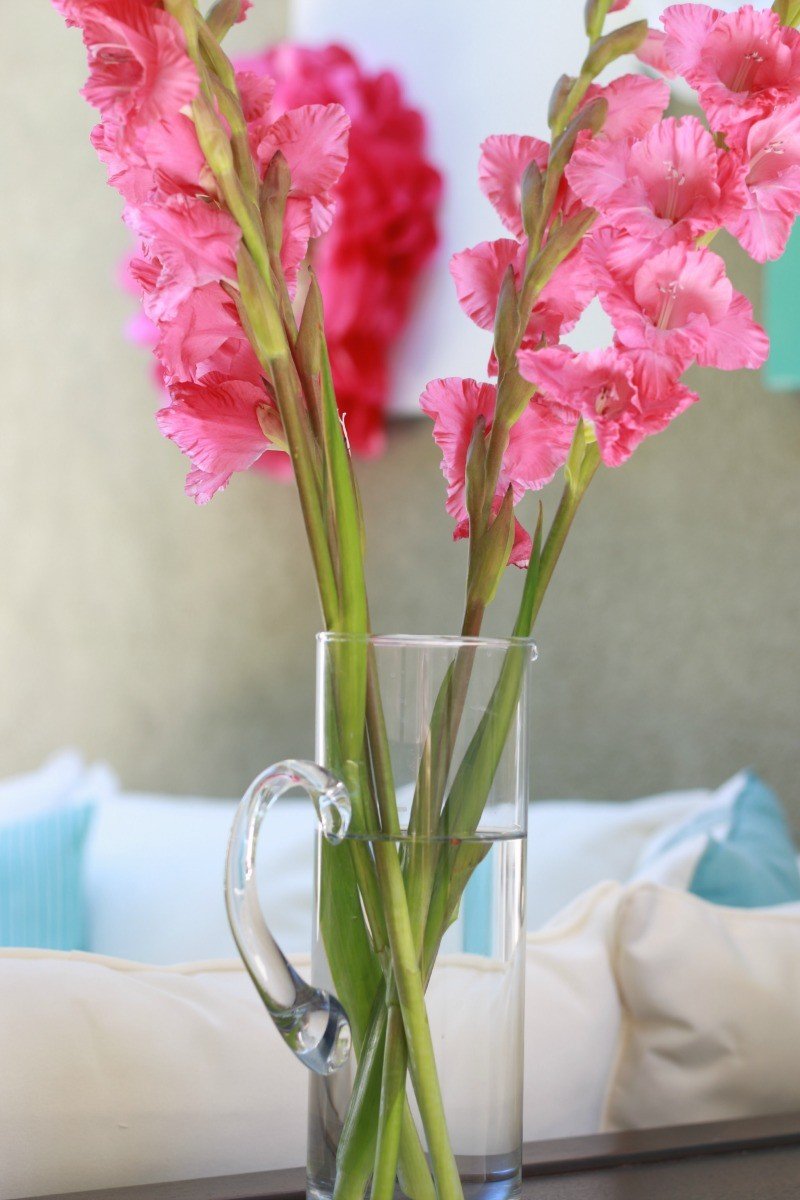 We used the same pop of pink throughout the entertaining areas to unify the space. I also a hung a simple pink tassel garland (purchased from a local store) on our gate.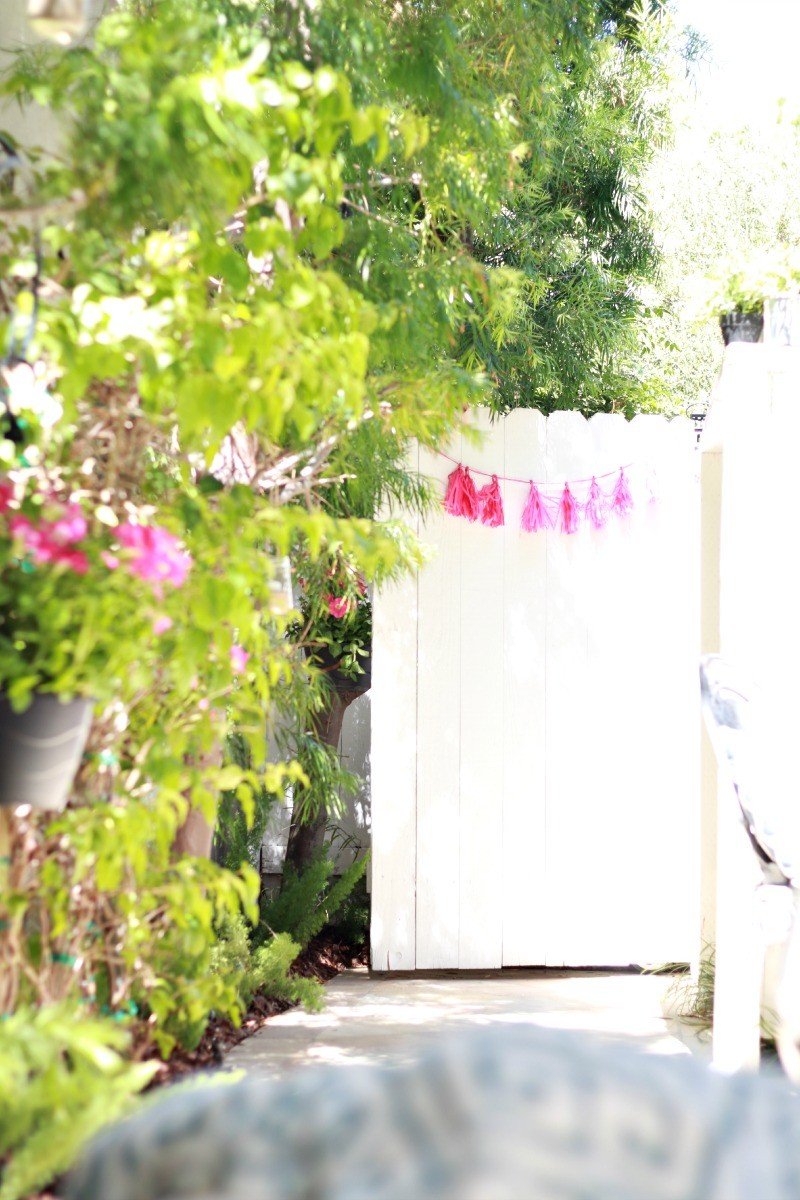 2. Use Small Doses of Fabric 
Our patio was decked out in greens and blues so I wanted to pull some of that to the front yard. My sister was kind enough to loan me these table squares. So technically this is her trick! If you are renting tables and chairs (great option if you are having a sit down dinner) go with the plain white tablecloths. Surprisingly inexpensive to rent if you do not have them delivered. Although you do need to have a very generous neighbor who will loan you their truck. But these tables, chairs, and cloths were $60. Money well spent to extend the entertaining space and allow for overflow out into the yard. But back to the fabric! A yard of fabric goes a long way. You can create a square with simple hemmed edges or just use fuse tape. It adds a nice pop of color and looks pulled together.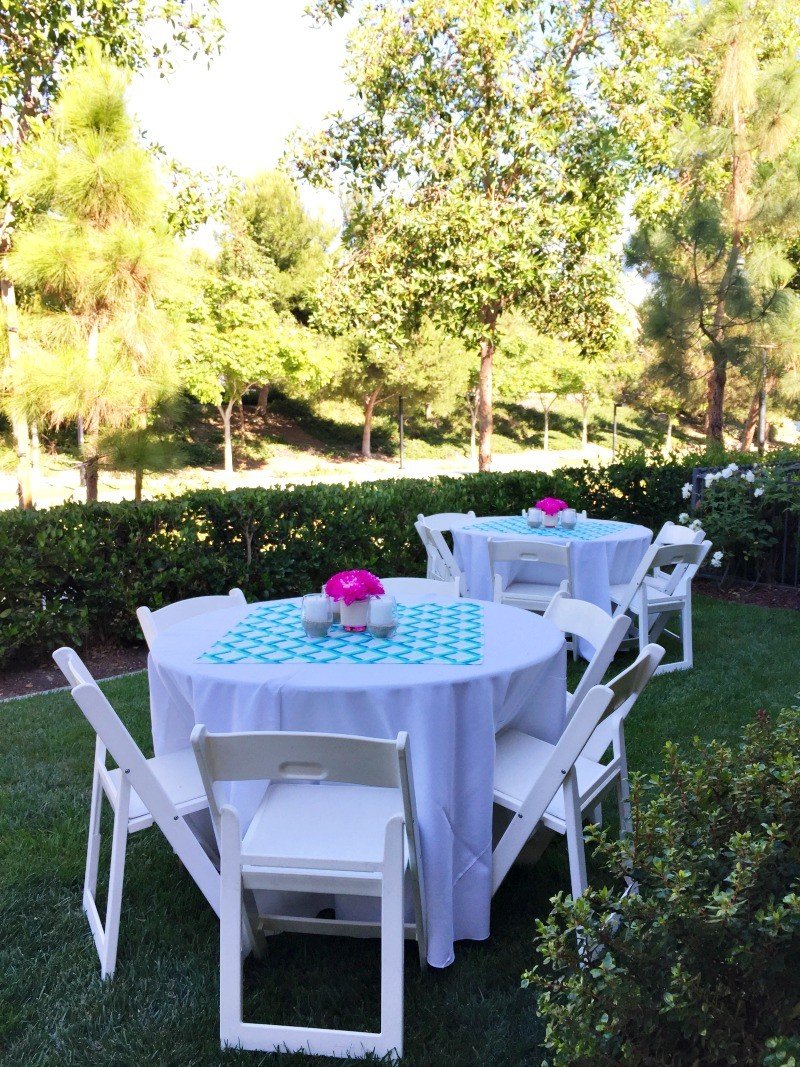 3. Shop Your Own Home
Definitely shop your own home for items you can use. This allows you to use what you have instead of buying more things to store. I knew I wanted to have three candles on each table but didn't want to buy new candle holders. I used the stemless wine glasses we already owned and just added sand and candles. When the party was over, I was able to wash them and place them right back in my cabinet.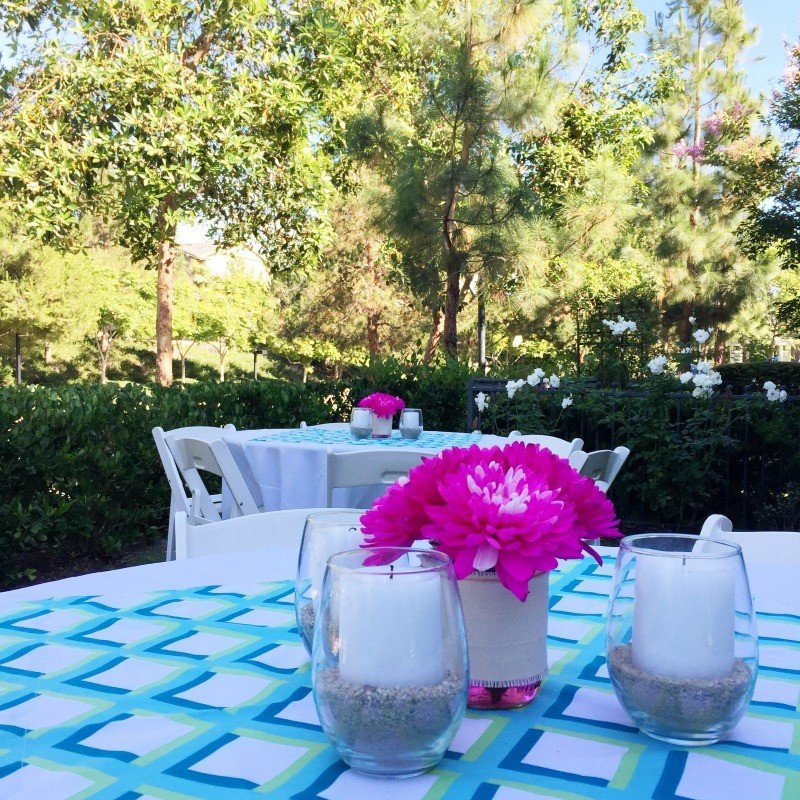 4. Create Easy Personalized Drink Tags
I serve all of my drinks in wine glasses. It just makes it so much easier. I have our bar cart stocked with white wine, red wine, and non-alcholic drinks. Everyone can use a wine glass which makes it nice for tying on a drink tag. There is no need to go out and buy any of those drink charms. I find that people forget which one belongs to them anyhow. A name is the way to go. I made this is in about three minutes. All you need is a piece of cardstock, a hole punch and some thin ribbon. I like to have them ready for guests or can have them write their own names. Nothing fancy but super effective!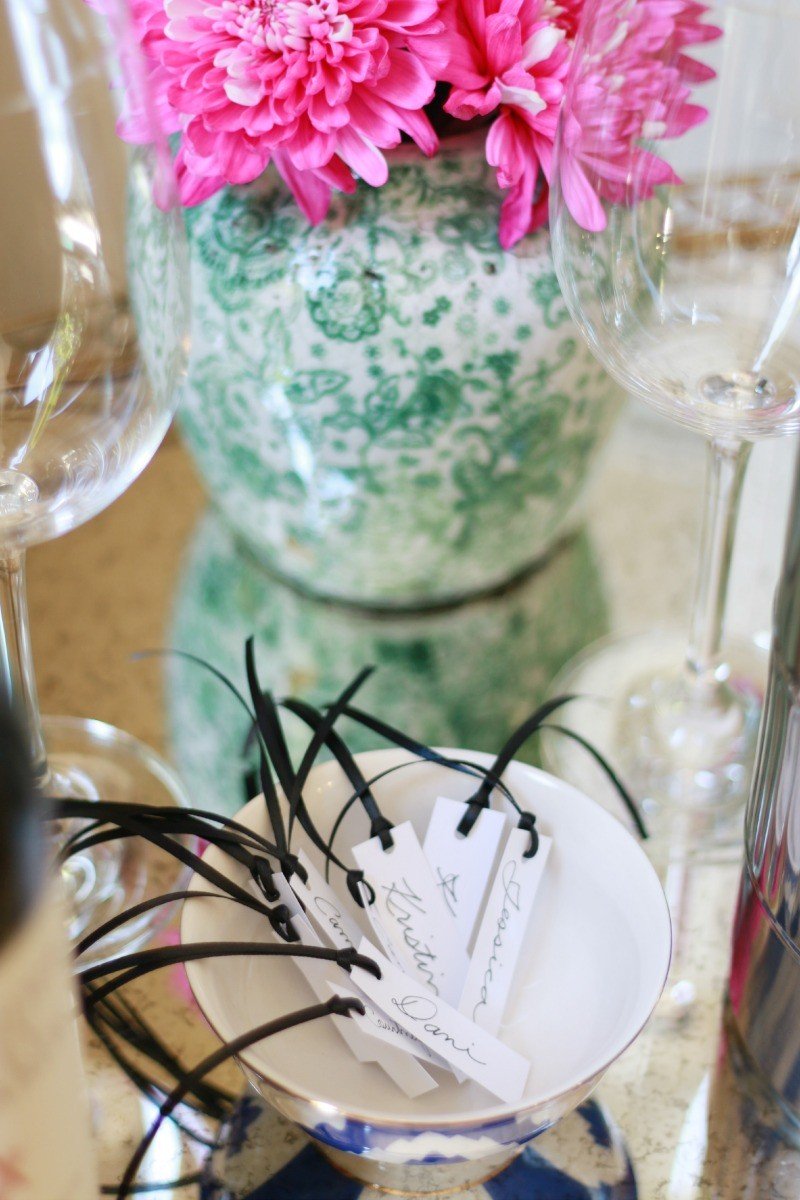 5. Provide a Hand Held Dessert
I am big on having a dessert that is easy to walk around and serve. By the time your party is in full swing, chances are people are scattered about and that's great. Having a hand held dessert that is ready to go means you can walk around with a pretty platter and be sure everyone gets something sweet.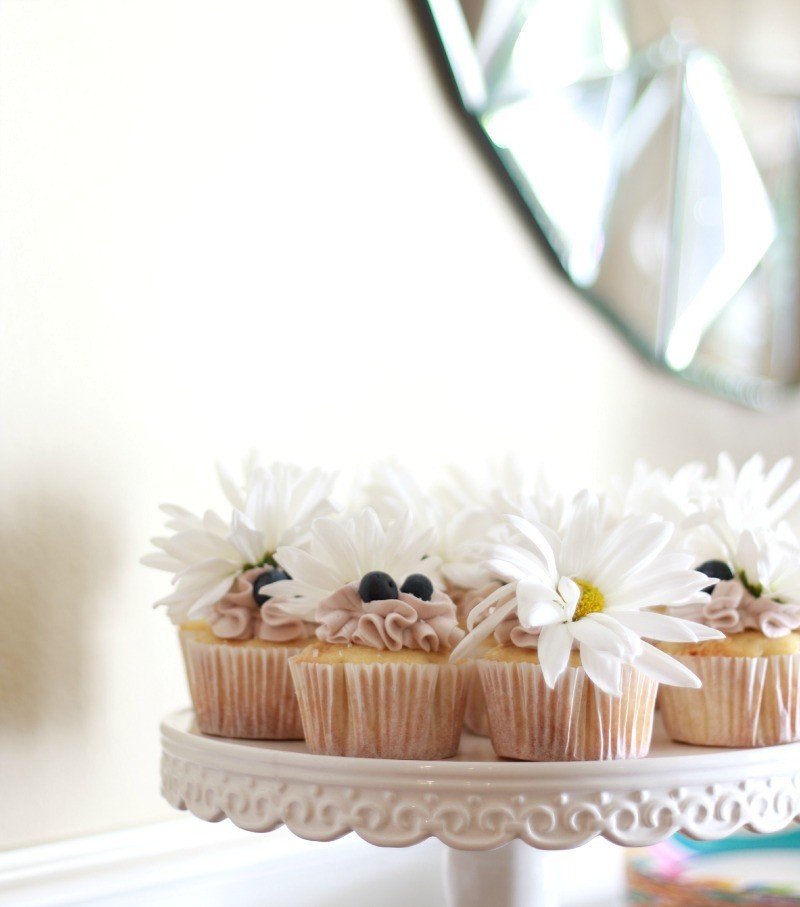 These gorgeous cupcakes were made by my friend Shana from Society Sweets. She is so talented and I adored the fresh flowers atop these lemon-blueberry cupcakes. And served with a napkin, no utensils or extra dessert plates are necessary. Win-win.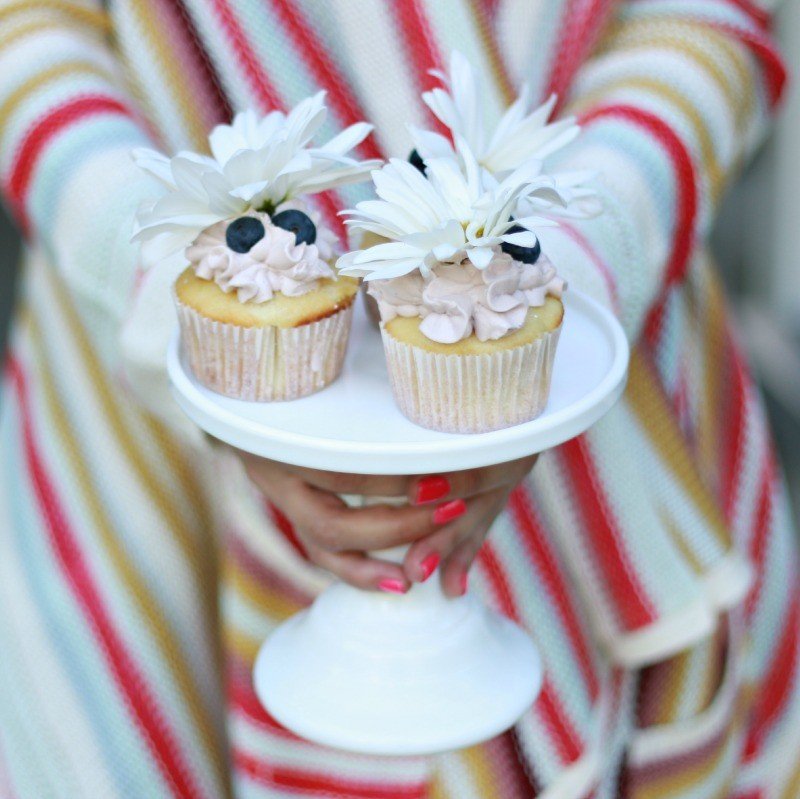 We really do love to entertain and open our home to friends and family. When planning for a party, I always make a master to-do list and do a little bit each day for about a week. Those candles on the tables were made a good 3-4 days ahead of time. If you do a little at a time it remains fun and you don't feel as overwhelmed. They key is being ready so that when it's time to party, you really enjoy yourself. I enjoyed myself so much this last party that I forgot to take a single photos. Major fail. But happy to have been in the moment totally savoring the time with people I care about.
If you liked this Five Ways post, you can find more here.  I really do try to share as many tips, ideas, and tricks of the trade as possible.
And a call to all my shopping friends! Tomorrow is a big day. The Nordstrom Anniversary sale begins tomorrow if you are not a cardholder! It's the biggest sale of the year and I have updated My Boutique with so many of the good finds. I also rounded up my twenty favorite picks of the sale below.
Shop My Top 20 Picks

And one more thing to note, there is some talk of an Amazon Prime sale. In honor of their 20th Birthday, they are slashing prices on select items for Prime members.  I was told that the sales are better than Black Friday so you may want to have a look here. They are calling it #happyprimeday. Has anyone already seen good deals? I do want to shout from the rooftops that my favorite quilted boots from last season are on sale for $62! What?!!! I am so buying the black ones because the ones they have this year are too big on my leg. Score!!!!
Enjoy your day, my friends. Off to VBS with the little ones.