Fall is around the corner and that means all things warm and cozy. One of our family's favorite desserts is apple crisp. You really can't go wrong warm warm apples, the smell of cinnamon and a scoop of cold vanilla ice cream. I wanted to share a version of apple crisp that is free of refined sugar but still has all of the amazing taste and flavor. With a couple of healthy swaps this is not only a crowd pleaser but one you can feel good about.
YUMMY APPLE CRISP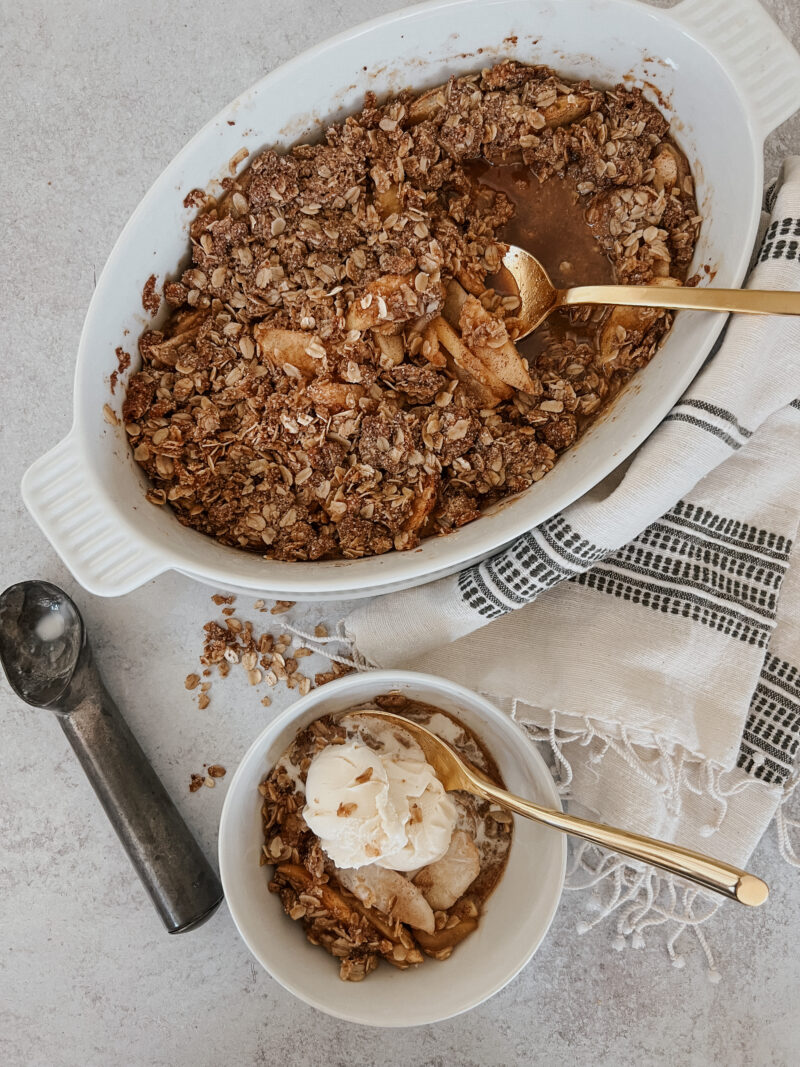 My mouth waters just looking this because I love the flavor so much. This version has you skipping the cane sugar and using coconut sugar instead. That plus some yummy maple syrup makes for a dessert that won't last long.
HEALTHY SWAPS
What makes this recipe a healthier version is the coconut sugar (instead of cane sugar), almond flour, and maples syrup. The whole grain oats are gluten free which is also nice. We love using butter but you could substitute coconut oil if you prefer.
THE TOPPING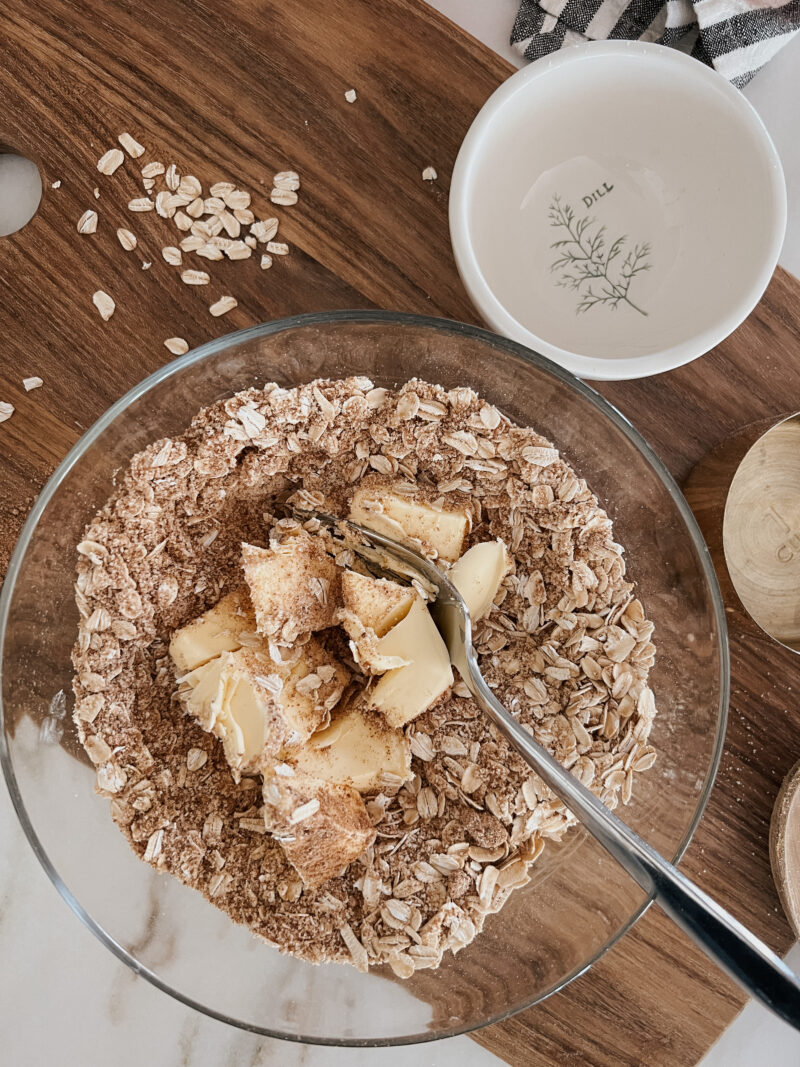 First up is combining the coconut sugar, almond flour, oats, butter and a touch of maple syrup. Use a fork to break up the butter into small bits. This topping should remain crumbly (don't over stir). Once you've made this, set it aside.
SLICED APPLES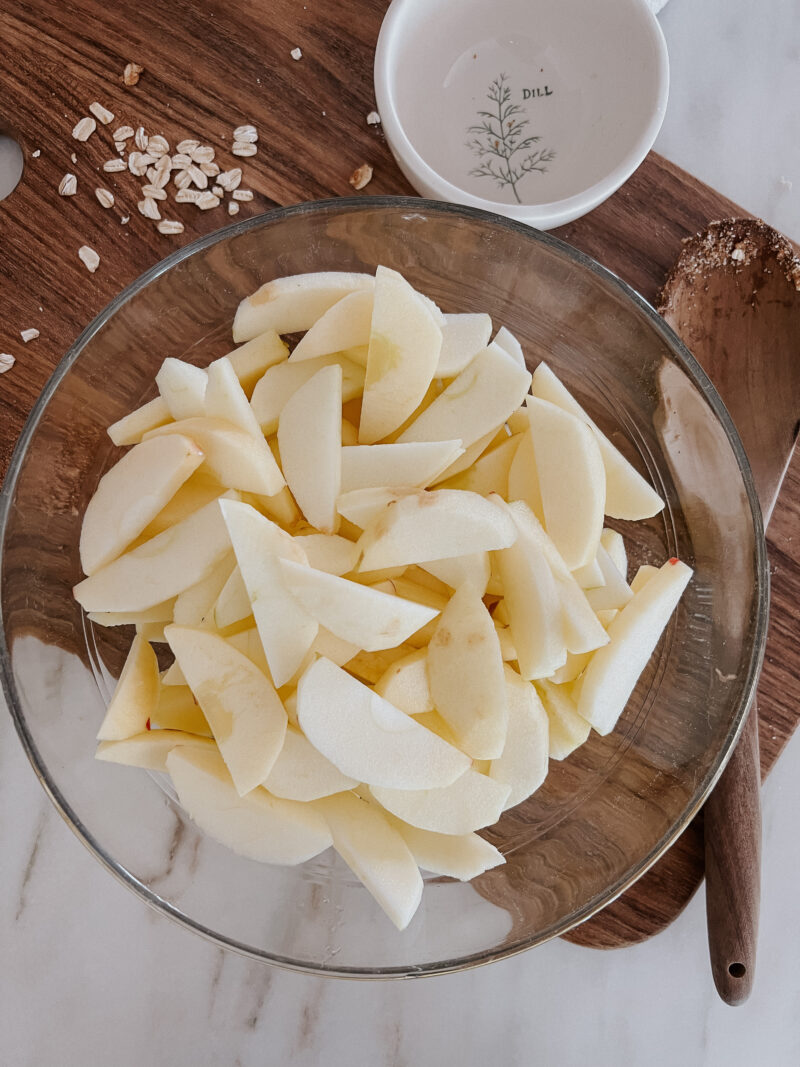 Time to peel, core and slice the apples. I like using Honeycrisp apples for this. I use 6 organic apples and slice them 1/4″ thick. But absolutely use any apple you love. Just be sure to stick to a variety that will hold up and not get too mushy. Granny Smith are also great and will bring a bit of tartness to the recipe.
THE FILLING
This is my favorite part. Mix the apples with maple syrup, vanilla extract, cinnamon and a pinch of sea salt. So good!!! I definitely sneak a few apples at this stage.
LAYER AND POP IN THE OVEN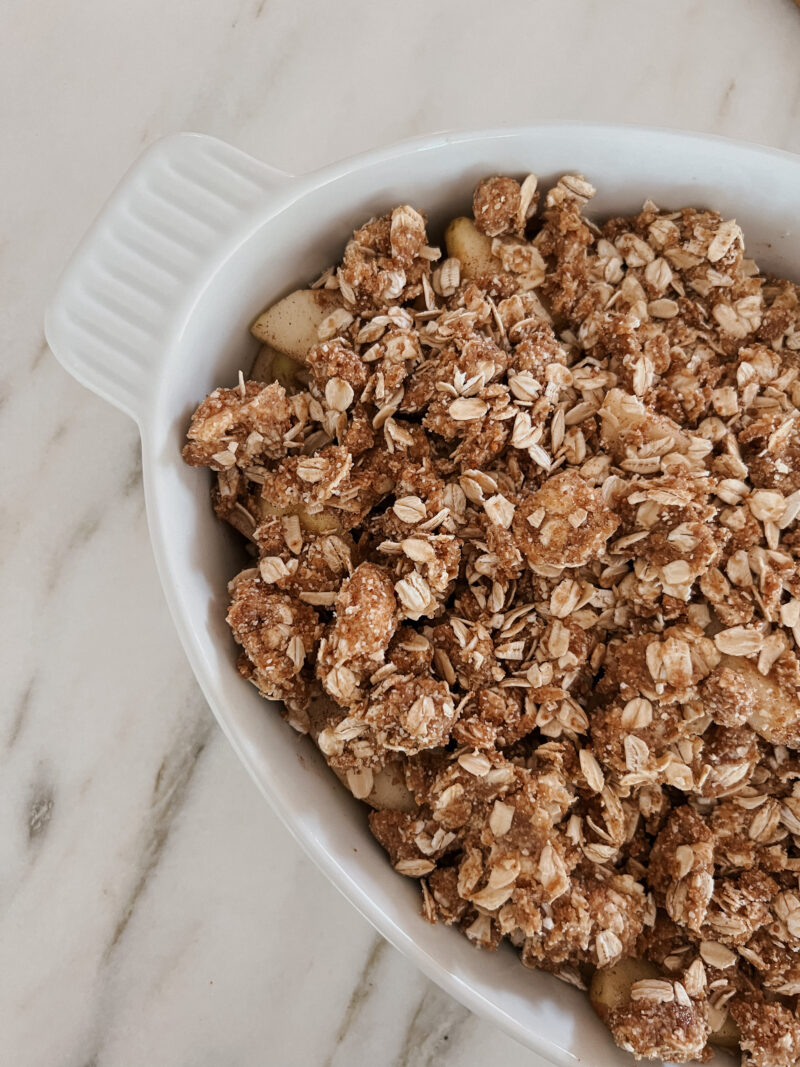 I like to use this 11′ oval baker but a 9″ x 9″ square dish is great as well. Butter the dish a little bit and add the apple mixture. Top with the crumble mixture and you are all set. Bake for 20 minutes covered, remove foil and bake for an additional 20-25 minutes. You'll know it's ready when the sides begin to bubble and your apples are soft. Be sure to let it sit for a bit before serving.
A DELICIOUS DESSERT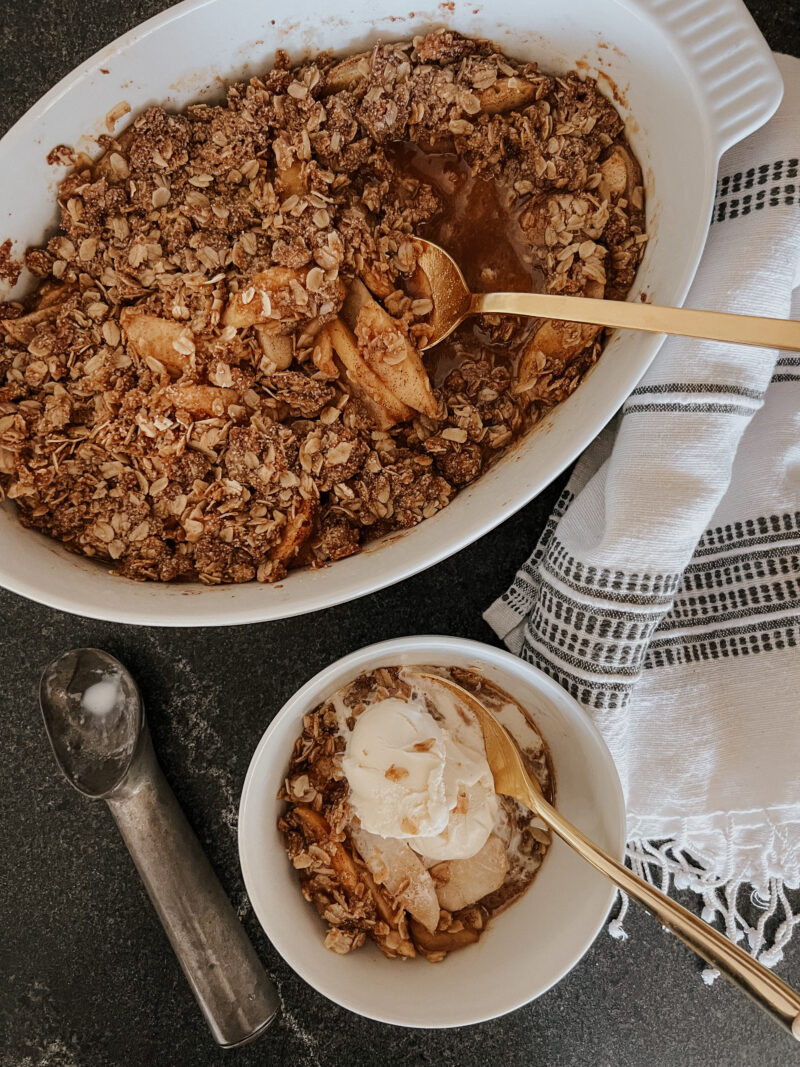 The maple syrup creates a yummy sauce in the bottom of the dish. It's so good drizzled over the ice cream. For a thicker consistency you can add a bit of arrowroot powder or cornstarch to the filling. Of course photos are more fun with a big scoop of ice cream, but less is more in my opinion. A large spoonful of ice cream does the trick. You don't want it to over power the apple crisp.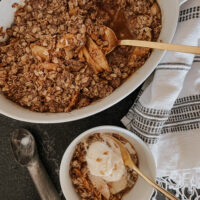 A Healthier Apple Crisp
This yummy apple crisp is filled with flavor and perfect for fall.
Ingredients
Apple Crisp Topping
1/2

cup

coconut sugar

1/2

cup

almond flour

1

cup

whole grain rolled oats

1/2

cup

butter

1

tbsp

maple syrup
Apple Crisp Filling
6

medium

apples

1/4

cup

maple syrup

2

tsp

vanilla extract

1

tsp

cinnamon

1/4

tsp

sea salt or to taste
Instructions
Preheat oven to 350° and lightly butter a 9×9 baking dish (or 11" oval).

In a bowl, combine topping ingredients (coconut sugar, almond flour, oats, butter and syrup). Use a fork to break up buttern and mix until still crumbly. Set aside.

Peel, core, and slice apples 1/4" thick.

In a new bowl, mix apples and filling ingredients (maple syrup, vanilla, cinnamon and salt) until well combined.

Place apples in prepared dish and sprinkle topping over them.

Cover and bake for 20 minutes. After 20 minutes, remove cover and continue to bake for 20-25 more minutes. Watch for the sides to bubble and apples to be soft.

Let sit for 5-10 minutes and serve as is or with a scoop of vanilla ice cream.
ENJOY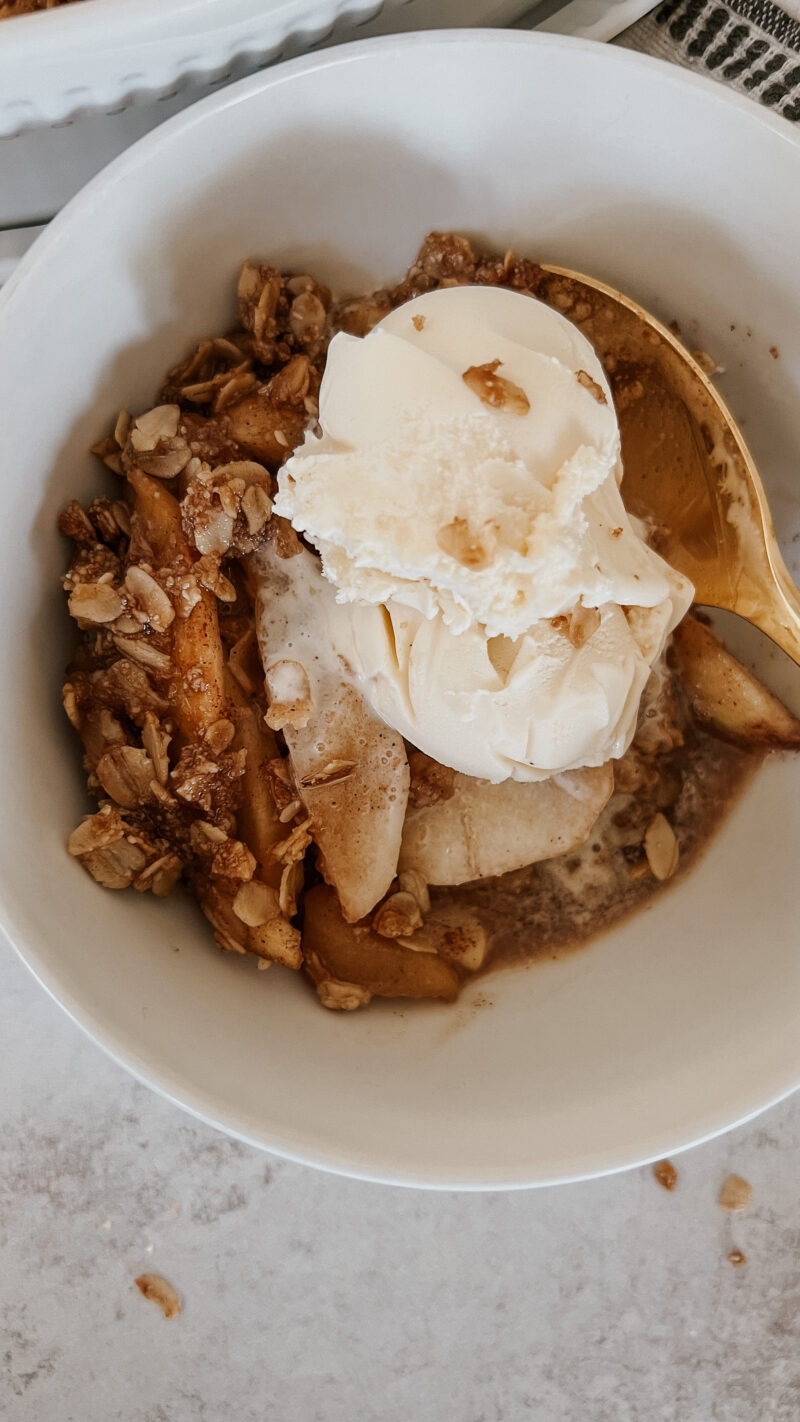 Definitely a touch of Fall in a bowl. Let me know if you give it a try. I've been known to eat the leftovers the next morning for breakfast (without the ice cream). So yummy with a cup of coffee.