Not all home projects can be complete renovations. That is not only impractical, but not always a wise financial decision. When we moved into our home, we knew we would tackle the kitchen. We budgeted and saved for that. The bathrooms have been another story. The primary bathroom, in particular, is reminiscent of the previous kitchen. Today I am sharing our plans for it and they may surprise you.
THE BEFORE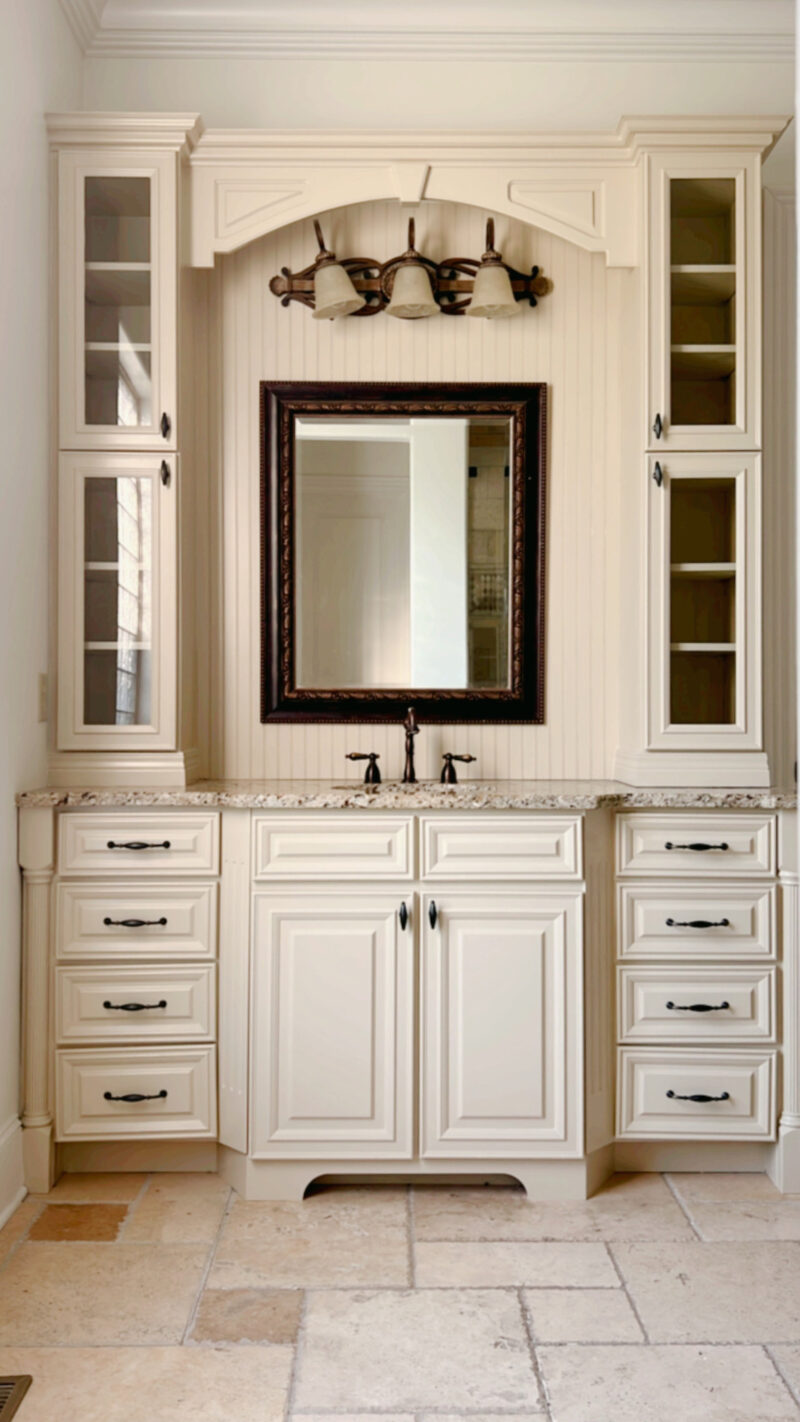 Like the kitchen before, the cabinets are cream with granite counters and beige tile floors. In fact everything in the bathroom is beige tile. At first glance, it would be a dream come true to gut this and make it a fancy marble bathroom with pretty warm wood vanities. I see photos of beautiful bathrooms come across my Instagram feed on the daily. A girl can dream. But here is the thing. This bathroom is quite large and having just been through a kitchen renovation, we are not choosing to spend a huge amount of money renovating this bathroom. At least not now.
WHAT WE LIKE/DON'T LIKE
Love the layout, storage space, and natural light
Don't love the coloring, the heavy feel of the fixtures and the dated materials.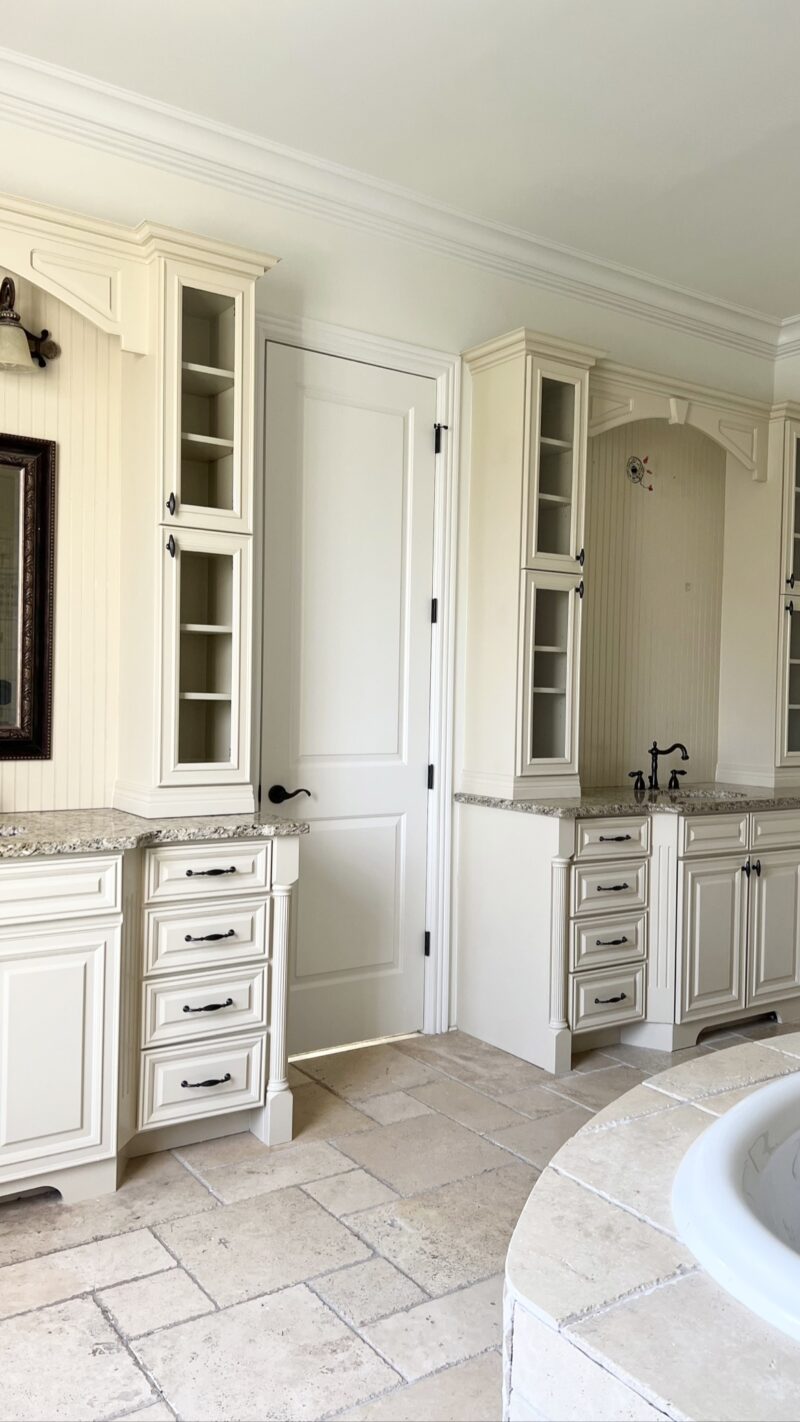 While they may not be our color of choice, the his and hers vanities have been amazing. They boast so much storage and I have grown to love the cabinets that sit on the counter top. They are, after all, what everyone is now putting in kitchens (cabinets resting on the counter). For a split second I thought it would open the space up to get rid of them but we can't imagine life without the storage.
You can see we already removed one mirror and light on his side to see how even doing that lightens things up.
IF YOU GIVE A PIG A PANCAKE
Have you ever read the children's book, If You Give a Pig a Pancake? It's darling and I have amazing memories reading it to my children. But essentially it's the premise that if you give him a pancake, he will want syrup, and if you give him syrup he will want . . . you get the idea. At first I thought we could get rid of the tile and tub and do a free standing one. That would update things. But if we did that, we would have to redo the floor. And if we redid the floor, we would need to redo the shower because it's all the same tile and connected. In the end, to remove anything would really mean you have to remove everything. Not happening. It's at that point where you sit back, visualize and start getting creative.
WHAT IS THE PLAN?
Well, good question. It just so happens that the day our kitchen was being demolished, our bathroom vanities were being painted. It was an insane time but that was just how it worked out. So to date, we have painted the cabinets, changed the hardware and swapped out the faucets. I will be sharing all of the little details and video progress in my stories. I will share photo updates here as well. The overall goal is to just lighten up the space, remove some of the heavy elements like the lights and mirrors, and add decor that feels more like us. I'm not even sure how it will all turn out but happy to have you along for the ride.
GUEST BATHROOM MAKEOVER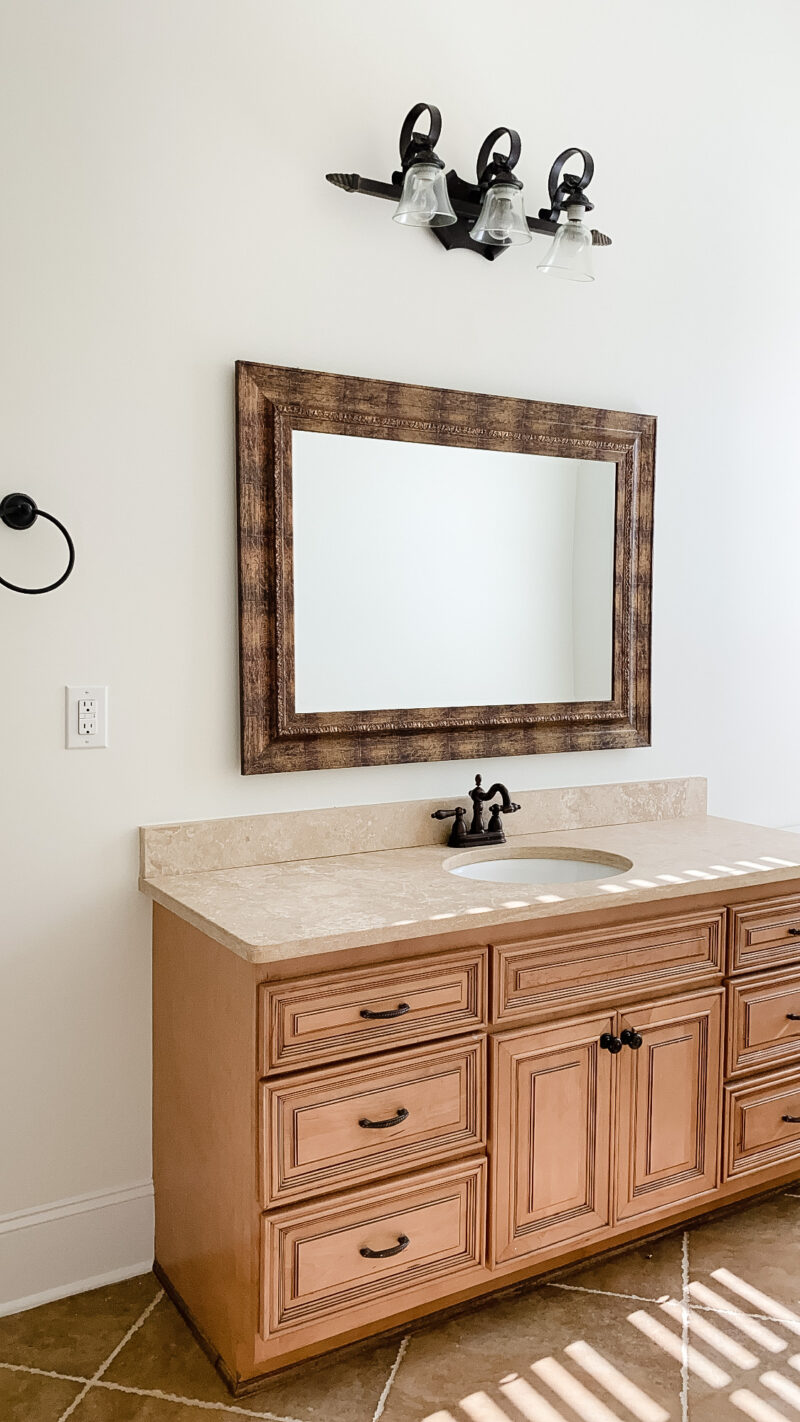 Last January we did a small makeover on our guest bathroom. Same premise . . . we did not want to remove anything major and just wanted to give it more of a fresh and update vibe. Here is the before.
And the after. Nothing drastic but new lighting, hardware, faucet, mirror and decor gave it a new feel. I actually love this bathroom now. You don't have to go crazy or spend a fortune to make something your own. All of the details are in this post.
If you have a space that won't realistically be gutted but you would like to give it a fresh feel, I hope sharing these types of projects is helpful.