Good morning. Can you believe it's already Friday? Where has the week gone? It's been some time since I've shared a few Amazon picks. Truth be told either I didn't love it or the quality wasn't up to par. I waited until I found some gems that really do feel great for fall. With cooler temperatures just around the corner, it's fun to talk about sweaters and and hats for a change. Bring on the sweaters.
ALL TIME TOP AMAZON FASHION PICK
Without a doubt, this sweater is one of my all time favorite Amazon purchases. I love the color, the style and the fit. Pretty sure it is currently on sale, too. This color is called beige and I am wearing a small. Similar booties are now 40% off. I love a good snakeskin bootie for this time of year.
CRANBERRY VERSION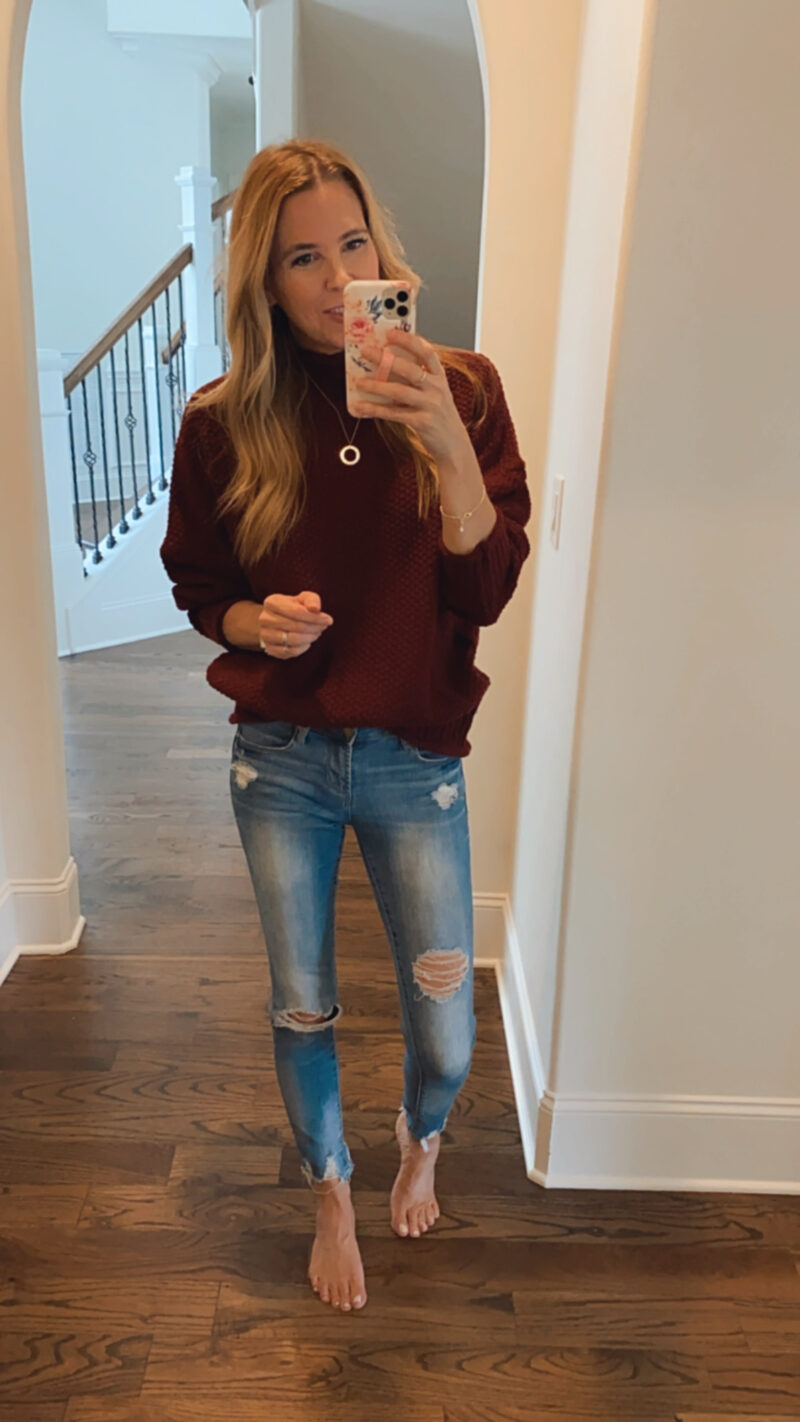 I ordered this red wine color for this season and love it. I will say that although this is small, it doesn't sit at my waist like the beige one does. The color is beautiful in person.
SUPER SOFT SWEATER
This sweet sweater is a best seller and I can see why. There are buttons on one shoulder and it is buttery soft. It feels wonderful on and is such a pretty color. This ivory color is so pretty for the winter months (you all know I am a big fan of white after Labor Day despite that old rule). I paired it with these jeans and the braided sandals.
By the way, this is the only spot in the house with the full length mirror and it was too dark so the funky filter is so you can actually see the clothes without changing their color.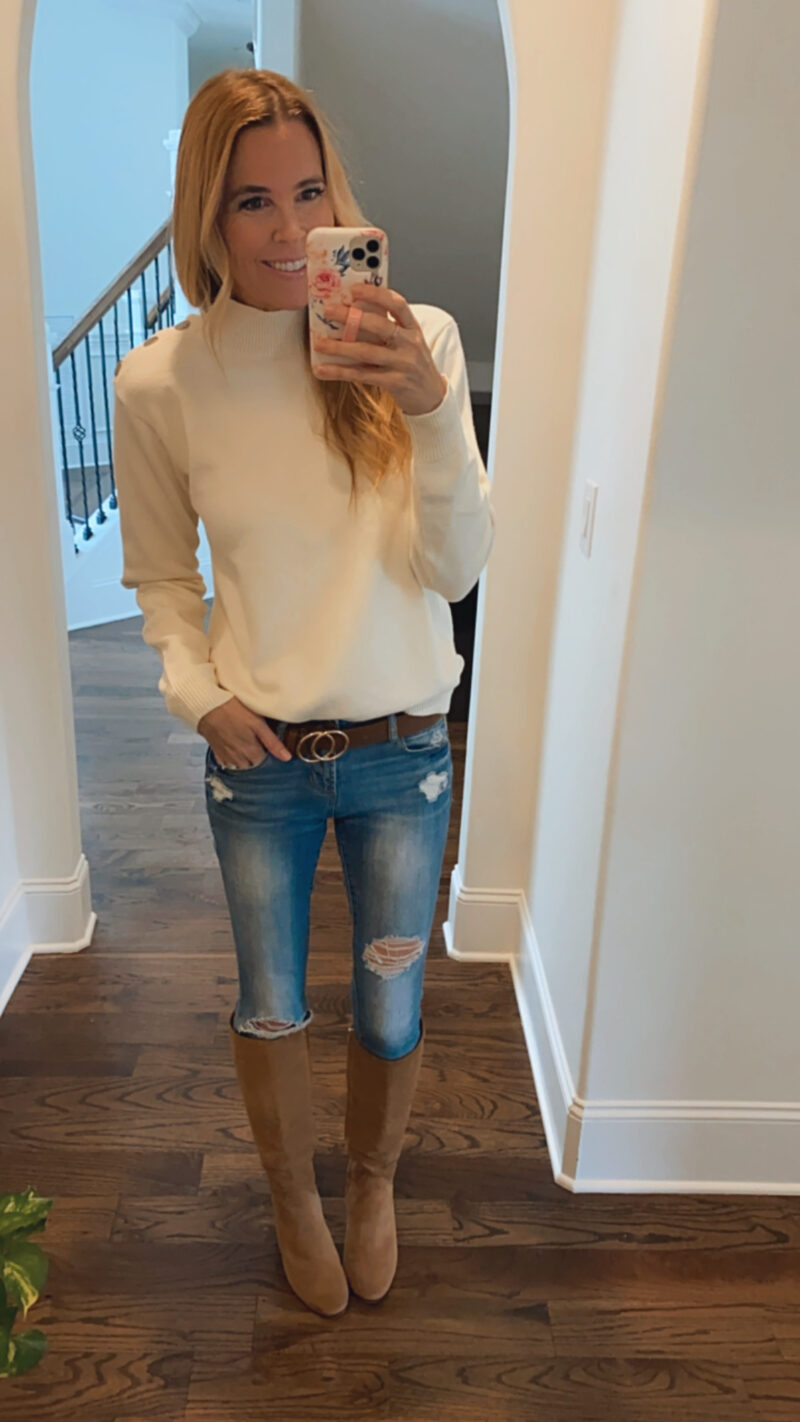 I wanted you to see how it looks with low rise jeans, too. Yes, I still love them even though high-waisted jeans are everywhere. This belt is another top pick from Amazon. My exact boots are no longer sold but you can grab a similar pair of boots here.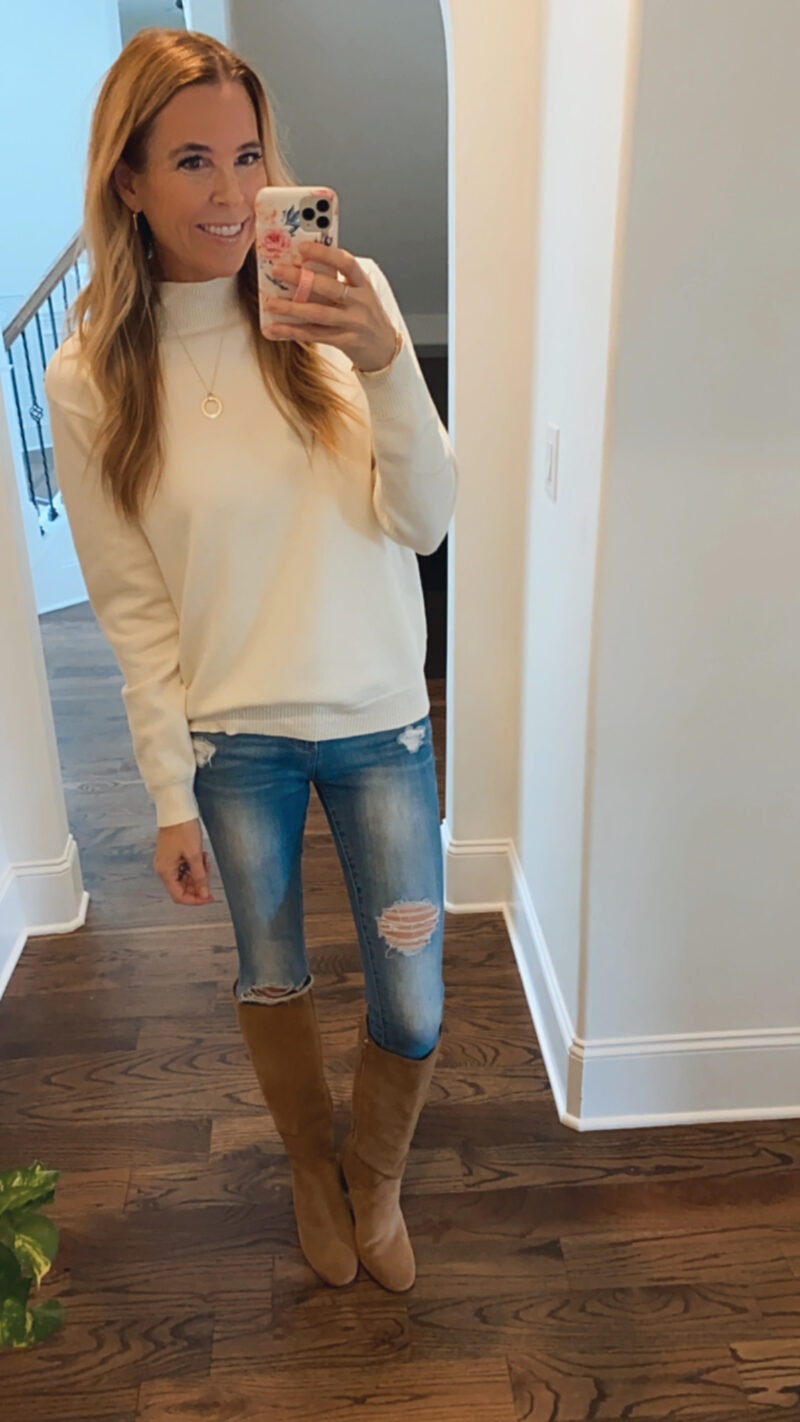 And here is a peek of the $31 sweater out so you can see where it falls. Really like this one and think it's pretty versatile.
THE CLASSIC STRIPE
It also comes in a striped version which you know I love. So classic.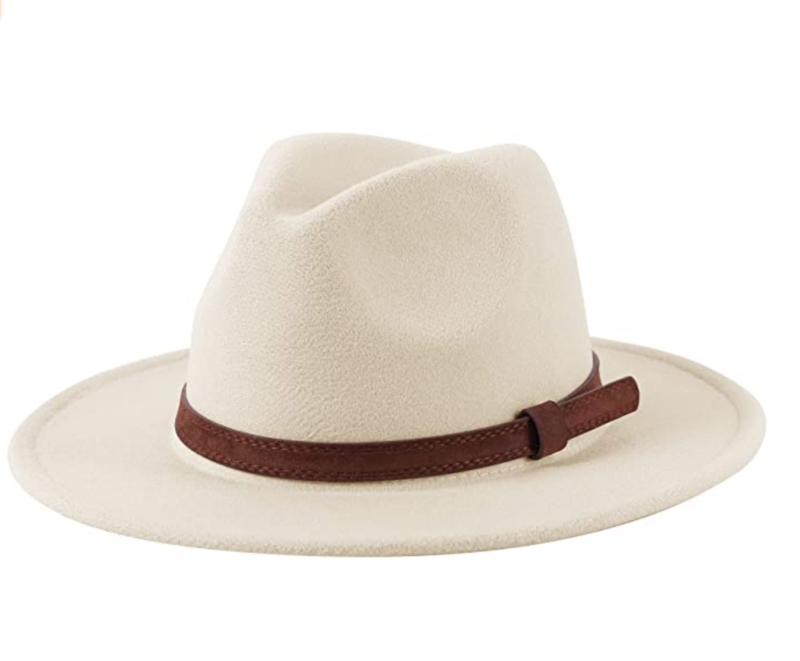 I also shared that I have my eye on this hat (a huge splurge) but wanted to try the $20 Amazon version and I really do love it. It comes in so many colors. I love this lighter version but the one I am wearing is called camel.
BRING ON DATE NIGHT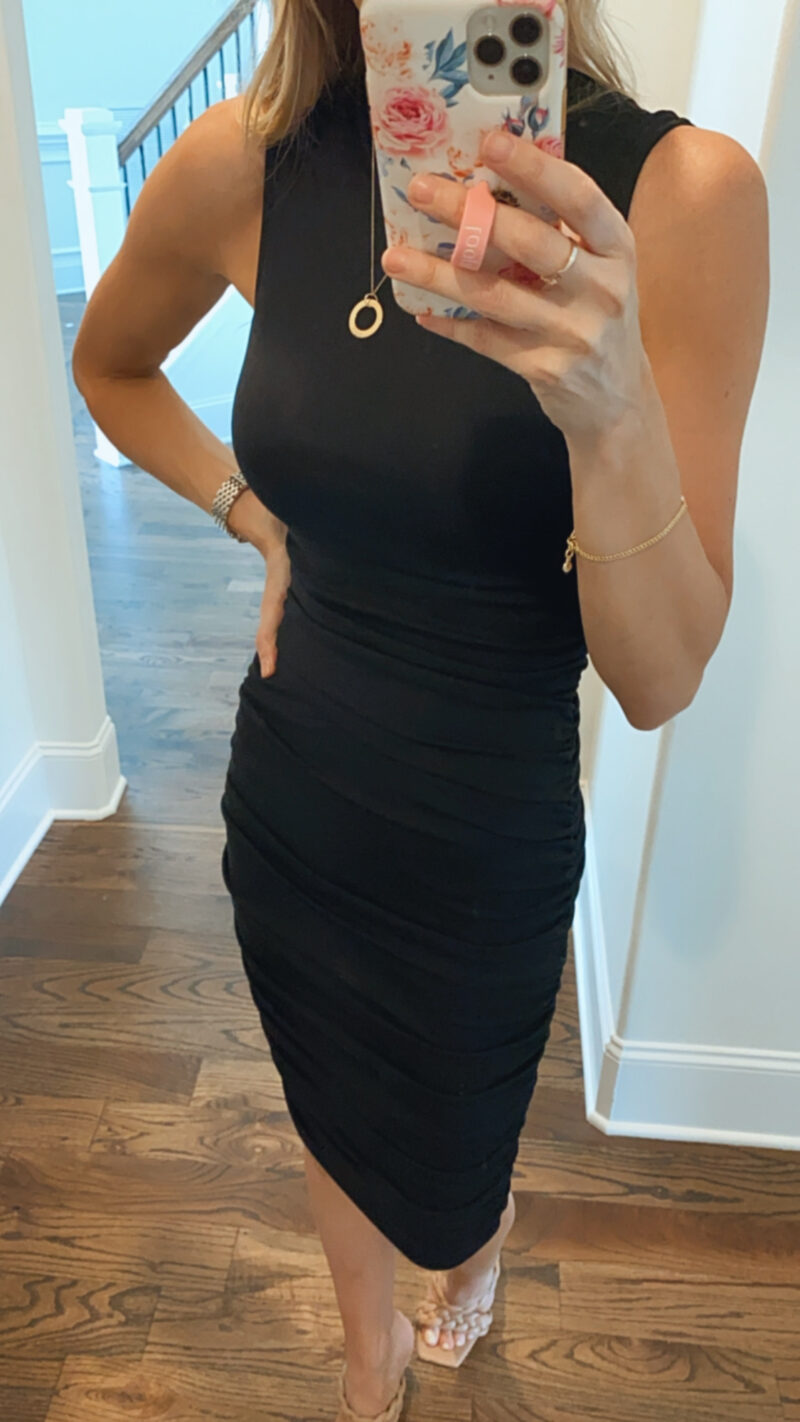 When I took this pencil dress out of the box I wasn't sure. I was pleasantly surprised when I put it on. It is definitely a body-con dress and VERY fitted. Tried to show you that with this angle. It is ruched down the sides. Here is why I love this dress . . . the armpits aren't too high. Sounds funny but let's be honest. There is nothing flattering about a dress that cuts right under the arm. This one dips down a bit but not so much that it shows your bra. I read the reviews and sized up so this is a medium. It's safe to say the small would not have worked. This comes in a few colors and would be cute with this faux leather jacket or a cardigan. Would work with a denim jacket for a more casual look, too. My braided sandals can be found here. They are comfortable right out of the box.
My circle necklace, which I wear every day, can be found here.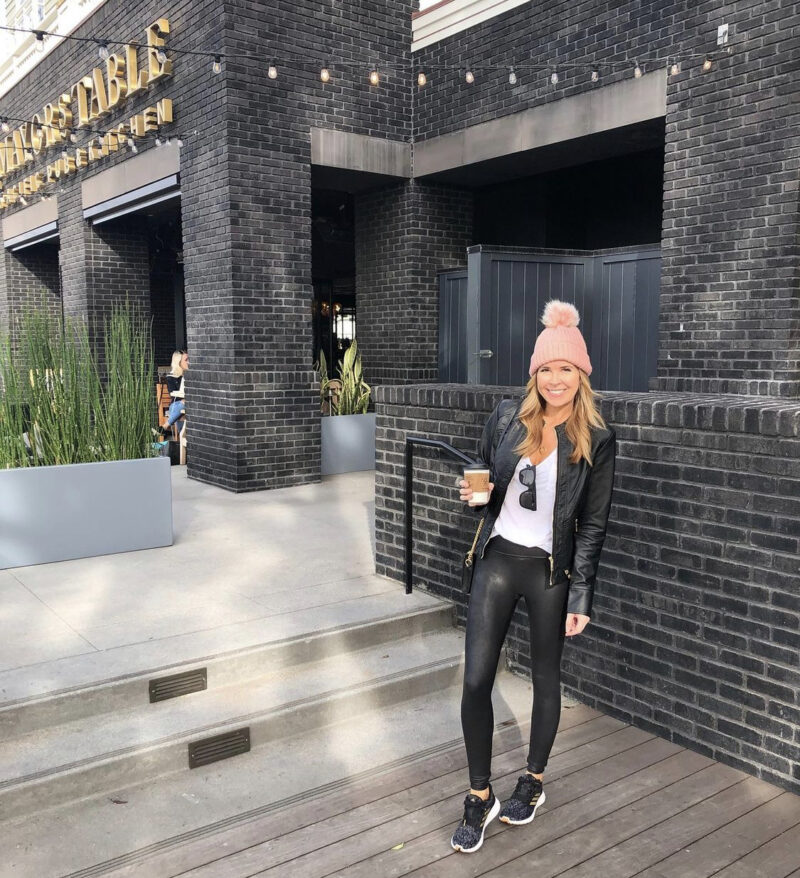 Do you all remember this faux leather jacket. I like the gold details on it. This is such a good one and would look great with that dress. Similar Adidas sneakers here. I've had these faux leather leggings for a couple of years and love them.
THE PERFECT PLAID TOP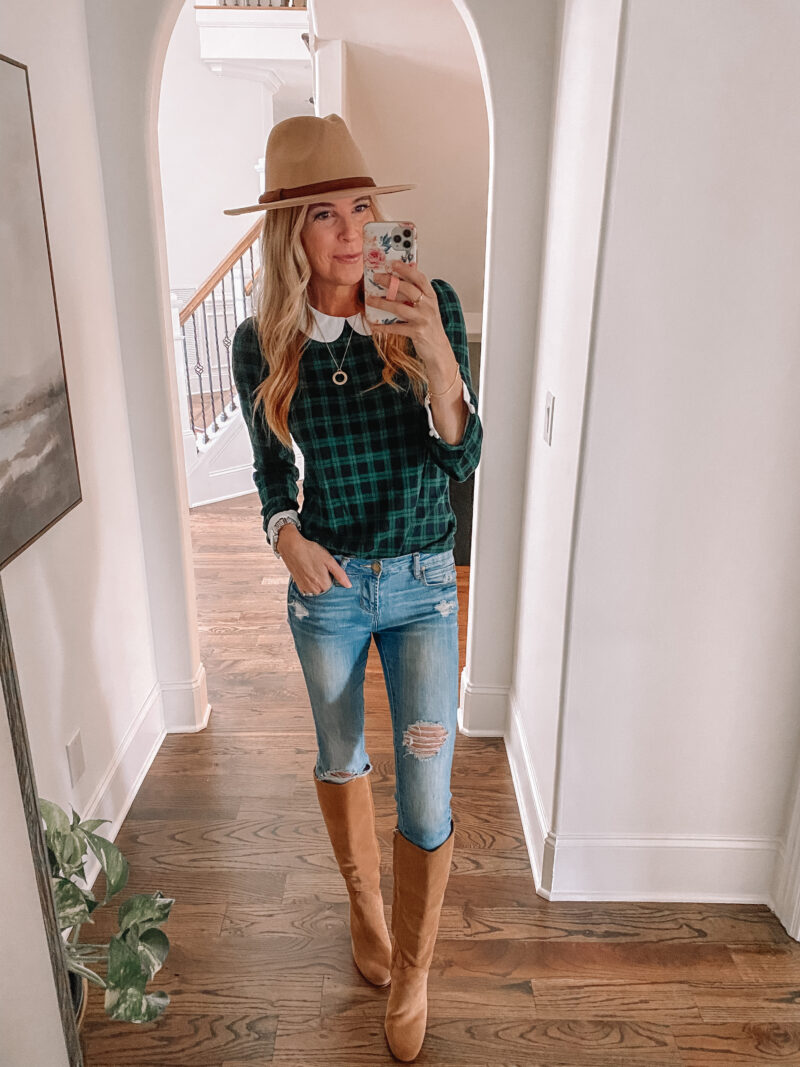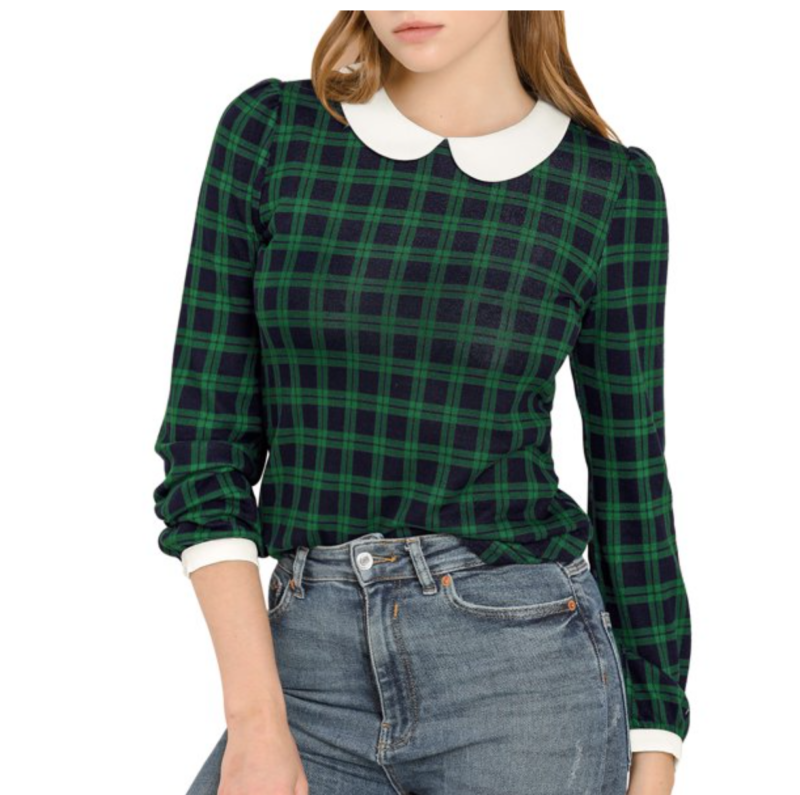 Ok, ladies. This isn't an Amazon top, but this darling plaid number is so good. It's incredibly soft and has some stretch to it. Very flattering and I love a Peter Pan collar. I can't wait to wear this more. I think it will be darling during the holidays, too.
And that's a wrap on my Amazon finds this week. Just a few gems that I really do love. Hope it is helpful. I am on the search for a great fall handbag so if I find something I love, I will definitely share. I am off to paint part of our dining room table. In case you missed it, you can see what we are up to on my Instagram story. Have a wonderful Friday!