Good morning! I am really excited to share today's post with you because it's a round up of Amazon style finds that I've ordered and loved. These have all been on repeat and are great pieces to add to your wardrobe. Below you'll find some new finds I haven't shared before plus the tried and true pieces that I reach for over and over.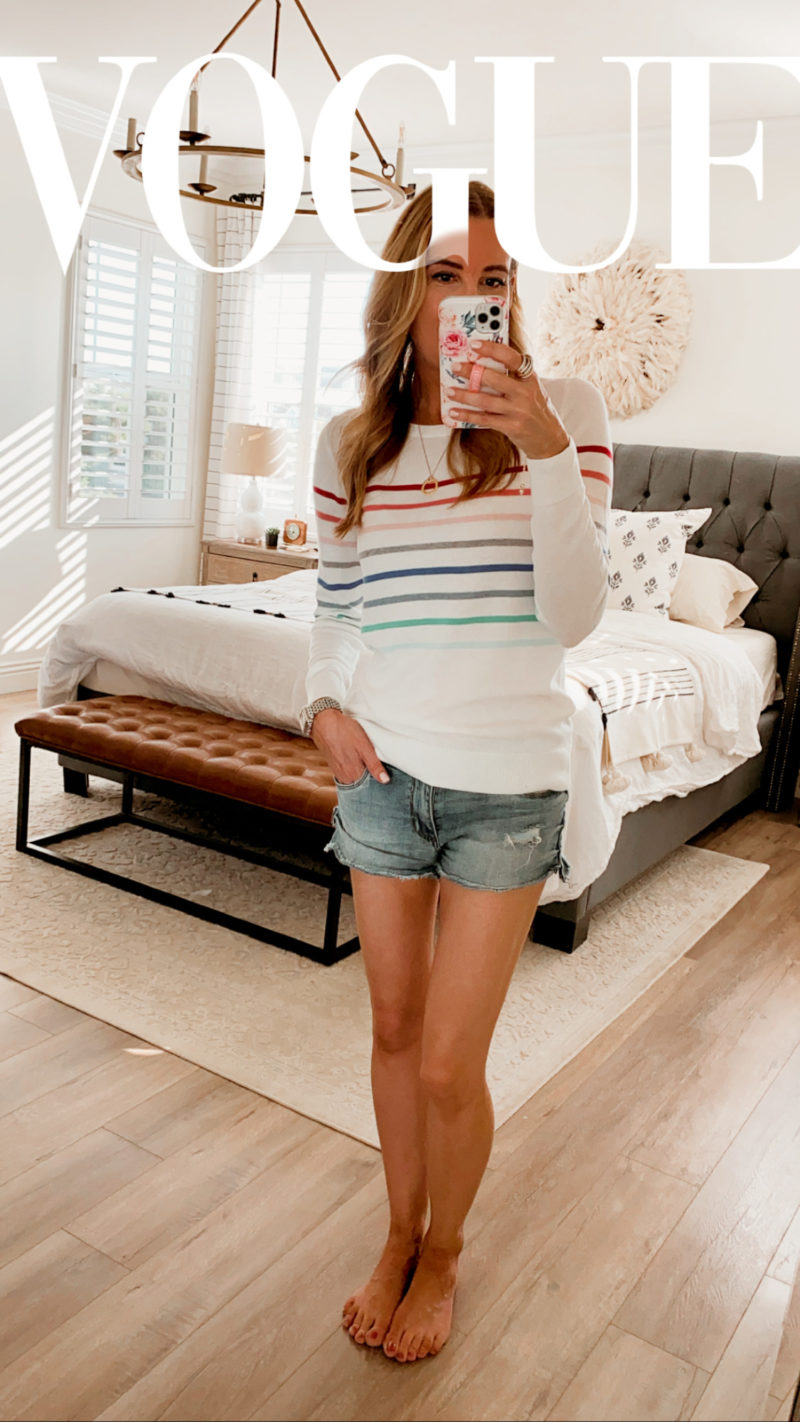 Nothing like a fun Vogue filter to kick off an Amazon post. My husband happened to open this when it arrived and he took it out of the bag and said, "Oh this is really cute." Let's just say he isn't one to usually have an opinion about my finds. But this sweater really is darling. I love the bright and cheerful stripes. This is a size small. I sort of wished I had gone one more size up for a baggy look but this works, too. It comes in a ton of colors.
This cute sweater is lightweight and soft. You'll definitely want to wear a nude bra underneath. The denim shorts are ancient but these are a best-seller on Amazon.
BE KIND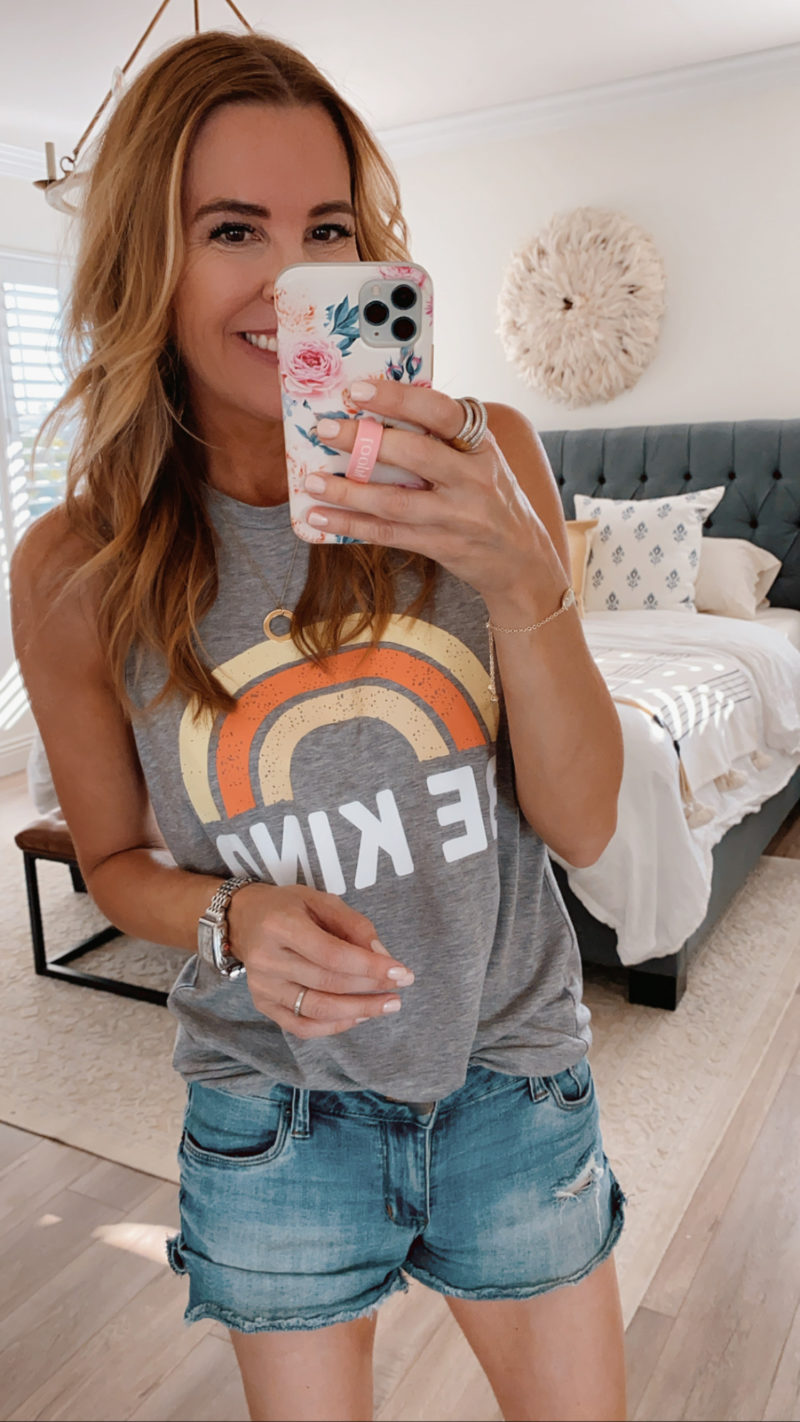 I think I wear this top at least twice a week. It's just so cute and comfy and I love the message. I wear it with shorts, jeans and sweatpants.
COZY PULLOVER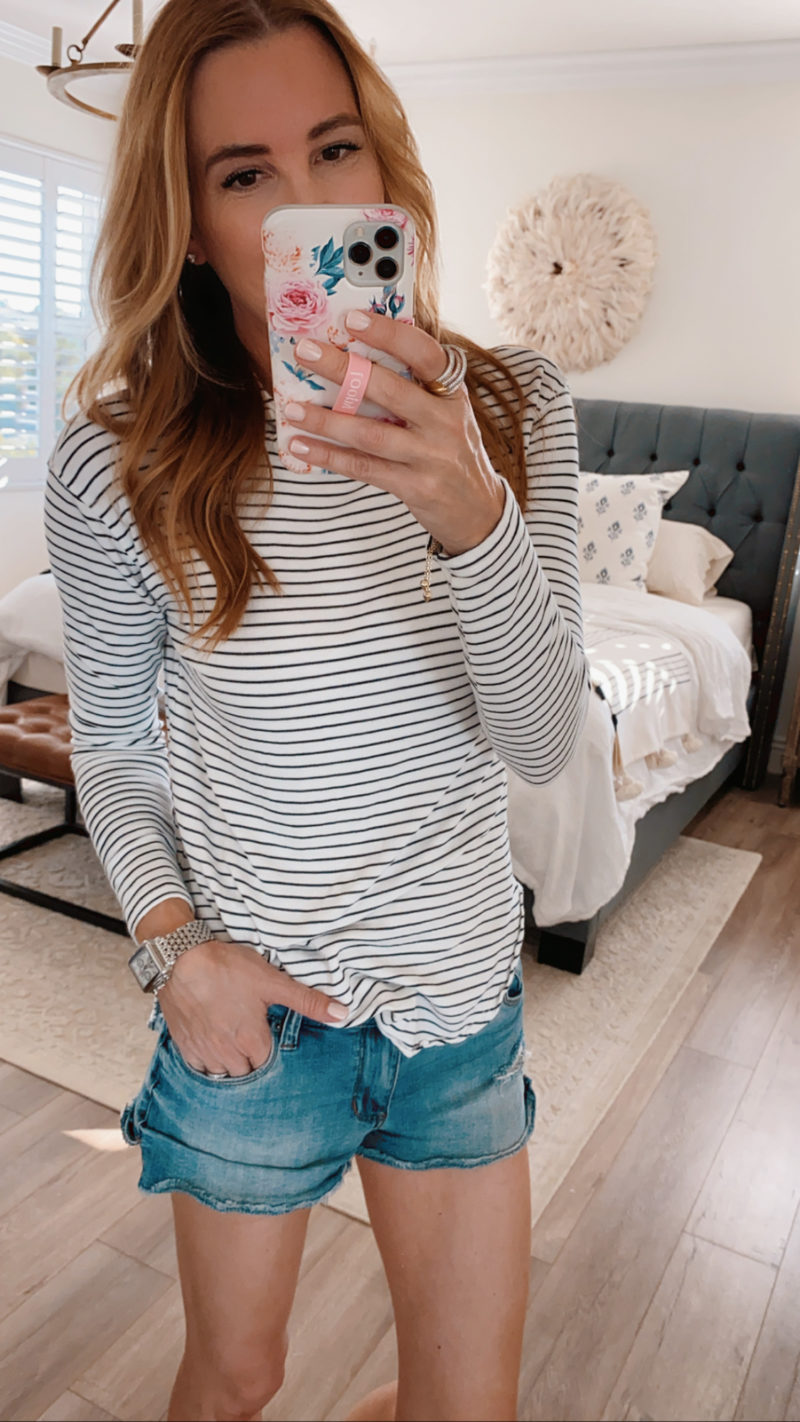 Yes to this!!!! Girls, I've been wanting to share this and am finally getting around to it. This striped top washes and dries beautifully and is incredibly soft. I bought a size small and even after the dryer it still covers my bootie in the back so it's great with leggings, too.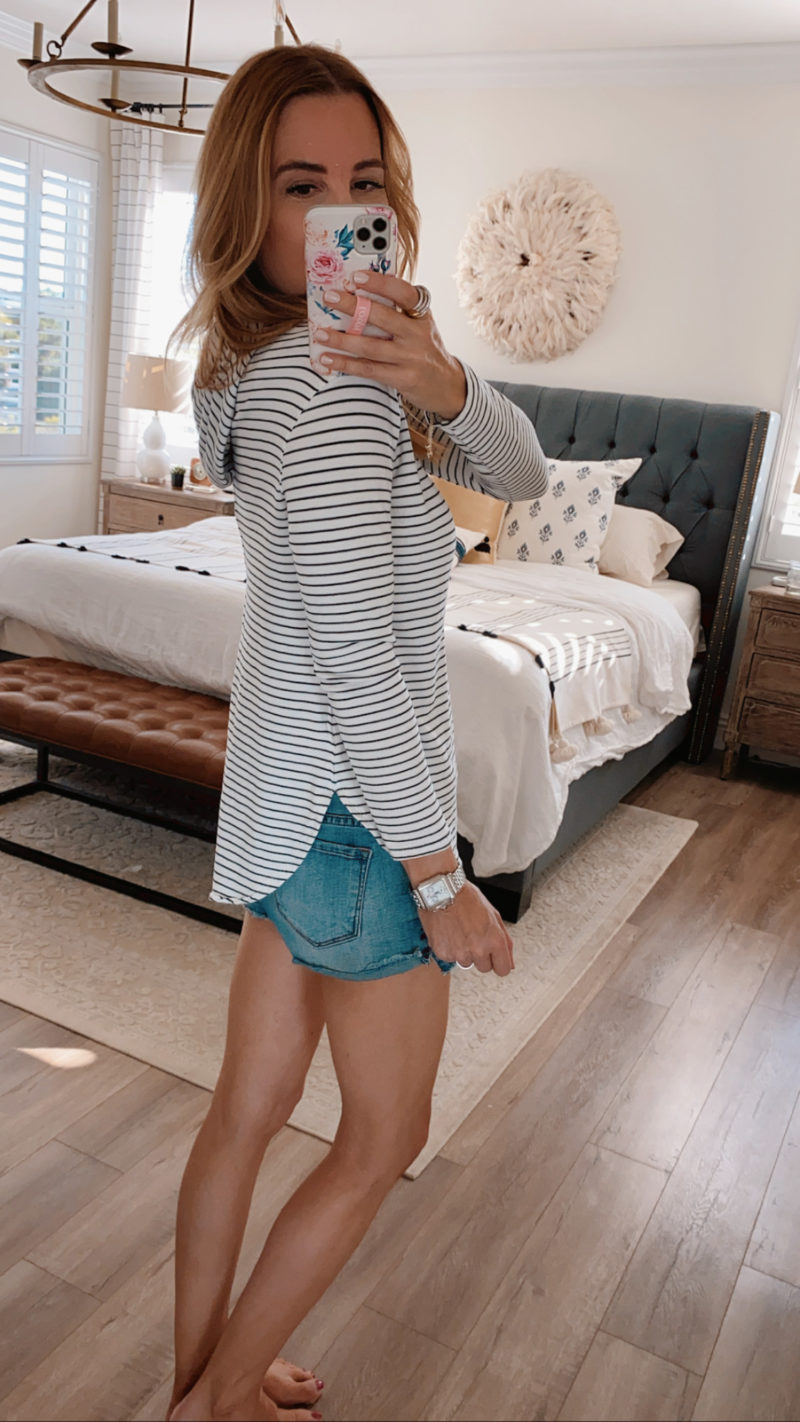 Two thumbs up for this pullover. I absolutely love it. A great little hoodie for the at-home school days many of us are jumping into.
COMFY JUMPSUIT
Do you remember this jumpsuit? Just wanted to let you know I am still wearing it and love to keep it casual or throw on a pair of heels for date night.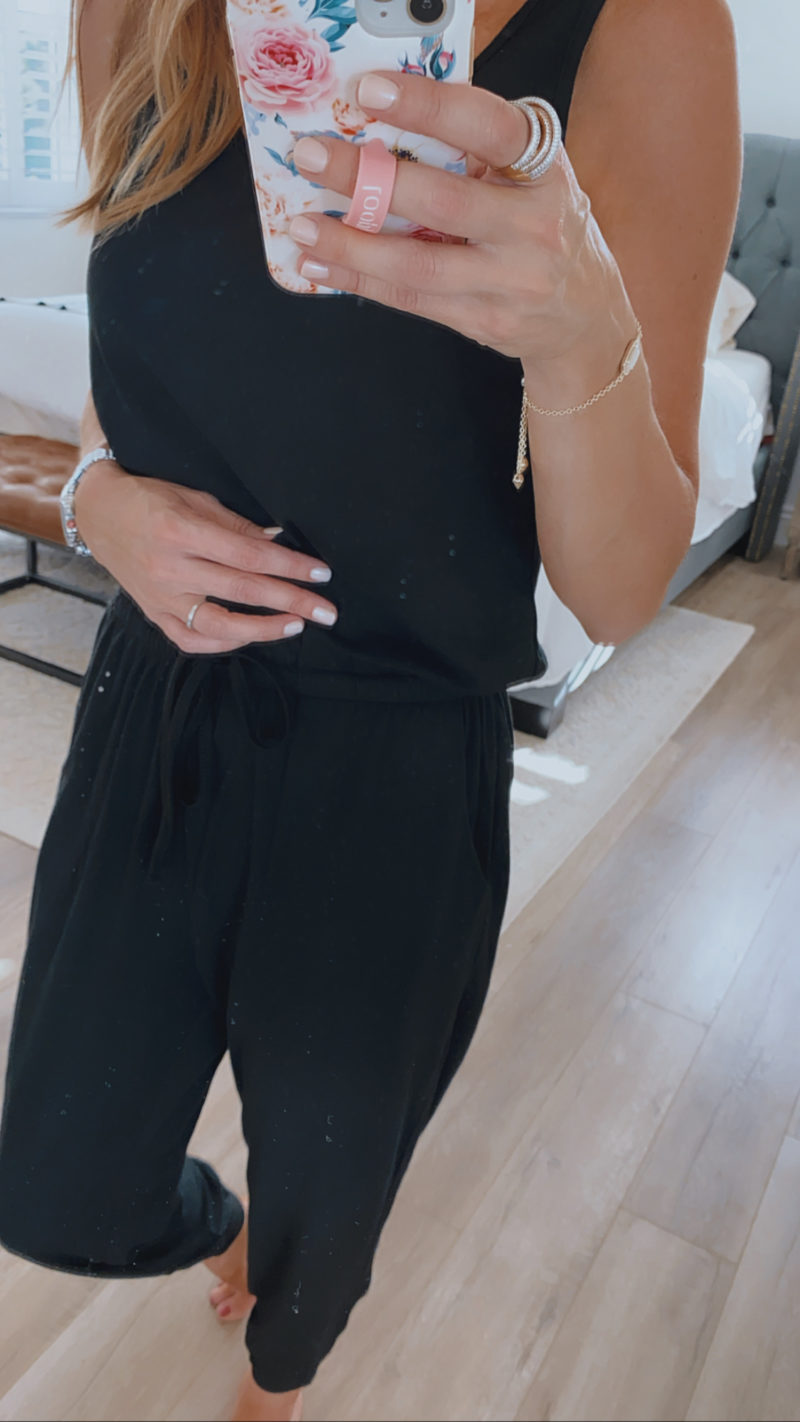 Just wanted you to see the drawstring waist. Makes it easy to fit any body type. Can we talk about the dust on the mirror? That's after dusting it 20 minutes earlier. Can't keep up! Oh, well.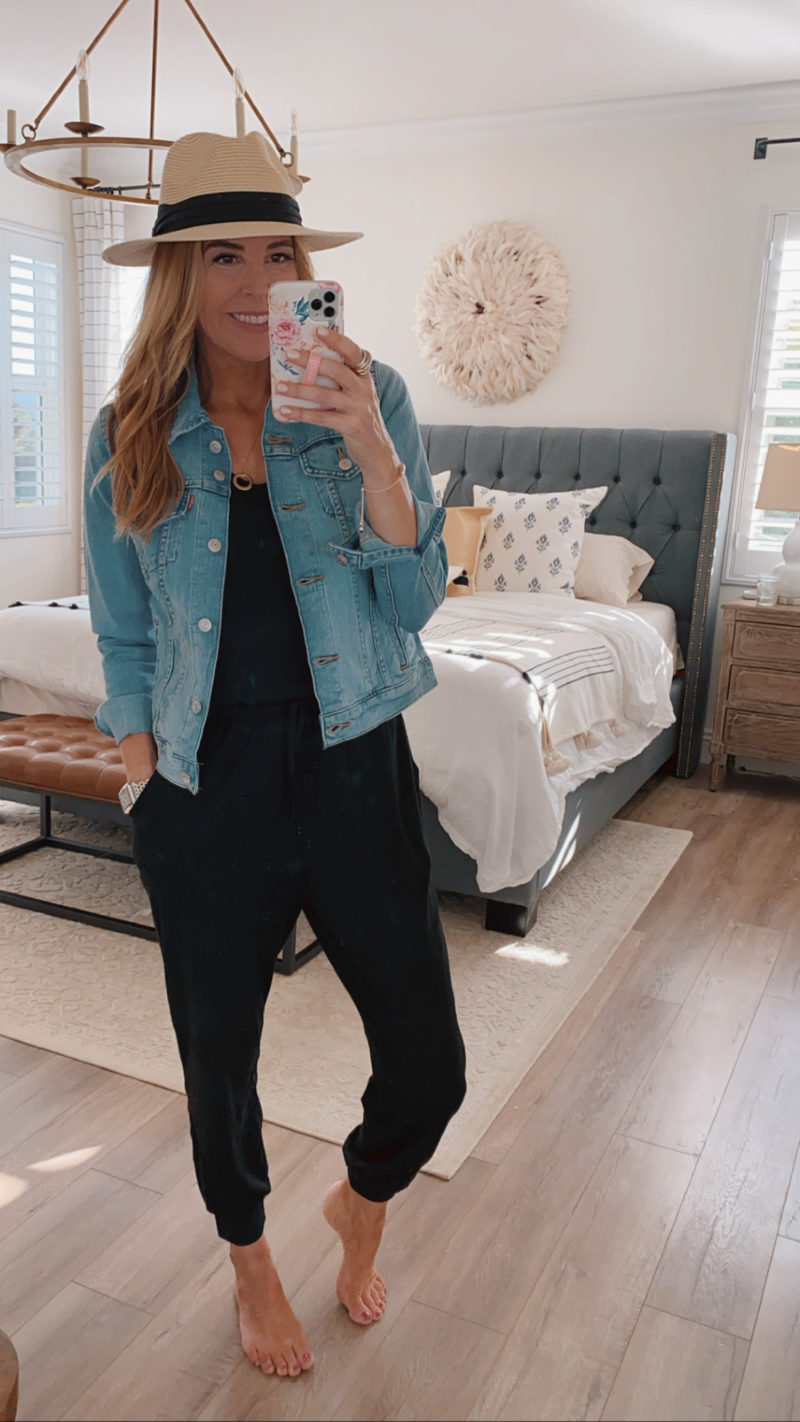 This denim jacket is a new find for me. Classic and adorable. I love the fit. It's less blue than this in person. This is a size small. Great jacket, ladies. It's cute with everything. In fact I wore it the other night over the dress below.
PRETTY LITTLE DRESS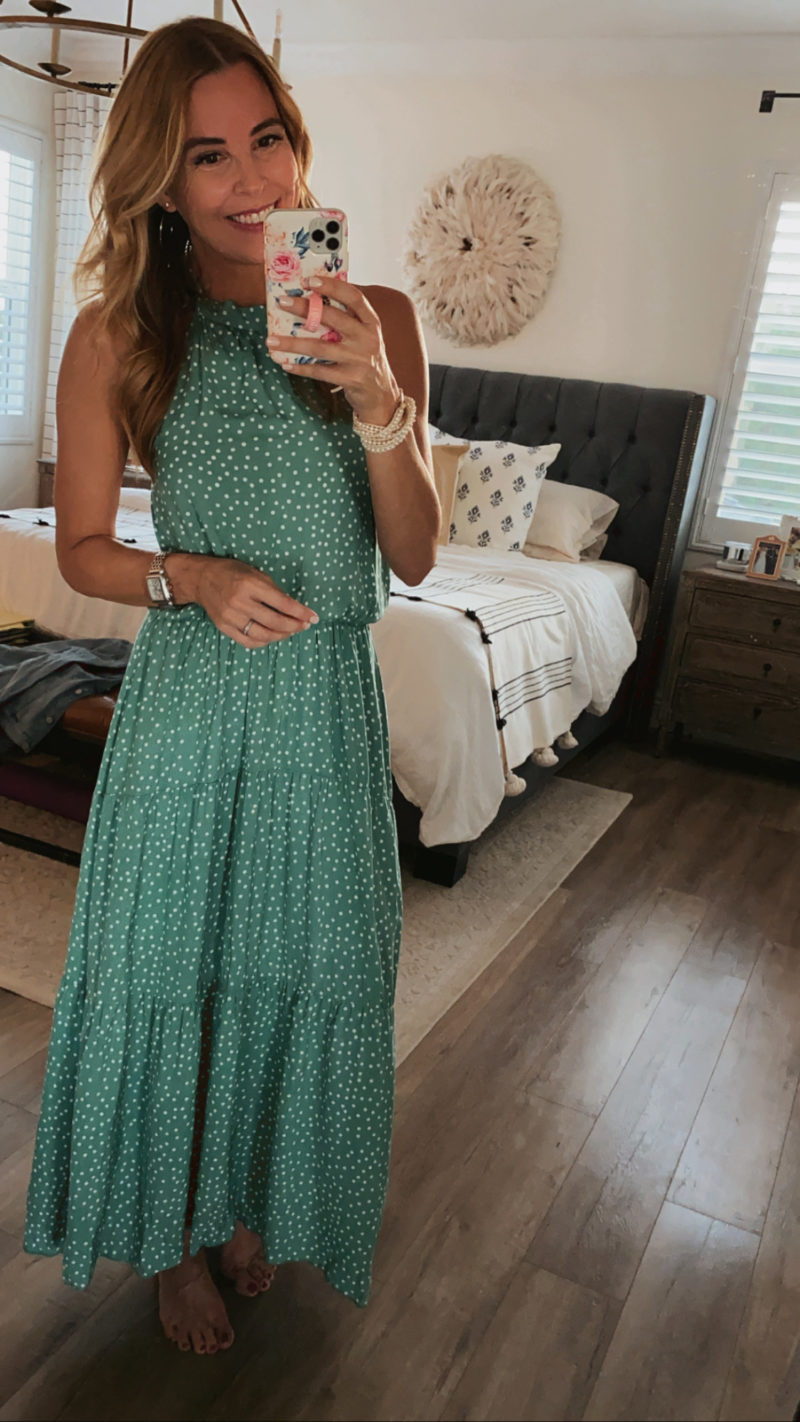 Just the other night I met up with a couple of girlfriends. It was much needed amidst this crazy thing we call life right now. I LOVE this dress. I have to be honest, I wasn't feeling going out. You know how that is. I could have easily stayed in jammies. But the second I put on this dress I felt so much better. It's an inexpensive Amazon find and one of my very favorites. It has a removable sash that ties around the waist and is under $30.
FLATTERING BLOUSE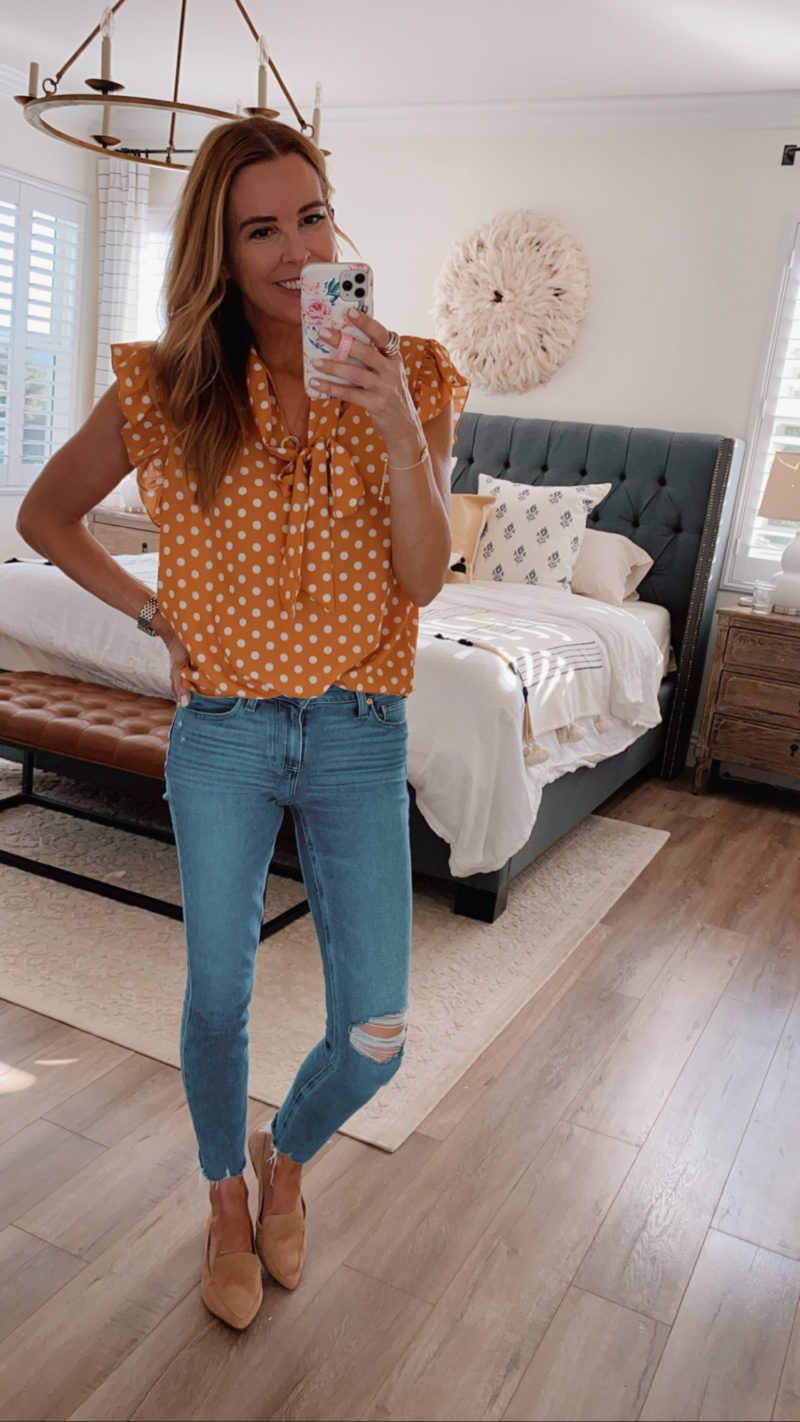 I wear this blouse all the time! My friends and family will say the same thing. This blouse is just a good one and I am partial to this golden polka dot version. It's a flattering cut and you feel pulled together despite just throwing it on with jeans. If you like a more oversized look, go up on size (wearing a medium). Here it is paired with my favorite jeans and flats from the Nordstrom sale.
GREAT BASIC T-SHIRT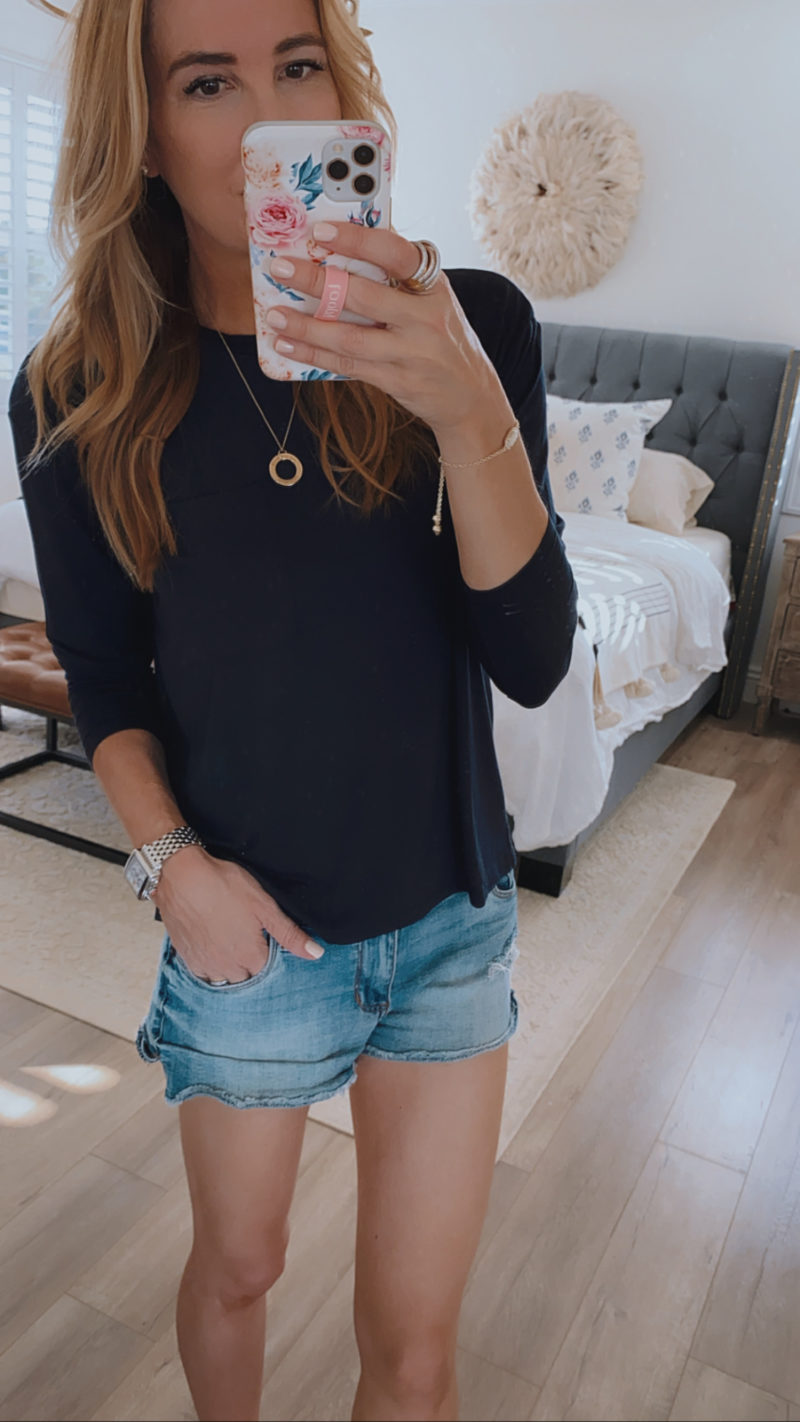 This is a great basic t-shirt. It's incredibly soft and has one pocket it front (hard to see). It's more of a boxy fit and falls just below the waist. It reminds me of a J.Crew style t-shirt.
SUPER SOFT DRESS $20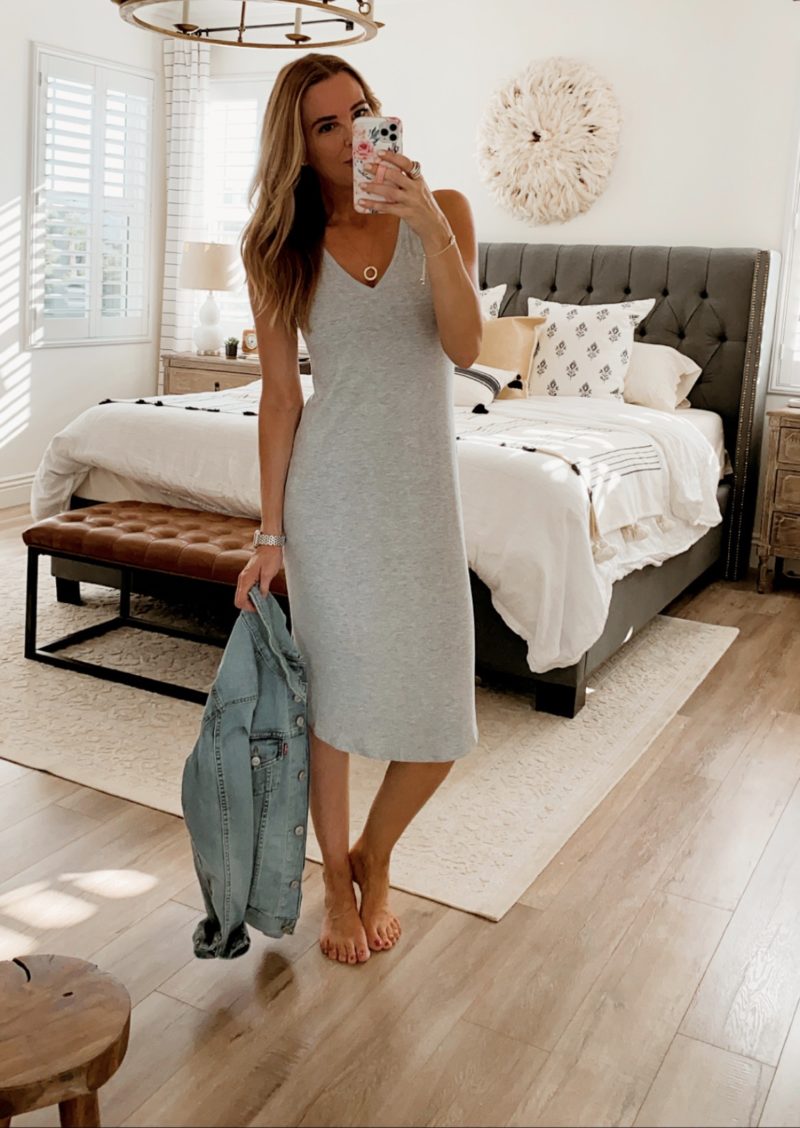 This is another Amazon find that my husband loves. It's a simple but great dress. Super soft, easy to wear and feels great. And it's under $20!! I am wearing the small and would love it in another color. This dress is so versatile. You can easily dress it up for a night out or keep it super casual with a hoodie tied around the waist. I was pleasantly surprised with this one. Two thumbs up, for sure.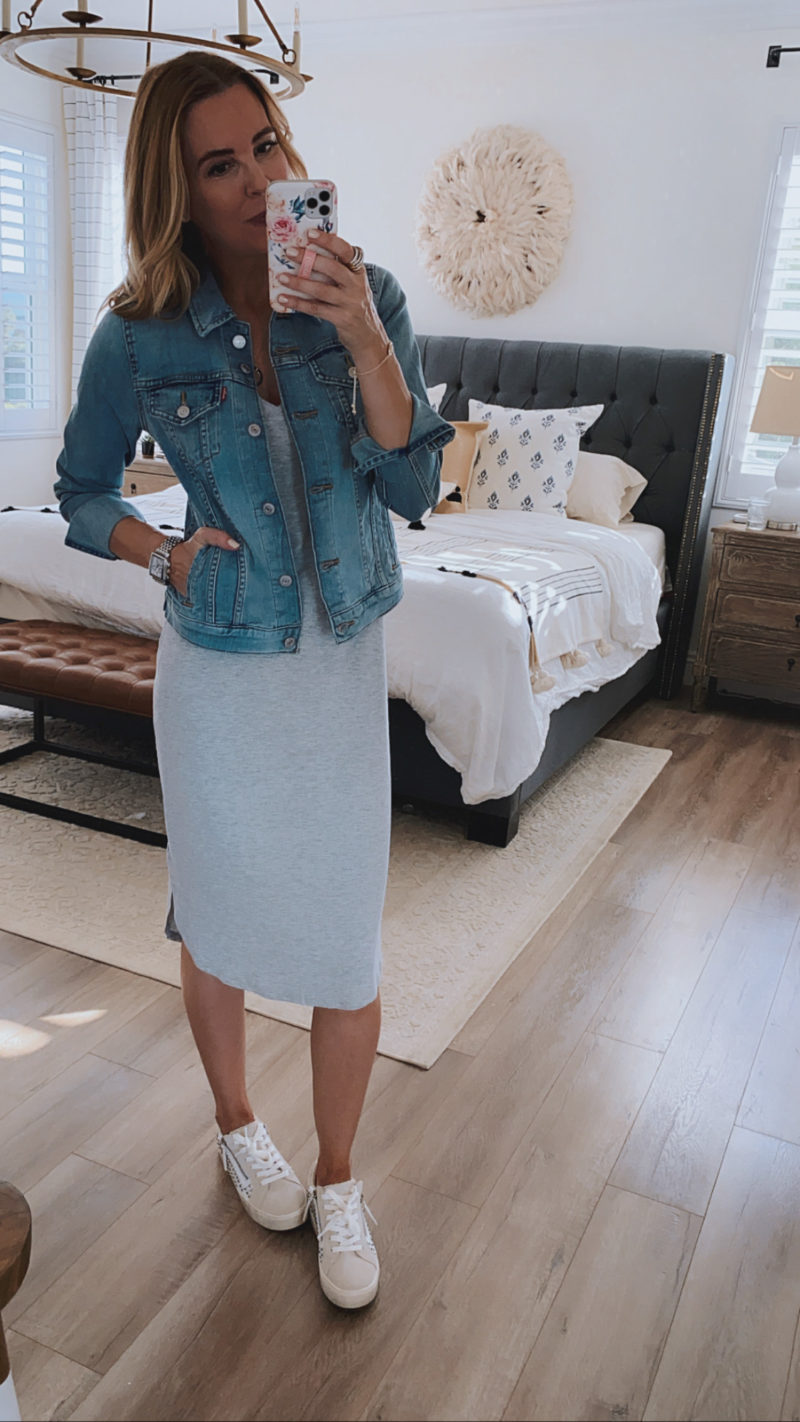 Here it's paired with the Amazon denim jacket and sneakers from the Nordstrom sale.
CLASSIC SWIMSUIT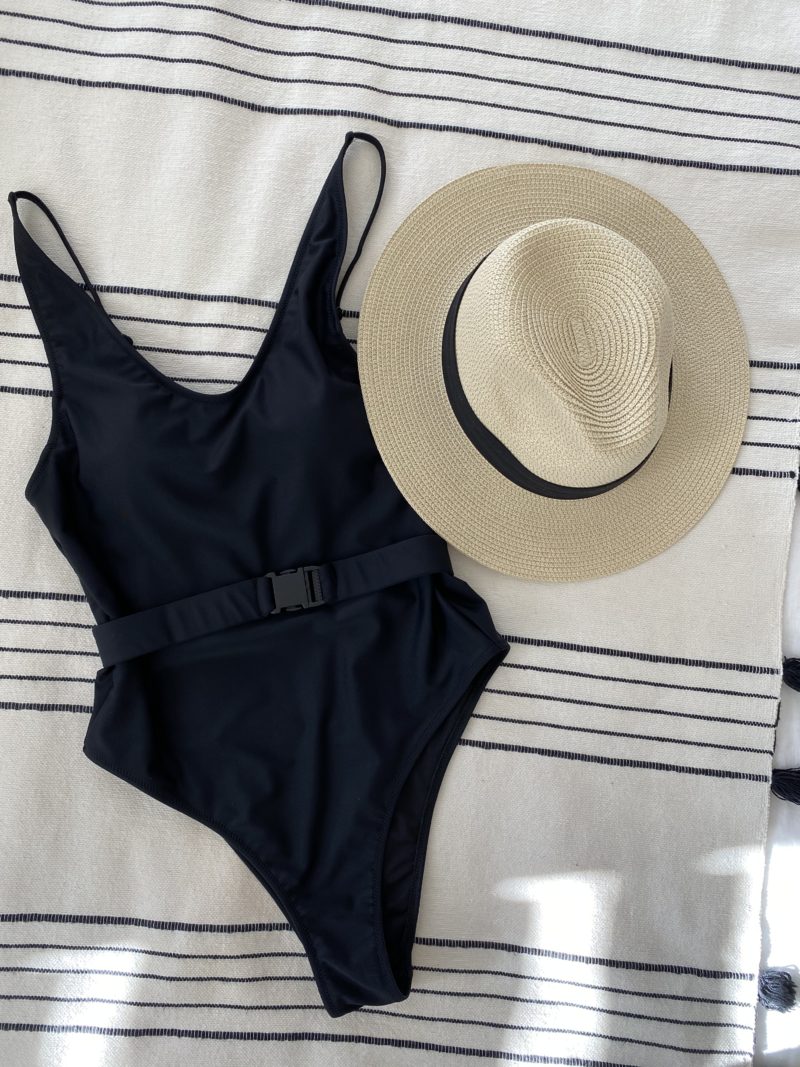 This one piece suit ($25) has been on repeat over here. I wear it with and without the belt. Definitely high cut and cheeky. Just a great basic black one-piece if you're not up for sporting the bikini. Love this sexy suit. The $20 hat is packable and adjustable.
If you're looking for pool or beach towels, we LOVE these. Especially love that they take up such little space. We are slowly replacing our bulky towels with these.
CUTEST JAMMIES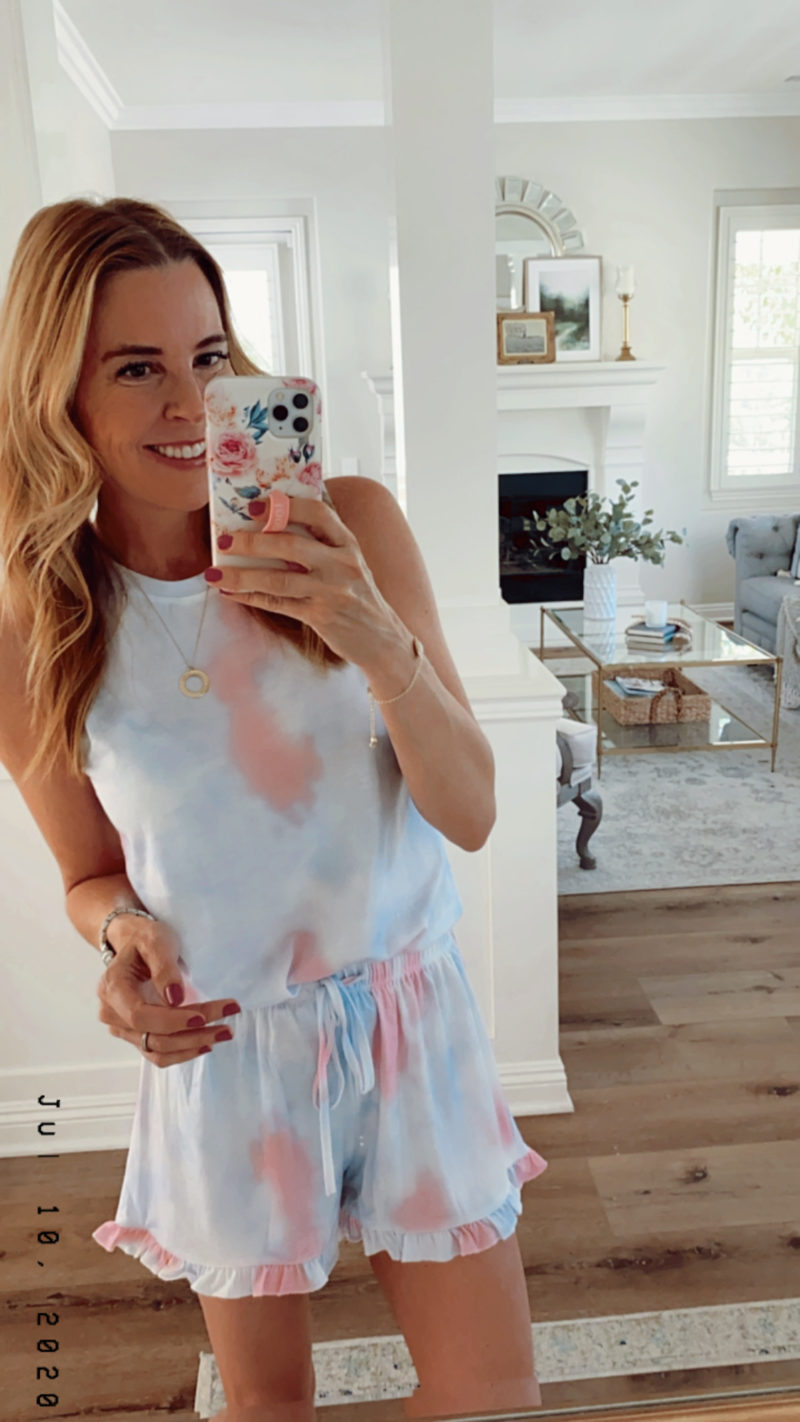 These have been my favorite pajamas this summer. Even more so than anything from the Nordstrom sale. I love the fit and the colors. Really nice for the hot summer nights.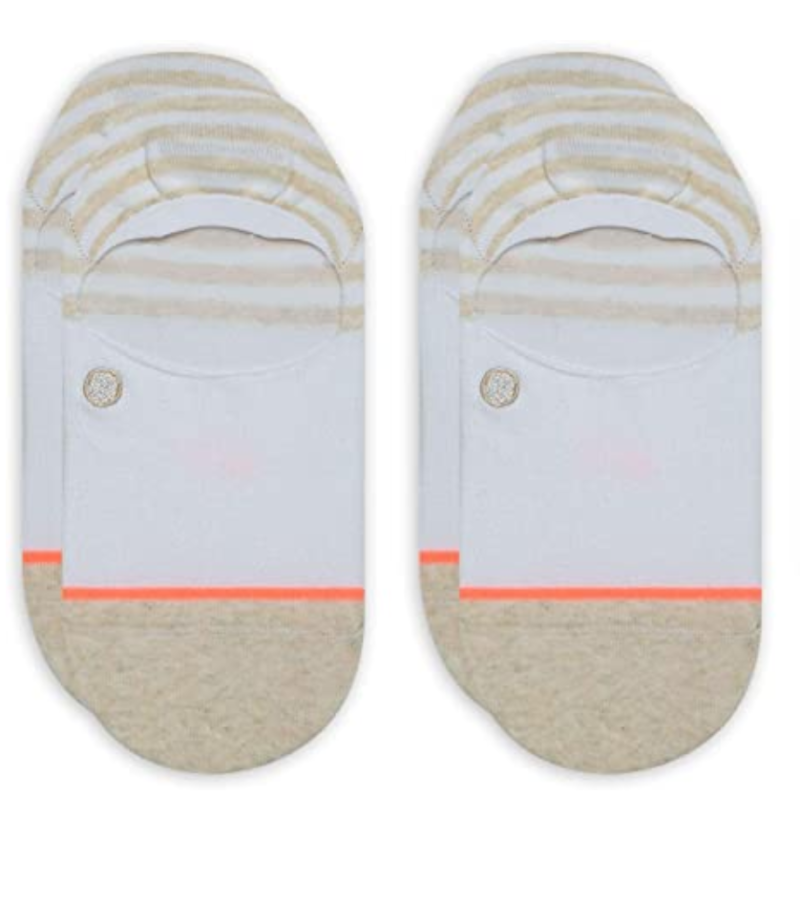 I had a sweet reader ask about no-show socks from Amazon. I have been wearing these for over two years and LOVE them.
FRIDAY NIGHT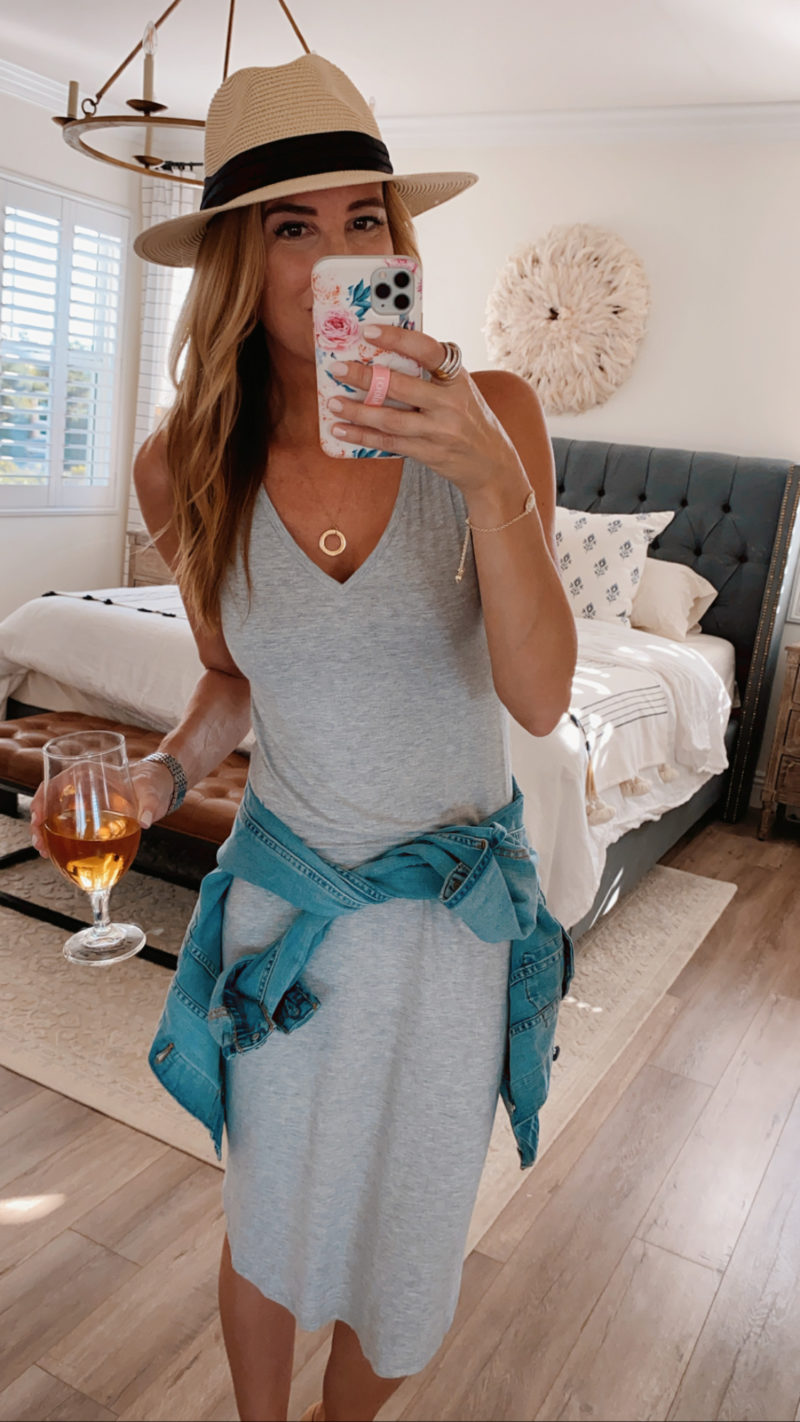 dress | jacket | necklace | hat
And this is what Friday night looks like when your husband comes in and says, "Time to stop working!" and hands you a cider. But wanted to say that this bra is the very best under this dress and the jumpsuit. In fact, it really is the bra I wear 90% of the time.
BRA LOVE
I found my bra on sale for $29!!!! That's huge. Plus it comes in six different colors. I have always had the nude but might order it in the pretty pink color.
HEADS UP ON SUNNIES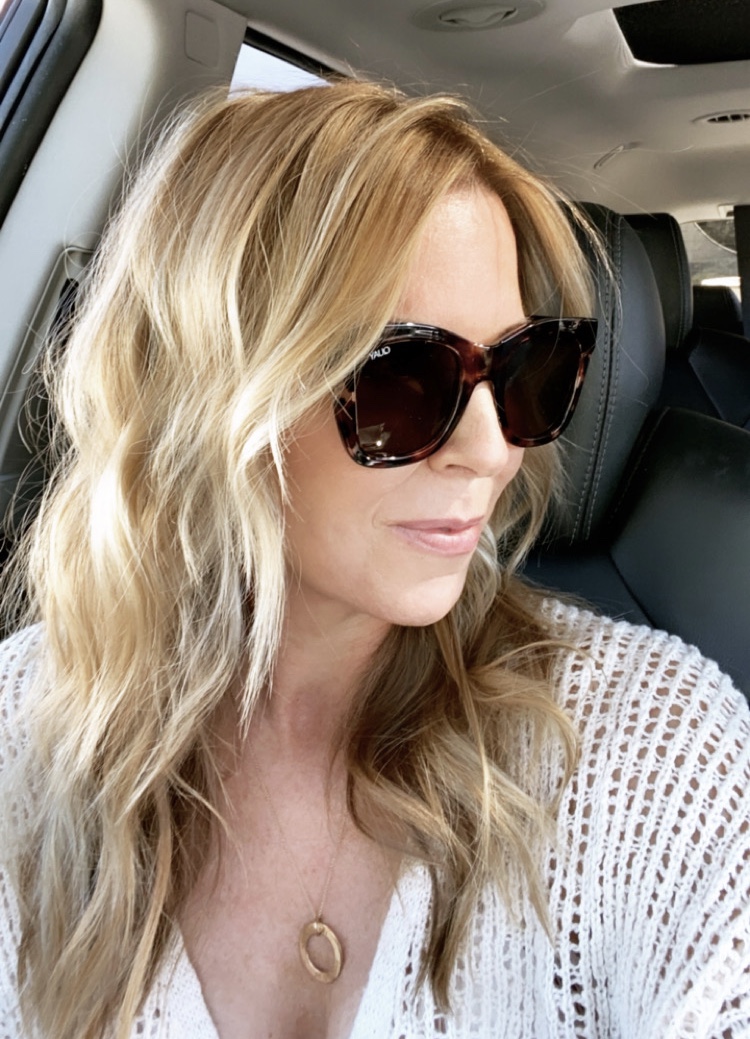 This photo makes me miss my hair appointments. Still shut down here and this girl could use some blond highlights right about now. In any event, just a heads up that all Quay sunglasses are buy one get one free right now.
What are you up to today? We are in denial that this is our last weekend of summer. Definitely planning some beach time and sadly needing to say goodbye to some of the best neighbors we've ever had. Wishing them well on their next adventure. See you back here on Monday.