I'm sharing a bit of a bathroom update and how we are taking our time with baby steps. Sometimes it's fun to see the planning and thought behind how I tackle some of our rooms. This hall bathroom is primarily our son's but when we have guests he graciously gives it up or shares. All of his belongings fit into one medicine cabinet or drawer so really this was the smart decision. If my daughter had this bathroom, every square inch would be full. Just keeping it real. Today I am filling you on in on the things that we love in this space, how we are slowly designing it, and out future plans.
GREAT BASICS
When me moved in, the only thing we did was paint this space a new color ( Pale Oak by Benjamin Moore). It has great bones which I feel are quite classic. With crown molding, hexagon tile and plantation shutters we really were in great shape. I knew I wanted it keep it primarily masculine as this bathroom belongs to my son, but also keep it neutral and pretty enough for guests. You can see the before here.  As soon as we painted, my son changed all of the hardware on the cabinets by himself. We are teaching them young, LOL!
BABY STEPS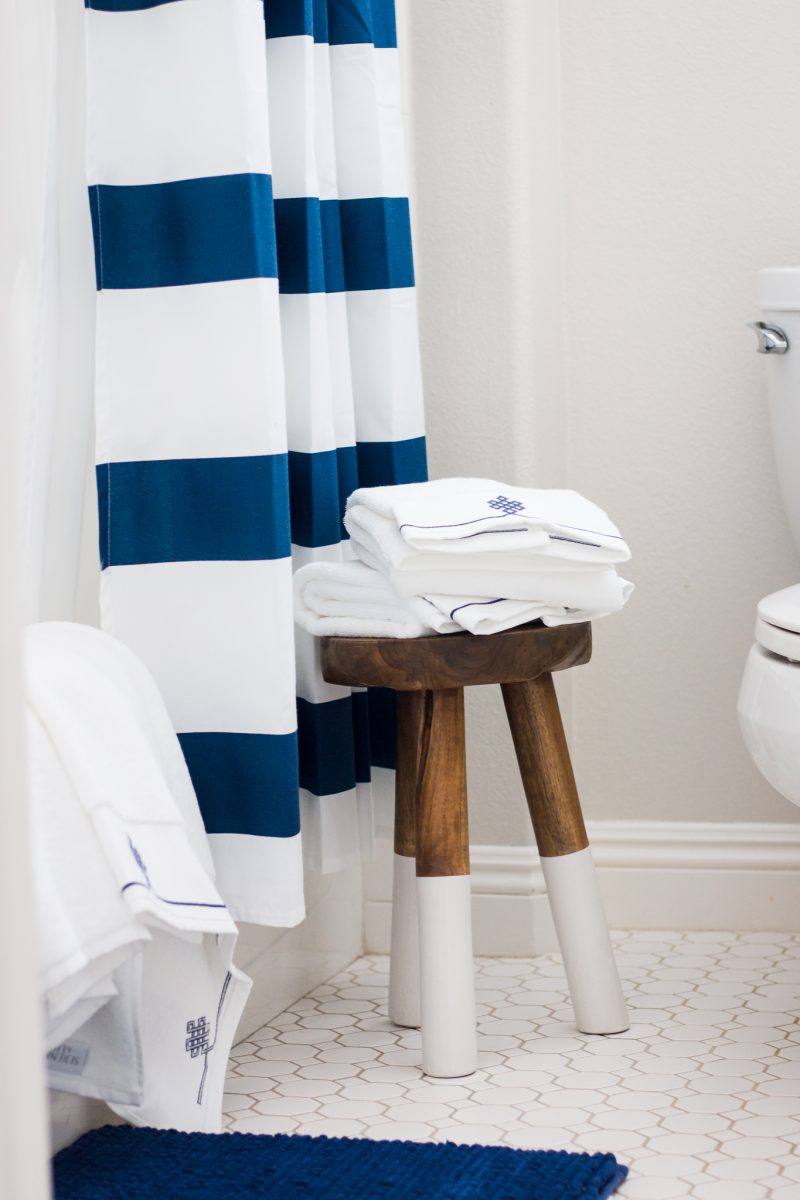 The first purchase was the striped shower curtain. Clean and bold for a nice impact in this neutral space. After that I added the navy bath mats. They are soft underfoot and I can easily vacuum them from time to time. But my favorite addition are the plush towels and stool. Because we are keeping this space quite simple, a couple of luxury items make it feel really special. The embroidered towels won't fade or fray which is key. I've been through way too many sets of guests towels.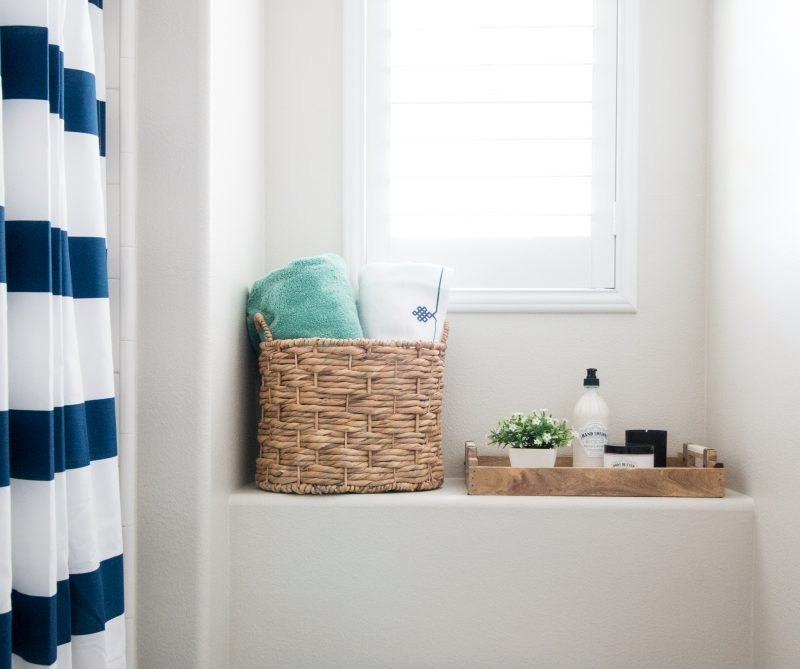 I used the space below the window to add warmth and texture. The tray has a marble inset and was a HomeGoods find.
MORE TO COME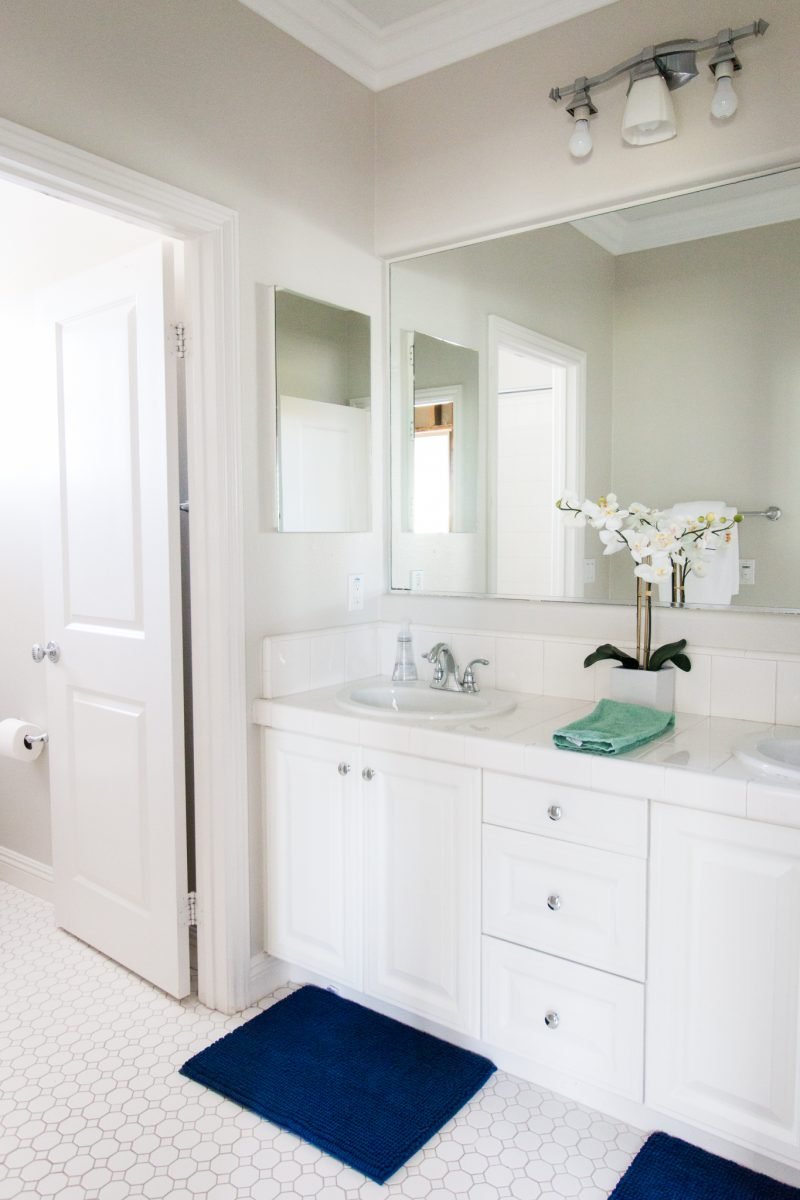 IN THE NEAR FUTURE
Frame the mirror
Replace the light fixture
Add artwork
Yes, that would be a light missing two shades! But it works! LOL. Would love to replace that and frame out the mirror soon. I envision a rustic wood frame like the one we did in our powder bathroom a few years back. I always like the warmth and interest that frame added. (One of my first DIY tutorials was this mirror. Ignore the poor photography).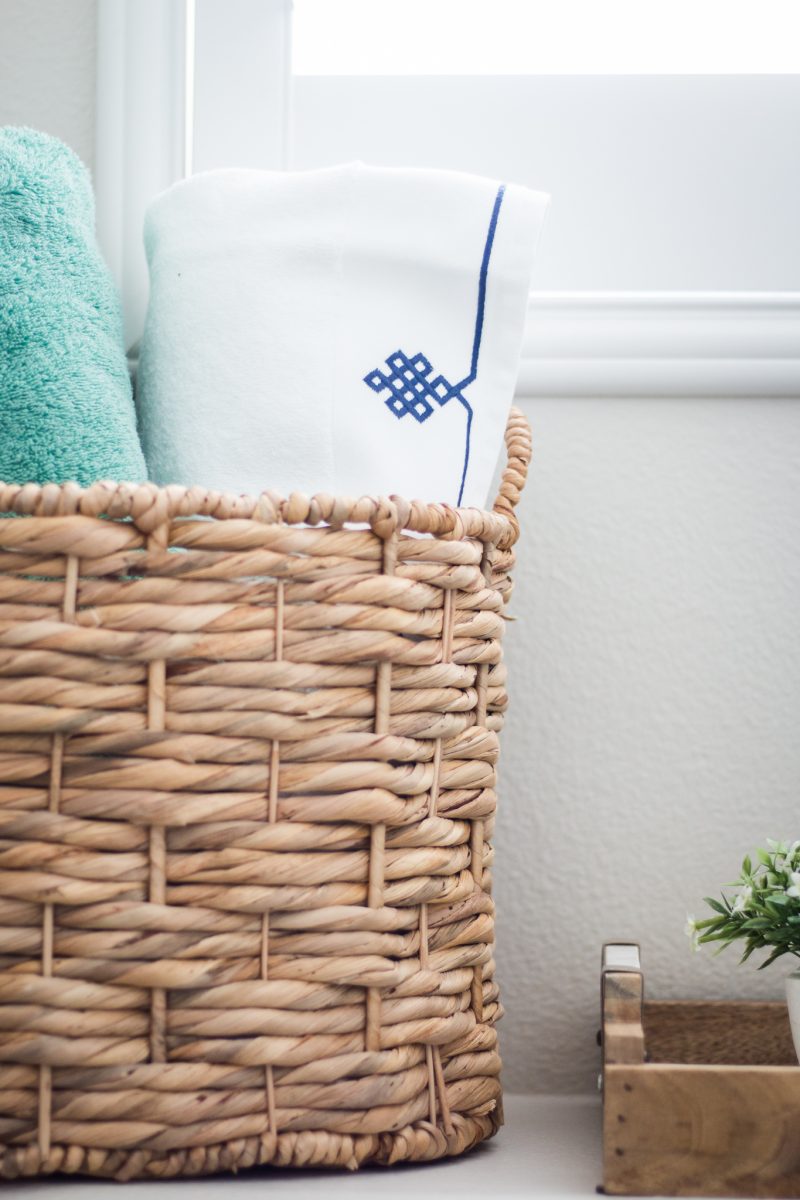 DOWN THE ROAD
Change the countertop
Swap out the faucets
We are in no hurry but eventually I would like to replace the tile countertop with a solid surface. The tile is in good shape but my preference is to not have any grout lines this close to sinks. So much harder to keep clean. If we do that, we will replace the sinks with an undermount style and update the faucets. Baby steps, so we shall see when this all comes to fruition.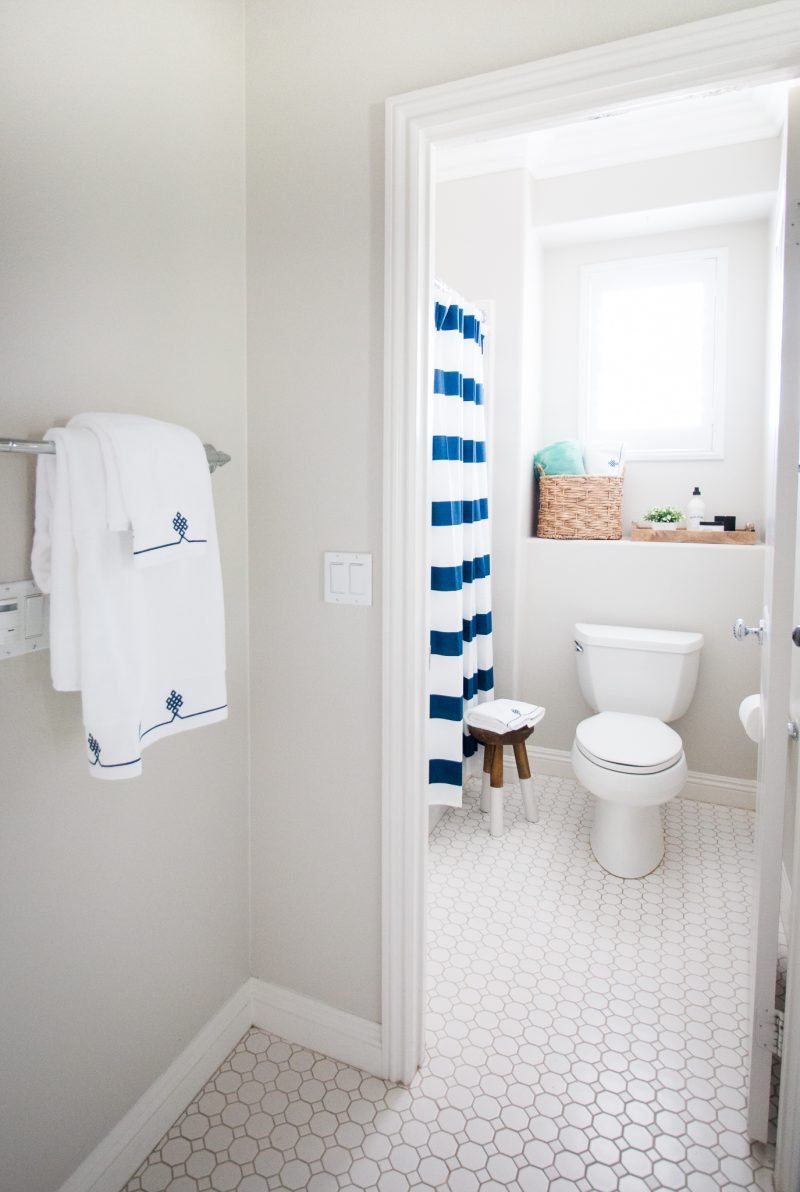 If you have a room that requires you to take it slow, I recommend keeping it clean and classic. The simplicity will read more intentional and it definitely buys you some time as you ease into the process. Hope that helps.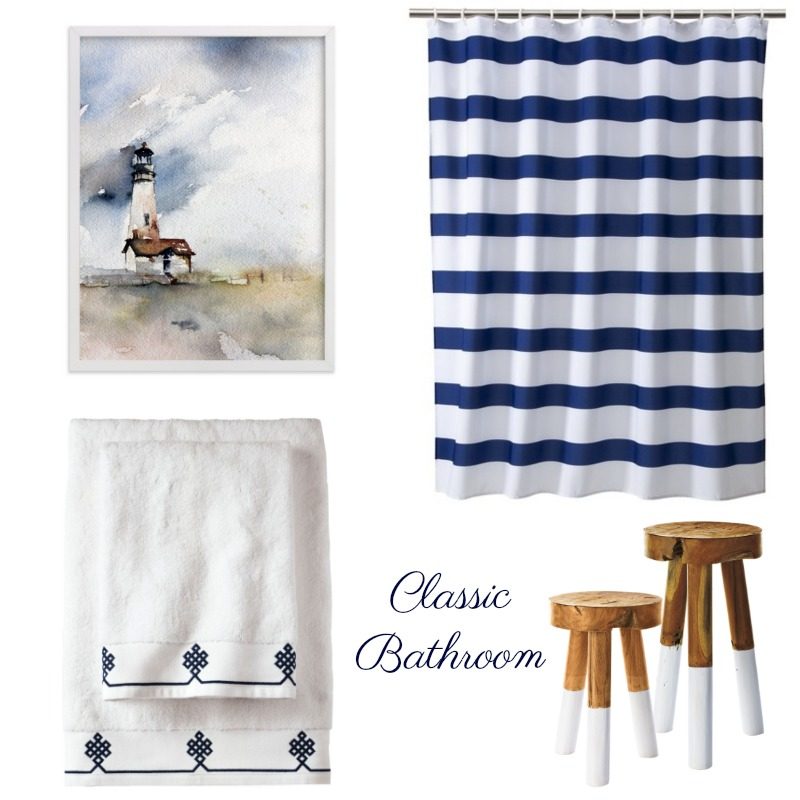 Shop This Space

I wanted to thank you all for your patience with my Facebook issue. The technical difficulties lasted more than a month but I am back in action over there so come say hello. 
Off to spend time with my sweet mom and then plan out our lake trip. Hope you all have a wonderful day.
*affiliate links used. Thank you to Serena & Lily for providing the towels and stool.