Good morning! Today I am sharing the best homemade pancakes with a recipe that never misses. With the onset of the school year, my children are planning to help me cook dinner once a week. They will follow the recipe and I will be there to guide them and teach them as they go. They are also anxious to take over the pancake making duties now that we have a new griddle.  Sort of a funny story of how the griddle came about. Let's just say it's bringing back a flood of memories over here.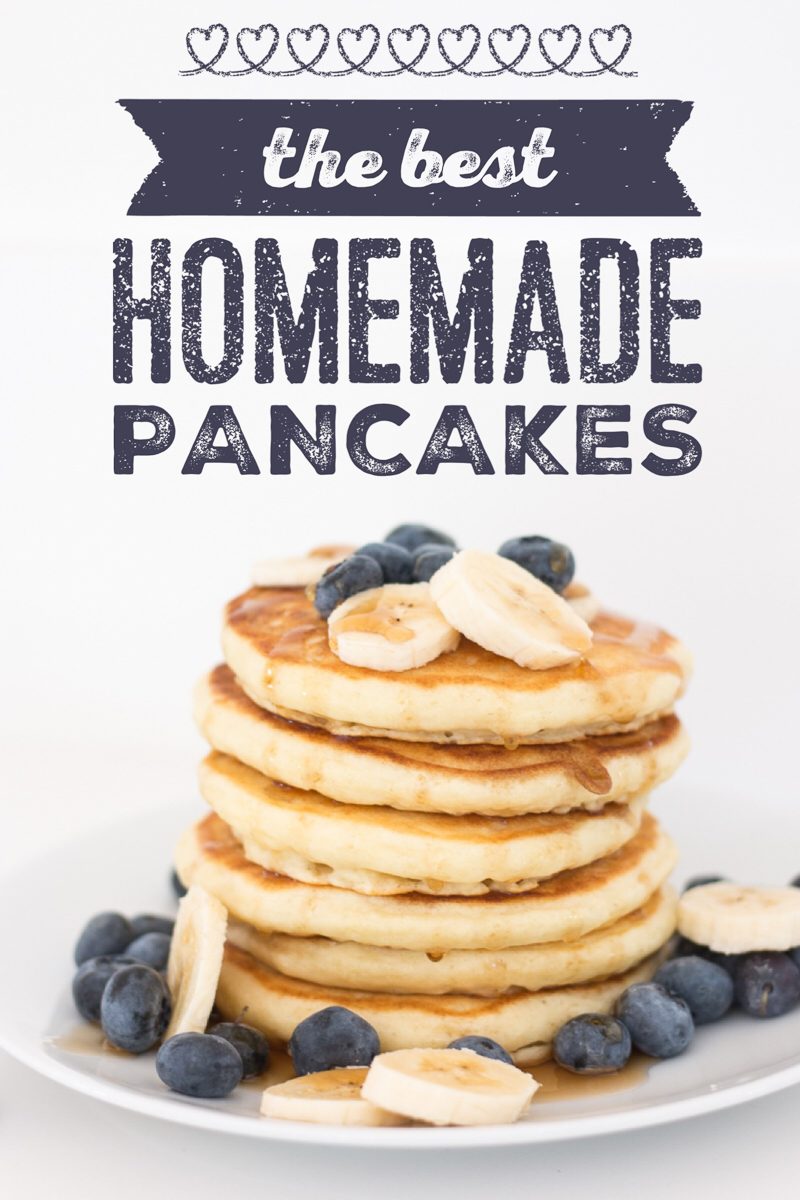 Ever since moving into this home, we've been using a pan that sits across our burners to make pancakes. Without fail, I burn them every. single. time. It's become a joke around here. Well when we were visiting our family up in Coeur d'Alene, Idaho, the kids learned to make French toast using an electric griddle. It brought back so many memories of making pancakes with my dad while growing up. I loved everything about doing that with him.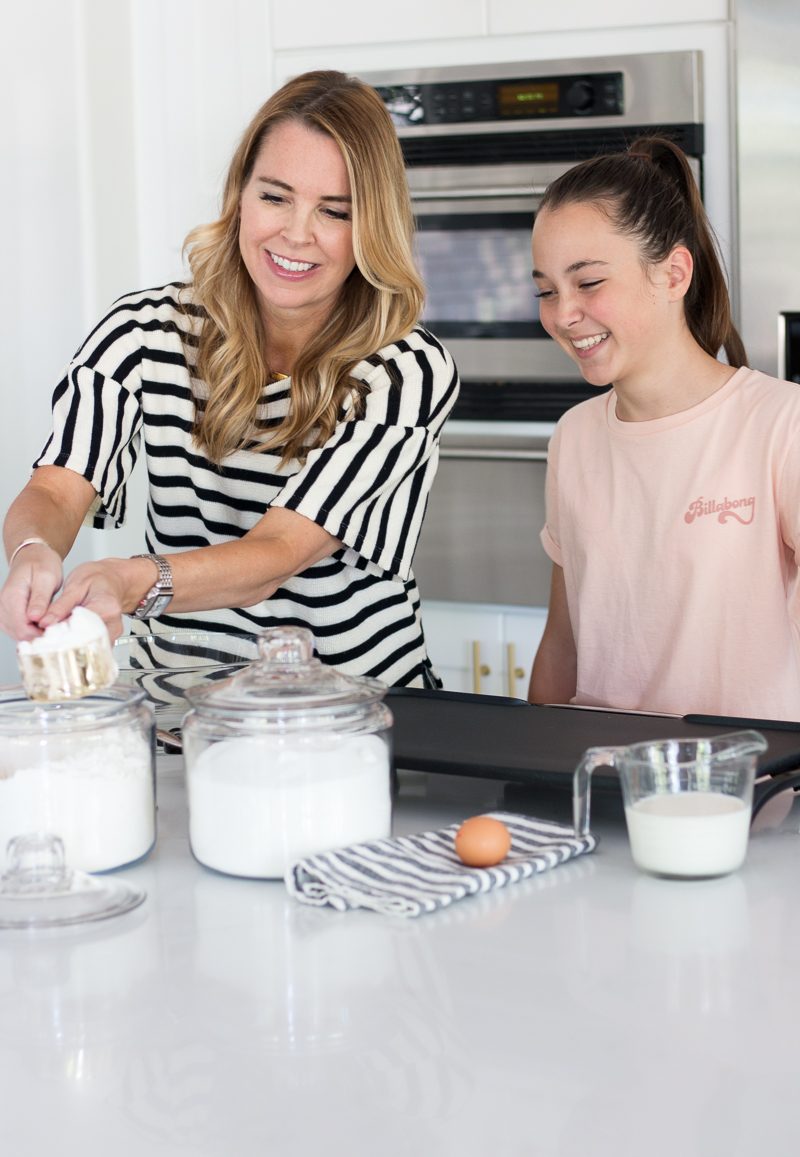 When we came home from our trip I told my husband how much I missed that griddle. And those memories. My husband said, "You know we can buy a griddle!" Isn't it funny how our brains work. Why hadn't I ever bought one for our family? It makes no sense. At long last we have an electric griddle (under $50) and my kids are now making pancakes like I used to. Today I am sharing the recipe that never fails.
FLUFFY & LIGHT PANCAKES
The Best Homemade Pancakes
Ingredients
1 1/2

cups

flour

1/4

cup

sugar

3

tsp

baking powder

1/2

tsp

salt

1

tsp

cinnamon

optional

3

tbsp

melted butter

optional - we don't use and love the outcome

1 1/4

cup

milk

1

egg
Instructions
Heat griddle to 350° and lightly grease once ready to make pancakes.

In large mixing bowl, stir together flour, sugar, baking powder, salt and cinnamon.

Created a basin in the dry mixture.

Lightly whisk milk and egg together. Add to the bowl. Whisk all ingredients until blended. A few lumps are just fine.

Use a 1/4 cup to drop pancake mix onto a lightly greased griddle. I have also used an ice cream scooper if you wish to make smaller pancakes.

Once you see bubbles, flip the pancakes (roughly 1-2 minutes per side). 

Serve pancakes with fresh fruit and warm syrup.
COOKING TIPS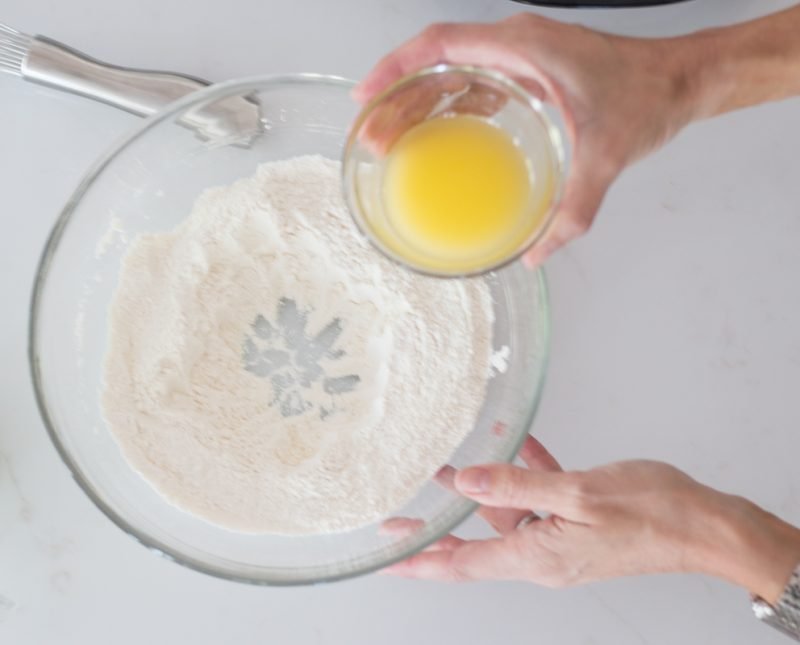 After mixing the dry ingredients, we make a trough in the bowl to pour in the melted butter. After that you add the milk and egg. That's it!
*We now make these without the butter. Just skip that step entirely if you want. They end up really light and fluffy!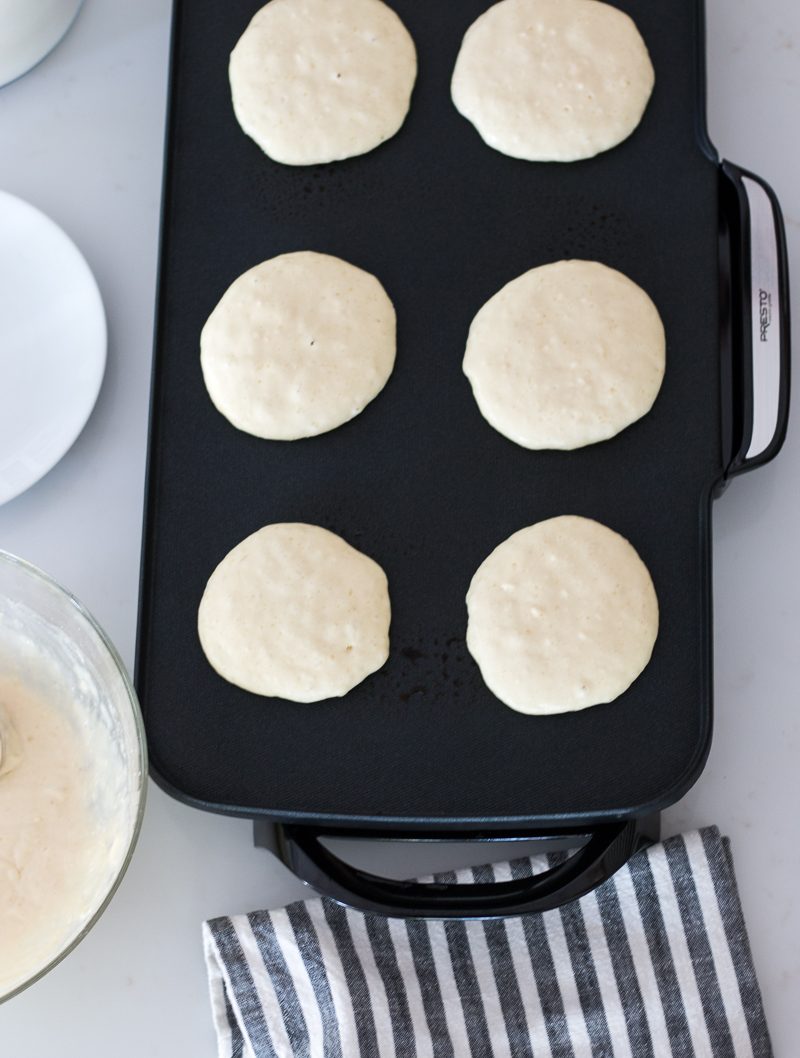 We cook these for about 1-2 minutes per side. But be sure to watch for the bubbles. When those begin to form it's time to flip the pancakes. By the way, the handles on this griddle are easily removable so you can store it next to the rest of your pans. Genius.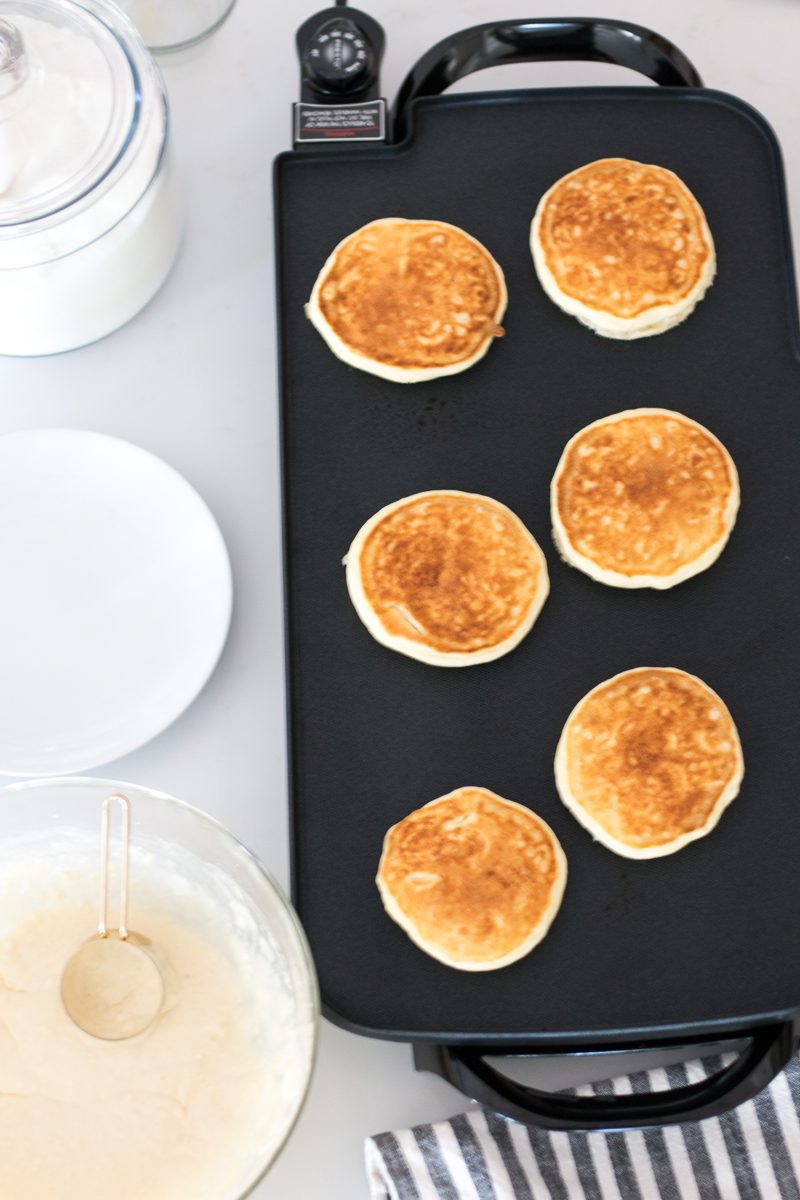 We use a 1/4 cup to scoop out the batter and pour on the griddle. That ensures your pancakes are uniform and cook well.
MOM TIP: To make smaller pancakes, use an ice cream scooper. Great for younger children!
READY TO EAT
During the holidays, I swap the cinnamon for nutmeg. There is something so yummy about nutmeg during that time of the year.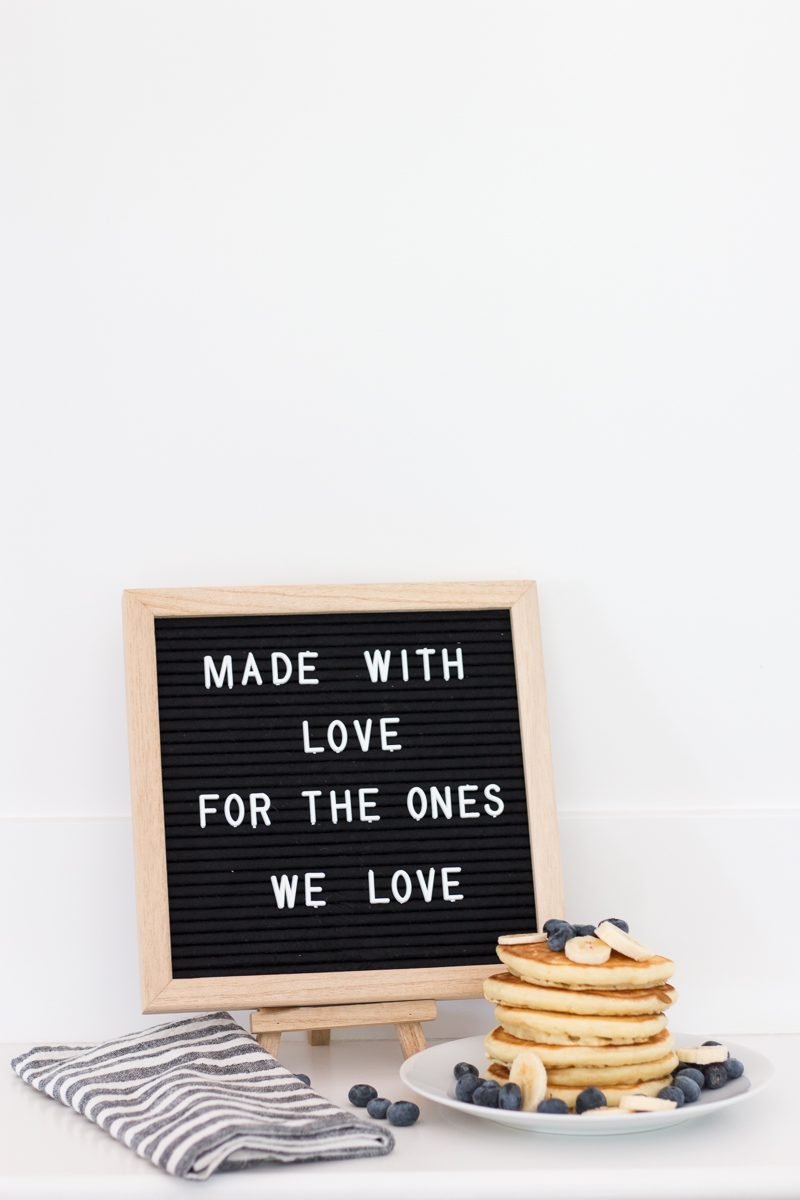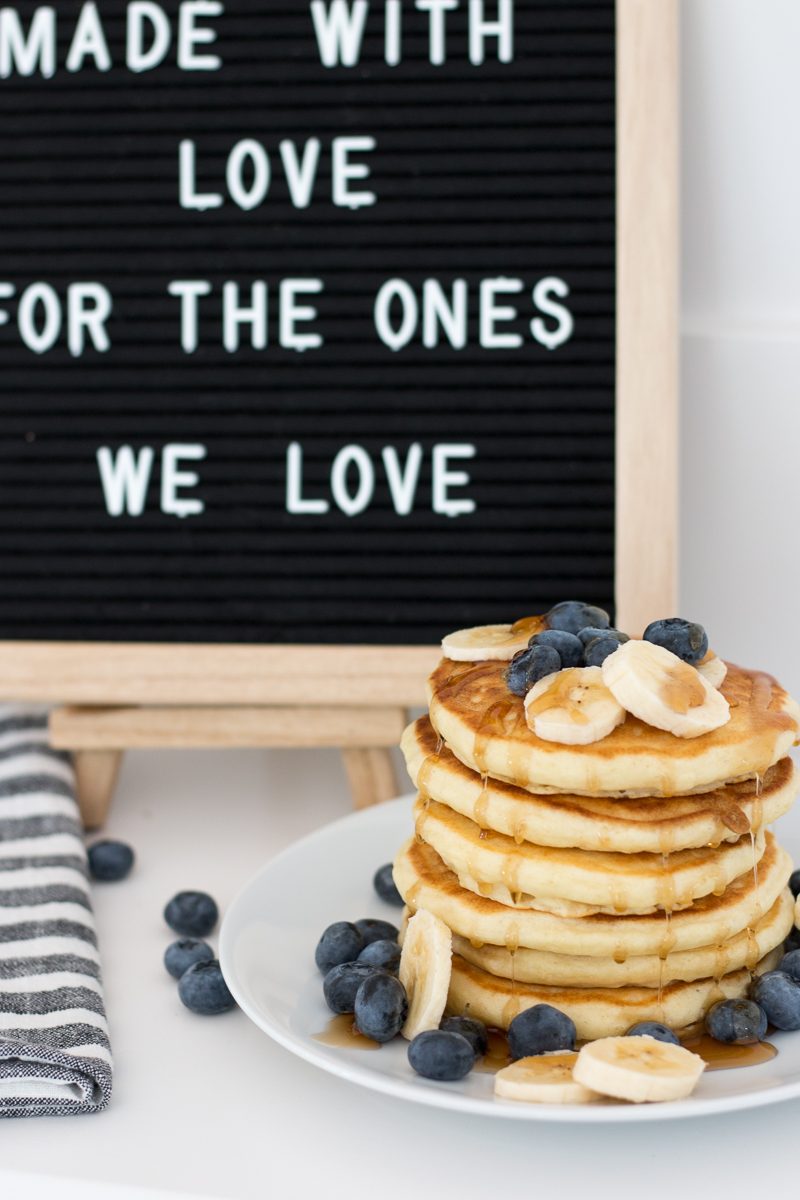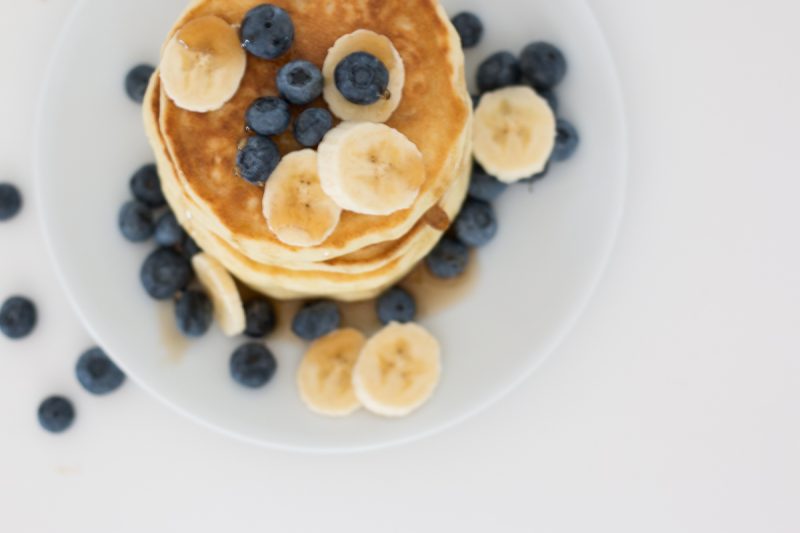 Let me know if you try the pancake recipe. I would love to know what you think.