We are still basking in the afterglow of a house full of people we love. The day always seems to go too quickly. Judging by the fact that we all slept in until 8:30 (unheard of). Time for some Black Friday deals!  Things never last long and the discounts are huge. I am definitely not the girl hitting the stores at the crack of dawn, but I do take advantage of staying in pajamas and doing some online shopping. There are so many great deals and it's a perfect time to knock out the Christmas shopping.
NORDSTROM DEALS
jeans | watch | blazer | necklace | handbag | bracelet | booties
Every single one of these is a favorite of mine. I can't believe the jeans are now $31! They will go quickly so if you are looking for a comfy pair you may want to scoop them up. The necklace is one of my all time favorite gifts to give around the holidays. A Kate Spade pendant for $40 is a great gift!!! Oh, and now my crossbody is marked down 52%!!!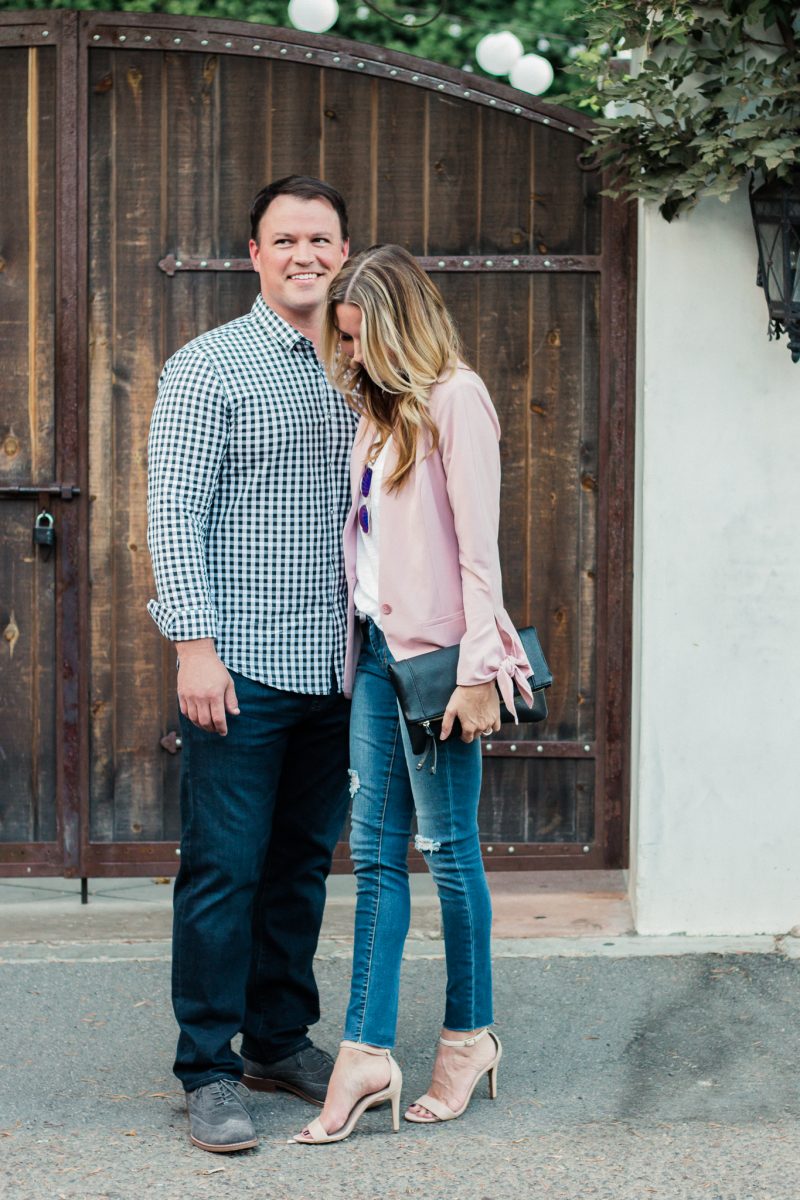 I always get compliments on this blazer and it is part of the Black Friday Sale. A great deal for such a cute piece. His shirt is one of my favorites in his closet.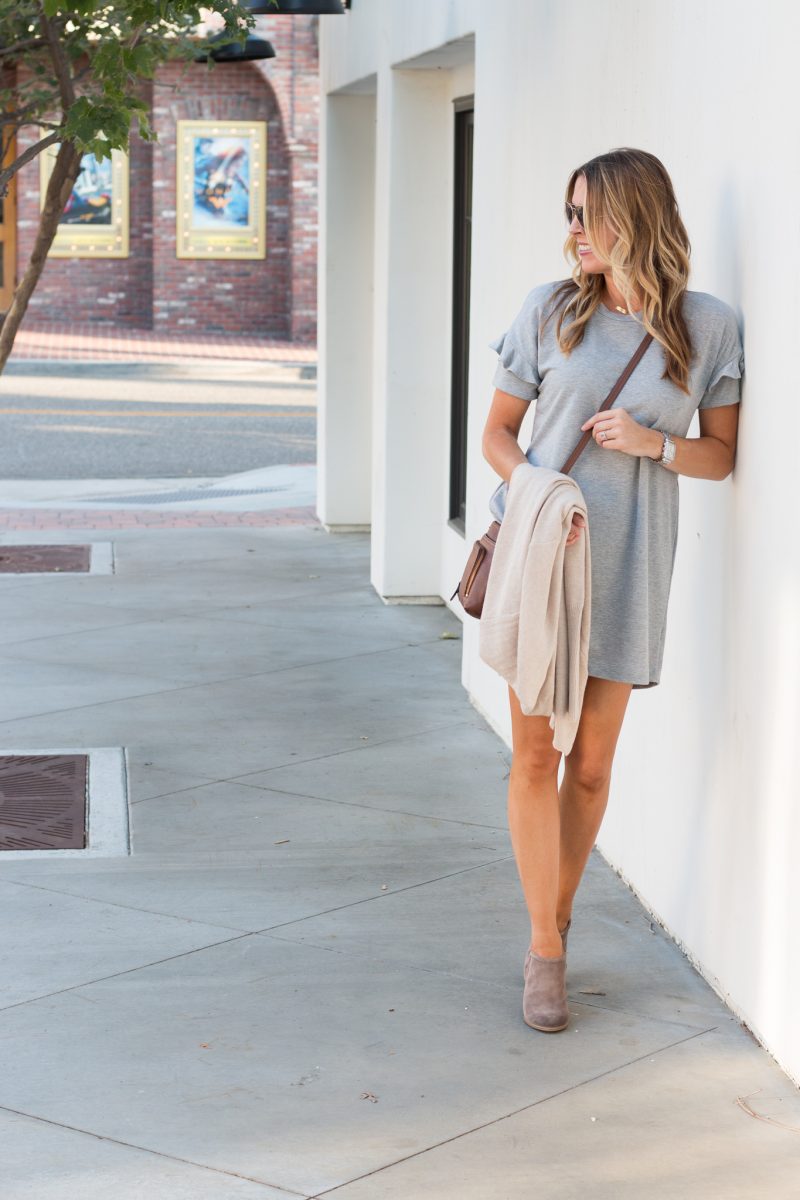 dress | cardigan | handbag | booties
My favorite booties are the lowest price I have ever seen them. They are restocked but never last long. My color is called Foxy. The long sleeved Fall version of my dress is only $23!!!! Such a cute dress and you can't beat that price.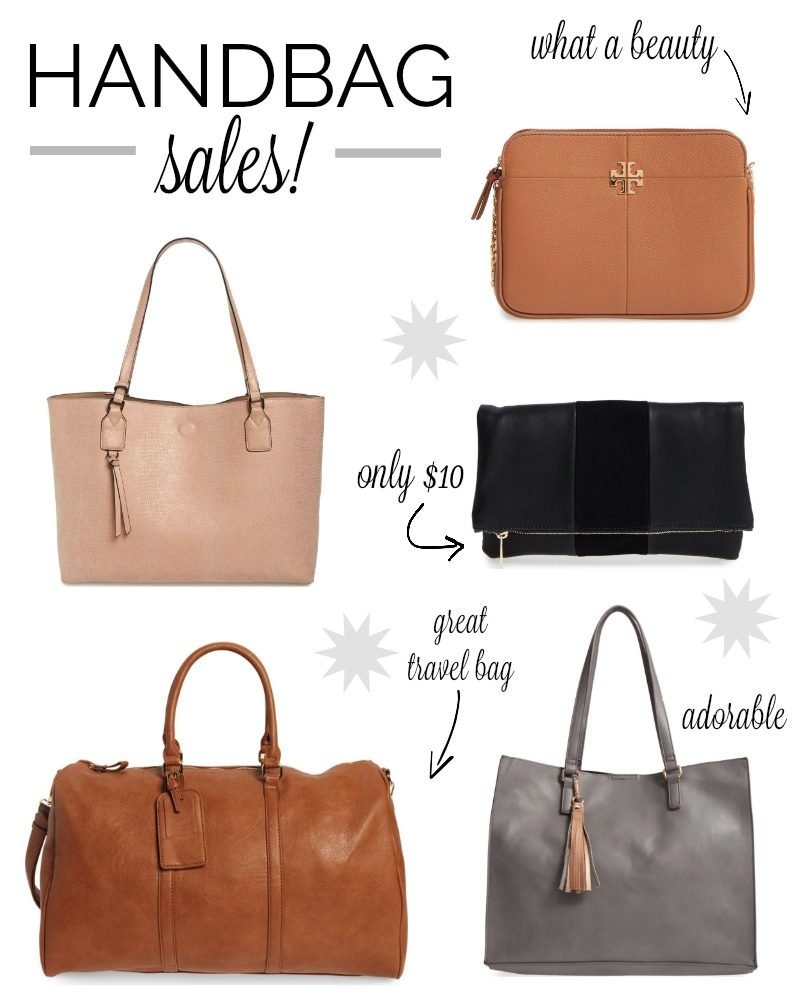 Always love a travel bag and this one is fantastic.  And this cute tassel tote is only $26! Love this bag. The clutch comes in a few colors and is only $10! That's right! Only $10. Many of the Tory Burch bags are marked down and I am a sucker for a pretty crossbody bag. Lastly, this tote has an awesome texture and is now 52% off!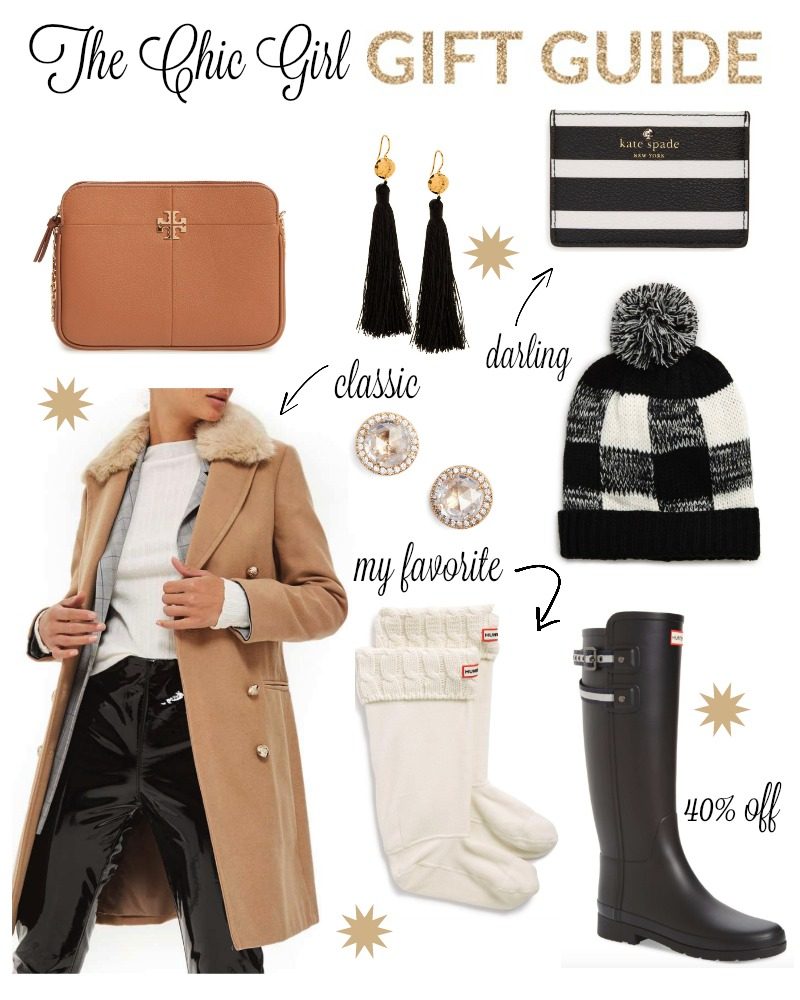 Shop The Chic Girl Guide

This whole collection, please. I wear my boots socks every time I wear my Hunters. They make for an awesome gift. And that coat is gorgeous! Such great sale prices, my friends.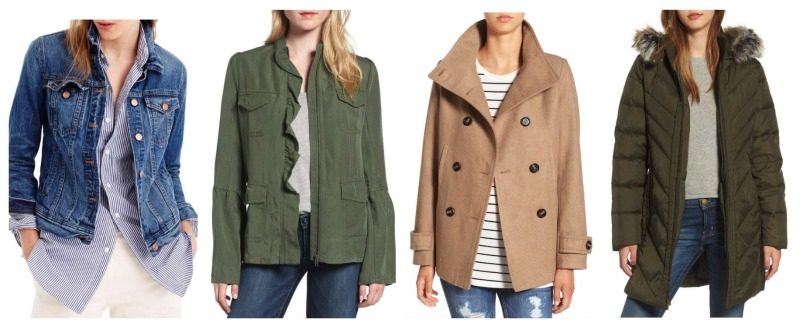 denim | utility | peacoat | faux fur
Girls, these coats are all so cute! The peacoat is marked down even more. And I adore the trim on that green jacket. Such a feminine take! Love that.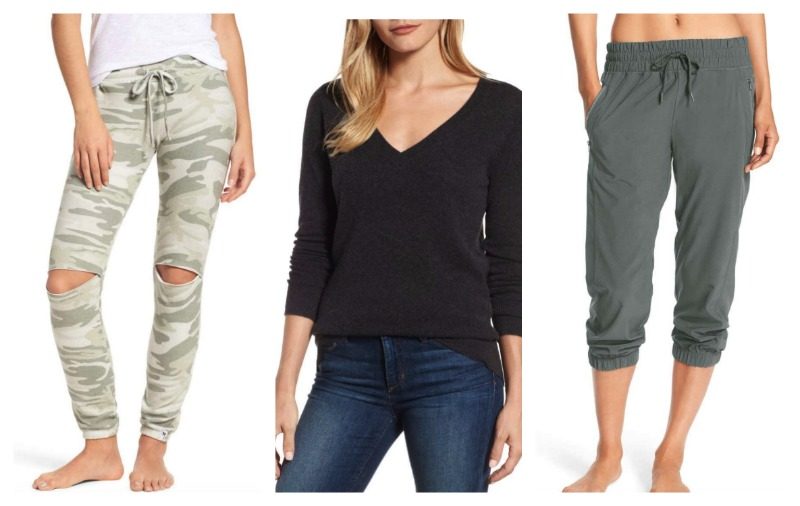 All three of these, please. So comfy and cute. There is something so impractical about the camo lounge pants but I LOVE them!!!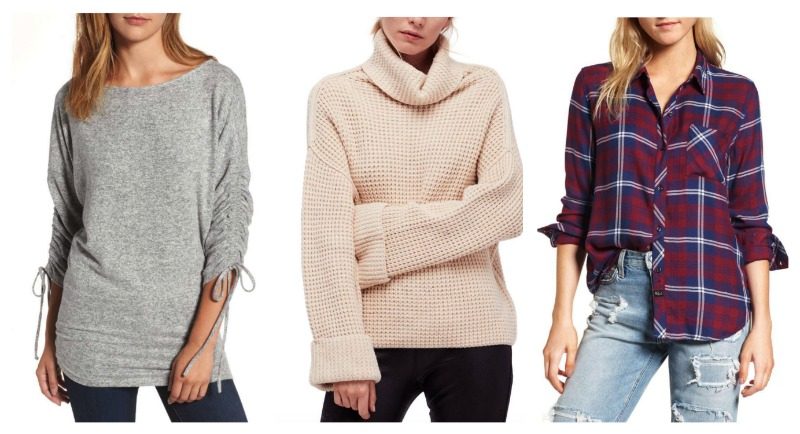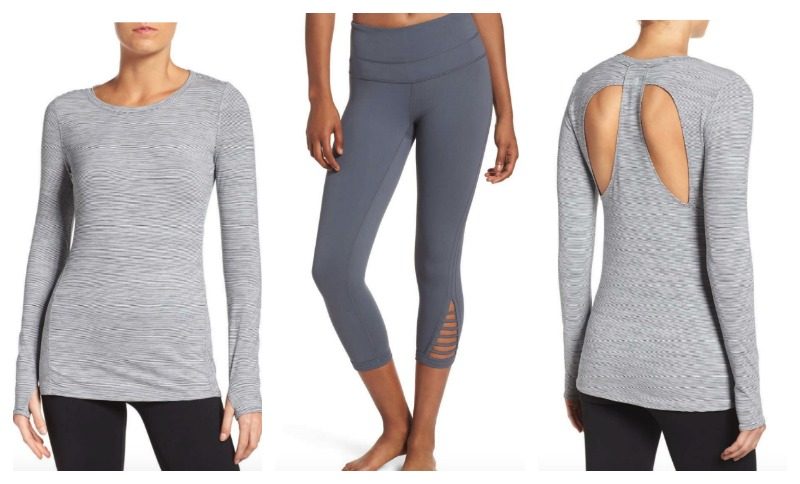 Great mark downs on workout gear. The pants are now $31 and the cute top is only $26.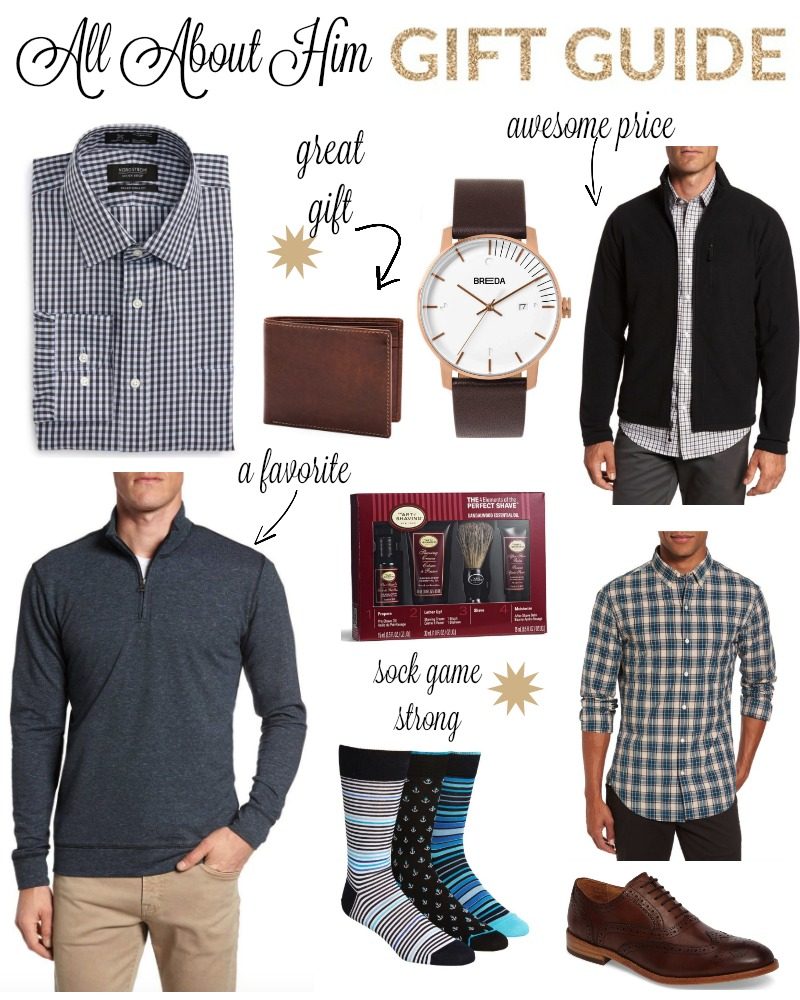 It's a great time to shop for your man. The fleece jacket is only $36! pulloverThe is one of my husband's favorites. Great buy. It's only $23!!!
Shop For Your Man

FOR THE GIRLS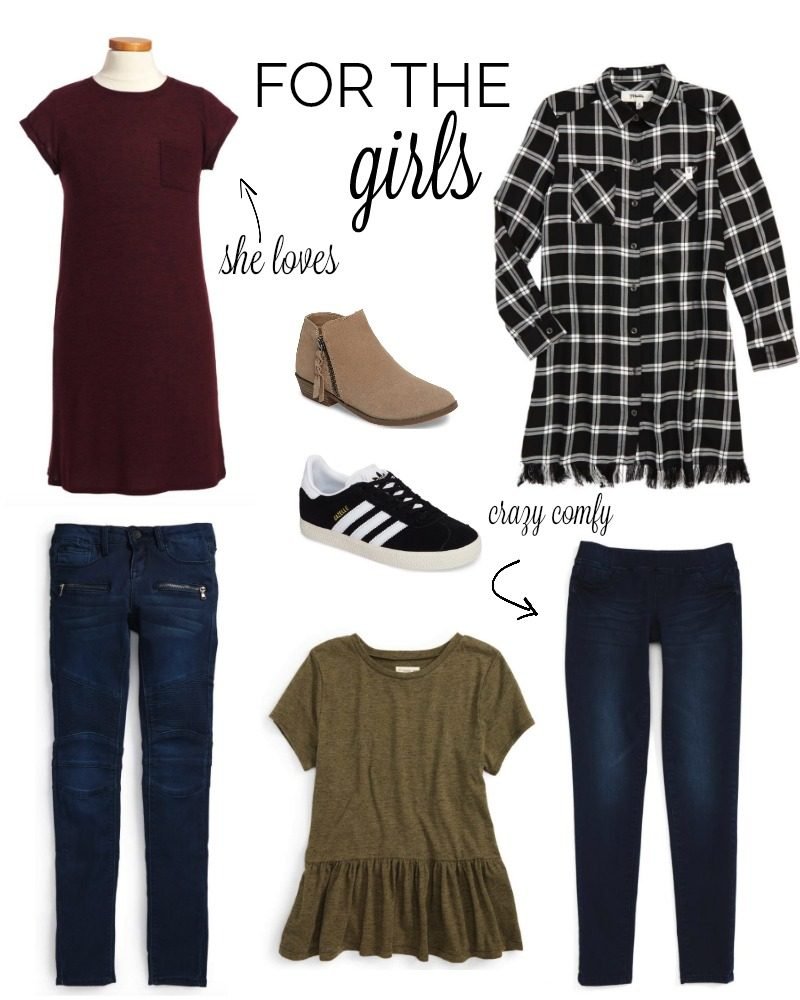 dress | tunic | booties | adidas | jeans | top | jeans
My daughter had a say in this collage. She has everything on here so we know they are tried and true. I think it's really easy to pick out clothes for a girl when they are young and you are doing the shopping. It's definitely more challenging as they mature. The dress is by far one of our favorites (52% off) and these jeans are really comfy (great for younger girls, too). They fit well if your daughter is long and lean.
FOR THE BOYS
jammies | hoodie | shoes | undies | under armour | jeans
My son is a huge fan of the under armour sweatshirts and this one is a great price. Also love those shoes so much. Look great when dressing up but without having to wear leather dress shoes.
BAUBLEBAR

One of my favorite accessory brands is Baublebar and they are offering 35% off everything. These are all awesome gift ideas! I wear the set of gold cuffs ALL THE TIME!
COLLEEN ROTHSCHILD
Absolutely everything is 30% off. Great time to replenish or to try something new. Use code BFRI30.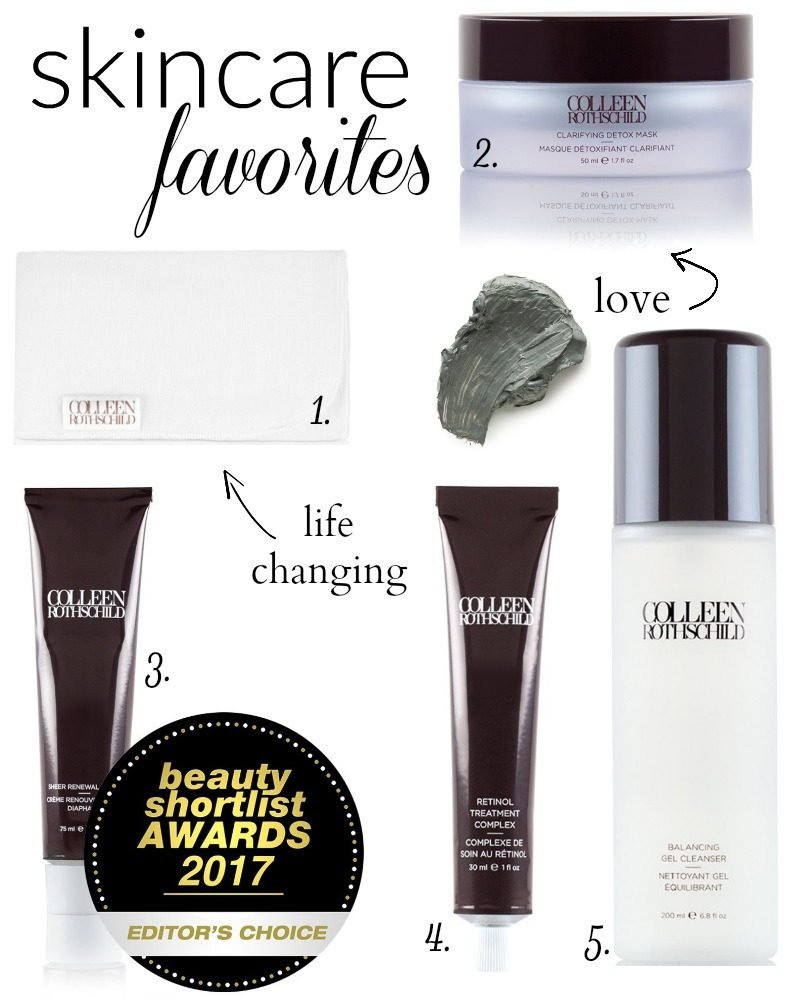 ONE –  Muslin Cleansing Cloths: These!! These seriously rock. They have single-handedly saved my pretty white bathroom towels from being stained from makeup. I only use these while removing makeup with the Radiant Cleansing Balm (it melts makeup away). They are thin enough to let you get rid of any traces of makeup under your eyes and the makeup and balm rinse right through them. They hold up beautifully in the wash. Once you try them you'll never stop using them.
TWO – Clarifying Detox Mask:  This is the mask I use once a week to remove toxins and to help with inflammation. It leaves my skin so so soft.
THREE – Sheer Renewal Cream:  Really like this because it is oil free. It helps with cell turnover and I usually put it on at night before bed.
FOUR – Retinol Treatment Complex: Yes to this!! This is what I apply around my eyes at night before bed. You can apply a thin layer on your entire face. It's great for minimizing fine lines and helping with cell turnover which is key to having your skin look fresh and bright.
FIVE – Balancing Gel Cleanser:  This is the cleanser I use in the morning. I prefer to use this when I haven't had any makeup on. (I use this at night to remove makeup). It's leaves my skin so smooth and ready for the day. I also use it after I work out since I workout without any makeup.
I always feel like there are so many products out there and I don't know what they do. What I appreciate about Colleen's approach is that she breaks it down so you know exactly how to use the product and how it will help your skin. Each item comes with a cheat sheet card which I reference often until the routine becomes second nature.
Recently Added:
Retinol Supreme Night Oil:  This stuff is magic. I LOVE it. When I used it at night, I wake up with such brighter skin. On the nights that I skip I notice a huge difference. Excellent product.
WORLD MARKET
Tons of great deals including 40% off furniture and free shipping. We took advantage of the sale and purchased the desk.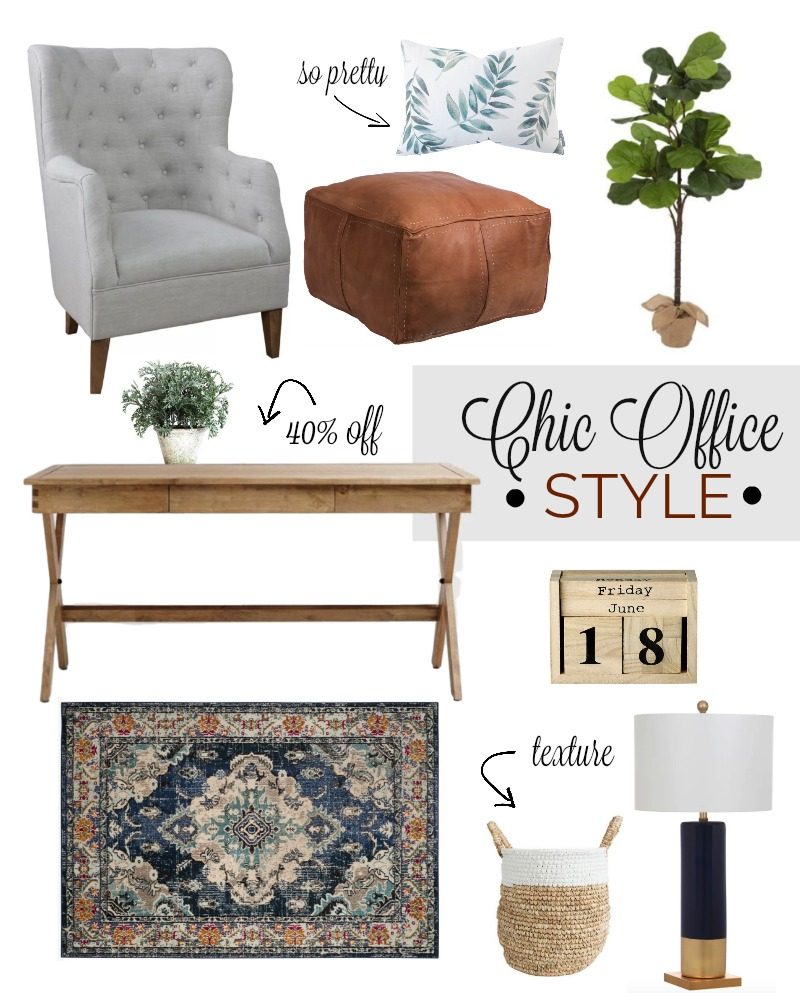 chair | pillow | pouf | tree  | desk | plant | calendar | rug | basket | lamp
J.CREW
And here is a reminder of the great pieces I found at J. Crew. Everything is 40% off.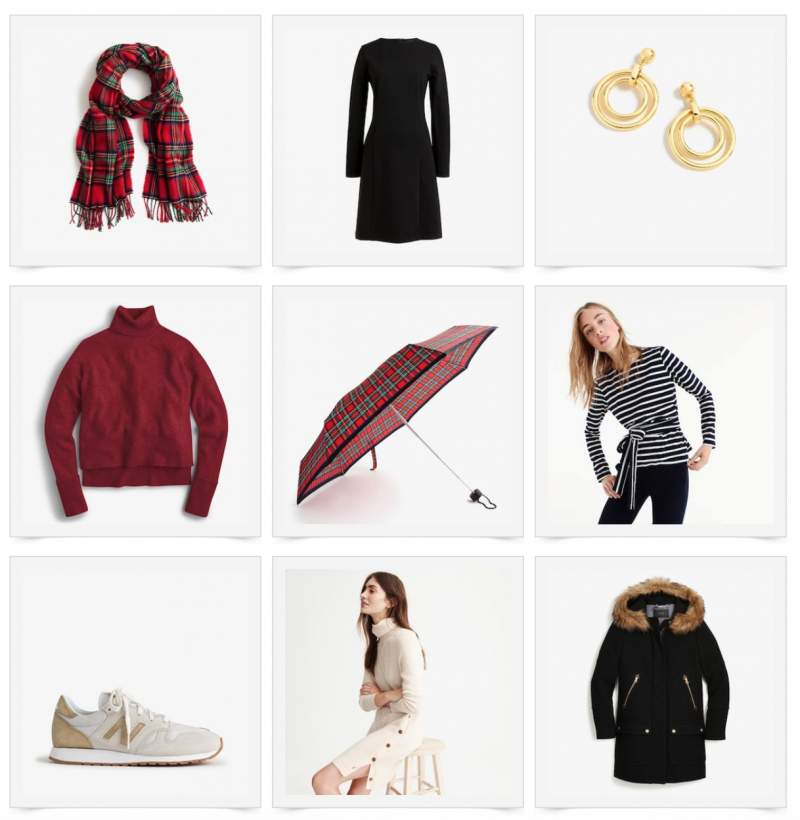 scarf | dress  | earrings | sweater | umbrella | top | shoes | dress | coat
LOFT
hat | key chain | scarf | bracelets | earrings | sweater | tunic | pullover | fair aisle
POTTERY BARN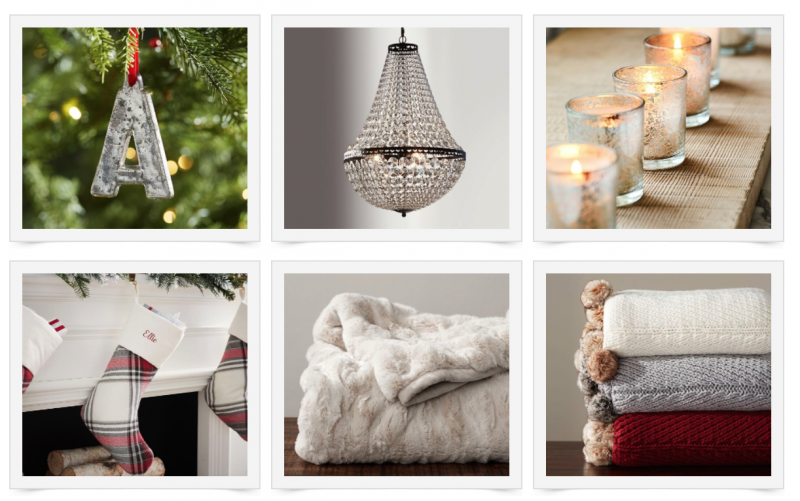 Shop the Pottery Barn Sale

That pom blanket has been on my wish list. The candles are great to break up and give as individual gifts along with a gift card or sweet. Great teacher gift idea.
MORE SALES
Abercrombie | 50% off & free shipping

Whew! If you made it through to the end, I am impressed. I will continue to add to this page as more sales pop up.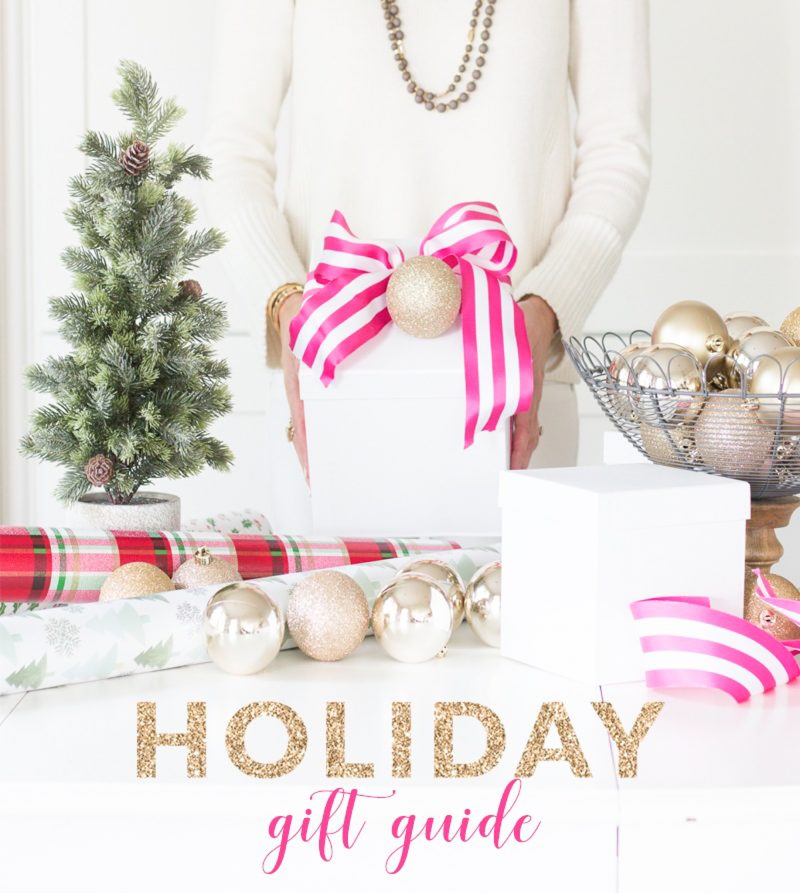 Don't forget you can get caught up with all of my gift guides, too. Happy shopping, friends. I am off to do some myself and have lunch with my sweet mom.