How is everyone's week going? In sharing our journey with Alzheimer's I've had so many questions that center around whether I fear the disease for myself and my children. That is a loaded question and one that I may address down the road. But one thing is for certain, food matters. What we put into our bodies has a tremendous impact on our brain. I read anything and everything I can and when it comes to brain health, I want to be as proactive as possible. Today I want to share foods that I continuously incorporate into my diet (and my family's diet) to keep my brain as healthy as possible.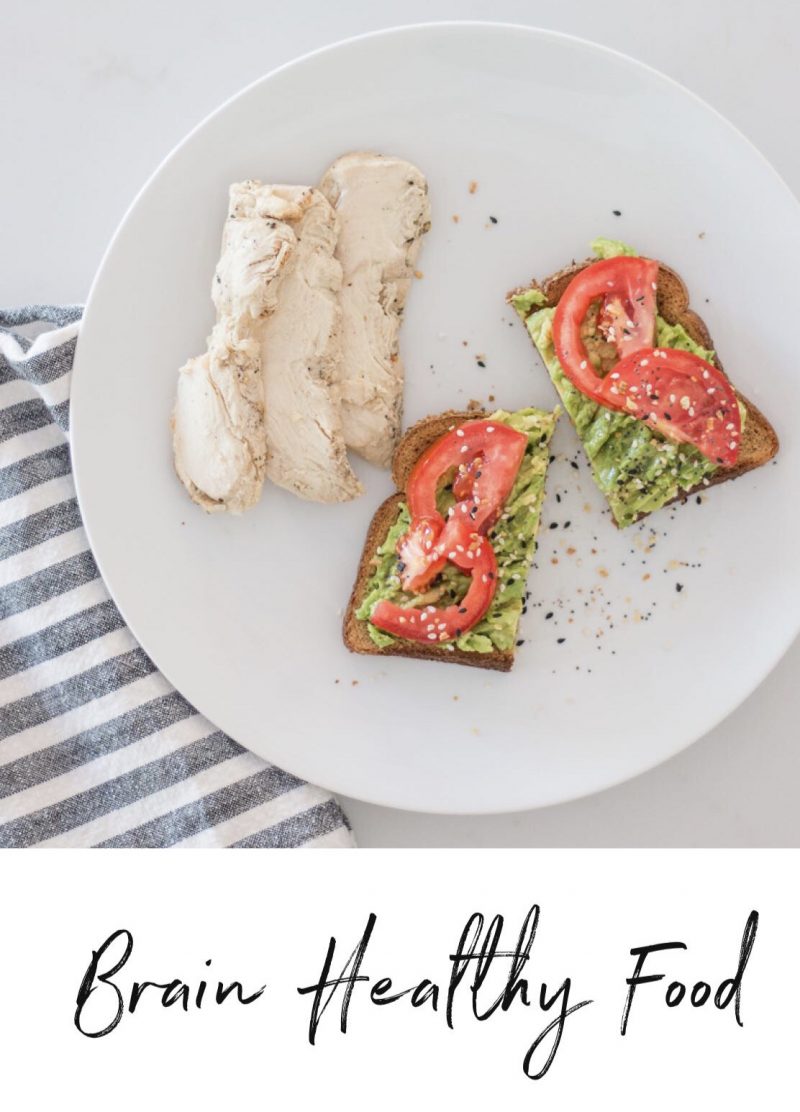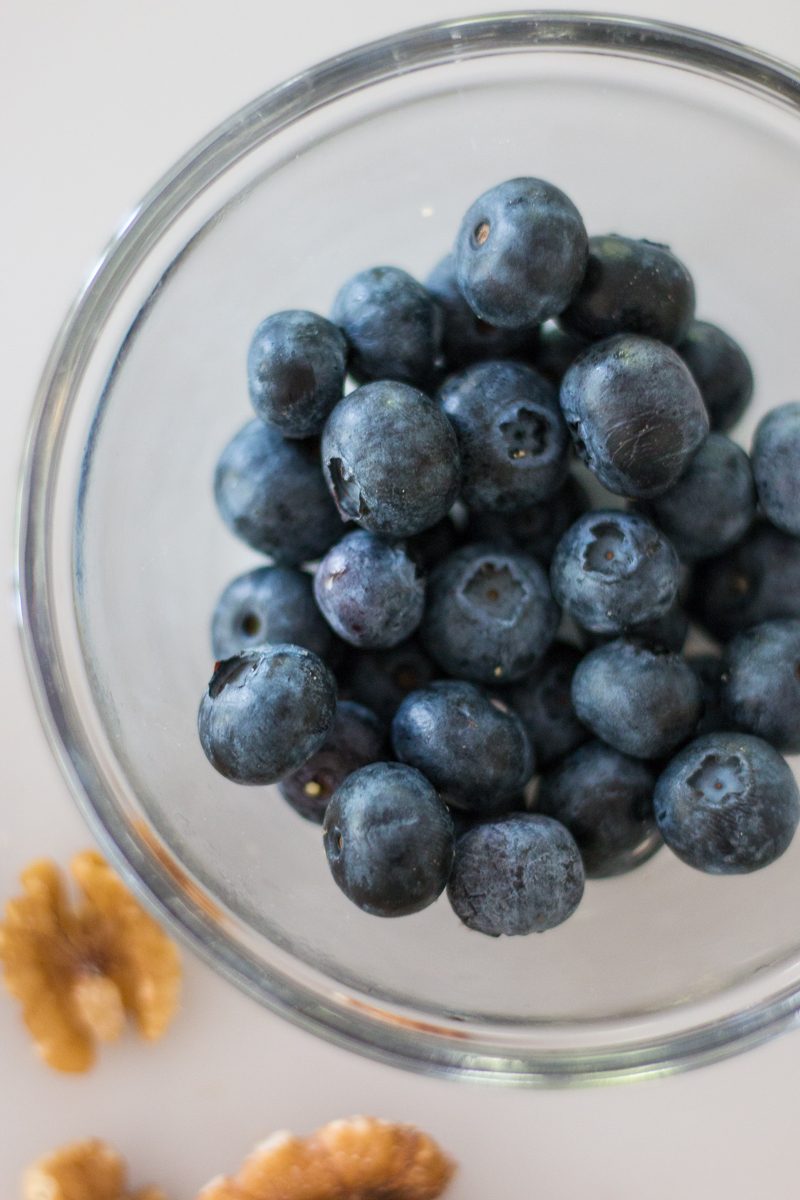 You may have heard about the benefits of  Mediterranean diet. In major studies, it has been associated with a lower risk of heart disease, cancer, Parkinson's, and Alzheimer's. Cancer and Alzheimer's are both a significant part of our family so this hits home to me.
The Mediterranean diet emphasizes:
Eating primarily plant-based foods, such as fruits and vegetables, whole grains, legumes and nuts
Replacing butter with a healthy fat such as olive oil
Using herbs and spices instead of salt to flavor foods
Limiting red meat to no more than a few times a month
Eating fish and poultry at least twice a week
Enjoying meals with family and friends
Drinking red wine in moderation (optional)
Getting plenty of exercise
Besides reading up about the Mediterranean diet and its immense benefits, certain foods have been found to ultimately lead to increased memory and overall brain health.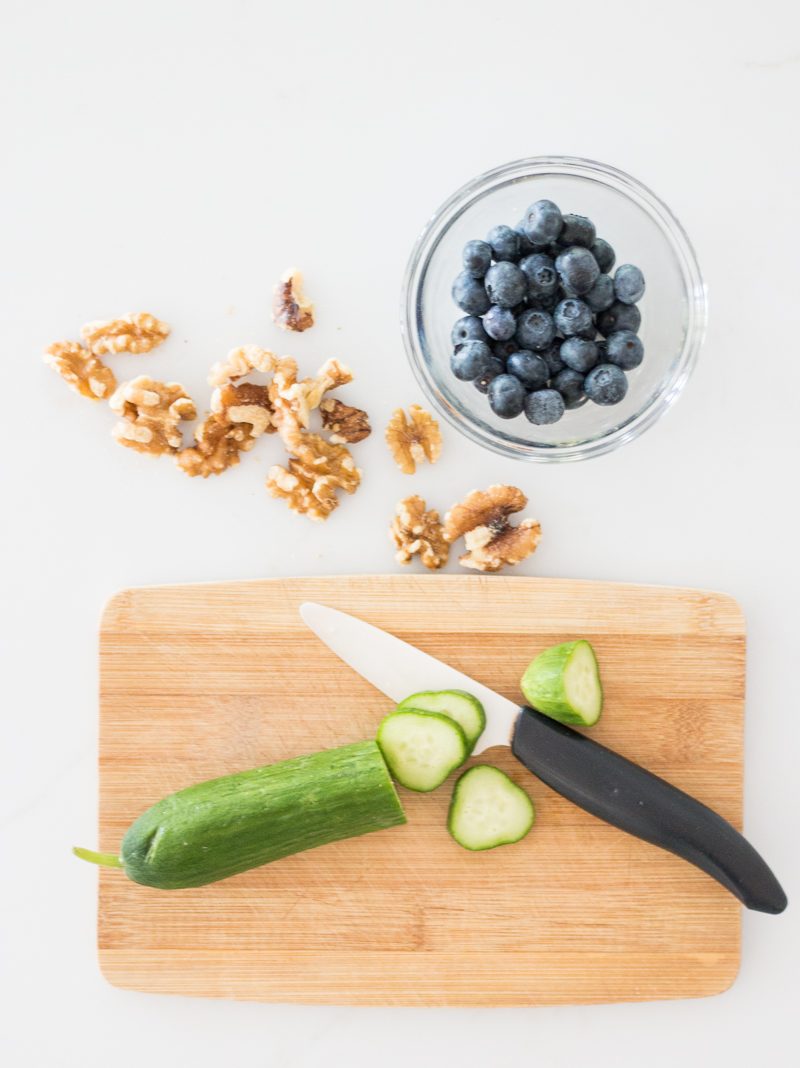 One of the foods that wasn't always a part of my diet is walnuts. But the more I read, the more I realize that I want them in my diet. That crazy thing is that the shape of them even resembles a brain. Here is a list of foods that I incorporate into our diet on a regular basis.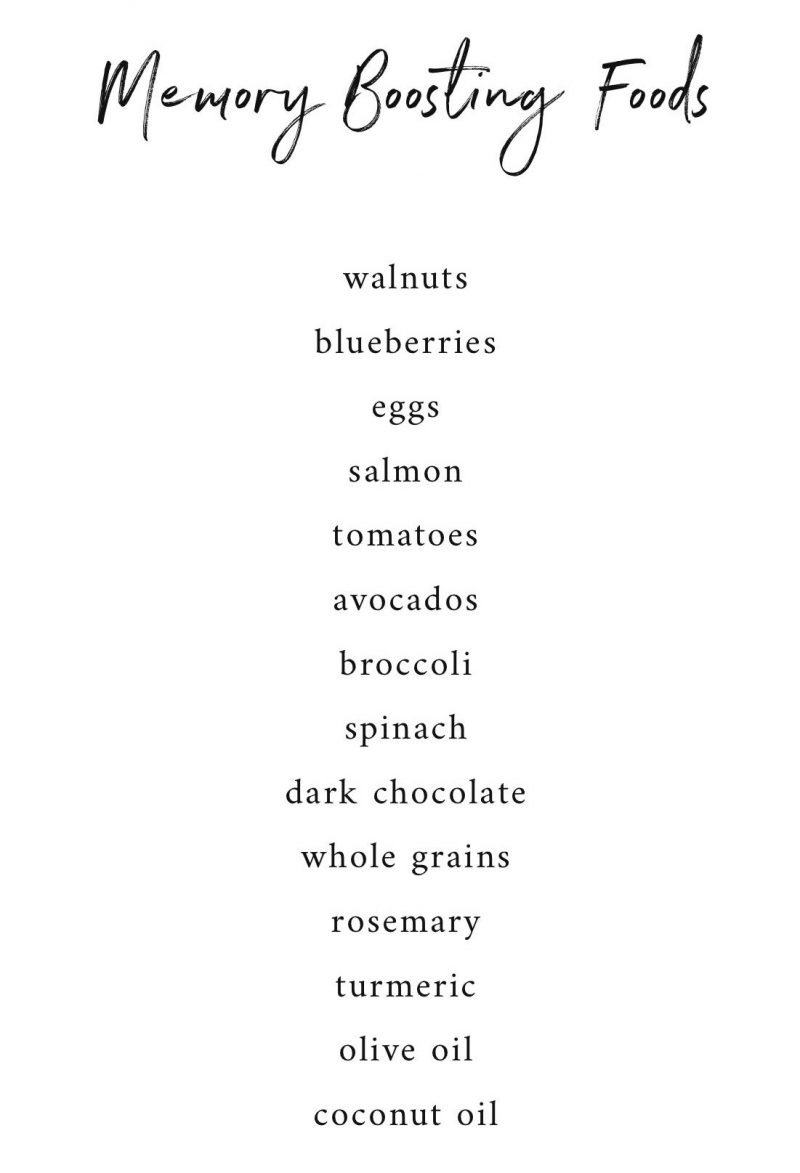 The only thing I have to avoid on this list are eggs (my body does not agree with them), but my family still loves them. Here is a breakdown of some of the benefits from each of these foods.
walnuts
Eating walnuts can improve cognitive health. They contain vitamin E which can fight off Alzheimer's.
blueberries
Packed with antioxidants and thought to delay brain aging and boost memory. Contain high levels of gallic acid, so they are especially good at protecting our brains from degeneration and stress. Can fight against short term memory loss.
eggs
Great source of choline and the B vitamins associated with proper brain function and regulating mood.
salmon
Salmon is a rich source of omega-3s, a major building block of the brain. Omega-3s play a role in sharpening memory and improving mood, as well as protecting your brain against decline. It can also increase focus in children and adults.
tomatoes
Lycopene, an antioxidant in tomatoes, can help protect against free radicals which have been linked to dementia and Alzheimer's Disease.
avocados
Fruit with the highest protein content and lowest sugar. They contain vitamin K and folate which help protect against blood clots in the brain and help memory and concentration.
broccoli
Contains vitamin K (associated with better memory in adults) and is believed to have antioxidant and anti-inflammatory effects.
spinach
Leafy greens like chard, kale, spinach and romaine can keep dementia at bay. Research has shown that individuals who make leafy greens a large part of their diet see slower mental deterioration than in individuals who do not consume them.
dark chocolate
May boost mood, memory and brain function by boosting blood flow to the brain. Be sure it's at least 70% cocoa.
whole grains
We need energy to focus. Brown whole grains release glucose slowly into the bloodstream keeping us alert through the day.
rosemary
Carnosic acid is found in rosemary which fends off chemical free radicals. That means it can protect the brain from neurodegeneration, Alzheimer's, and strokes.
turmeric
Turmeric and its active compound curcumin have strong anti-inflammatory and antioxidant benefits, which help the brain. In research, it has reduced symptoms of depression and Alzheimer's disease.
olive oil
Helps to fight against proteins that are toxic in the brain that can induce Alzheimer's. Boosts memory and aids in age-related diseases. Best at room temperature or cold.
coconut oil
Natural anti-inflammatory with too many benefits to count. Can help with memory as you age.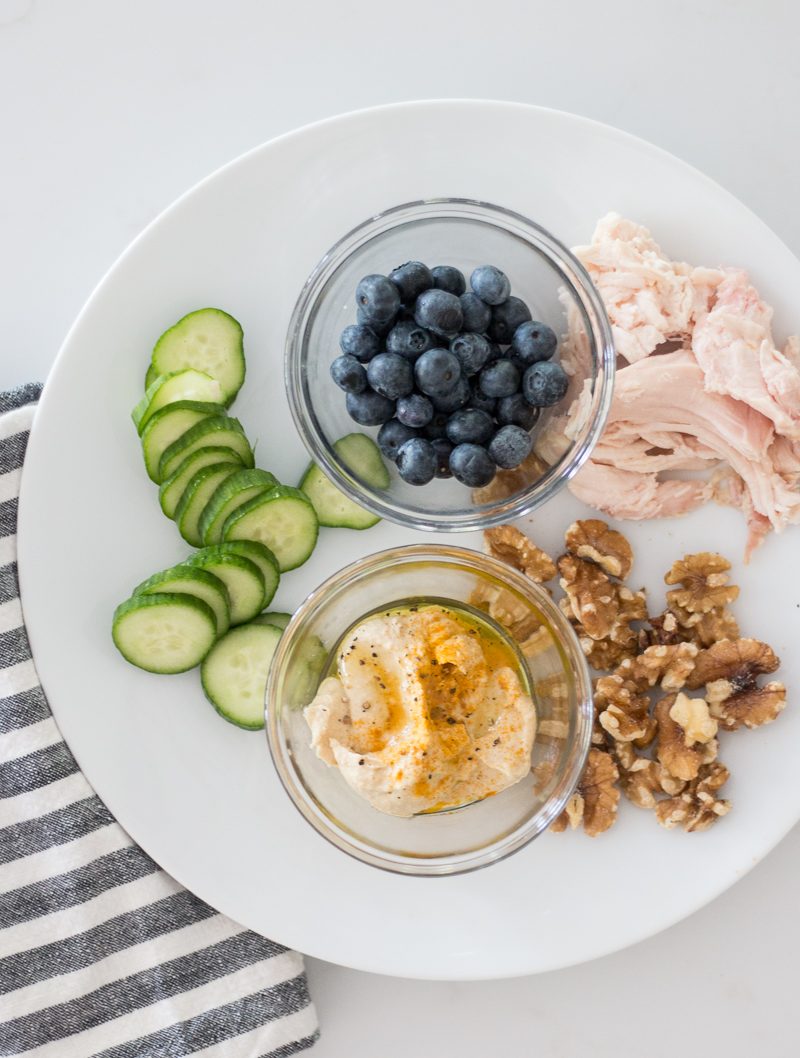 rotisserie chicken from costco | cucumber | humus | walnuts | blueberries
As moms we are all crazy busy. But that doesn't mean we get a free pass to forget about making our own healthy lunches. I feel like my friends and I fall into one of two camps. Either "too busy" and don't eat lunch at all or "too busy" and grab something quick and junky. Both routes aren't doing anything positive for our brains. I have to make this a practice. Because it's important to me, I am making every effort to have these healthy foods in the fridge and pantry at all times.
TIP: Print out the list of brain healthy foods and have it posted nearby.
Above is one of my very favorite lunches. I've come to realize that it's best if I make a snack dish for myself. I can incorporate more healthy foods and it's not time-consuming to throw together. As long as I am hitting at least three or more brain healthy foods I feel like I've done a good job. The humus is topped with olive oil, pepper and turmeric. The Persian cucumbers are my go-to in place of chips. They are very mild and give me the crunch I often crave. I also will swap those out for sweet potato chips when I really need that salty fix.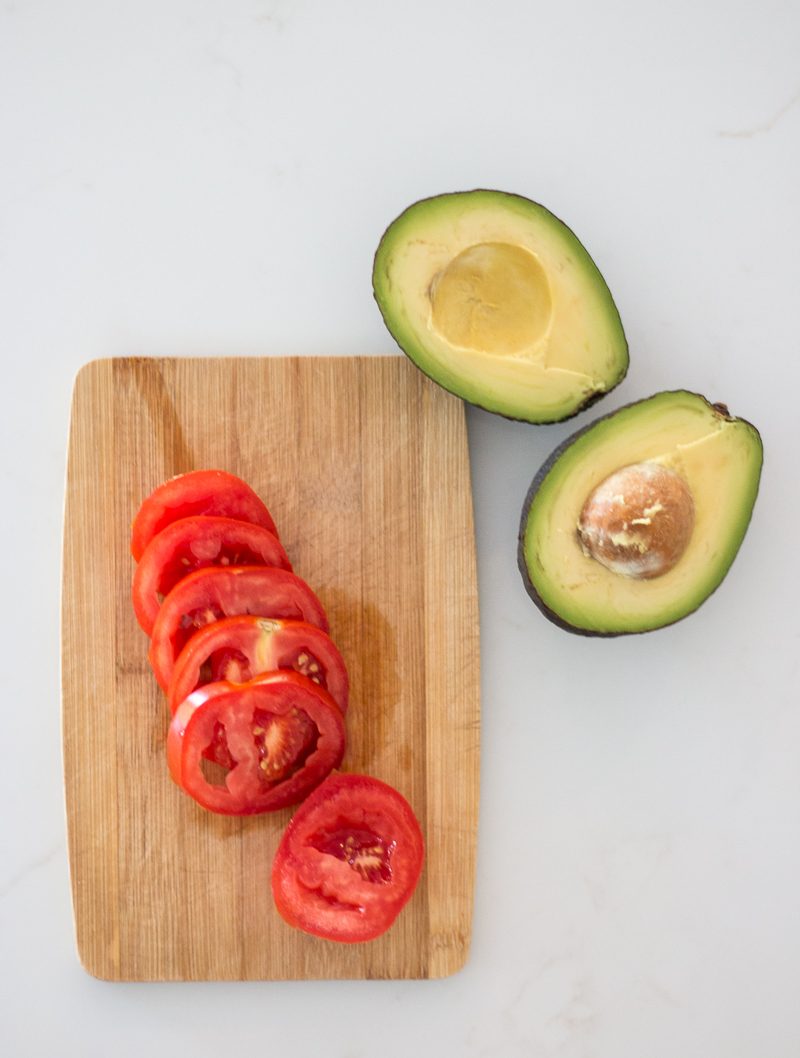 Tomatoes and avocados are staples around here. I often chop a tomato and let it sit in olive oil and garlic for about 20 minutes. Then I toss in chopped avocado and a protein. If we made salmon the night before, I will eat it with that or rotisserie chicken.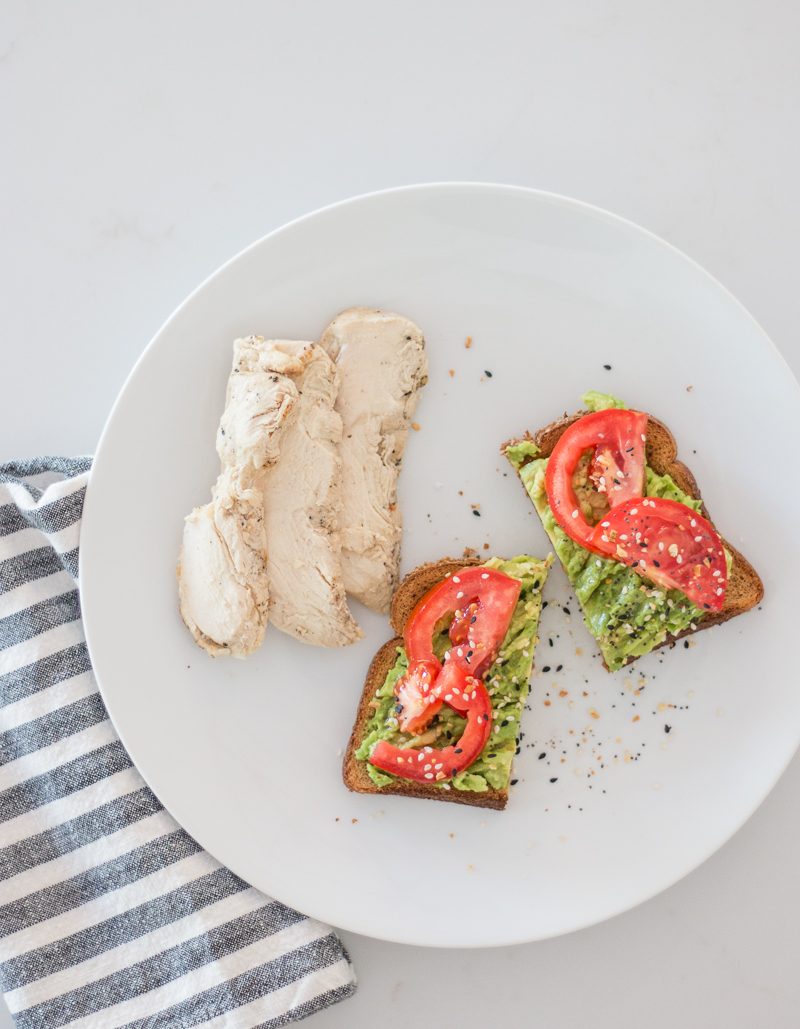 This is another go-to lunch of mine. Organic chicken strips from Costco alongside avocado toast on whole grain bread. I sprinkle it with the "Everything But the Bagel" seasoning from Trader Joe's.
IN ALL HONESTY
Let's be very clear. My diet is far from perfect and I have plenty of crappy meals hear and there. I need to be honest. But I am making an effort each week to buy these foods and have them in the house. They truly are foods I love and cook with the most so that is already a head start. If these aren't your go-to items, maybe start with one or two. I am happy to post recipes I make incorporating these foods if that would be helpful. Just let me know.
Here's to women encouraging each other to stay strong and healthy. Our families need us and while we can't control many things in this life, our eating is one that we can. Let's give our brains as much help as we can. Who's in?
To read more about our journey with Alzheimer's head to my sidebar or this page on my blog.
*Please consult your doctor when making major changes to your diet. I am not an expert and have put together this list after my extensive research on the topic of Alzheimer's.