So excited to share our butler's pantry with you today! We designed and built it ourselves and it just may be one of our favorite spots in our home. It's now a spot that boasts a wine refrigerator, cookbooks, extra stemware, serving pieces and paper goods for entertaining. And here's the best part. We did all of this for just around $600.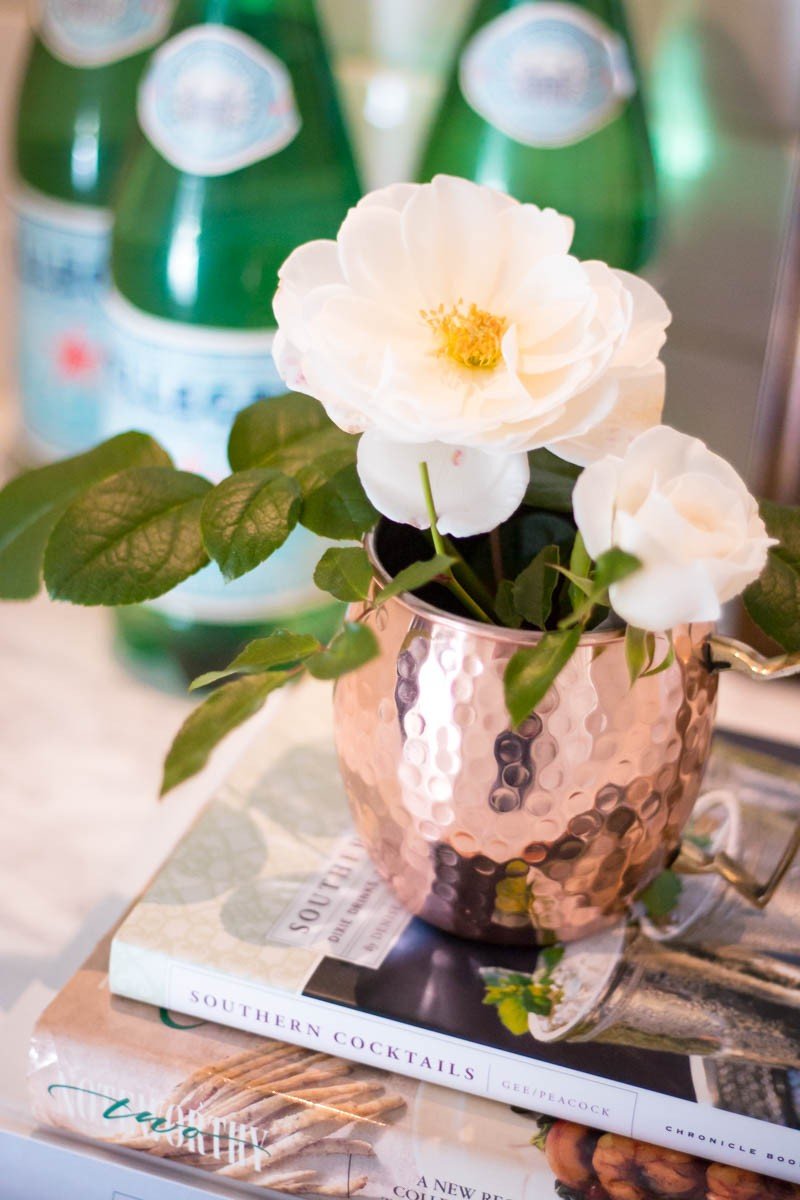 When we first moved in to our home this space was completely empty and we filled it with Expedit bookcases. It stored cookbooks, family albums, wine, binders and children's art supplies. It worked well for many years but it definitely didn't make the home more beautiful. When we painted our home recently, we unloaded this space and it was an ah-ha moment. My husband looked at the space and said, "We should build a butler's pantry here." And that was it. It was shortly before the holidays and he was all in. I began looking for design inspiration and because I have always wanted a wine fridge I was 100% in, too. This project came together rather quickly and is a nice addition to the kitchen.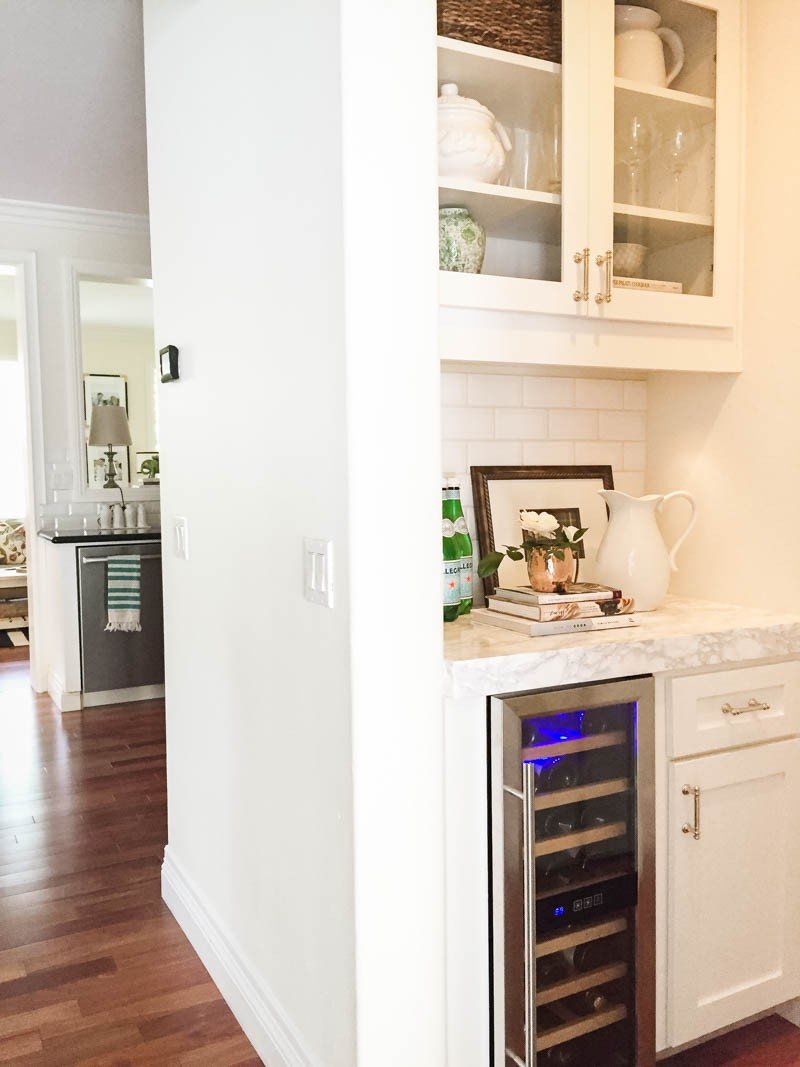 I honestly can't capture a full shot of the space because of the angle. Excuse the iPhone snap but I wanted you to see that this it is located directly behind our kitchen. So this has added a nice amount of counter space for beverages while entertaining. There is a wall directly across from the butler's pantry so it is crazy awkward to photograph. I wish you could just see it in person. He really did an amazing job. We saved the extra beveled tiles we had leftover from when the kitchen backsplash was installed. It was one of the rare times I was happy I actually held on to something for so long. It allows this pace to look like it had always been there.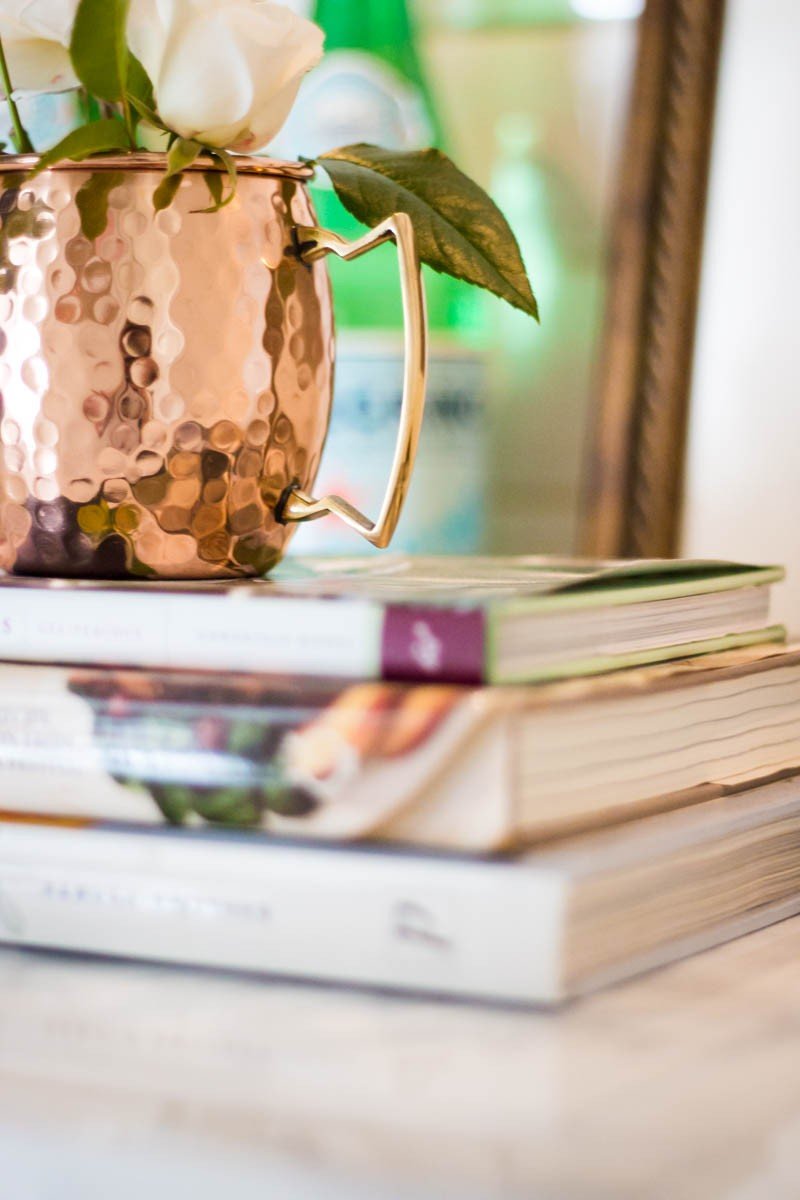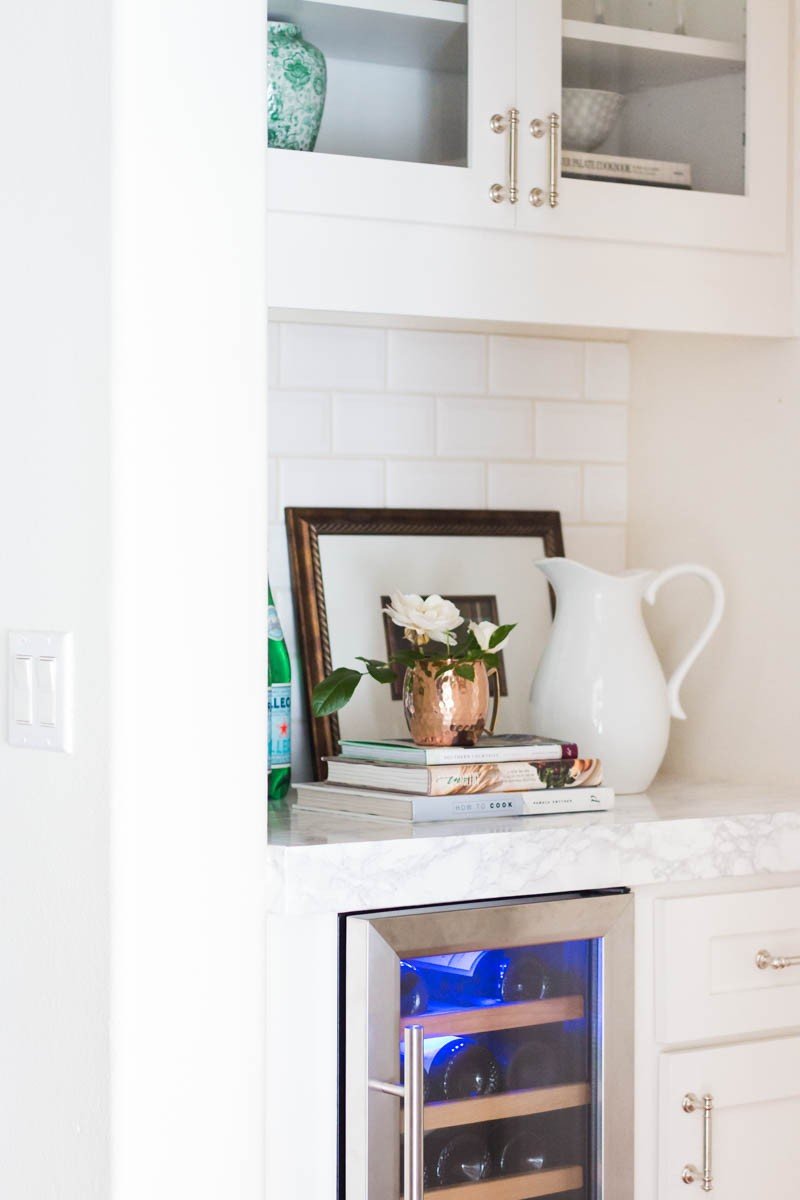 This cooler holds 24 bottles of wine and has been a great addition to our home. The upper cabinet now holds some of my favorite cookbooks, serving pieces I use often and extra stemware for when we entertain. The lower cabinet holds cocktail napkins and our paper goods that we use when we have parties. (The tile looks like it does not go all the way up but that is because I am holding the camera at an up angle. In person, you can not see underneath the cabinet like that.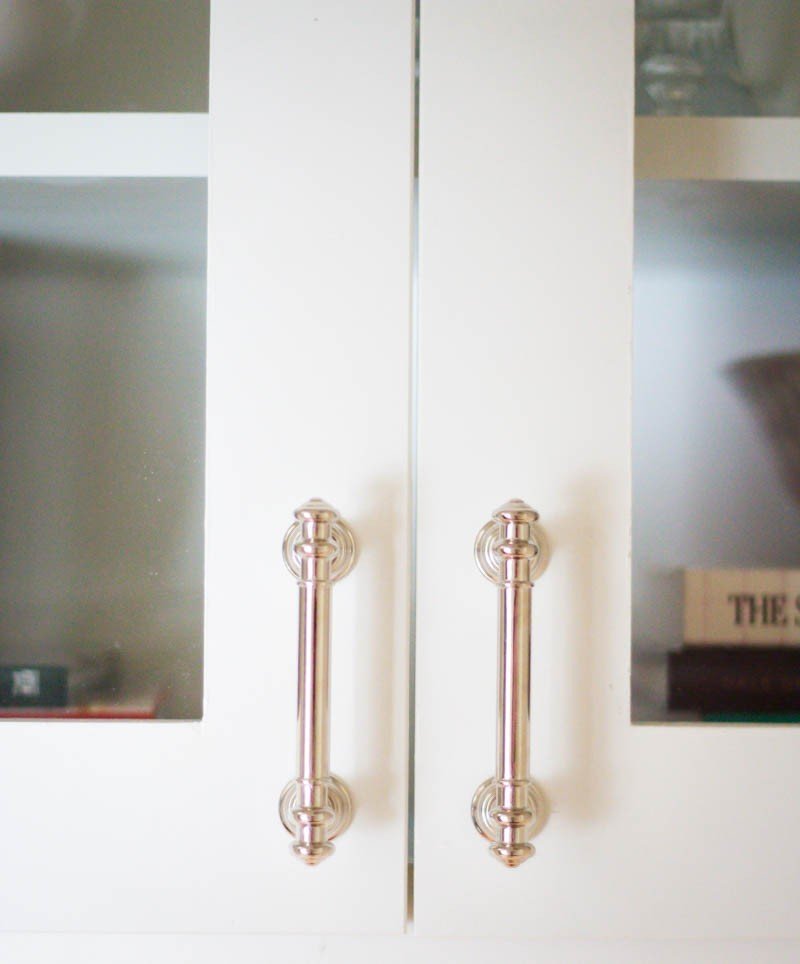 We decided to go with Shaker style cabinets because I like the clean look and thought they would pair well with the sleek wine fridge. To juxtapose that, I chose some more traditional hardware. I like the shimmer that they add. They are from the Martha Stewart line sold at Home Depot. The cabinets we bought were raw wood so I gave them three coats of paint prior to installing them.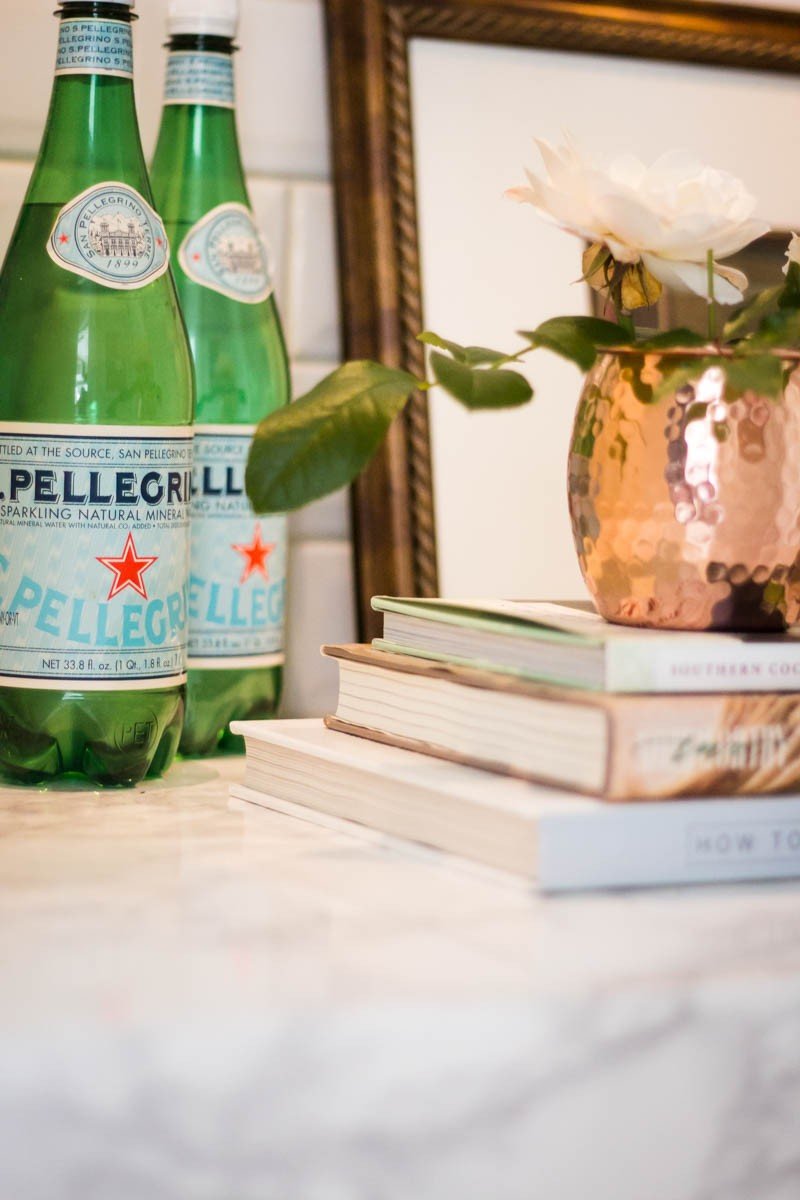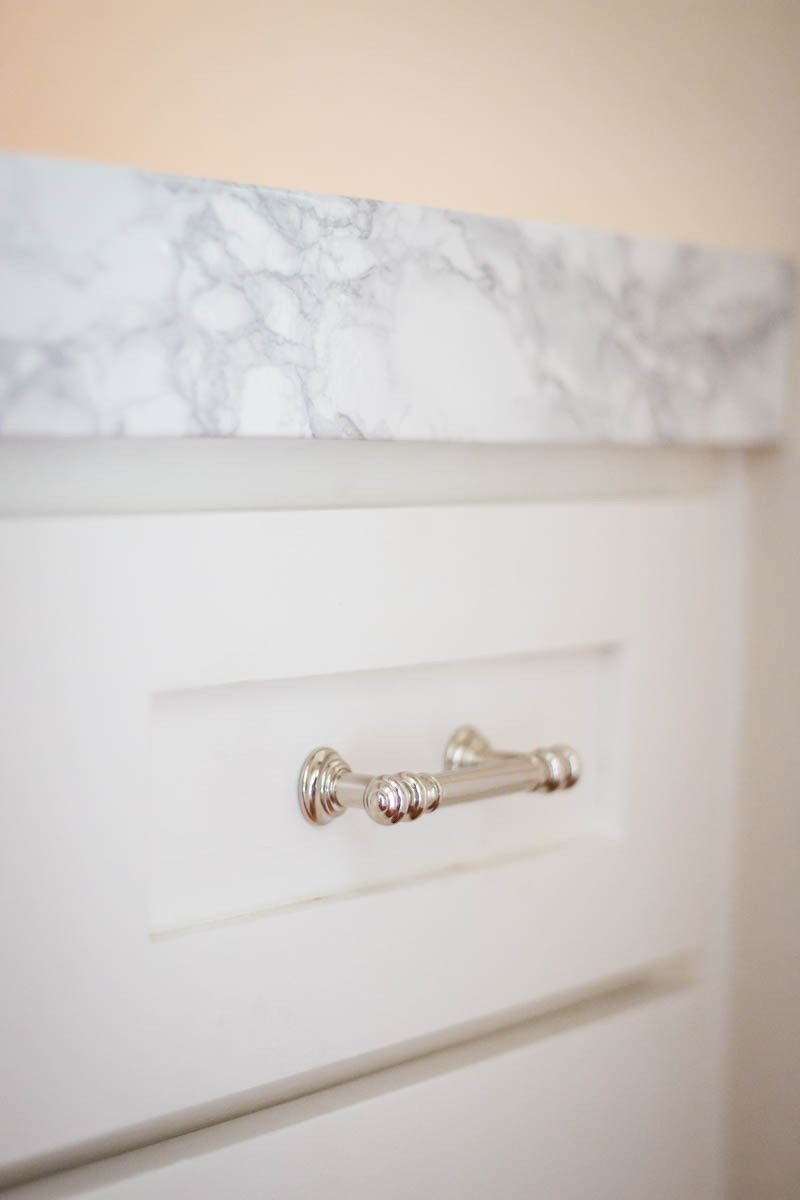 My husband built a wood countertop and we decided to go with marble contact paper. We were not interested in spending the money to have a countertop fabricated. We also tossed around doing a butcher block counter but ultimately I wanted to keep this light and bright. And this wipes clean which is pretty fantastic.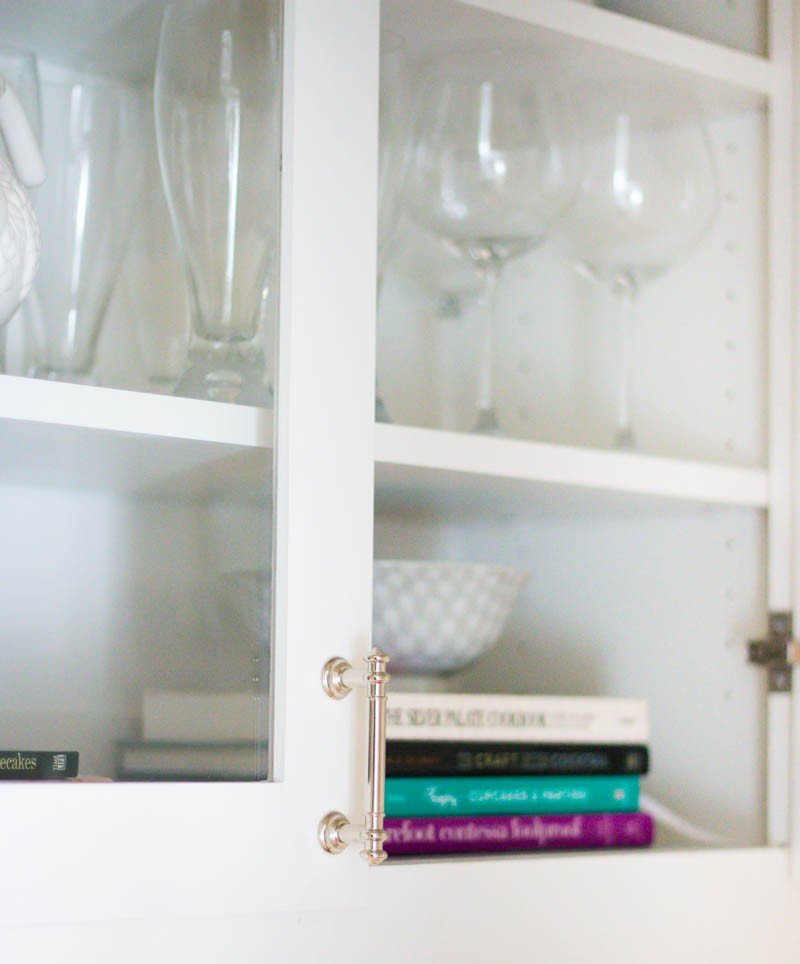 We cut the door panels out and replaced them with glass. we also installed under cabinet lighting which really adds a lot. Much prettier in person.
This is a nice shot where you can see the under cabinet lighting shining down. The under cabinet lighting is actually battery operated. So great for a space like this where you really only need to have the lights on when entertaining. I am really grateful that my husband not only dreamed up this project but executed it so well. I loved designing it and he actually enjoyed building it. Of course there were a few hiccups along the way. There always are. But it was all so worth it.
I will follow up with a full DIY post on this space and how we added tile to the wall.  It is remarkable how much the backsplash added to the space. It really elevated the look and was so so simple. Excited to share that with you this week.
Sources for our butler's pantry:
cabinets (builders surplus) || wine fridge (overstock) || hardware ( Home Depot) || marble paper || under cabinet lighting (Lowe's)