Does anyone else feel like January is flying by? I can't believe we will soon be breaking out the pink and red for Valentine's Day. My mom passed down a love for all holidays so I will be sharing a few inexpensive and fun ideas soon. Speaking of my sweet mom, I stopped into Target the other day and came home with a couple of really cute pieces. You know when you find something great and you want to tell a friend . . .this is me telling you. Here are a few classic and affordable pieces.
CLASSIC WHITE BUTTON DOWN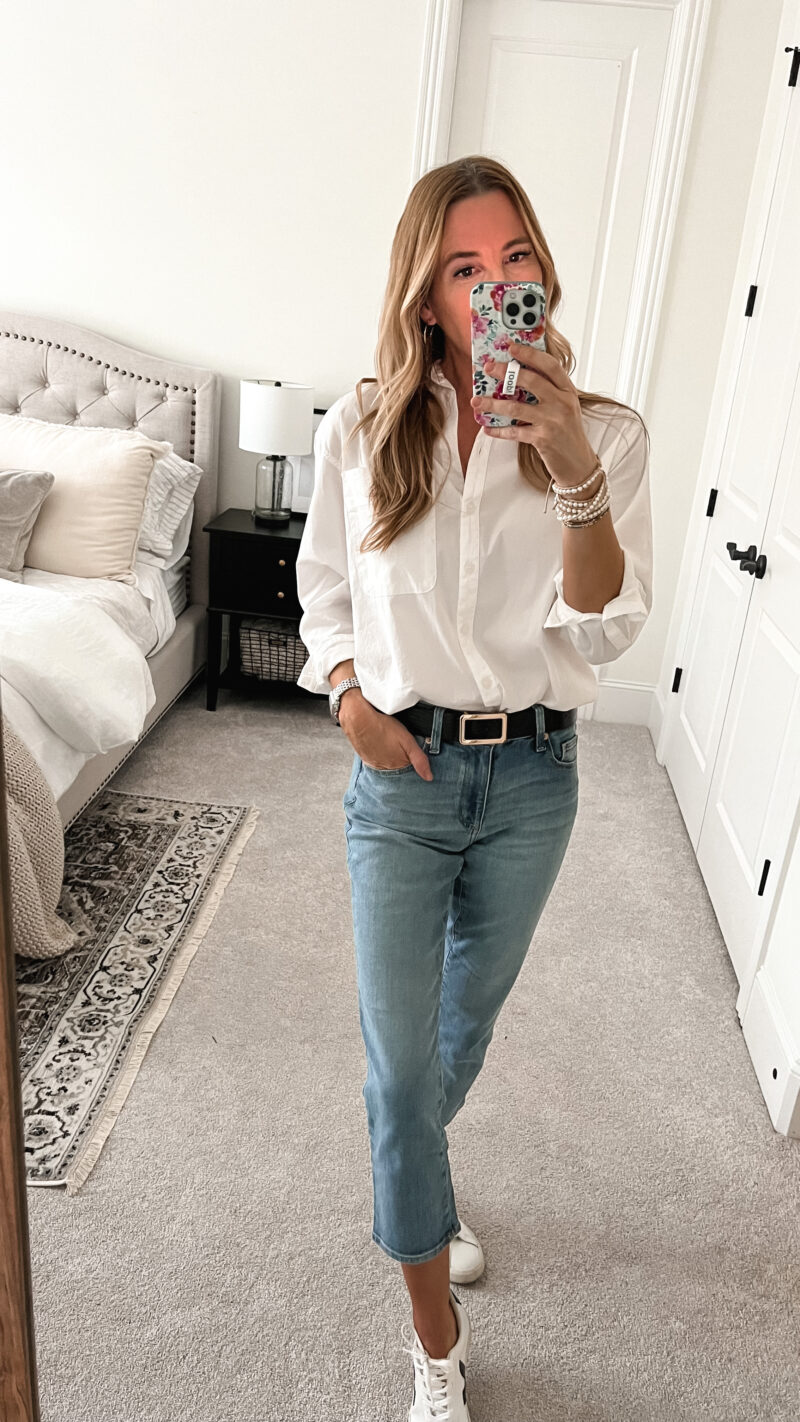 A nice lightweight button down ($25) always looks good. It's clean and classic and very easy to dress up or down. Swap the sneakers for cute loafers and you have a whole new look. This white shirt is so smooth and soft. I didn't try it on while at the store but knew it would be a good one. So happy I bought it.
I was also impressed with these jeans. They are under $30 and really cute. They are true to size. And most days you will find my in my Veja sneakers. I just can't quit them. They do take a couple of times to break in but it's well worth it. I adore them.
*Real conversation with my teen:
Me: Why does my face look so bright and orange in all of these photos?
Teen: Mom, turn down the brightness on your phone before you take photos?
Me: Wait, seriously?
Teen: Sigh. Yep.
Me: I had no idea.
(Anyone relate . . . why am I always the last to know?)
THE DETAILS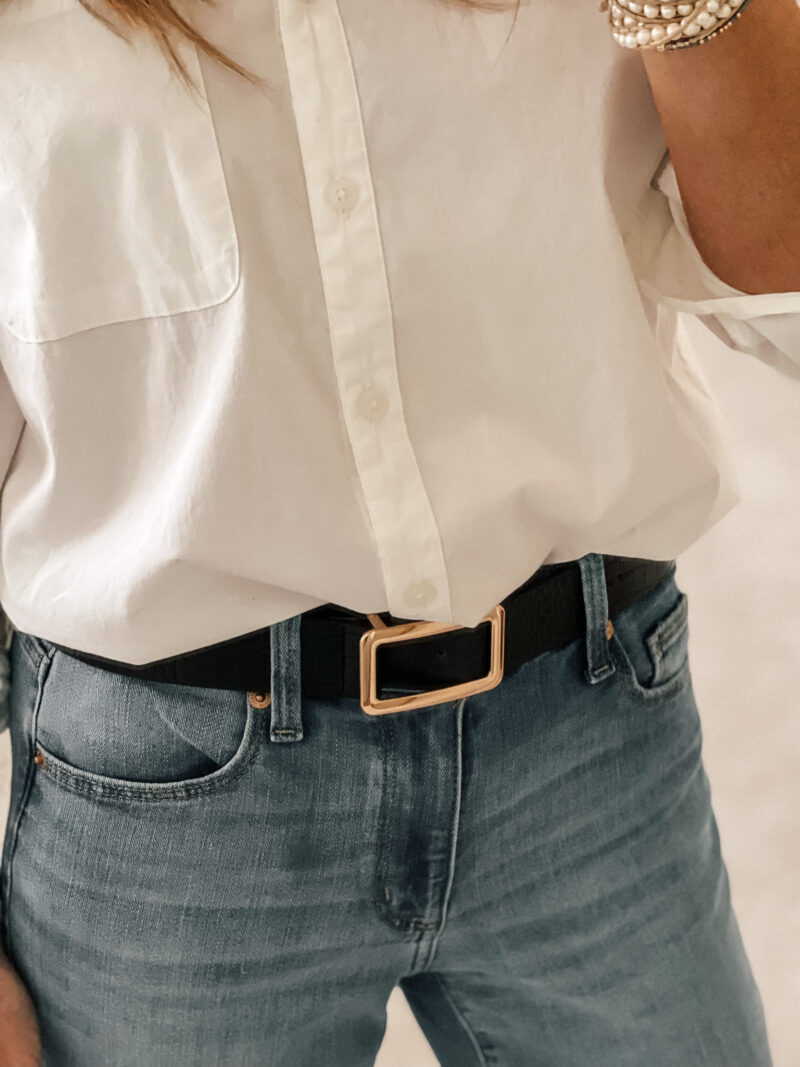 My kind husband gifted me a rather expensive belt for Christmas and I returned it. I really wanted to keep it but just felt I couldn't justify it. Maybe I will change my mind but I found this $20 belt and it's great! It has a subtle alligator print to it and a really pretty gold buckle. It creates a nice pulled together look.
ALWAYS IN STYLE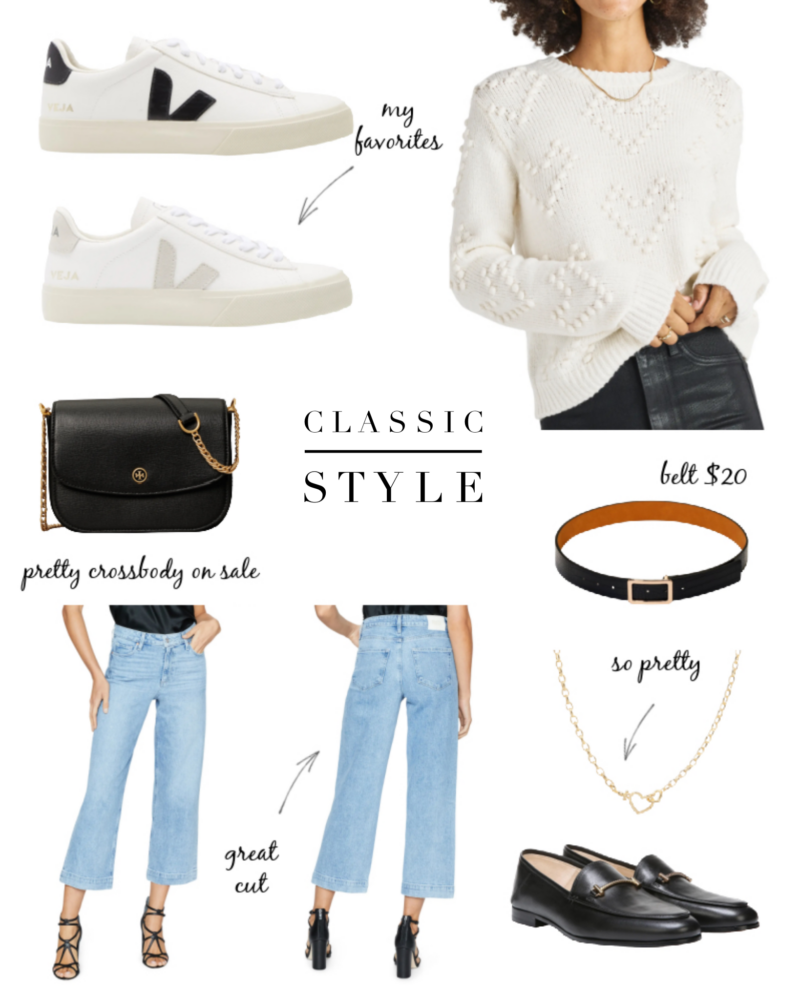 Black and white always works well. Especially paired with black and gold. This sweater is beautiful, but pricey. I found this look alike version on Amazon ($40). I would love to add a black loafer to my wardrobe. This pair, shown above, has fantastic reviews.
OPEN HEART NECKLACE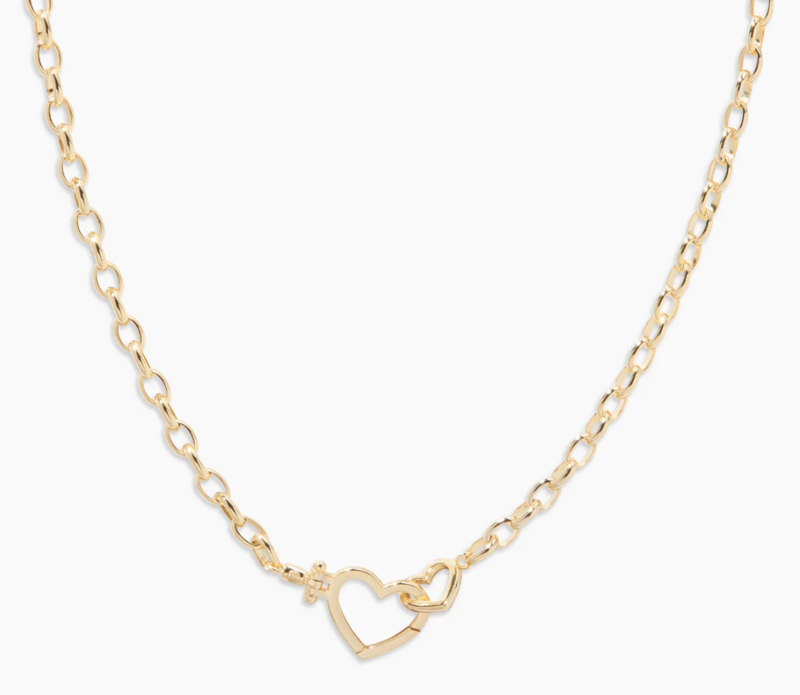 I have to share a story about this. Years ago, my dear friend went through a heart break and her parents gifted her with a similar necklace. The sentiment was that despite the pain, to go forth with an open heart. Cue the tears. That always stuck with me. If you have someone in your life that could use that encouragement, this could be a really special gift. (Open heart necklace)
The second I saw this button down ($25) in the store I had to have it. I absolutely love the colors and the fit. I went down one size. This is an XS. It's a linen/rayon blend so it doesn't wrinkle like 100% linen. The green is so fresh and pretty. It just has a happy feel to it. They have shorts to match which I think would be darling with a white v-neck tee for Spring.
*These soft t-shirts are two for $14 right now!!!! I also spotted this sweater on sale for $29.
It's been a minute since I've done a style post like this so I hope it's been helpful. Enjoy your day.