January!!! Time to purge and clear out, right?! It's also the time of year when I evaluate how I am doing things. One of the best things I did for myself last year was to get signed up with Grove Collaborative. I can't tell you how much I have saved myself because my essentials get sent to my door so I am not buying useless items that catch my eye. Plus it has helped me pare down and get organized. Sharing my cleaning tips today as well as a way for you to get hooked up with some free products from one of my favorite companies.
TIP #1 : CLEAR OUT
First and foremost I unload everything from under my sinks. And I mean everything. It's not a pretty process but so worth it. I've ditched the toxic products and am sticking with the natural ones. I love the Mrs. Meyer's products and prefer to order them from Grove because they are significantly cheaper.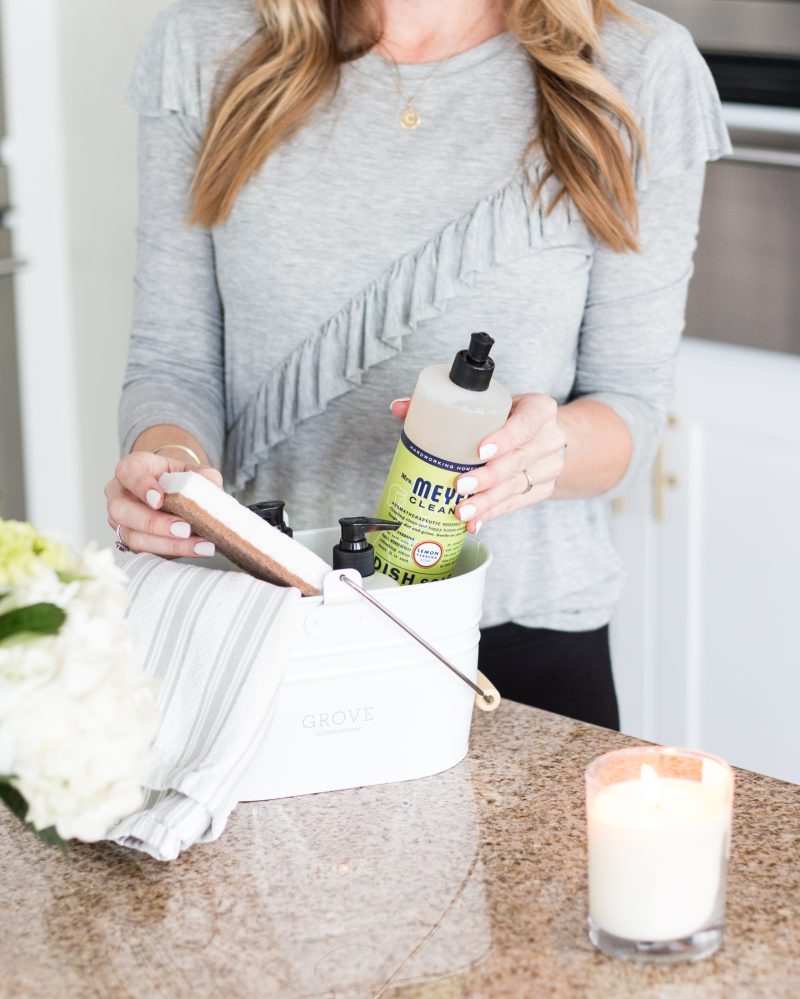 TIP #2 : CORRAL IT ALL
I am big on using carrying caddies to group what I need for each space. So under my bathroom sink I will fill the caddy with a sponge, glass cleaner, toilet cleaner and my countertop cleaner. Then I can grab the caddy or ask one of the children to do it and we are good to go. It's also easier to see what I am getting low on and be sure to order it. Even though we have someone who helps me clean periodically, I am still doing it on a daily basis. Let's face it. Don't we all clean the kitchen three times a day?!
TIP #3 : A LITTLE EACH DAY
I've also realized that doing a little bit each day is so much better than waiting for one large cleaning session. that's another reason the caddy is super useful. I just recently put one under each of the kids sinks, too.
TIP #4 : ODER IT & FORGET IT
Grove simplifies tasks like shopping for home and personal care products. Instead of making an extra stop at the store, I come home to my favorites sitting on my doorstep.
Now is a great time to give Grove a try, because they're offering a free New Year, New You Set with your first order of $20 to help you create your own healthy home care routine:
ALL FREE: 
Mrs. Meyer's hand soap

Mrs. Meyer's dish soap

Mrs. Meyer's hand lotion

Grove cleaning caddy

Grove walnut scrubber sponges

Free Shipping & 60 Day VIP Trial
If you're already a customer, you'll get a free set of Grove walnut scrubber sponges, which are so pretty you won't mind leaving them out by the sink.
I've even started ordering my supplements through Grove.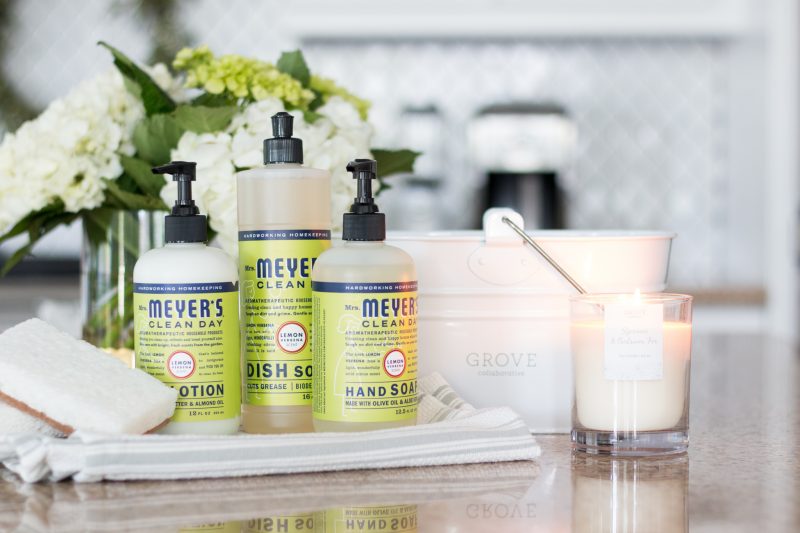 I can't say enough good things about Mrs. Meyer's soaps and lotions. They were some of the first natural products I started using, and they're still a staple in my kitchen and bathrooms. All the products are non-toxic and made with plant-derived ingredients, so I can feel good using them around my family.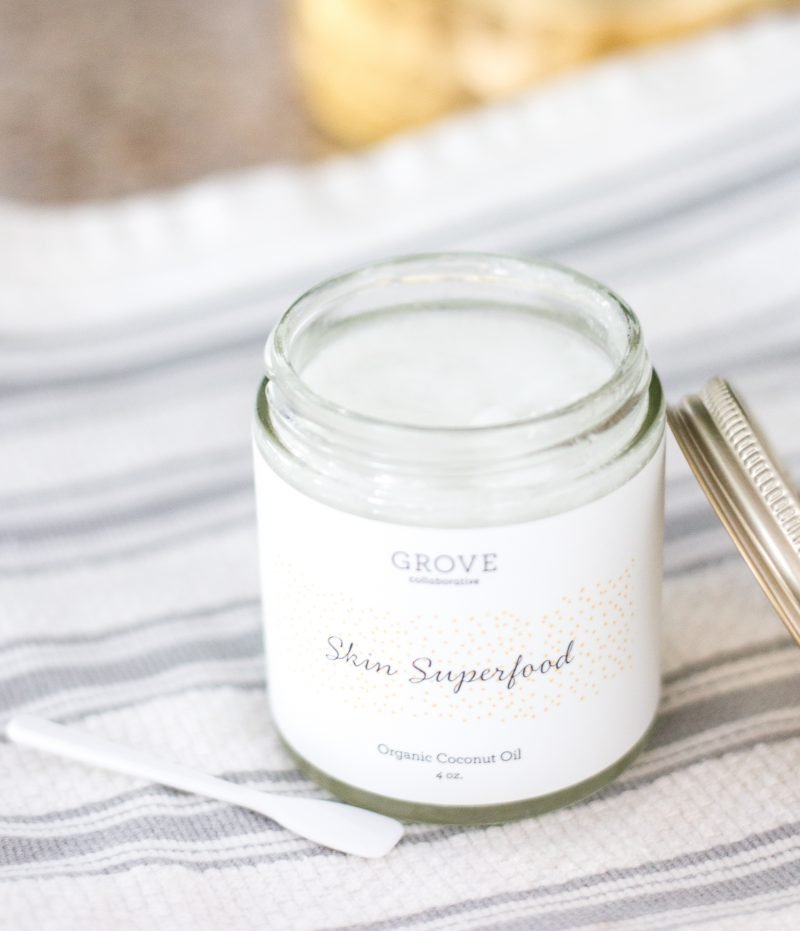 Here is a little item I have been loving. I am all about coconut oil and LOVE this.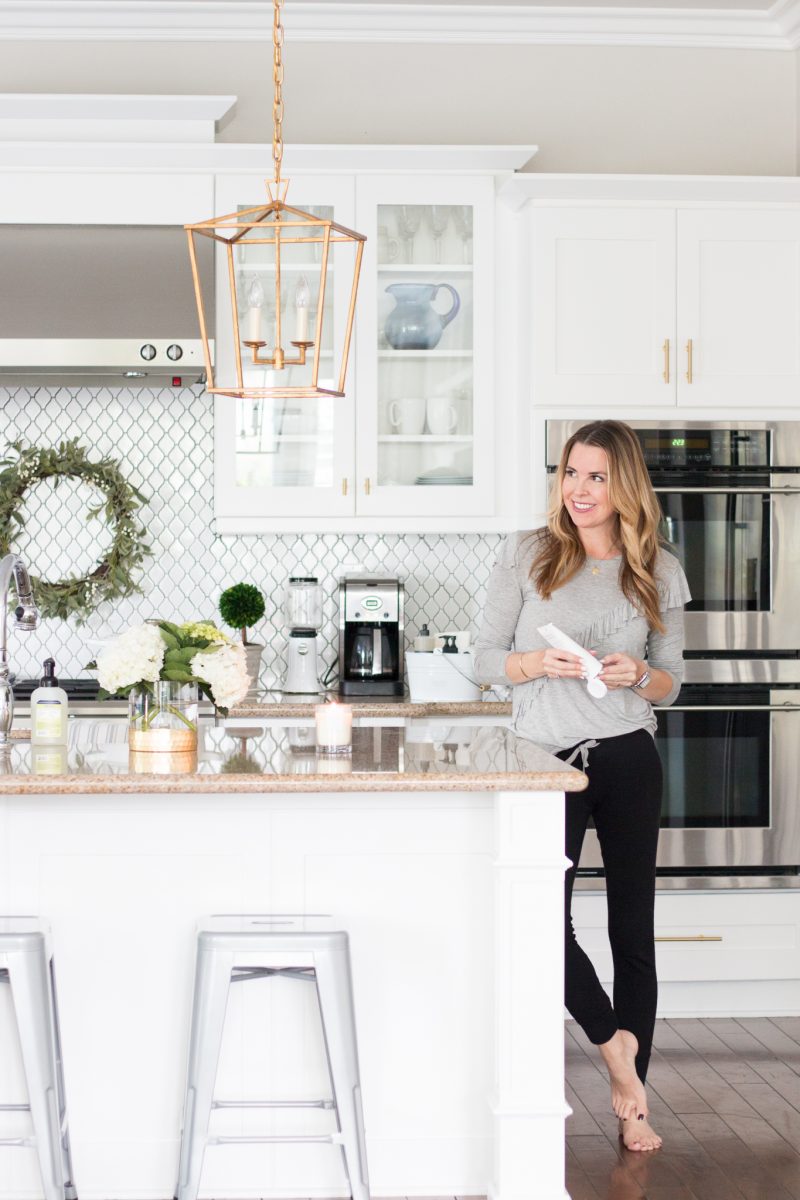 TIP #5: MOISTURIZE
This sounds crazy, I know. But if you are like me and constantly cleaning countertops and bathrooms, your hands take a beating. A little trick I've learned is to keep hand lotion in the kitchen. Right now I am using the coconut body lotion. I put it on each time I clean and it saves my hands. Especially in the winter. Love the Mrs. Meyer's hand lotion, too.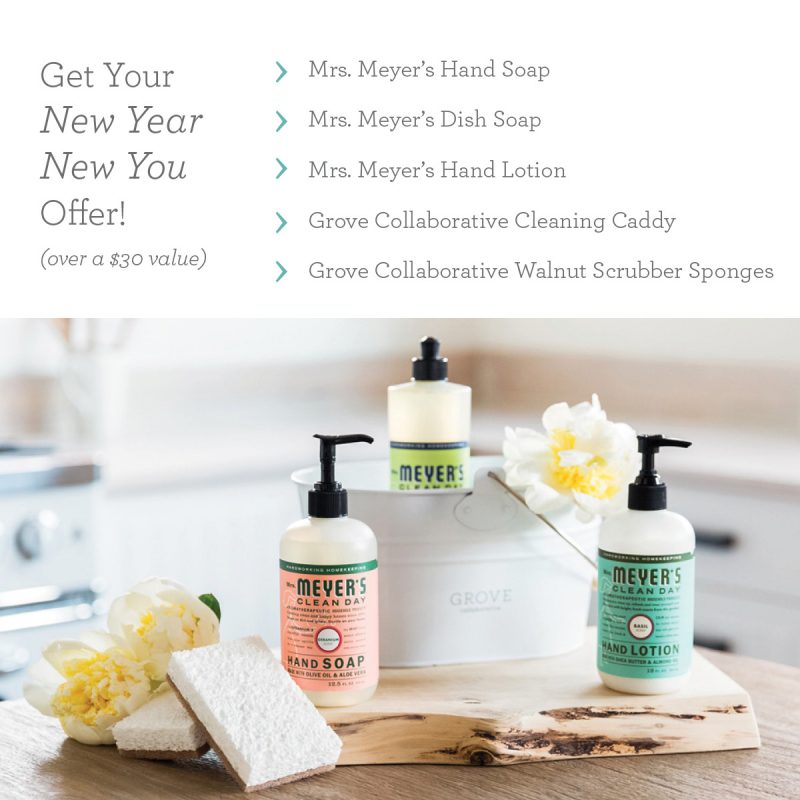 Here is everything you'll receive when you sign up with Grove! The sponges are always on my order. We love them over here. And you'll receive the sponges for free if you are already a member.
BONUS TIP
Once you've submitted your Grove order, you'll be signed up for the free 60 day VIP trial. For 60 days, save even more with free shipping, free gifts, price matching, exclusive sales and personal service.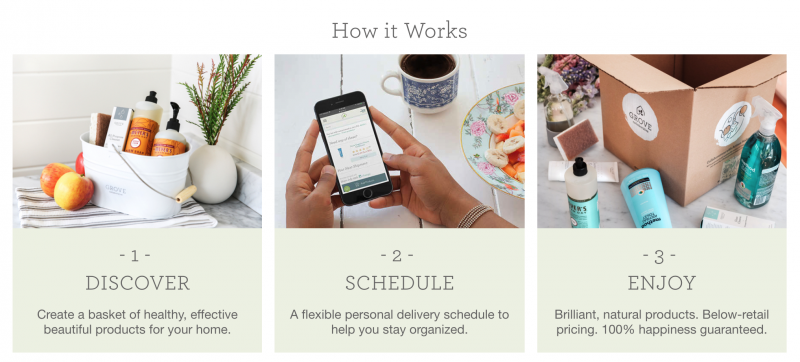 I think what I love most about Grove are the natural products and how simple it is to place or change my order. I can easily reschedule a delivery, too. I've tried other services that have failed in this department. Overall, Grove Collaborative is a company made up of really good people doing really good things. Their customer service is top-notch, too. Let me know if you decide to give it a try.
Hope you're all off to a great start to the day. Make it a good one.
*Proud to partner with Grove Collaborative on this post. All opinions & thoughts are my own.