Good morning. I've been so excited to share this space with you. I'll do a full reveal one we take photos, but thought it would be fun to share a bit of the process. We are fortunate to have an extra bedroom in our basement. It's quite large and serves as a guest room when we have visitors in town. I also use it as my workout room so it's never really wasted space which is something I appreciate. I wanted it to be really warm and cozy but with a nod to our coastal roots. Here is a look at the design board.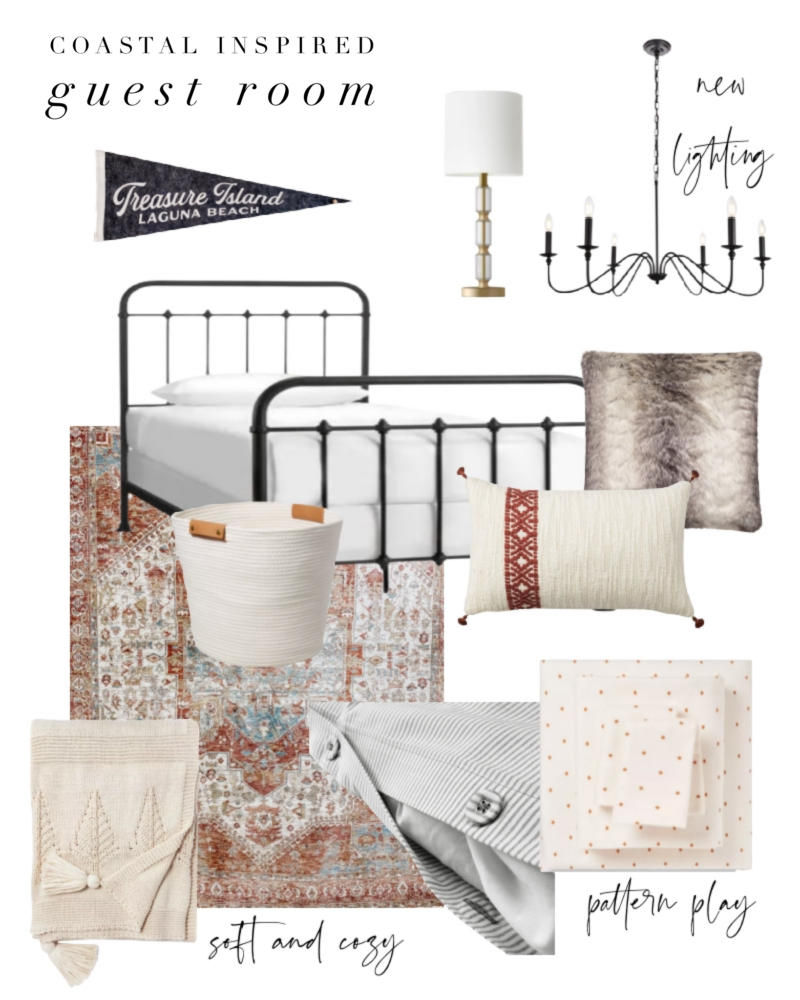 bed | lamp | chandelier | basket | pennant | duvet | throw | sheets | lumbar | fur pillow
I ordered the two twin beds as soon as we moved in. For some reason iron beds are difficult to track down right now but this one is very similar. The rug was a very fortunate HomeGoods find and was the inspiration piece for the color palette. It's incredibly soft underfoot. I love the warm rust and ivories used in this space. There are definitely a lot of patterns but it gives it interest and keeps it feeling cozy. The pretty striped duvet is from Ikea. If you pop into Target, I highly recommend this throw. It's so pretty in person. We also have two of these in the room and they are incredibly soft ($15).
LIGHTING CHANGES
The basement has 10′ ceilings so it feels really open and spacious. It stays pretty darn cool, even in the summer, so we never turned on the fan. We just replaced it with this traditional chandelier. I also knew that with that big blank wall behind the beds, it was an opportunity to lighten things up and add a feature wall. We had someone install shiplap and he did an amazing job.
SHIPLAP DETAIL
We went with vertical shiplap to keep it feeling less farmhouse and more modern. I love it so much. While my husband can do things like this, to have it perfectly done in one day by a professional was wonderful. It would have taken us days and days. We still need to have it painted but will keep it white to match the doors and trim. And what I love most is that just by adding this wall treatment, I love the warm paint color on the walls even more.
SNEAK PEEK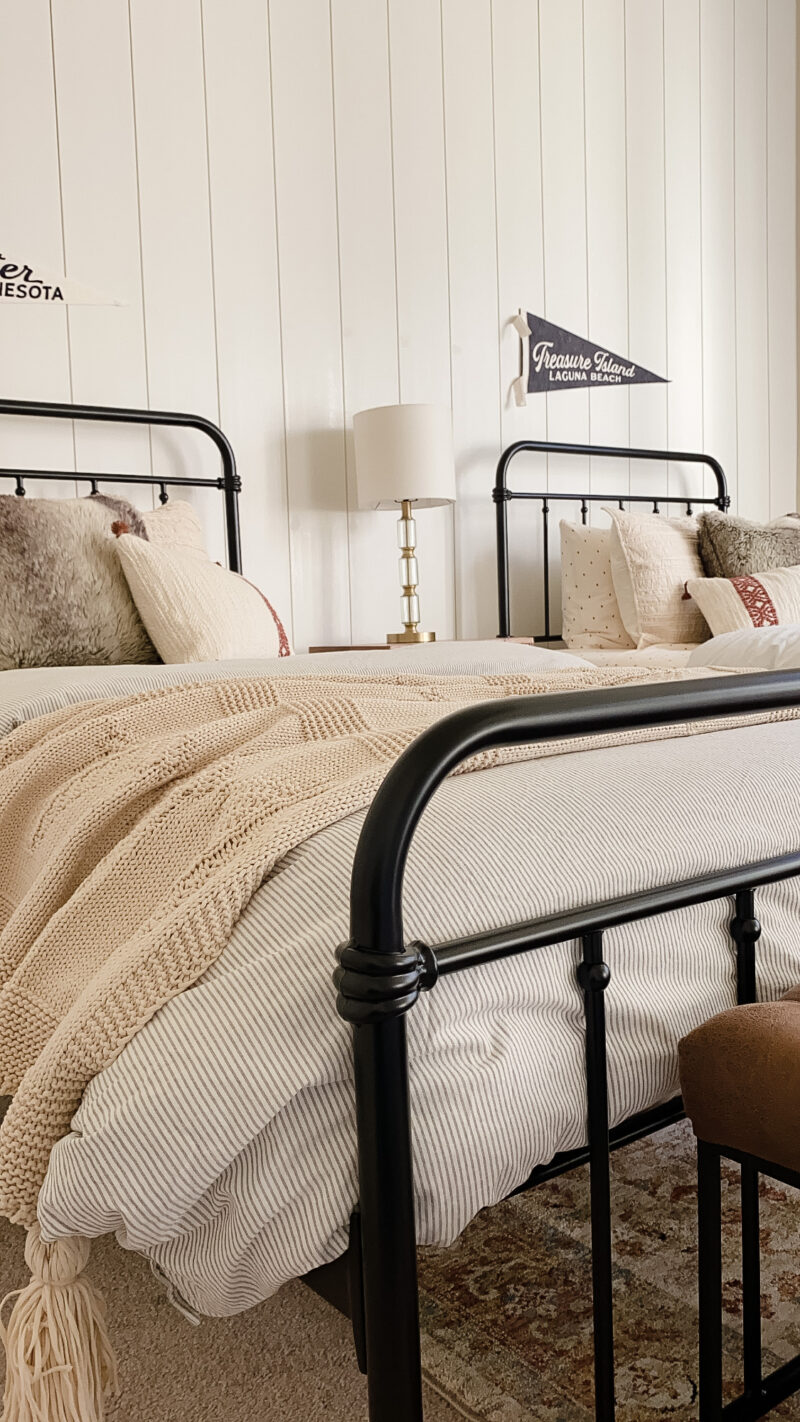 Here is a little sneak peek. This doesn't really do it justice but I wanted to give you an idea of how it's coming together. Two of my girlfriends stayed in here when they were visiting and so it's already filled with happy memories. This has quickly become one of my favorite rooms in the house.
I'll share the entire space soon. So much of the bedding was from Target so if you are on the hunt, now is a good time. And I encourage you to mix and match from all different lines. You'll have a custom look and a space you love.
And to my friends and family, we are ready for you!