Kicking off 2017 with a comfy look. I have learned that I am always slow to warm up in January. I don't exactly hit the ground running but like to slow play it. Are you that way? I nest a little more and enjoy getting things squared away around the house. So a comfy and cozy outfit is pretty on par with how I am feeling this month. Couldn't wait to show you this really pretty pink sweater.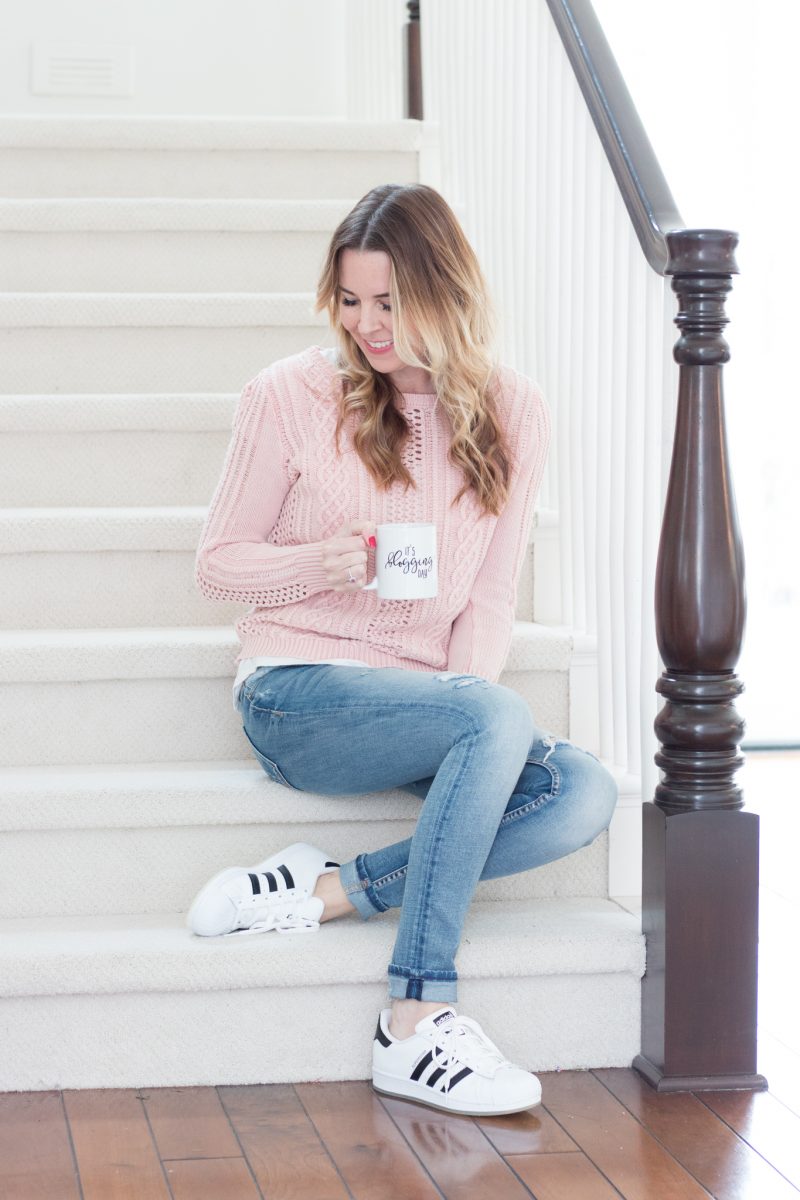 These finally went on sale!!!! I have been wanting them for such a long time but wanted to pay less. They are price matched right now and I don't know how long that will last. Definitely go down 1/2 size. They run big. So comfy. This sweater is such a beautiful color in person. It's cozy, too.
IT'S BLOGGING DAY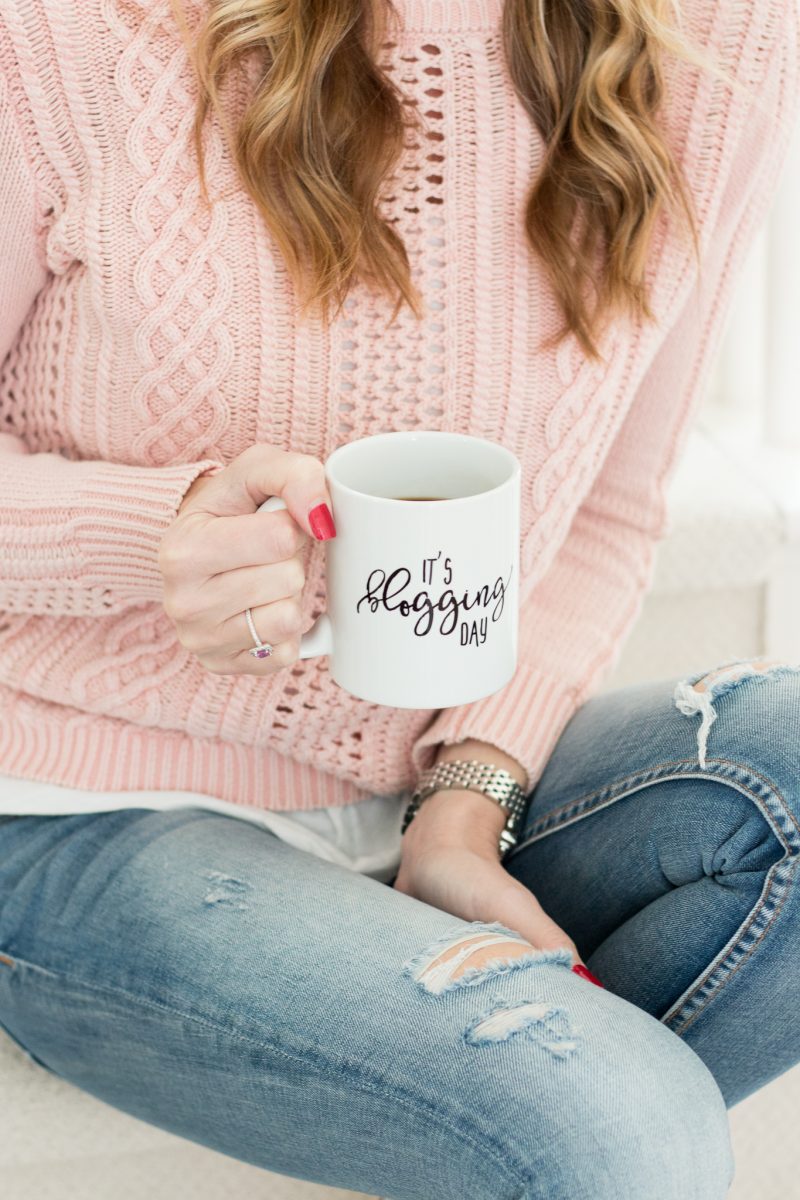 While I wasn't feeling well, I had the best surprise in the mail. A little care package from my sweet friend, Megan, which included this darling mug. I feel so lucky to have made some really lasting friendships via the blog and it's a fun reminder of how those friendships all began. It's blogging day most days around here and I am so grateful for the creative outlet it provides. From snapping photos, to planning, to writing posts. . . I truly love it.
DRESS IT UP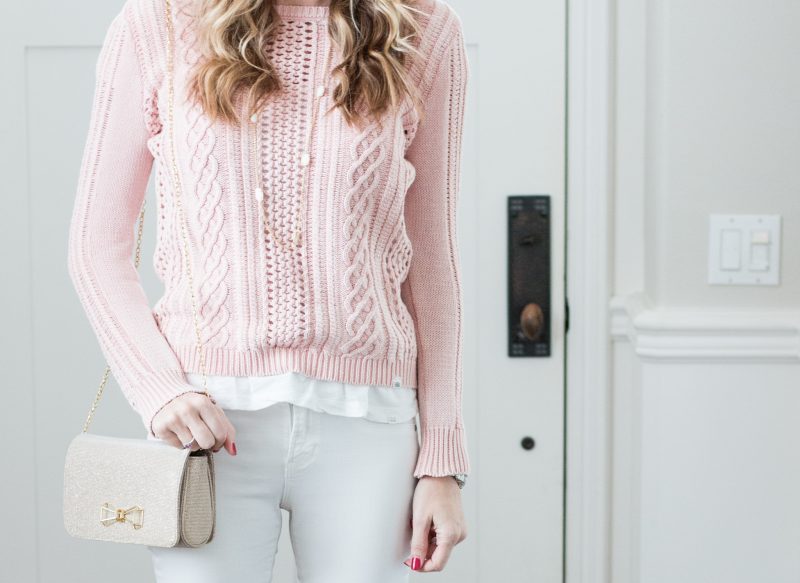 handbag | jeans | sweater | t-shirt
Simply switch out the blue denim for white denim and add heels! Whether you are going out with girlfriends, the family or with you love, it's a pretty and feminine look. Not loving the fit of the small in this sweater and plan to trade it for the large. I snapped photos as soon as I took it out of the box. It needs a little more wiggle room in it so I highly recommend going up at least one size if you order online like I did. This was the bag I carried all throughout the holidays and I love that I can even wear it with more casual looks. It's really so pretty in person.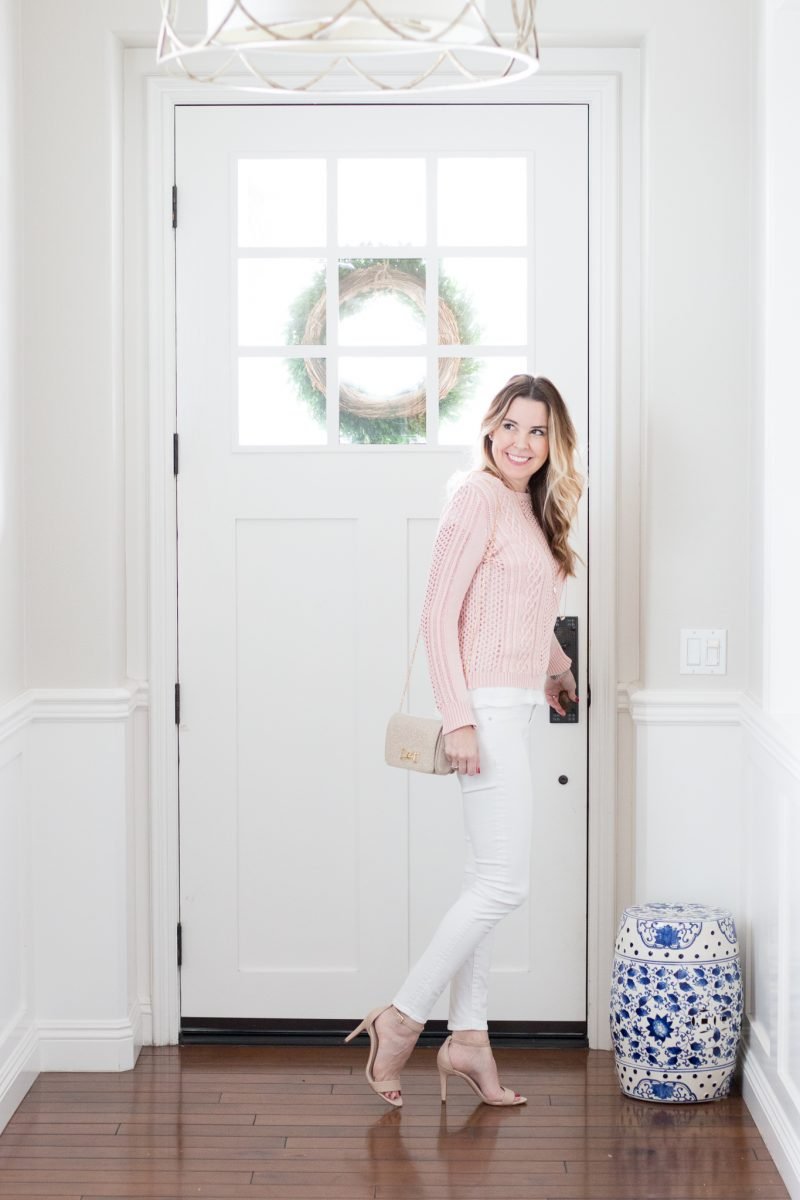 WHITE DENIM
I've blogged about these heels before and just love them. This style and color looks great with every single outfit.
More White Denim

sweater | t-shirt | adidas (sale) | similar jeans | mug
More Distressed Jeans

ONE LAST LOOK
Pretty in Pink

I just love this color for winter. Noticed this one is an extra 60% off! The sleeves on this one are so unique and feminine.
I am off to put finishing touches on a fun post for tomorrow. If you have been reading for a while, you know that I had a series called "Five Ways" for quite some time. I hit on many different topics but all related to interiors. This time around I am opening up the topics to pretty much anything. Topics will still include design plus parenting, organization, date nights, photography, etc. If there is a topic you would like to hear about please feel free to let me know in the comments below.
*Affiliate links used. 
Shop the Post