Recently, I had a friend question whether or not to hop on board with ever popular "Countdown to Christmas" gig so many people now do. It struck me because just recently we asked the children what their favorite part of the holidays are and my son, without hesitation, said it's the daily activities we do together. After years of doing this, I wanted to share my thoughts on it.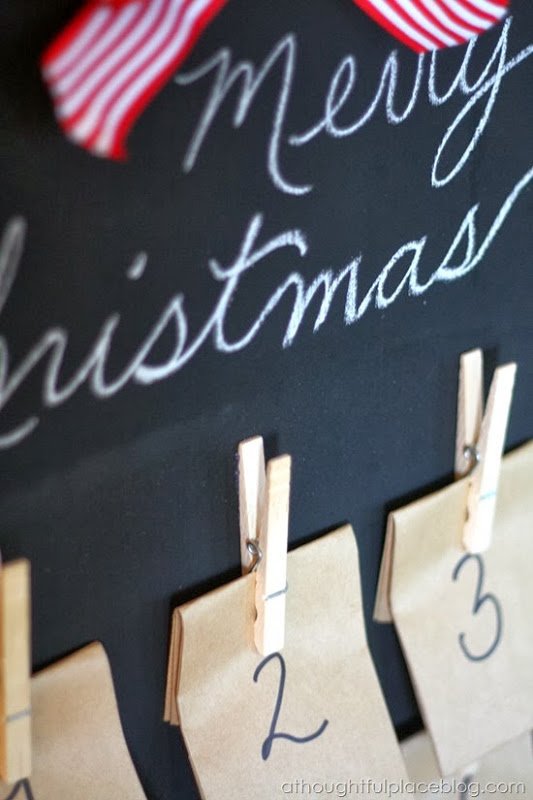 I made this out of scrap wood a few years back and we store it under our stairs. For the 24 days of December (leading to Christmas) there is an activity listed in each bag. We do not do candy or gifts, but decided long ago that it would be family time in those bags. You don't need anything elaborate to make an advent calendar. You could even have a simple chalkboard that changes each day to show the number and the activity. Or hide an envelope in the house each morning. Truly, there are on million ideas out there for these but to spend too much time on that is missing the point, I think.
No joke. My kids can't wait past 5:30 to run down and open the day's envelope. Here are examples of what we have in each envelope:
COUNTDOWN TO CHRISTMAS FAMILY ACTIVITIES
Watch the Elf on the Shelf movie and pop popcorn
Attend the neighborhood tree lighting ceremony
Decorate a pre-made gingerbread boy (perfect for a busy afternoon)
Sing Christmas carols at the neighbors
Play the game of Clue and drink hot cocoa
Read Christmas stories under the tree with flashlights
Send a special package to Grandma
Prepare a meal for someone who is sick and drop it off
Play the game of Life & listen to Christmas music
That gives an idea of how simple we keep it. The pre-made gingerbread boys were a huge hit last night. I had picked them up for 50% of at Michaels ($2.50) and it came with icing and candy and after our family dinner they were able to decorate them. It was great because we had other things going on as well as piano and didn't have the time to make them. And the children didn't mind at all.
Pros: Honestly, these have been our favorite memories over the years. It makes us slow down and enjoy each other and the season. We stop being so "busy" and just spend time together. It also doesn't need to cost money. You can find plenty to do in your own home with books, games, and a little creativity.
Cons: I have gotten much better at this. DO NOT fill the envelopes ahead of time!!! I have a notepad and I only do one or two ahead of time based on our schedule. This is not designed to create stress but to eliminate it so you want to be mindful of everyone's schedule the events you already have going on. My children are 7 and 9 and it still does not take much to make them excited. And I think the benefit of reading from the envelope in the morning is that they get to look forward to something all day long. Don't we all love that.
So without a doubt, we are huge fans of the countdown. But we keep it simple and about family. I hope this helps if any of you with really young ones are on the fence about starting yet another tradition. I know that can get overwhelming. This. This is one to consider!
*And in keeping with the holiday spirit, I teamed up with Albion Fit for a great giveaway for you and a friend. Go enter on Instagram!
Enjoy your day, everyone.