Ok, friends. Ever feel like you don't know what to toss on when you finally sneak out for a date night? We had some cloud cover this past week and it made me so excited for the temps to drop for Fall. Until then, I've been layering my date night looks so I have something cool to wear during the warm afternoon, but something warmer to toss on for our chillier evenings. I have been all about camisoles & cardigans for my date night look lately and I've teamed up with Nordstrom to share one of my favorites.
THE LAYERED LOOK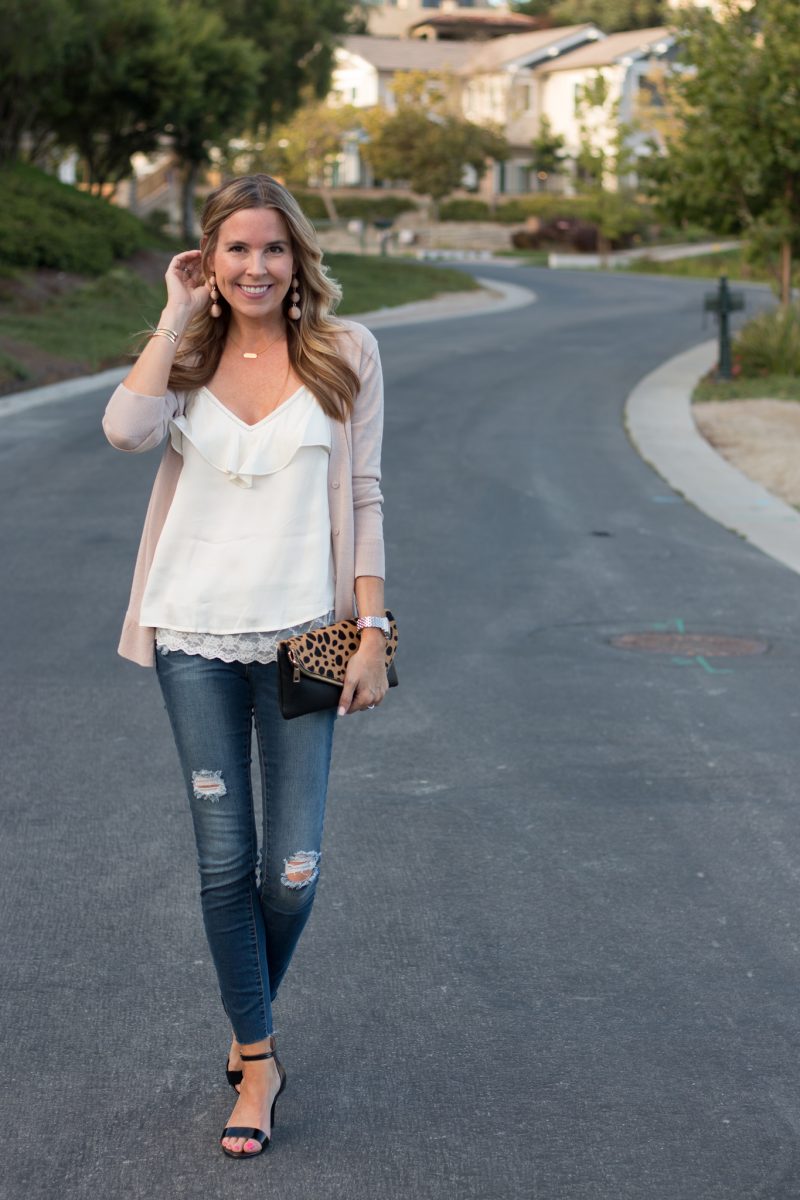 I am loving a pretty feminine camisole paired with a cardigan. There is something about the combo that makes me really happy. I think it's a little bit sexy while still being super classic. Toss in a little bit of distressed denim and it's a great date-night look.
They say it's in the details. This simple outfit is not lacking for interesting details and interest. What I love about this particular camisole is the beautiful lace trim and ruffled top. The ruffle on the cardigan compliments it perfectly. The cardi isn't too big and bulky which I appreciate for a more sleek date night outfit. The satin can get wrinkly so you need to be ok with that. Add in a touch of leopard and you're ready for a night out.
CAMISOLES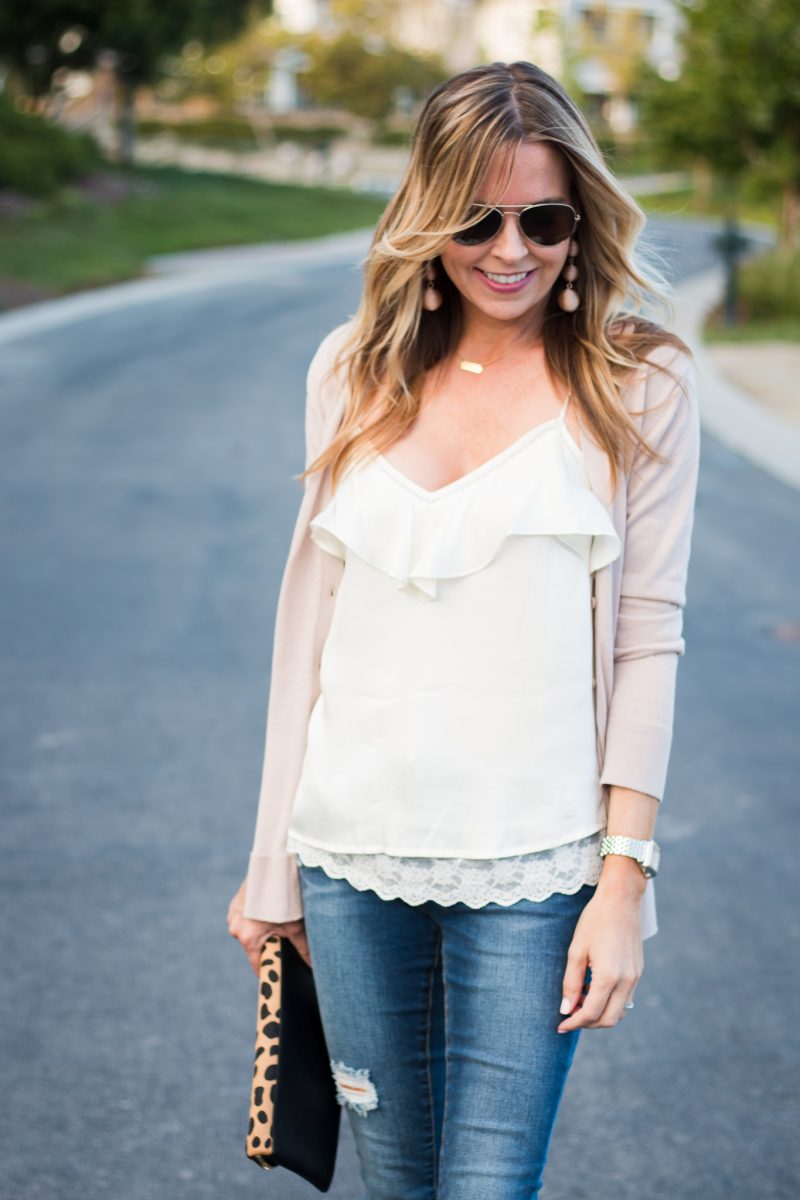 Let's talk camisoles! I love them and Nordstrom has a huge selection. I like to look for ones that don't cling to the body. I think it's much prettier to have it hang instead of tight like a lot of tank tops. I usually wear a pretty bralette (with small straps), silicone petals, or a strapless bra with a cami. This one is really cute and has such a nice drape to it. This one is beautiful under any cardigan or v-neck sweater because the lace peeks out a bit. I really love the wrap style of this one.

Did you see this one in the photos above? I love the lace insert. And there is definitely nothing wrong with taking one of the loungewear tanks and turning it into a date night look! Add a cute cardigan and your good to go! This one looks so comfortable. Lastly, this one has received rave reviews. It's a bit more form-fitting but everyone seems to go nuts over it and it's only $19.
CARDIGANS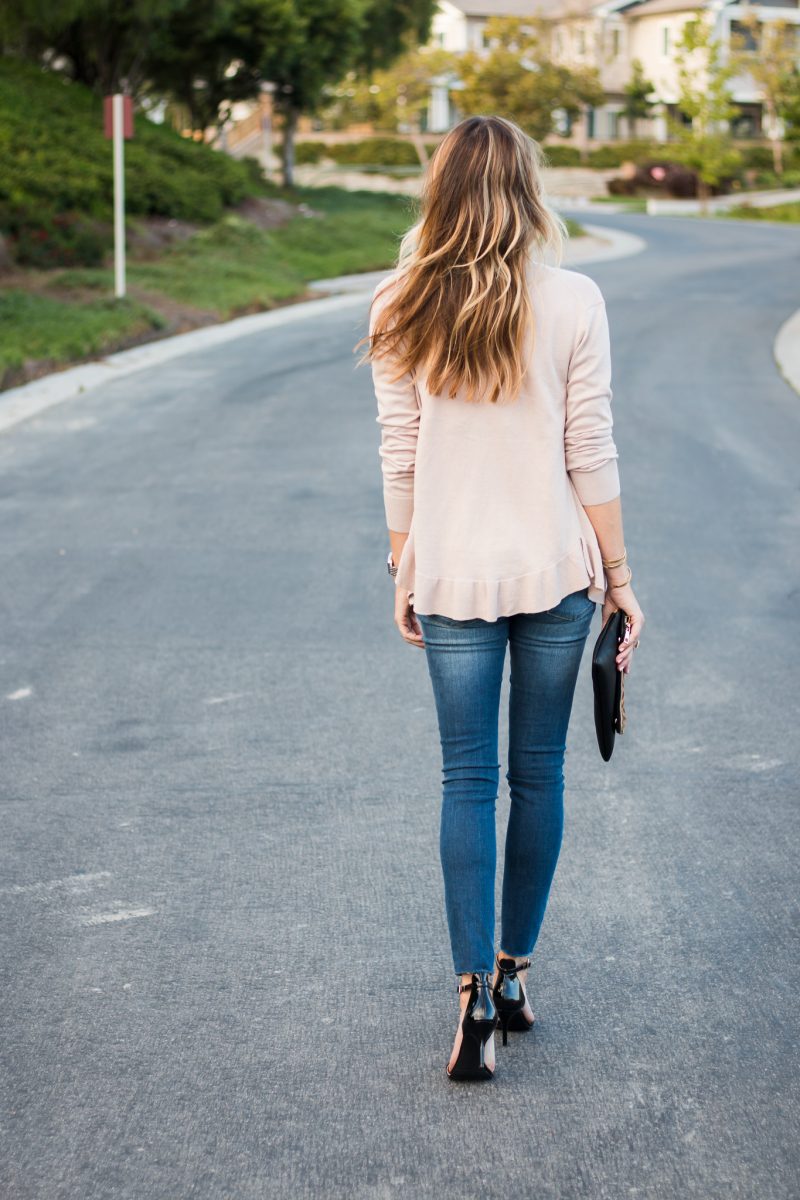 You could easily make this a daytime outfit with a great pair of flats or booties and a satchel. I am pretty in love with the ruffle detail on this sweater and how it falls in the back. It comes in four colors. I had a hard time deciding between this one and the gray one. By the way, the color I am wearing is called tan memoir but it has a very subtle blush undertone to it. Really pretty. I am wearing a size small. One of the other cardigans I love also has a ruffle detail. I have worn it over this dress and it's a super cute combination.
THE DETAILS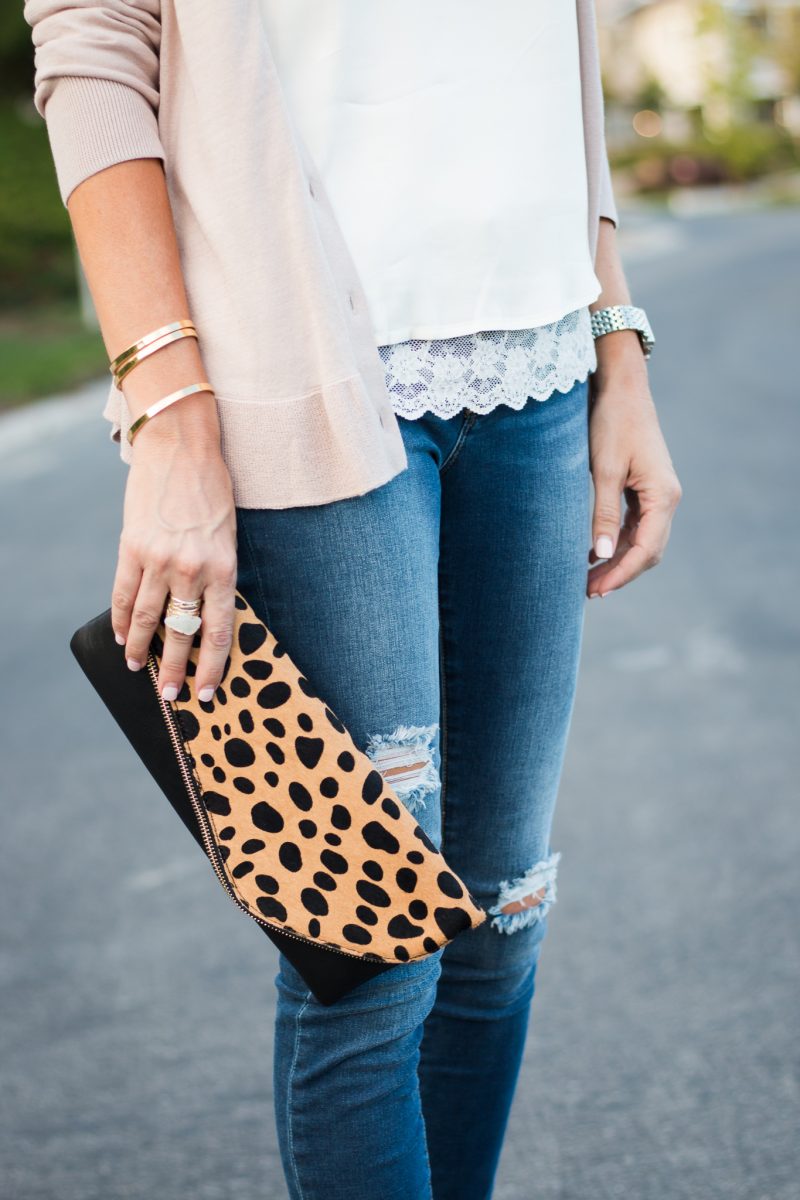 These jeans are extremely comfy and a great way to jump on the raw hem trend without breaking the bank. They are only $64 and a fun addition the wardrobe. For reference, I am 5'7″ and wearing a size 25. LOVE these jeans.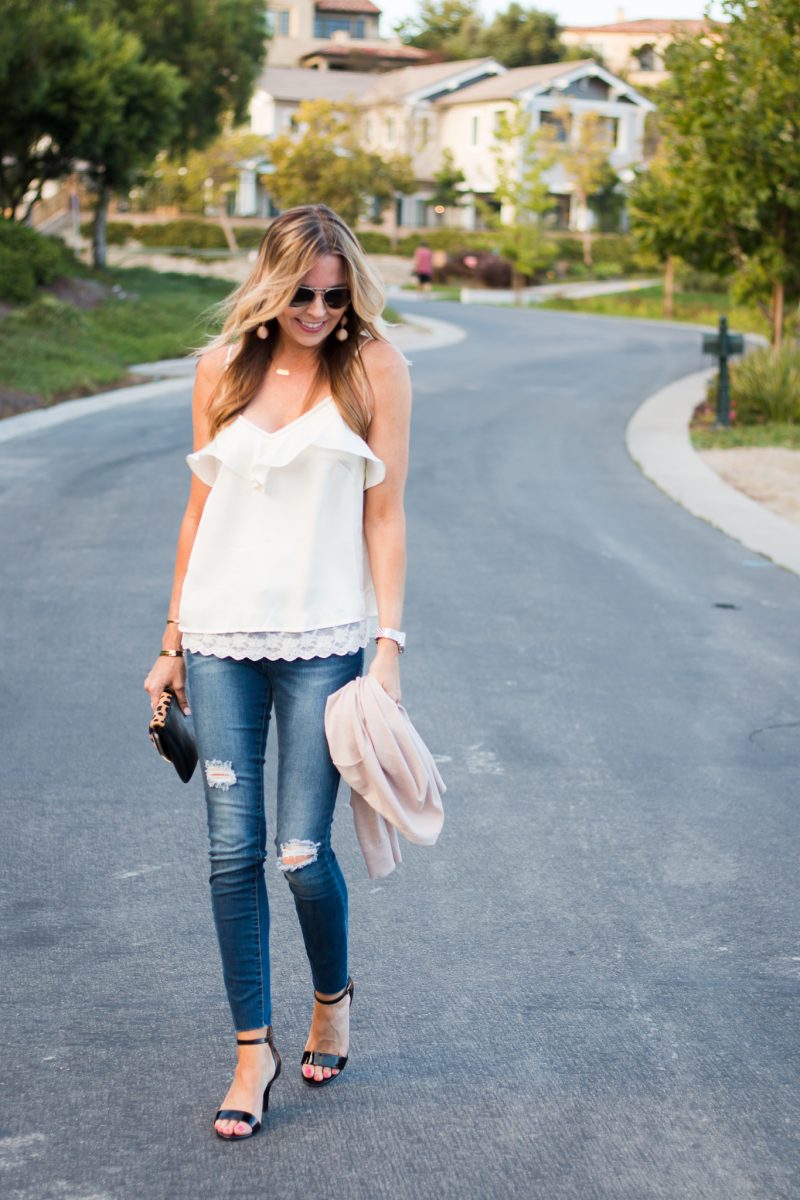 jeans | clutch | heels | earrings | camisole | cardigan | sunglasses | necklace
This style of heel is also a favorite of mine for date nights or nights out with the girls because they are comfortable and go with everything. The style is just so feminine and understated which I really appreciate. The heels are true to size, come in many colors and only $60. I do think that every girl should own a pair of black patent leather heels. Always a classic choice.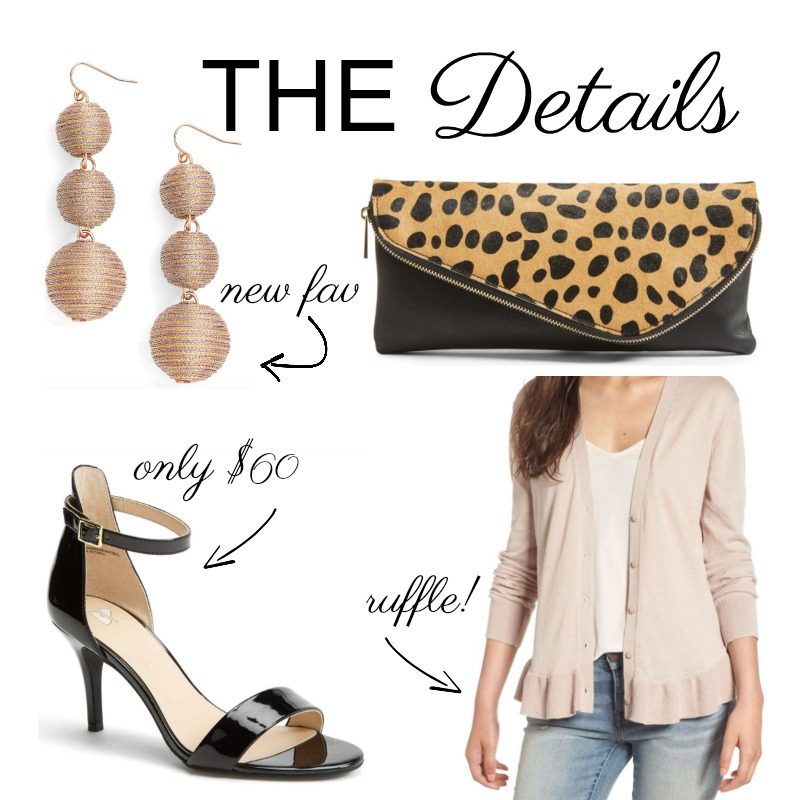 heels | cardigan | earrings | handbag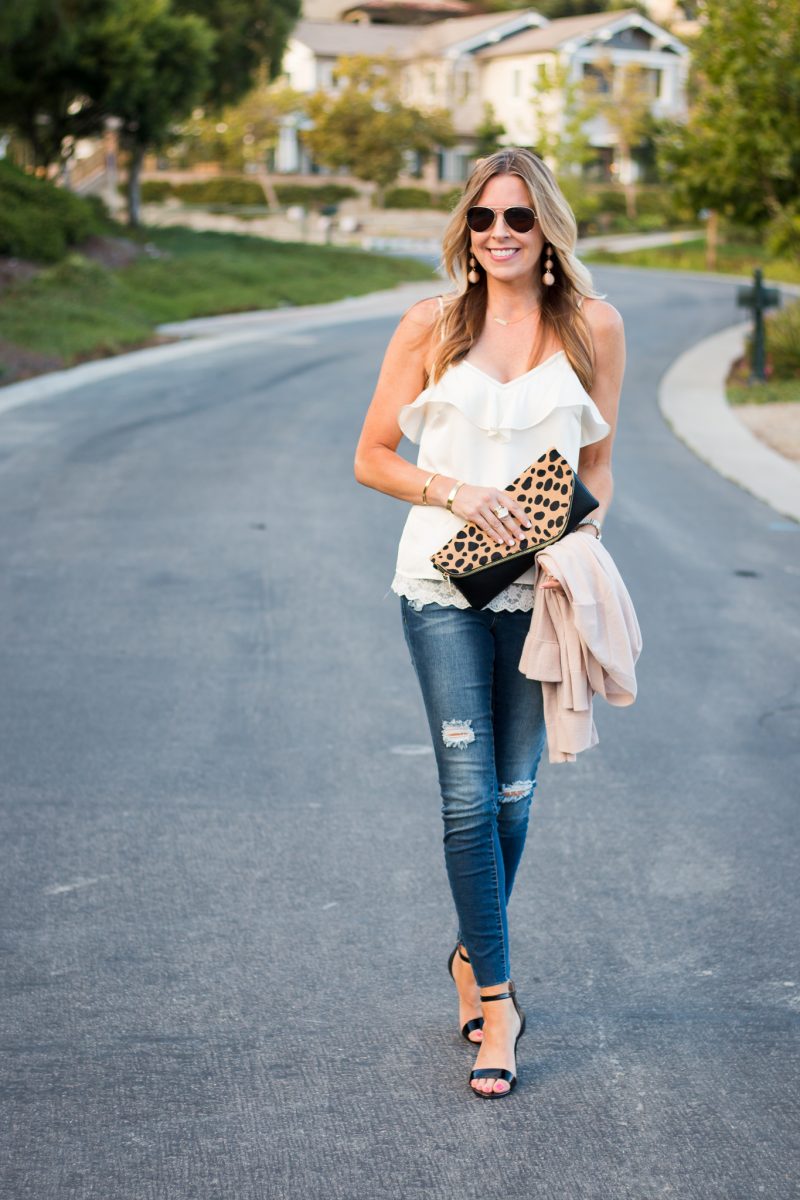 I never thought I would really embrace the statement earring (you know I am pretty boring when it comes to earrings) but these are so fun to wear. I honestly love them. I find that I like them with neutral colors like this. They are very light weight and I always get compliments on them. A fun pair to begin with if you are thinking of going more bold.
So in other news, we've made a couple of home improvements around here and I'm sharing one on the blog tomorrow so be sure to head back. Have a wonderful day.
*Proud to partner with Nordstrom on this post. Affiliate links used.