Today feels very exciting to me because I am sharing the design I've worked on for our master bedroom. We have gone two years without doing anything to our room. It's time. We are craving a retreat and a room that feels restful and calming when we walk through the door. It will be a mix of high and low, like all of our spaces, and hopefully reflect our own style.
SPECIAL DELIVERY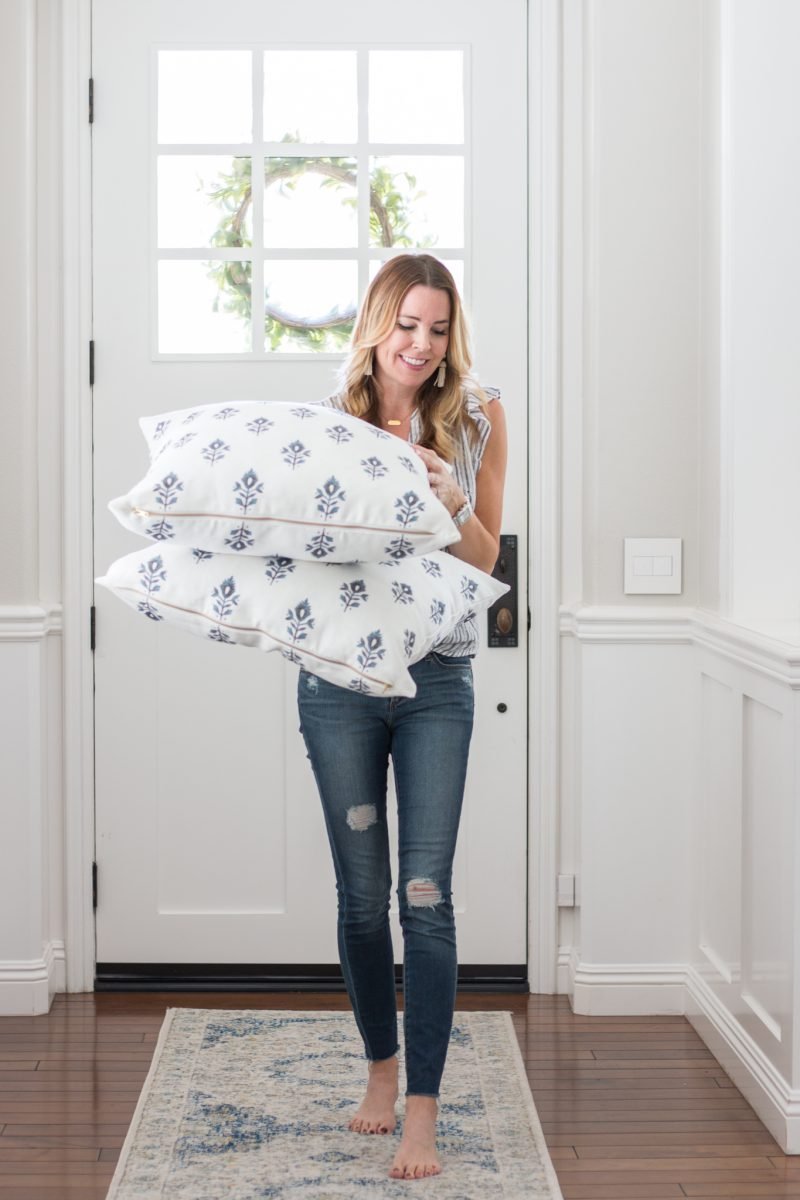 jeans | earrings | similar top
McGee & Co. is one of my favorite shops and when they reached out about their new pillows I was thrilled. This beautiful new print became the inspiration fabric I've been looking for. The Addison Block Print is clean and crisp and so pretty in person.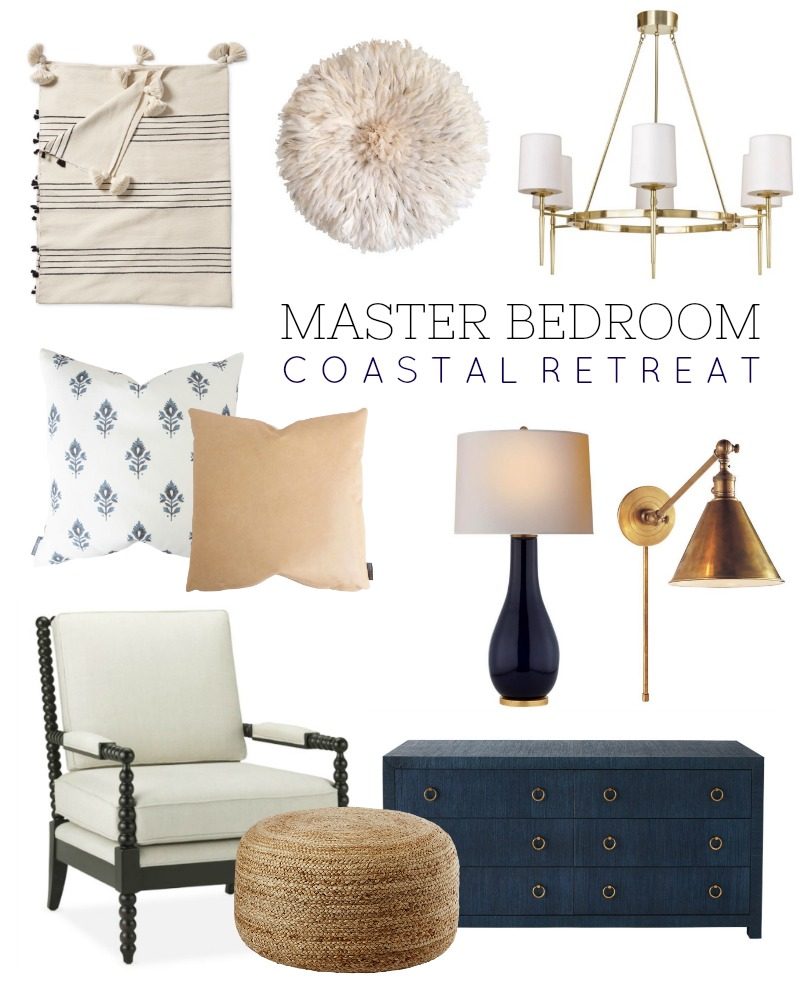 throw | juju hat | chandelier | print pillow | leather pillow | lamp | sconce | chair | pouf | dresser
Here is the overall design plan. I really want the room to feel well-pulled together but not stuffy. We are going for a coastal vibe but not too beachy. Does that make sense? I plan to keep the overall room quite neutral with touches of navy and black throughout. Because we are keeping things very clean, it's important to add as much texture as possible. I went for the pie in the sky when choosing things for my design board. If it is not in the budget, I will find a similar piece elsewhere. That is how I mix high and low. Let's break down some of these pieces.
SPINDLE CHAIRS
I've loved spindle chairs forever. Have you seen these from Williams-Sonoma? So pretty. Well, I found the exact same chair at Living Spaces. Made so well and very comfortable. The height of the arms is ideal for working on my laptop. They also have them for less here. When I can find a great quality dupe I am all in. Especially when no one will ever know the difference.
POUF
In our sitting area, I want to be able to put up my feet and do some work. I considered a coffee table but thought the lines would be too harsh. Plus, I really wanted to add some texture. This pouf is perfect. I can place a tray on part of it and still have room to put my feet up.
DRESSER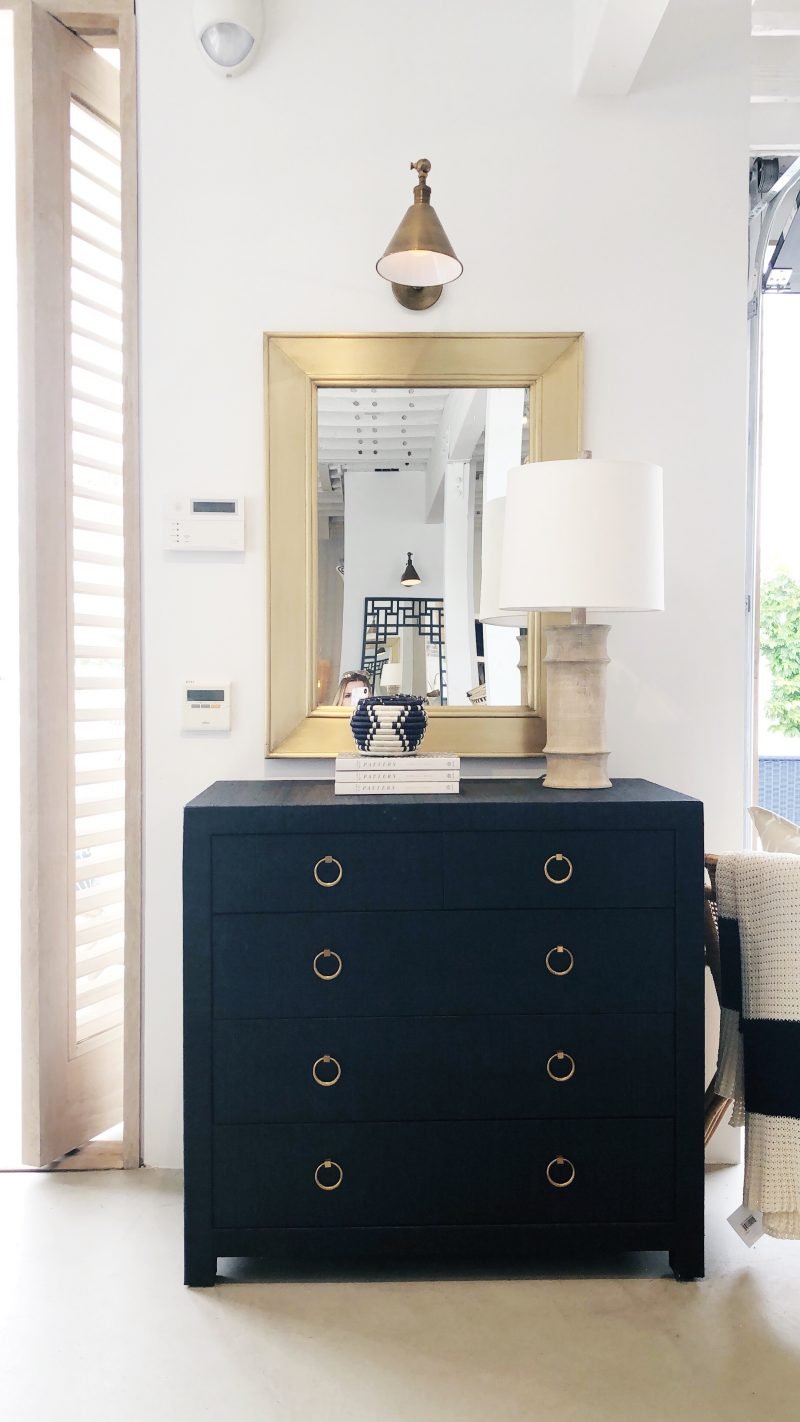 This dresser is absolutely perfect. The larger one is what we need for our space. I love everything about it. But it is way too high-end so I am determined to figure out a great dupe or paint a piece myself. I will keep you posted. This is without question the look I want to achieve so I'm hoping I can figure something out.
SCONCES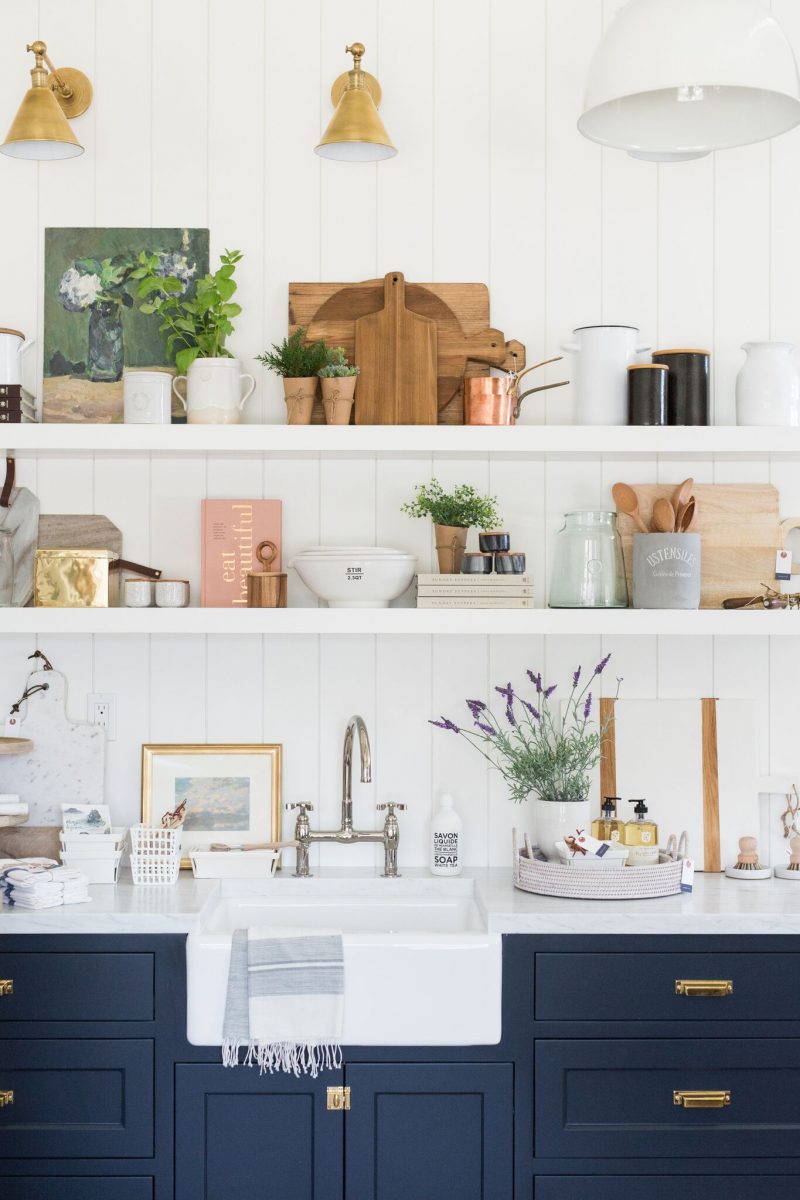 photo via studio mcgee 
I first saw these sconces in person at the McGee & Co. storefront and fell in love. They are beautiful. My plan is to hang two above the dresser. We will most likely have a small television above the dresser and these will add so much charm.
LAMP
Our current nightstands need a punch of color. These are perfect to tie in the navy accents. The price tag is too high for me so I will be looking for something similar. I'll keep you posted.
THROW
My friends at Serena & Lily sent us this throw and I am over the moon about it. I chose it because of the stripes and the tassels. It adds so much interest to the foot of our bed. This one is quite similar in person (the online photo does not do it justice).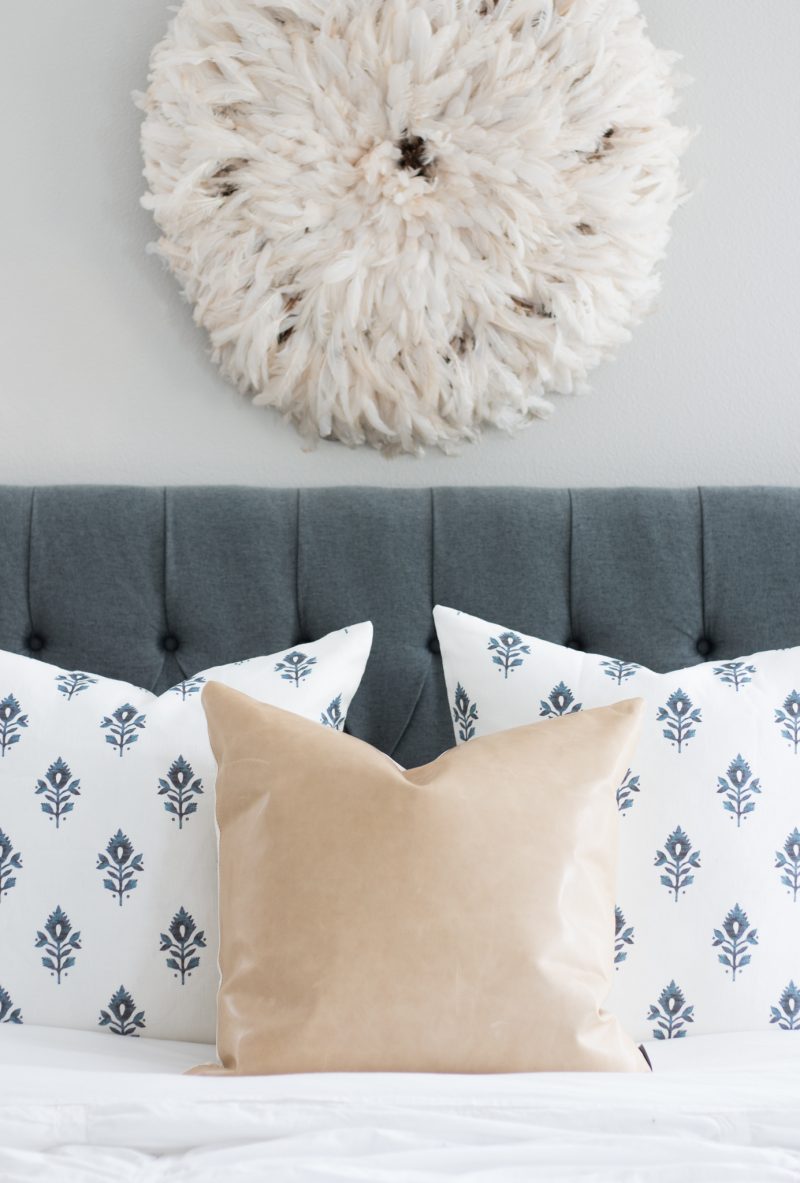 So far we have these pillows and the juju hat above our bed. But we will be painting the room white. I will use either Simply White by Benjamin Moore or Clear Moon by Behr. They are my top two choices. We also plan to add picture frame molding throughout the room. Our bed can be found here.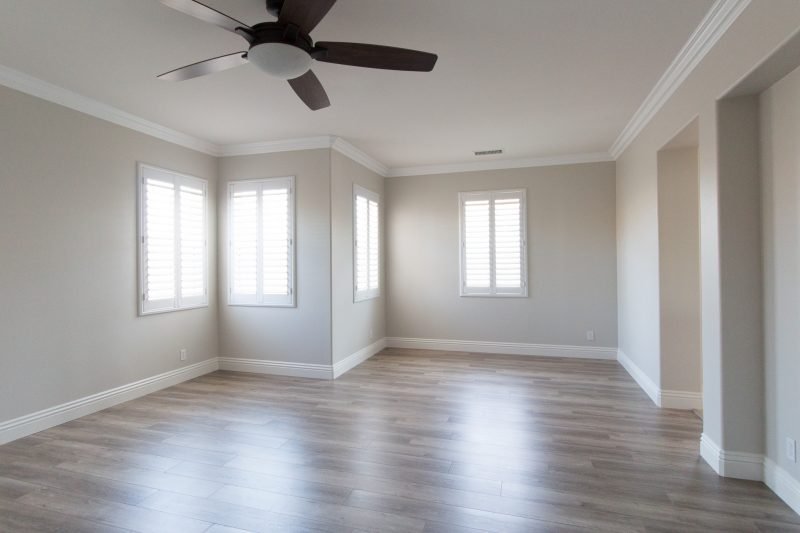 Here is a shot of the room. We are still rocking the fan but plan to replace it with the gold chandelier. I am waiting for a sale! The seating area towards the back of the room receives amazing evening light and I often work from this room. I am so looking forward to being able to use this space on a regular basis. All in all, we are ready to turn our attention to this area of the home and create a bedroom we love.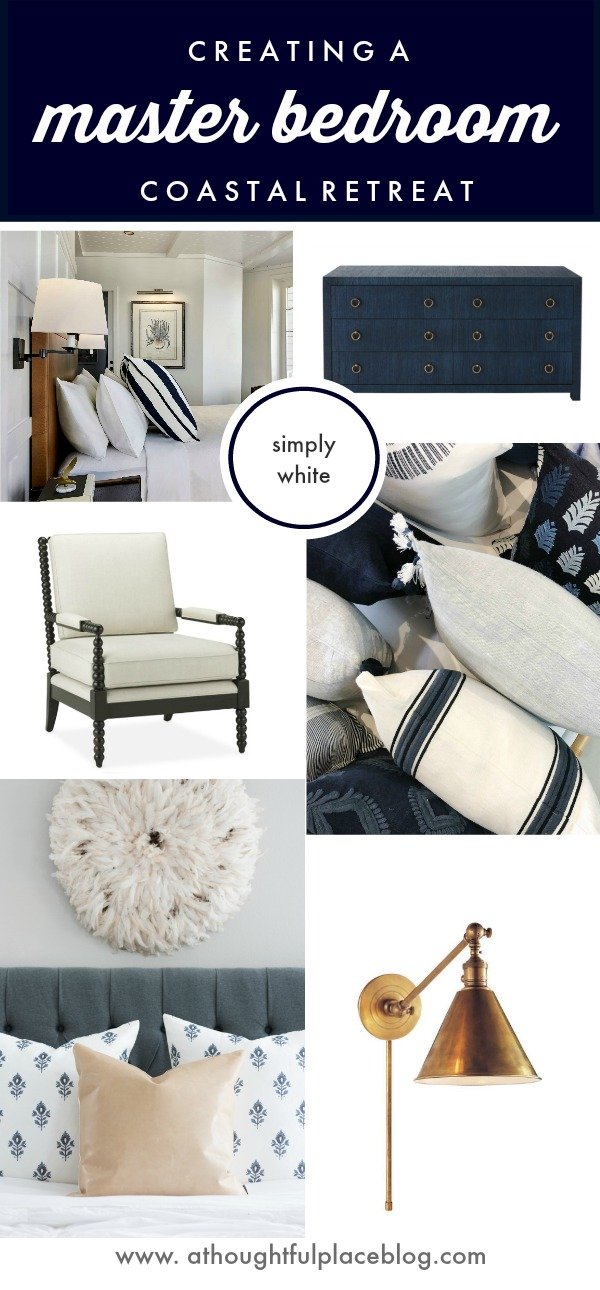 Thank you for letting me share this with all of you. I will keep you posted as we make progress. And I will definitely be showing updates on Instagram stories. I am so excited to finally be getting our grown-up bedroom. It's been a long-time coming.
Off to be with my sweet mama today. Love her so and can't wait to see her.