Good morning, friends. Without question I can barely walk today. I did my first Barre3 class yesterday and it kicked my booty. Holy cow. But I loved it and I'm going back for more. In other news, I am working on the first Q & A post! It's taking longer than I thought but I will be excited to share soon. One of the most frequently asked questions I get is, "Where did you get. . . ?" So I will be sprinkling in posts on each room in our home so that all of the sources can easily be found. I hope this is helpful. I am kicking it off with our dining room.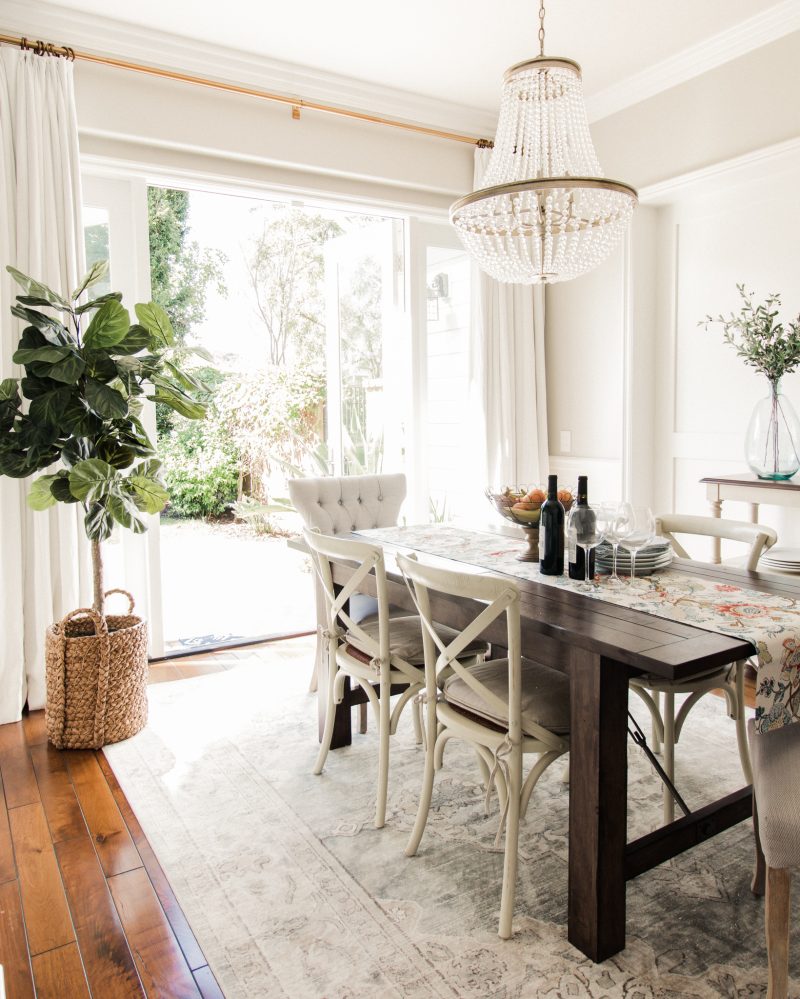 We are still working on each room in our house. It's only been a year since we moved in and things are definitely a work in progress. This was an important room for us to bring together quickly because we spend so much time here. While we eat most of our meals in the kitchen, we often have my parents over or entertain friends and this is where we linger over long drawn out meals. I think it's one of my very favorite rooms in our home. I was drawn to all of the natural light and this room gets flooded with it. It just makes me happy. We often throw open the doors and let the breeze rush in. I still need to hang artwork on the walls but I will get to that eventually.
DINING ROOM SOURCES
Table
World Market. We've had this table for years and love it. It has held up well and we live hard. It's seen many Christmas dinners, art projects and card games. You do need to vacuum the cracks in the table every now and again. I use our shop vac for that.
Chairs
Overstock and HomeGoods. The x-back chairs were an Overstock score. Have loved them since they day they arrived. Great classic style and the Restoration Hardware cushions are very comfortable. They are not available right now but I did find them here. The captain's chairs are from HomeGoods. These are similar and a great price.
Drapery
Tonic Living. Without question, these drapes are the crown jewel in the room. You can read about them here. They have blackout lining for when we want to eliminate the sunlight. This room always gets intense light/heat for about one to two hours a day and I am able to close these. It's so nice. They look so pretty closed because there is so much fabric.
Drapery Rod
West Elm. I have used them in the living room, our family room and the dining room. Love.
Chandelier
Wayfair. This was a lucky Wayfair find and I am so sad it's no longer being sold. It was a total pain in the rear to string all of the beads but it was so worth it. This one is quite similar but smaller. Pottery Barn also carries a similar look.
Rug
HomeGoods. I bought this rug the very first week we lived in our house. I just happened to find it at HomeGoods and fell in love with it. The label on the back says Home Dynamix Platinum but I have yet to find it anywhere. This one is a beautiful neutral rug.
Fiddle Leaf Fig
HomeGoods. There is nothing like the real thing. But it's a good faux tree. I much prefer real but have struggled keeping them alive. This one is similar and stands at 6 feet. That's a nice height.
Side Table
HomeGoods. Many moons ago. This is a popular one and we have it in our living room.
Runner, Napkins, Bowl, White Plates, Large Vase
World Market: Runner | Napkins | Bowl | Plates | Vase
Olive Branches
Magnolia Market. I ordered these because I loved how Joanna Gaines (boy will I miss their show) in so many of her homes. But you can also find them on Etsy.
Wall Color
The walls are painted Pale Oak by Benjamin Moore. The trim is White Shadow by Vista Paint.
Let me know if you have any questions. Like I said, I would still love to hang some artwork and we may frame some family photos for another wall soon and will most likely use Framebridge. They do an outstanding job and it's so easy. Stay tuned for more room source posts soon.
Have a great day! xo