Proud to partner with Walmart on this post. Affiliate links used.
Good morning. With more and more time being spent outdoors, we are always looking at ways to improve our front porch space. When Walmart invited me to share a DIY project I knew it was the push I needed to solve our shade problem. During the summer months, there are two hours of the afternoon that are very sunny out here. We decided to get creative and solve the problem. Below you'll find the DIY steps to a $30 shade cover as well as a few new decor additions.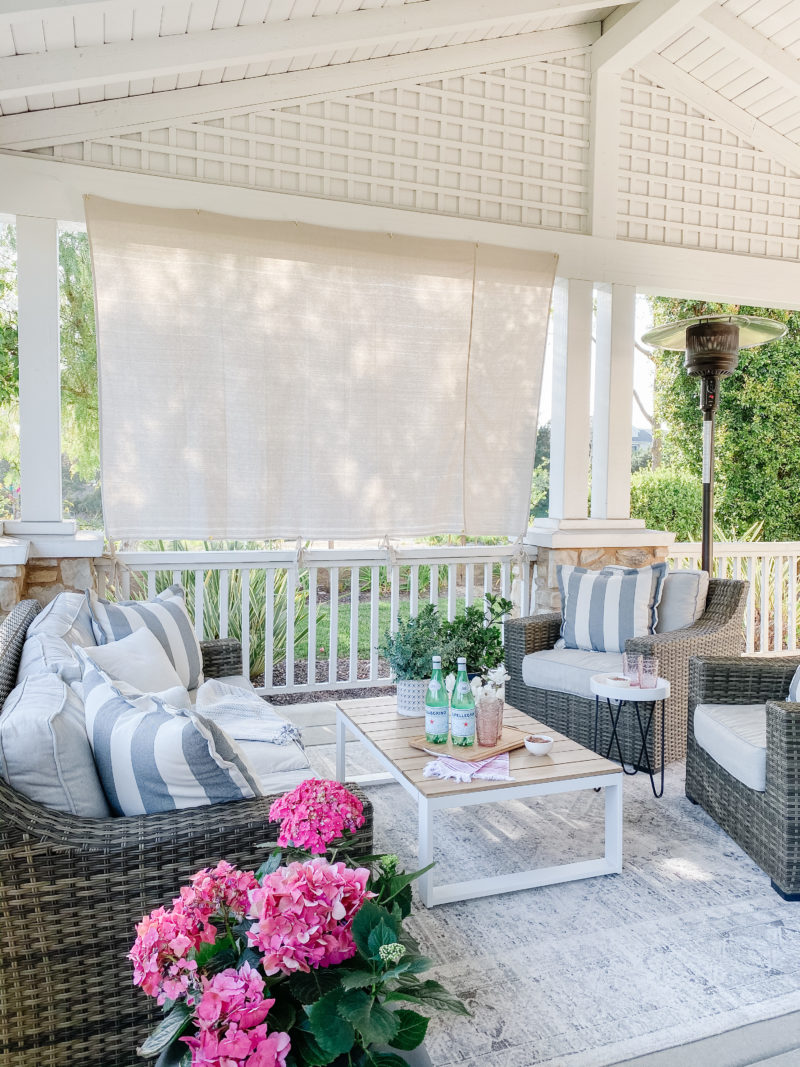 While there are many permanent shade screens, they can be costly and we didn't want something that would be permanently attached to the wood. I like the lines of the lattice roof and wanted to create something that would be discrete when not in use. We can take this down anytime (especially during the winter months) and the white cup hooks blend right in.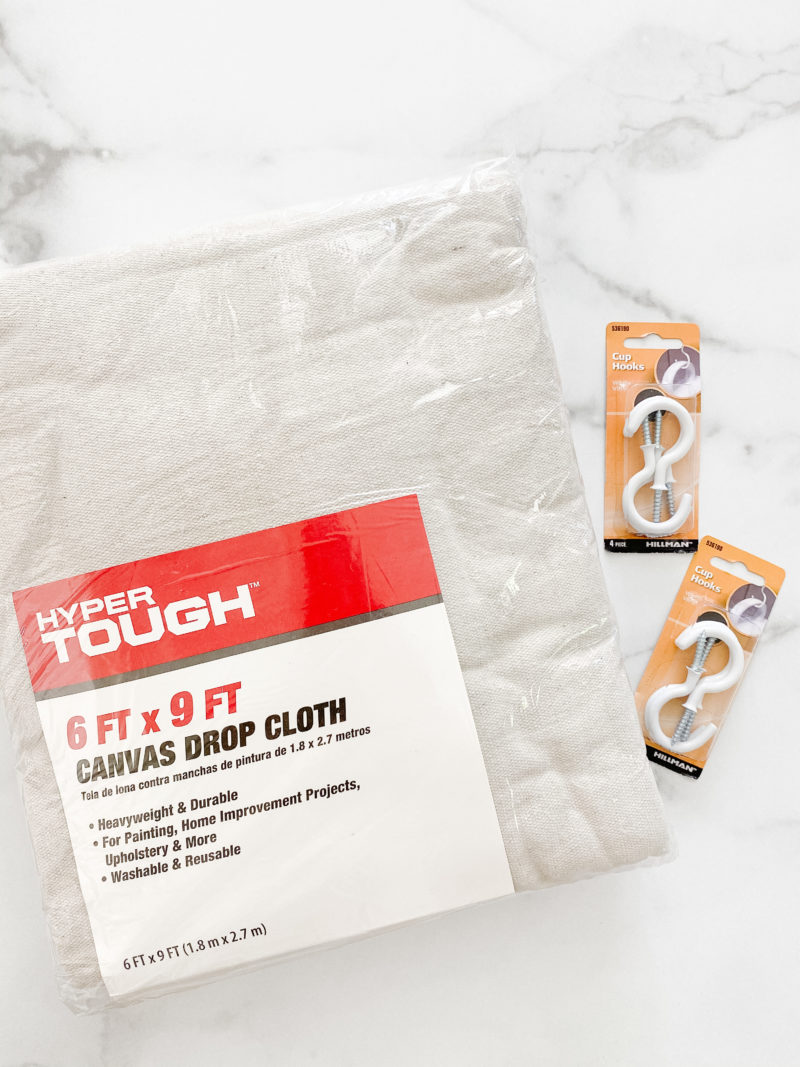 We decided to go with a drop cloth because of the natural color and look. We just needed a little something to block the sun during the brightest hour of the day. Plus it is a very inexpensive option.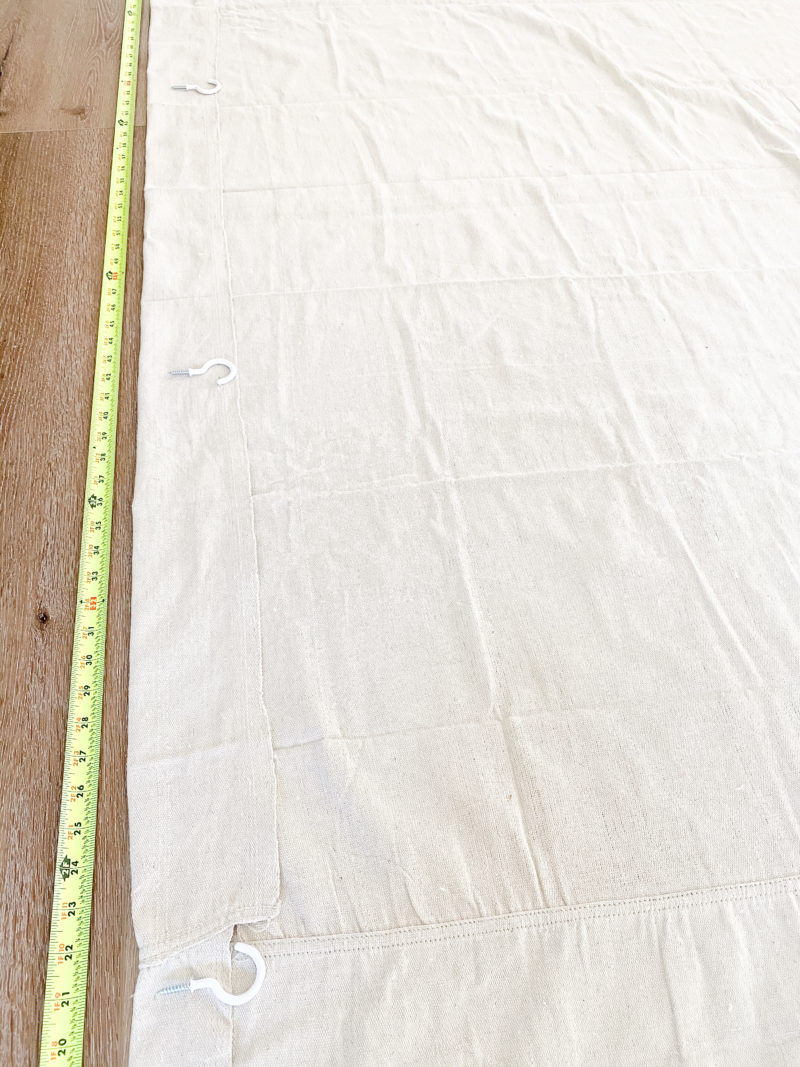 The first thing I did was lay the drop cloth out on the floor. We used the 6′ x 9′ because that was the exact size I needed. They do make a larger one. I folded the top edge down about three inches. It helps to have double thickness so that the grommets don't pull away from the fabric. It also allowed me to hide the fact that one edge was uneven.
We decided to use six cup hooks to hang the shade cover. I placed a hook at each end and measured the distance between those two hooks. That distance was 105″. I divided that by 5 (there are five sections in between hooks) so each one was placed 21″ apart. You can do the same calculations depending on your width.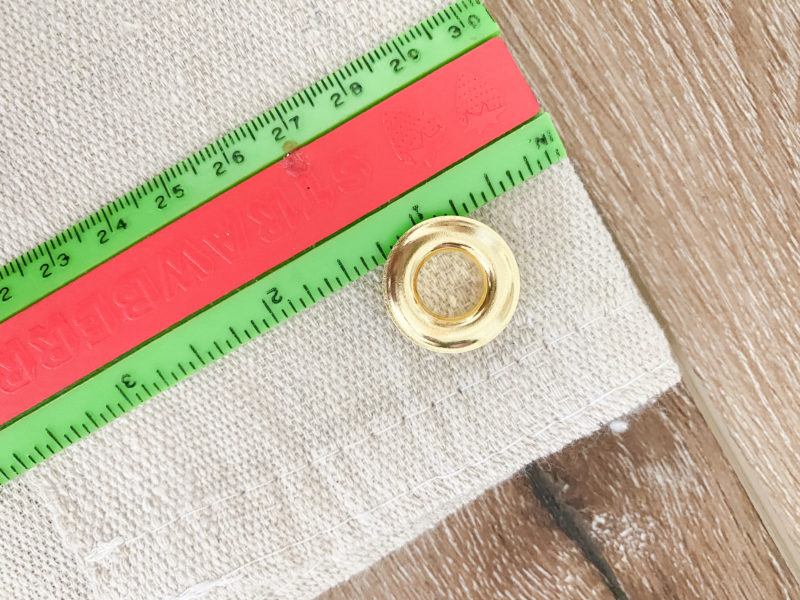 The next step was to place a grommet where each hook would be. I made sure the center of the grommet was one inch from the top.
Tracing the inside of the grommet gives you a nice guide for pounding the grommets into the cloth. It was so much easier that I imagined. I've never used a grommet kit in a DIY but this definitely won't be the last time.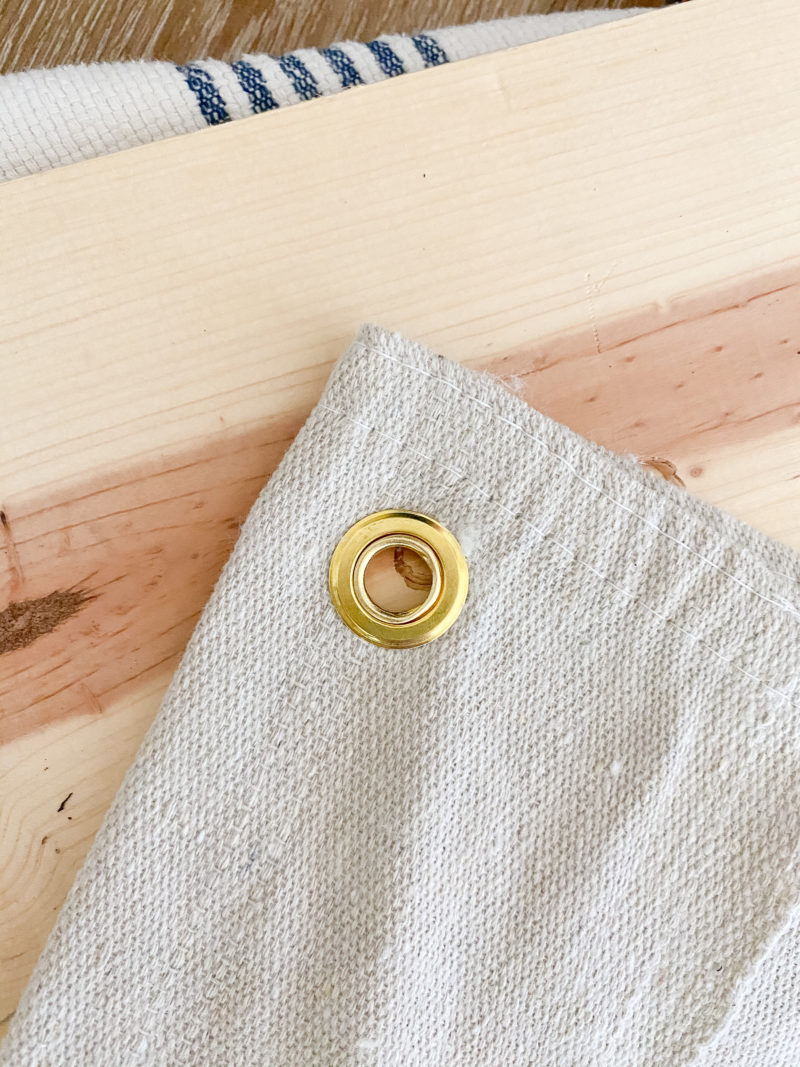 Be sure to use a decent size piece of scrap wood under your fabric. We were able to put all of the grommets into the shade cover in under 15 minutes.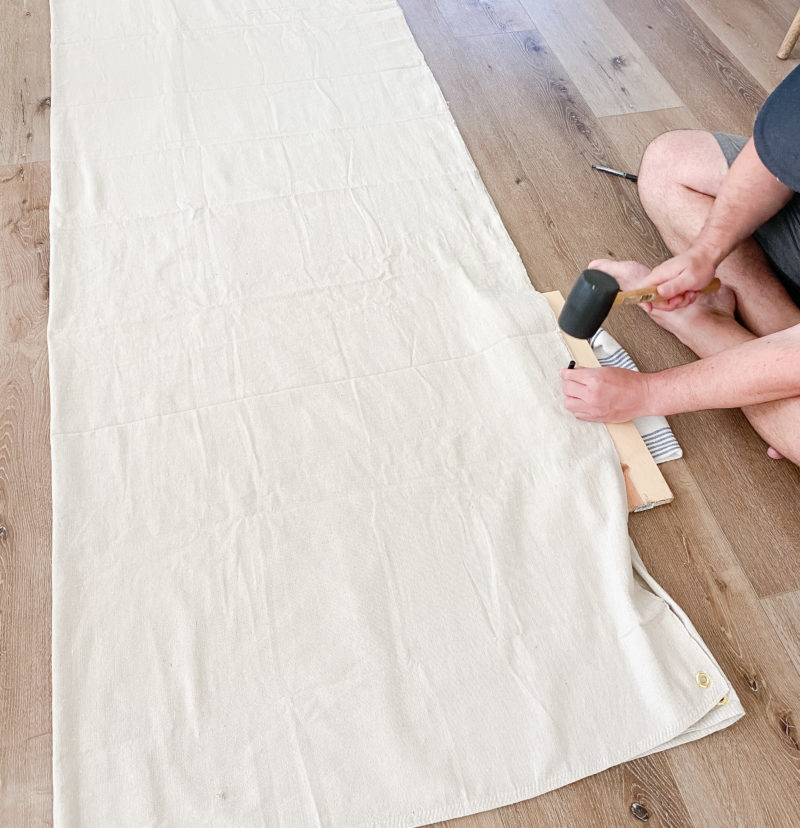 We wanted to be able to have our shade cloth all the way down or raised half way. To accomplish that, we folded the bottom up to the top and inserted grommets so that they lined up with the top set. So there are six grommets across the top and six across the bottom.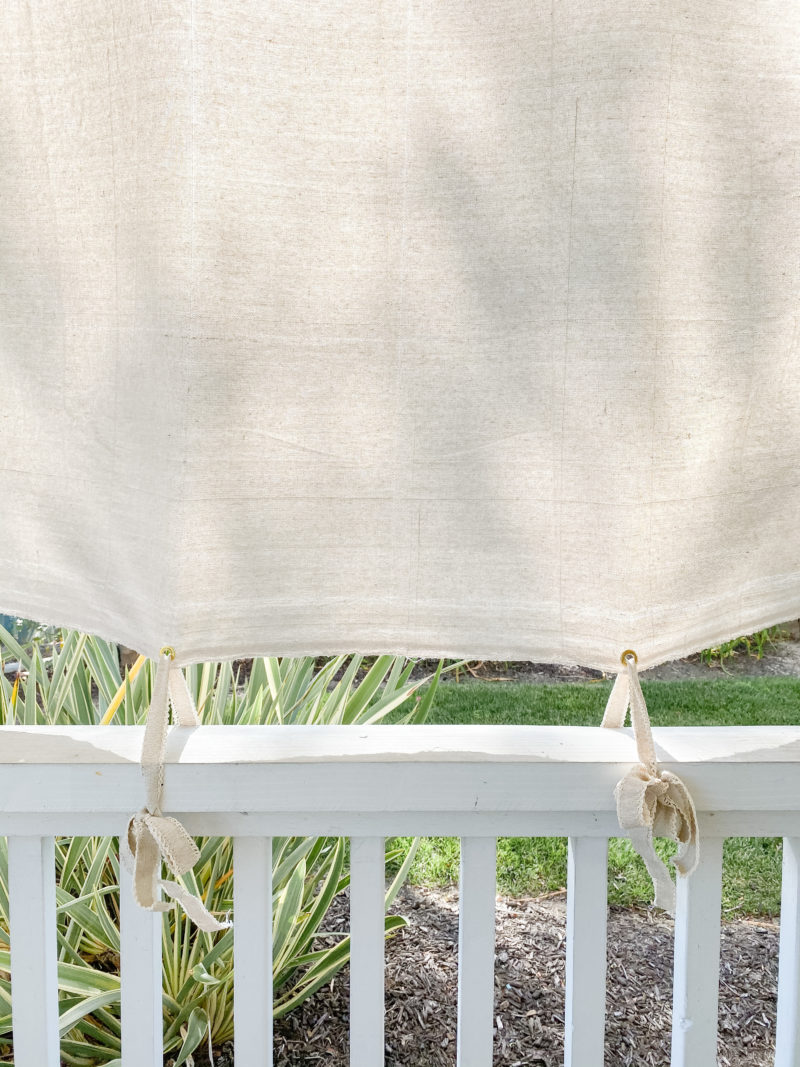 We used a drill and inserted the white hooks. I love that we can take the shade cover down when we want to. Especially during the Fourth of July when our bunting goes up. This cute ribbon from Walmart helps anchor it to the post when the shade is all the way down. We get a big breeze in this spot so that helps with that.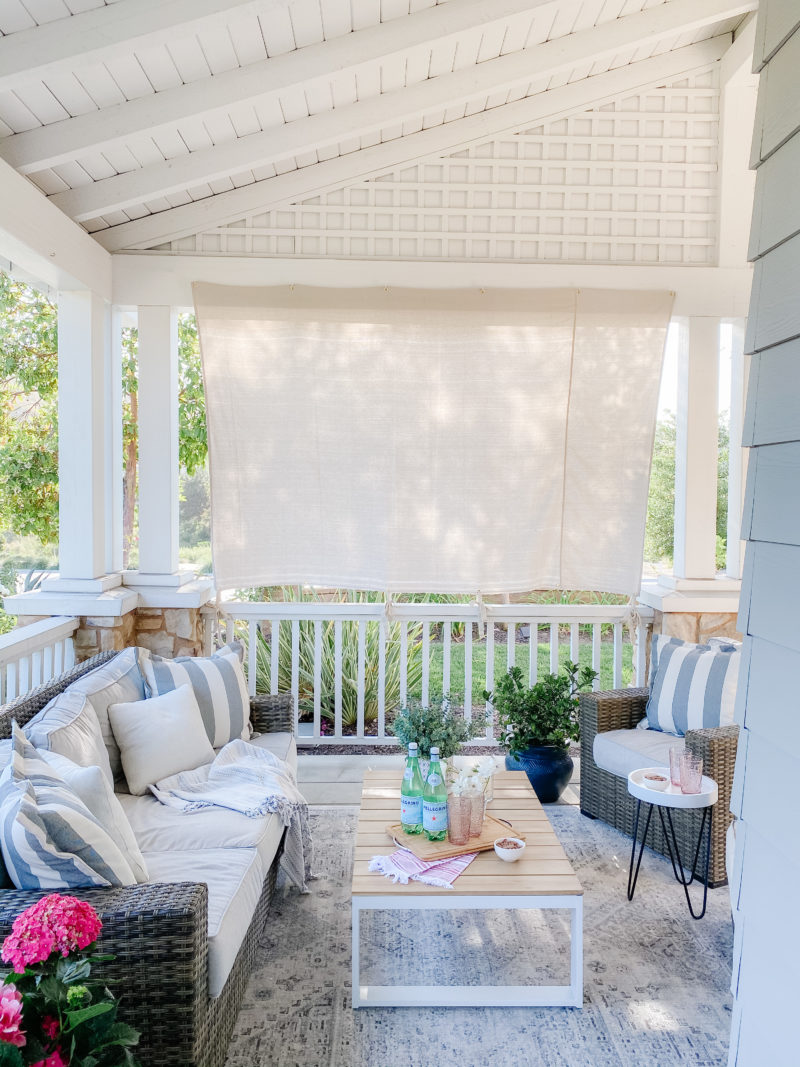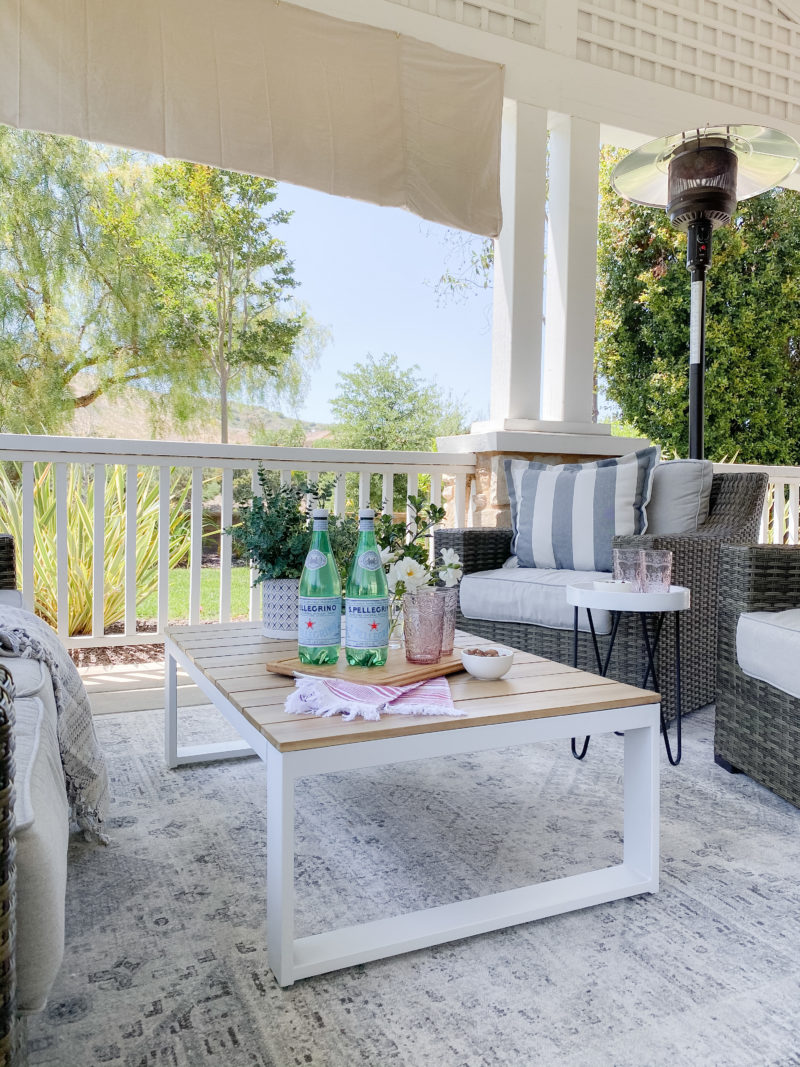 This has been up for the last couple of weeks and we find that we have it folded up most of the time. It serves its purpose and doesn't block the view. But nice to have the option of having it full length as well. We just use a step ladder to unfold it when necessary. While it may not be a fancy motorized solution, we love the simple style and flexibility to take it down anytime.
CUSTOM PLANTER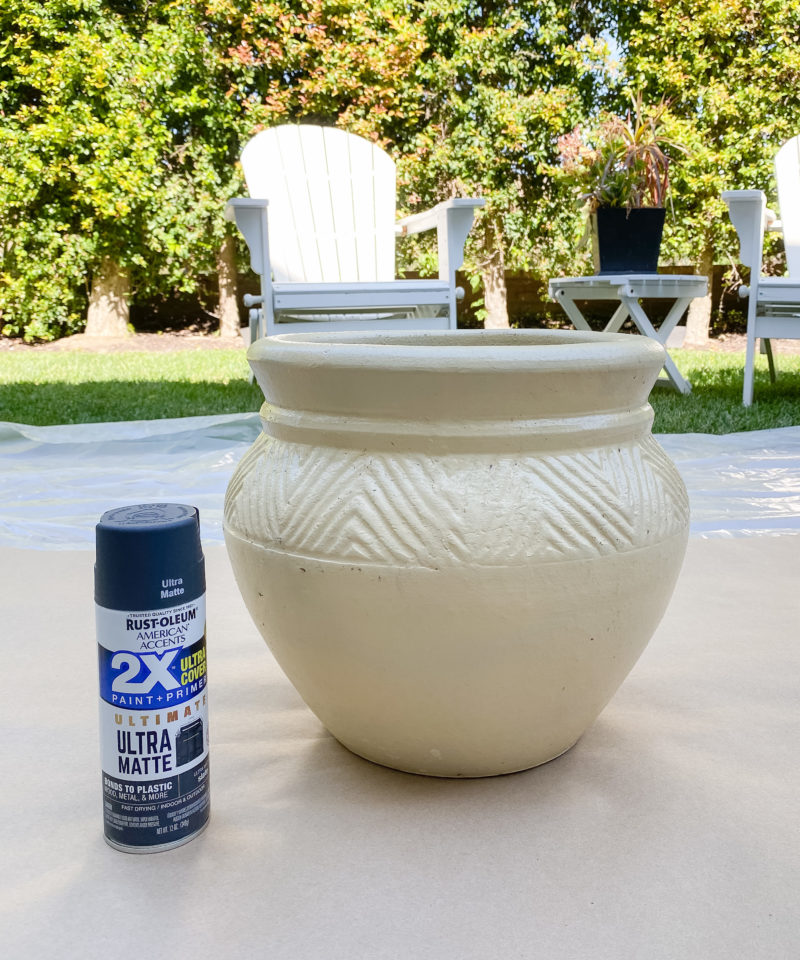 I found these planters at Walmart and they are a phenomenal price. At just $15, you can add so much life to an area. They are heavy and have great texture. While the creamy yellow color is very pretty, it just didn't work on our porch. Grab any color you like and you can quickly customize your planters. I gave the planter two light coats of dark gray.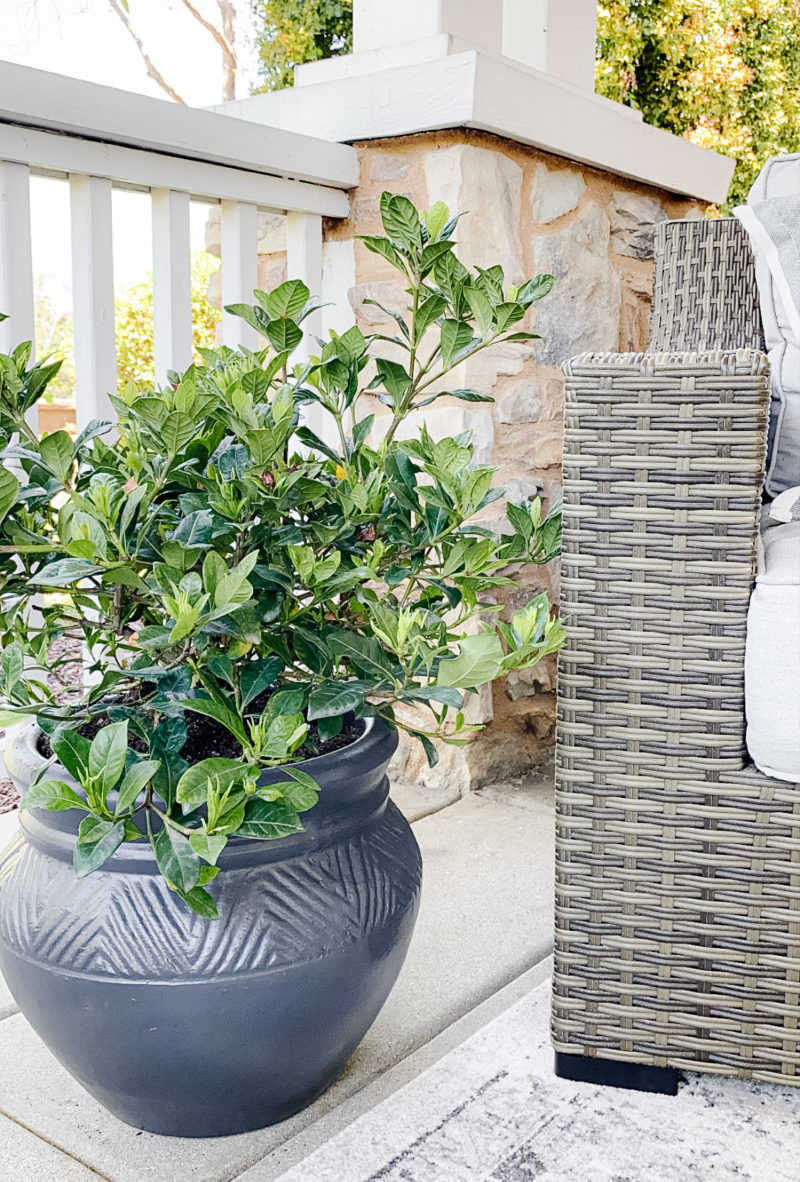 The color is the perfect contrast against the white railing and stone. We grabbed potting soil and a gardenia bush and we were good to go.
MAKE IT YOUR OWN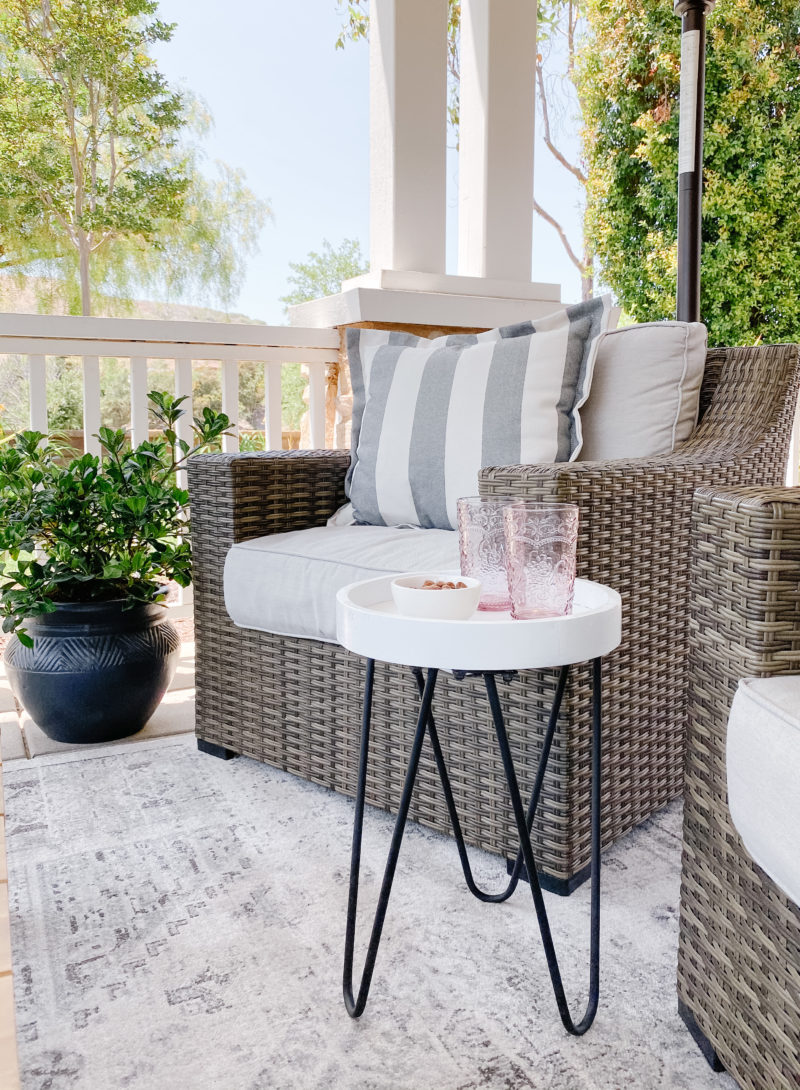 This table (only $22) was just what I was looking for to set next to these two chairs. I decided to give it a quick coat of white spray paint. Always keep in mind that a little bit of paint goes a long way to making something just right for your space. All of these DIY projects can be done quickly in one weekend. You can check out more supplies and options from Walmart here.
ENTERTAINING READY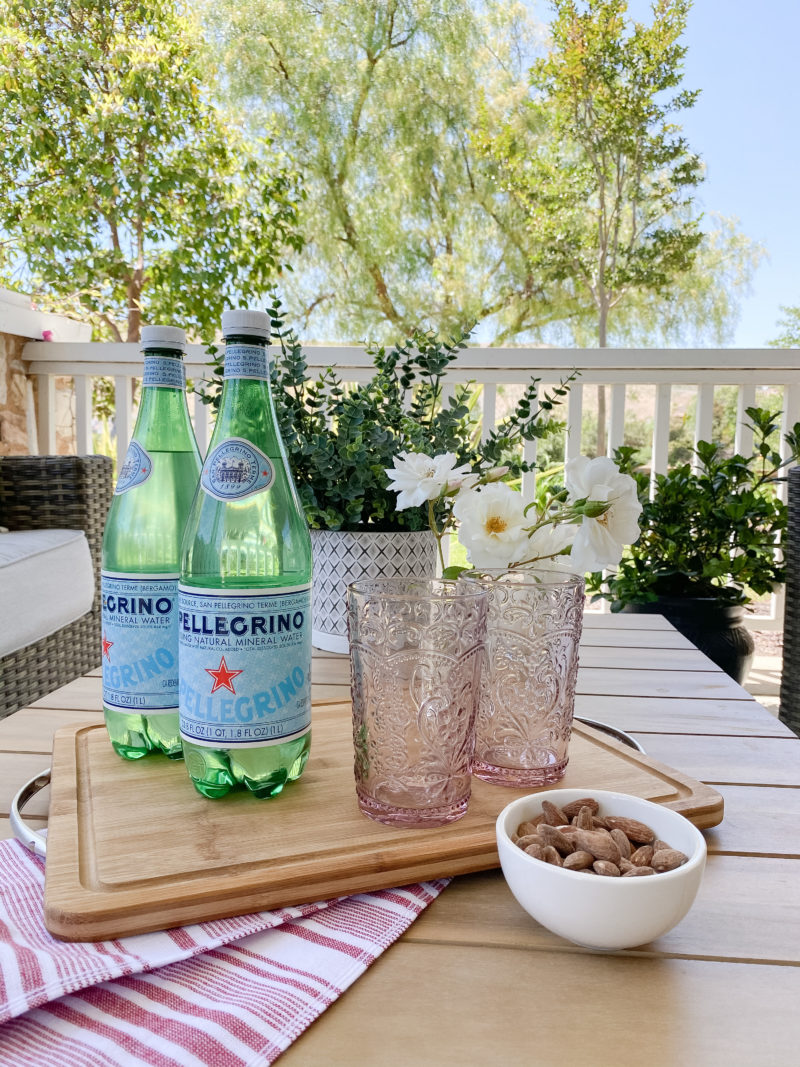 cutting board | pink glasses | striped towel | white planter
We love to entertain outdoors and the cutting board with handles is so nice to use as a tray or for charcuterie. Super versatile. The pink glasses are so pretty for summer.
CLASSIC STYLE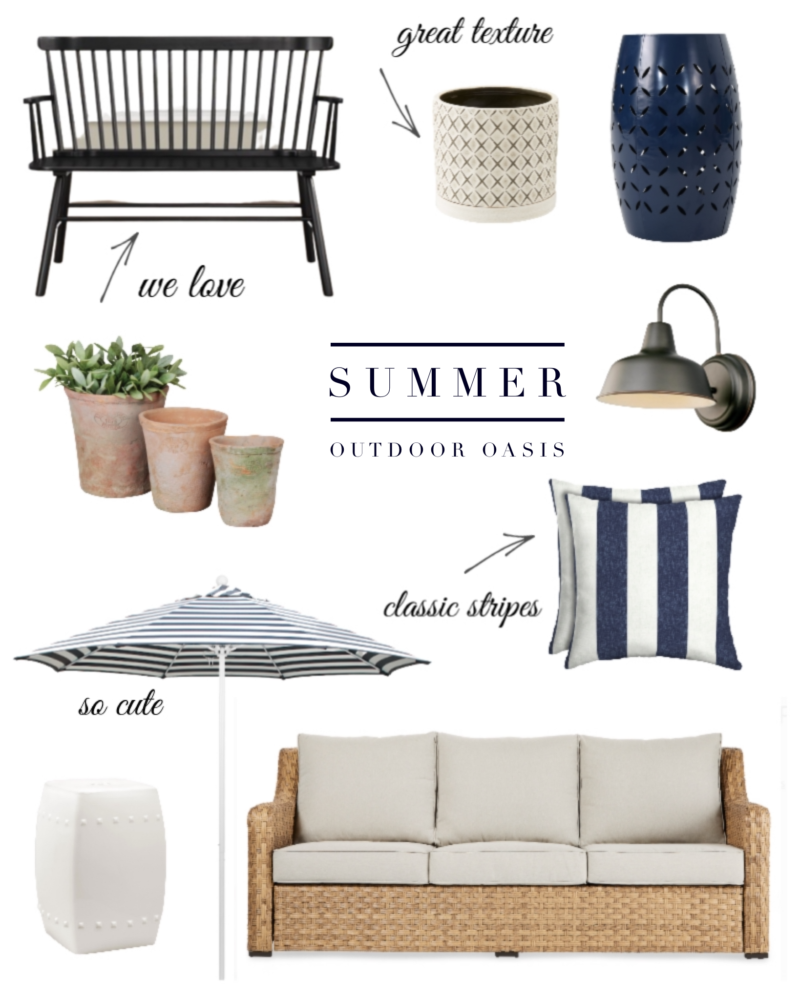 bench | planter | stool | pots | light | stool | umbrella | pillows | sofa
If you are working on your own outdoor oasis for Summer, Walmart has such darling pieces right now. I love the classic style of all of these. The outdoor sofa is so similar to ours. It continues to come back in stock so keep checking. This is another beautiful option. It even comes with two swivel chairs and covers. We have the black bench near our front door and love it. These pots have my name on them for sure.

I hope this post encourages you to think outside the box and consider a a simple project or two to customize your outdoor space. Walmart has so many supplies to get you going on a quick DIY and done project. We love entertaining out here and now we don't have to worry about avoiding the sun filled afternoon hours.