Hello, and happy Monday! We are just settling back in from a relaxing and fun weekend on the lake. Each year, we head up to the mountains with dear friends of ours. The rest and relaxation was long overdue for sure. Today, I am super excited to share an online client room reveal. Sarah wanted a light and bright room full of life and color. This is an upstairs television/hang out room for the family so it needed to reflect their personalities. It is in close proximity to the playroom so it needed to fit with the feel of that and be kid friendly through and through! One of my favorite aspects of this space is the gallery wall we created with the silhouettes of each child. Sarah did an awesome job pulling the whole space together. I think you will agree!  
  I know we all love a good before and after so here are here before photos. It was a blank canvas waiting for some love! I think we pulled it off.
  Here is a look at the design board for Sarah's room. She also received detailed plans of how to pull the room together as well as how to create the gallery wall.
…
I am head over heels for the detail work Sarah had created for her bookshelves.  O'verlays is responsible for creating them.  Such a beautiful and fun detail.  I just may have to do this in my home somewhere!
…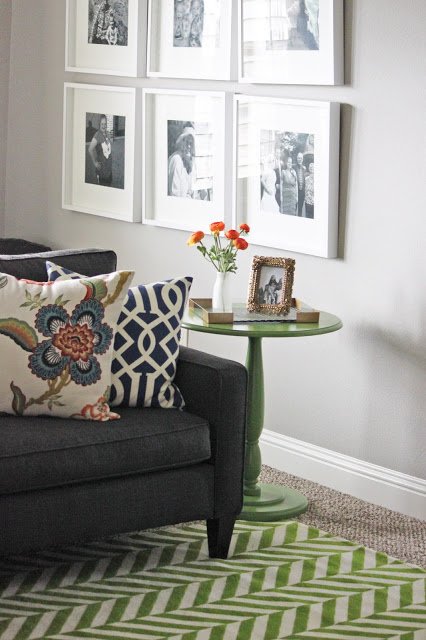 The herringbone rug is an indoor/outdoor rug that is super soft underfoot, but is family friendly for this gathering spot. It's is pretty much indestructible.
,,,
…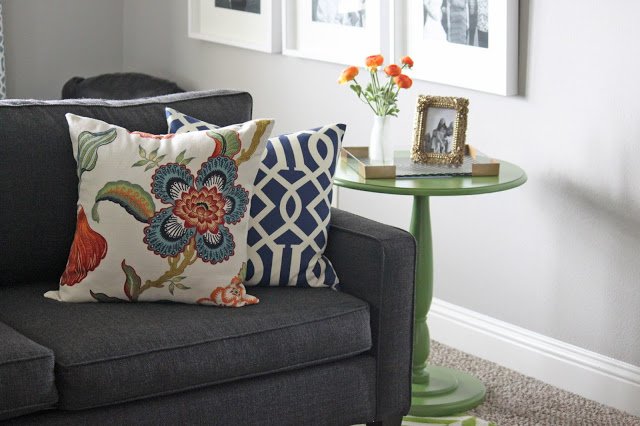 How adorable is this tray? Sarah busted out a DIY project on this with a clear photo frame and gold paint. I am in love with it. Well done, Sarah. You can see her instructions on her darling blog here.
The fresh green an blue color scheme was so fun to work with in this space. It is a departure from the other rooms we have worked on in Sarah's home but still fits well with the style and look of the rest of their house. We are still waiting on a coffee table to arrive and I will post an updated photo of this room when it does! To see other rooms in Sarah's home that have been styled by Casey Grace Design you can click here. Have a great day!