I'm popping in today to share our daughter's bedding. The reason is because it's been life-changing over here. When we decided to go with a daybed it brought about the dreaded, "How do we make the bed?" question. They really are a challenge to make. Couple that with a 10-year-old who does not gravitate towards the tidy end and it's a disaster in the making. So we solved the problem with a zipper. An easy to make bed is a win for everyone in the house!
WHY GO WITH A DAYBED?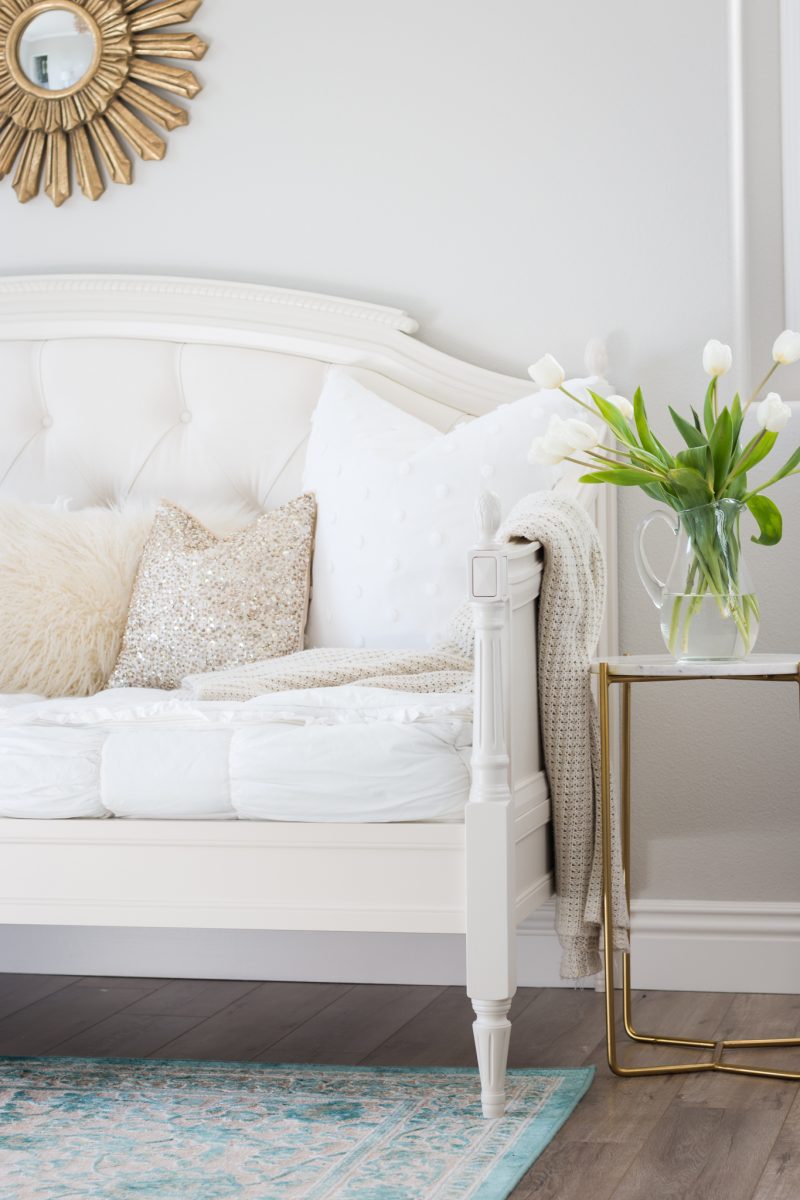 So let me breakdown the daybed decision. It was a few factors. First and foremost her room is a lovely size but the windows and layout make it difficult to have a large bed and still maintain a good amount out floorspace. For dance parties, of course! She is 10 after all. Couple that with her desire to have friends over and use the bed more like a couch, the daybed was the obvious choice. But making a daybed and changing the sheets can be a logistical nightmare. So we went with Beddy's. Have you heard of them? Genius. And how cute are the ruffles? Perfect for the neutral room she is hoping for.
EASY TO MAKE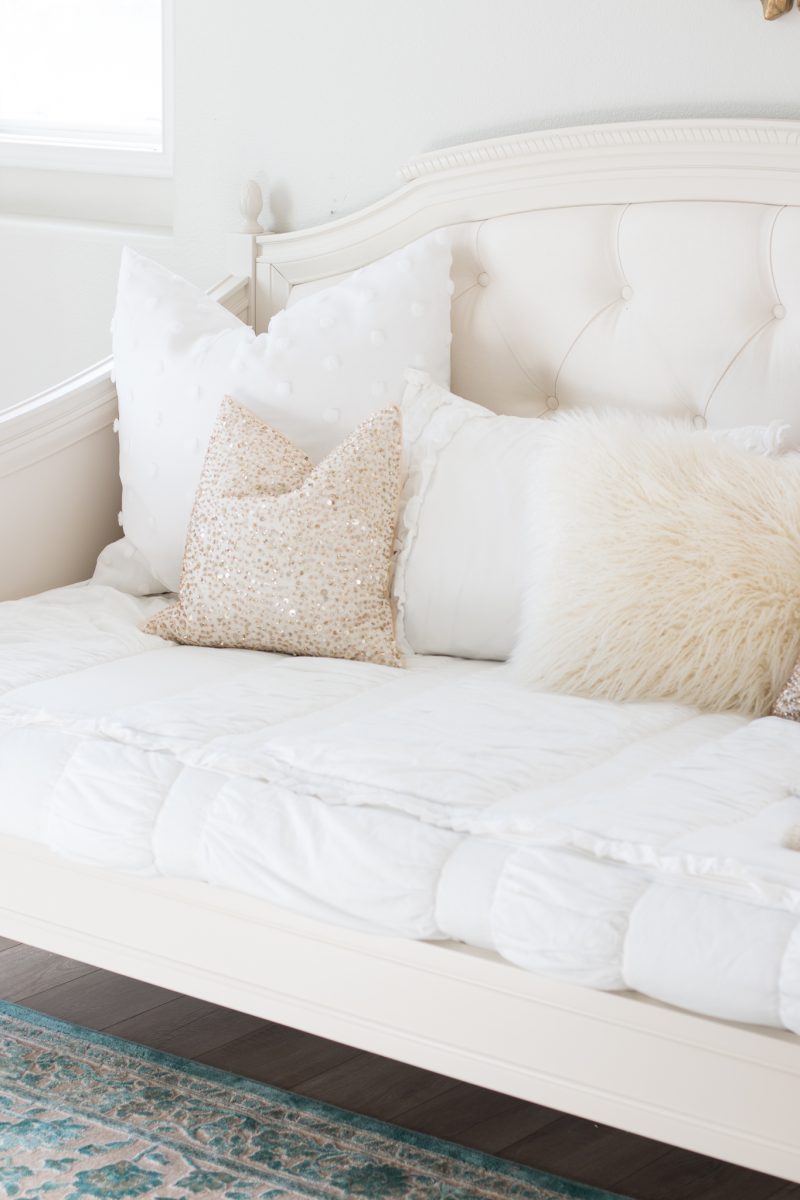 The bedding is all one piece and this style is Chic White. Holla! No fitted and flat sheet and no blanket. Speaking my language. The entire piece fits around the mattress and serves as the fitted sheet plus soft, cozy blanket.
HOW IT WORKS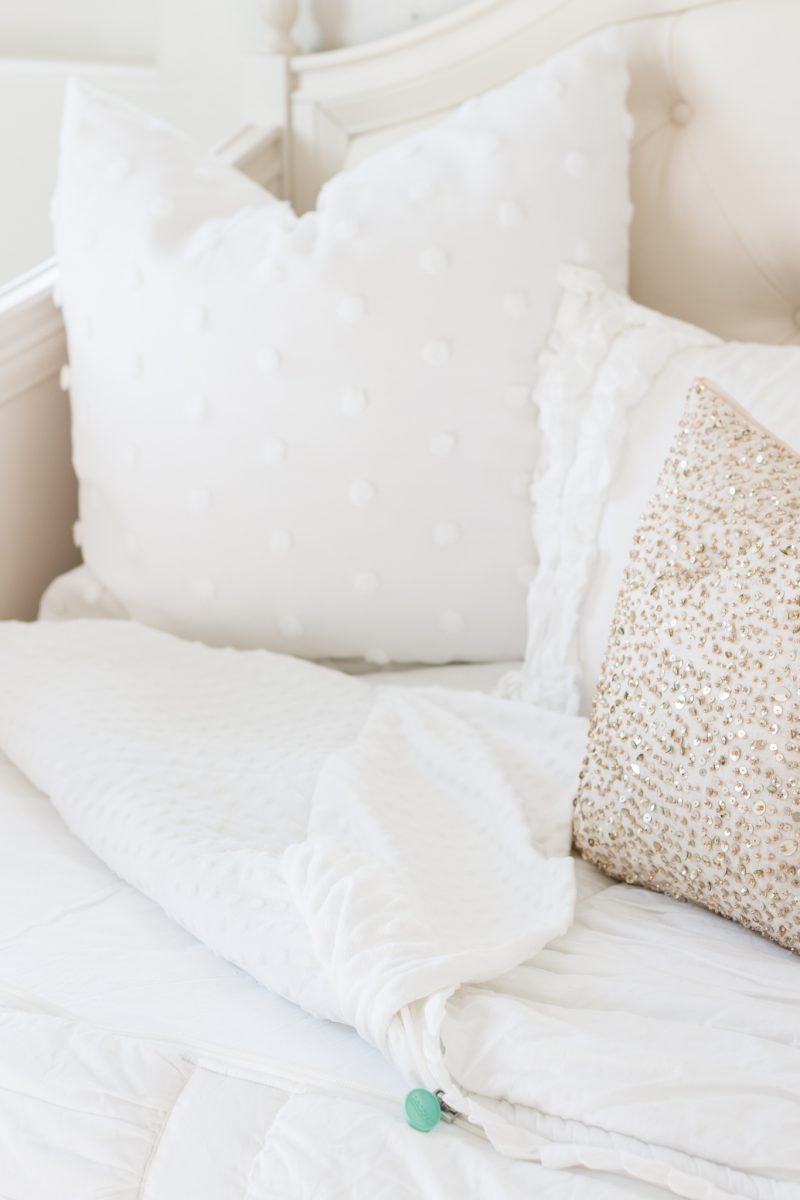 It zips on both sides. It doesn't feel like a sleeping bag because they created longer side panels that wrap around the body. Plus it's the softest material inside. It reminds me of those really soft baby blankets everyone has. In the morning, she literally zips up her bed and tosses the pillows back on. It's a mommy's dream because I am a bed maker and it secretly drives me nuts when the kids don't make their beds. Just keeping it real.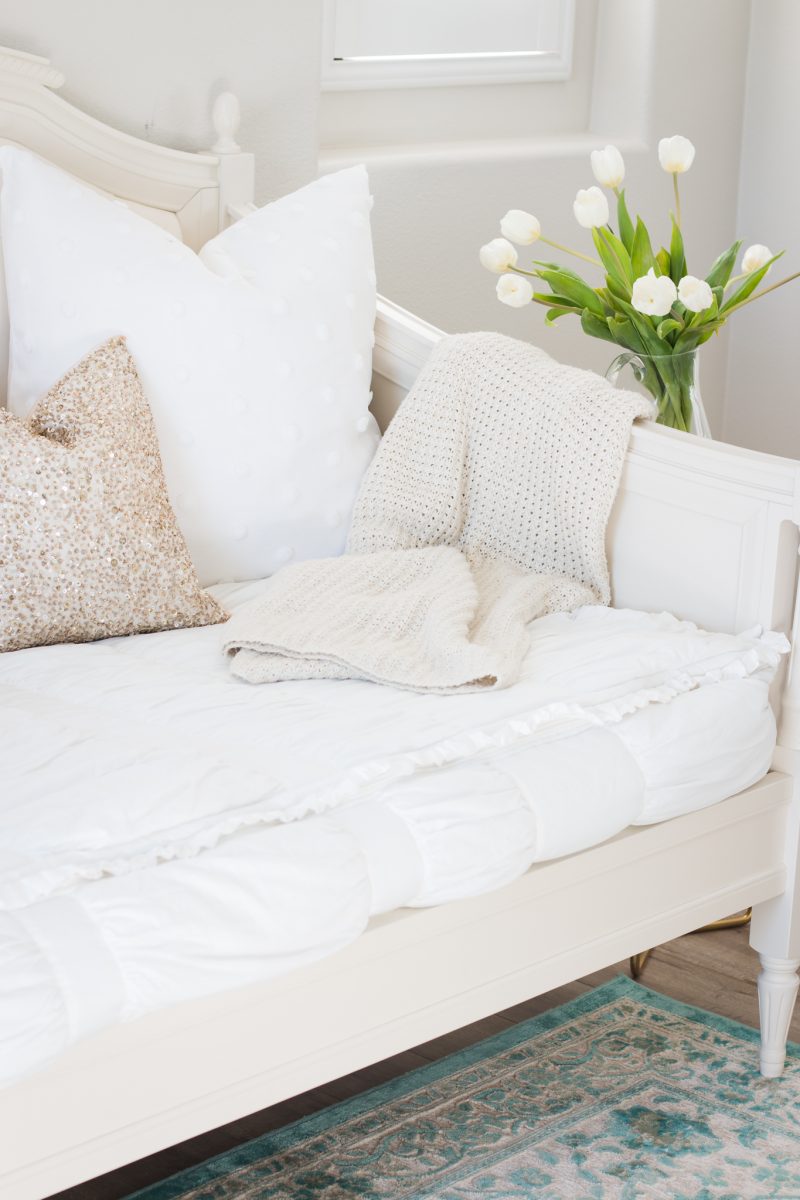 We chose to go with lots of textures on her bed but keeping to the whites and creams. It's slowly coming together. The toss pillows are HomeGoods finds.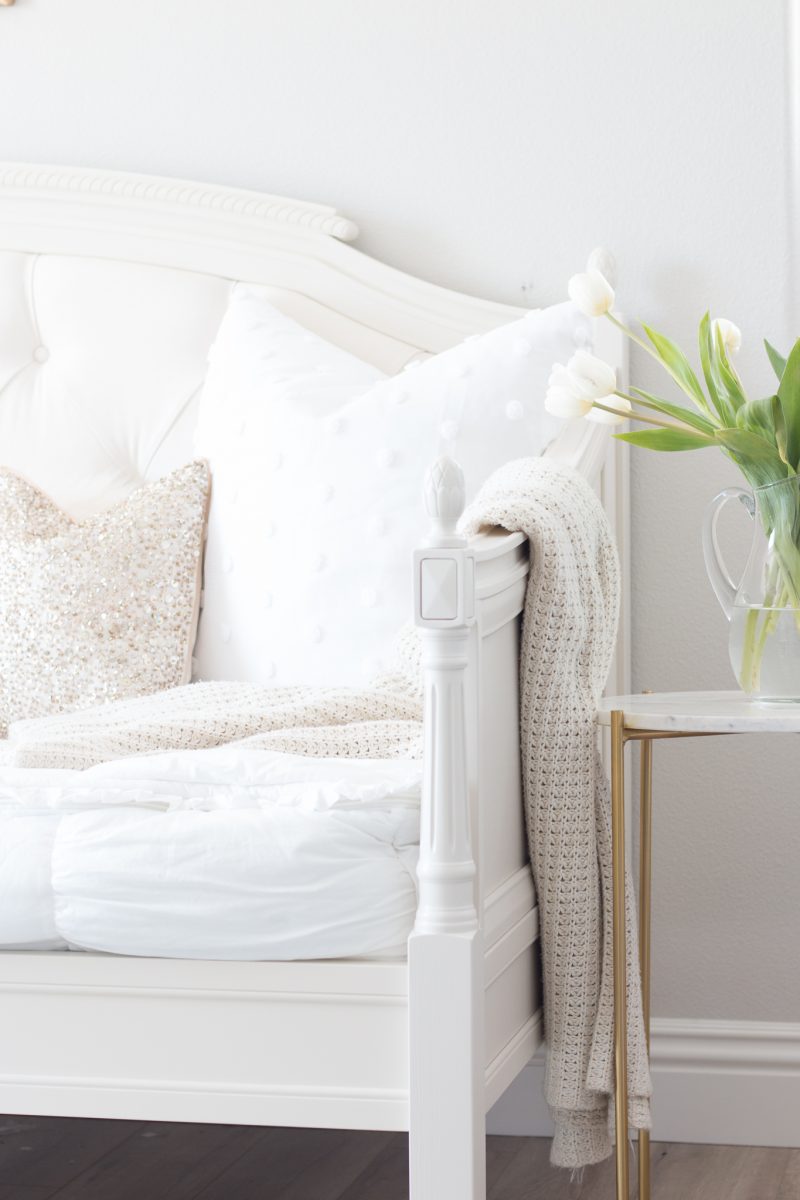 I borrowed this table from our loft space and it might just have to stay here. I really like the way it ties in the mirror above her bed.
TEXTURE AND TULIPS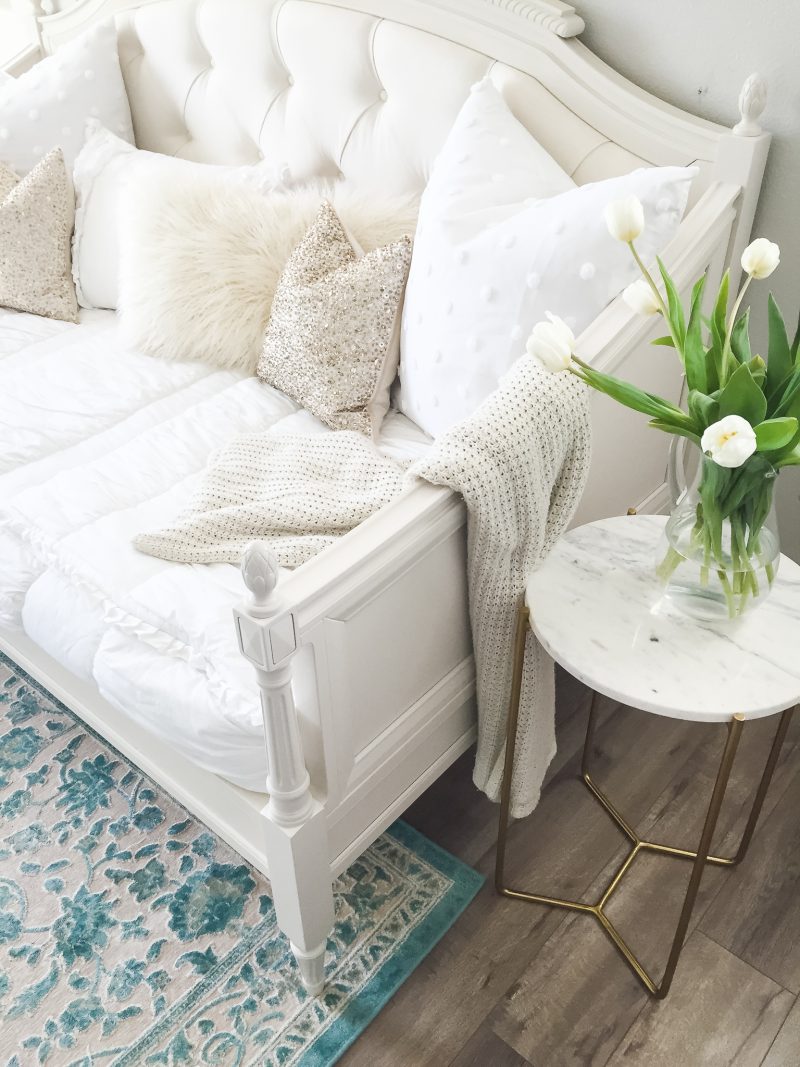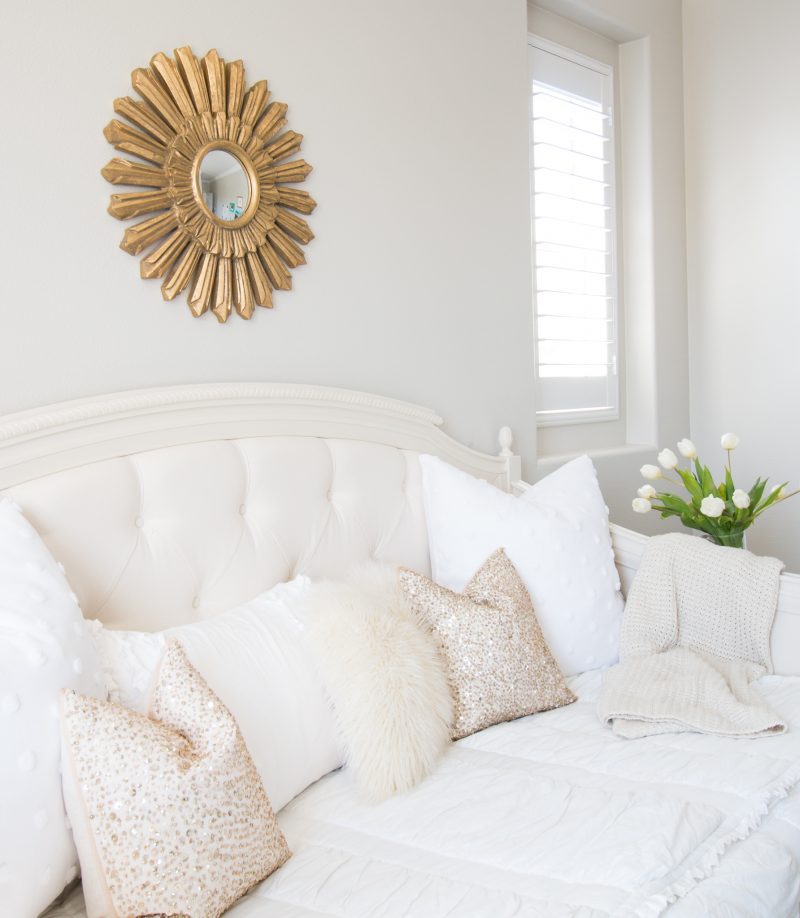 I promise to show you more once we actually do anything with the rest of the space. My husband is considering building her a window seat but we shall see. Our DIY days are few and far between with how much we are on the fields these days.
If you have little ones, daybeds or just any bed that you would love to see made in a snap, I highly recommend the Beddy's. It has been life changing over here and just what we needed for this room.
I am over the moon because my daughter comes home from science camp today. Having her gone all week has been much harder than I thought. I am so ready to hug that sweet little girl. Happy Friday, all.
*Thank you to Beddy's for partnering on this post with me.