Can you believe we are about to ring in 2020? I have yet to sit down and truly reflect on the past year. I think part of me is avoiding that. But I am welcoming a fresh year with open arms. We never go huge on New Year's Eve but I do always decorate one part of the house so it feel festive and fun. I am all about keeping things super elegant and simple. If you are hosting tomorrow or want to make things look special for you family, I've rounded up over 10 ideas that you can easily pull together in very little time.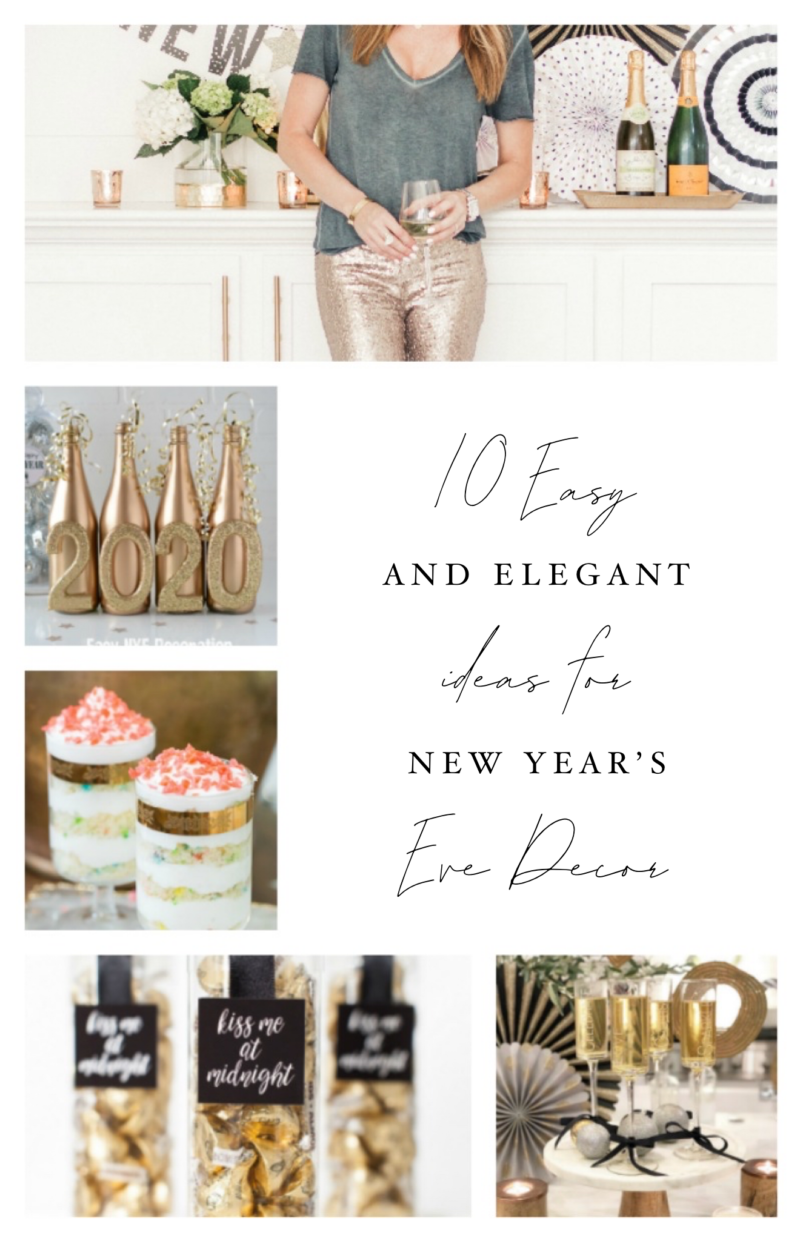 1 | BOWS & CANDLES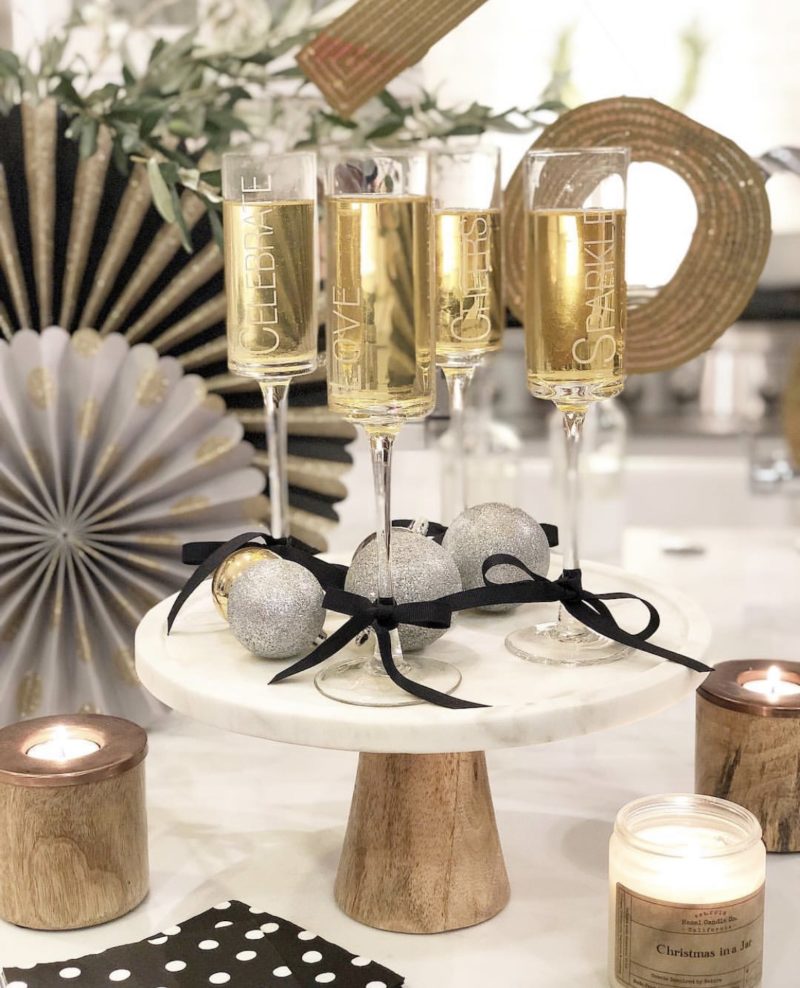 a thoughtful place
I love to tie ribbon on my glasses and light all the candles. Toss in some of your Christmas ornaments and you look festive in no time. Break out cake stands to add height.
2 | PAPER FANS & BANNERS
a thoughtful place
Home Goods is always a great place for these paper fans and banners. I keep mine year after year. Votive candles and some fancy drinks are all you need.
3 | MAKE STARS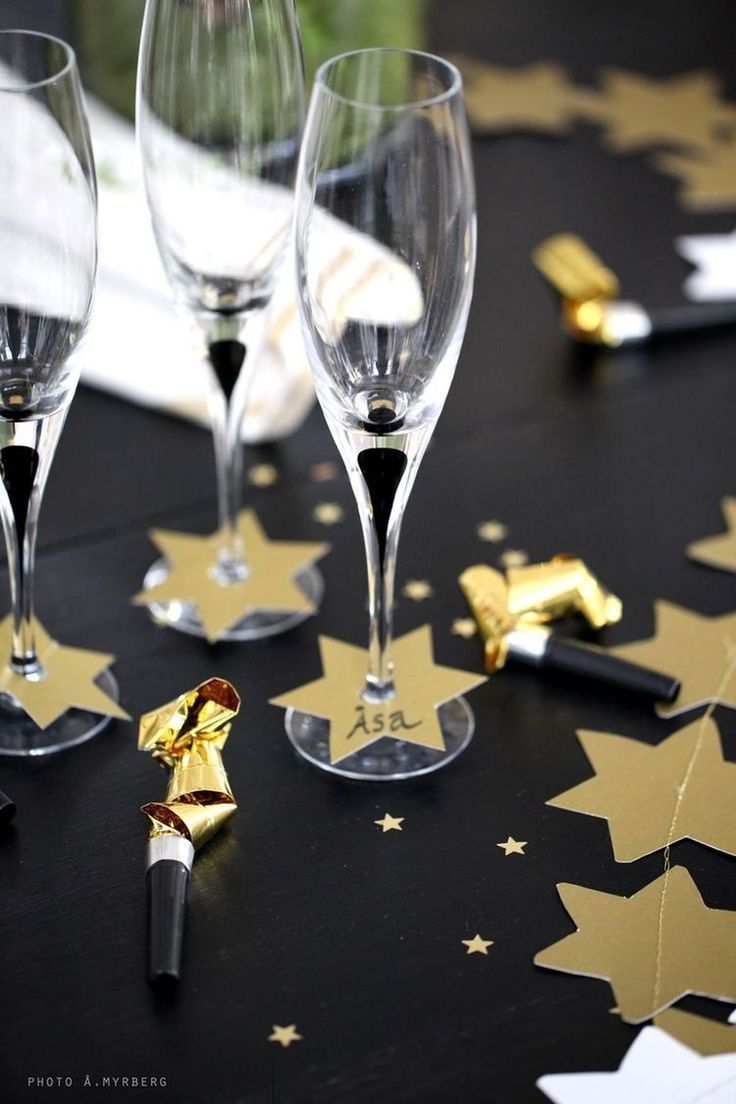 The kids can even get involved with this. Trace, cut and voila! Or you can cut apart a ready made star banner.
4 | RECYCLE CHRISTMAS BELLS
So much inspiration here. I love the idea of the blower being the placecard at each spot. I also like the bell that says, "Ring in the new year!" Very clever and a good use of Christmas bells.
5 | GOLD SPRAY PAINT
All kinds of yes to this!!! Grab any four bottles (matching of course) and spray paint those babies! Short on time? Print out numbers and sprinkle with glitter. Done and done.
6 | SIMPLE POPCORN BAR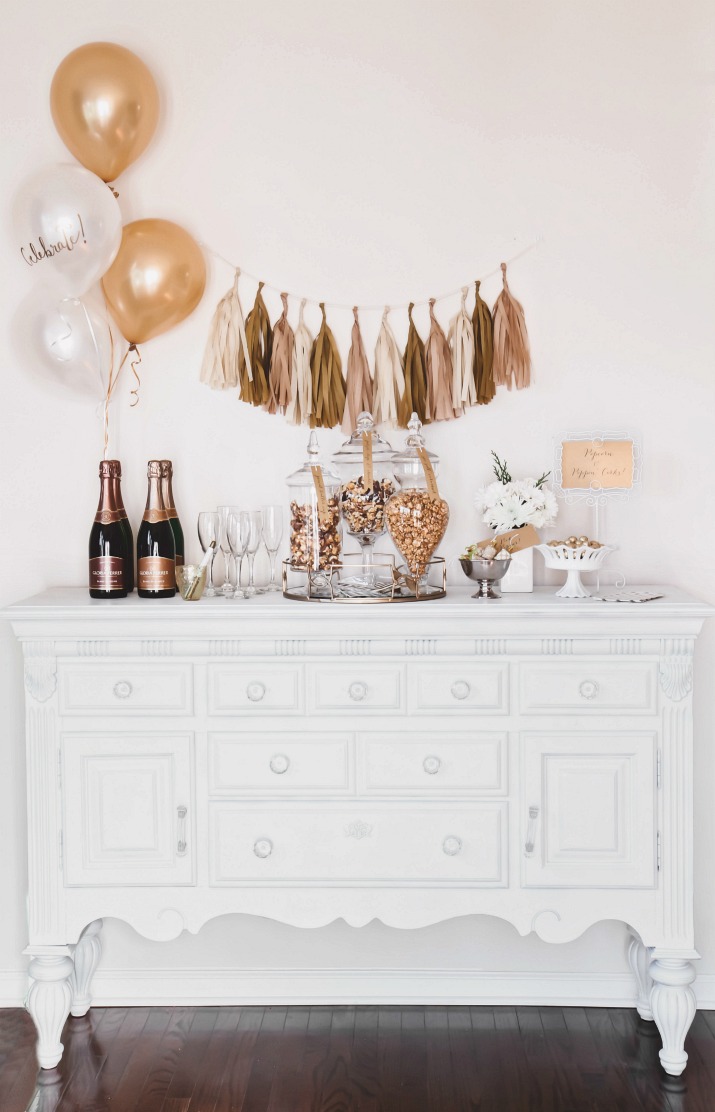 This is so gorgeous and yet so simple. I am a firm believer in just decorating one spot like this. NO matter how small or large your home is, one spot is all you need. So many great styling tips here and a popcorn bar is a fun idea for all ages.
7 | MIDNIGHT KISSES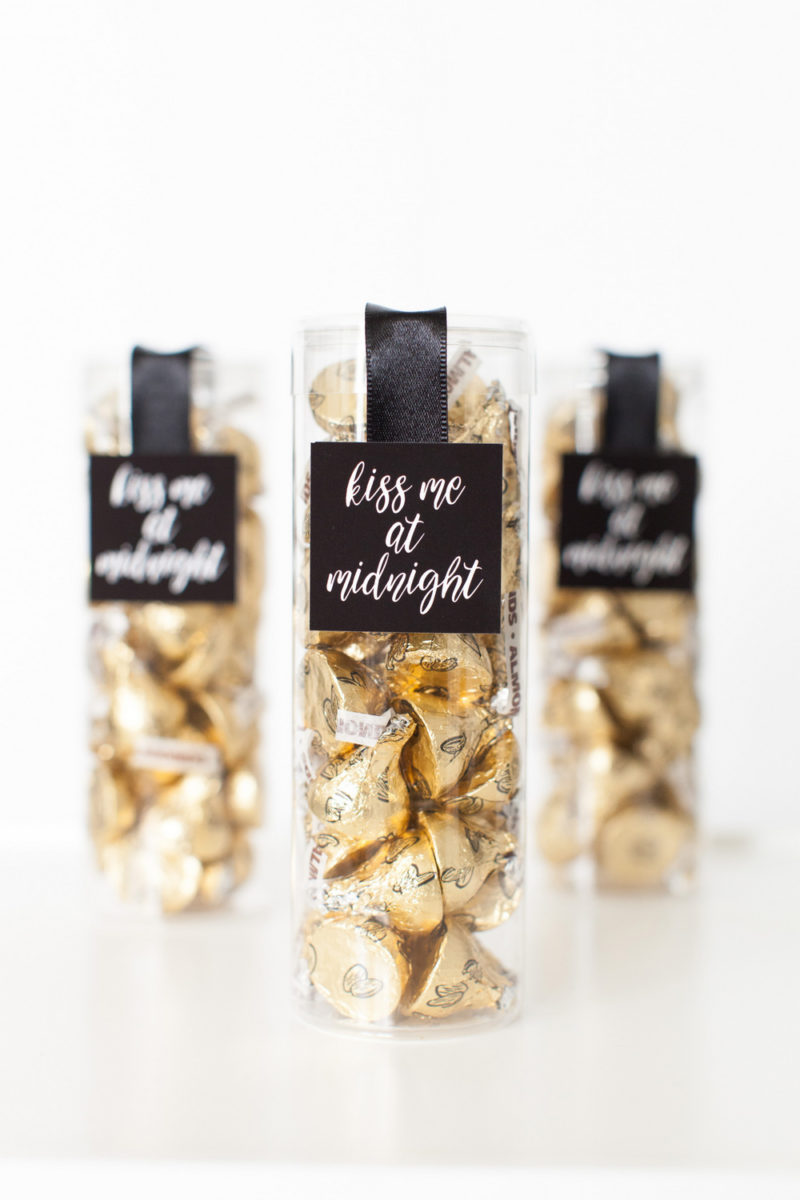 Doesn't get much simpler or much cuter.
8 | FUNFETTI DESSERT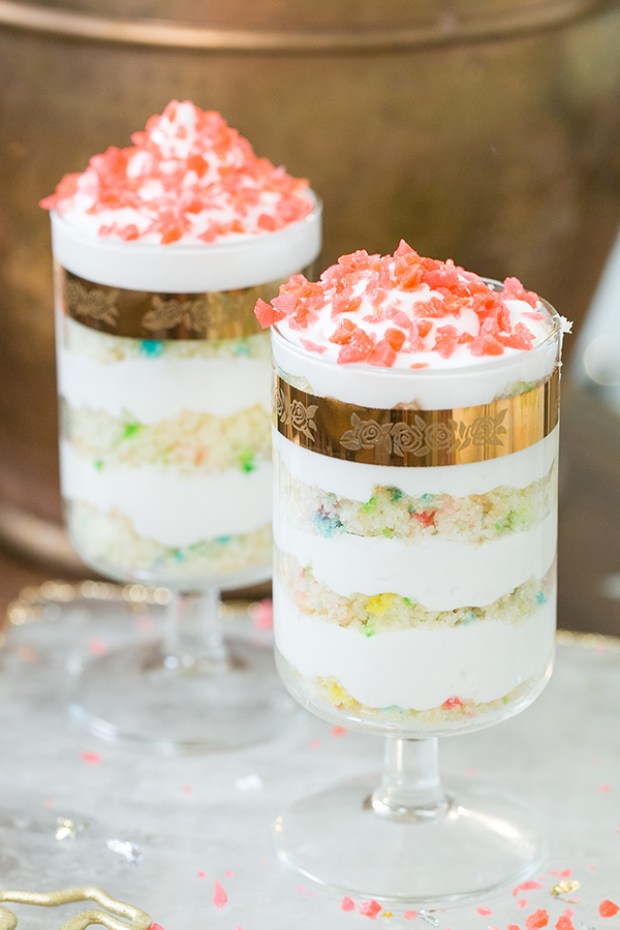 The kids will go nuts over this. Funfetti trifle anyone? Just layered cake an icing in festive glasses. Add sprinkles all over your serving tray and you will be the hit of the night.
9 | STRINGLIGHTS & BALLOONS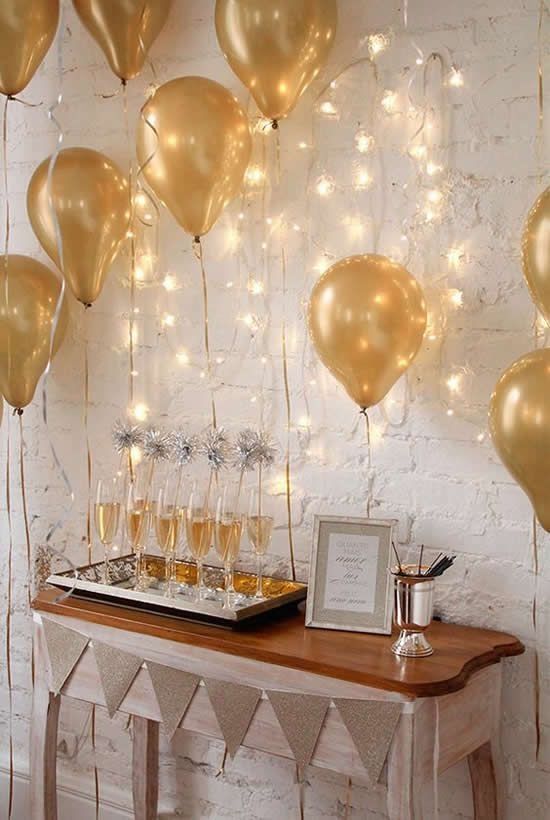 This is calling my name. Add a couple of command hooks to your wall, hang a strand of Christmas lights and hit up the market for a few helium balloons. So beautifully done.
10 | DOORWAY BANNER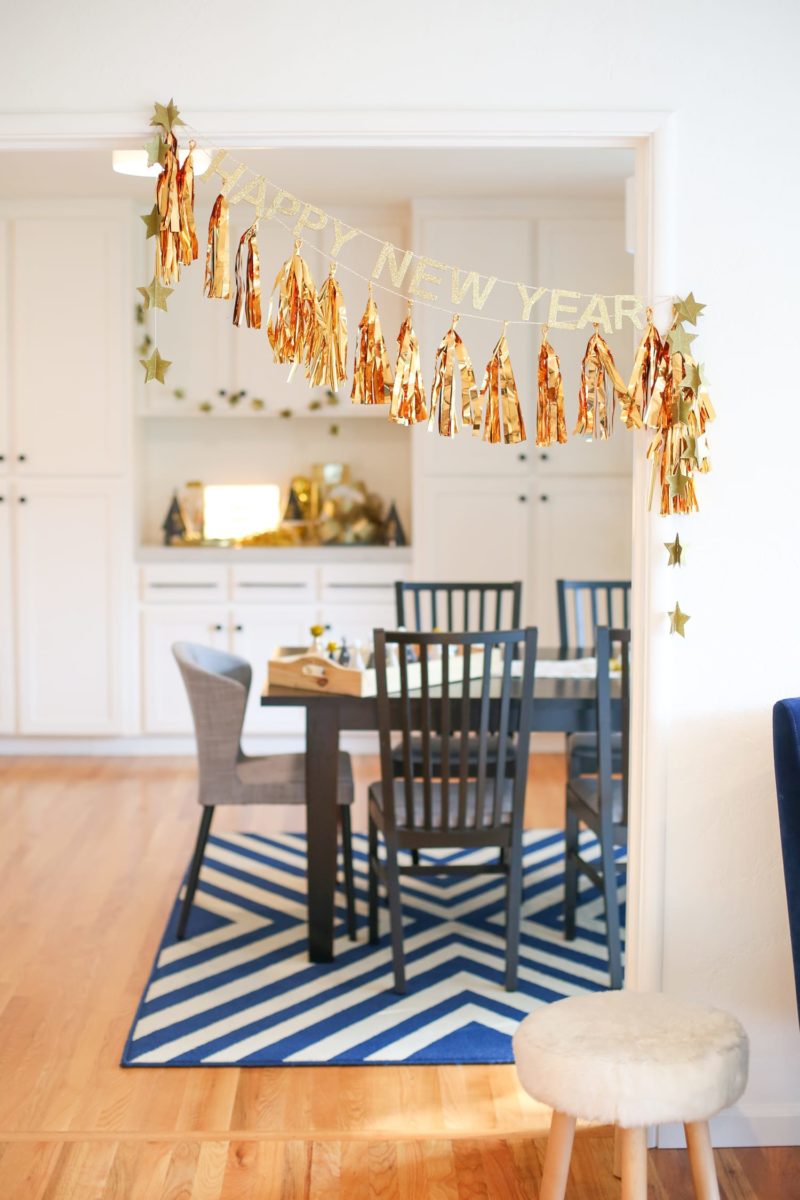 Great twist on the usual set up. I adore how the banner is hung in the entryway to the room. So festive and something different.
11 | FAUX FRAME BACKDROP
This is one of my all time favorite party setups. Everything about this is glamorous and fun but the black backdrop (just paper) is so clever. Grab a gold maker to make a faux frame and it looks so legit. The bright florals are so pretty against the dark wall. Plus you can cover up whatever you have on your wall and easily take it down after the party.
I hope these ideas sparked a little creativity to get your glam on this New Year's Eve. I am so very thankful for each and every one of you and am wishing you and your family's a wonderful New Year's Eve celebration. Let's do this 2020.