Hello, loves. Let's talk beauty products. A long time ago, my dear friend gifted me her favorite things for my birthday. It was a brilliant idea and now I see gals doing it around Christmas time for their get-togethers. But why wait? It's long overdue for me to share some of my every day go-to beauty products. Most of them have been in my routine for years. I'm proud to partner with Walmart for their "Here for Every Beauty" campaign. Without further ado, let's get to the good stuff.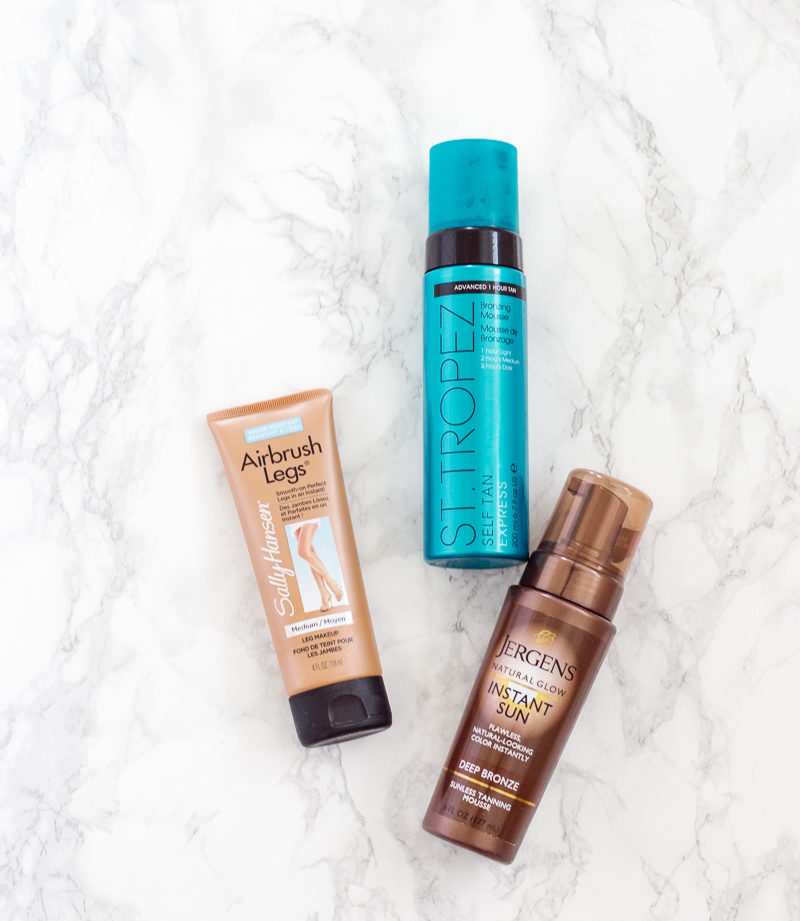 You definitely know I love this product. St. Tropez is without question my go-to self tanner. The color develops in 2-3 hours and is a nice rich color. I use the mitt to apply it and never shower until the next day. This helps the color last longer. The Walmart price can't be beat. In fact it should save you over $10. Definitely a great item to order online.
Wishing I had know about Airbrush Legs years ago. It's genius. It's basically a tanning make-up. It's water resistant but comes off easily in the shower with soap and water. This is awesome for using on your legs if you need a bit of color before heading out or occasionally I'll use it on my shoulders if I am pale and want to wear a sundress. It has saved me on more than one occasion.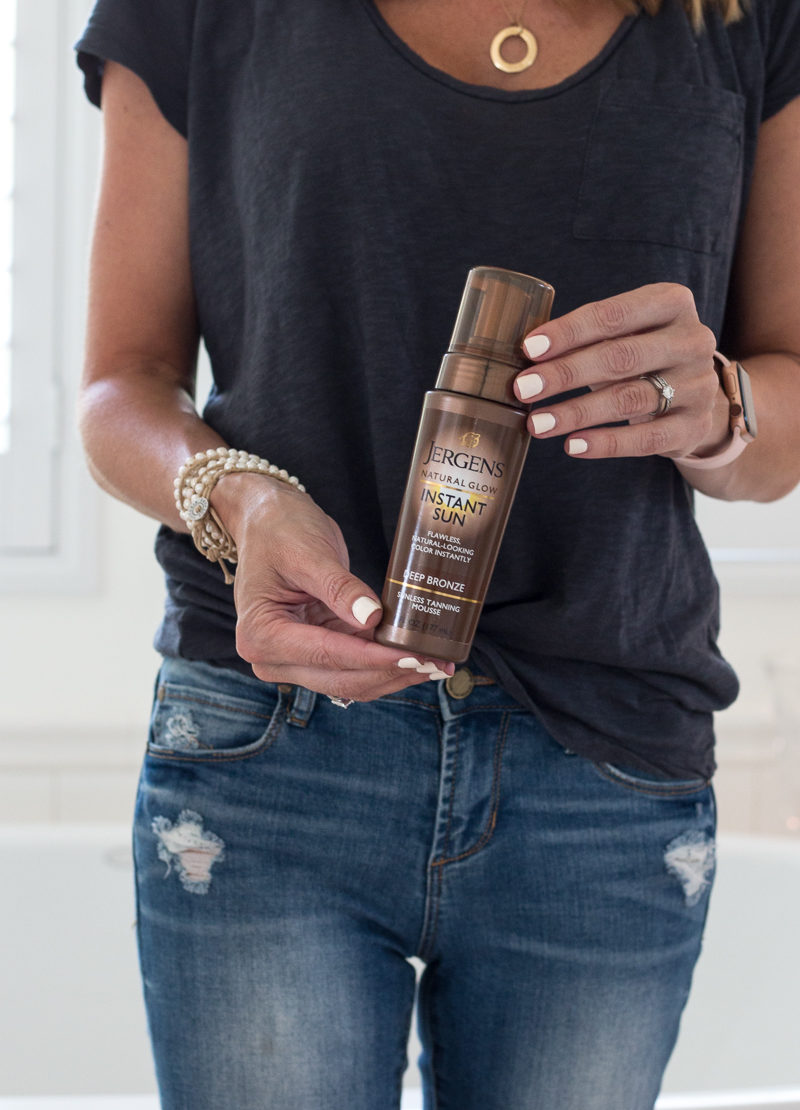 If you want to spend a little less but get a great tanning mousse, Jergens Natural Tanning Glow Mousse is it. Tried and true and results in a nice bronze color. I used it on my chest and arms three hours before snapping the photo above. The photo is straight from the camera without any filters or color alteration. You can't beat the price on this.
Once you apply it, the product dries in just a few minutes. I happen to think all self-tanners have a bit of a smell so you will notice that until you shower. With my pale, Irish skin, self-tanners are my choice over the sun any day.
*If you would like to see a dedicated post on using self-tanners, let me know!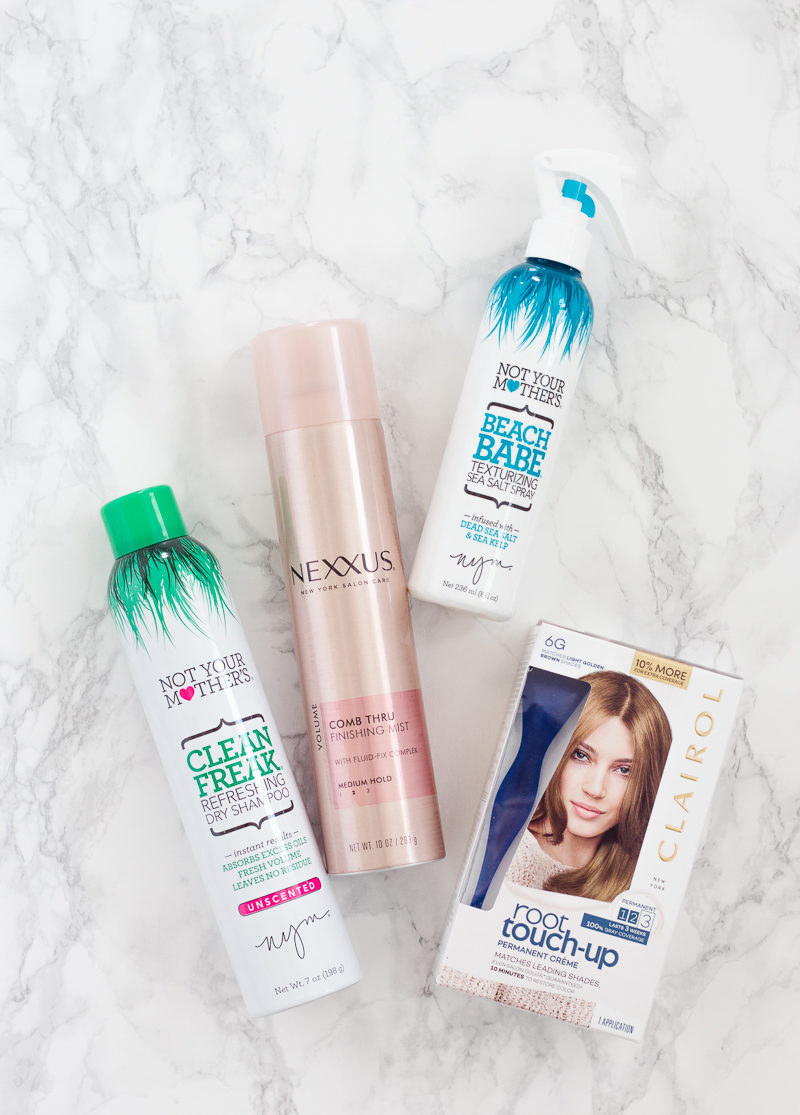 While I do love Living Proof Dry Shampoo, I like to switch it up. My hairdresser actually told me about this one a few years ago and I love it. Clean Freak Dry Shampoo is far less than Living Proof and does the trick. I use it on day three after a wash and usually before I throw my hair up in a top knot. I also LOVE that it is unscented. A little goes a long way for me. I have this in the travel size and use it when we go on trips.
This Comb Thru Finishing Mist has been a daily staple for me for probably ten years. No joke. I LOVE this hairspray. I forgot the travel size when we went to Vail and I was seriously so bummed. Whatever we picked up at the drugstore was awful. This is hands down my favorite hair spray ever. It is super light and never makes your hair hard or sticky. You can still comb your hands through your hair and yet it keeps the curls. Two thumbs up, girls.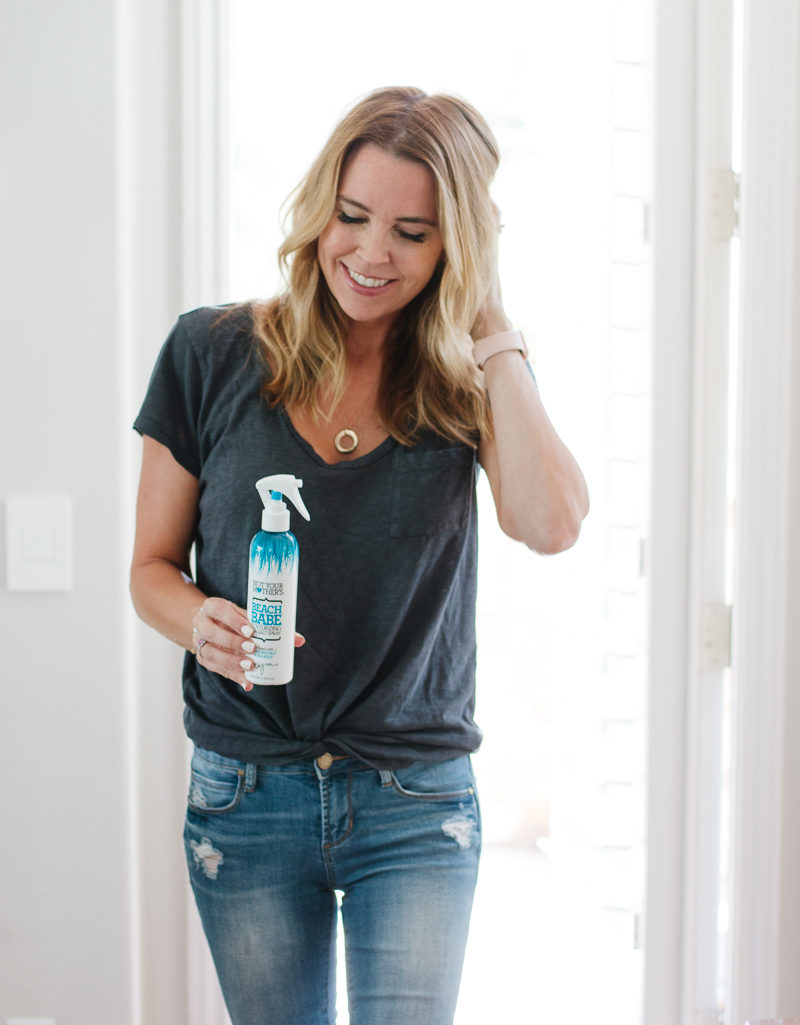 The Beach Babe Texturizing Salt Spray is a great product for summer. Your hair will even smell like the beach.
How I Use It: After curling my hair, I spray just a small amount to the bottom 3/4 of my hair. I avoid the roots because my hair is fine and and can quickly go flat. I love that it gives my hair more texture. And when you go to re-fluff your hair, it actually looks great again.
Can I get an Amen for root touch-up. I have to be honest. My gray hairs came in fast and furious over the last year. I can't stand spending money on getting my hair done so it's essential that I stretch out the appointments as long as I can. Once my roots start looking pretty bad, I used this twice before making another appointment. Each time it lasts for about 2-3 weeks. That is awesome in my book. It works really well and takes away that dull, "I need to get my hair done!" vibe.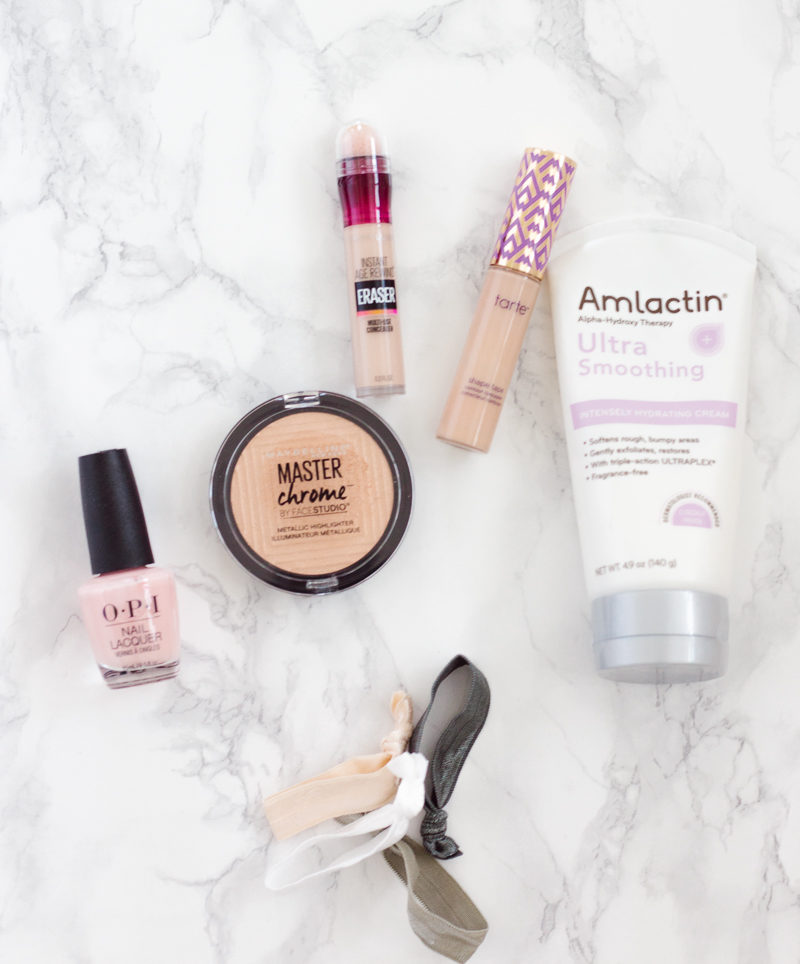 Hands down one of the best concealers I have ever used. I only use two and this one has been with me for quite some time. If I am running errands around town and don't want to put on makeup, this is all I will use.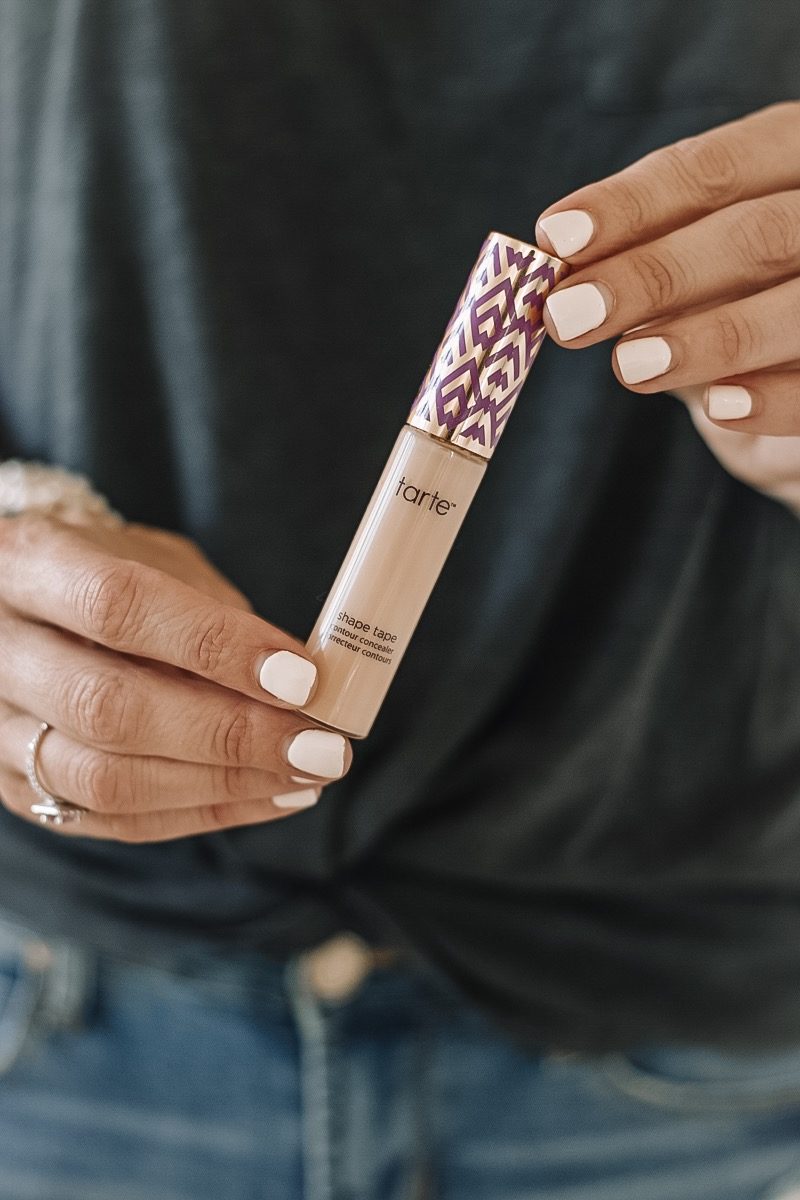 Instant Age Rewind is the concealer I keep with me in my purse. It's less expensive and the tube doesn't get messy like the shape tape can so it's perfect for that. I use it when I need to touch up my dark circles. Each visit to see mom resulted in tears and my concealer disappearing so this saved me every time. Dark circles were passed down to me so I am the queen of covering them up.
I love both the Ultra Smoothing lotion and the Daily Therapy In fact, if I am without either traveling, I miss them terribly. They makes your skin so smooth. You can actually feel how hydrating they are. No fragrance which is a must if you ask me. The price at Walmart is so much better than what I paid for it in two local stores.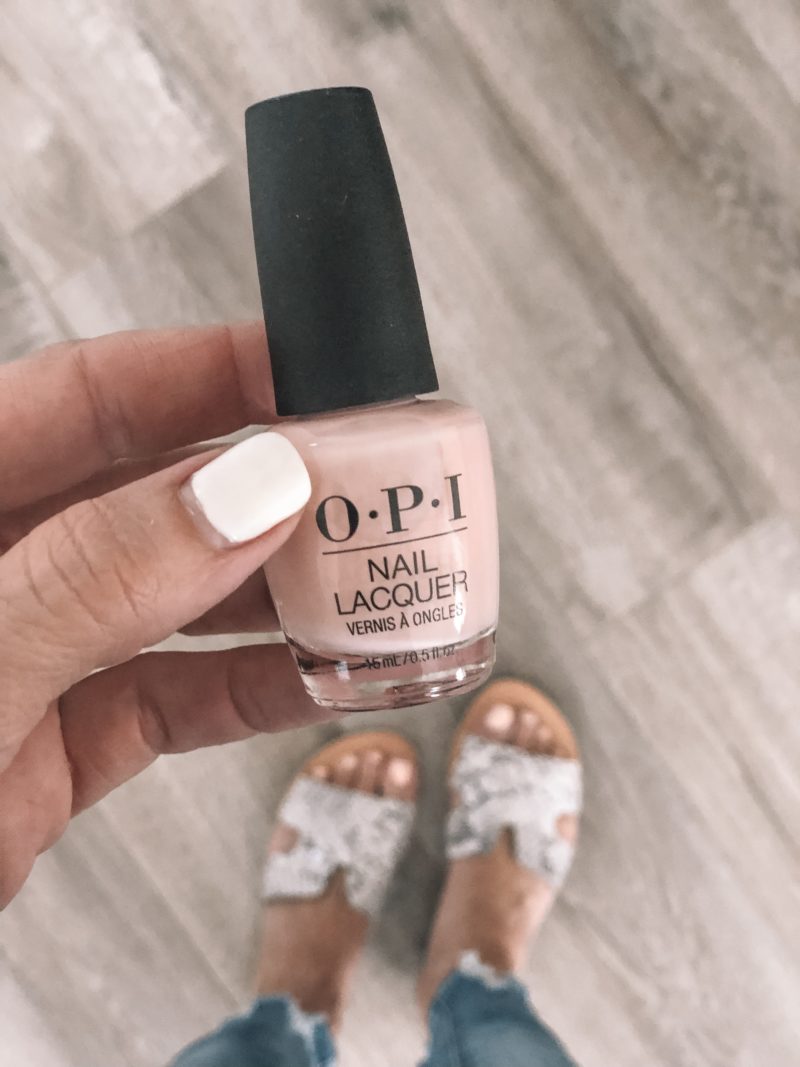 Pale pink nails are my thing. That or white. But this Bubble Bath color is always under my sink. So pretty with a tan during the summer months (on my toes in the photo).
Do you use these? We love them over here. But here is the thing . . . most of the time I put them around a normal elastic band. I know, super random but they are far prettier AND it makes the pony tail look perkier. If you use them on there own I find they are great for low buns or ponies.
This is a great highlighter to have in your makeup drawer. I use most for summer evenings when I want a bit of shimmer on my cheekbones before going out. It gets great reviews. I hardly ever wear eyeshadow but will put a touch of this on each lid, too. This one the Best of Beauty award from Allure Magazine.
BEAUTY PRODUCTS I LOVE

That's pretty much a peek into underneath my bathroom sink! All of the tired and true products that I use on a regular basis. Hope it was helpful. Let me know if you give one of the products I try and how it goes.
*Proud to partner with Walmart on this post. All opinions are my own.