Good morning. While we anxiously await Fall temperatures, our porch is beginning to get a warm and cozy feel. Our lemon trees will hide out for a bit so that we can make room for a few farmhouse touches. I partnered with Walmart to bring you simple ideas to welcome in the season.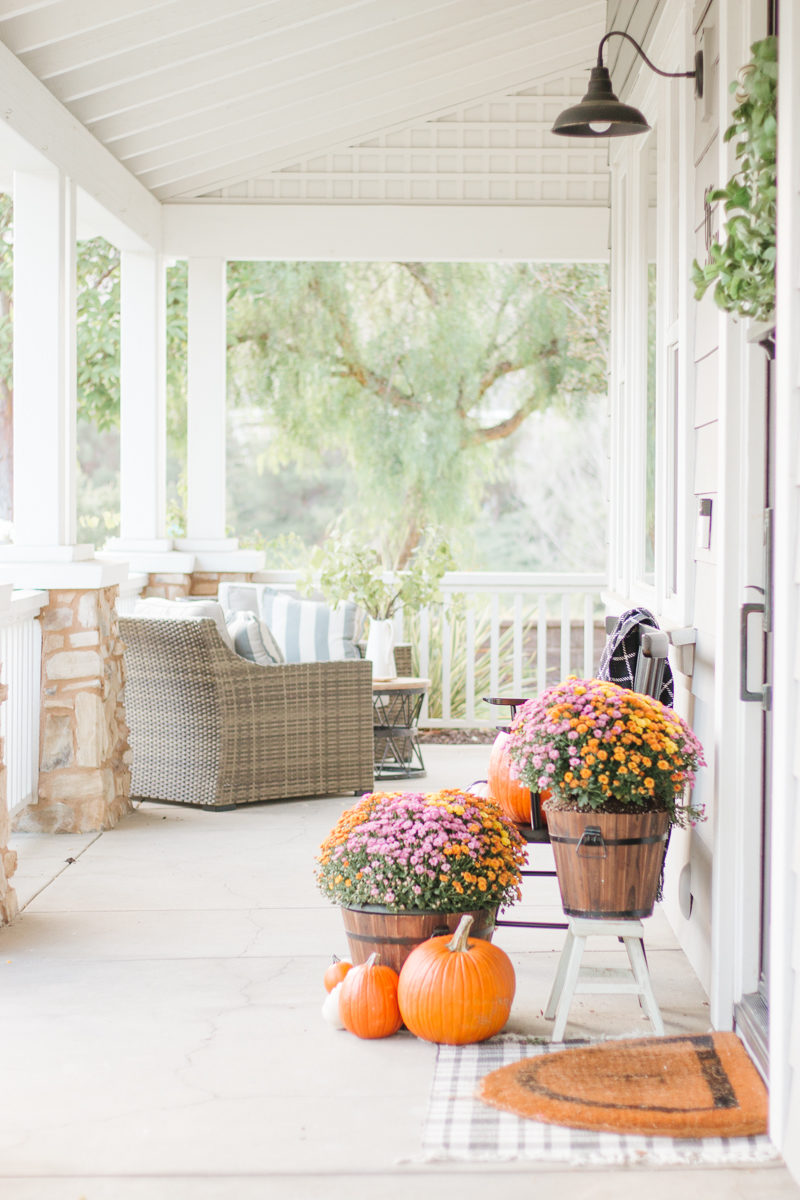 I am a big believer in the idea that you don't have to spend a fortune nor do you need to go overboard when styling. In fact, I like to keep it fairly simple so that I don't have to store more goodies once I switch things up. Do you think about that, too? These are the five things I like to keep in mind when decorating our outdoor space.
ONE | KEEP IT SIMPLE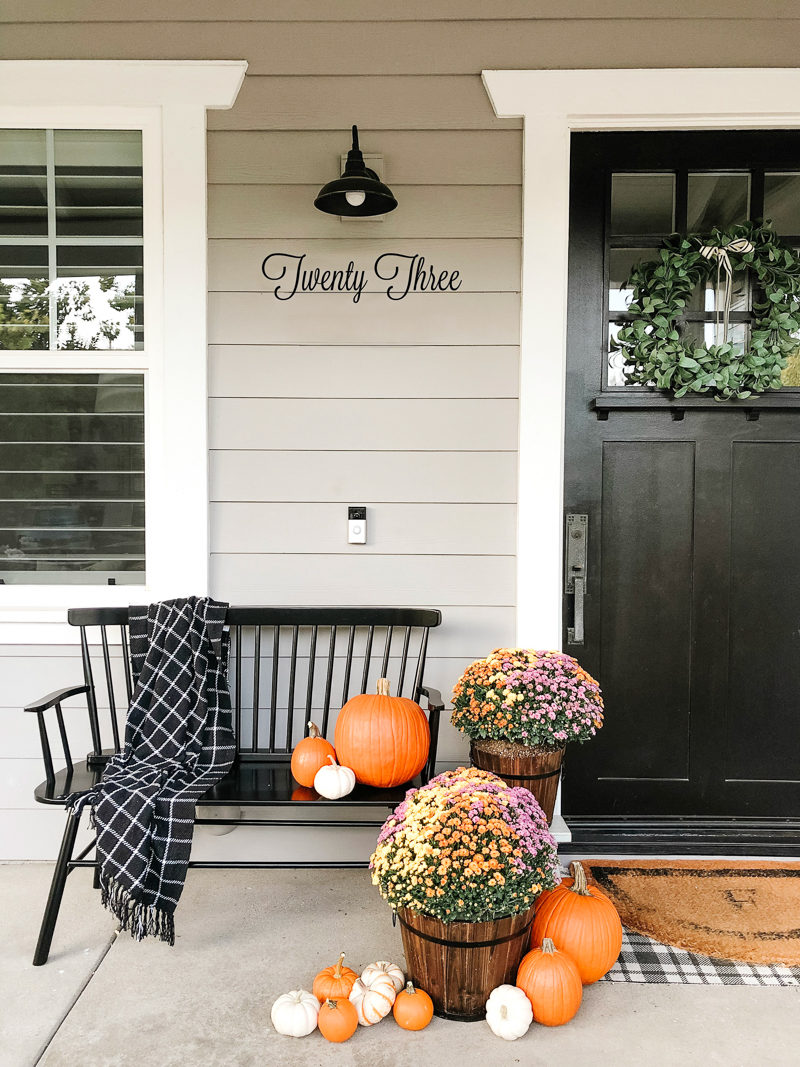 I've always believed that less is more. But maybe it's just what I am drawn to. A simple vignette can be welcoming and warm and just what your home needs. I often find switching up the decor by your front door breathes new life into the home for the season. It gives you a bit of a fresh start and new energy. A bench, throw and fresh blooms is all I used here to go from Summer to Fall.
TWO | INCORPORATE FRESH FINDS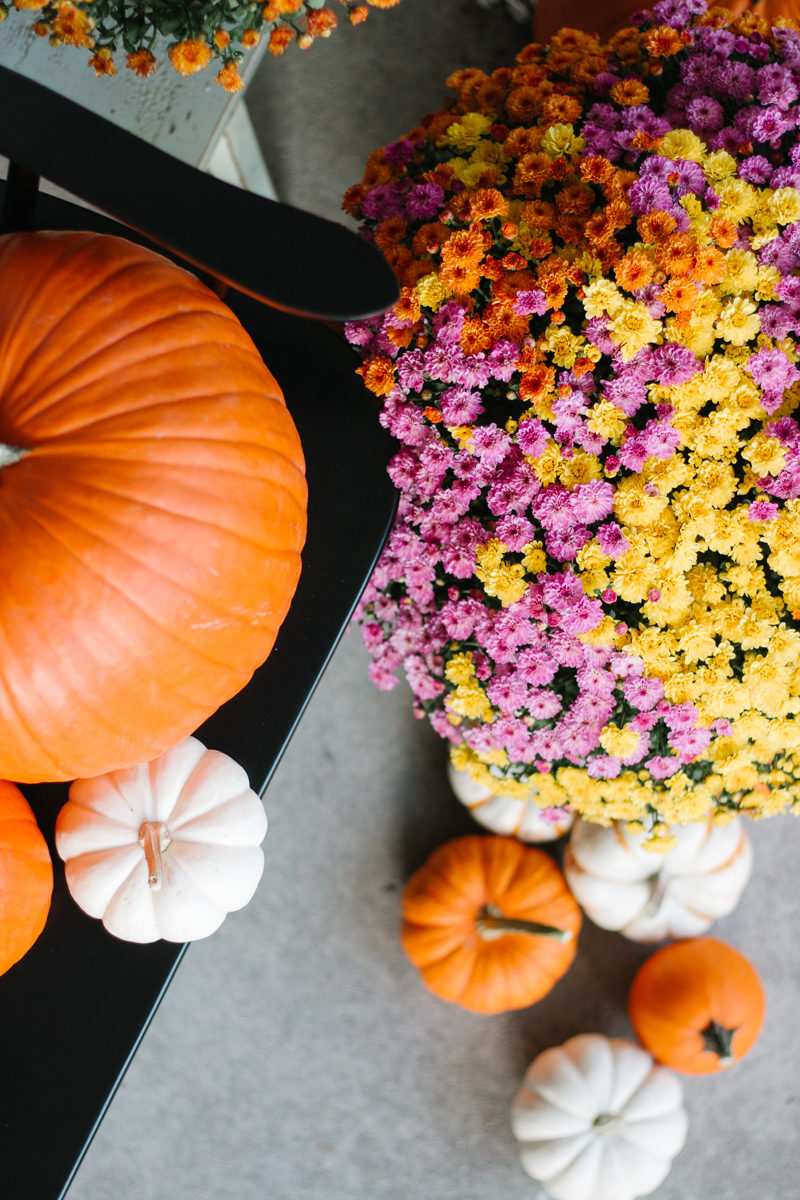 I love using mums and pumpkins this time of year. Do you know that you can score beautiful big pumpkins at Walmart for $4? That is such a good deal. Although you would have laughed at me trying to roll my cart to my car with two giant mums and my pumpkins. Let's just say a pumpkin or two got away and I had to chase after them. In any event the best part of using fresh decor is that it brings instant life to a space and you don't have to store it later! Major score.
If found these darling planters online and love the warmth they add to my porch. I like the idea of filling them with poinsettias for Christmas. They come in a set of three and are a steal.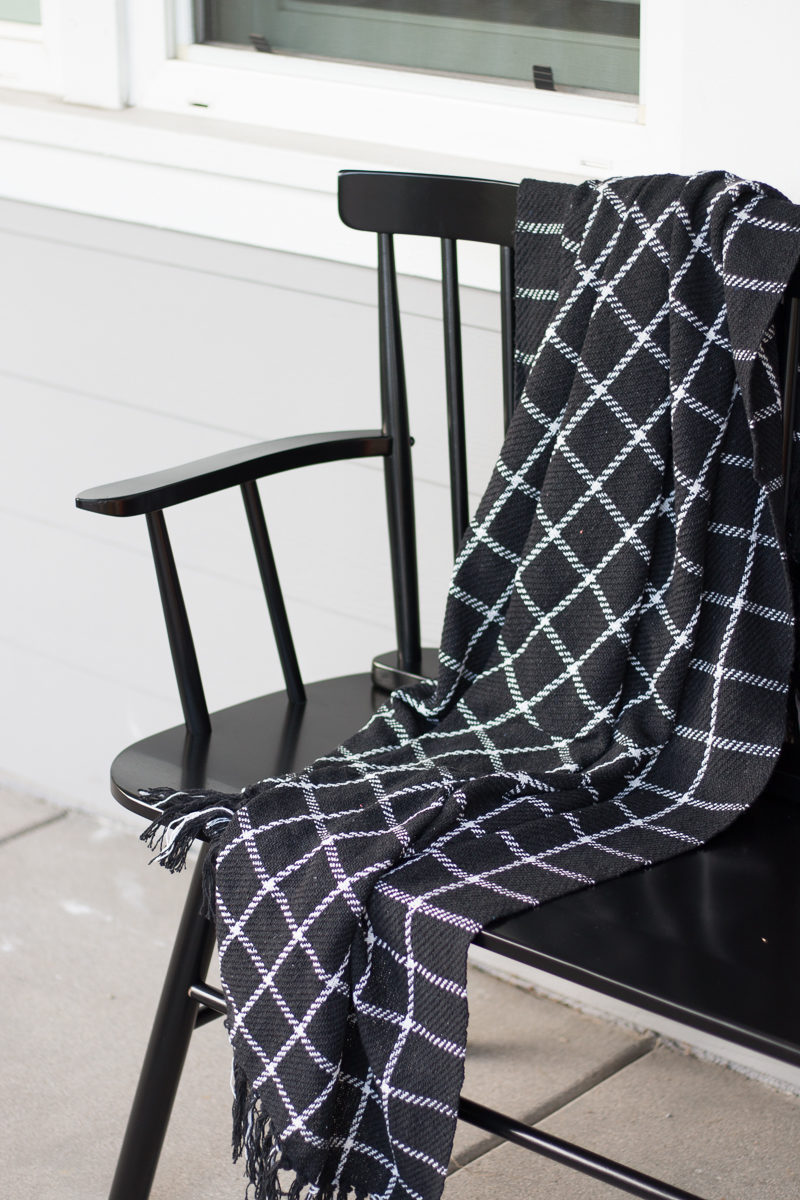 THREE | LAYERS & TEXTURE
Adding texture is key to bringing the space together. I think a throw is the simplest way to do that. You could also use baskets or pillows. You also want to add layers. I brought out a stool we've had for quite some time so that I could vary the heights of the mums. Sprinkling in baby pumpkins gives you a more layered effect and lets the eye move around more. If you struggle with layering, think about the rule of three. Grouping different sized items in groups of three will help guide the process.
FOUR | THINK LONG TERM
throw | bench | wood planters | farmhouse light
Thinking longterm means more bang for the buck. This bench is something that will last us for years. Our previous bench was by our front door for over 12 years. It was time to switch it up as it was rough wood and was beginning to deteriorate. I am in love with this farmhouse bench. Walmart did well with this piece! Great buy and I love how smooth the finish is. I can easily dust it off with a Swiffer cloth and it's so cute. The planters and throw can be used for different seasons, too.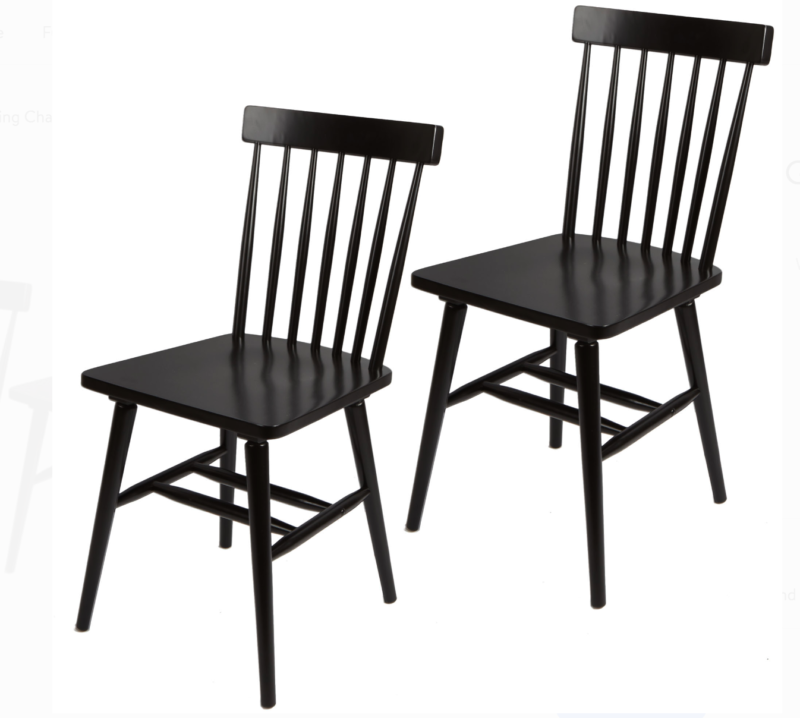 These spindle back chairs are a great way to bring a fresh farmhouse feel into your home. They would be cute around a table or styled in an entryway.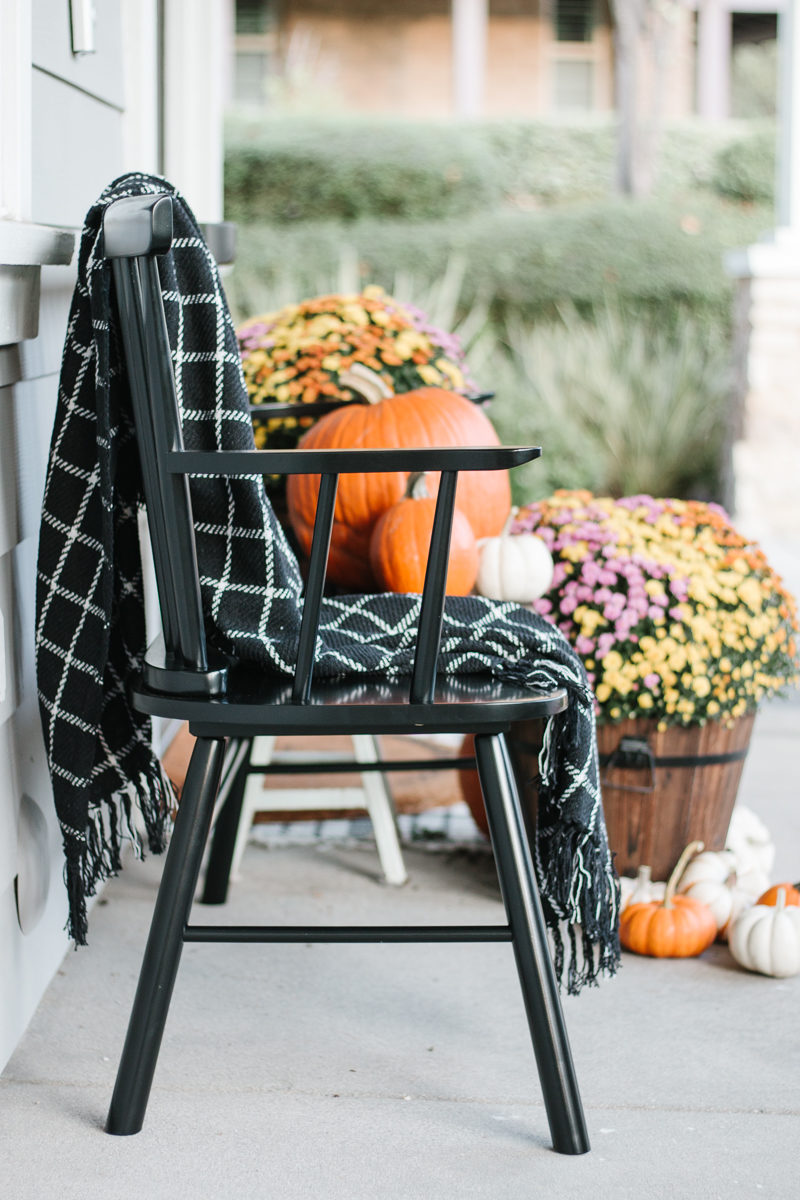 FIVE | PLAY OFF YOUR HOME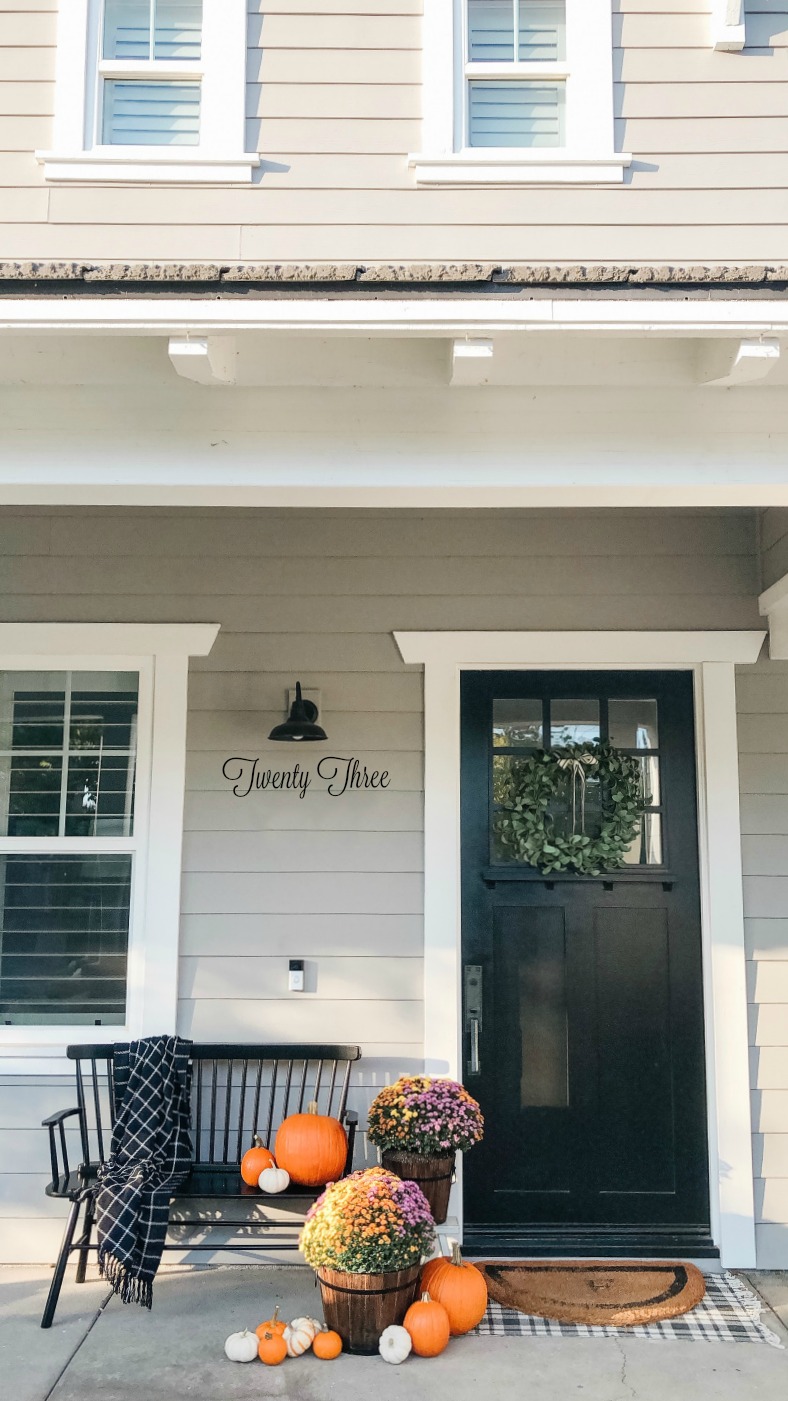 Stand back and look at what your home already has to offer. Is your front door brown? Maybe play off of that. Do you have black accents like we do? That lends itself to a few more black items to tie it all together. I think sometimes it's easy to get swept up in looking at inspiration photos and forgetting about the personality of your own house. It's always nice to enhance what you already have so that it all works together.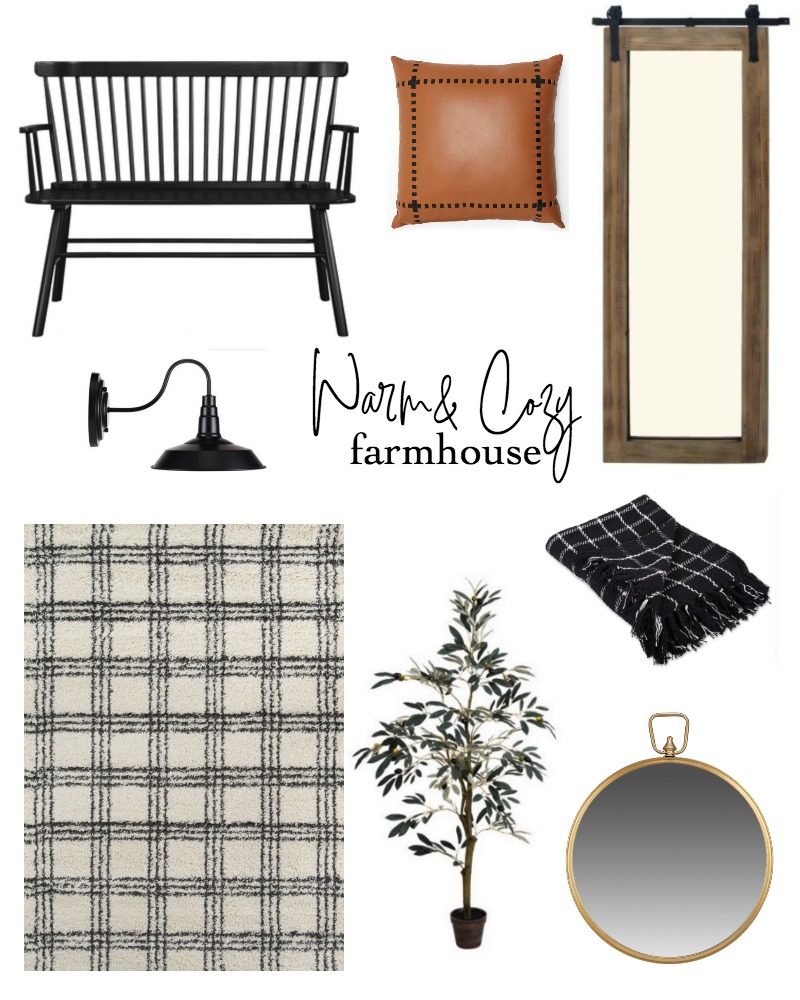 bench | pillow | door | light | rug | tree | throw | mirror
Walmart has such darling finds right now. I rounded up a few more farmhouse pieces that could be incorporated into your space. I think the mirrored barn door is genius. The bench looks great indoors, too. In fact, I almost kept it in our entryway.
SHOP THESE FINDS

Hope this inspires you to switch things up as you welcome in a new season. We have friends and family coming into town in just a couple of days so I am off to clean and organize. We've let it go for far too long. Enjoy your day.