Today I am excited to show you some of my #mixnmatchfallstyle pieces. I know that Fall temps are not here yet, but when they decide to finally show up to our area, I am so ready to bust out my fall favorites. You all know I am a sucker for plaid and my inner prep can't pass up a good Fall loafer. Both such great closet staples. And I plan to be showing you things that all Mix N' Match for Fall so that fewer items give you more possibilities. My closet isn't getting any larger so I need to be sure I choose things that can give me many options.Without further ado:  Fall Preview | Key Fall Pieces!
This sweatshirt and these jeans are definitely mix n' match staples. I LOVE the way these jeans fit and the distressing is perfect. They are pretty snug around the ankles and take some tugging to get on and off. But unless your racing to get dressed it's all good.
Let's talk about this plaid scarf?! Sole Society has stepped up their game this Fall and has so many darling accessories to choose from. I have a thing for plaid and I chose this one because it will go with browns, grays, and blacks. I like that I can wear it with my gray dress and other pieces I already own. They also have darling new accessories that just popped up online.
sweatshirt | scarf | jeans | shoes | handbag
I think I am just a sucker for a classic look and the polka dot sweatshirt makes it less stiff and structured. I would also pair this outfit with these cute booties (love the tassels).
Hello, cute loafers! The fringe and bows make me quite giddy. They also come in a fun and funky silver as well as black. I like this color ( I have tall boots in this color) because the gray/green/taupe color goes with everything. You can wear them with black and with brown. These low heels also caught my eye (and they even come in plaid. . . what?!!!).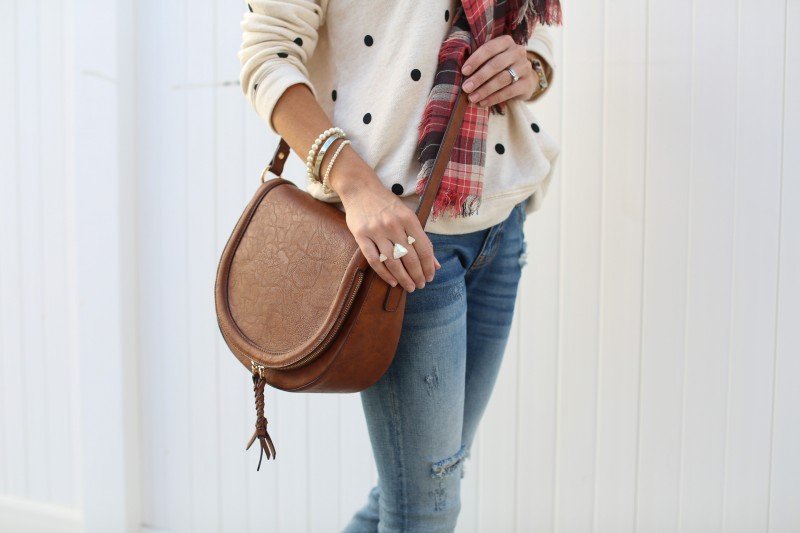 I have been wearing my cross body bags quite a bit lately and I love that this one gives me a little more space. And that cute zippered pockets opens so it's a great place to toss your phone or keys. I have always been a fan of Sole Society bags. You know my favorite travel bags are both from there. Rounded up the purses that caught my eyes as well as my favorite travel bags below.
Shop Cute Bags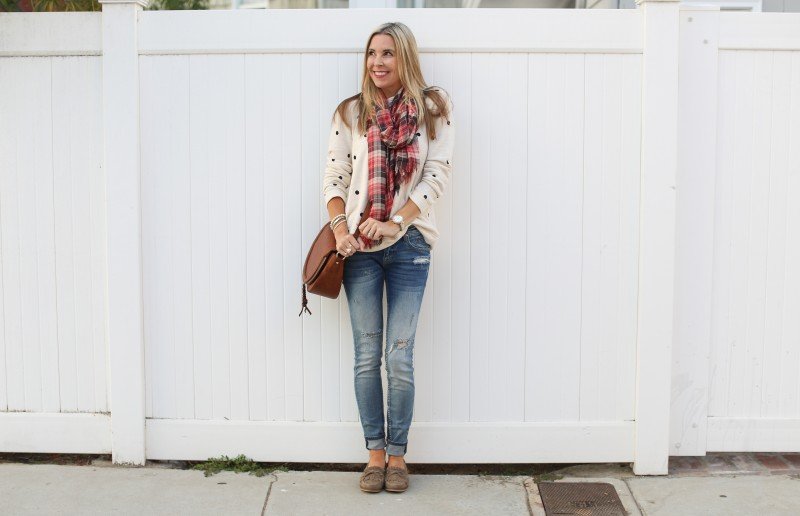 Shop This Style

Thanks for letting me share a little peak into my #minnmatchfallstyle! I can't wait for cooler temps. Bring on the cider and cozy nights. Speaking of nights, next week I will be getting back into the swing of our "It's a Date!" posts! Can't wait to show you.
*photos by Taylor Cole / affiliate links used / proud to partner with Sole Society on this post