Today's blog post is curtesy of our son. He came up with a really fun idea yesterday and we all jumped on board. Last night we had our first Family Cooking Showdown and it is still live on stories if you want to check it out. I must say, the night was a blast and we will absolutely do it again. There was so much positive feedback on Instagram so I thought I would share how we did it.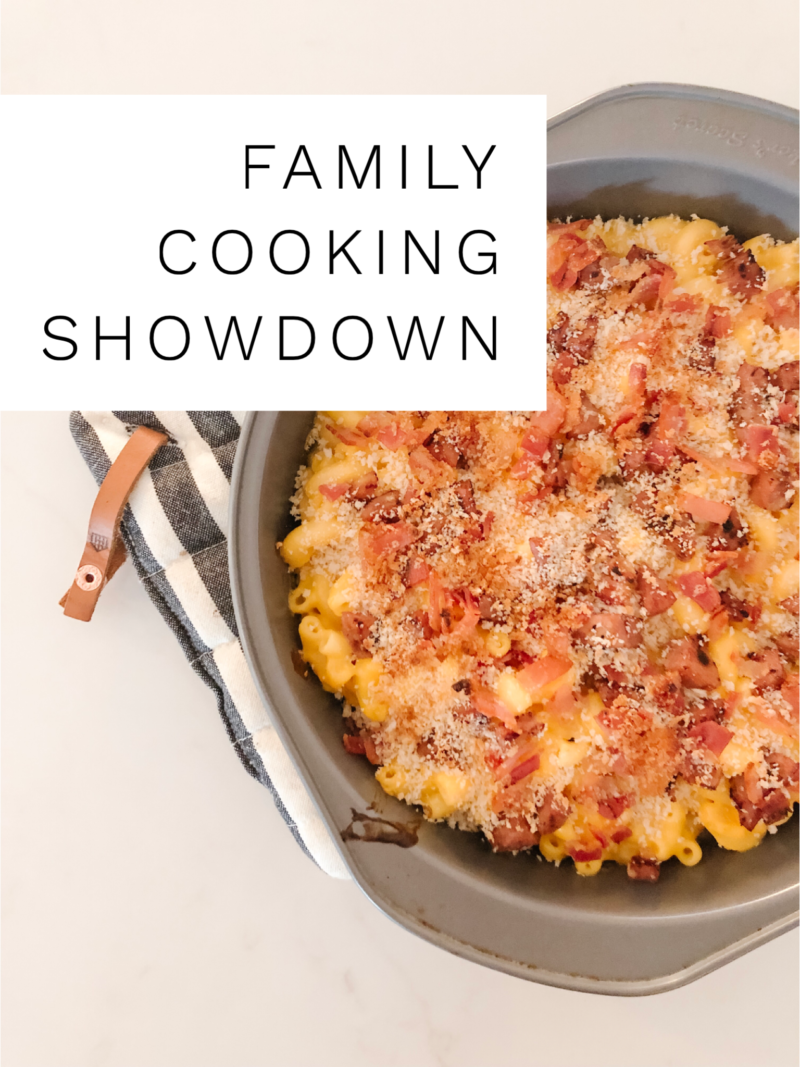 The nice thing is that you can taylor this to your family and run with it. My son wanted it to be a competition so that means you need a judge. Lucky me because I was able to relax a bit and just enjoy being with everybody.
OVERALL CONCEPT
I had just come from Costco with a marinated tri-tip and corn on the cob. So those two things were happening no matter what (nice to know that if the recipes didn't quite work out we would still have dinner!). Then my son decided we needed an appetizer, and extra side dish and dessert. These would be prepared by my husband and kiddos.
COMPETITION TIME
In order to decide who would make each dish, they competed in a fun challenge. This could be anything. They happened to use a dice game and the winner chose the dish they wanted to prepare plus they received the biggest budget ($10 to spend at the store on ingredients). The second place winner received $7 for their dish and last place was left with $5 for their dish. Of course you can handle this any way you want.
The other rule was that each person needed to use three ingredients we already had in our kitchen. They made their plan and were off to the store.
APPETIZER TIME
My husband earned last place in the preliminary competition so he was given $5 for his dish. Luckily my children didn't use their full budget and gave him a bit extra for the fresh shrimp. The rest of the ingredients were in our home. This dish was AMAZING. Highly recommend. In fact, the next time we entertain this is going to be our appetizer. The only adjustment would be to remove the tails first!
BACON WRAPPED SPICY SHRIMP
fresh shrimp ( 1/2 pound for the amount you see).
1/4 cup brown sugar
3 Tablespoons of melted butter
2 tsp Sriracha
5 pieces of bacon cut in thirds
Heat oven to 400 degrees. Remove tails from shrimp and wrap with bacon. Place on a baking sheet. Combine melted butter, Sriracha, and brown sugar. Brush each bacon wrapped shrimp with mixture and bake for 15 minutes. Remove and brush with the leftover butter mixture. Broil for 1-2 minutes.
*This yielded enough shrimp for four of us. Double for company.
SIDE DISH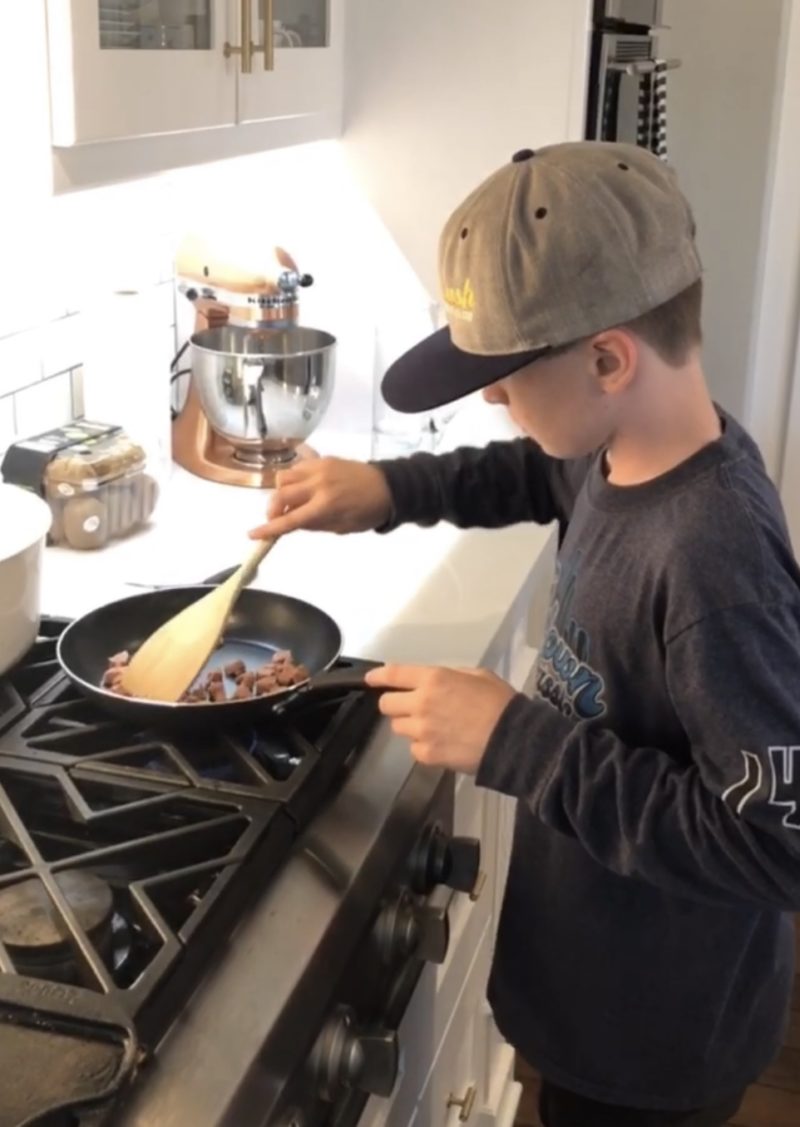 My son LOVES mac n' cheese. So he immediately knew what he was making. He came up with his own twist on the dish. He chopped sautéed paleo sausage we had on hand. Next he chopped up three strips of bacon.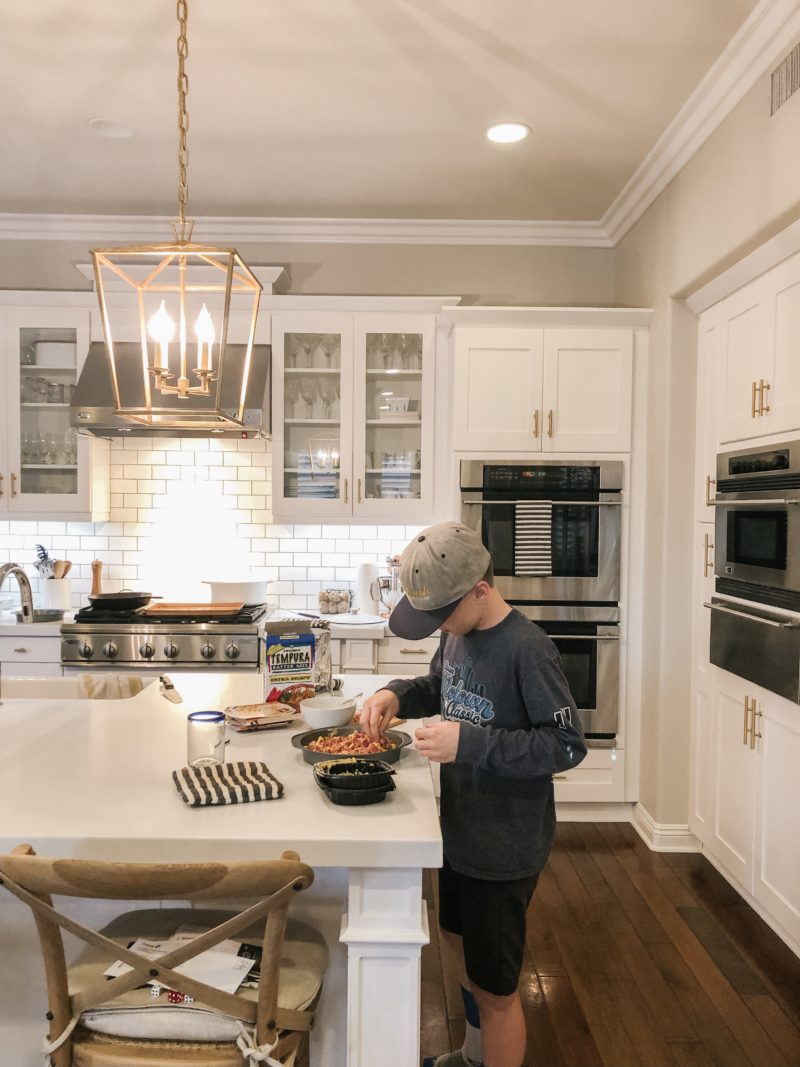 He bought two sides of ready made mac n' cheese (it was located next to the rotisserie chickens) and heated it according to the instructions. He then mixed in the sausage and bacon and topped with Panko bread crumbs. We placed it under the broiler for a few minutes to brown.
Not gonna lie. This was legit good! I am not even a man n' cheese girl and I LOVED it.
SOMETHING SWEET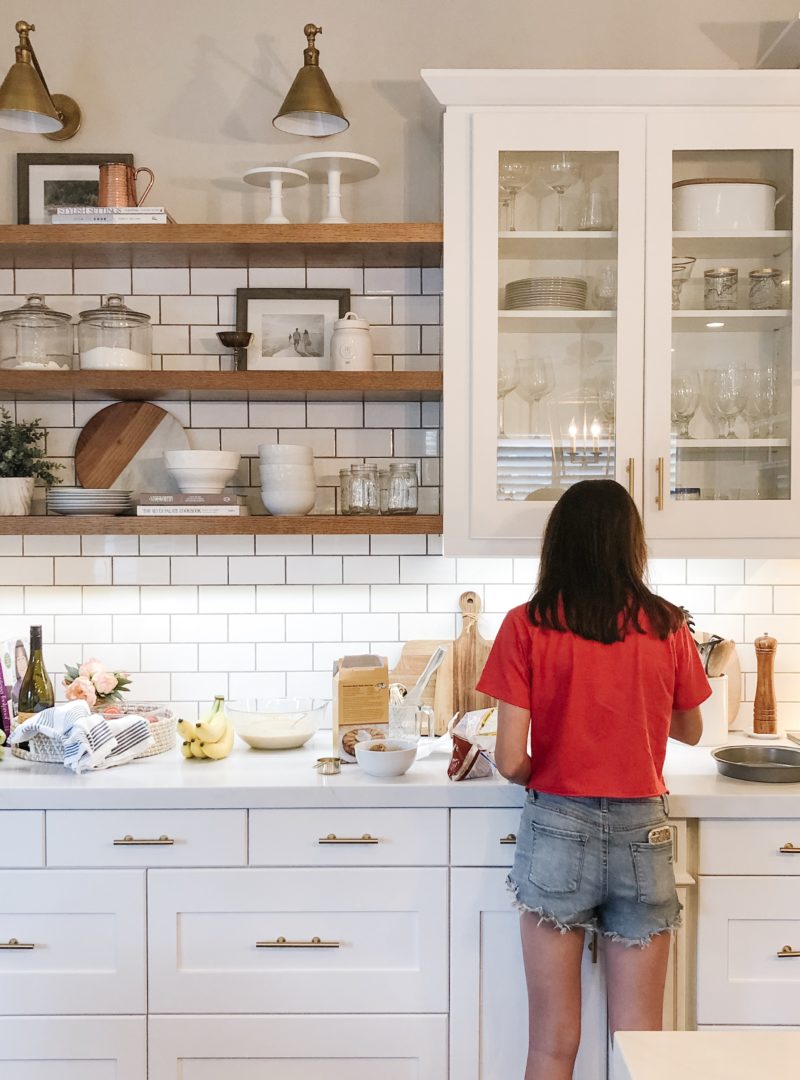 This cutie pie worked so hard!!!! She used the banana bread mix from Trader Joe's (because we already had it on hand) and made the Caramelized Banana Upside-Side Down Cake recipe from the back of the box. I loved this because she learned so many new skills.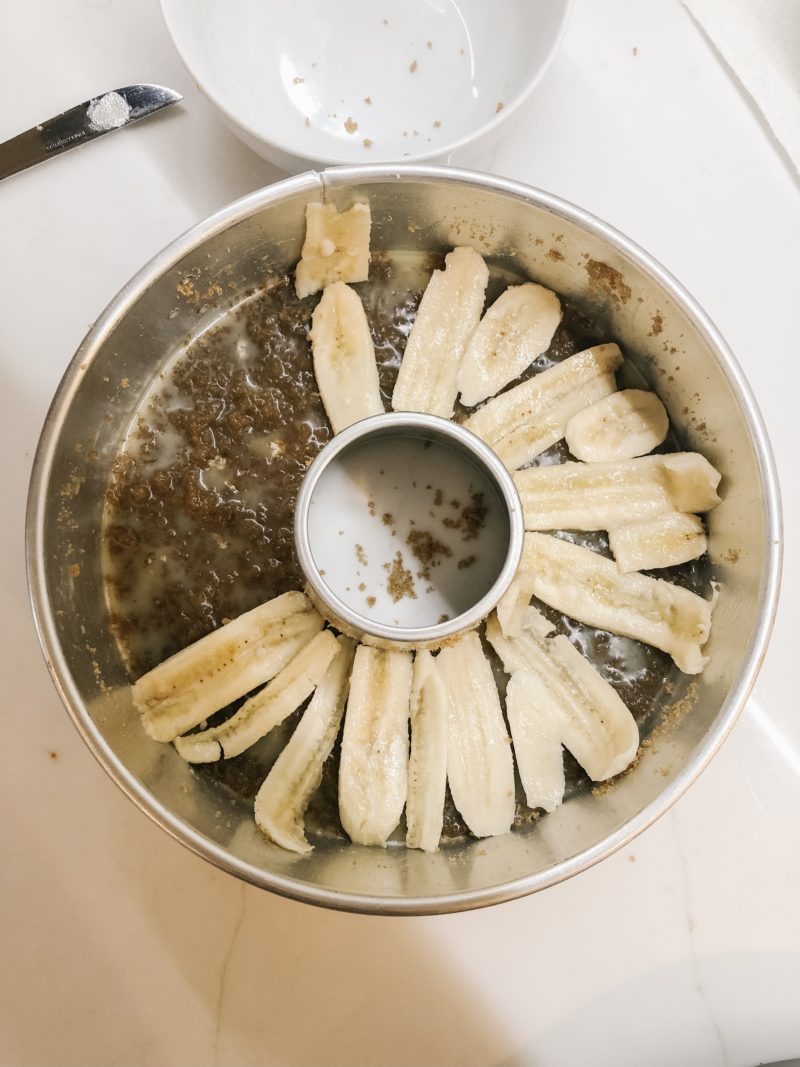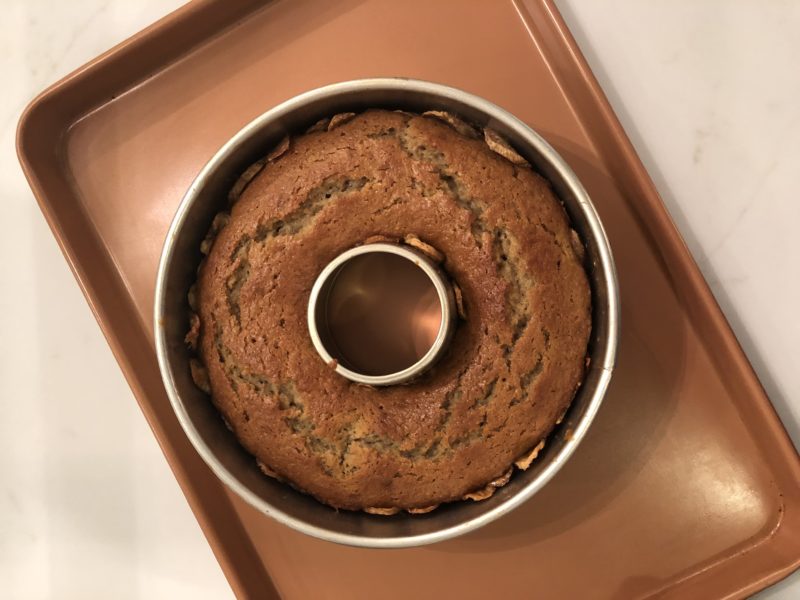 She even used my mom's springform pan. Confession: I have never used one and didn't even know how! If you look at the stories of us releasing this you would think we learned how to fly to the moon.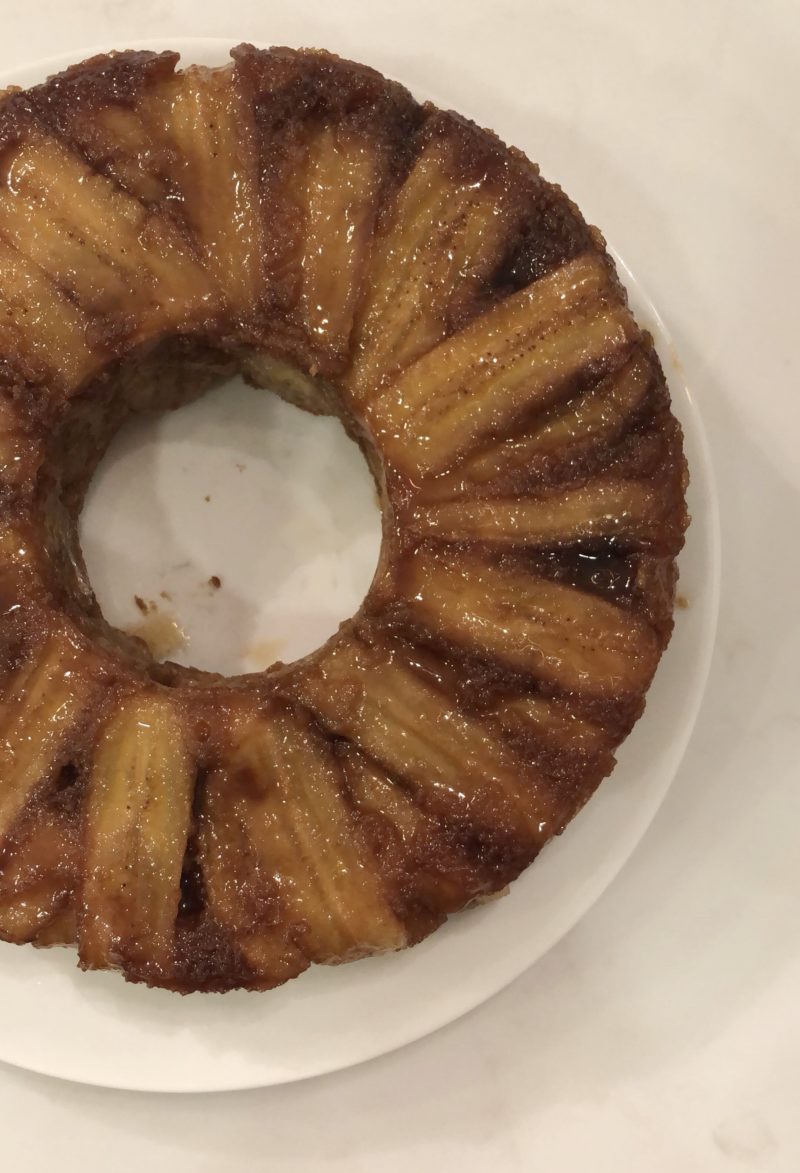 She served the cake with whip cream. It would also be delicious with a scoop of vanilla ice cream.
All in all, this was such a fun night. We cranked up the music and just enjoyed being together. I never really cooked with my mom growing up and had to learn so many kitchen skills later in life. I love that this gets the children reading directions, learning how to safely use a knife, sautéeing, and being creative in the kitchen. And huge thank you to my son for coming up with such a fun family activity. This won't be our last Family Cooking Showdown. Please let me know if you all do this. I would love to hear how it goes.
*In case you missed it, I reminded everyone about this fantastic marinade recipe yesterday (so good for summer BBQ season and works with beef, pork and poultry).