I recently popped into HomeGoods which I hadn't done in quite some time. If you have one nearby, it's a nice time to go because it's not longer crazy crowded (after holiday lull). I have to admit I used to spend much more time there but I am really making an effort to minimize what I bring into our home. It needs to be something I truly love. Having said that, I love a well decorated home and that takes time and money. I am all about respecting the budget and not over spending. Today I am sharing the categories I think are worth checking out at a store like HomeGoods and the spots I choose to skip.
ARTWORK AND MIRRORS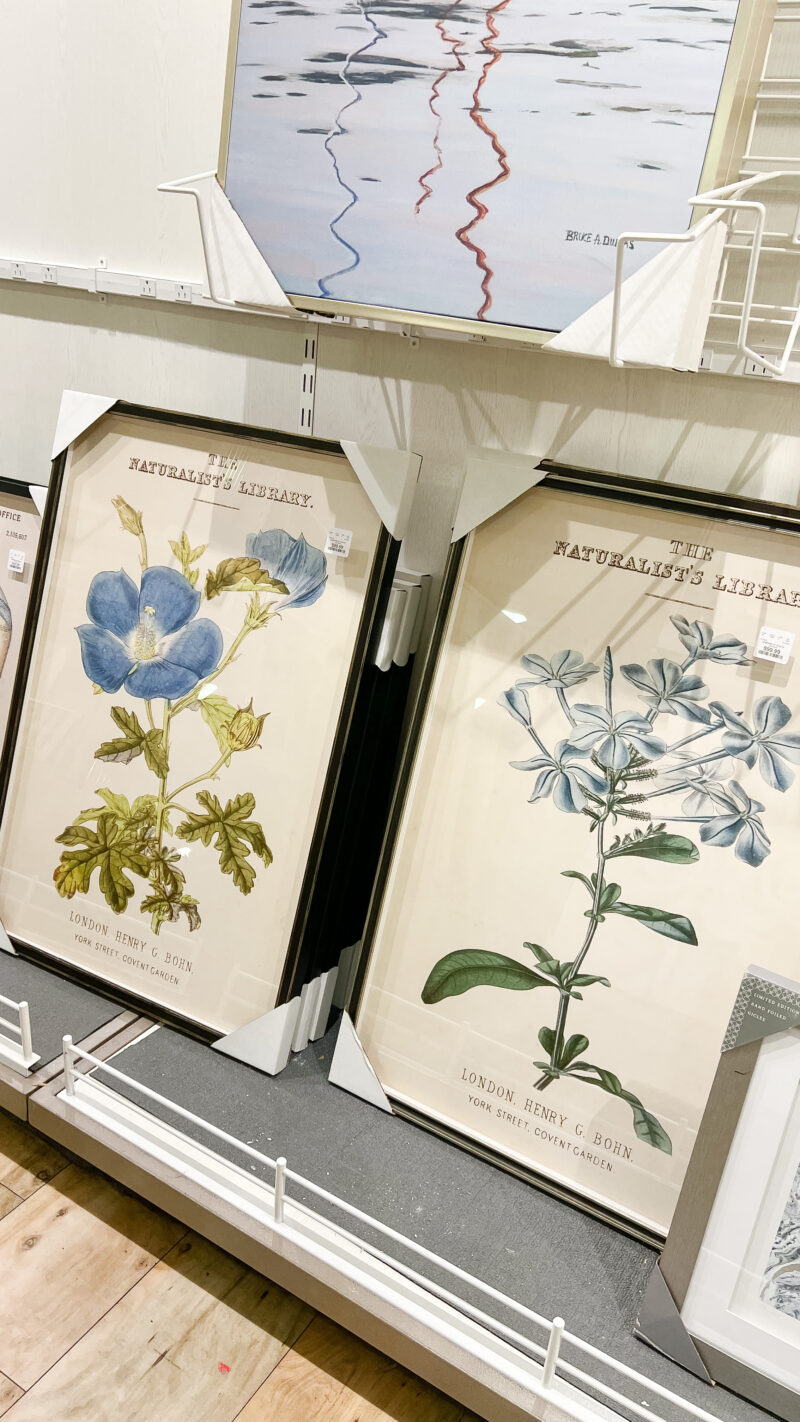 Without question, you can save yourself quite a bit of money when you purchase art and mirrors from stores like Target, Walmart or HomeGoods. They have a great selection and you never know what you may find. You can even swap out the art and just use the frame. I have done that a few times. I don't have a spot for these botanicals but they sure are pretty.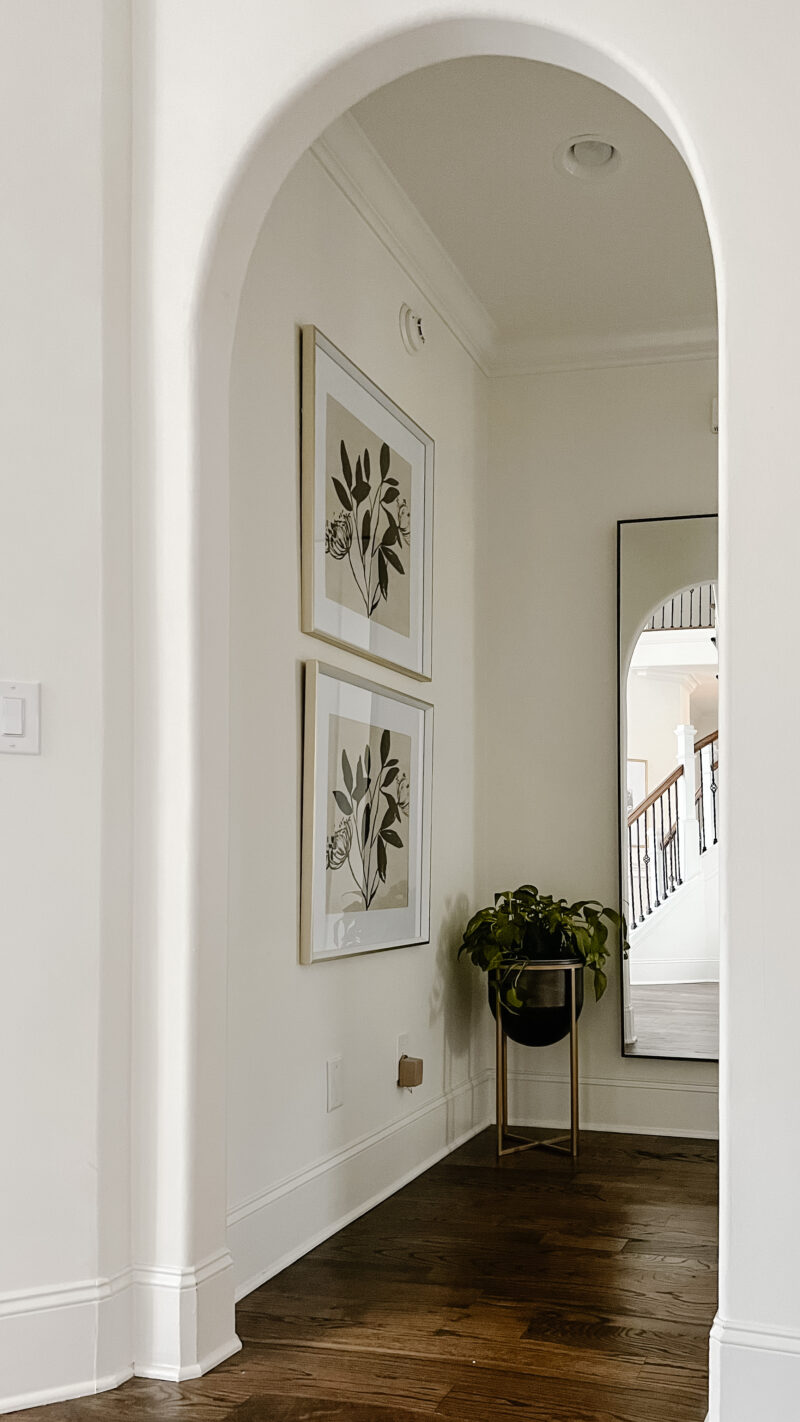 This is a good example of incorporating HomeGoods finds. Both the art and mirror are from there. Of course I screwed up and thought I was buying coordinating prints, but that is entirely my fault. The plant stand is from World Market years ago. This one is similar.
SERVING PLATTERS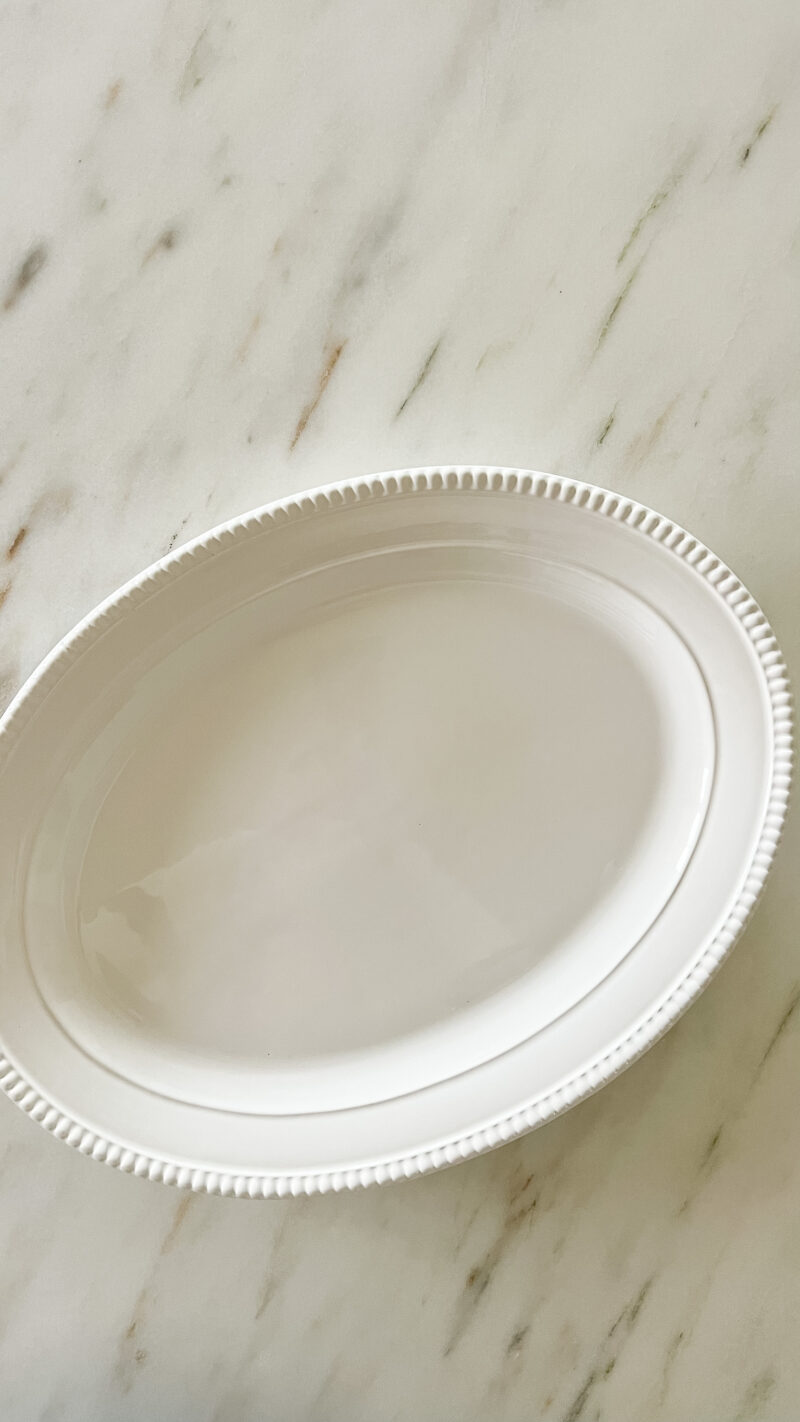 The only thing missing from our cross country move are our two white serving platters. So bizarre that we can't find them and it's taken me over a year and a half to replace them (keep thinking they will show up). I found this platter for $12.99. You can't beat that price. I bought two and love them and I know I will use them for years. It really is a great spot for serving pieces and dishes. You can find beautiful classic pieces.
AMAZING BASKETS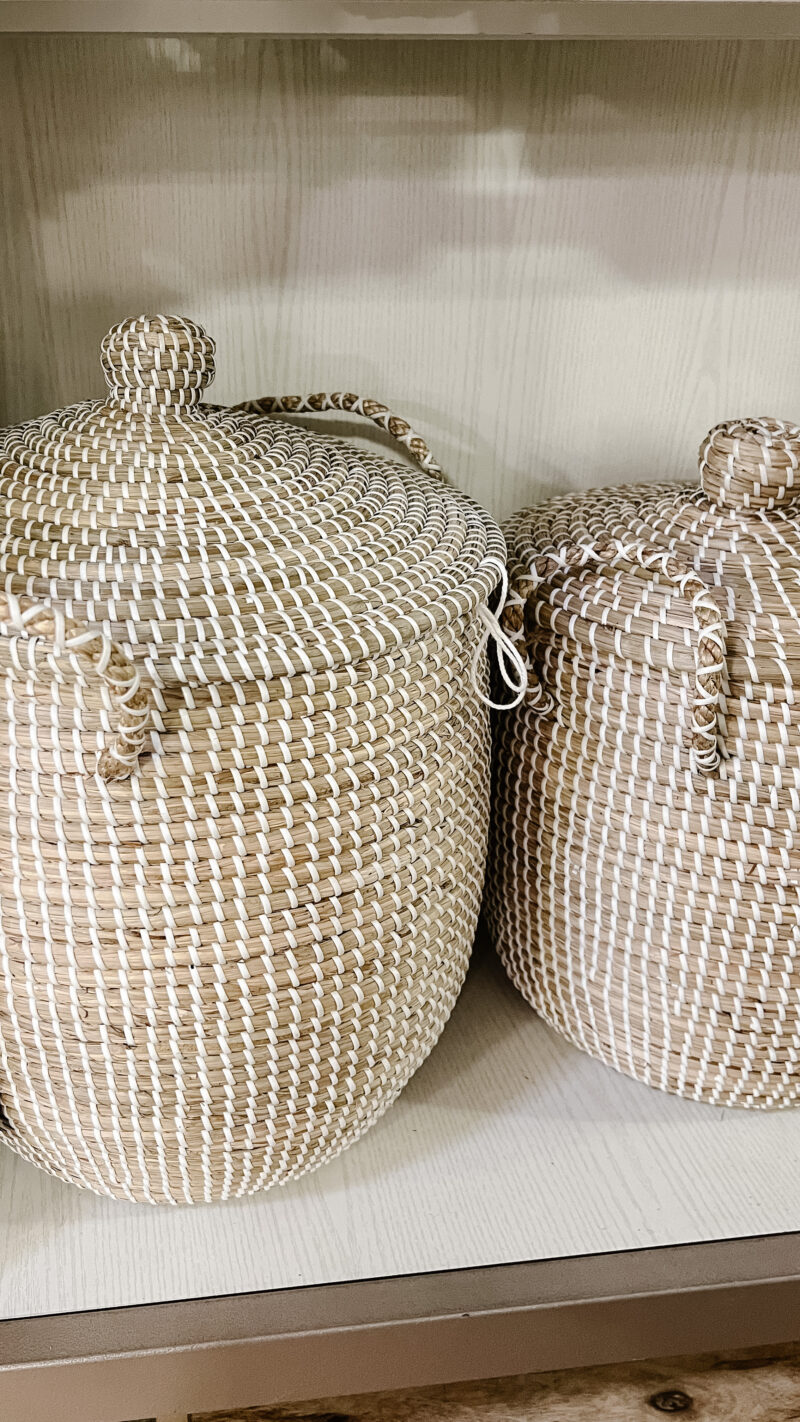 The basket collection at HomeGoods is pretty extensive and I always seem to find one that fits our needs when I am on the hunt. This is almost identical to a Serena & Lily basket I have.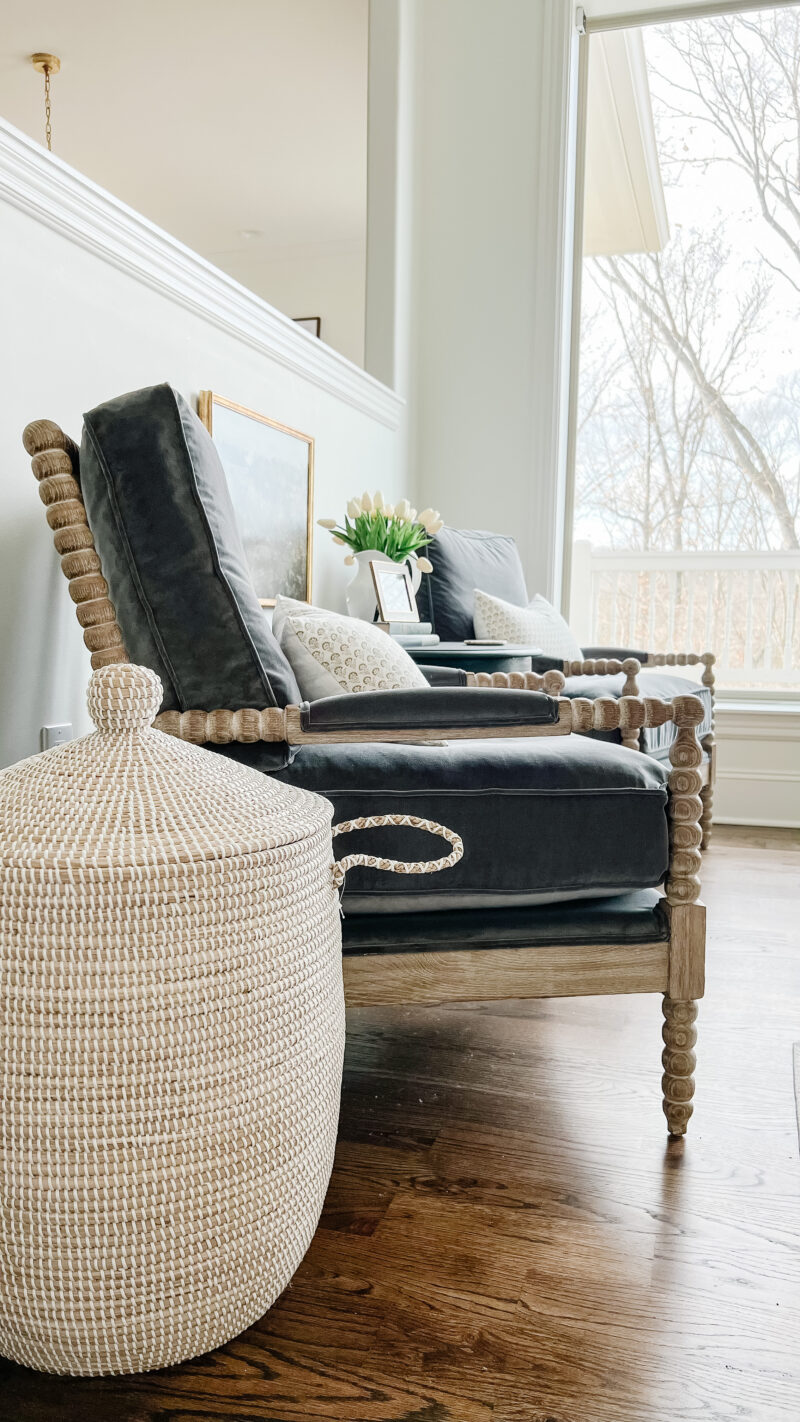 Here is my Serena & Lily version. You can definitely save money searching for pieces that are seen in higher end stores. Mine is the medium and currently on sale but HomeGoods has a better price. Our chairs are from a local spot called Sara Sells.
LESS EXPENSIVE FURNITURE OPTIONS
Speaking of Serena & Lily, these are very reminiscent of this $300 stool. If you have your heart set on a certain look, a stroll through HomeGoods is a great idea. I am always shocked at how many furniture pieces have a high end look. These would be absolutely beautiful at a kitchen island.
STORAGE CONTAINERS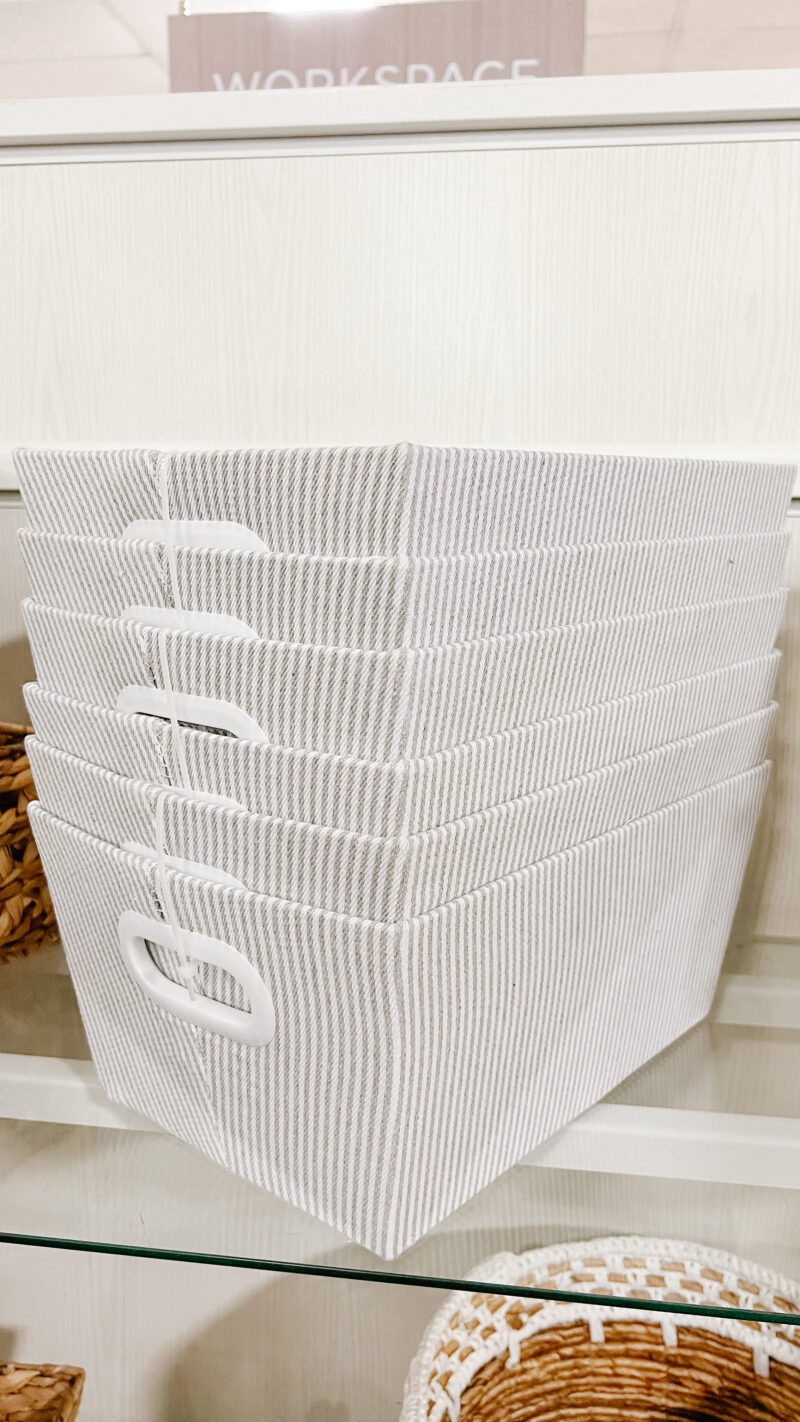 Are you organizing a pantry or closet? These seersucker baskets are so darn cute. You really can find great deals on storage bins. No need to overspend on containers that are hidden behind doors. I was actually considering these for our laundry room but I showed restraint.
RUGS AND PILLOWS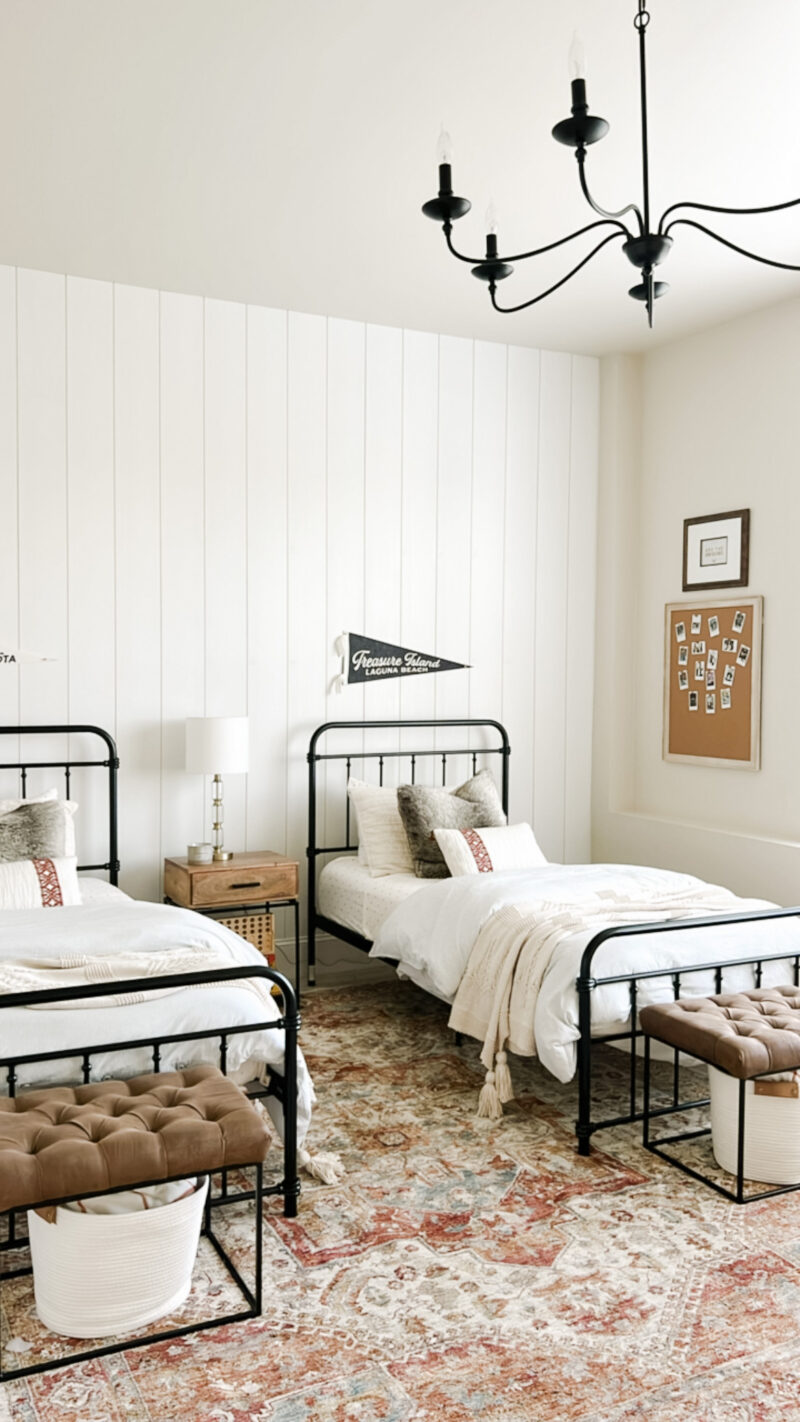 Rugs and pillows are also worth checking out (if you are in need). We got lucky with this rug as soon as we moved in. It's incredibly soft underfoot and marries all of the colors of this space so well. This rug has some of the same colors.
The rug we used in our living room is now online at HomeGoods (the 5 x 7 version). This is another one of my favorites. Such pretty, soft colors. I even stumbled upon nesting tables that look very similar to the ones we have.
DECORATIVE OBJECTS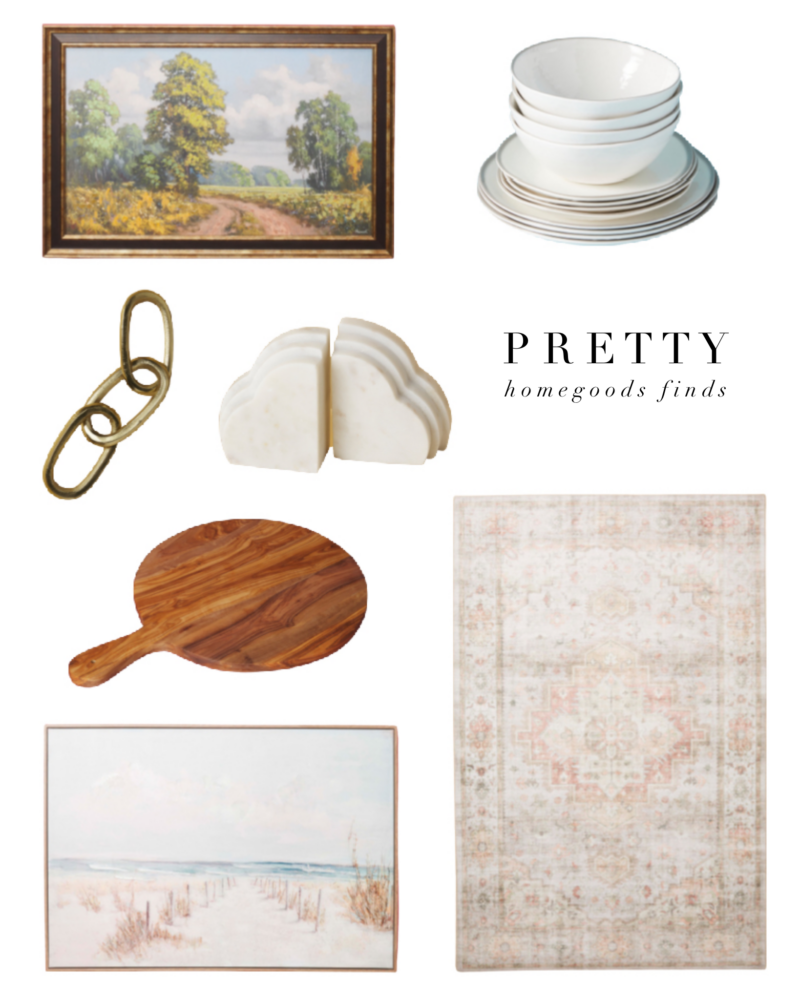 HomeGoods nails the decorative objects. You can find great pieces to use on a bookshelf or coffee table. The prices are normally really great and you can find things that are on trend. My trick is to check the clearance aisle. Often times there are pieces they may have a scratch or chip and they are significantly discounted. I also scour that aisle to see if an expensive object can be spray painted. Maybe a neon green vase doesn't work with your decor, but after a coat of ivory matte paint it may take on a whole new life. Here are a few great pieces available online.
WHAT DO I AVOID?
I try to avoid the seasonal decor. If I can't use it year round, I really think twice about it. I think that can be such a trap because of course we all want to be festive for different holidays. But truly it becomes a burden to store and is used for only a portion of the year. For example, buying a wreath with pink valentine flowers becomes something to store in the off season. While buying a green wreath that you can swap out seasonal ribbon is so much more practical. I also avoid anything on the way to the cash register. It's a trap! Chances are we don't need any of it and our wallet will thank us.
All in all, it's fun to walk through these stores, but my advice would be to have a game plan. Definitely know where something will go if you admire it. Will it immediately have a home once you take it to your house? Here's to being mindful of clutter and what we choose to bring in. Have you scored anything great at HomeGoods lately?