How is your week going? Ours is not exactly what we had planned. Most of our mornings are very smooth. Not because we have any great secret or parenting potion, but because we have early risers. They are up and dressed before our feet hit the floor. And thank goodness as yesterday our son caught a flood in the house. Needless to say we are now listening to the not so quiet hum of fans and dehumidifiers as we endure the drying out process. Good times. So let's take a look at something more fun. Sharing five ways to add charm to a porch. Whether it's grand or quite cozy, it's nice to put your best foot forward.
ONE: TOPIARIES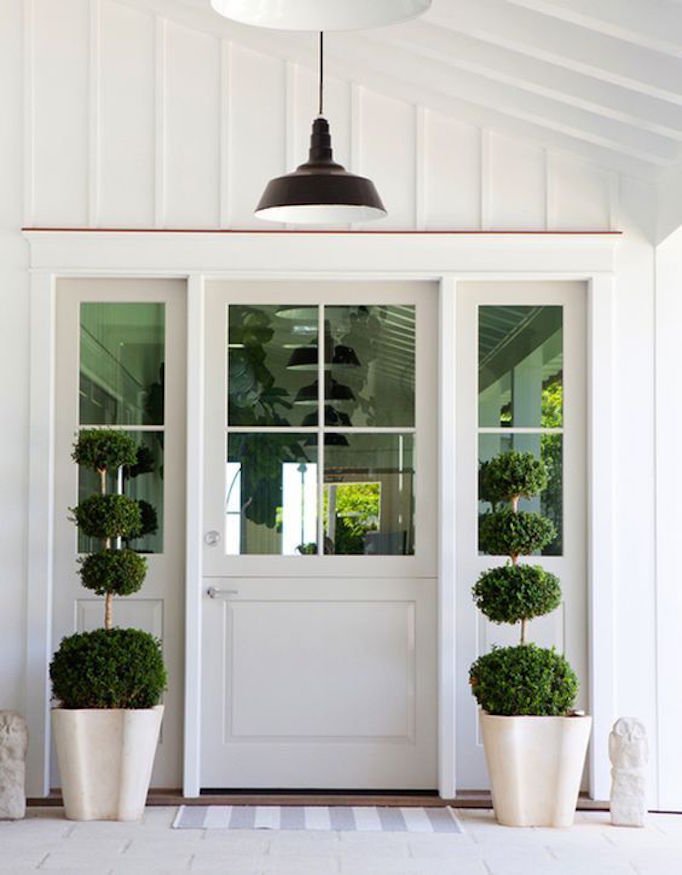 Are you familiar with Molly Wood? I am in love with her garden aesthetic. Beautiful and classic. This entry is so pretty and welcoming. I love the look of topiaries and of course the striped rug speaks to me, too. Gorgeous.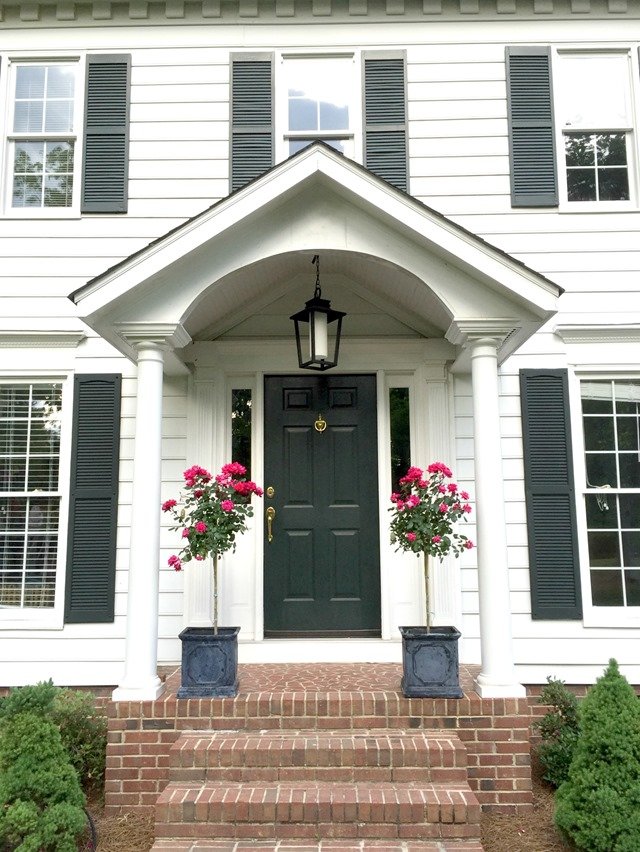 My friend, Emily Clark, added beautiful planters to her front entry. Again, keeping it simple but so striking. We are  flirting with the idea of faux topiaries for our entry. I have tried to keep them alive and no such luck. I am now on my second set of bougainvillea and it's making me so bummed. I'll keep you posted on what I decide.
Isn't this so dreamy? In all of these examples, symmetry plays a large role in keeping the front porch clean and classic. I have a major affinity to brick so this also calls my name. I could hang here for hours and hours!
TWO: FRESH STRIPES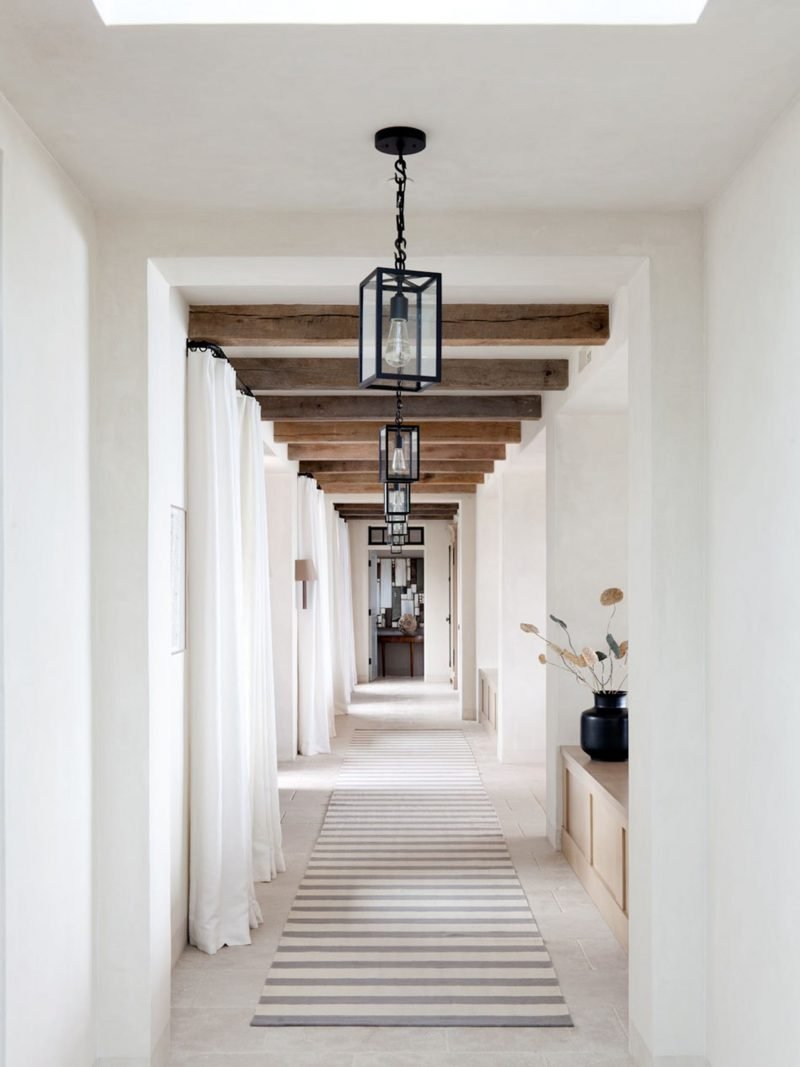 No secret I love my some stripes. I think fresh strips on a front porch work wonders. They are clean and fresh and look so preppy and fun. I am working on adding stripes to our backyard. You can see a sneak peek over on Instagram. I am so excited to share the project with you.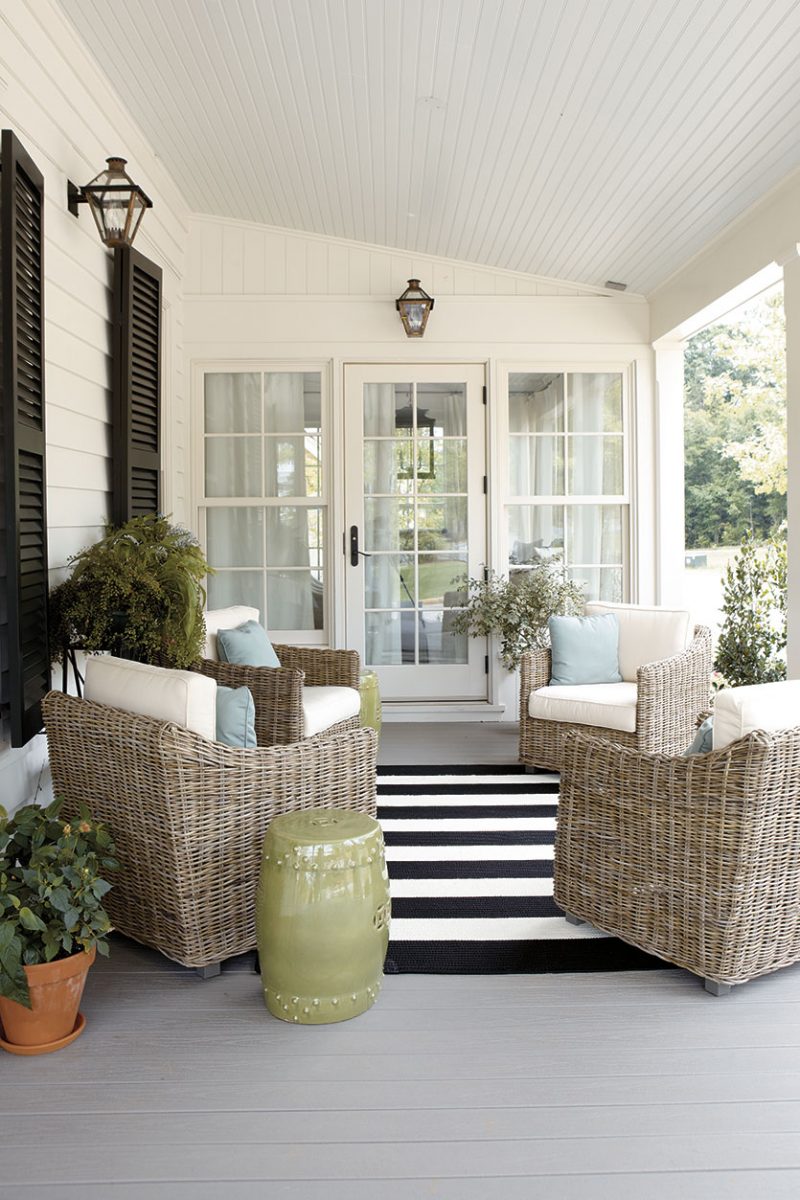 Black and white is also one of my favorites. If you don't have a large space, consider just a small rug under your doormat. I love the look of layered rugs and it's a nice way to add a bold statement in a small space.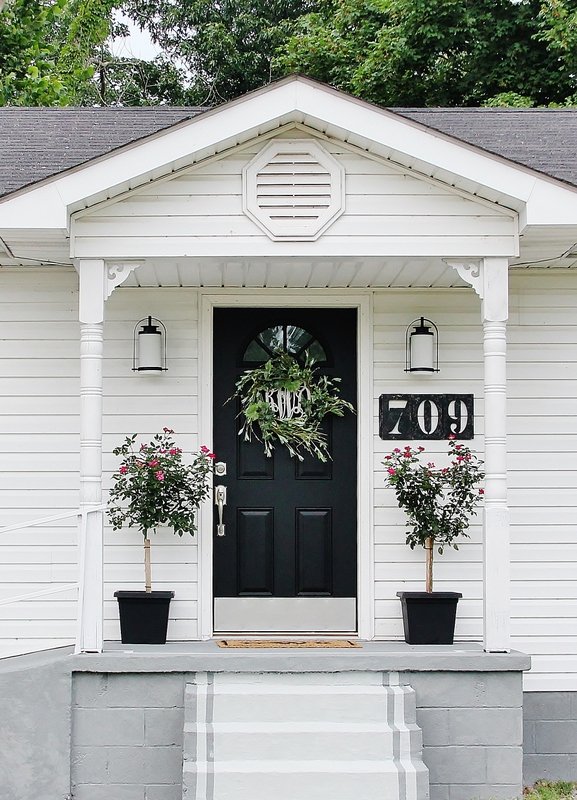 I mean. Thistlewood Farms knocked this out of the ballpark. This combines so many of my favorites. You have the stripes on the concrete plus the topiaries. All so perfect. The painted concrete could work in many different homes.
THREE: UNIQUE SEATING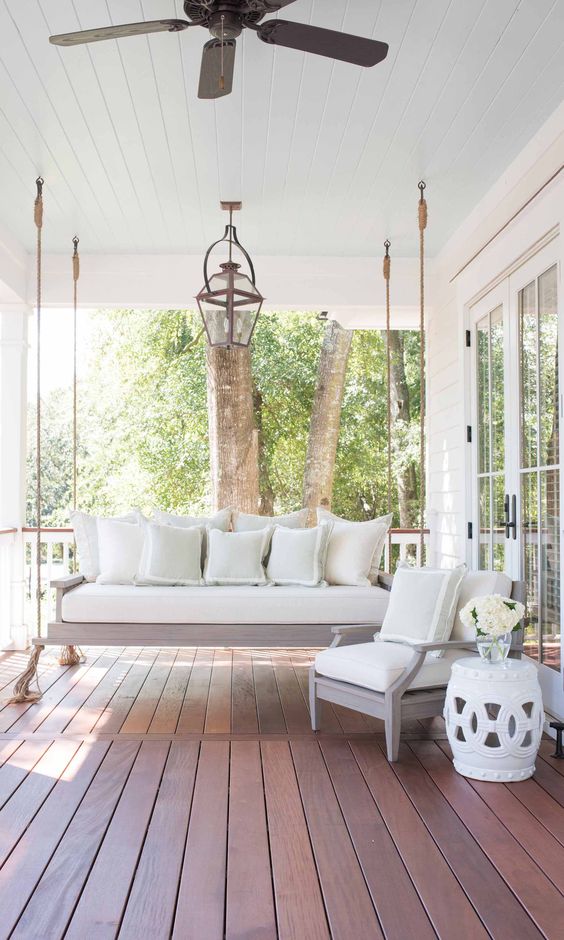 While we don't all have a spot for a hanging chair, there are many ways to incorporate seating. Even a bench by your front door says, "Welcome!" Side note. I have a major design crush on Leah G. Bailey. Holy cow. Have you seen her portfolio?
We have had Adirondack chairs for years. My parents gave them to us when we bought our first home. We LOVE them and still have them on the porch in our current home. They are surprisingly comfortable and easy to switch up for the seasons. A couple of toss pillows make all the difference in the world.
FOUR: LIGHTING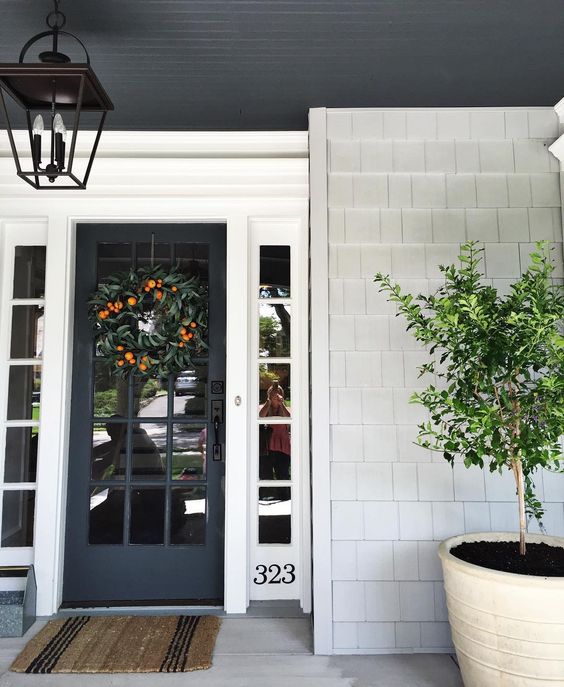 All of this is so good. But especially the charm of that great light. It welcomes you in and draws the eye up. I also love those house numbers. Such a classic touch.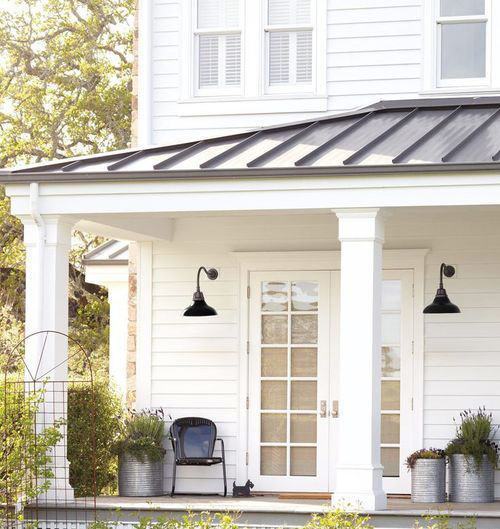 Lighting is key. It really is. We have been working on our outdoor lighting and it's transformative. No matter how tiny your front entry may be, mounting a light or two could really change the look. Lots of inspiration here with the galvanized tubs filled with greenery and the chair by the door. Really well done and very inviting.
FIVE: PAINTED FRONT DOOR
Dina Holland can do no wrong. In fact I will be sharing more of her gorgeous designs soon. The use of symmetry plus the gorgeous door color make such a beautiful impact. And how cute is that dog?!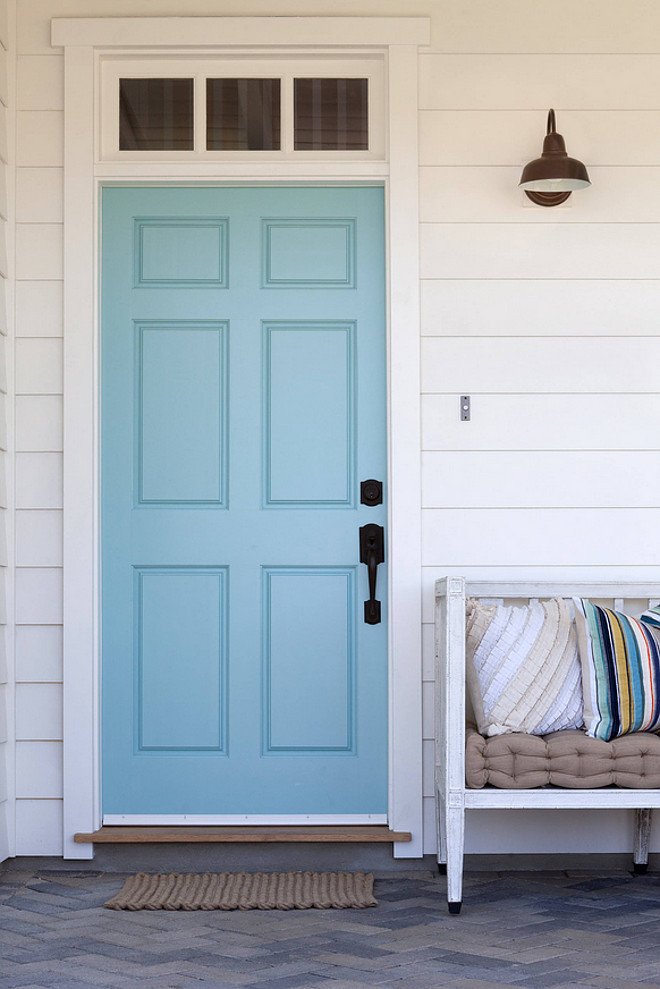 Here is another example of how gorgeous a door can be. Have you ever thought of painting yours? We just painted ours black but I may get wild and crazy and paint it red one day. I love a good dose of color.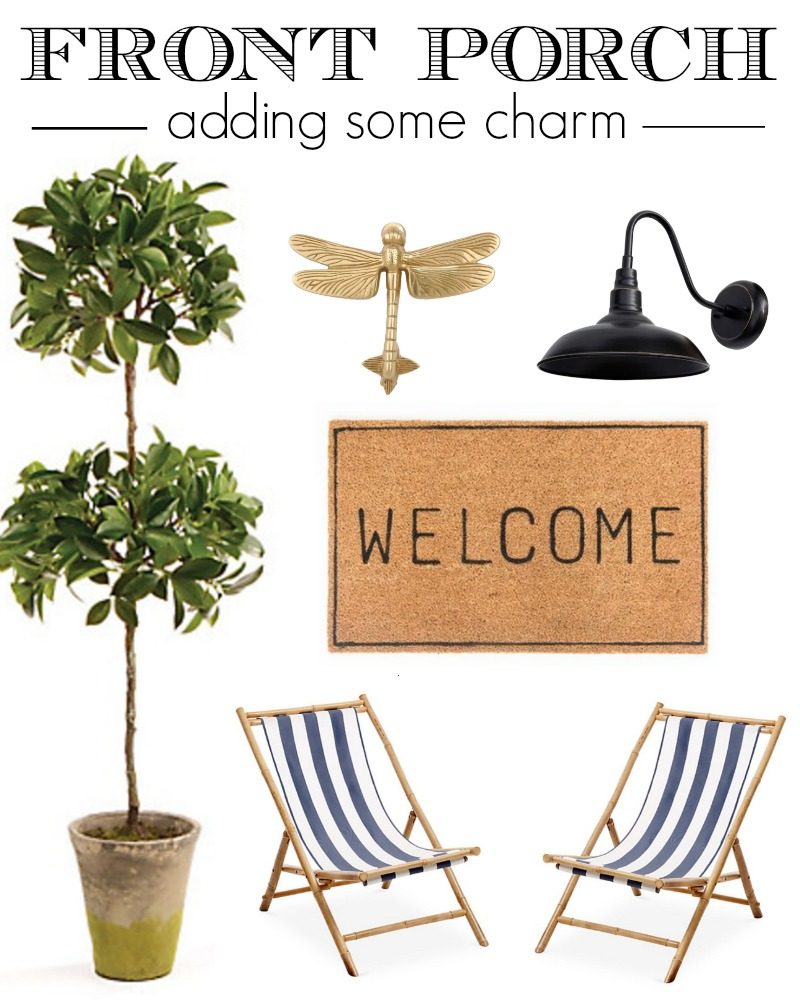 topiary | doormat | knocker | light | chairs 
Shop Front Porch Ideas

I rounded up some items that can help add charm to an entry. This doormat is one of my all time favorites and back in stock.
What are you all up to this week? Thanks for being patient with my blogging pace as we sort out our flood situation. All of this talk of porches makes we want to spend the day outside adding some special touches.
Enjoy the day!!!
Five Ways to Snap a Better Photo