Raise your hand if your addicted to the show Fixer Upper like I am? I seriously love Chip and Joanna. And I know I am not alone. Everyone I talk to feels like they should be friends with them. So what does that say about them? Seems like they are as down to Earth and self-effacing as they come. Yet still so talented and hard-working. What I love most is that they are a true team. My husband and I love working on home projects together so we often quote them or watch the show together (the first home show my hubby actually likes watching).  Chip seriously cracks us up. Since most everyone seems to be on team Fixer Upper I thought it would be fun to break down their reveals (all drool-worthy) and show some simple takeaways we can all pull off. Are you with me?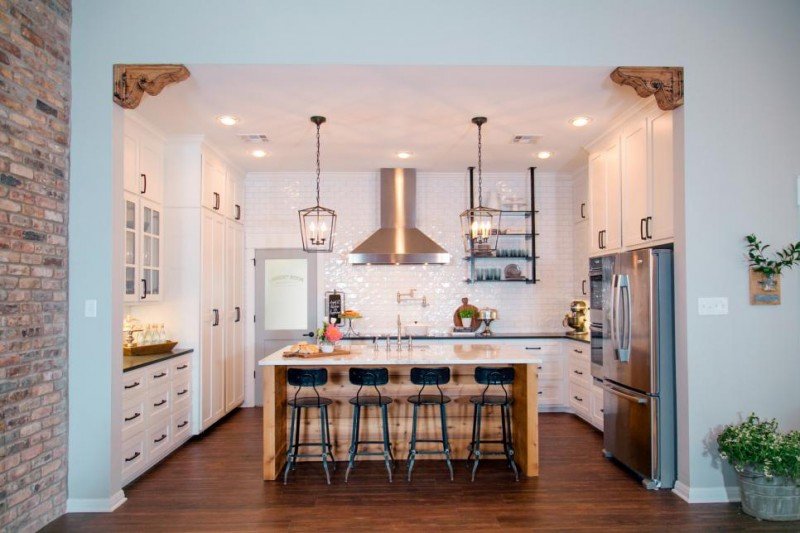 First, we must just drool. Let's face it. This dynamic duo has amazing taste and they always pull off the most beautiful yet comfortable and inviting homes. That's key for what draws me to their style. I don't want a show house or a home that looks pulled from print. I want a home that people feel comfortable putting their feet up on the couch and yet it's still beautiful. That's what Chip and Joanna always create. I am a lover of subway tile so this is pretty darn fantastic in my book. And those lantern lights are so beautiful.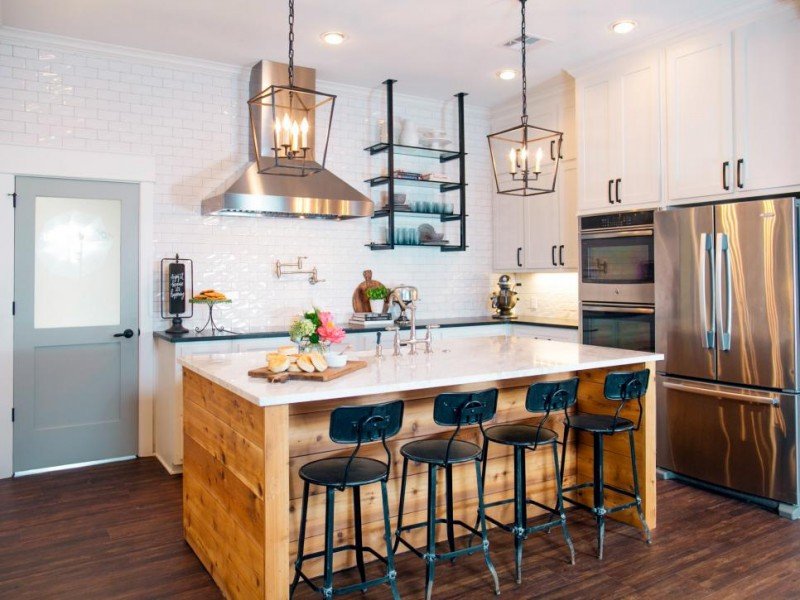 Takeaway #1: When hosting the next time, place a giant cutting board out with the bagels, cream cheese and fresh flowers. How simple yet beautiful, right? It's all about the presentation.
Similar Lantern Pendants

Takeaway #2: Consider adding a subtle pop of color to a nearby pantry or garage door. I love that soft blue and it still keeps the space nice and neutral.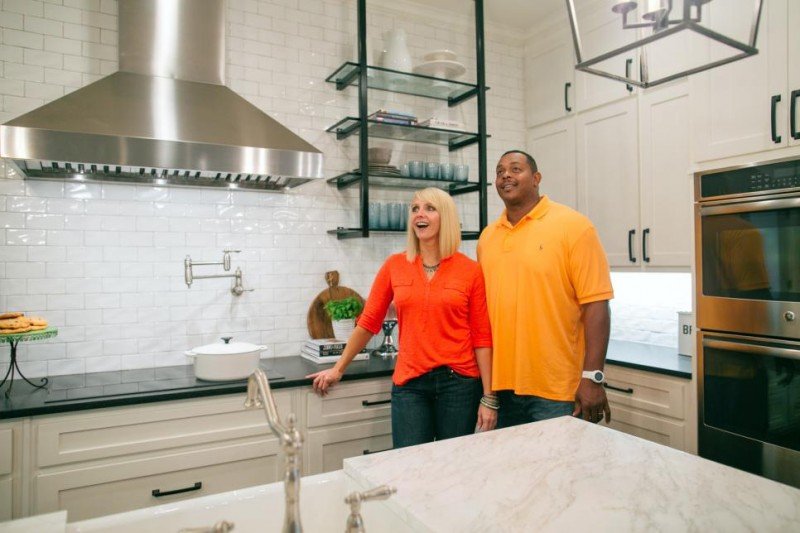 They genuinely seemed to be overwhelmed with the space. It was so cute to watch. I would have balled my eyes out and flung myself across the marble counter hugging it for hours. But that's just me.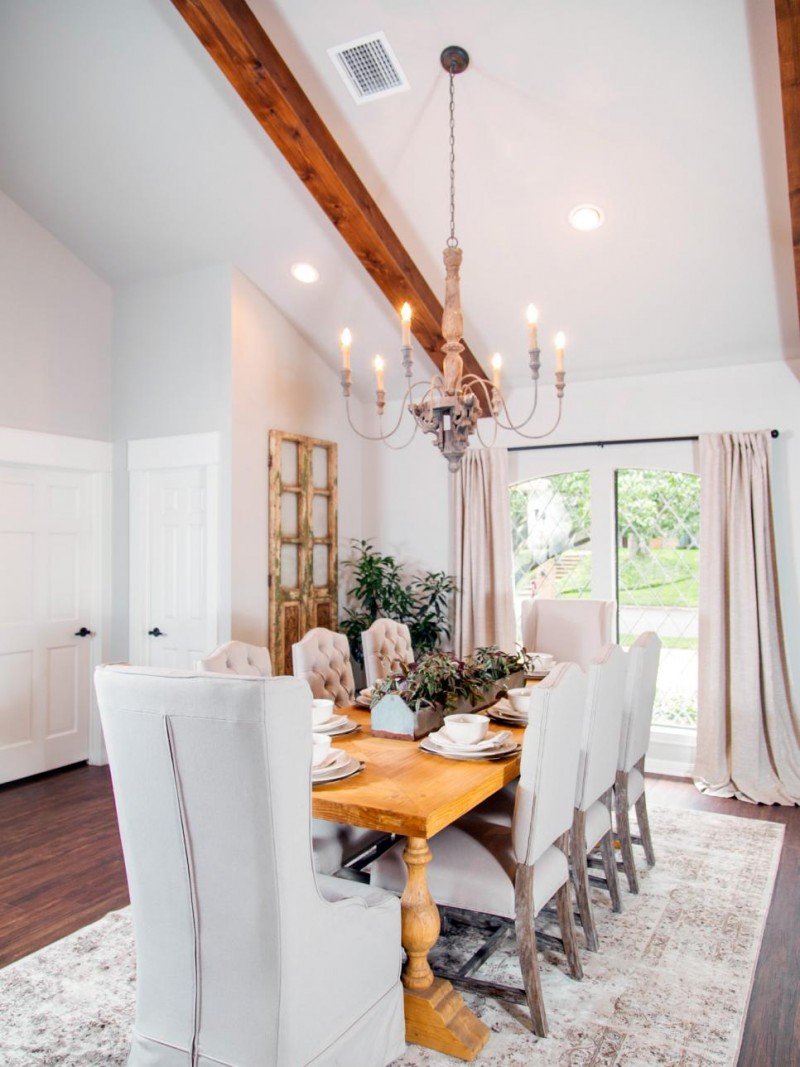 Takeaway #3: Add neutral drapes (the puddling on the floor gives them a more relaxed feel) and a neutral rug to your dining area. That allows you to infuse any color during any time of year.
Takeaway #4: Captain's chairs that are different from your dining chairs help create interest and anchor the table.
Finds to Create a Similar Look

The subtle gray paint color reminds me of the color in our bedroom (Pale Oak by Benjamin Moore).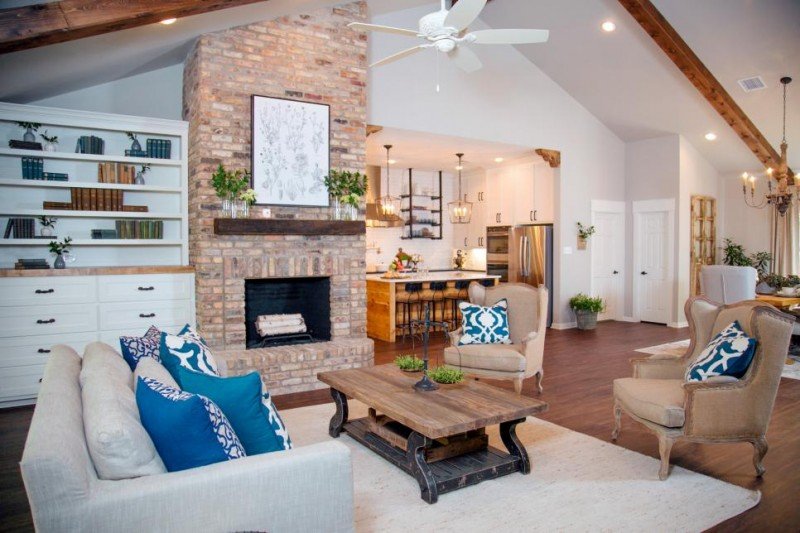 Takeaway #5: Let accent pillows be your pop. Imagine removing all of those pillows and replacing them with hot pink. You could totally pull it off. The color is coming from those pillows which allows you to play up any hue. Christmas would be beautiful with bright red.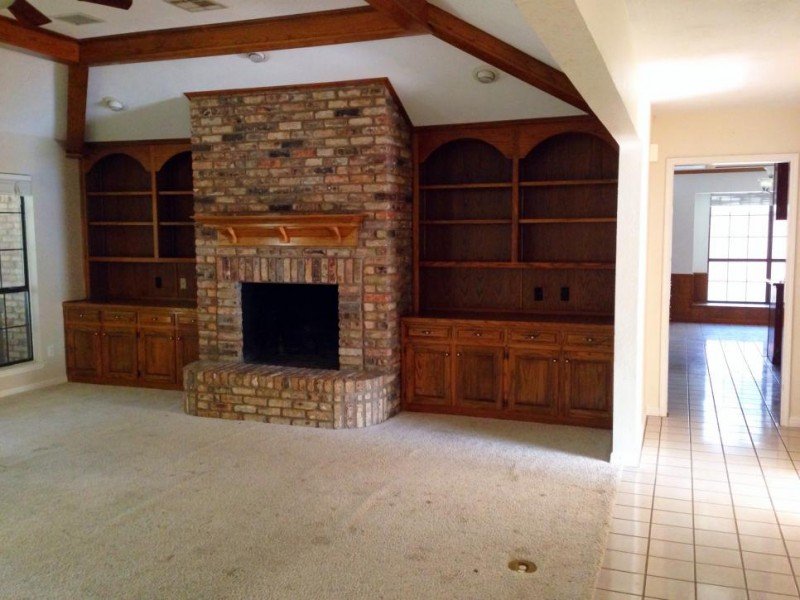 Always amazing to see what came before. Wow! Seriously impressive, right?!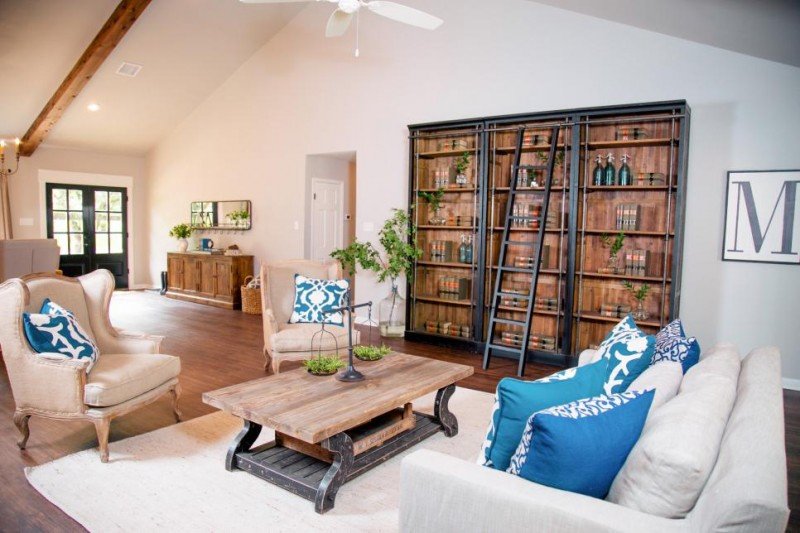 Takeaway #6: Personalized artwork. That "M" would be really easy to recreate.
While not as grand in size (but maybe not needed for most of our spaces) this coffee table has a mix of the industrial and wood (and it's on sale).
More Industrial Coffee Tables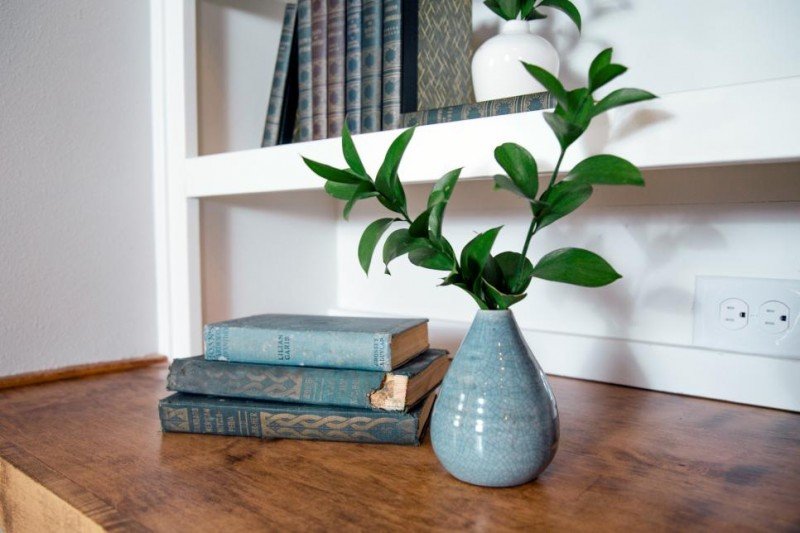 Takeaway #7: Look how simple that styling is. A sweet little vase (could pick up at a thrift store if you don't have one ) and greens from the outdoors. Placed next to some old, worn books creates such a charming space. I have books from our Grandparents and I love having them around the house. The torn bindings add even more character.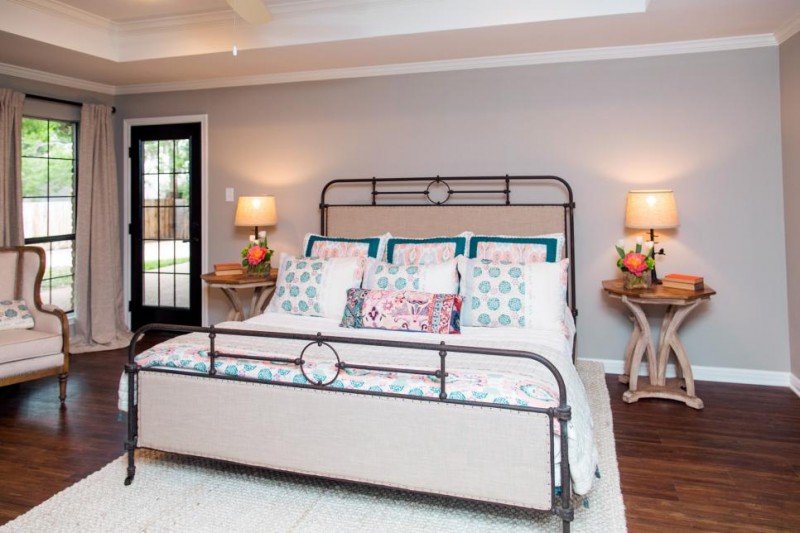 Takeaway #8: Symmetry. Whether you use chests or tables, I love the symmetry going on here. The bedside tables have the exact same lamps, flowers and books. While I tend to keep ours different, the symmetry helps because there is a ton of pattern going on in the bedding.
I hunted high and low and think this is the exact bed (and this one is available in King) but rounded up more below that give a similar feel for a bedroom.
Similar Beds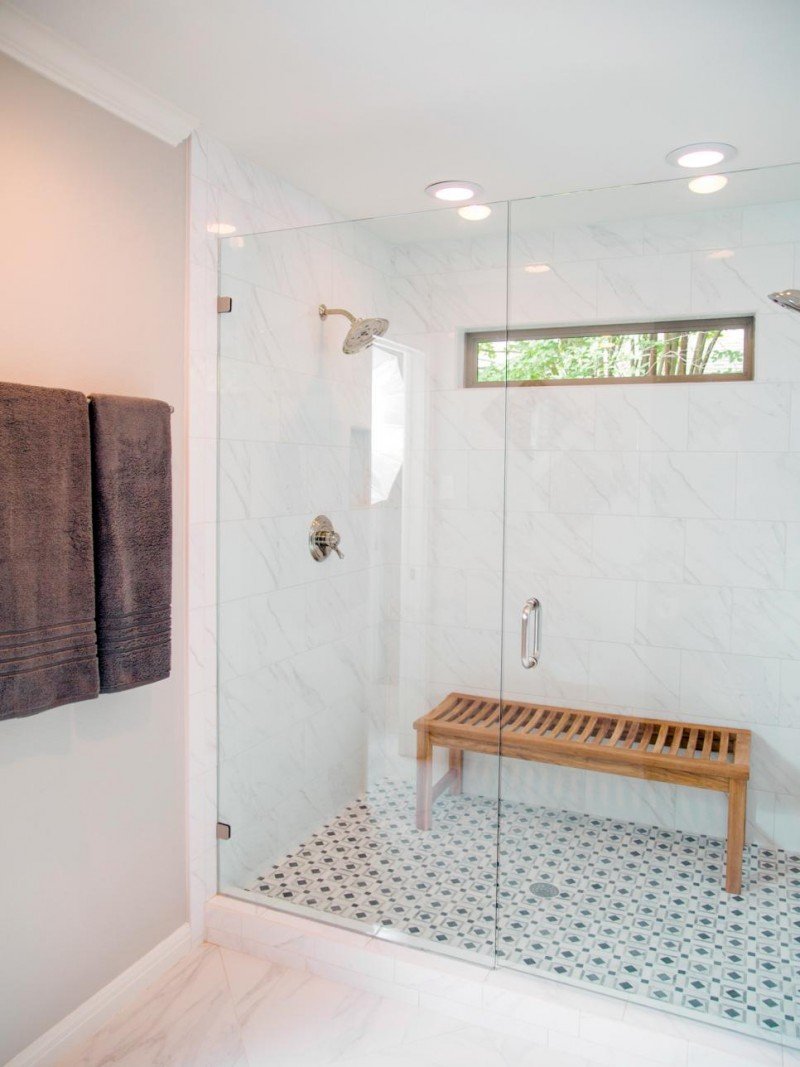 No major takeaway here other than. . . yes. This is my dream shower. That is all. Beautiful materials.
Takeaway #9: I was so happy to see this because this is so doable for so many. Paint your cabinets are rich gray, swamp out the hardware and hunt HomeGoods for a new mirror. Yes, the counter top is where I would spend my money if doing a makeover on a budget.
Takeaway #10: Next time you are hosting or having guests, place greens and a pop of color in a wire basket. So beautiful and simple. But makes this bathroom really sing.
All hail the mighty craft room. Swoon. Dreamy. Nothing to say but dreamy. And I spy the same wooden calendar I used in my son's rustic makeover. He loves that calendar.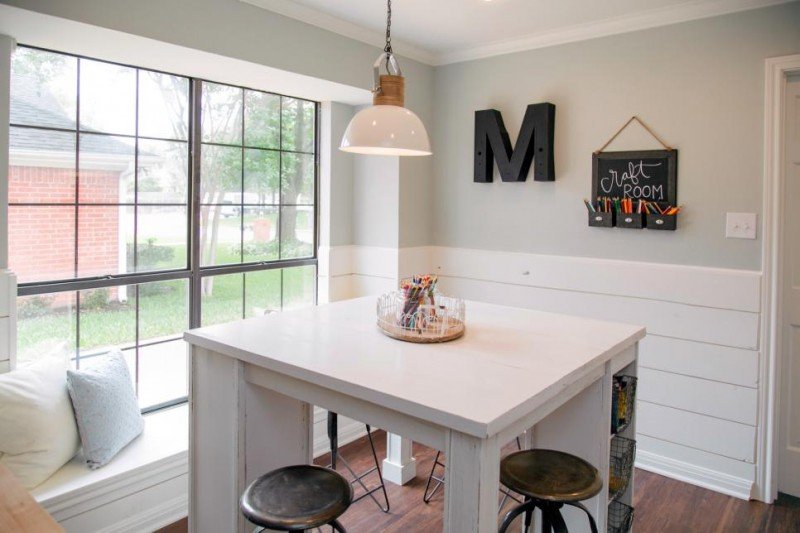 I couldn't find that exact light (still looking). This one is gorgeous and there is a knockoff from Ikea for $20!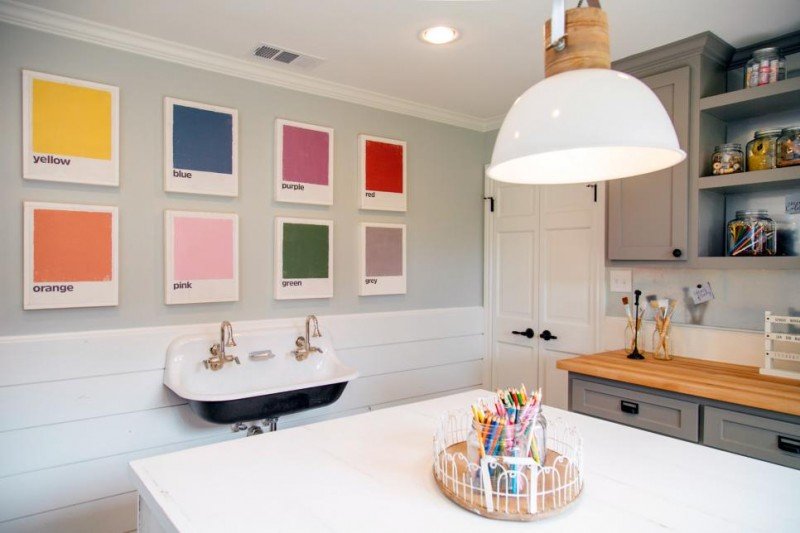 photos via HGTV (Fixer Upper) taken by Rachel Whyte
Takeaway #11: Paint Color Canvas Art. This is darling. What a great great way to fill up a wall. This could be done in a playroom, a child's bedroom or of course a craft room if you are lucky enough to have one. So simple and yet so impactful.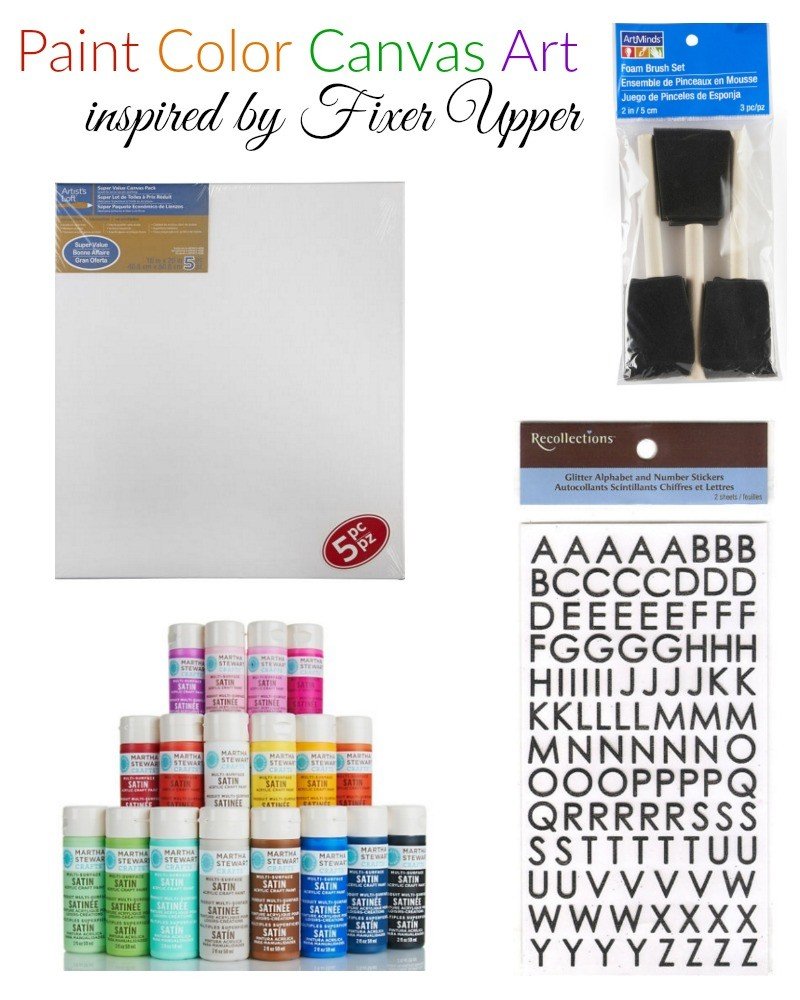 all of these are available at Michaels
It wouldn't take much to pull that off. Canvas, acrylic paint, paint brushes and sticker letters. I love this project. You could even get the children involved. After tracing a perfect square, let them fill in the rest with foam brushes. This would be really sweet in one single line across a work space in a basement or bonus room. Homerun, Joanna! Homerun.
While I could certainly list many, many more, those were the takeaways that immediately jumped out at me. I hope that you find inspiration in some of them. While it's awe inspiring to look at these gorgeous makeovers, it's even more fun to be able to pick up an actual idea here and there to implement in our own homes
Shop the Post