Good morning! I've teamed up with World Market to bring a forest inspired holiday table. I am hosting Christmas Eve this year and I am hoping my table has a warm and inviting feeling. Toss in a little bit of glam and it's ready to go. Sharing really simple ideas you can recreate for yourself.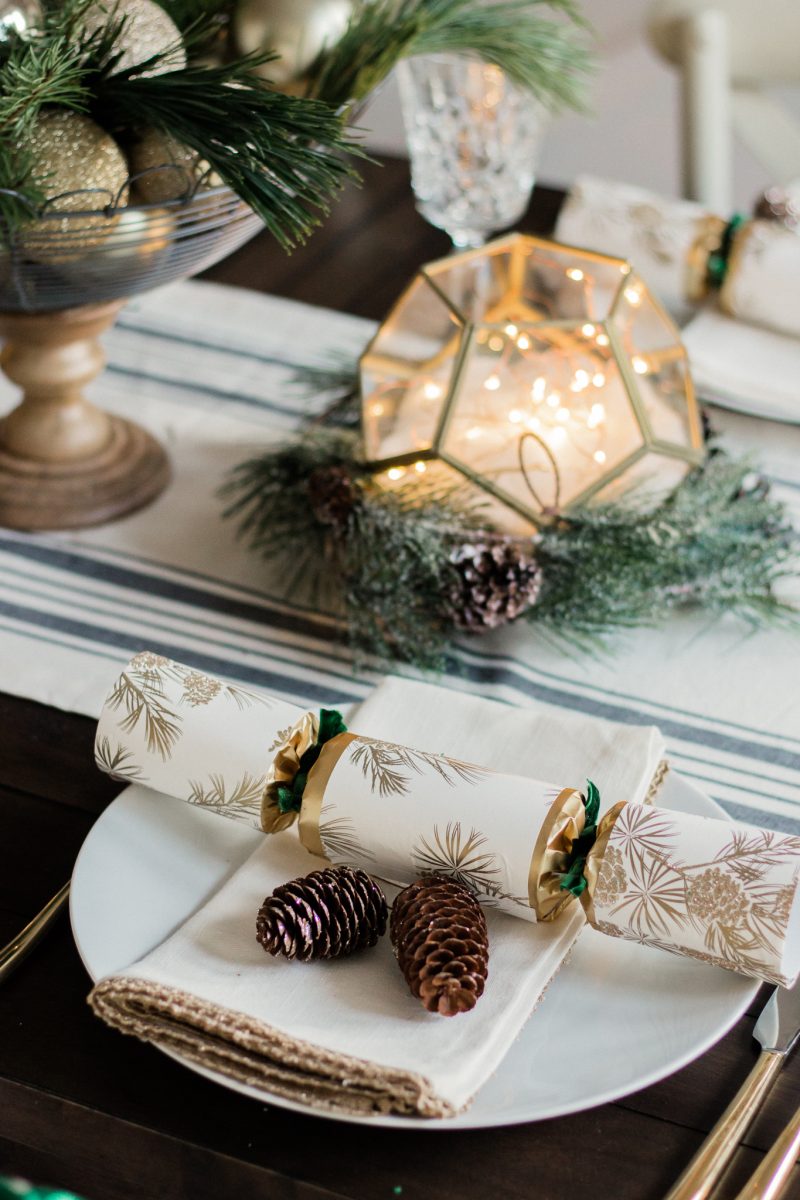 I chose to stick with a deep forest green and gold to give the table a darker feel. One of my favorite scenes at Christmas time is seeing an entire row of trees aglow with lights. I was hoping to capture that same feeling.
USE TWINKLE LIGHTS
It's all about the twinkle lights. These terrariums are perfect for nestling battery operated lights. They are resting on a bed of Epsom salts (and idea I borrowed from my sweet friend, Laura). The wreath each terrarium is actually an inexpensive garland that I wound into a wreath. It's an ideal scale for a table.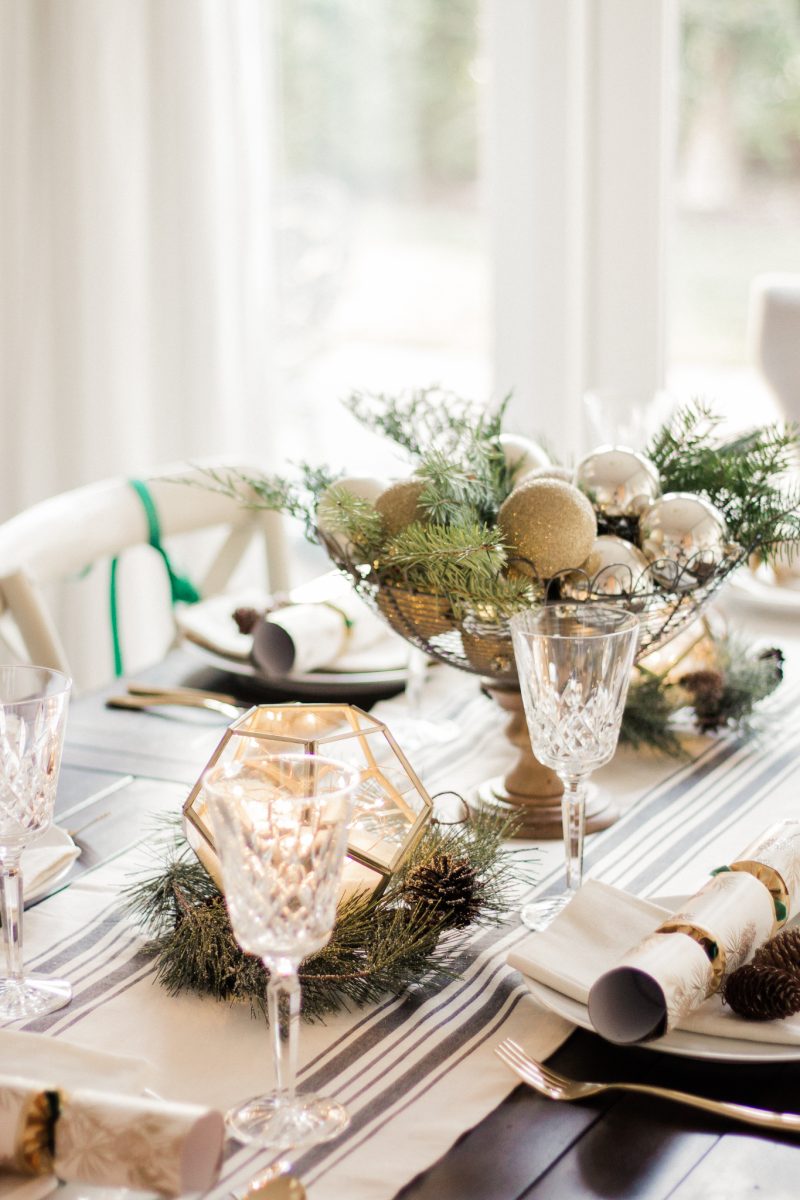 The evening sun shining in picks up the gold accents on the table. I've been using my gold flatware over and over. It just adds such warmth to our tables.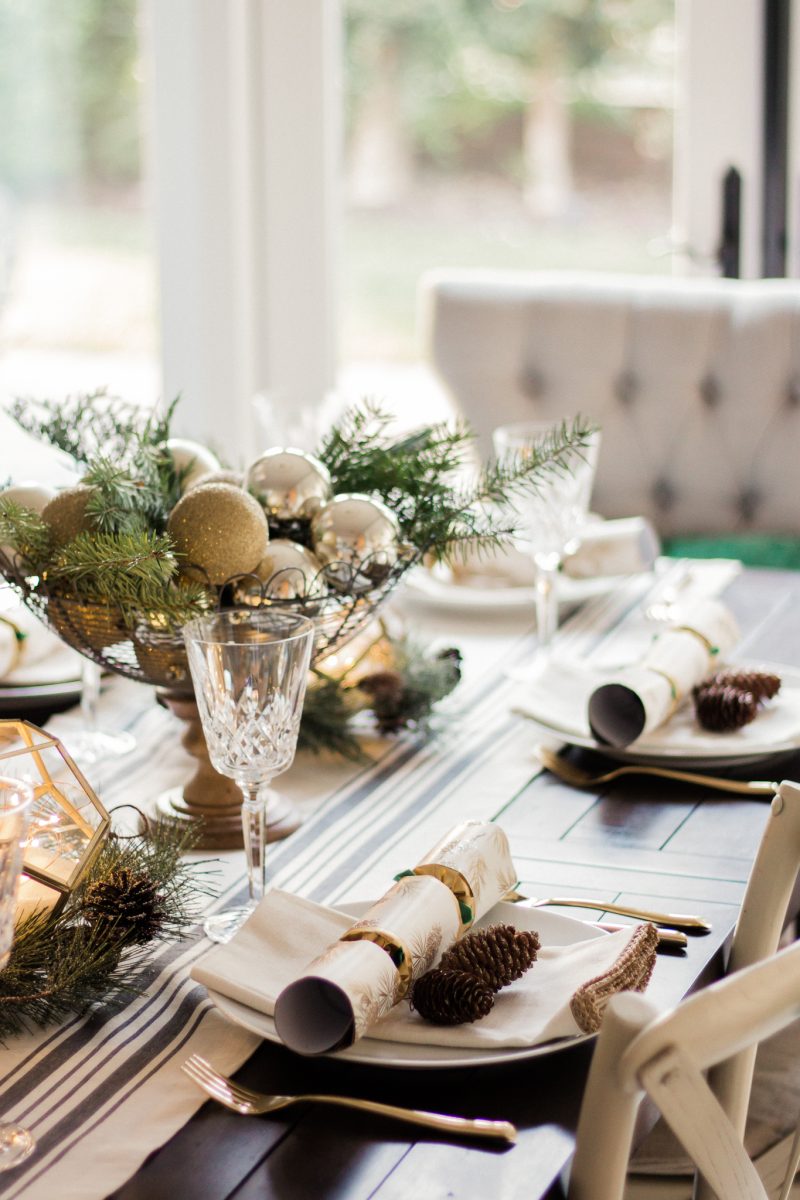 ADD FRESH GREENS
Even if you have faux elements on the table (like the wreaths) it's always nice to add in a few fresh greens the day of your party. It's very inexpensive, gives off the incredible smell and gives you that natural element. I only used a third of a bundle of greens from the local grocery store which means there are leftovers to use around the house.
The holiday crackers are a fun surprise for everyone at the table. And the gold and green is just so lovely. I love that they used velvet ribbon. Beautiful.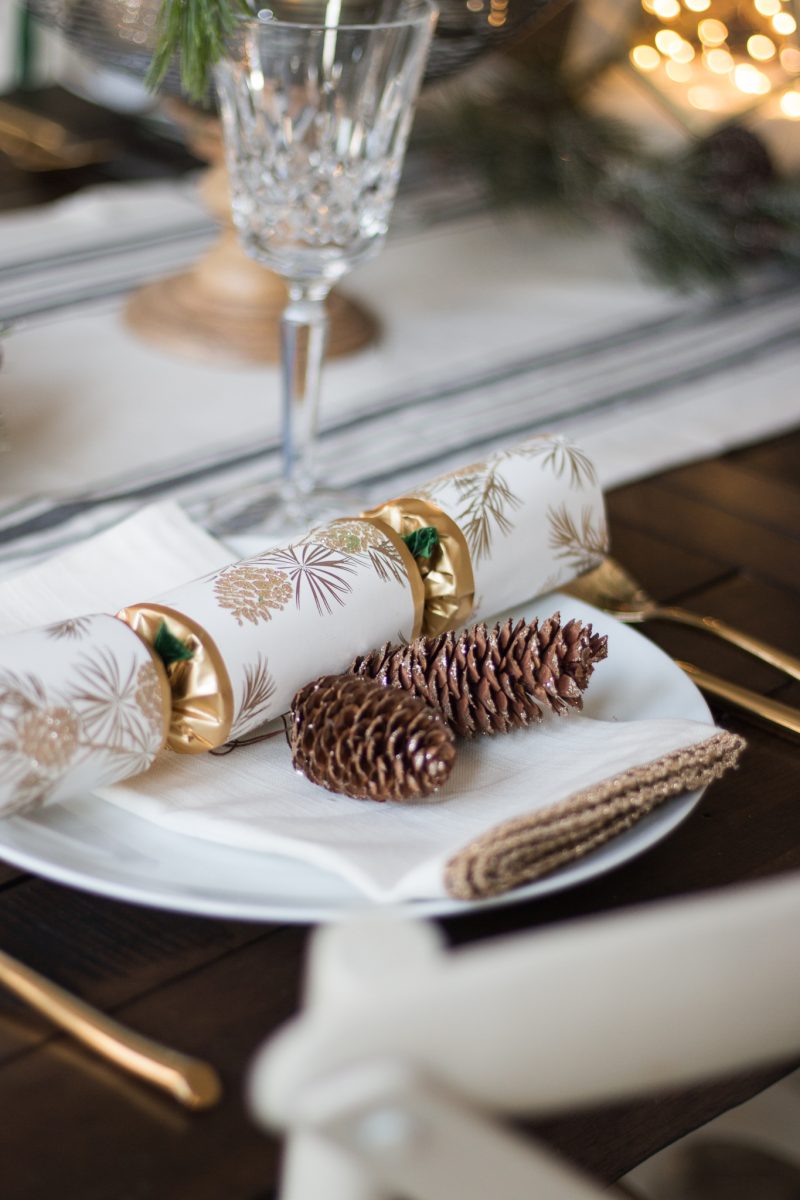 I purchased one package of pinecone ornaments (lightly dusted in gold) and set two at each place.
VARY THE HEIGHTS
When setting my tables, I always try to vary the heights of the centerpieces. Here the height comes from a simple pedestal bowl of ornaments. Adding a few fresh greens ties everything together.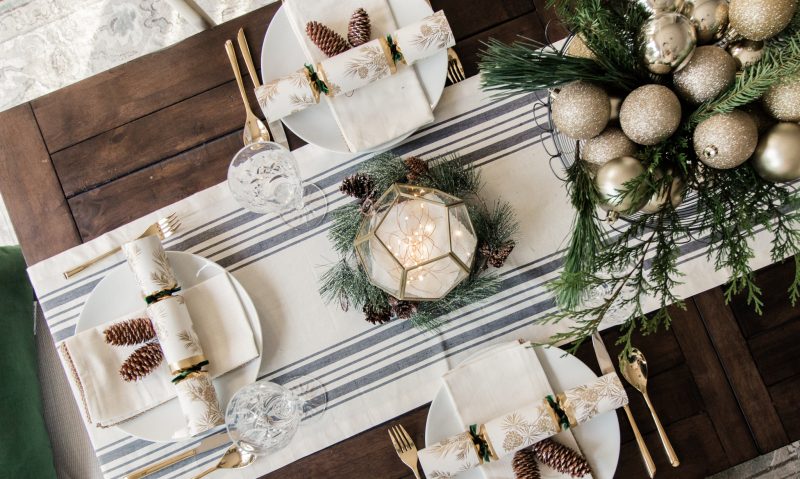 PUT A BOW ON IT
I love adding just a little something to the back of each chair. One spool of satin ribbon does the trick. Here I just tied a generous bow to add the green. It coordinates so well with the velvet pillows I placed on each Captain chair.
IT'S IN THE DETAILS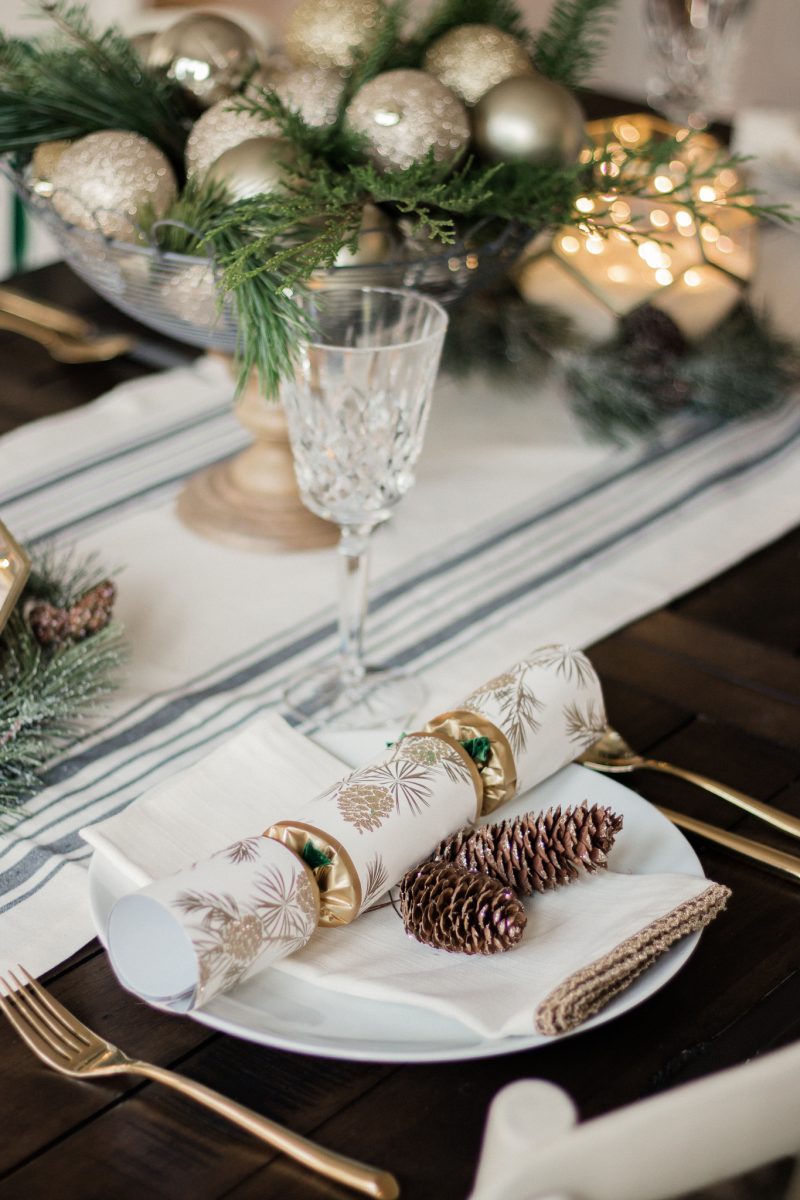 I am a detail girl and these napkins had me at hello. That gold detailing on each of the ivory napkins is gorgeous. These napkins are on sale right now, too!
GET THE LOOK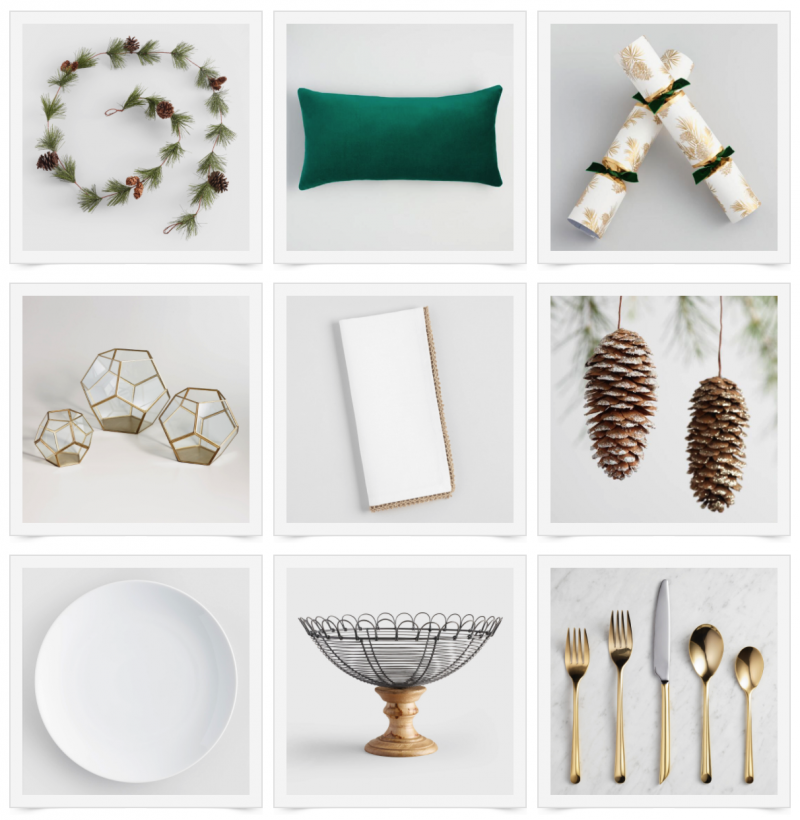 Here is a round-up of all that I've used to create this table. The good thing is that all dinnerware and linens are 30% off right now! I'd love to know if you end up setting something similar. And in case you are wondering,  I won't leave all of this out until our Christmas Eve party, but I will gather and place all of this together so it's easy to set closer to the night.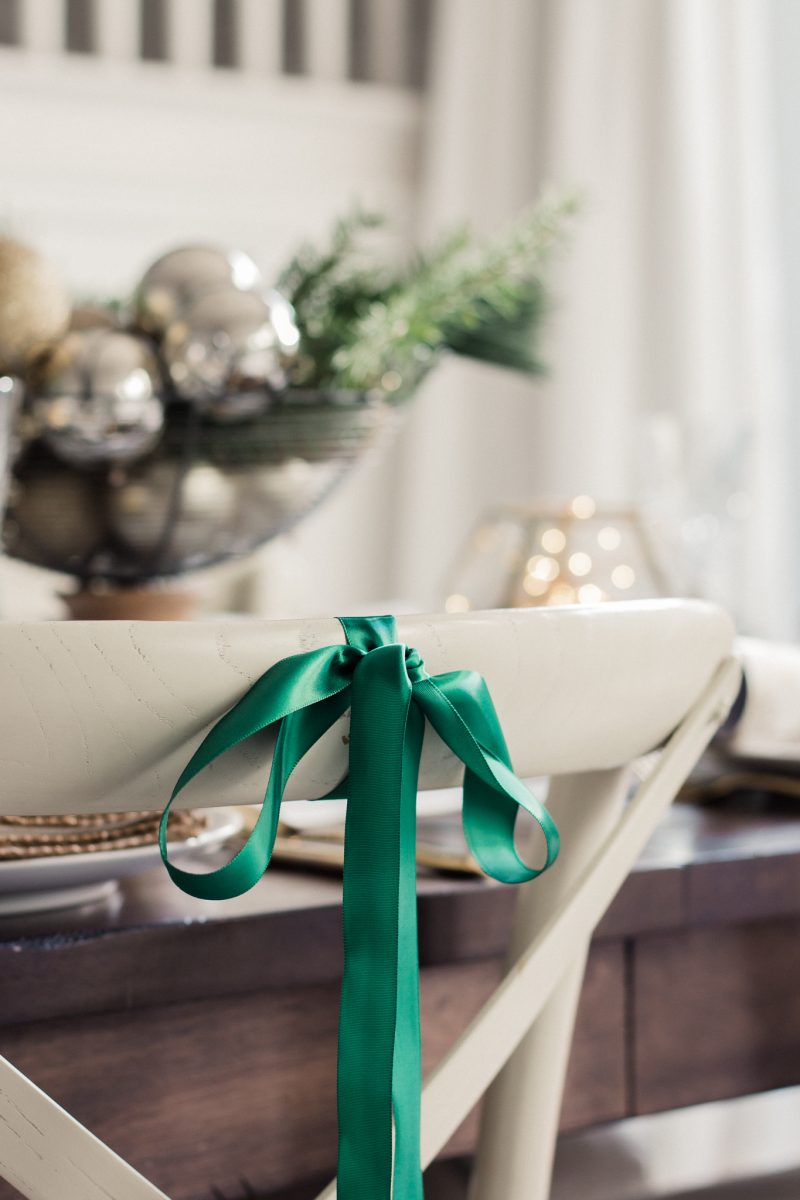 The deep, wintery look of this table was actually inspired by this darling video. I normally don't post video snippets on here, but this one is mesmerizing. So dear and very moving. Truly well done.
MESMERIZING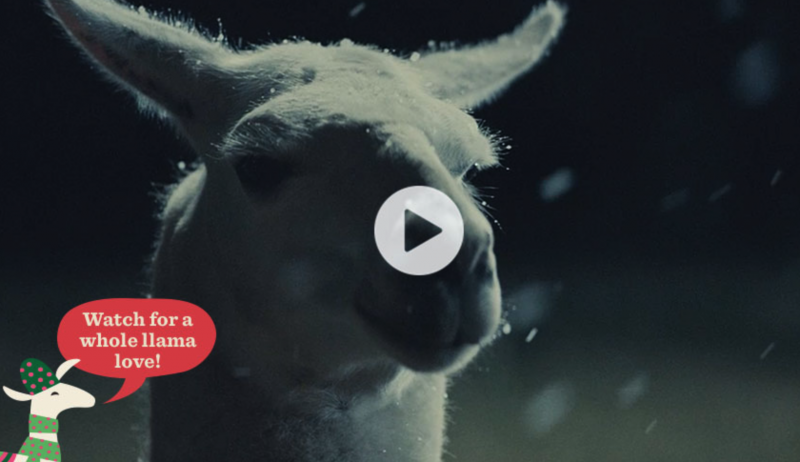 watch here ( only 3 mins and so darling)
 table | runner | napkins | flatware | crackers  | wreath | terrarium | pillows
And that's a wrap on our holiday table. I hope it's given you some fun ideas to think about for your own gathering.
To see more of my entertaining ideas you can head to my gatherings tab. 
Thank you to all the moms who related to me yesterday. I busted out the sewing machine and pulled off a last-minute costume for my son's Walk Through California. Let's just say it wasn't one of our calmest nights around here. On top of it, we all overslept until 7:15 am this morning. Good times. But feeling quite fortunate as we have so many Southern California residents who are losing their homes due to horrendous fires and winds. Our thoughts and prayers are with you all.
*Proud to sponsor with World Market on this post. Affiliate links used.