I have closets on my mind. This past week, I couldn't take the disaster we call our closet anymore so I jumped right in. But you know what happens when you get half way through a project like that, right?! I called my sister and told her I wanted to curl up into a ball and cry. Ok, slightly dramatic but sort of true. Things always get so much worse before they get better. And I don't have any lovely before and after photos for you. Not sure you really want to see our closet. But I will say it's getting much better and I was able to purge so many things we no longer wear or need. We are trying to look at our closet and rethink how we've used it. So I am gathering inspiration. And this is what you will want to see! Some pretty darn good Friday Eye Candy.
This has been one of my all time favorite closets. Our closet is pretty darn small so I always try to look at similar sizes (this one is still larger). It doesn't help to pin images of closets that are four times the size of mine. I love the attention to detail here. The gold moldings, the artwork and the pretty floors. My oh my!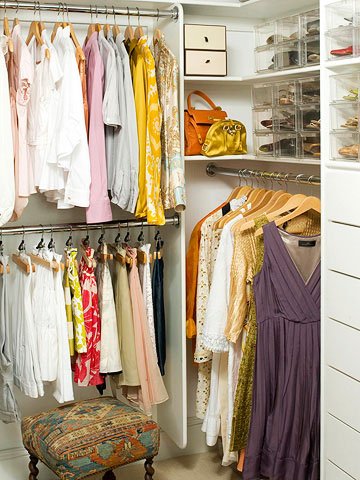 We have similar corners in our closet to deal with so this is especially inspiring to me. Those corners are always hard to figure out. Loving the clear boxes for shoes. I just purchased those and love them. I picked mine up when I was mid clean out from The Container Store.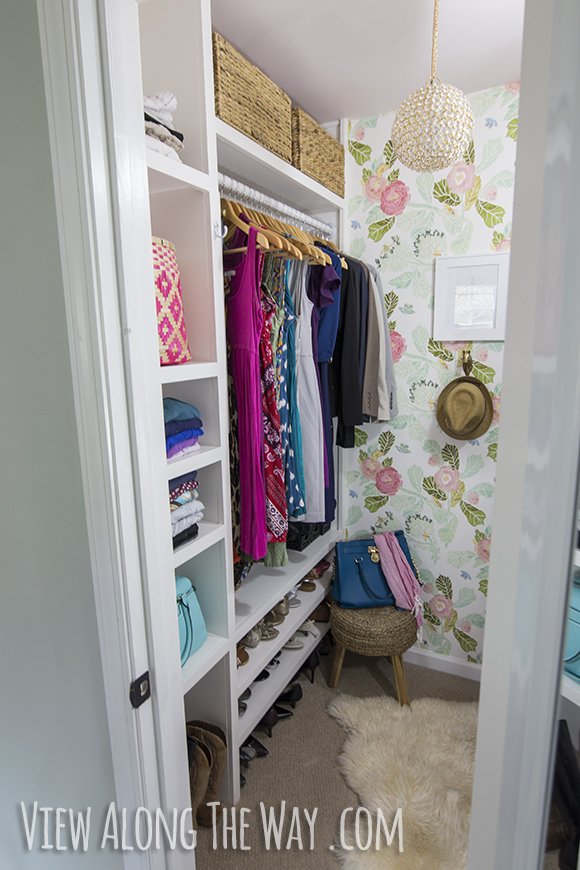 Beautiful, right?! Just the addition of the darling wallpaper paper makes it sing. I am not sure the hubby would vote for pink florals in our shared closet but I like the idea of a fun accent wall or artwork.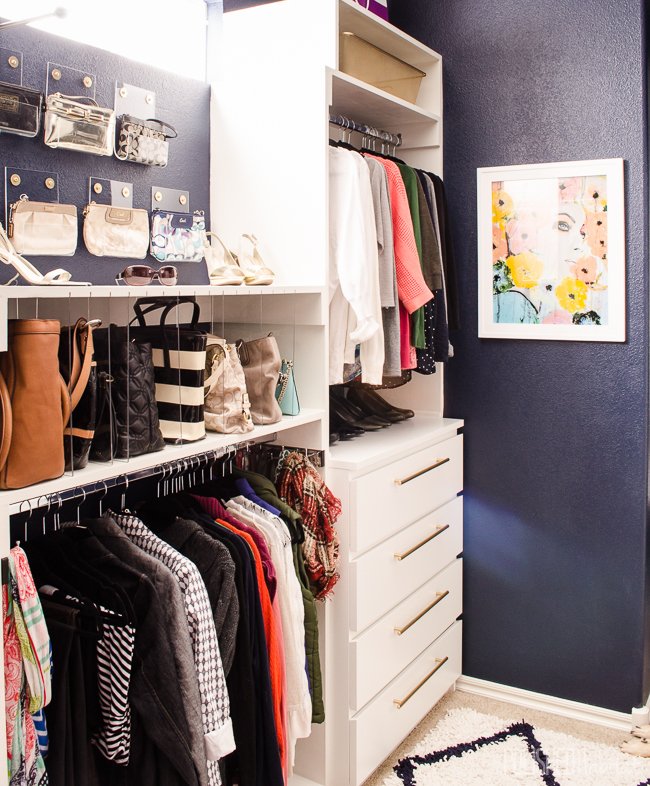 Now this is what I'm talking about! Yes! Yes! Yes! Melissa completed this master closet for her One Room Challenge and it blew me away. You have to pop over there and see all of the gorgeous photos. I am so stumped about handbag storage and what she made on her own with acrylic is mind blowing. I just adore this space.
So we shall see what I actually implement. It seems overwhelming for sure. Some days I want to rip it apart and overhaul the entire space and somedays I am quite content with where it is now. I just know it could be so much better. I did find a pair of sunglasses I lost three years ago! Yep. They were tucked in the bottom of a handbag I haven't used since a trip to New York. Just goes to show you that if it's out of sight. . .it's out of mind. Another reason for wanting to rethink the closet.
How is your closet these days? Is it well organized? I just wish I could add 400 square feet to mine. Ha! Happy Friday to you all. I hope you have a great start to your weekend.