It's no secret I love the Expedit. If you are not familiar with it, it's the fabulously inexpensive bookshelf from Ikea. It comes in different sizes, but it never ceases to amaze me. I have used it in my home here and here and have been so inspired by all the different ways there are to style it. I wanted to leave you for the week with some pretty sweet Expedit inspiration.
Elsa from Casa Greer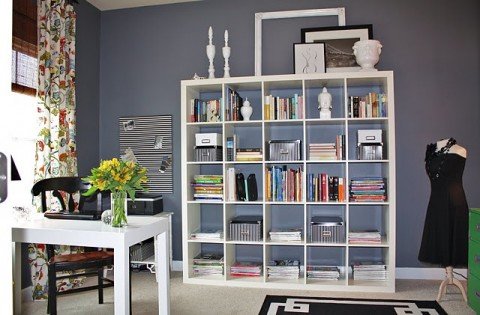 Emily A. Clark
via pinterest from anna-white.com
via I heart organizing
I am bananas over the use of Expedits here. Thanks to Marissa over at Roost I was introduced to The Smith Nest and this creative twist. Literally. They turned one to the other side and created a chalkboard on the end of the Expedit. Don't think I haven't looked at all of mine to see if I can do the same. Brilliant.
Up close styling by The Smith Nest I think what I love most about these bookcases, is that you can store a ridiculous amount of "stuff" and it still looks good. I have two of them in our bonus room for toys and they have been a life saver. Anyone else share my obsession? …………………………… have a fantastic weekend. enjoy the little things.