I am totally blown away by how stylish you all are. Seriously. When I put out a search on Instagram for Eye Candy I never realized it would be almost impossible to narrow it down. I almost feel bad as there are so many great rooms and I can't feature all of them. Thank you to everyone who took a moment to post one to your feed. I really am blown away with the talent and all of the variety out there. So beautiful. All of these rooms caught my eye for different reasons, but I think you'll find each one is pulled together beautifully. And while "eye candy" can sometimes feel intimidating, I hope that you'll look for one or two small ideas to use in your own home. Often when I look at shelter mags or these pretty photos, I am looking for a furniture layout or a creative wall art idea. What are you looking for? Enjoy the inspiration.  
emily a. clark That gorgeous piece was a recent bargain find by Emily. With a little love and paint, it is a true focal point. I have always been drawn to Emily's style. A casual elegance that is very inviting. And this mama proves you can have five children and a pretty home! …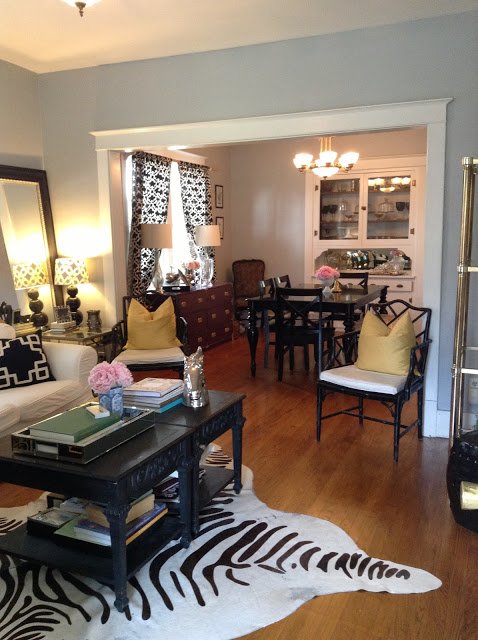 goodwill glam Talk about a high end look on a goodwill budget. That is what I am all about. So beautiful. And I love the layering going on in this space. …
dimples & tangles I love Jennifer's style. If you have not popped over to see her home you will want to. Just so  many accessible and beautiful ideas. Her foyer is one of my favorites and she employs a fearless use of color which I love. …
the jolly james' What I love about this living room is how fresh and clean it is. With a few pops of color and nice clean lines, it really draws your eye in. I especially love the striped wall and number doors she has going on in her home. Go check it out! You will love! …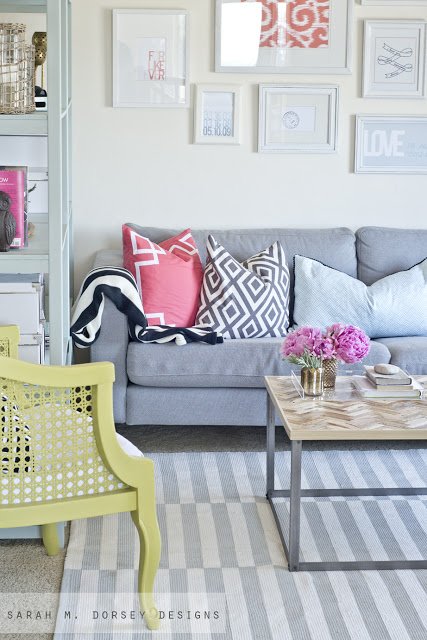 sarah m. dorsey designs I may or may not have a crush on Sarah and all that she touches. This living room is beautiful. I of course love the striped rug and that yellow chair. Enough said.
jenny collier Have you popped over to see Jenny's home? It is really beautiful. The gorgeous fireplace tile is enough to get me. And I love the unexpected placement of the couch pillows. Her use of neutrals and photography is really quite stunning. …
scout and nimble I was immediately taken with the abstract art that Jesse created herself. It is unexpected and so much fun. And do you see the backs of those chairs in the adjacent room? Jesse is darling and so is her sweet family. Head on over and you can see the cutest family video. Style runs deep in this family. ………………………. Hope you enjoyed this weeks eye candy. We are off to a concert in the park tonight and then I have my high school reunion on Saturday. I haven't seen most of the crew for 20 years. Yes, I am that old. I let you know how it goes! Enjoy your weekend, everyone! happy friday, friends