I hope you all had a really blessed Fourth of July celebration.  It's always a special day filled with long standing traditions that are really important to us and the kiddos. We enjoyed every minute of the day and are planning to relax and enjoy today without any major plans.  The sun is shining so that might mean some solid pool time. Today I have another special installment of Friday Eye Candy featuring your spaces. I love searching for stylish rooms to show off via Instagram. There is so much inspiration to drool over. If you want to follow along you can find me @athoughtfulplace and see many beautiful rooms with the hashtag #athoughtfulplacefridayeyecandy. So without further delay, here are some stunning office spaces from my readers.
stylish home office by carmel with our fifth house Carmel created such a beautiful space for her husband's home office. I love the lines of the desk and the painted built ins are just beautiful. I love how much energy the zebra rug gives this space as well.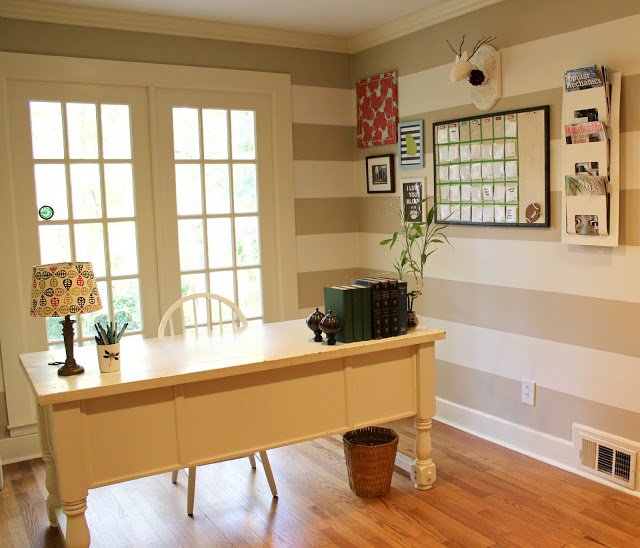 striped office from michelle at ten june It's no mystery I am obsessed with stripes so Michelle's home office is calling my name. This is such a bright and sunny place to work and Michelle is a genius when it comes to fun DIY projects.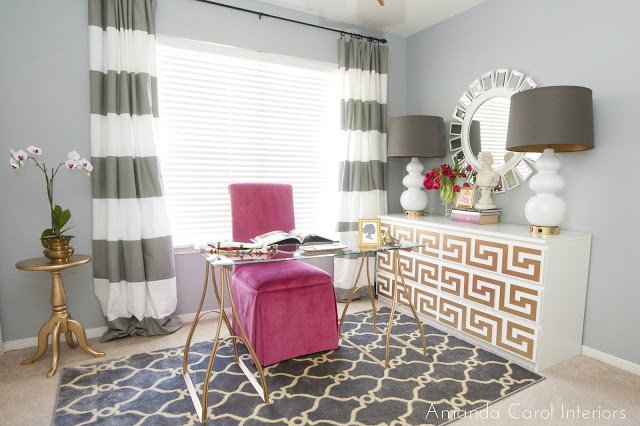 glam office from amanda carol interiors Amanda created such a beautiful and glamorous office with this space. The Ikea Malm dresser if one of my very favorite makeovers. And the touch of pink is perfect. Oh, and then those stripes!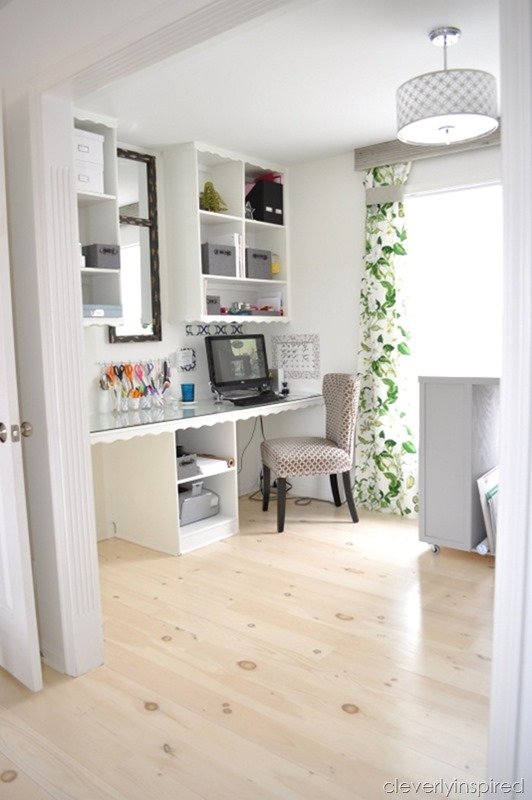 craft/office space from tracie with cleverly inspired What caught my eye the most in this space are those beautiful green drapes. They add such a beautiful feel to this room Tracie created. I am not only inspired but so envious of this well organized space for crafts. My oh my!      
fabric display from bobi at bobi law designs Bobi makes beautiful pillows. I am totally in love with the way she displays her fabrics. Makes me think about how I have mine organized. Hmmm. I need to do something like this. Such a smart and stylish way to have these beautiful fabrics on display!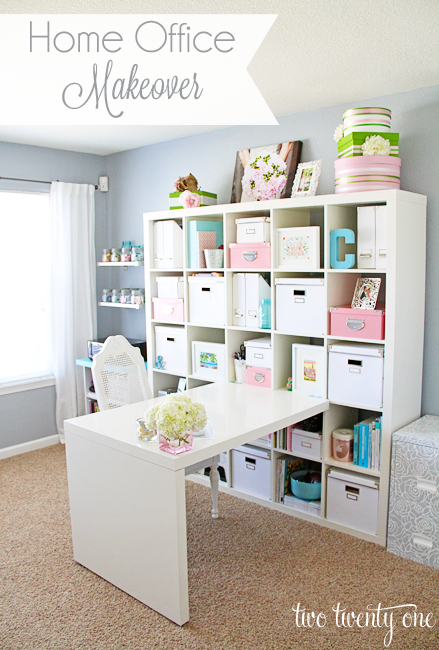 feminine home office from chelsea at two twenty one Chelsea knocked it out of the park with this darling space. I love the use of the Expedit in this space and the pretty feminine details. I could sit there all day and get work done. Or just daydream and blog the day away! Either work for me! …………. Happy long weekend to you all! I hope you can fit in some time to relax and enjoy. That is our plan. Oh and maybe a little bit of weeding and yard work. Just keeping it real! h a p p y   w e e k e n d