Thank you all for such lovely comments about my Instagram announcement. I often think how nice it would be if we could all meet for coffee. I know so many of you have stuck around for quite some time and it means so much to me. Today it's all about fun style finds from the dressing room. They are all budget friendly and comfy additions to the wardrobe.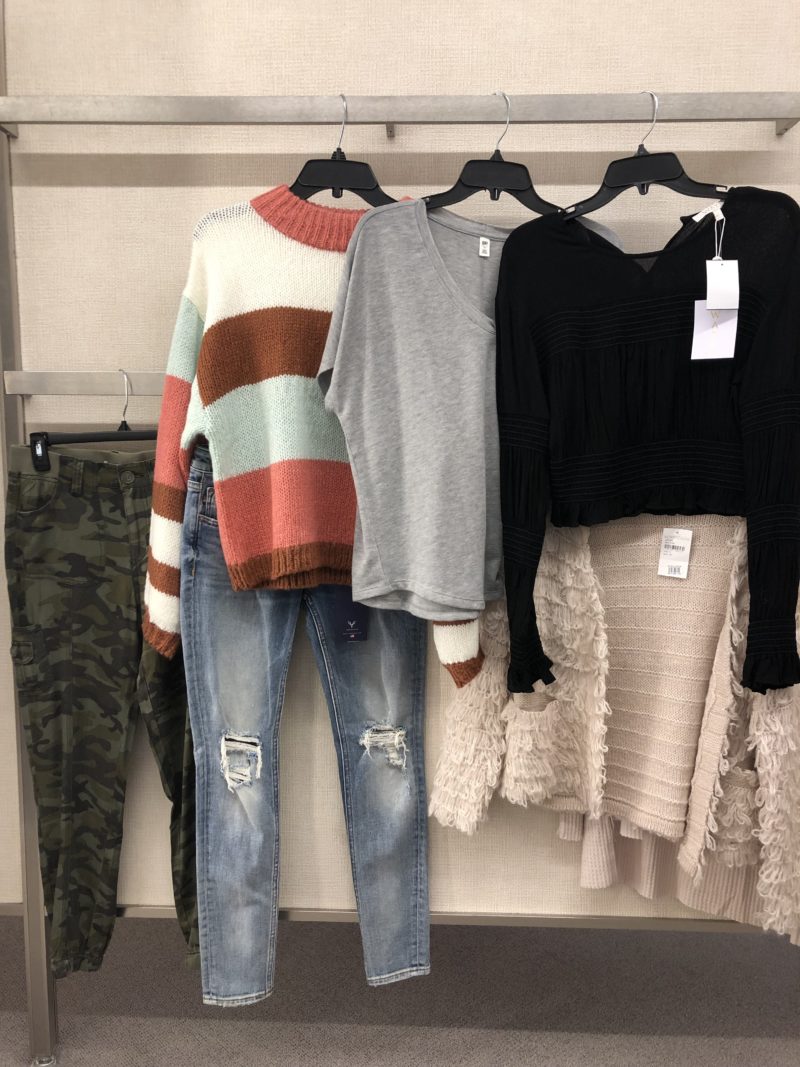 This past weekend my daughter and I snuck away to Nordstrom. She had a few returns and I tried on a handful of items that caught my eye. I thought I was going to love that blush jacket but unfortunately, it's so itchy. Hard pass. But I did finally track this one down. I bought this two years ago and returned it. I regretted that ever since. It's just super fun and different. The black top is GORGEOUS. It's a bit more cropped than I was hoping so it didn't work for me but if you are rocking the crop-tops go for it. It's romantic and beautiful in person. I am still trying to find the link online. I will update when I find it.
THE BIG WINNER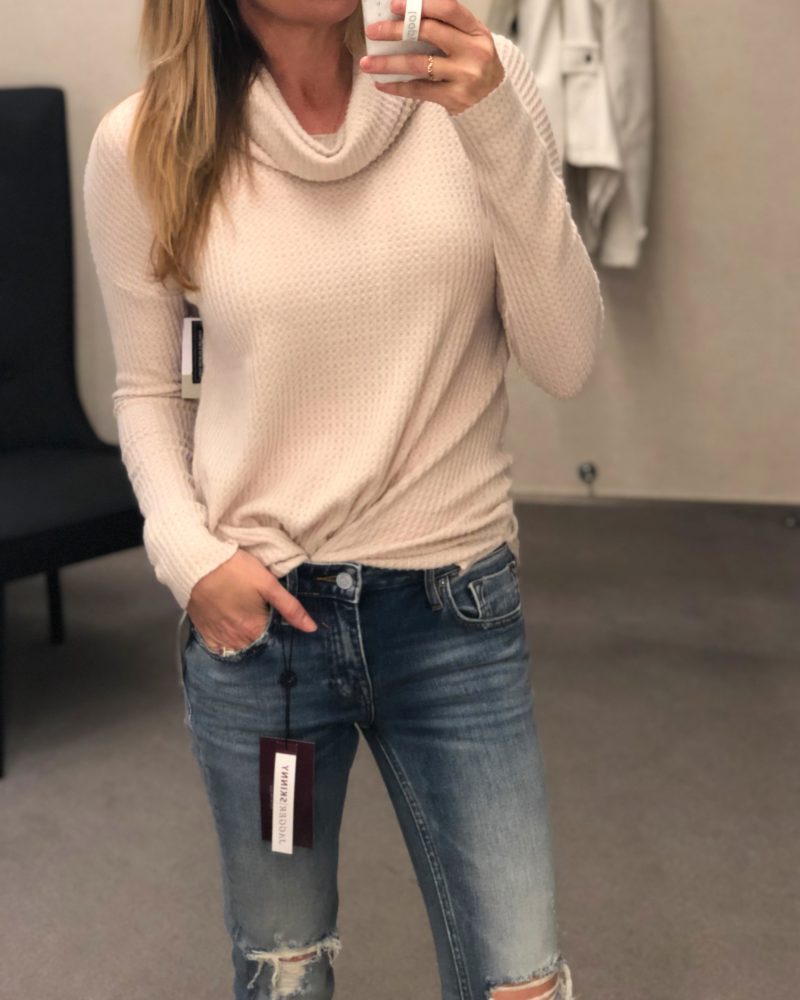 This top was the huge win of the day. It's softer than soft and feels so good on. I actually wanted to wear it out of the store. I am wearing a small despite the advice to go down a size. I like that the arms aren't too short and this size works well on my broad shoulders. I would call the color barely blush. Really soft and pretty. I often pull the top tight at the waist and tuck in just a bit to give the look more shape.
You can also wear this straight. It hangs a bit longer in the back but doesn't read too bulky.
While the blush is a great deal at $39, the black and ivory versions on currently on sale for $23. Awesome deal.
SO COMFY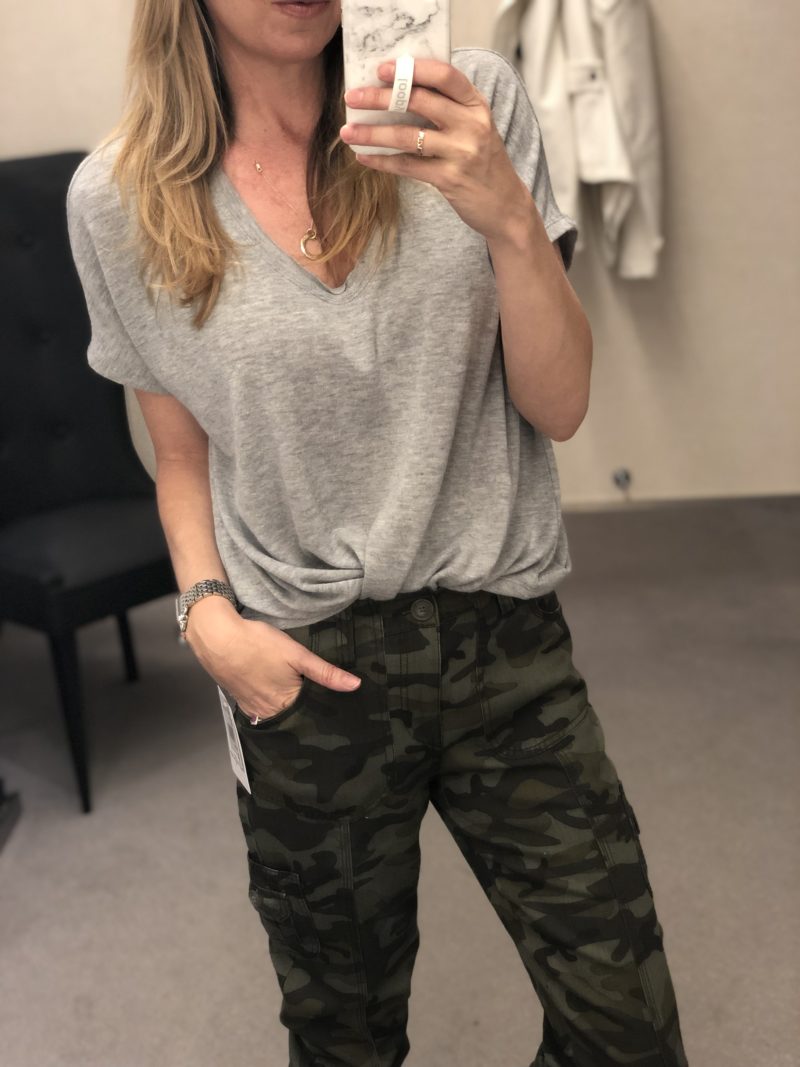 I mentioned these top and camo pants pairing on Monday. Both are very comfy and easy to wear. The pants run a bit big as I am in the XS (usually not the case). I chose a medium in the top for the slouchy look.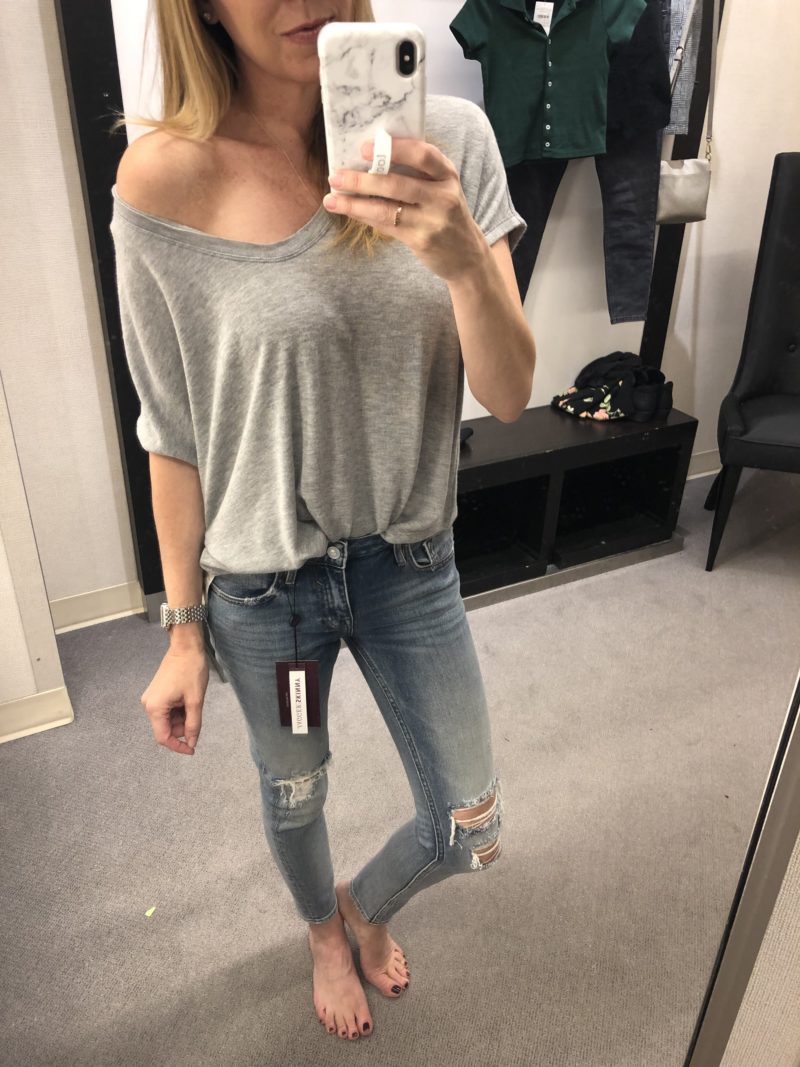 This super soft top can be worn off the shoulder a bit, too. It would be cute with a lace bralette underneath. That is if you like the slightly "Flashdance" style we all remember.
Let's talk about these jeans. So I like how they look on and I love the style. However . . .they are soooo hard to get over the ankles. I sort of don't get it. I have a pair from a couple of years ago and they are still hard to get on and off. I'll be on the hunt for my light distressed jeans for you. These, however, these are super soft and pull on easily. I have these and love them.
STRIPED GOODNESS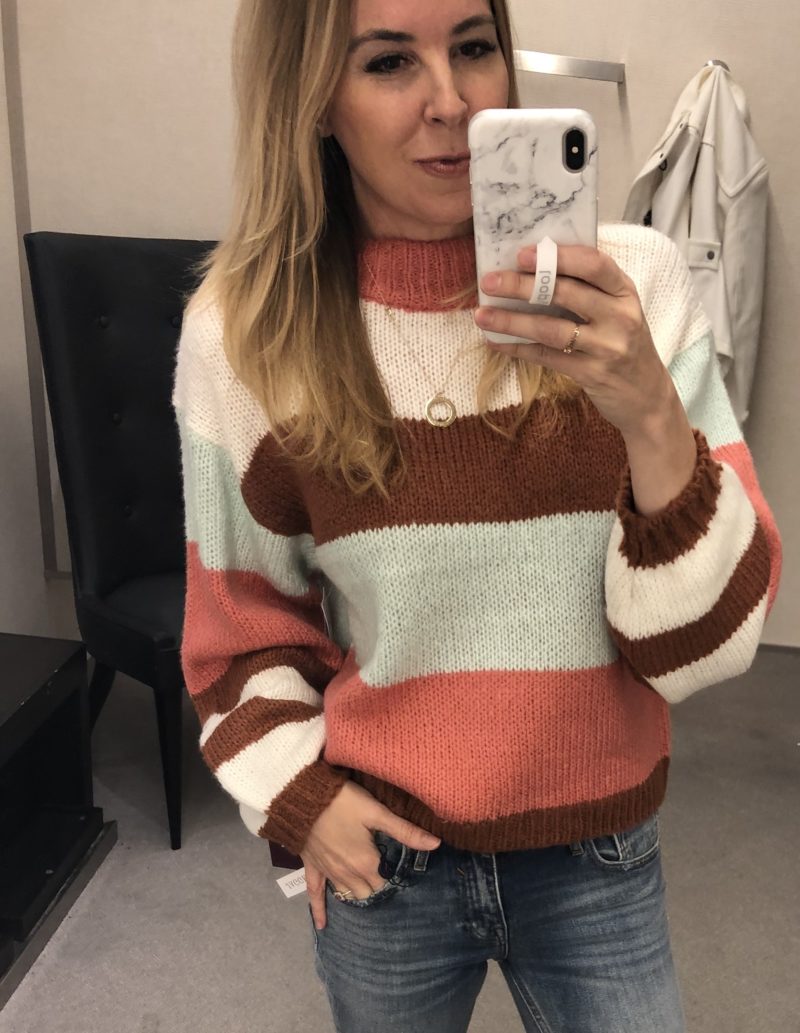 Adore this sweater. As soon as I put it on my daughter told me to buy it. It's really soft and I just love the colorblock style right now. The pink, chocolate brown and mint are so pretty together. I've already worn it three times since buying it over the weekend which means I really love it. That is always the true test. .  . how quickly do you want to wear something after you purchase it.
THE DETAILS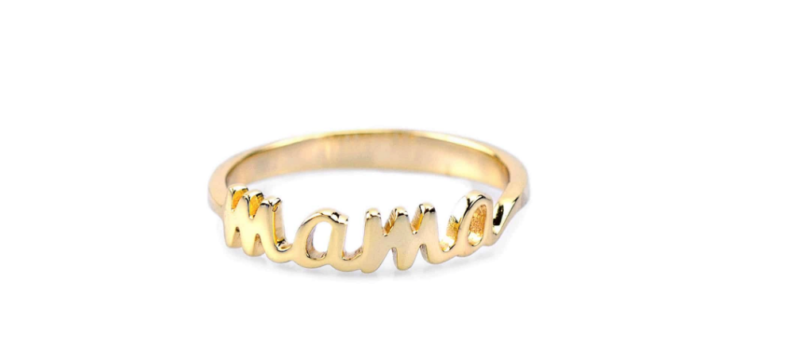 So many of you have a major eye for detail and wanted to know about the ring I've been wearing lately. This mama ring was given to me by my husband and the kids and holds such special meaning. I love how feminine and dainty it is. It always sells out around Mother's Day so it's a nice thing to think about prior to Spring.
My daughter and I are starting to wear the same size. I can't believe that time has come. To be honest, I hope that sticks. It's so much better for the budget. Especially with shoes. Fingers crossed. Do you share with your daughters? I would love to know.
SALE ALERT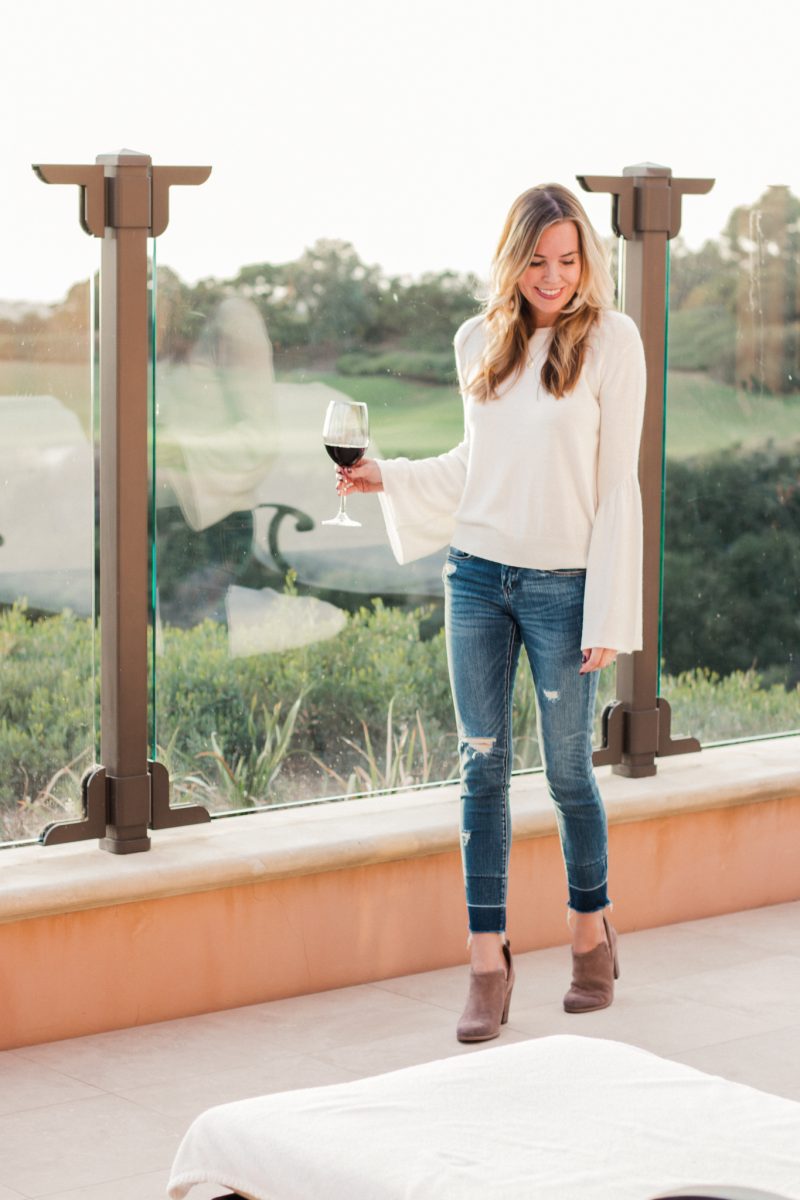 top $12 | similar jeans | booties
Heads up that this pretty top is now $12!!! What? It comes in a few different colors and is really soft. Love the arms on this.
ENJOY THE DAY
Enjoy the day, ladies. I am off to work out and then get some work done. I ran out of laundry detergent and somehow have forgotten to pick it up over the last couple of days. Does anyone else find it remarkable how quickly the laundry piles up? It always makes me very grateful to have a washer and dryer in the house. If you need me, I'll be folding clothes for the better part of the day.