I am fairly certain I was bit the travel bug when I was quite young and any chance I get to explore a new place always gets me excited. This past weekend, I had the chance to collaborate with a friend in Downtown LA. When work and life collide to create a fun experience, you don't take it for granted. While I only live an hour from LA, it somehow seems like a different world to this suburban dweller. Here is a little bit of our stay as well as a great green dress I am crushing on .
SPRING COLOR
We stated at LEVEL Furnished Living which is absolutely beautiful. It's only a couple of months old and is a collection of fully furnished apartments for short or long-term living. While perfect for anyone on business needing to stay for a while, it's also fantastic for a quick overnight trip to the city. I am already trying to figure out how to surprise my husband with a hockey game in LA and an overnight stay here. He has a big birthday coming up and it would be a blast. We always struggle with hitting up LA because we don't want to make the long drive back late at night.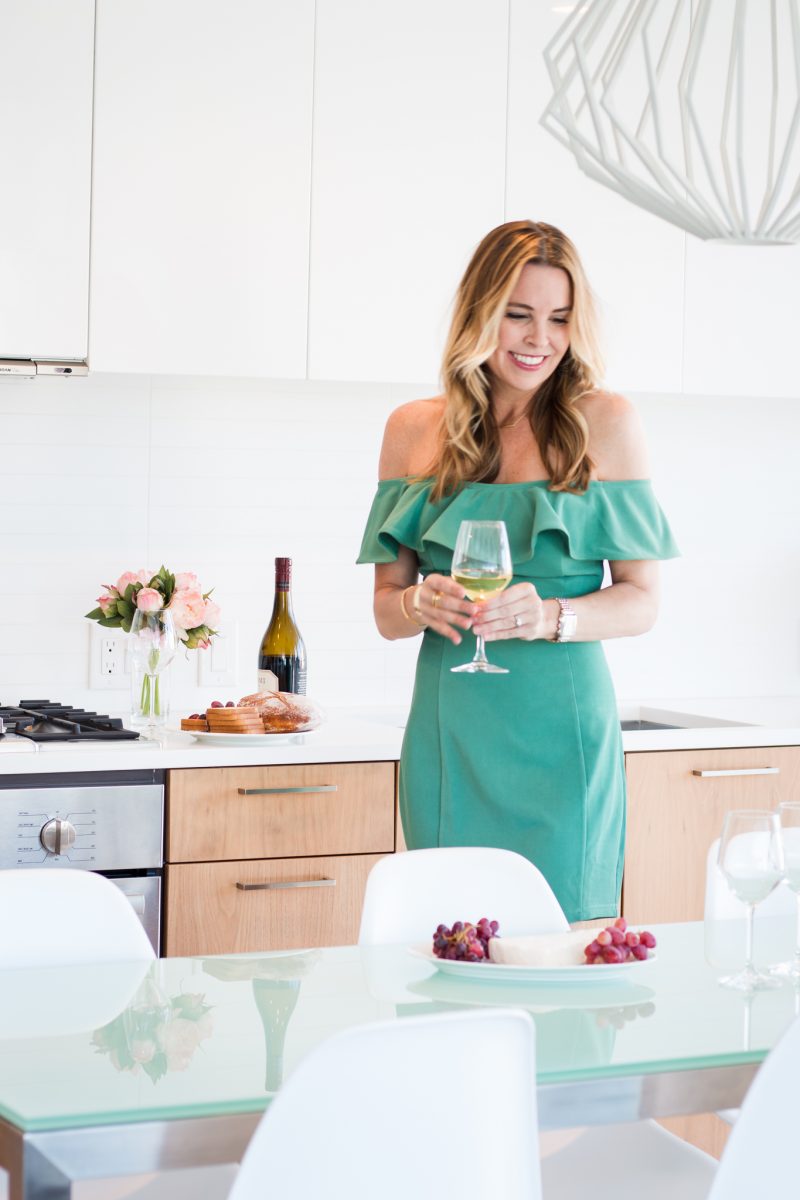 dress | heels | bracelets | necklace
I shared this dress on Instagram and have never received so many direct messages.  The color is gorgeous and very much true to these photos. I am wearing a size small. You can find the dress here or locally at Planet Blue Newport Beach Location. A shout out to Patrick for picking out the green dress! My lipliner (color is beet)  is a favorite.
LEVEL IN LA
We stayed in a two bedroom suite and the open concept living room and kitchen is really beautiful. So much light floods into the space because of the floor to ceiling windows. No joke. We spent hours on the couch talking about life, loss, and love. The older I get the more I just appreciate one on one time with people in my life. Are you the same way? Don't get my wrong, I love a night out with a bunch of girlfriends or a party with our crew, but nothing can take the place of truly catching up with someone when it's just the two of you.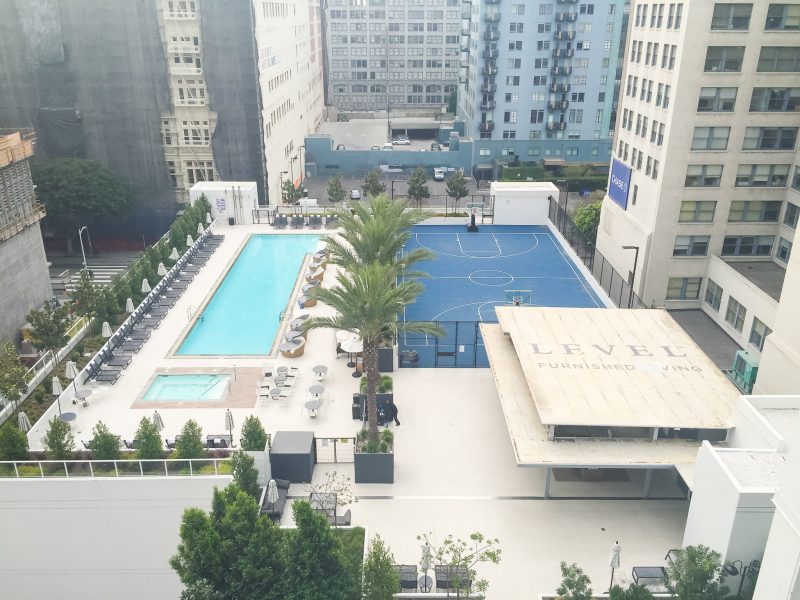 The fourth floor boasts a myriad of amenities including a pool, basketball court, sauna and space to BBQ and entertain.
CITY VIEWS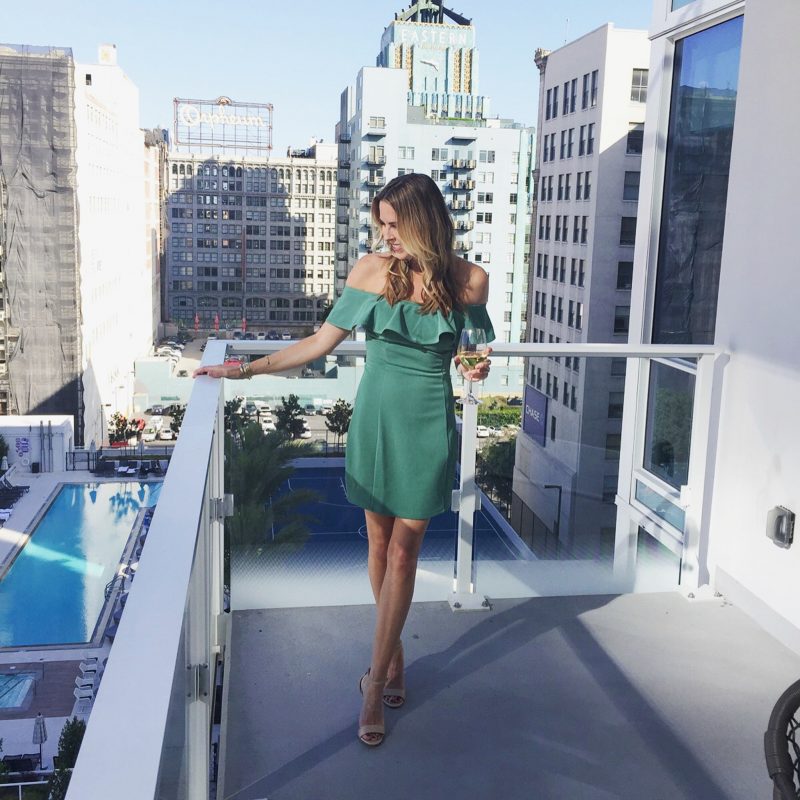 dress | heels | bracelets | necklace
We were up on the 10th floor which made for pretty amazing views from the balcony. Not gonna lie. I have a healthy fear of heights so this was me being brave.
SPRING DRESSES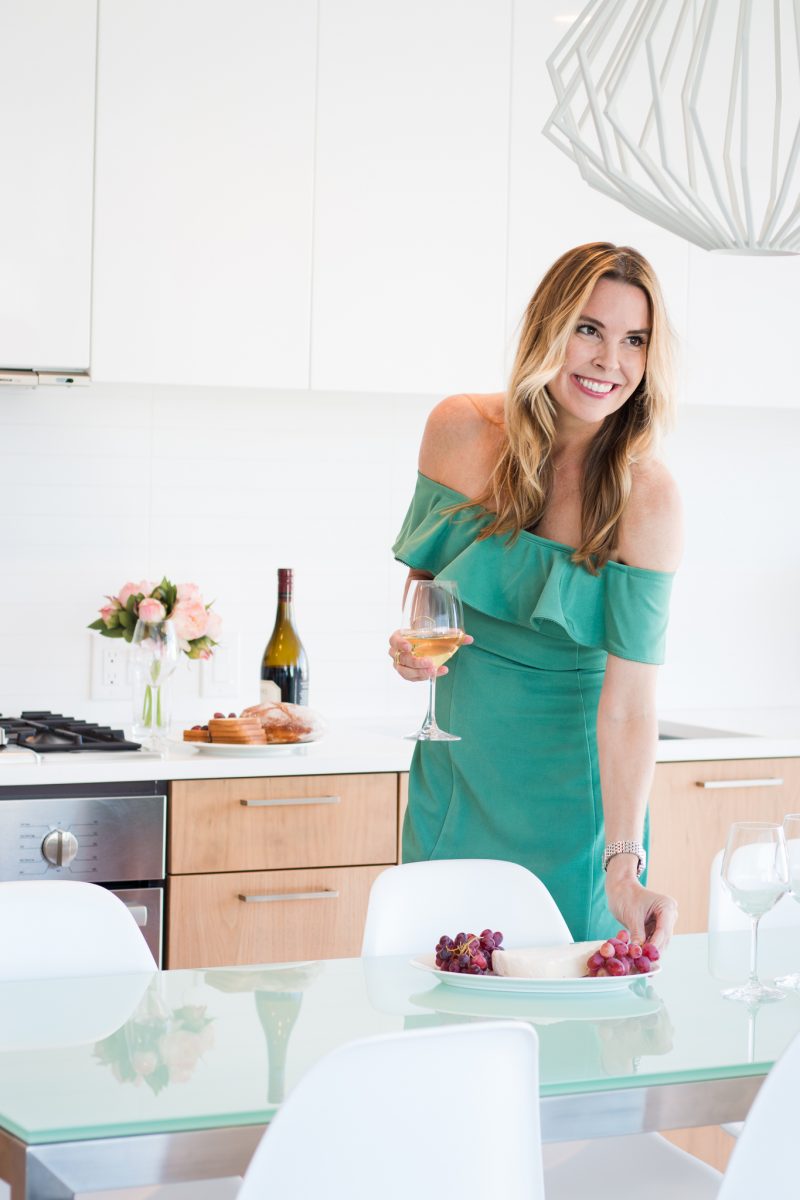 If you have any Spring events coming up, this dress is such a great find. I rounded up more off the shoulder looks below. This striped one is darling! This one would be so romantic and pretty for a Spring wedding. This navy one is also quite striking and has received wonderful reviews.
Spring Dresses

How cute is my friend, Kim? Her two piece outfit was amazing. The lemon print is so gorgeous for the warmer months.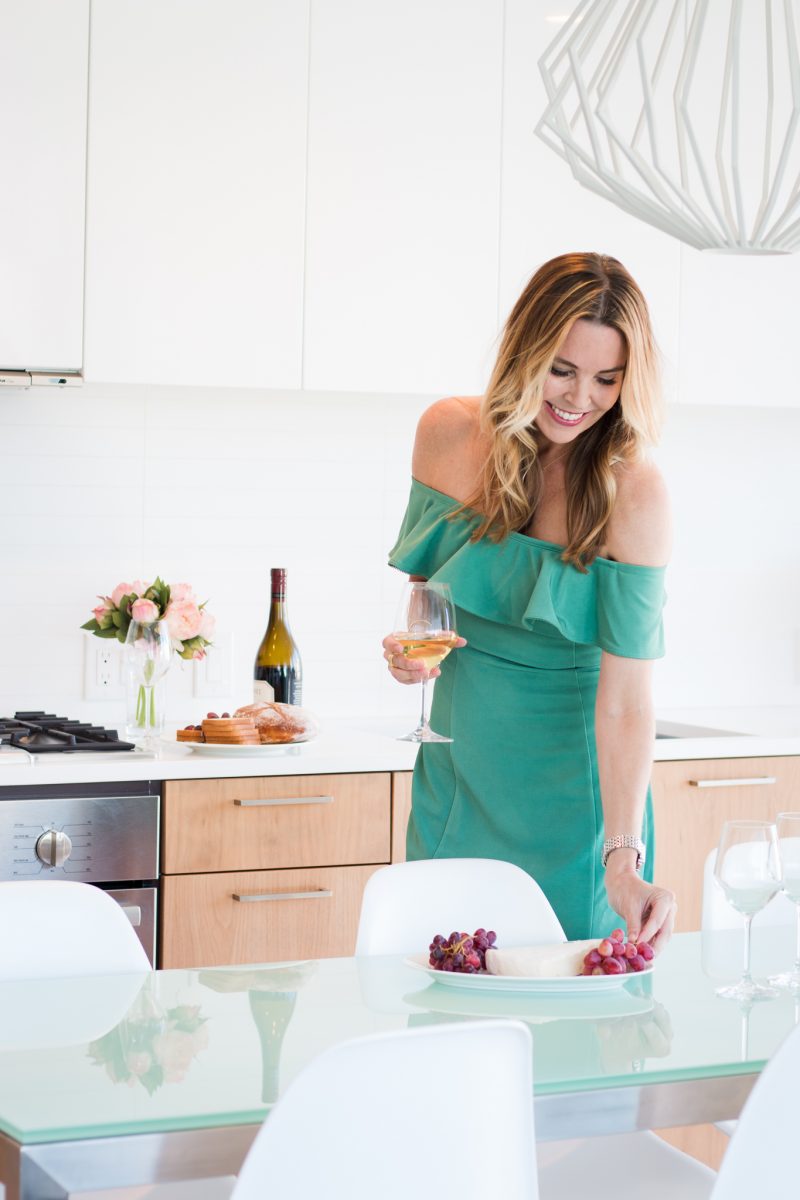 Thank you to LEVEL for allowing us to enjoy the new building and explore LA for a night. I can't wait to make my way back. I also need to find another excuse to wear this fun dress. 
What do you have on the agenda for today? I am still making my way through the laundry room and hoping to find time to meet a dear friend for lunch. That and catching up on emails. Hope you have a great day.
*affiliate links used