It's the season of giving and I'm so excited to get my shopping underway. So many of my friends are crazy organized and shop all year long. I am not one of those gals but I do enjoy getting my act together in November so I can fully enjoy the hustle and bustle and together time with family. I am kicking off this season of gift guides with gifts for her and they are all under $50. These are great for any gal in your life.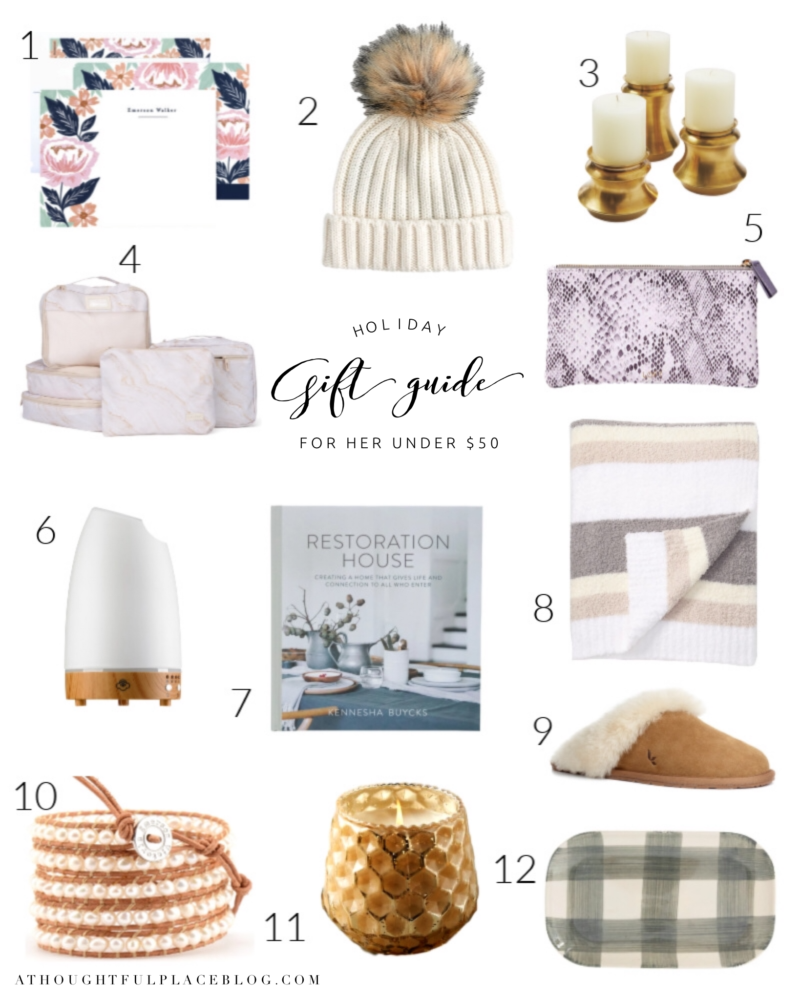 This is one of my favorite gifts to receive. The hand written note should not be a lost art. There are so many gorgeous designs to choose from. This is also a very nice gift for teachers or for a friend who has moved into a new home.
Can't go wrong with the classic beanie. It comes in many different colors and is a gift we rarely buy for ourselves.
For the gal that loves pretty decor, these are just gorgeous. Such a substantial candleholder that looks gorgeous on a table or shelf.
These cubes have been life changing for me. I didn't know what I was missing but now that I have them, I won't be traveling without them. My hotel room actually stays organized and finding things is a breeze.
While this is technically a sunglass case, I have THREE of these and use them all the time. I use one as the case that holds the essentials I need when I switch purses. My wallet and this case go from handbag to handbag. They are fantastic for traveling, too. This is a nice gift for teachers filled with a gift card.
Do you have one of these? So nice to be able to diffuse oils in your home. Also a gift that people rarely buy for themselves.
This book. I love everything about the theme that weaves throughout it. Not only is it a beautiful book of interiors, but it encourages you to create spaces that make people feel secure and connected. YES! That is speaking my language.
Barefoot Dreams. Say no more. This throw is scrumptious and a wonderful gift for anyone in your life.
Time for snuggly feet. So warm and cozy as we venture into the winter months. I actually have these on my own Christmas wish list.
Can't say enough things about these wraps. I adore them and wear them daily. This is a fantastic gift for any girl.
A beautiful candle. But not only that, once the candle has burned, it's a gorgeous little votive holder or small vase. I always look for candles that can transform into something pretty after it's burning hours.
Not only is this a pretty tray to have on hand in the kitchen, but it makes for a very thoughtful gift when filled with homemade cookies or treats. A lovely gift for neighbors and friends. Plus it won't break the bank.
SHOP THESE GIFTS

Are you one to shop ahead of time or do you prefer to wait until the last minute? I will never forget my brother shopping on Christmas Eve every year. He said he loved the energy of it. That's a little too crazy for me so I will be shopping all this month. Hope this inspires you to get the ball rolling. Feel free to let me know gift guides that would be most helpful in the comments below.