Organization gives me great joy! While it's not always easy for me, I never regret taking an out-of-control area and giving it new life. I've spoken before about how it's taken us over a year in this home to really see where our hot spots are and what does and doesn't work. One such area is the storage closet under our stairs. I am so thankful for the space but so far we have not been able to dial it in. It is one of my goals for this year and today's reveal is a huge step in the right direction.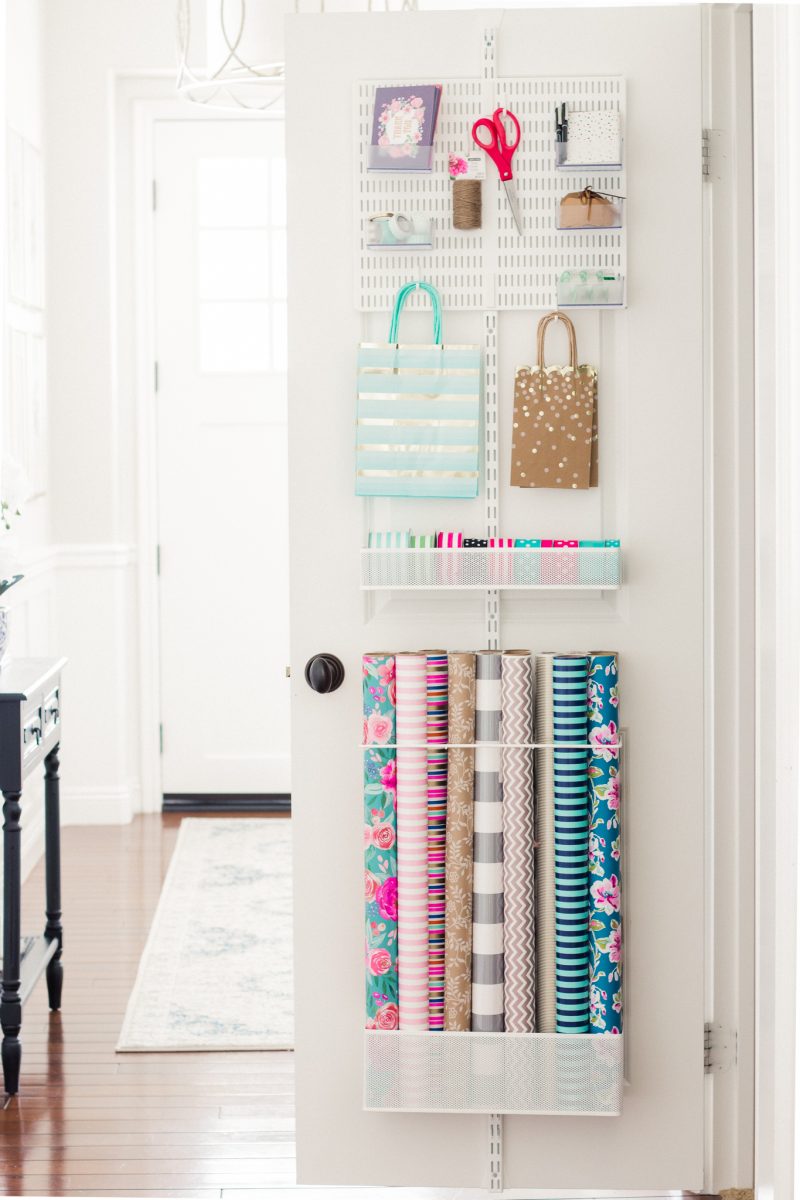 It's safe to say that if the kids leave this door open I actually kind of don't mind! LOL. I'm not kidding. As you know this organizing system has been in my sights forever. I wish I would have done this years ago. This under the stairs closet is going to be used as our craft storage. My daughter can't wait. It is a DISASTER but slowly but surely we are clearing our way through the piles and making sense of it all. Our wrapping paper had been taking up prime real estate in here and was always falling over. Furthermore, I had two drawers dedicated to tote bags and ribbon. I sorted through it all and only kept what I loved. I still have more tote bags and those will be in a drawer ( I always keep shopping totes, too. They come in handy all the time).
WRAPPING PAPER JOY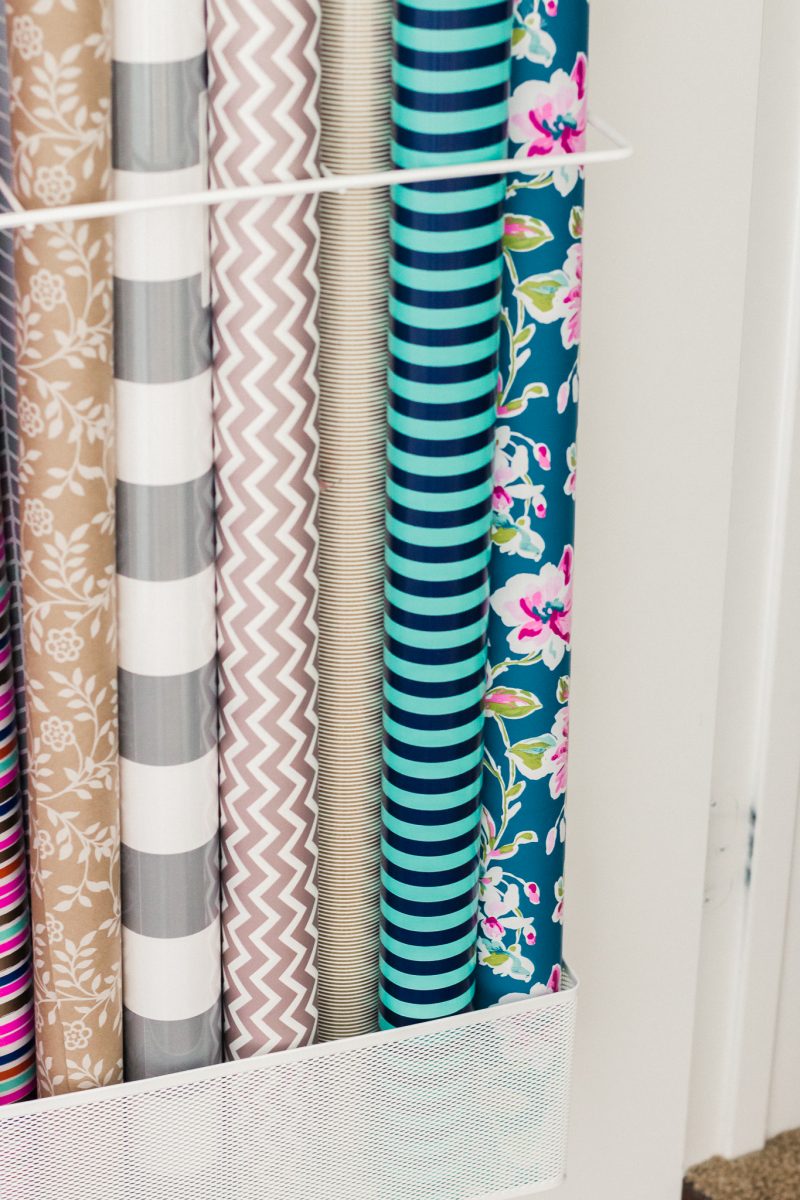 The fact that these stand so neatly and can't possibly fall down makes me happier than it should! It's just so freeing to have it all off of the floor. Plus it allows me to keep so much in such a small space. My white tissue paper is tucked behind all of the rolls. Perfect for when I want to wrap something in a tote. Almost all of my wrapping paper is from HomeGoods. They have the best selection and I am continuously impressed with the quality.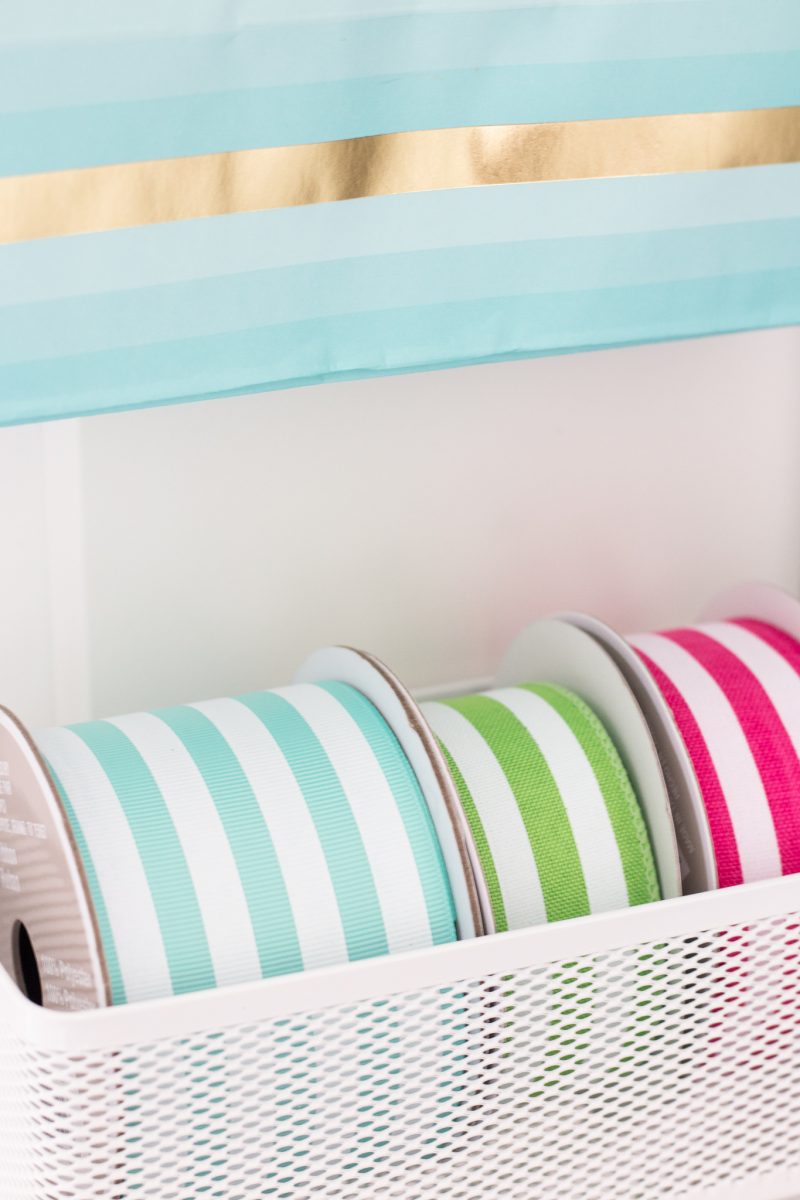 I tend to find most of my totes and ribbon at Michaels. You can't go wrong with stripes. And they always look great paired with a floral paper.
One of my favorite combinations! And a couple of sweet macaroons never hurt anyone.
WHAT'S INCLUDED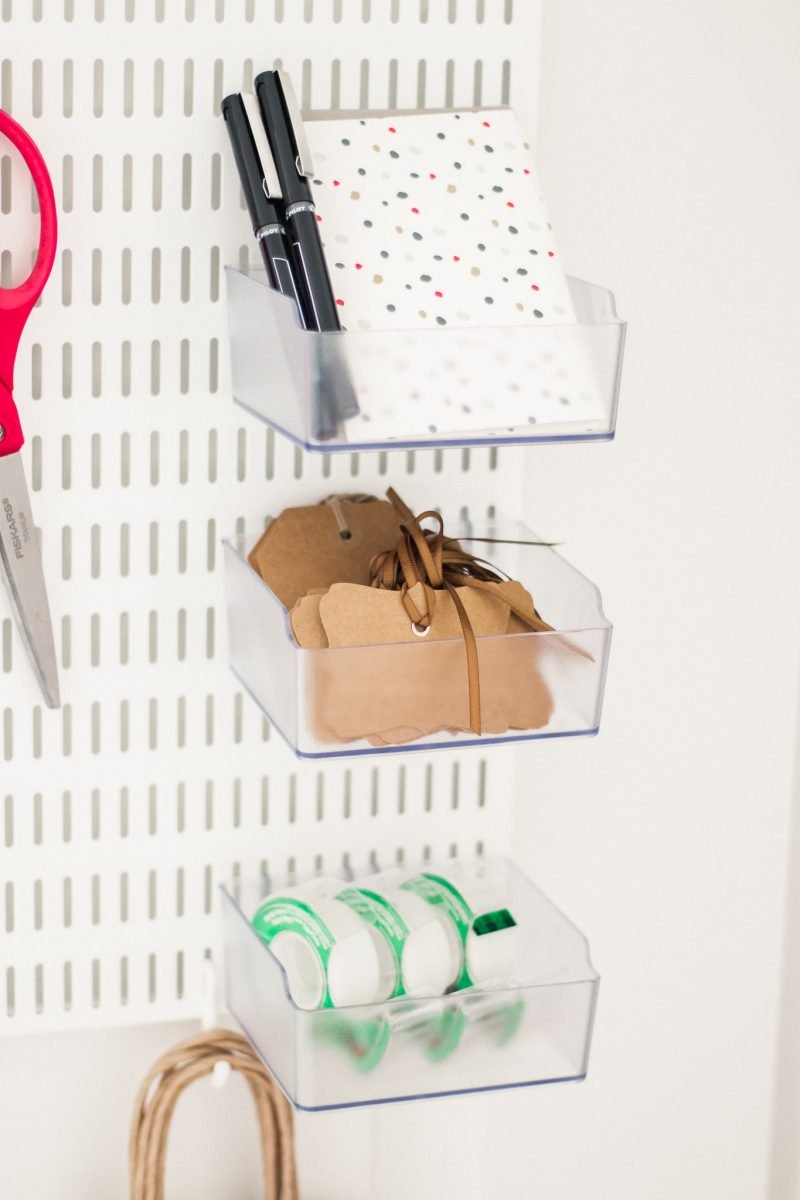 wrapping paper
white tissue paper
tape
scissors
pens
thank you cards, plain cards
brown paper tags
twine
washi tape
This will allow me to stay so much more organized. The brown paper tags are from Michaels. They are great to tie on either totes or packages. I also like to use them on a wine bottle with a piece of fresh greenery. Simple but really pretty.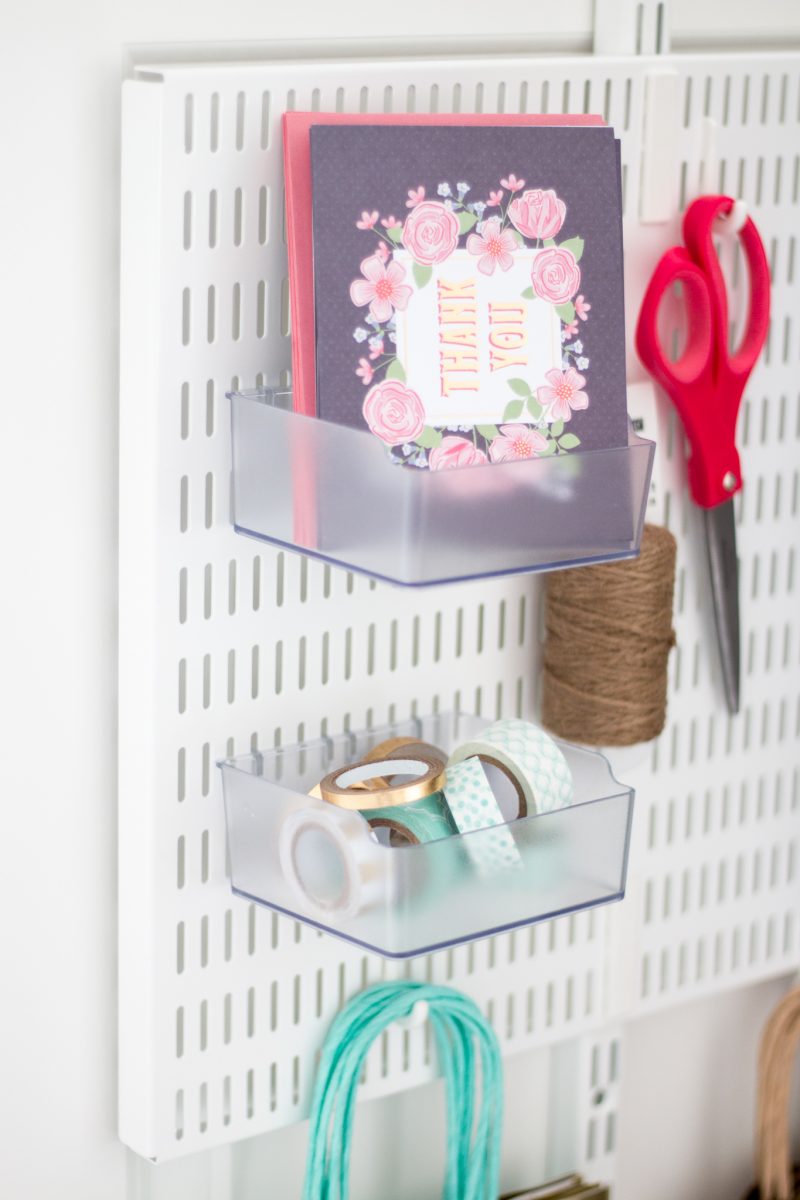 ALL IN ONE PLACE
Target dollar section is a great place to browse when you need to stock up on cards. They always have cute patterns and are very inexpensive.
HOW IT WORKS
I just assumed it would be permanently attached to the door. But no!!! It's genius. It just requires a clamp on the top and bottom of the door. That's it. It's a five-minute project and can be removed anytime. Of course you could also attach this to the wall if you prefer to do that.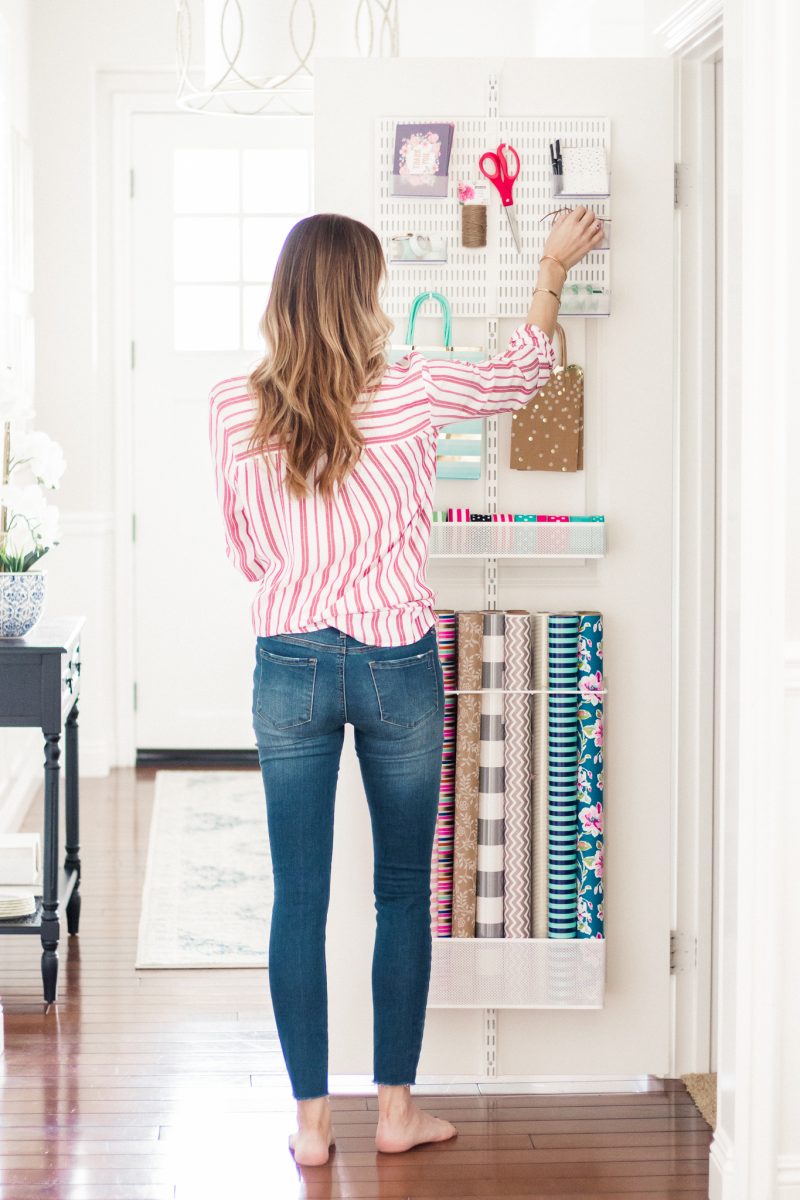 wrapping paper system | blouse | jeans | rug | table 
This Elfa system is on sale right now so it's a nice time to make it happen if it's been on your radar. Of course I am now surveying every door in our home to see where I should put another one. Not for wrapping but for anything else I can dream up to organize.
I'll be back to update you once I make more progress in the craft closet. It's slow going over here as I have a sick little girl. Hopefully she will be on the mend soon.
You can check out our junk supply drawer which recently received a much-needed makeover.
Let's do this, Tuesday!