Thank you for all of your fun comments on yesterday's organization post. I love that I am not alone!!! Today it's all about a little bit of girl time. I met up with my friend Laura from Meaningful Spaces. You know when you meet someone and just instantly connect? That's how it was for Laura and me. We don't take anything too seriously and just enjoy each other's company. We thought it would be fun to do a little bit of shopping at one of our favorite stores and share with all of you. If you are on Instastories, you may have seen our outing. So without further ado, here is our girls day out at Anthropologie.
It's not a girls day out with a pre-shopping selfie, right?! For all of you local gals, we hit up the Irvine Spectrum and happened to have perfect weather.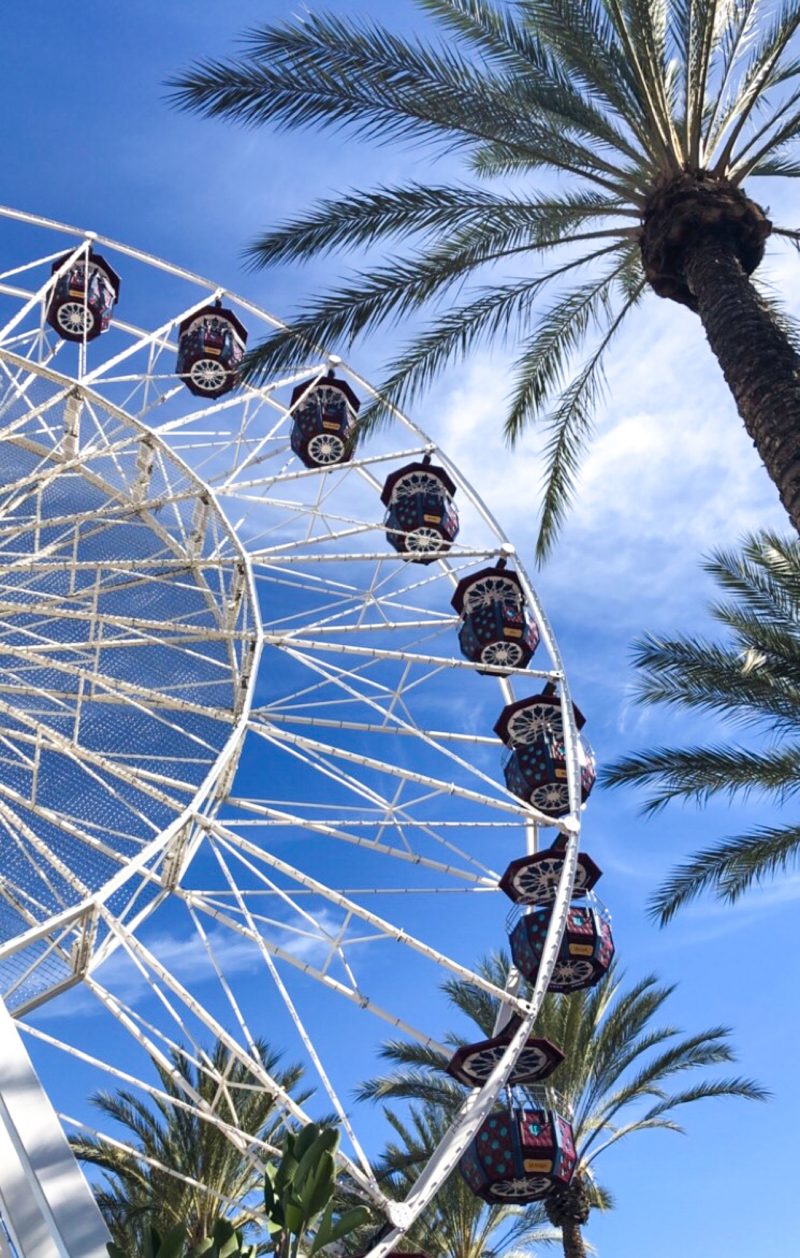 This ferris wheel sits just outside Anthropologie but you won't catch me on it. While I have been on it, I now let the kids ride it with my hubby. I prefer my feet on the ground. Just sayin.
We both love this store so much. While the prices can be high, the quality and details make the pieces stand out. And the sale section can't be beat.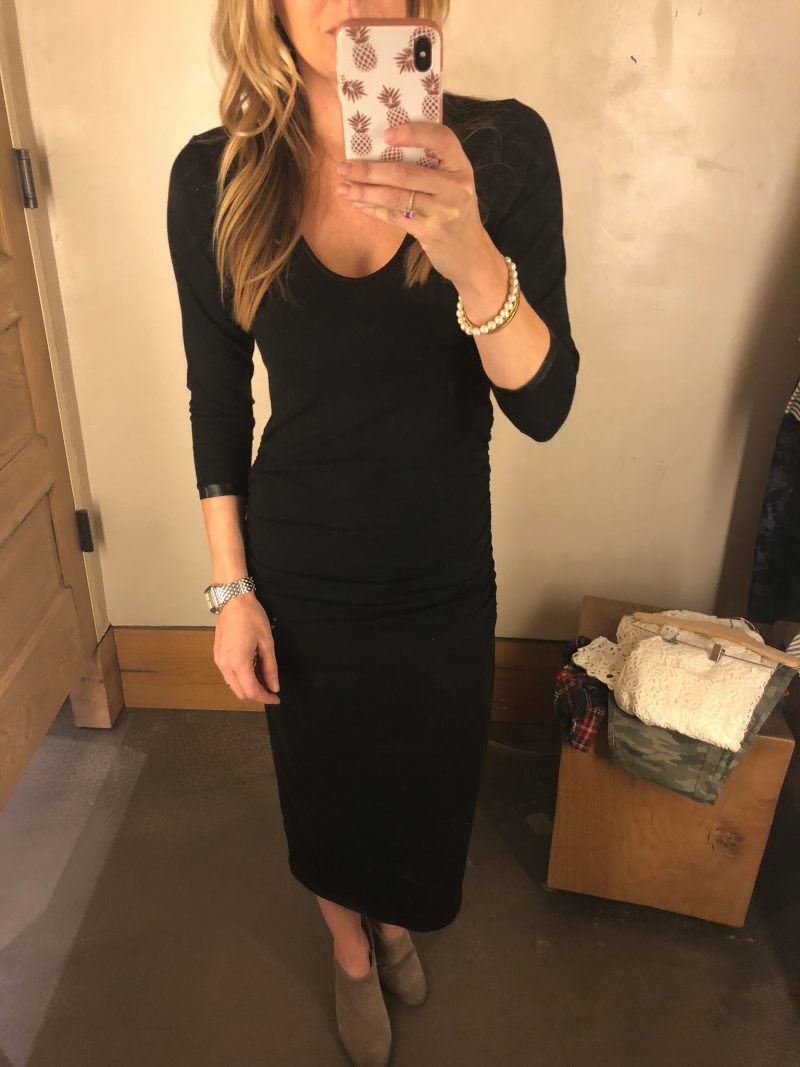 This immediately caught my eye. It's really soft and feels great on. With the extra 25% off it's now down to $60. I couldn't resist this one. It definitely came home with me. I am 5'7″ and wearing a size medium. I am super excited to wear it for date night.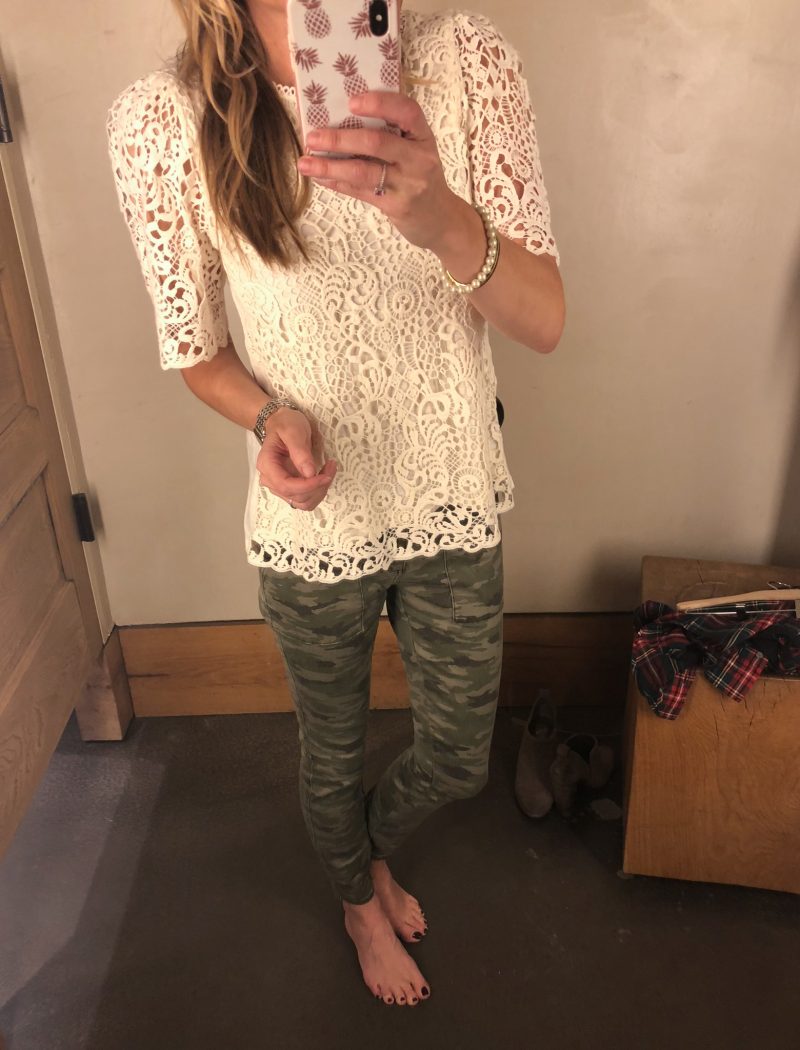 We were both a little disappointed in the sale section. I think they've been having a sale for so long that most of it was picked over. So we ventured out. I immediately fell in love with this top. It's no secret I am a sucker for anything with ivory lace. There is just something so feminine and romantic about it. It also comes in black. Very soft and highly recommend.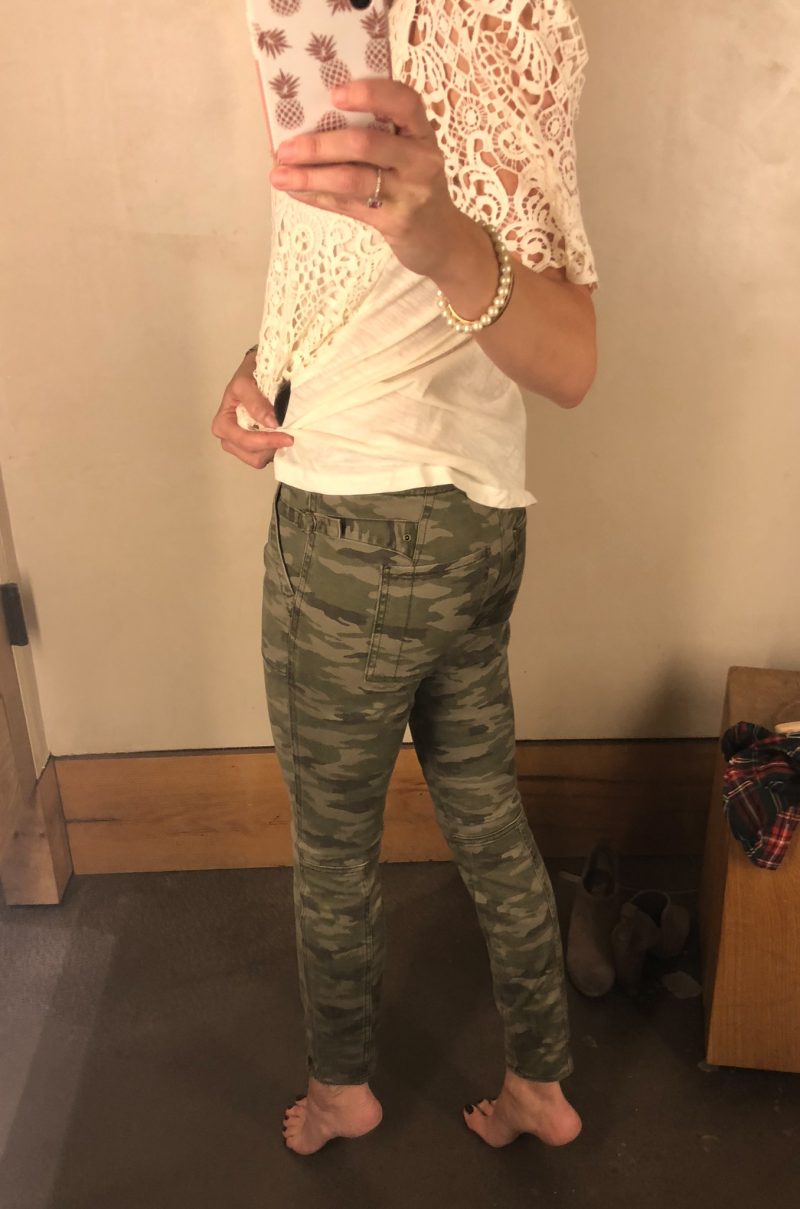 The pants!!!! I love these pants. And that is something I rarely say which is why you always see me in dresses or jeans. But the fit of these pants is fantastic. Nothing more awkward than trying to snap a photo of how they fit from behind. Cute pockets and detailing on the side. They are just made so well and hug you in all the right places. They are true to size. I am in my normal size 25 that I wear in jeans. The only bummer is that I don't see the camo online yet. They have three different colors right now and the olive is the closest match.  I am guessing the camo will hit the online store soon. These also came home with me and I can't wait to wear them.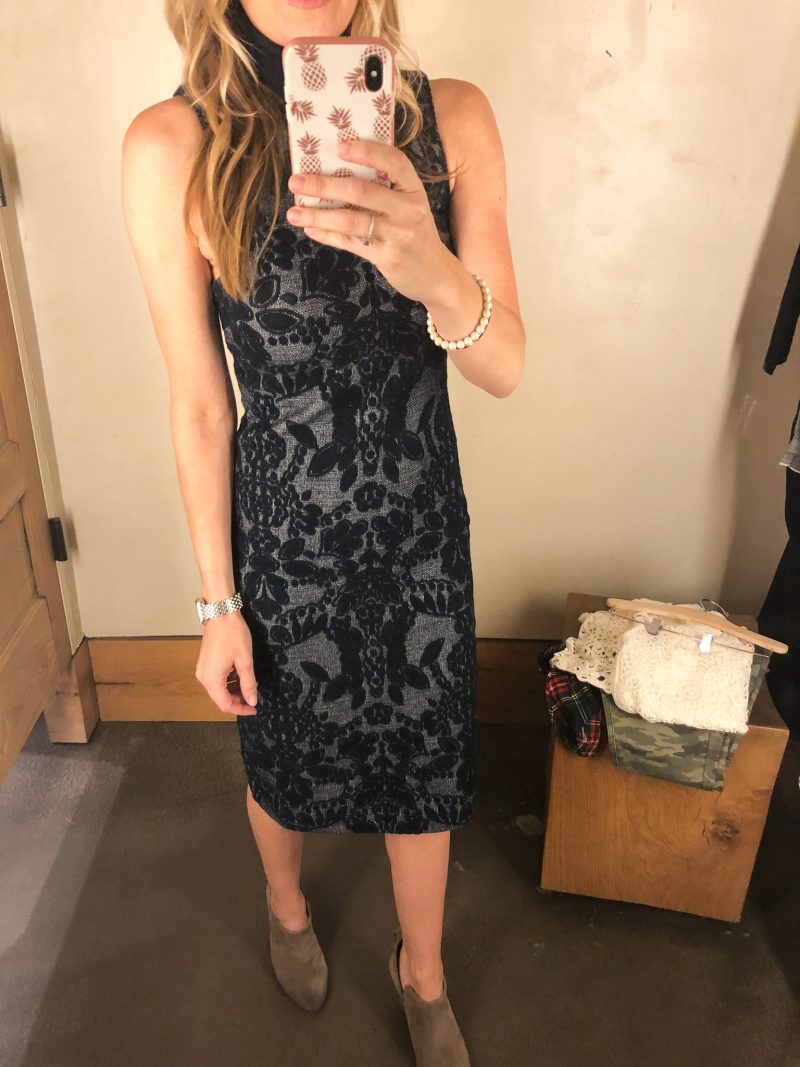 We thought it would be fun to pick something out for each other. You'll have to go see what I picked out for Laura. This dress was her pick for me and I have to say she was spot on. This navy dress is extremely soft and cozy. It has a nice feel to it and fit really well. Highly recommend if you have an upcoming event and you need a dress.
EPIC FAIL
My most embarassing moment was when I was shopping the dresses and came across a striped shirtdress. When I was in the dressing room I thought it was a bit frumpy and looked like pajamas. But I put a belt around it and made it work. I get home and look up the dress . . .yep! Not a dress. Nope. Total nightshirt. I basically tried pajamas on as a dress. We were joking that you could style it with booties or . . . slippers! Fashion fail.
How cute is Laura in her denim dress. It's made by the same brand, Cloth & Stone, that makes the blouse I am trying on. I LOVED it and it was on sale but it's completely sold out online. I'm so bummed. I really was excited to share that one with you. Keep an eye on the brand because their pieces are beautiful. So incredibly soft, well-made and always pretty. This short sleeve version reminds me of it. Darling!!! I also spotted this plaid blouse by the same brand. I'll wait for it to go on sale. By the way, my jeans are from here and I live in them. I really do.
CUTE ANTHRO FINDS
I wanted to round up a few more fun Anthro items that I thought were a great deal.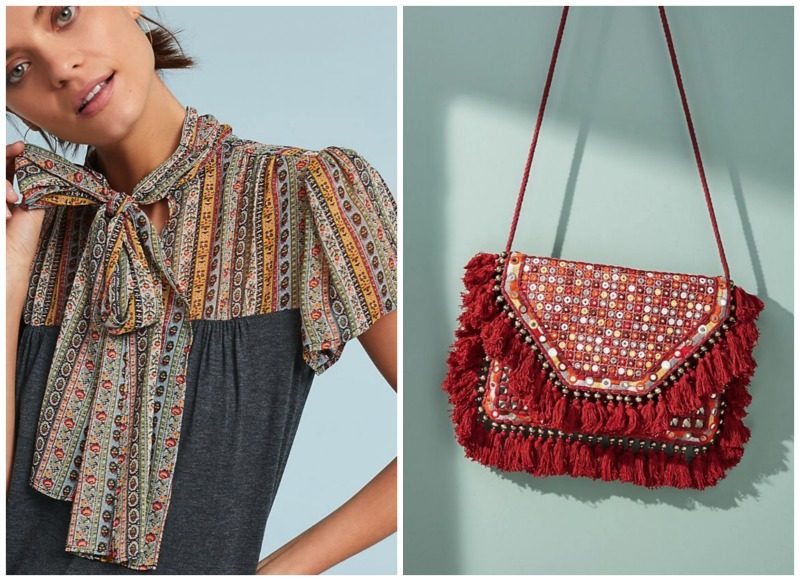 This top definitely caught my eye. It just arrived and it's a cute one. The fun handbag is on sale. Would be darling with a white t and jeans.
This dress is top rated and by Cloth & Stone. Incredibly soft and a very cute cut.
Adore the color of this clutch.  Also top rated and has a gold chain which is key for a great clutch. Great price!!!!
Really pretty blouse. I like the black version.
SHOP THE ANTHRO FINDS

CARDI ON SALE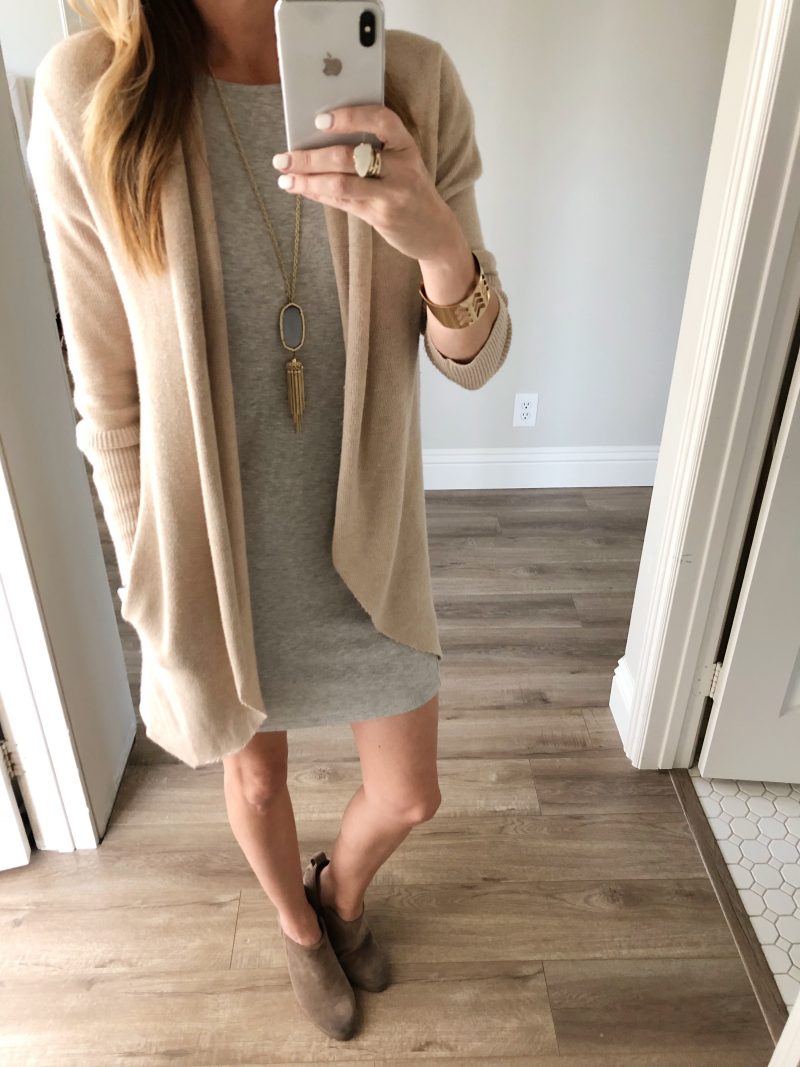 In other news, this cardigan that I wear all the time is finally 40% off in this color. It's a wardrobe staple for me. It looks great with everything. I am wearing the XS.
Laura and I are excited to hit up another store just for fun and take you along. If you have a store in mind, let me know.
And how about the fact that it's Friday!!! Amen to that. I am off to spend the day with my lovely mom. Look for my stories to see little snippets of our time together.
Enjoy your day!